We have a menu with lots of locally sourced food. There are now a number of options for eating and drinking on board – you can order our full menu from our main restaurant The Feast, the Longship Lounge or the Midship Bar. View our menu
All of the NorthLink Ferries passenger vessels have achieved the coveted "Taste Our Best" award – click here to find out more!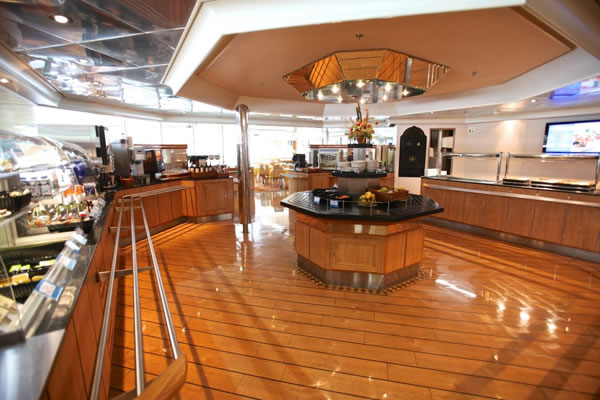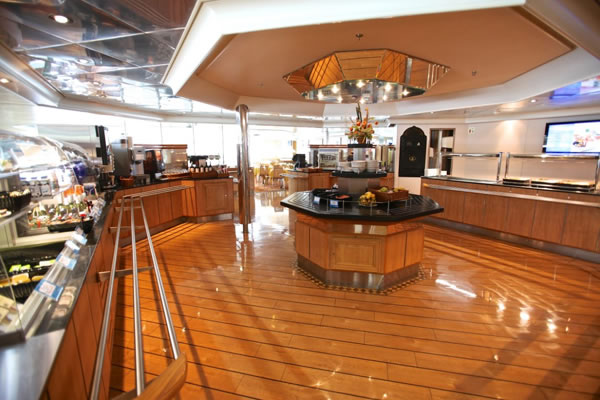 Save money with our Meal Deals
All inclusive breakfast £9.95
Continental breakfast £6.95
3 course dinner £17.25 *
3 course dinner (half portions) £14.55 *
Dinner and breakfast £27.20 *
To take advantage of the dinner or dinner and breakfast meal deal you must book in advance.   You can buy breakfast vouchers on board.
* There is a £4.00 supplement if choosing the rib eye steak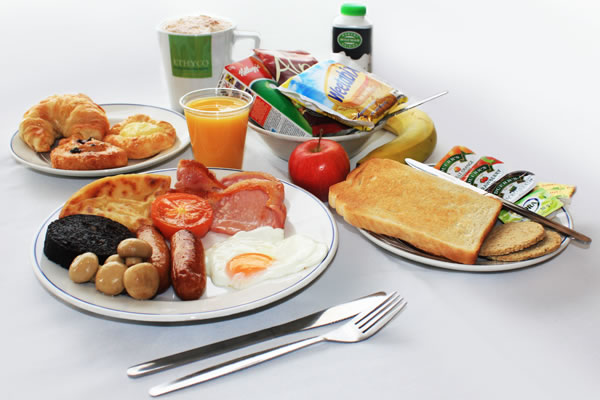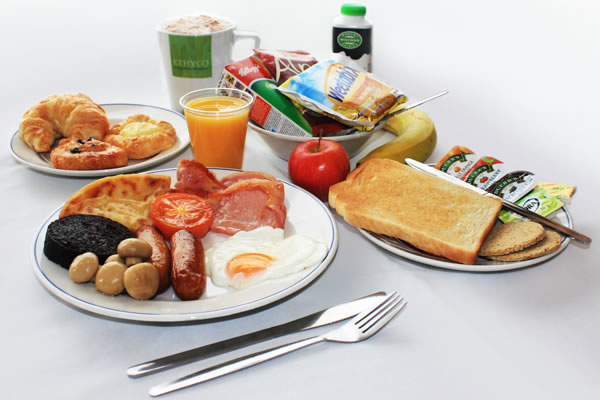 Leisurely breakfast
Enjoy a leisurely breakfast. There is no need to rush off the ship in the morning. While car drivers need to be up and ready to disembark for their vehicle on docking, it is possible for other passengers to stay on board and for drivers to return after unloading. Breakfast is served until 0900 and you can stay on board until 0930.
Families – remember that up to two kids (under 16) eat breakfast for free with every adult breakfast bought!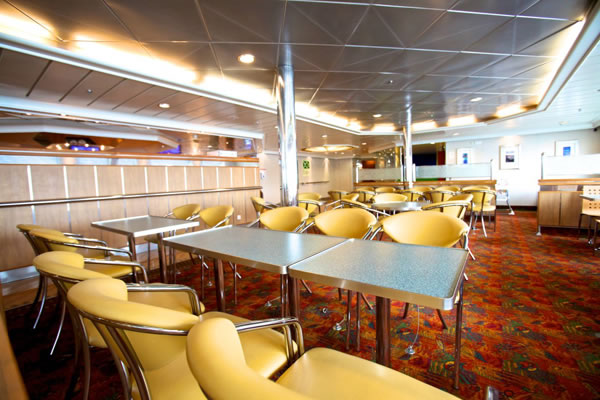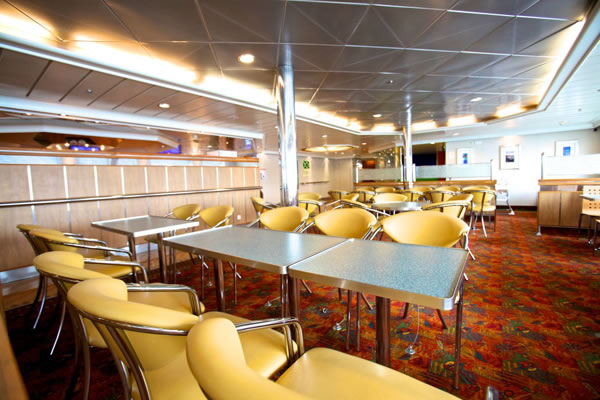 Midnight snacks
If you've got the midnight munchies we have installed new vending machines on board offering tea, coffee, soft drinks, sandwiches and snacks throughout your journey.
Kirkwall, Hatston
For passengers joining the ship at Kirkwall, Hatston in Orkney, a range of snack items and hot drinks are available from the midships' bar and the vending machines.
Scrabster – Stromness food
The Feast restaurant is open all day on the Scrabster to Stromness route, serving breakfast on the early sailings through to dinner on the evening crossing.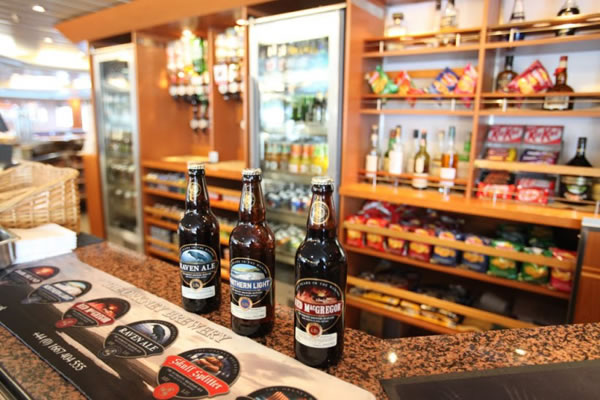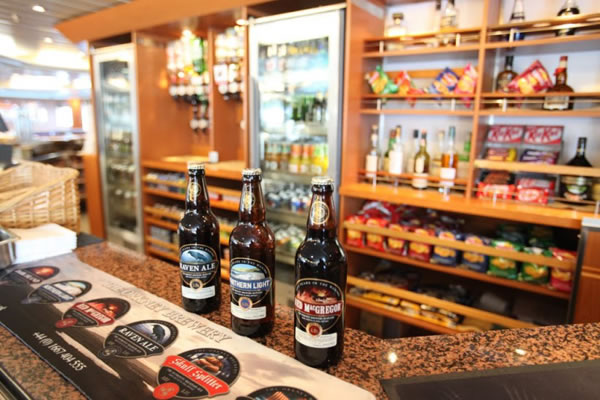 Bars
All three NorthLink Ferries ships to Shetland and Orkney have beautiful onboard bars serving a wide range of draught beers, continental lagers, wines and spirits along with teas, coffees and tasty snacks.
We sell a wide range of Orkney and Shetland Beers, for example Red Macgregor, Northern Light, Raven Ale, Simmer Dim and White Wife. (All subject to availability).
Red, White and Rose wines are also available from the Bar.
Are there licensed bars and what facilities are provided on board the NorthLink ships?
On Hamnavoe there is one bar providing alcoholic beverages, soft drinks, tea and coffee and snacks. On Hjaltland and Hrossey there are two bars. A full range of keg and bottled beers, wines and spirits including Orkney and Shetland products is available. Whilst the Midship bars remain open all year, the forward bars are only open during the summer season.
What dining facilities are provided?
On all three vessels there is a restaurant called The Feast serving meals and snacks during each voyage.
Can I use credit cards or cheques in the shops and restaurants?
We accept credit and debit cards, including Visa Debit, Mastercard debit and American Express, for payment of bookings at our terminals / offices, over the telephone in our Customer Service Centre and on-board our vessels. We do not currently accept Maestro or Diners Club cards. The minimum spend when using cards is £5. Purchases above certain amounts will require a telephone call for authorisation; this is no reflection on you and we would ask for your co-operation in this matter. You can use also Sterling cash (GBP) and GBP Traveller's cheques. However, we do not accept personal or business cheques.
Are your restaurant facilities subject to the same food hygiene laws as ashore?
The rules for food hygiene aboard ship are similar to restaurants ashore and are enforced by the Maritime and Coastguard Agency. We operate our own stringent risk assessments and inspection procedures. Currently there is no requirement for ship owners to allow local Environmental Health Officers to come aboard. However NorthLink have approached the relevant departments and have invited them to come aboard at any time to carry out inspections.
Can I get something to eat and drink throughout the night on your Aberdeen – Orkney – Shetland routes?
The Midships Bar is open selling alcohol, teas, coffees, soft drinks and snacks from embarkation until 01.00. The Island Fayre restaurant opens for breakfast at 06.00 (Aberdeen arrival) and 06.30 (Lerwick arrival). Vending machines are available throughout the ship for those in need of something to eat or drink between these hours.
Can I have breakfast before disembarking?
The self service restaurant opens at 6am for Aberdeen arrivals and 6:30am for Lerwick arrivals, and there is an announcement at this time. Last orders are at 9am and passengers may remain on the vessels until 9:30am if they wish. Car drivers will have to remove their vehicles when called, but may return for breakfast via the passenger walkway upon production of their boarding card.
Are there designated smoking areas?
From Saturday, 4th September, 2004, Smoking onboard is restricted to designated outer deck areas.Provision has been made for smokers on the aft decks of all vessels, with shelter for use in bad weather.On the Hjaltland and Hrossey, smoking will be allowed in the following designated areas:
Deck 6 Aft outside viewing area at rear of Self Service Restaurant including the two covered sections Port and Starboard
Deck 7 Aft outside viewing area above Self Service Restaurant
There is no smoking in any cabin.
What television facilities are there?
The ships are equipped with state-of-the-art gyroscopic satellite dishes that stay on-station throughout the voyage. At various locations throughout the vessels there are large screen televisions, which will be individually tuned to various channels (for example the one bar will show football or other sports whilst another bar may have a general entertainment channel.) Some side lounges have televisions and passengers may request a channel change from any crew member. There are also areas without television, designated as quiet areas.
Will there be live entertainment?
During the summer period there may be, on an odd occasion, live music organized by NorthLink Ferries.