When the weather is nice, we would highly recommend a visit to the island of Hoy. It's the second biggest Orkney Island, and it's quite distinctive; Hoy resembles the North Highlands more than it does the rest of Orkney.
In Rackwick the only sounds you will hear will be the sea washing into the bay. On the beach, you'll find massive sea smoothed boulders and vast expanses of sand.
The parish of Hoy (to the west of the island) is characterised by heathery hills and vast red sandstone cliffs, whilst the southeast of the island is lower, with fertile green land and sandy bays. This area is called Walls, a reshaping of the Viking word Voes, which means bays. The island of Hoy is a favourite destination for those looking to visit an enchanting island to get away from it all!
We've compiled a list of some of our favourite places to visit during a trip to Hoy.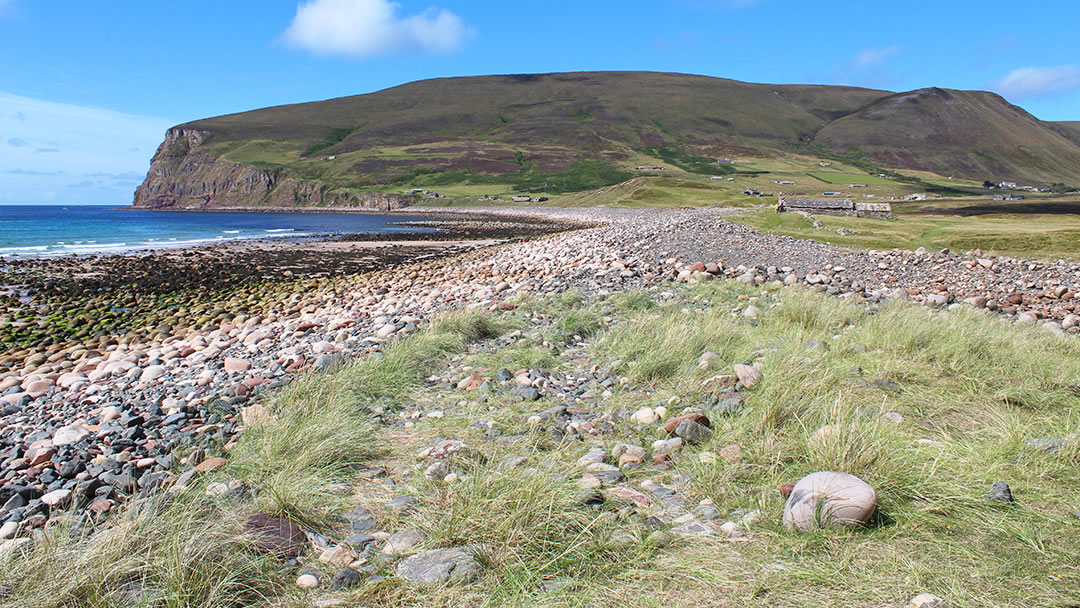 Rackwick
The valley of Rackwick is beautiful; it's surrounded on three sides by hills and on the fourth side by a long sandy curving bay. It was once populated by crofters and fishermen who lived in crofts with evocative names; Scar, Groups, Crow's Nest. These crofts were abandoned and have since been rebuilt as holiday homes for Orkney folk who visit Rackwick at the weekend. Some of the Rackwick houses don't even have electricity.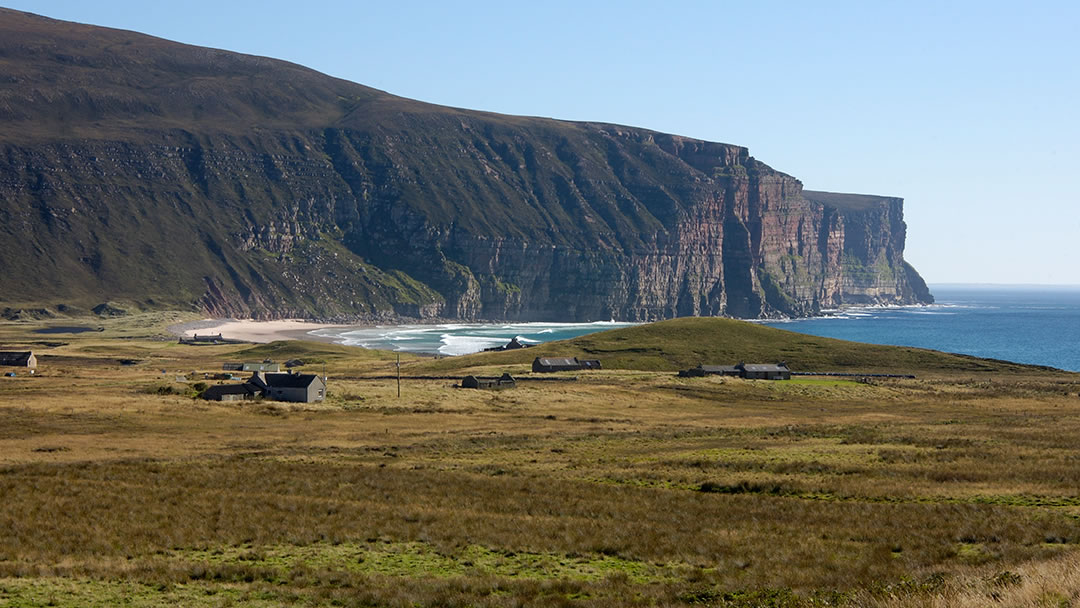 There's a lovely little hostel in Rackwick, within the former school house. Many visitors choose to camp at Burnmouth; a bothy close to the beach. In Rackwick the only sounds you will hear will be the sea washing into the bay. The path up the hill to the Old Man of Hoy begins here.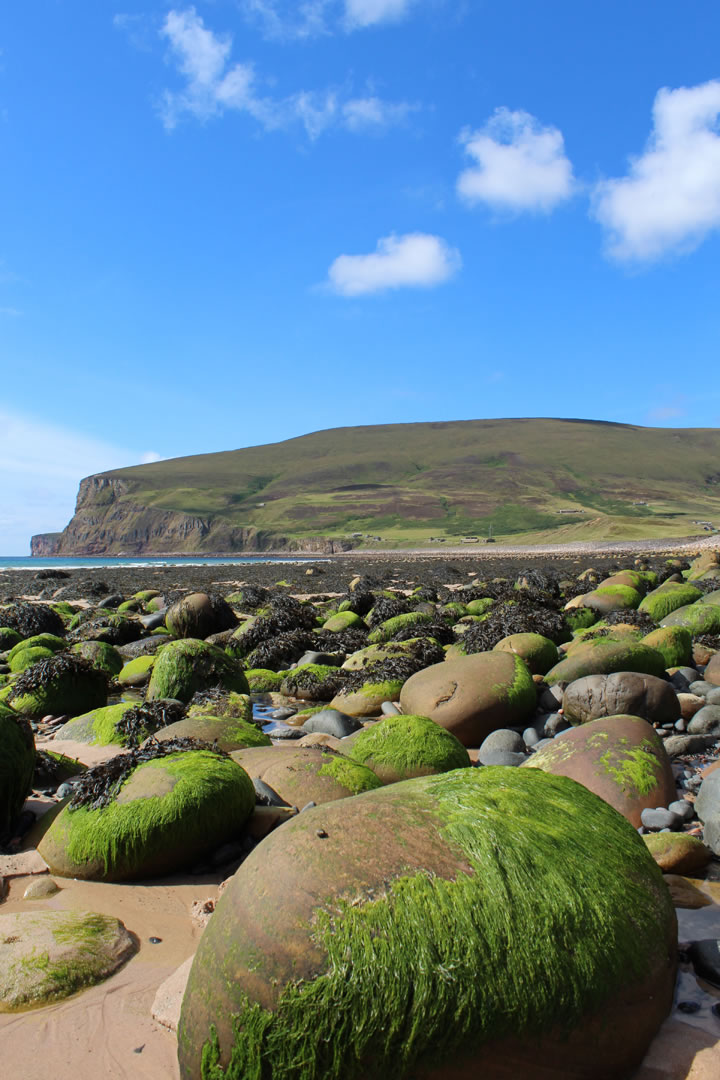 Rackwick beach
If you arrive in Rackwick we'd recommend the walk down to the beach. You'll find massive sea smoothed boulders in the bay, and vast expanses of sand. To get there, you'll have to cross Rackwick burn as it flows into the sea, and though there are moments (during particularly rainy spells) where this isn't possible, during the spring and summer you should have no trouble reaching Orkney's best beach.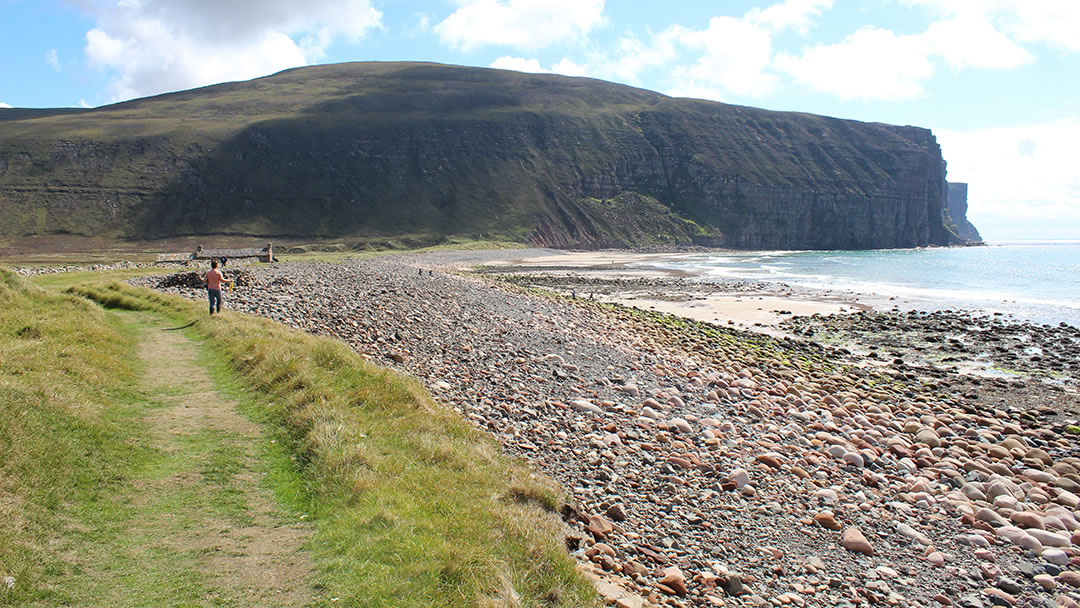 Our favourite things to do include sandcastle building, paddling, picnicking and kite flying; Rackwick beach is truly a magical place.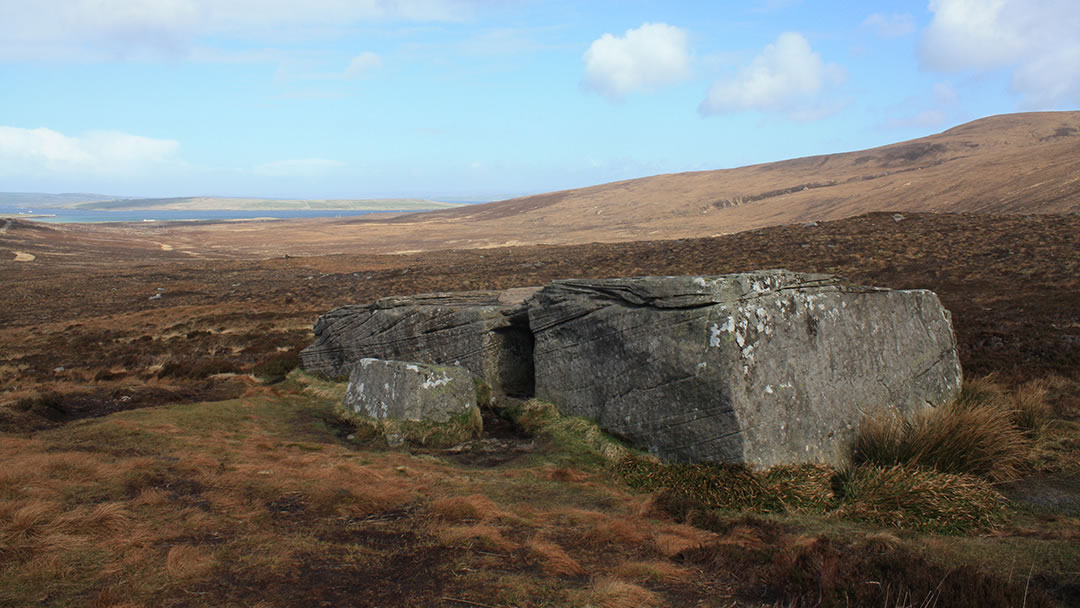 The Dwarfie Stane
The Dwarfie Stane is a massive boulder which was carried by a glacier and deposited in a dramatic valley during the last ice age. It rests under a cliff called the Dwarfie Hammars (hammar is Old Norse for crag) and you'll spot other huge boulders scattered along this landscape. The Dwarfie Stane is special though, as it is thought that Neolithic people carved a chamber into the rock around 3000BC, and used it as a tomb; an amazing feat.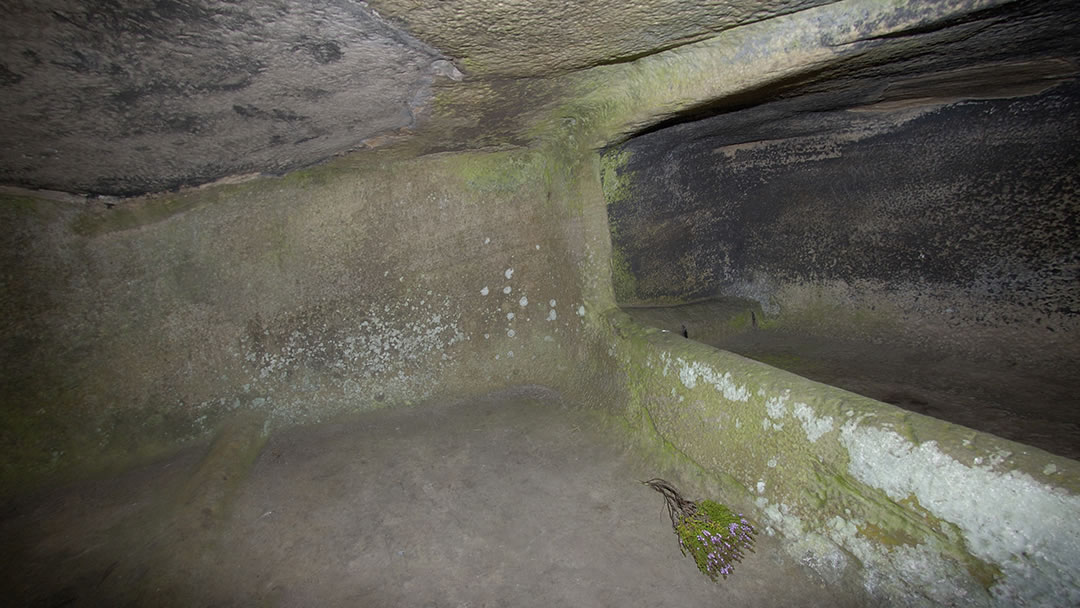 The name comes from folklore; the Dwarfie Stane was thought to be occupied by Snorro the dwarf. The Dwarfie Stane can be reached by crossing duckboards and following a path up a gentle slope for about ½ mile from the main road and car park.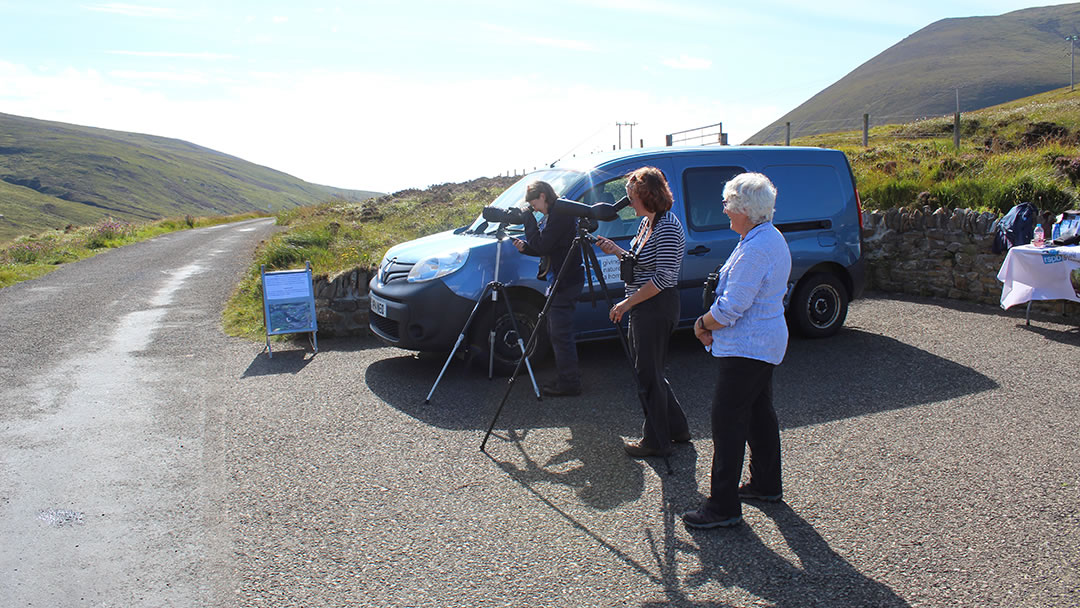 Sea Eagles at the Dwarfie Stane
Over the past few summers, a pair of white-tailed eagles have chosen to nest in the Dwarfie Hammars, and these are the first eagles to have returned to Orkney since 1873. During their nesting period, the RSPB set up a viewing point at the Dwarfie Stane car park, with telescopes trained on the eagles nest; to enable amateur and professional bird watchers to spot them. It's still possible to visit the Dwarfie Stane, but visitors are asked to keep noise levels down. In 2018 the Sea Eagles successfully bred and had two chicks. We hope that they will return in years to come!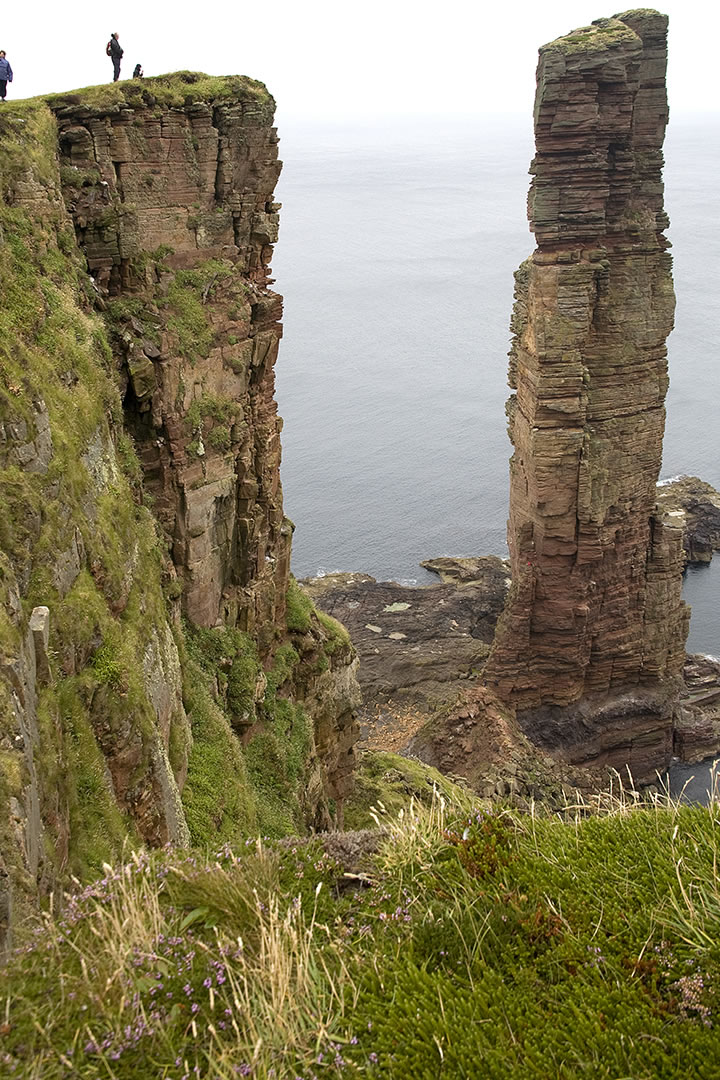 The Old Man of Hoy
If a visitor is travelling to Orkney for a very short holiday we always recommend that they take the Scrabster to Stromness ferry, MV Hamnavoe, in order to sail past the Old Man of Hoy. If you have time though, a trip to Hoy to see the 450ft sea stack up close is highly recommended. Most walkers start at the Rackwick hostel, and follow the footpath up the hill. This is recommended for fit walkers, and a round trip to the Old Man of Hoy from Rackwick will take around three hours.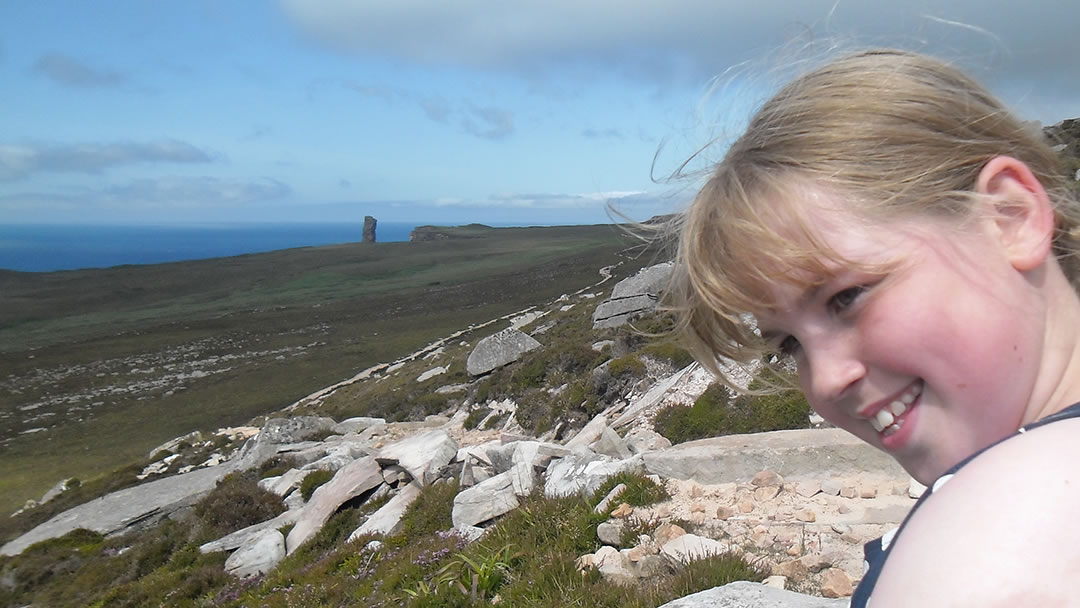 After the initial climb, you'll get a tantalising glimpse of the top of the sea stack. Continue on and you'll reach a viewing platform overlooking the Old Man; make sure you bring your camera for spectacular photographs. Please be wary of cliff edges!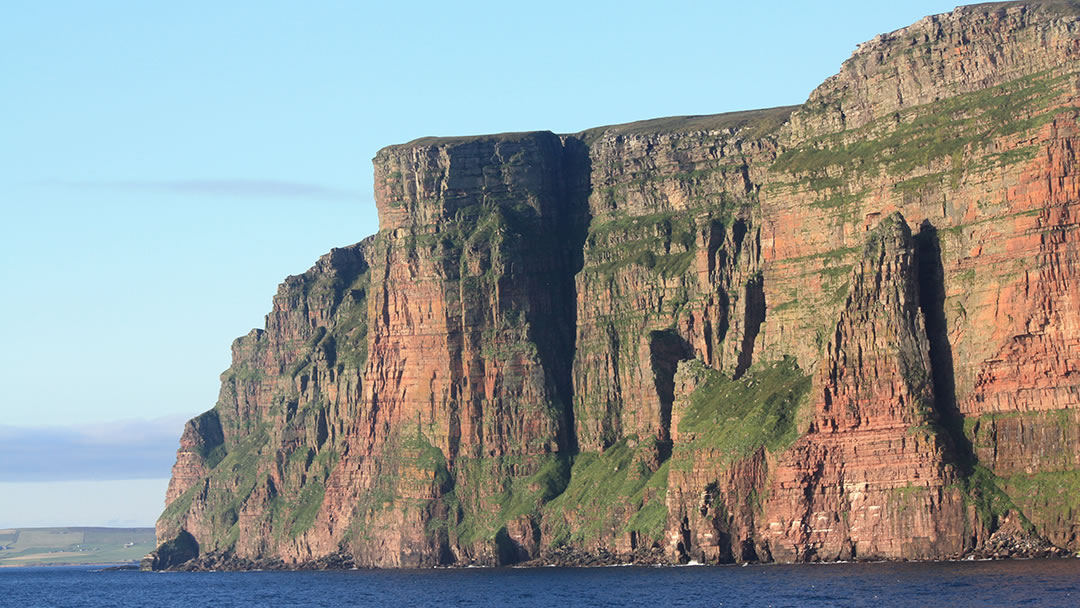 St John's Head
If you follow the cliff line north from the Old Man of Hoy, back towards Moaness pier, you'll find yourself progressing uphill. The cliffs here are extremely high, and St John's Head itself is one of the highest vertical sea cliffs in Britain; 352m (1,154 ft) tall. St John's Head is separated from the rest of the cliff; the prow is called Brae Brough. In the afternoon and evening sun, the red sandstone cliff face is lit up; 'pillars of flame' as described by George Mackay Brown. The first climb of St John's Head took seven days! Again; please be careful around this area as there are a lot of sharp drops.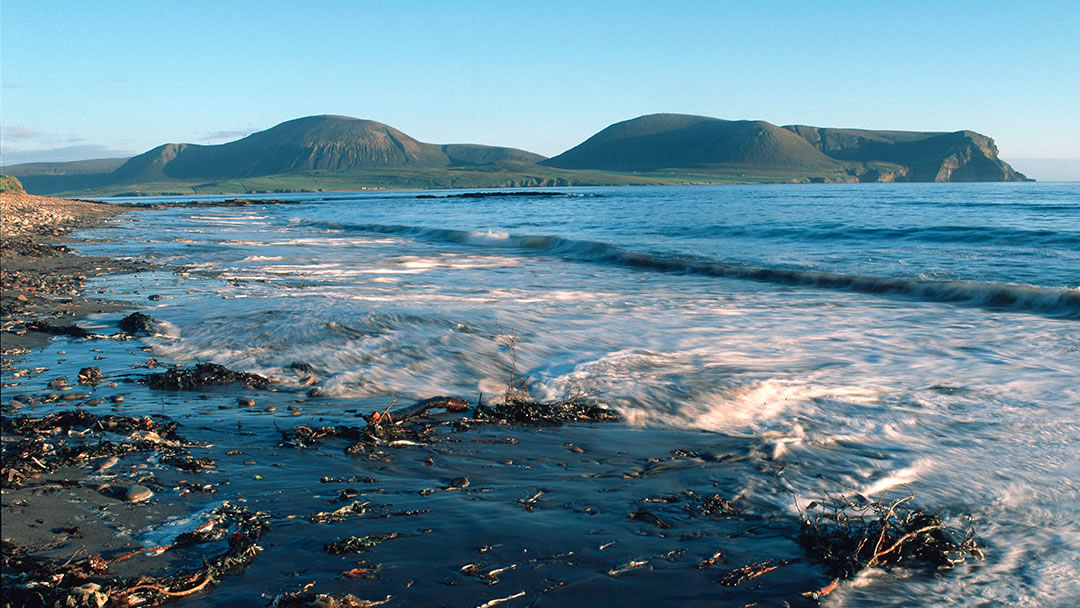 Ward Hill, the Cuilags and the Kame of Hoy
When looking across at the island of Hoy from the Orkney Mainland, you'll see two peaks dominating the landscape; Ward Hill on the left; the highest hill in Orkney at 481m (1,578 ft), and the Cuilags on the right; which stand at 433m (1,420 ft). Attached to the shoulder of the Cuilags is the Kame of Hoy, a steep hillside which cuts dramatically into a sea cliff.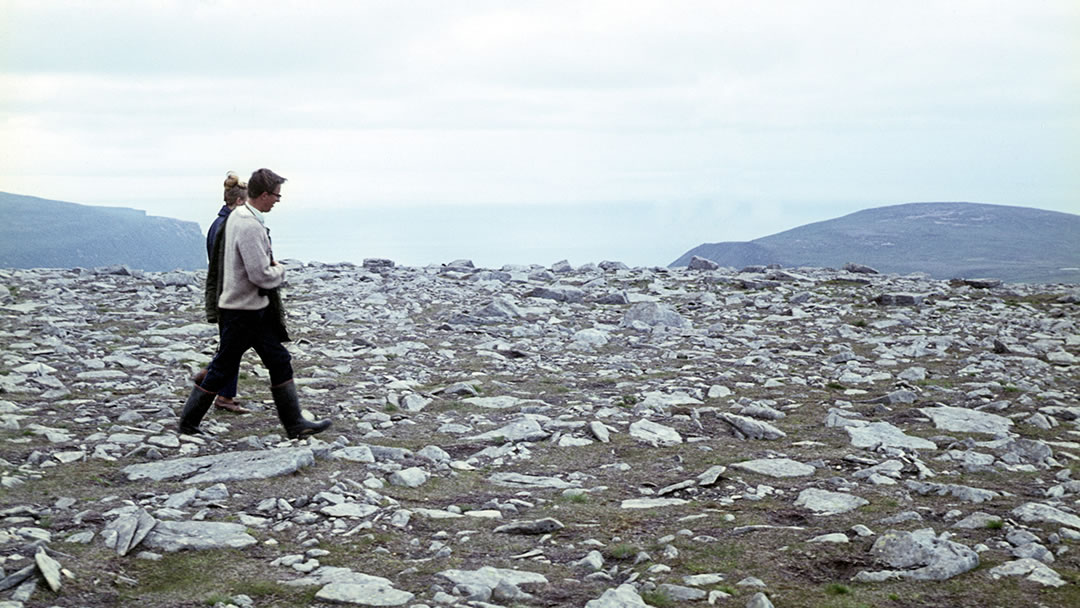 All of these hills are very well worth climbing; and during the winter they are sometimes the only snow covered parts of Orkney. Their peaks are like moonscapes, bare except for scattered boulders. On these hillsides you may spot mountain hare, whose coats turn white in winter! Strewn on the hillside of the Cuilags is the wreckage of a GR-V Liberator aeroplane from WW2.
Betty Corrigal's Grave
On the road to Lyness there's a lonely grave next to a hillside loch. This is Betty Corrigal's Grave. The story of Betty Corrigal is a sad one. In the 1770s, at the age of 27, she was unmarried and pregnant; the father of her child had run away to sea. In a time when this was frowned upon, she tried to take her own life by walking into the sea. She was rescued but went on to hang herself a few days later. Her body was buried in the hills, on unconsecrated land between the parishes of North Walls and Hoy.
In 1933 peat diggers found Betty Corrigal's grave by mistake and soldiers during the Second World War repeated this mistake. Since then Betty Corrigal's grave has been properly marked and a funeral service was conducted. The grave is now visited regularly; a forgotten soul receiving kindness she never felt during her life.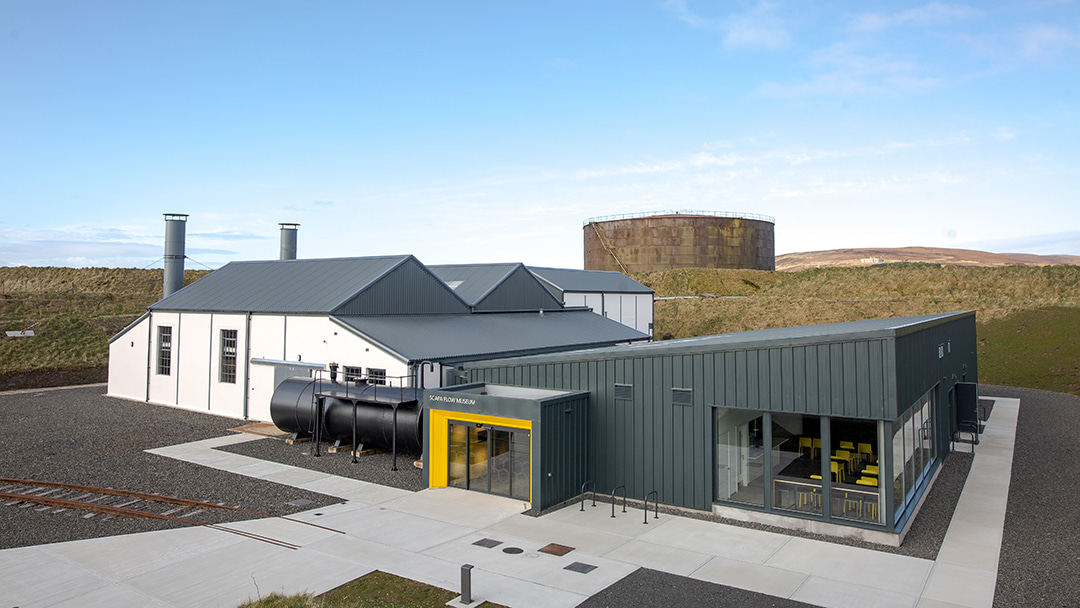 Scapa Flow Museum
At Lyness, in a Second World War pump house is the Scapa Flow Museum, and it's the best place to visit if you have any interest in wartime Orkney. 80 years ago, Scapa Flow was a navel base, and there was a massive influx of military personnel in Hoy. You'll see watchtowers, pictures houses and other remnants from that conflict littered around the island.
In the Scapa Flow Museum there are some amazing photographs and artefacts from the time. Make sure you leave time to enjoy homebakes and a hot drink in the delightful tearoom there; you'll be served by staff wearing clothes from the 40s!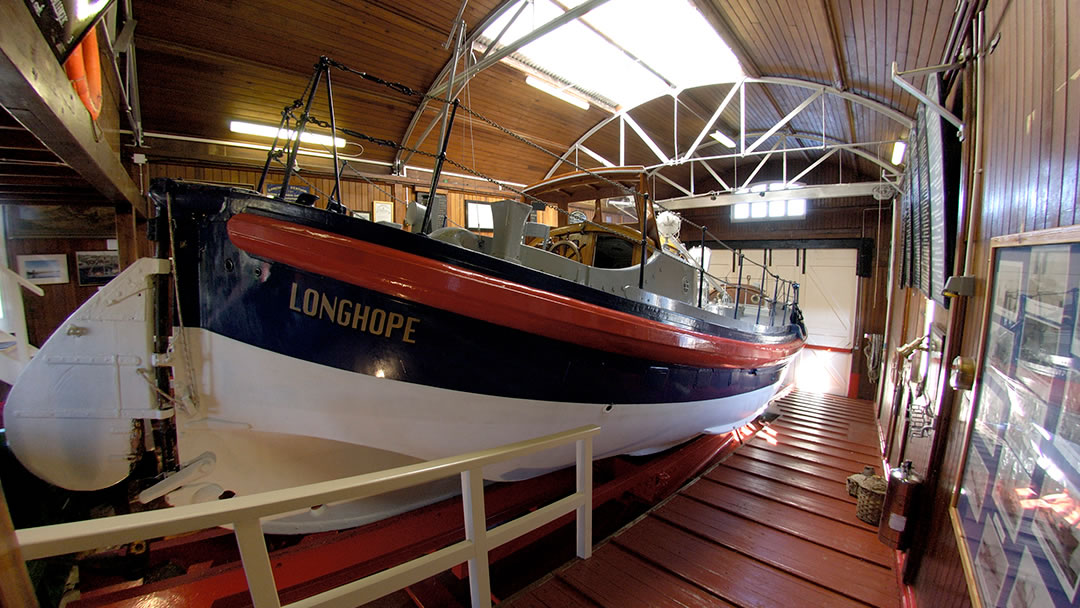 The Longhope Lifeboat Museum
The lifeboat in Longhope has played a central part to this sea-faring community since it was established in 1874. It has served the south isles of Orkney, saving over 500 lives over the years. Within the old lifeboat shed at Brims there is now a permanent exhibition; with the lifeboat Thomas McCunn, which served from 1933 to 1962, as a centrepiece.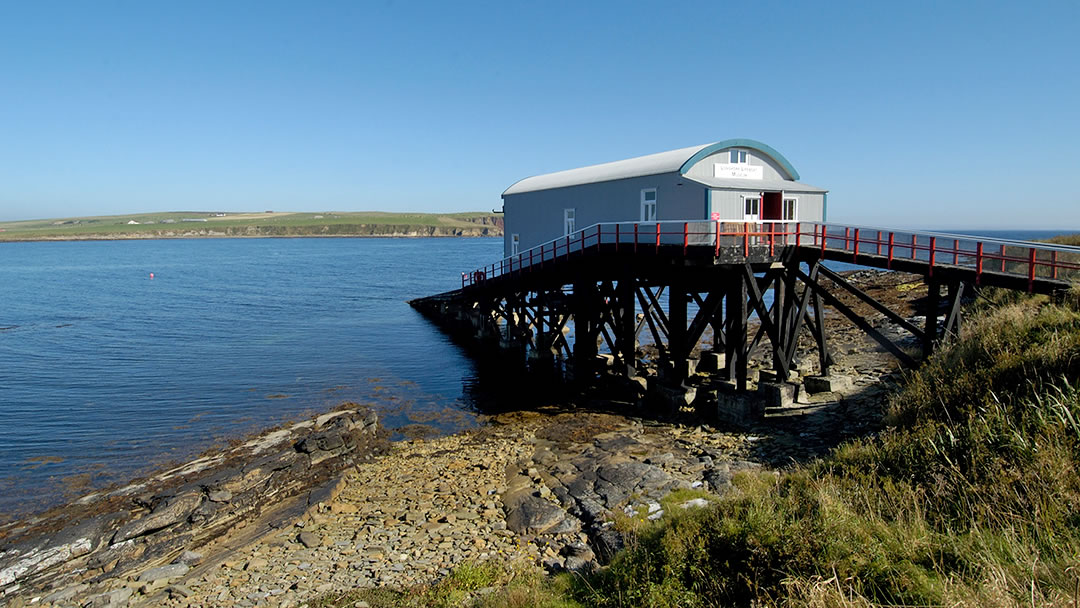 All the Longhope Lifeboats that served time rescuing lives at sea have their story told here. The Longhope Lifeboat Museum is a fine tribute to the brave crews who have endangered themselves in wild seas to help seafarers over the years.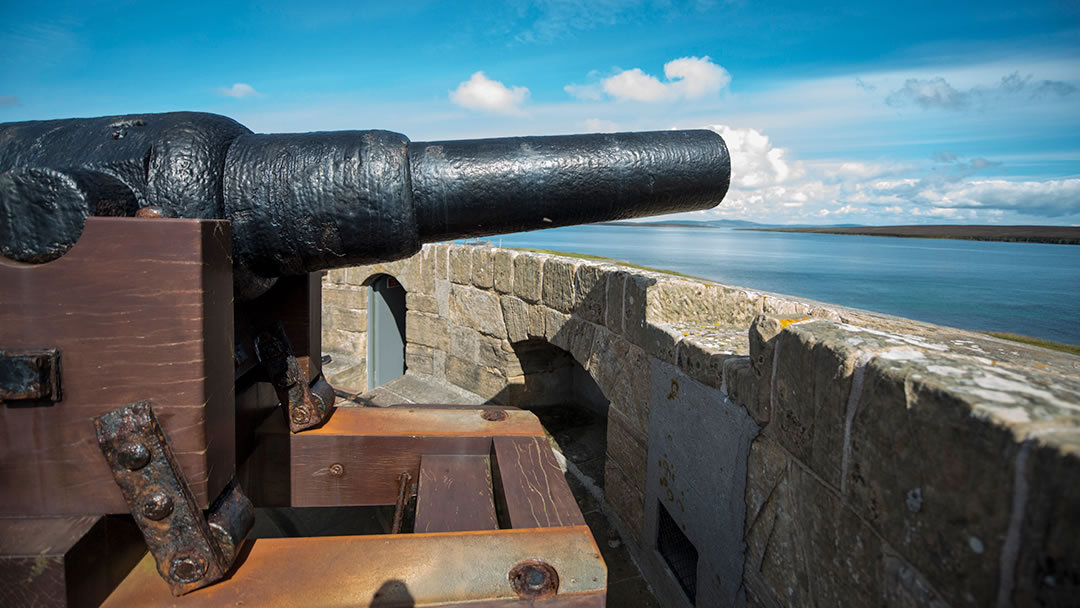 The Martello Towers
Martello Towers are small defensive forts which were built across the British Empire along coasts to protect merchant shipping interests during the Napoleonic Wars. The Crockness and Hackness Towers were built in 1815 to protect British ships in the bay of Longhope against attack by American and French privateers.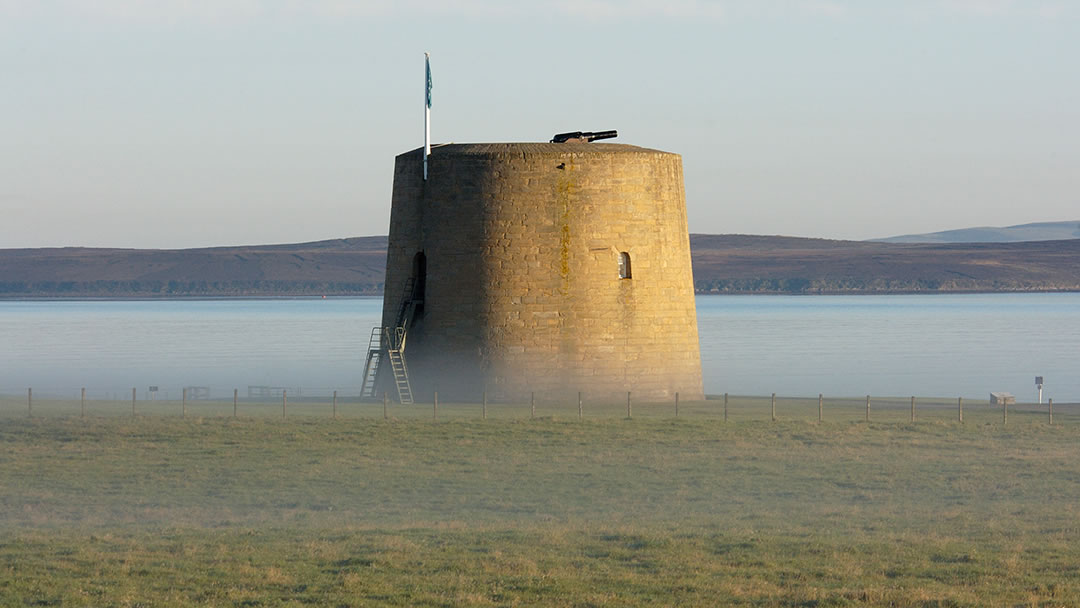 The Martello Tower at Hackness is a fine place to visit where you'll receive an excellent guided tour of the tower and barrack rooms. After a steep climb up some steps to the top of the tower, you'll find there's a fantastic view to be had. You'll also find a cannon on rails which could be directed against ill-comers to Longhope Bay.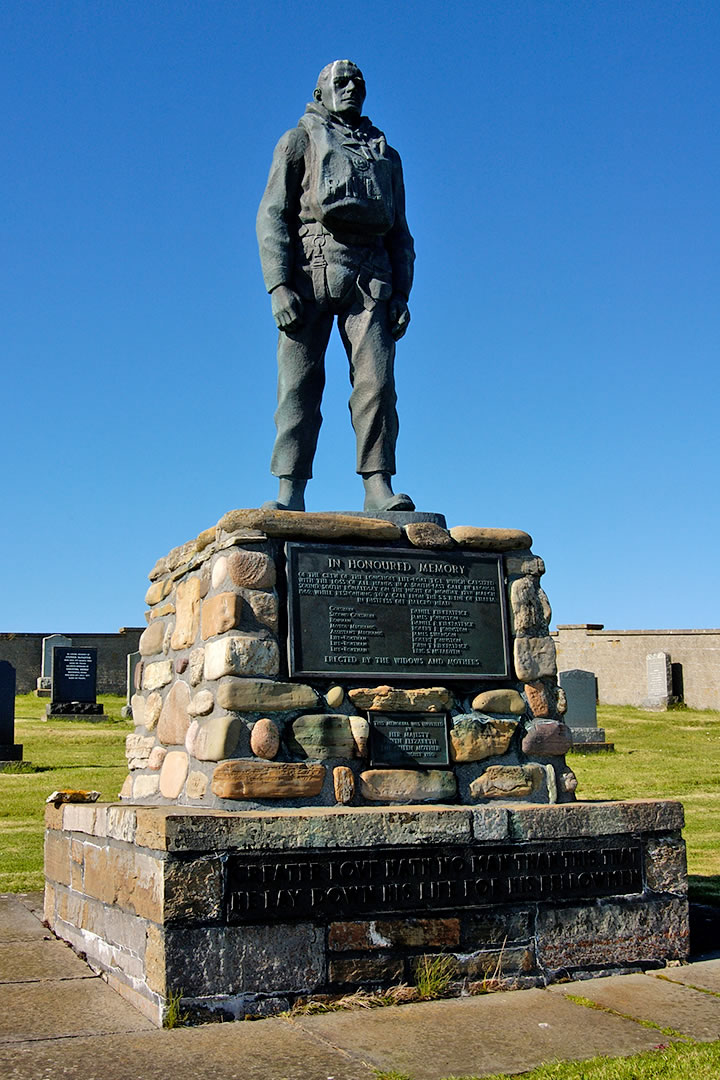 Longhope Lifeboat Memorial
In a quiet graveyard at Osmondwall, overlooking the sea, there's a touching memorial to a tragic event that happened on 17th March 1969. The Longhope Lifeboat T.G.B. went to assist a cargo ship in distress named Irene which was out of control and drifting in the Pentland Firth in a force nine gale. However, the T.G.B. capsized, with the loss of the entire crew of 8.
The following year a bronze statue created by Orkney artist Ian Scott was unveiled by the Queen Mother to remember the Longhope Lifeboat Disaster and to honour the brave men who sacrificed their lives.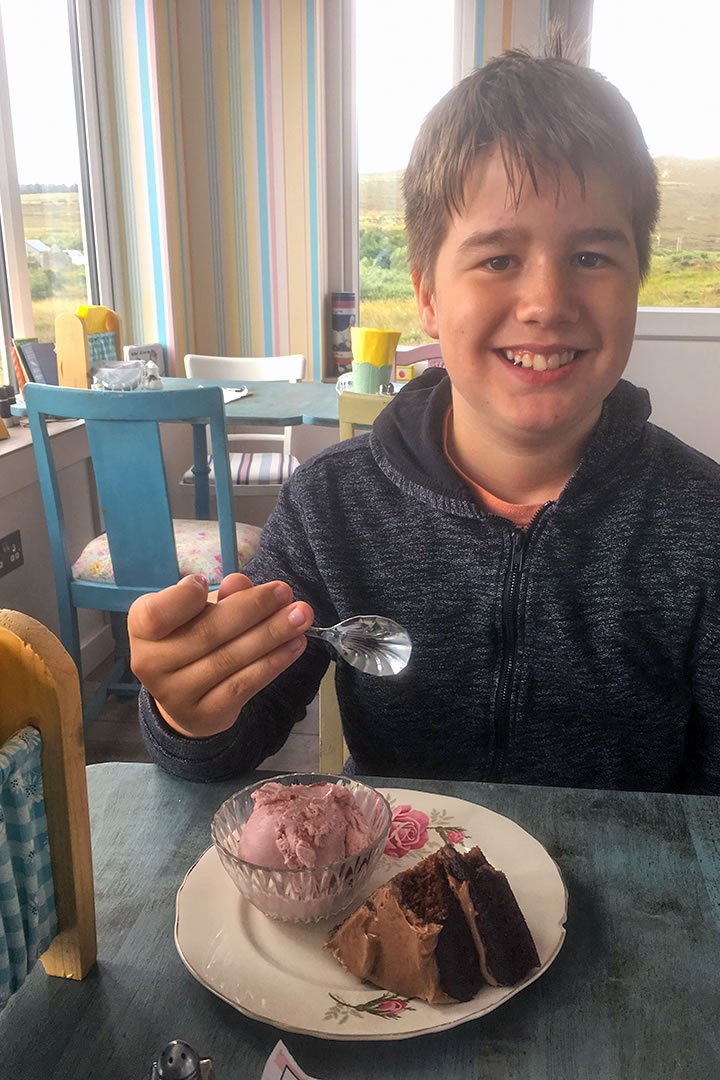 Emily's Ice Cream Parlour
A relatively new business, Emily's Ice Cream Parlour was a highlight of a recent trip to Hoy. 1½ miles from Lyness on the road to Rackwick, the business is situated in a small wooden house painted green.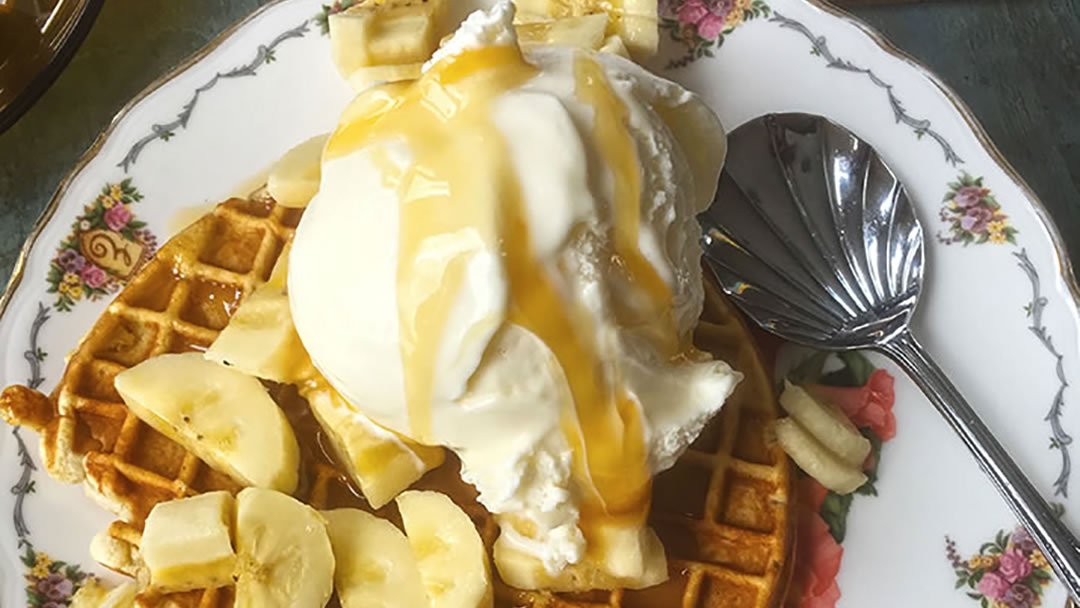 Whilst you can stop to pick up a quick ice cream cone, we'd recommend stopping for a while and sampling an ice cream with home baked cake, an ice cream sundae, an ice cream float, or perhaps (our favourite) a Belgian waffle with ice cream. As well as offering a charming 40s themed tearoom, there's a gift shop in Emily's Ice Cream Parlour to explore too!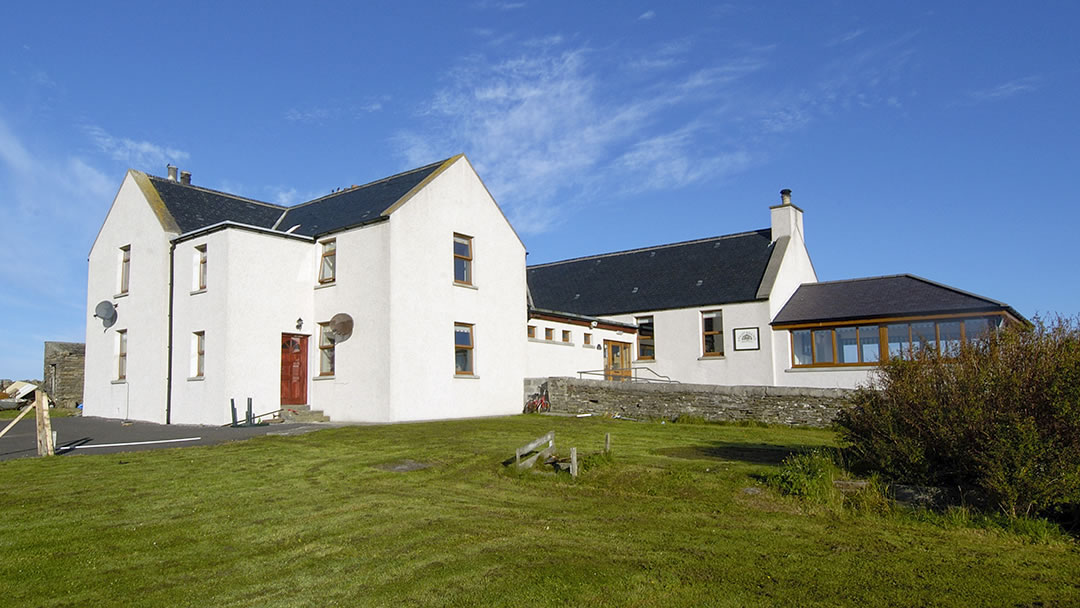 The Stromabank, the Royal Hotel, and Beneth'ill Cafe
There are other great places to get a bite to eat in Hoy. The Stromabank Hotel has a fantastic menu where you can eat your food in a glass walled conservatory area with panoramic views of Orkney South Isles.
The Royal Hotel is located in Longhope and the fish and chips here are particularly recommended.
Meanwhile Beneth'ill Cafe offers tasty rewards (sandwiches, bakes and drinks) for Hoy explorers, 6 miles from Rackwick, 5 minutes from Moaness pier.
Please note – there is no shop or cafe in Rackwick so explorers, please bear this in mind!
How do you get to Hoy? To get to Hoy you'll need to take one of two ferries.

A foot passenger (and bicycle) ferry leaves from Stromness (at the pier opposite the Stromness Hotel) and lands in Moaness. It is called MV Graemsay. Tickets are purchased on board and there's no need to book ahead. This ferry often stops off at Graemsay, an island half way between Hoy and the Orkney Mainland. Moaness is the parish of Hoy, and it's about six miles by road to Rackwick. There is often a minibus to transport visitors from the pier to Rackwick during summer.

There is also a car ferry which travels from Houton in Orphir to Lyness. Lyness is around ten miles from Rackwick, and to see all that Hoy has to offer, you may need to take a car (or be a keen cyclist!) This ferry, called MV Hoy Head sometimes stops at the island of Flotta and it has limited car deck space, so be sure to contact Orkney Ferries to book your vehicle on board at least a couple of days in advance.

By
Magnus Dixon
Orkney and Shetland enthusiast, family man, loves walks, likes animals, terrible at sports, dire taste in music, adores audiobooks and films, eats a little too much for his own good.
Pin it!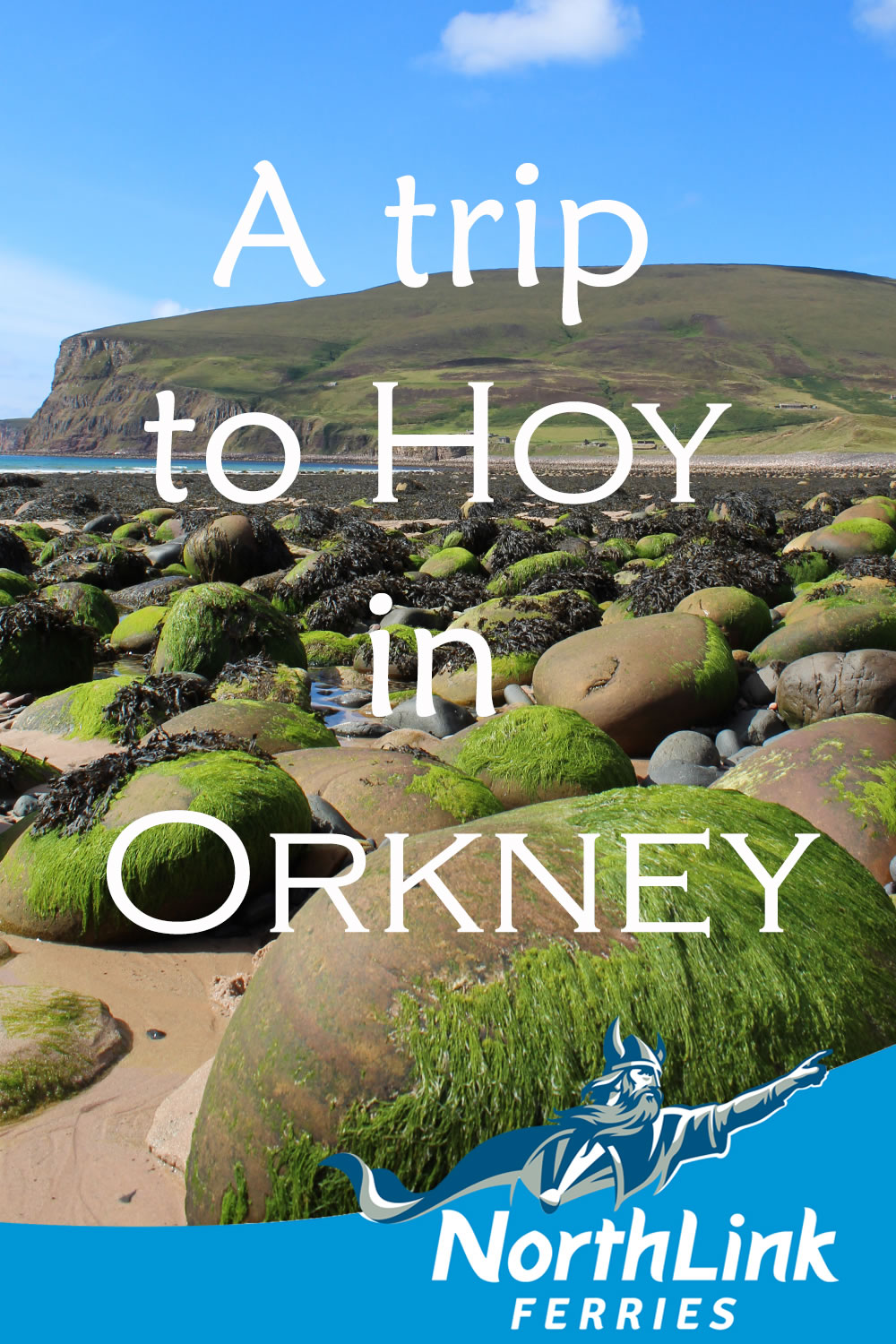 Header image: Rackwick, Hoy, Orkney photo © Copyright Magnus Dixon