A great place to visit in Orkney whatever the weather is Marwick in the West Mainland. Marwick (meaning 'shallow bay' in Old Norse) sits between the Bay of Skaill and the Brough of Birsay and there are three great reasons to journey here.
Kitchener's Memorial is a moving symbol in a dramatic and beautiful place. Visit during the summer to spot seabirds and watch creel boats lift crab and lobster below the cliffs. You will also be able to see the Old Man of Hoy in the distance on a clear day.
Marwick Head is a great place to visit in the summer when the seabirds occupy the cliff ledges and the wildflowers are in full bloom. Marwick Bay is a great place to visit in spring and autumn when birds shelter in the tidal lagoon. A trip to the fishermen's huts at Sand Geo makes for a fine winter walk.
Marwick Bay
Marwick Bay can be reached by taking the B9056 from Quoyloo to Birsay and then by turning left down the signposted road to the beach and car park.
Marwick Bay is dominated by the Choin, which is a massive low-tide lagoon that lies between the beach and the open sea. The name comes from the Old Norse word 'tjörn' which means 'large pool'.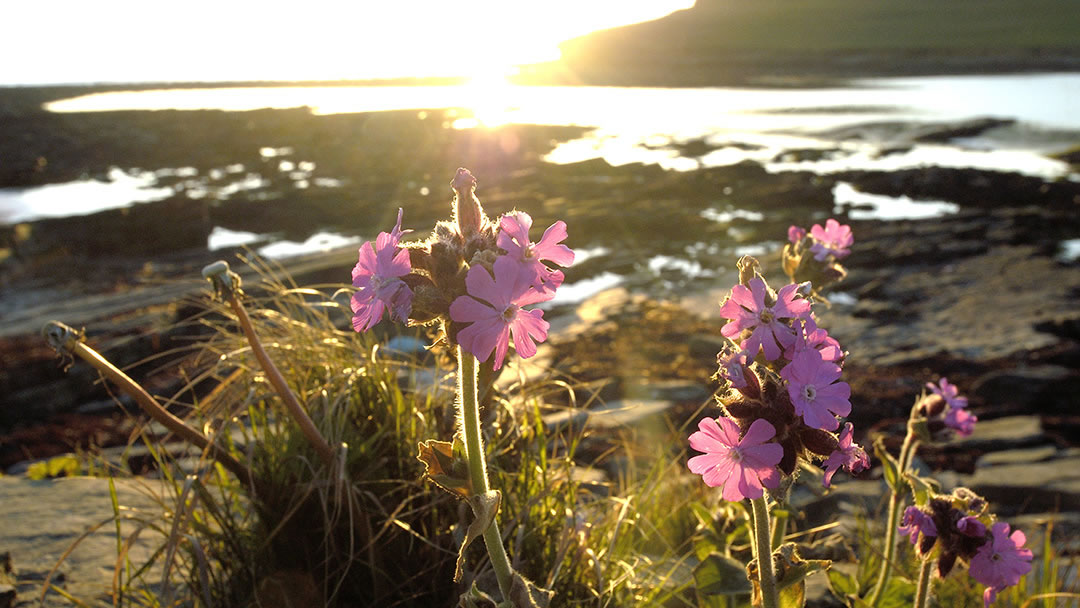 Even on days when the sea is rough, the water at the Choin remains calm, and this shelter attracts a wide range of wading birds and ducks including curlew, wigeon and red breasted mergansers.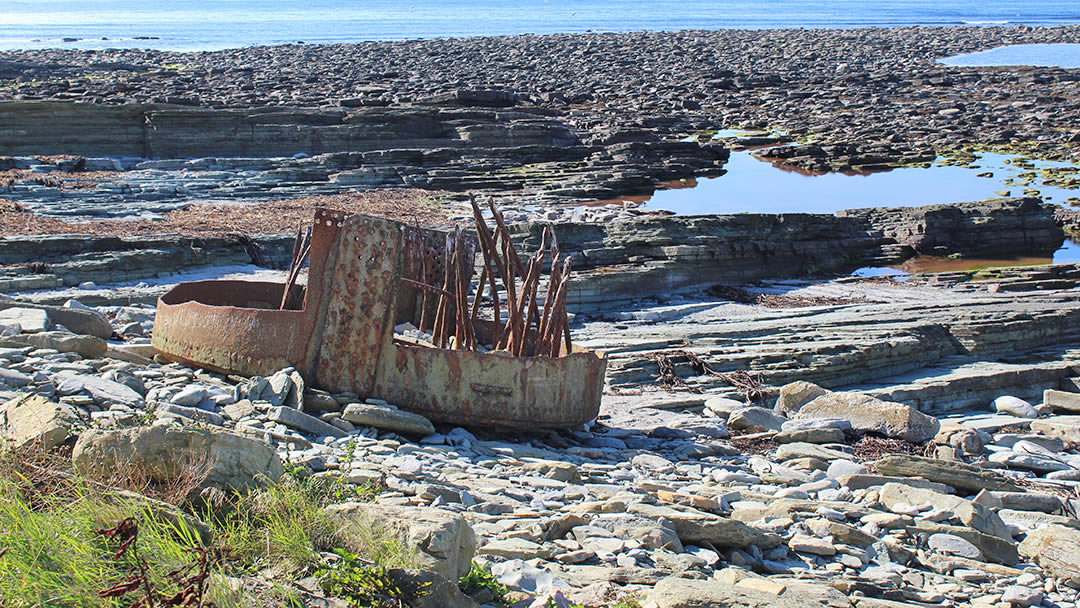 The beach here is quite rocky, and on the pebbles, you may spot the rusted hulk of a boiler which belonged to S.S. Monomoy. This was an iron steamship which was wrecked at Marwick during a storm in January 1896. She had a cargo of wheat and other general goods and wrecked after just 4 years of service. One of the ship's two boilers was flung ashore during wild weather in March 1985.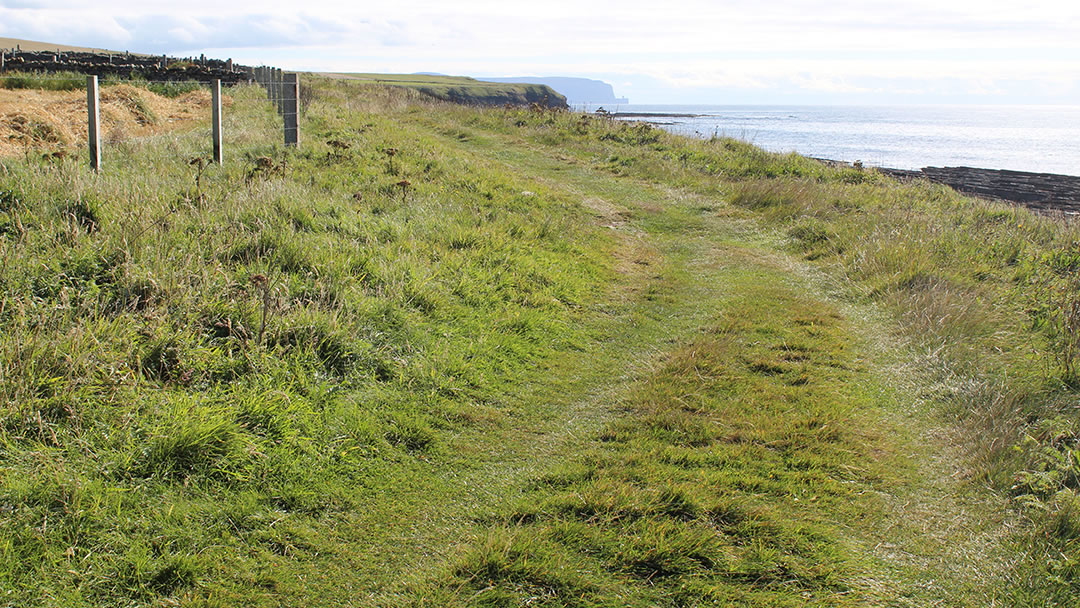 The fishermen's huts at Sand Geo
From the car park at Marwick Bay there is a gentle coastal walk south to the fishermen's huts. After half a mile you will find a small cove – Sand Geo – which descends into the sea on a slope littered with lovely round grey pebbles.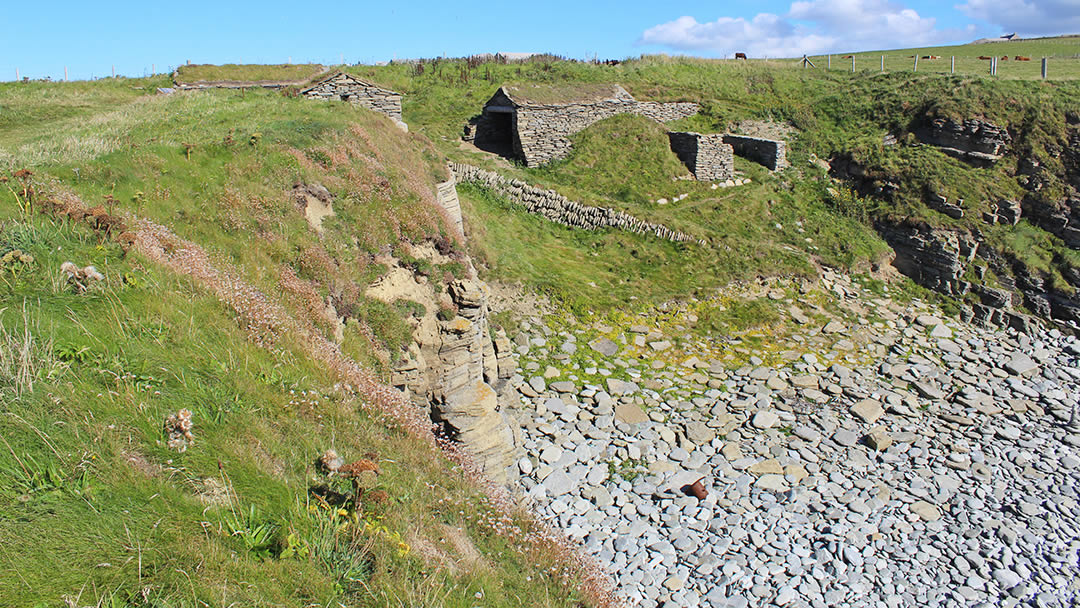 At the top of the slope are three fishermen's huts and boat nousts – boat shaped hollows carved into the earth. There is also a winch which hauled the fishermen's boats to safety from the wild seas. With their grass roofs, the huts almost blend into the landscape.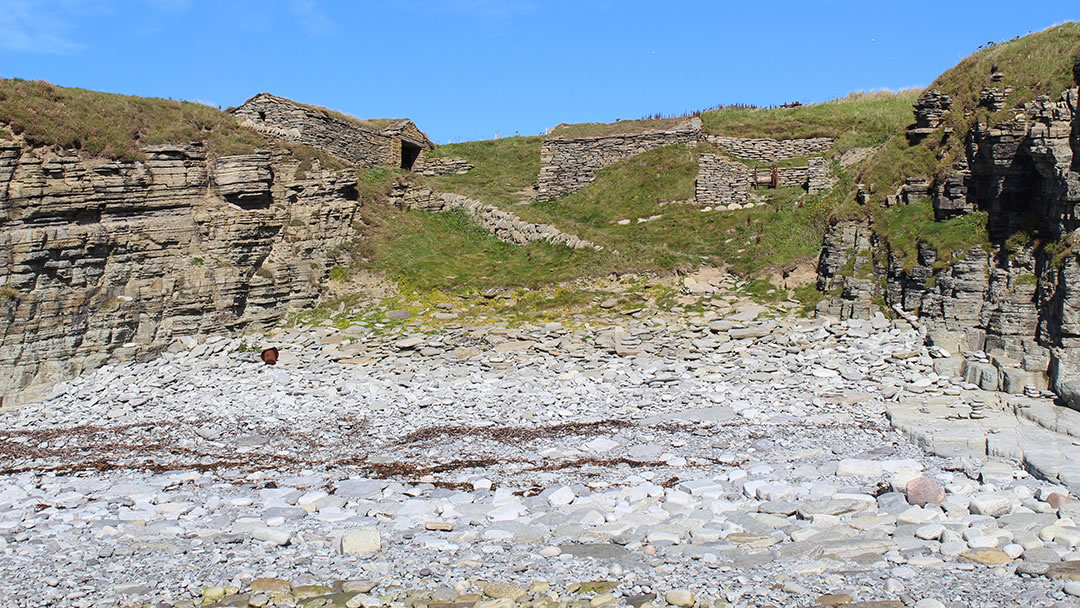 The fishermen's huts at Sand Geo were built between 1898 and 1913 by local men. John Breck of Langskaill, Jacob Hunter of Skorn, William Meadows of Brockan, Robert Mowatt of Windbreck, Peter Slater of Cumlaquoy, Alex Slater of Howe, James Stanger of Riquoy and John Stanger of Gairstay were farmers and were related to one another. They used hand lines to catch haddock and cod for their families.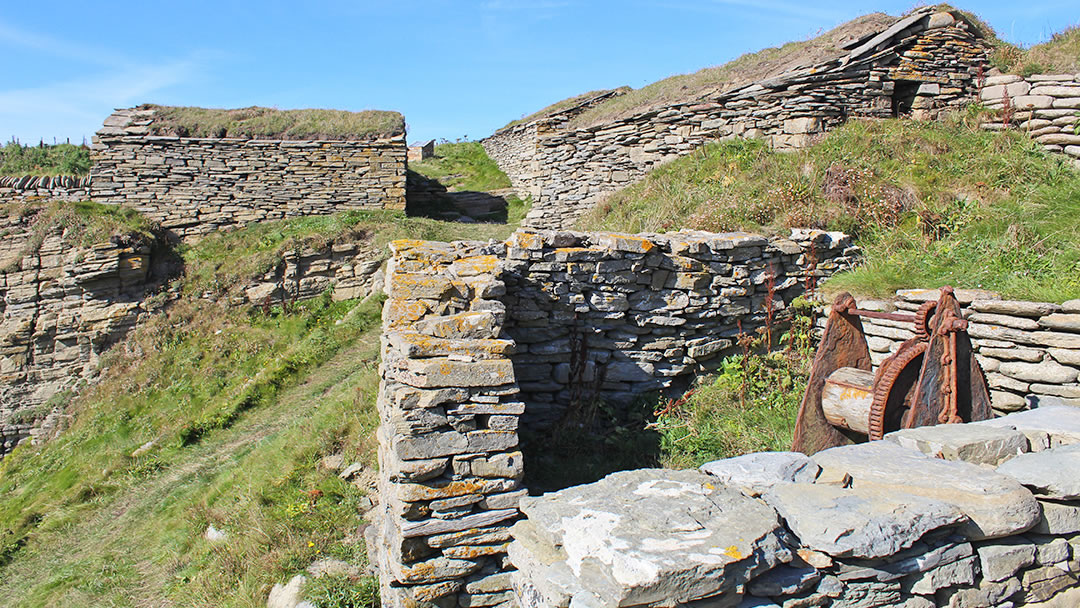 The men began using Sand Geo to land their catch after S.S. Monomoy was wrecked at their usual landing place on the shore to the north. The metal winch used at Sand Geo was salvaged from this wreck.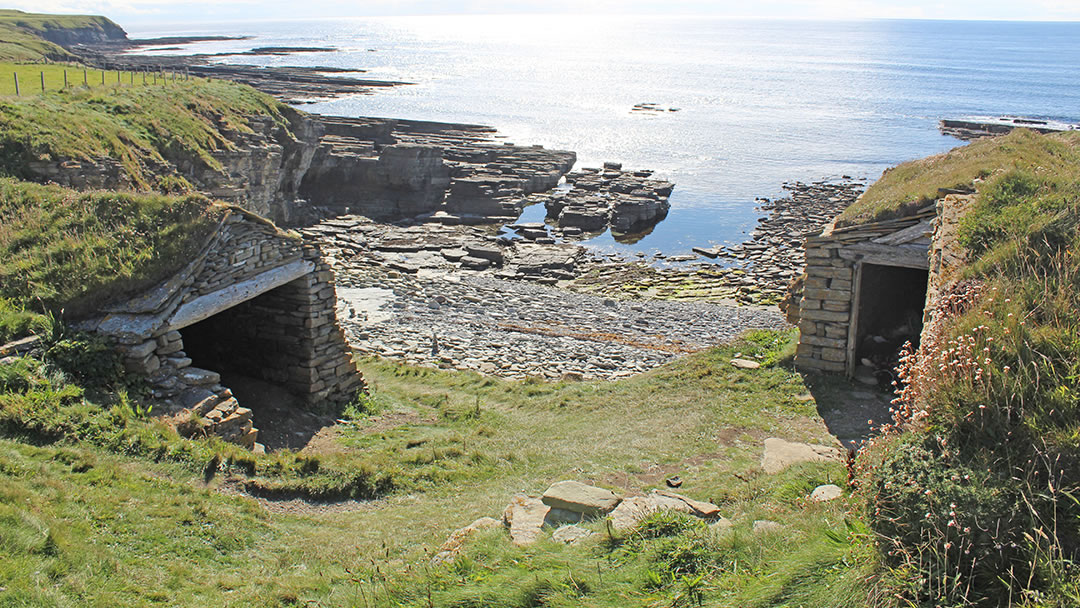 The fishermen's huts were restored in June 1984 by the Scottish Conservation Projects Trust Stirling working with Orkney Islands Council.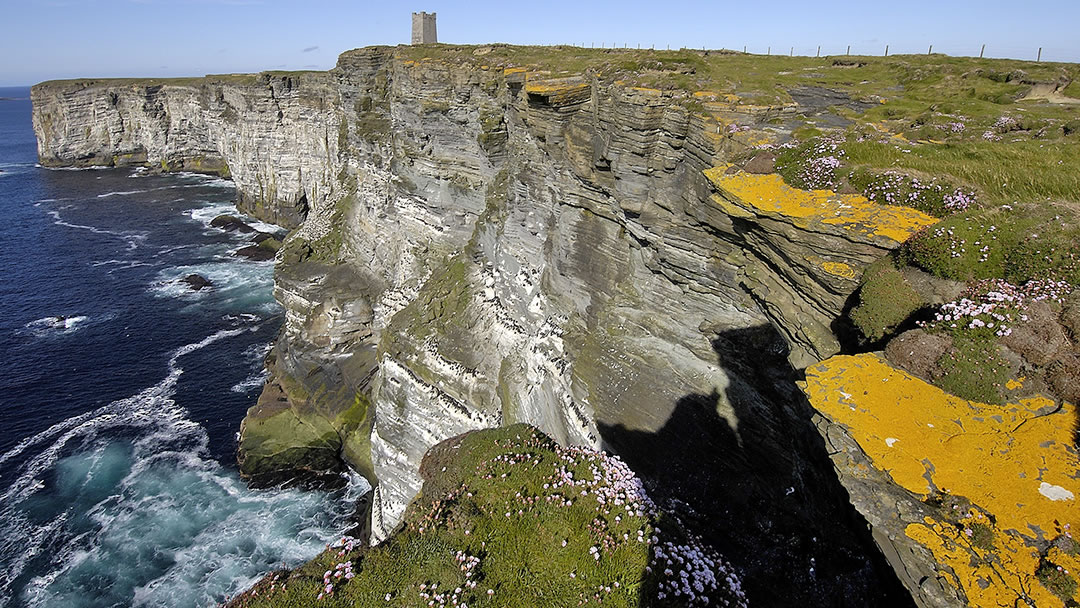 Marwick Head
To the north of Marwick Bay, a green hillside rises to the seabird cliff of Marwick Head, and perched on top of here is Kitchener's Memorial, a stone tower shaped like a chess piece, erected in memory of Lord Kitchener and the men of HMS Hampshire.
You can reach Marwick Head from the car park at Marwick Bay by hiking up the steep hillside next to the cliff edge. There is also a car park on the hillside at Cumlaquoy which is a more forgiving walk (and ½ mile long) to the cliffs.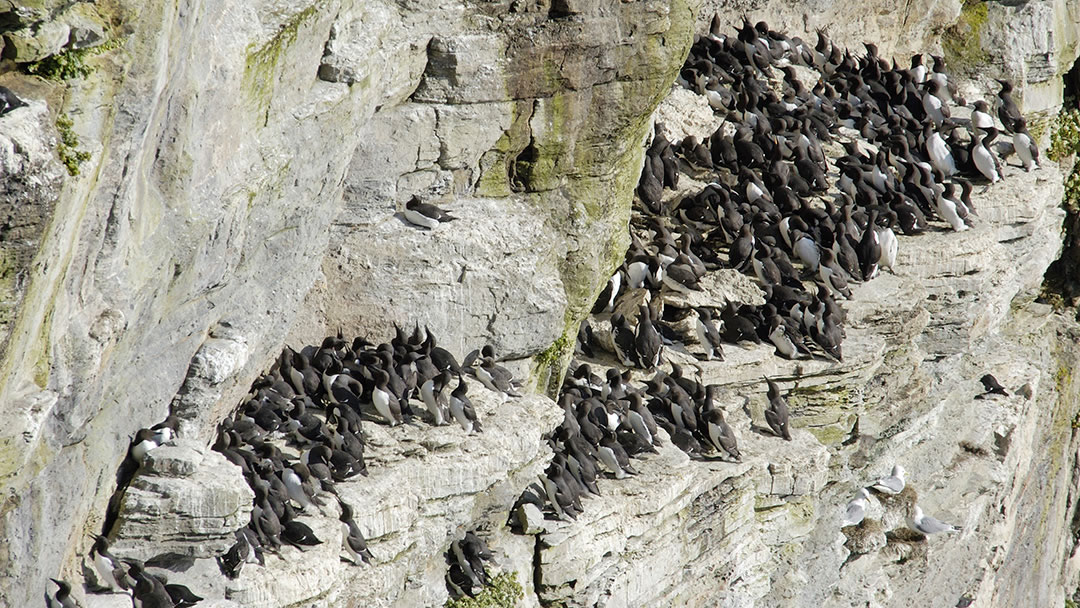 Marwick Head is best visited between April and July, when the 87m high cliffs are full of screaming seabirds. The old red sandstone has weathered into ledges ideal for nesting. Marwick Head is a great place to see fulmars, guillemots, kittiwakes, puffins, razorbills, and rock doves.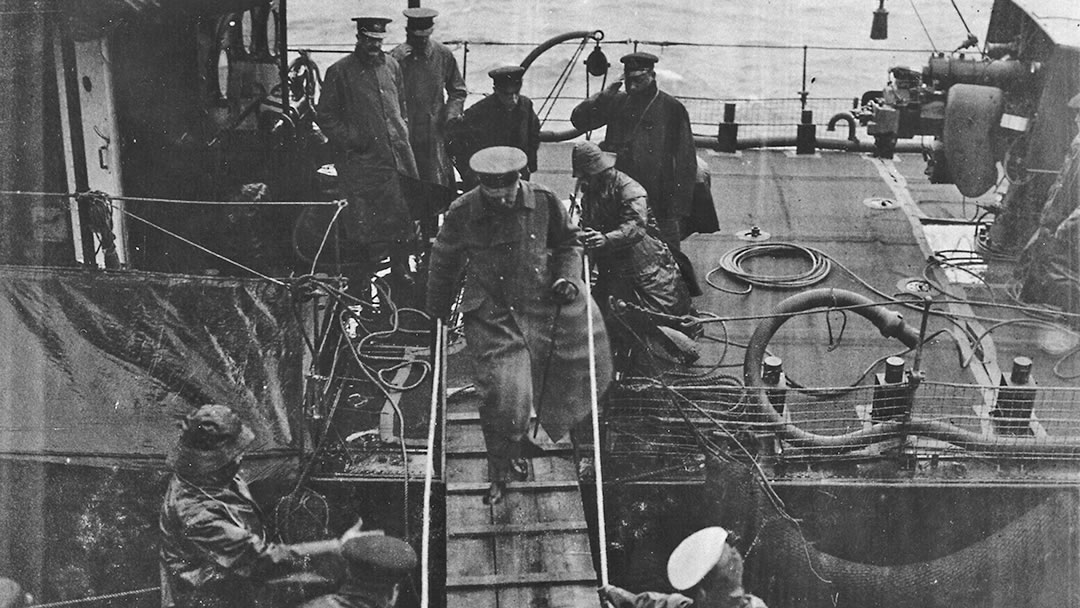 Lord Kitchener was the Secretary of State for War. He took up that position the very day after Britain declared war on Germany in 1914 and raised the largest volunteer army Britain has ever seen. It is Lord Kitchener's face that appears on the 'Your Country Needs You' recruitment posters.
HMS Hampshire was a Devonshire-class armoured cruiser which was launched in 1903 and went into service with the Royal Navy in 1905. It had been involved in the Battle of Jutland, the greatest naval battle of WWI which took place between 31st May 1916 and 1st June 1916.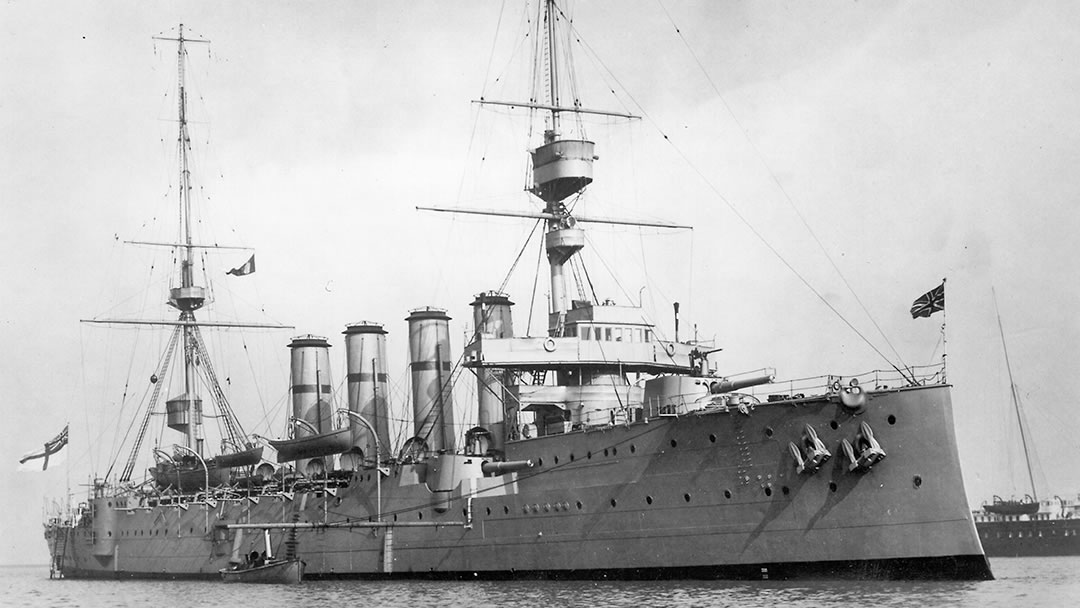 On 5th June 1916 HMS Hampshire set out from the Royal Navy's anchorage at Scapa Flow with Lord Kitchener on board. The mission was a morale-boosting rendezvous with Britain's ally, Russia. However the ship had set sail during a ferocious north-easterly gale and the decision was made to sail west instead of east, hugging the west coast of Orkney for protection from the wind.
Unfortunately, though the eastern route from Scapa Flow had recently been swept for mines, the western route had not. An Imperial German Navy submarine U-75 had laid mines earlier in the year in preparation for the Battle of Jutland. U-75 would later be destroyed off Terschelling in December 1917.
Two destroyers accompanied HMS Hampshire out of Scapa Flow, but could not maintain the same 18 knot speed due to high seas. They fell behind and returned to Scapa Flow.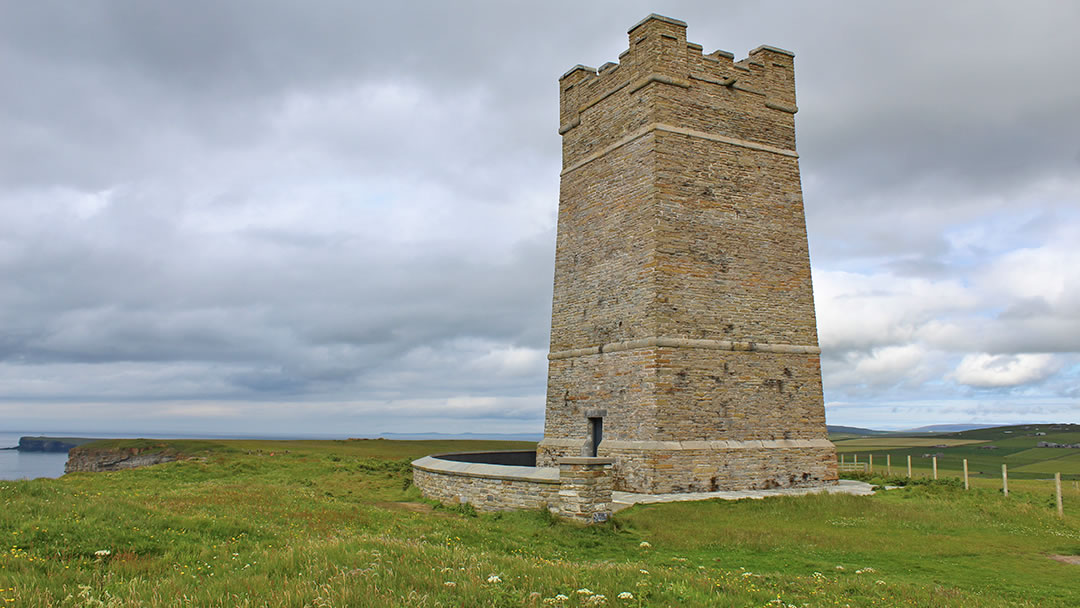 At 19:45, less than 2 miles from Marwick Head, HMS Hampshire struck a mine. A survivor recalled, "It was as though an express train crashed into us." Fire broke out and the ammunition stores exploded.
As the ship began to sink, lifeboats were smashed against the hull in the fury of the storm. Other lifeboats were successfully launched only to be swamped by waves or dashed against rocks. The explosions had cut the power, so the HMS Hampshire was unable to send a distress signal.
Kitchener had been reading in his cabin when the explosion occurred, and made his way calmly to the bridge, ignoring requests to take a lifeboat. HMS Hampshire was lost within 20 minutes, going down bow first. Only 12 men managed ashore and survived, taking shelter in houses nearby. 737 men lost their lives.
Rumours circulated about the disaster. The Stromness lifeboat was forbidden from launching. The Admiralty did not want Orcadians near the west coast in case secret documents carried by Lord Kitchener were washed ashore. There were stories of spies and gold and secret missions, but the truth was that the sea conditions were too dangerous, and search and rescue parties were not assembled in time.
17 days later, on 22nd June 1916 there was another tragedy near Marwick, this time involving HM Drifter Laurel Crown. The Royal Navy employed many fishing drifters during the war and that day eight small vessels left Kirkwall to look for mines west of HMS Hampshire. One of the vessels, HM Drifter Laurel Crown, struck a mine and suddenly exploded. All nine men on board were killed, including an Orcadian, George Petrie of Wart in Burray.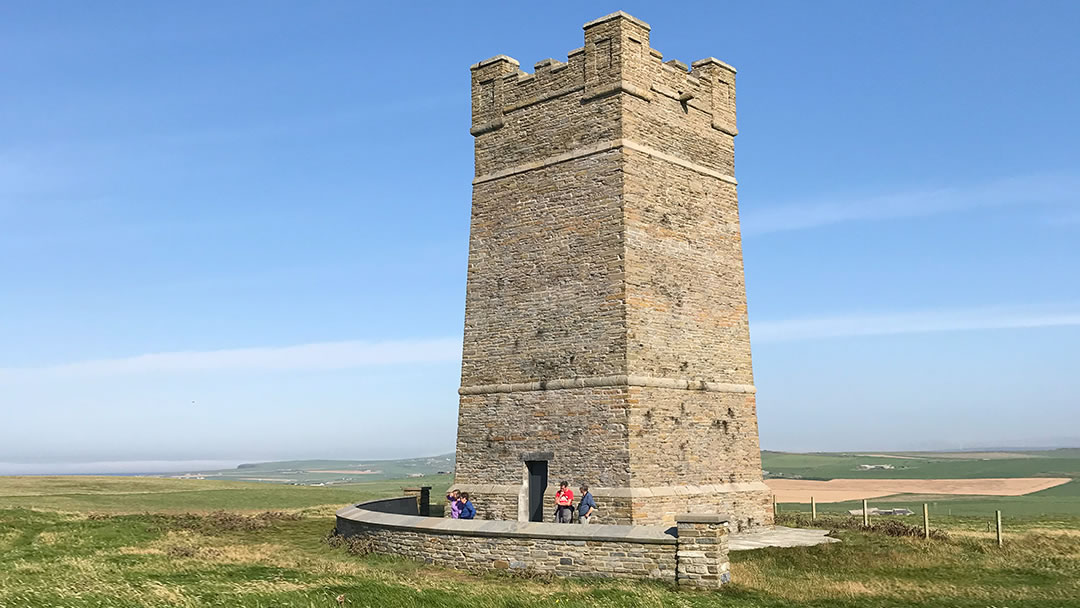 Kitchener's Memorial was unveiled in July 1926. It cost £734 to build and was paid for by the people of Orkney. It is 48ft high with walls 4ft 6 inches thick at the base. Kitchener's Memorial was designed by Kirkwall architect J.M. Baikie and built by Orphir contractor Mr William Liddle.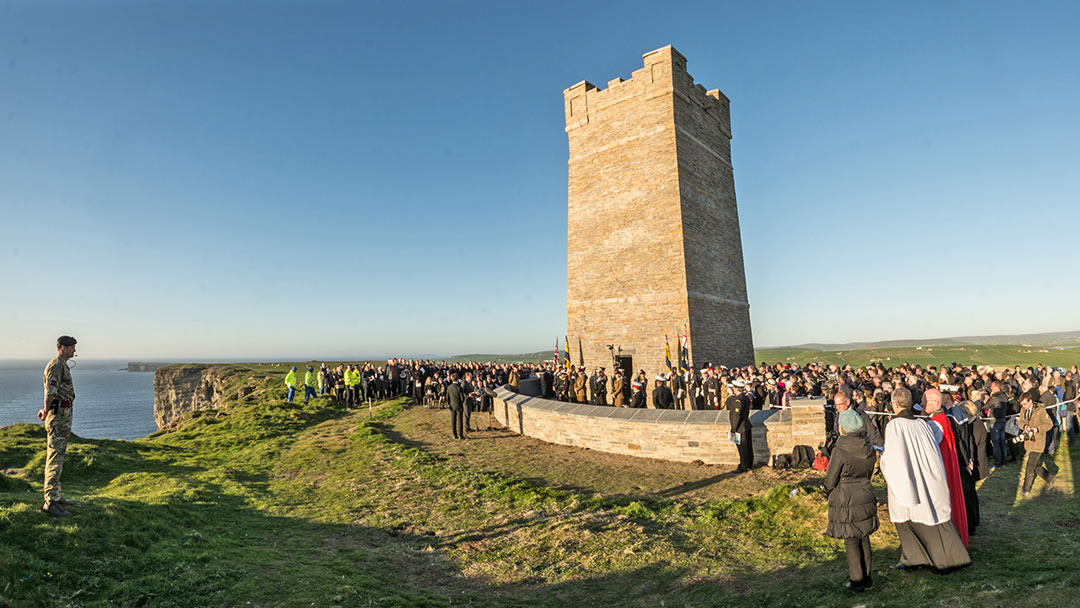 In June 2016, to mark the anniversary of the sinking of HMS Hampshire, Orkney Heritage Society restored Kitchener's Memorial and built a curved memorial wall outside the tower, paid with donations from the public and businesses. Carved in granite on the wall are the names of all the men lost on HMS Hampshire and HM Drifter Laurel Crown along with a poem from Robert Rendall.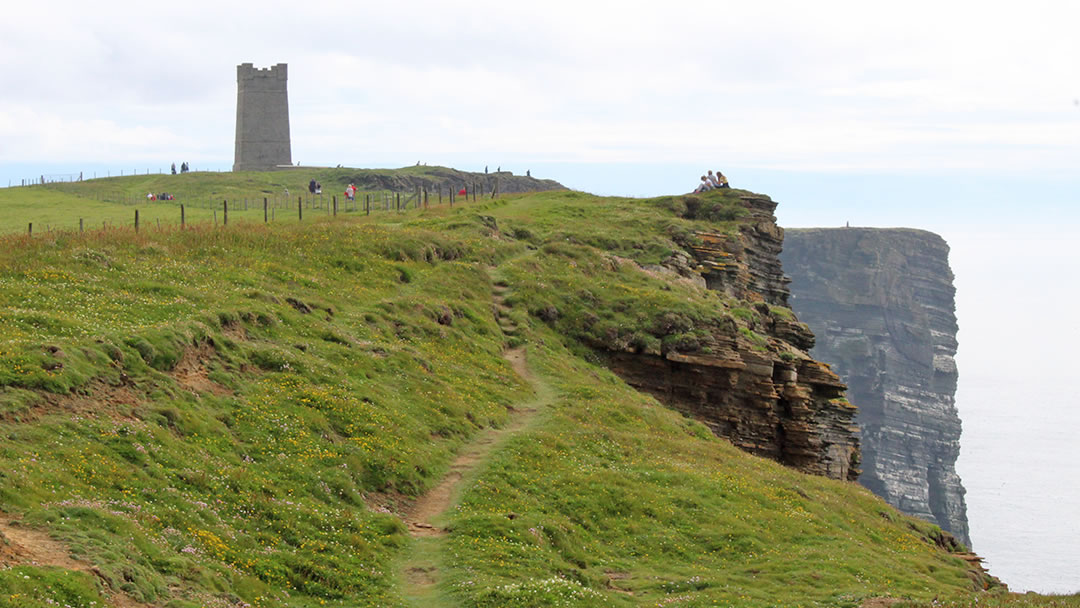 Kitchener's Memorial is a moving symbol in a dramatic and beautiful place. Visit during the summer to spot seabirds and watch creel boats lift crab and lobster below the cliffs. You will also be able to see the Old Man of Hoy in the distance on a clear day.

By
Magnus Dixon
Orkney and Shetland enthusiast, family man, loves walks, likes animals, terrible at sports, dire taste in music, adores audiobooks and films, eats a little too much for his own good.
Pin it!
Header image: Marwick Head in Orkney photo © Copyright Charles Tait