If you're looking for somewhere spectacular to explore then why not take a walk up Wideford Hill, one of the most distinctive hills on the Orkney Mainland?
I recommend taking plenty to drink and of course, a picnic to enjoy at the top. After all, you did just climb one of the tallest hills on the Orkney Mainland!
If you're not able to make the walk, you can even take your car to the summit, which can be a great option for a rainy day too!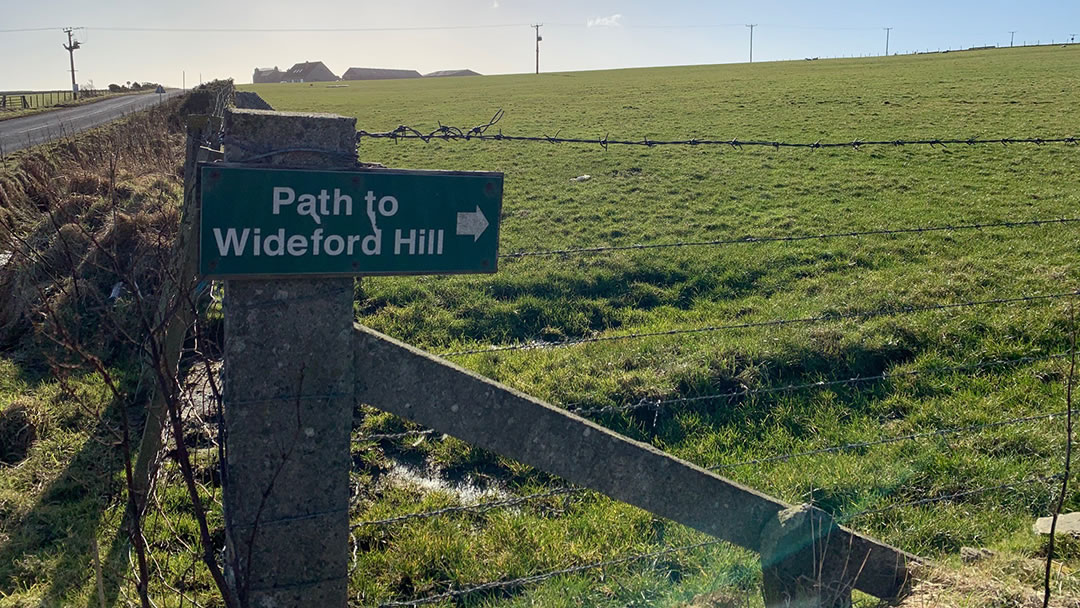 To access Wideford on foot, we recommend starting at the Pickaquoy Centre and following the path behind the Rugby Club. It is well sign-posted and if I can find it then I am sure you can (my sense of direction is not improving with age!) The road up the hill for cars can be reached from the Old Finstown Road.
It is a lovely, gentle hill walk but I must say on a blustery day I don't fancy hiking up the hill. There are plenty opportunities to stop and take in the views as you climb higher. There is plenty of wildlife to spot including curlew, lapwing, short-eared owls and skylarks. We spotted Orkney vole tunnels in the grass and a very big hare.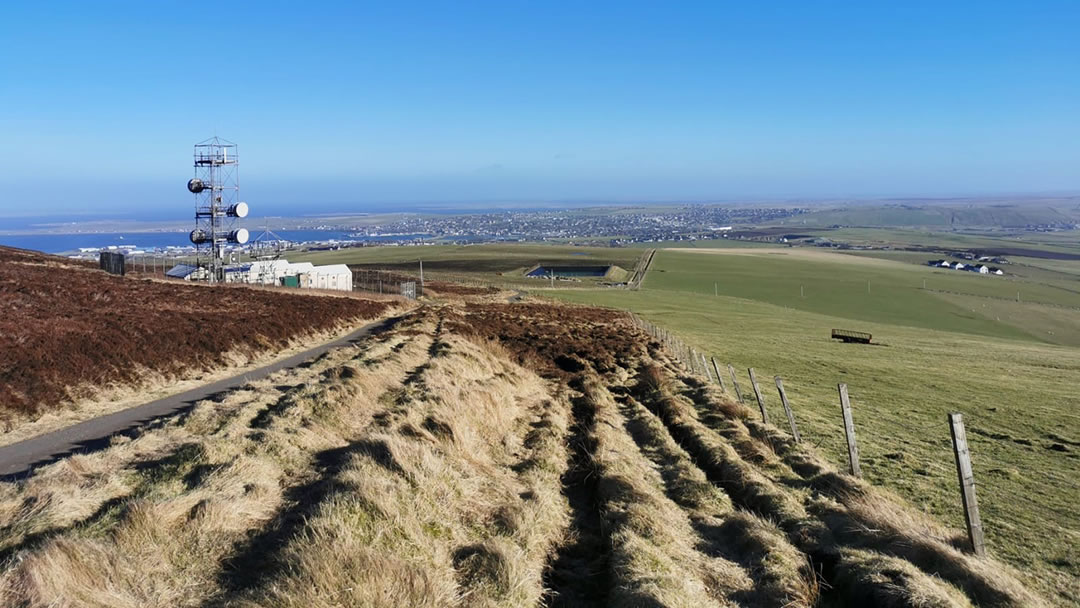 There is a path / road all the way to the top so walkers need not worry about the terrain however if you do go off-track a little then it can be exceptionally muddy. So, you might want to bear that in mind when choosing your footwear (again, only if you go off-roading). I wore my hiking boots but would have been equally as comfortable in running trainers.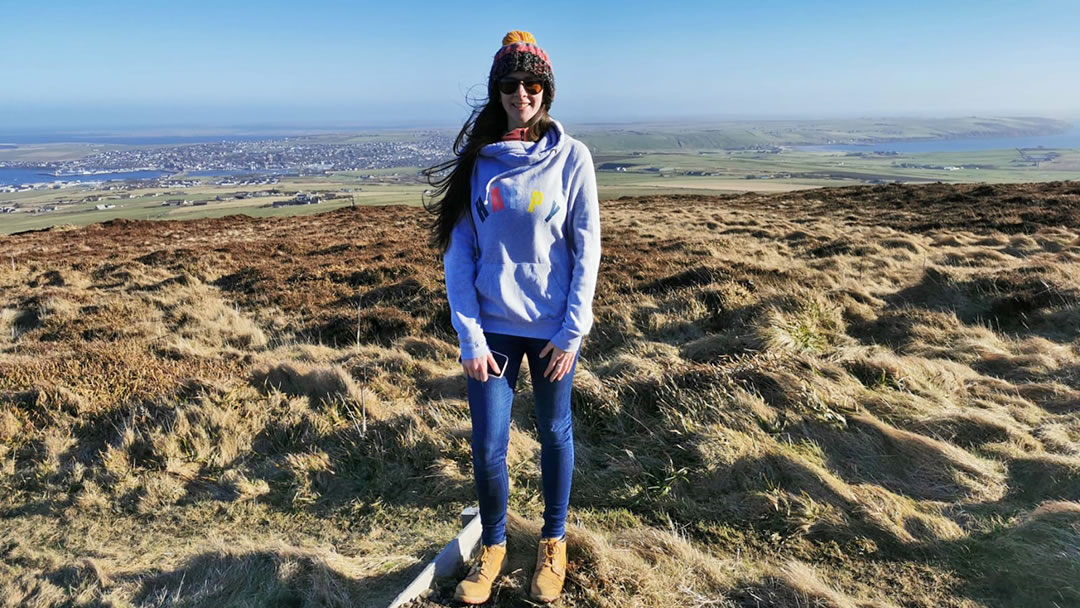 I recommend taking plenty to drink and of course, a picnic to enjoy at the top. After all, you did just climb one of the tallest hills on the Orkney Mainland! Wideford at 225m is not the tallest hill on the Orkney Mainland though. That crown goes to Mid Hill in Orphir at 272m, closely followed by Ward Hill in Orphir at 269m.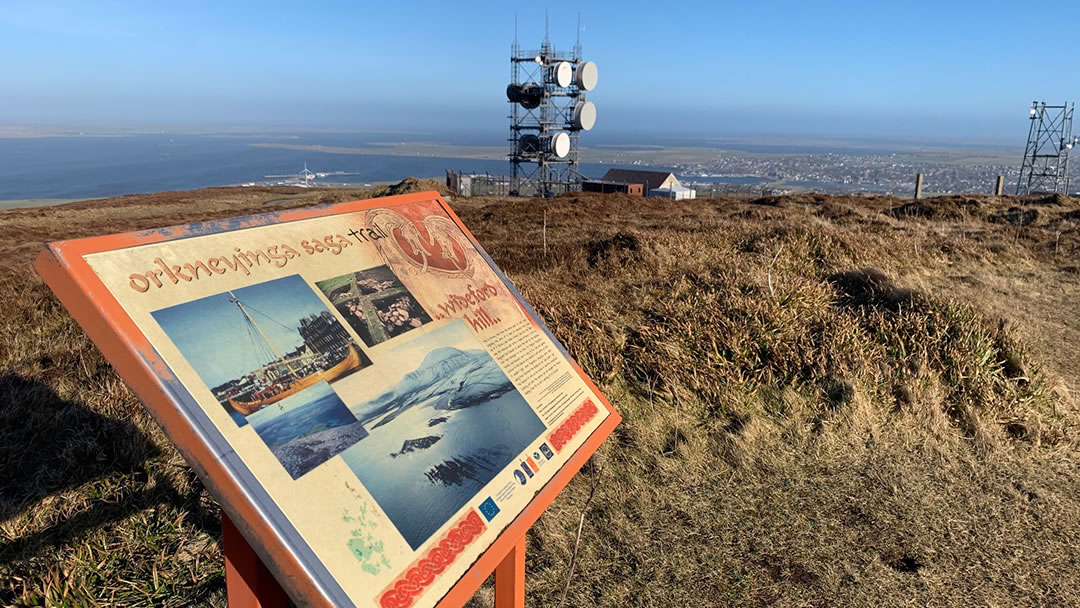 Wideford Hill offers the visitor an amazing panorama across Kirkwall, Firth, Scapa Flow and over to the North isles, and it is thought that this view (over wide firth) is what gives the hill its name. Alternatively, it could come from the Old Norse vita-varð for 'Beacon Hill'. At the summit there are important telecommunications masts.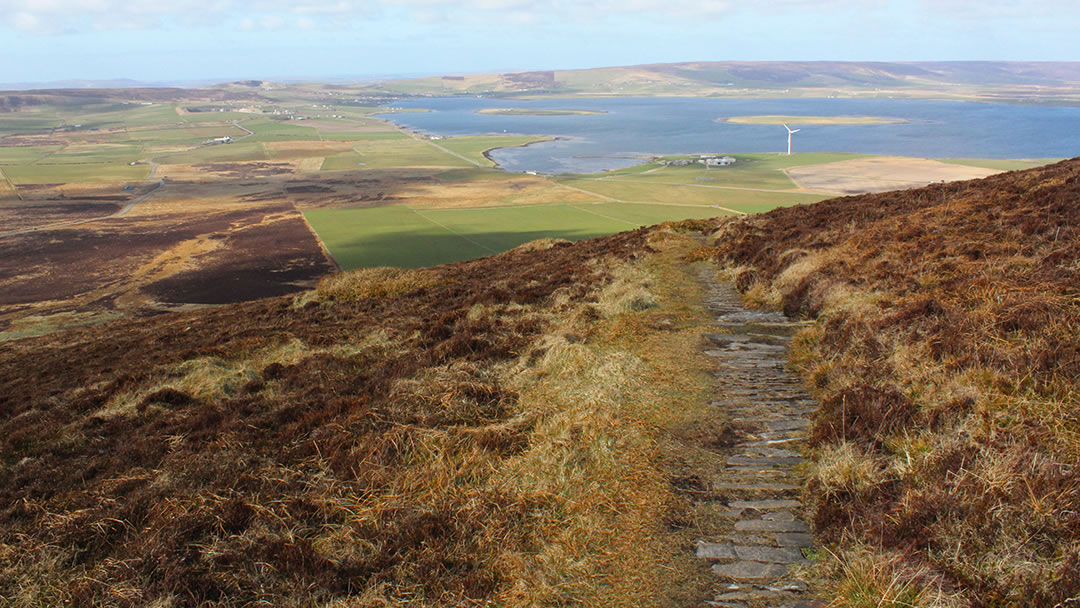 If you wish, you can follow a path onto the north-western slope (which faces Finstown) and continue down a curving path to Wideford Hill Chambered Cairn.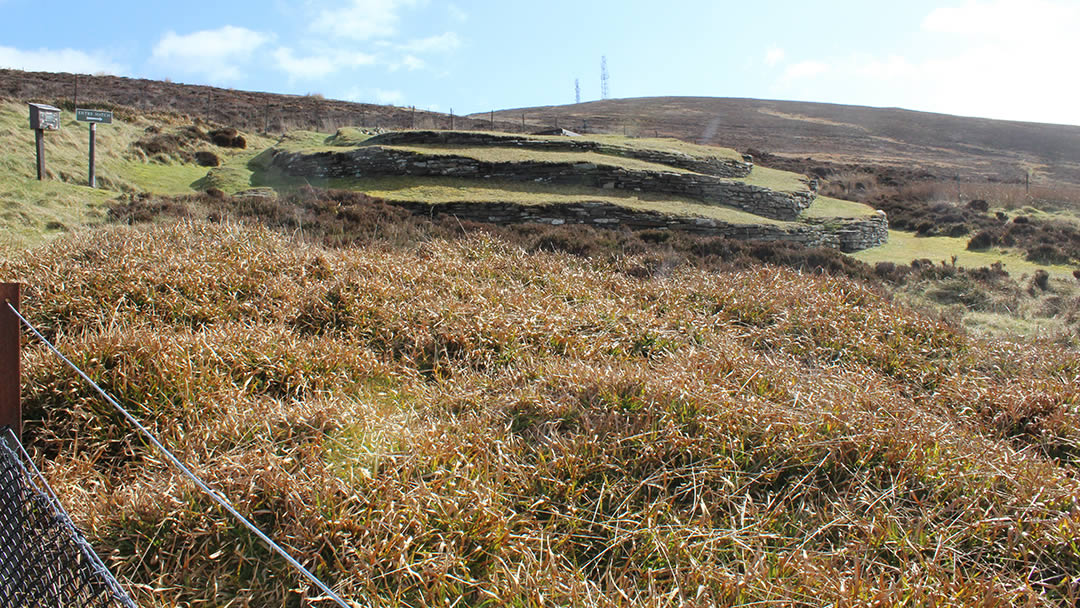 This is a 5,100 year old Neolithic tomb which was discovered in the 1800s by local lads. It is a stepped structure and the original entrance was at the front, but Wideford Hill Chambered Cairn is now accessed by a sliding hatch at the top (and a torch is needed to explore it properly). When we were there the cairn was locked unfortunately.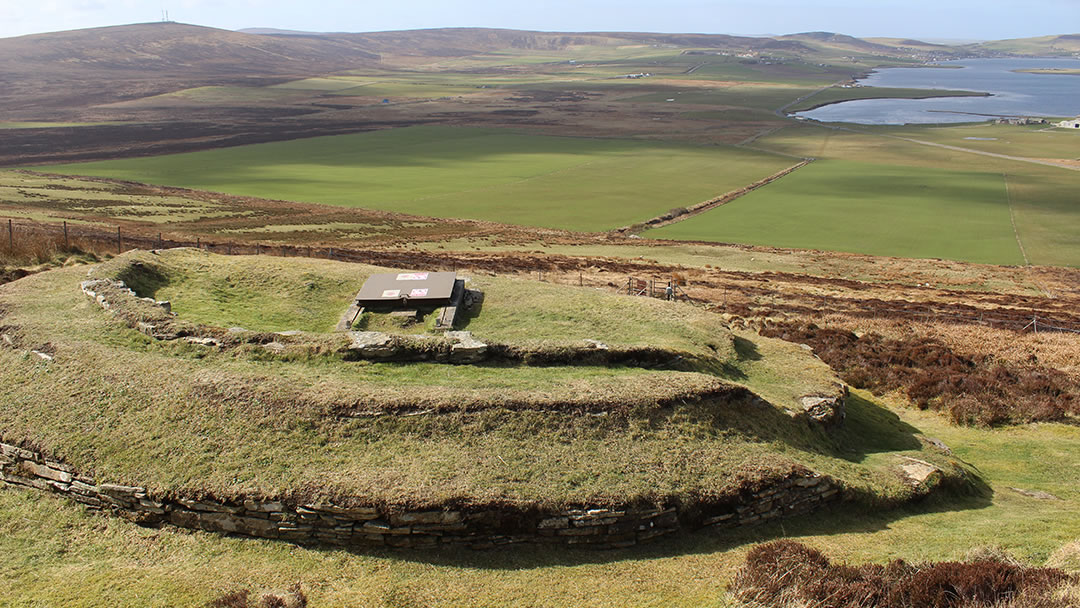 Wideford Hill Chambered Cairn can be easily seen from the Finstown to Kirkwall road as a grassy green dot on a brown heather hillside. In the past there were Neolithic houses below, and it was almost as though these ancient people lived with their dead ancestors looking over them.
We loved our adventure to the top of Wideford Hill. Be sure to have your phone or camera to hand as I promise you will want to take plenty of photographs when you visit. There is something quite special about seeing a bird's eye view of Orkney and pointing out places you recognise.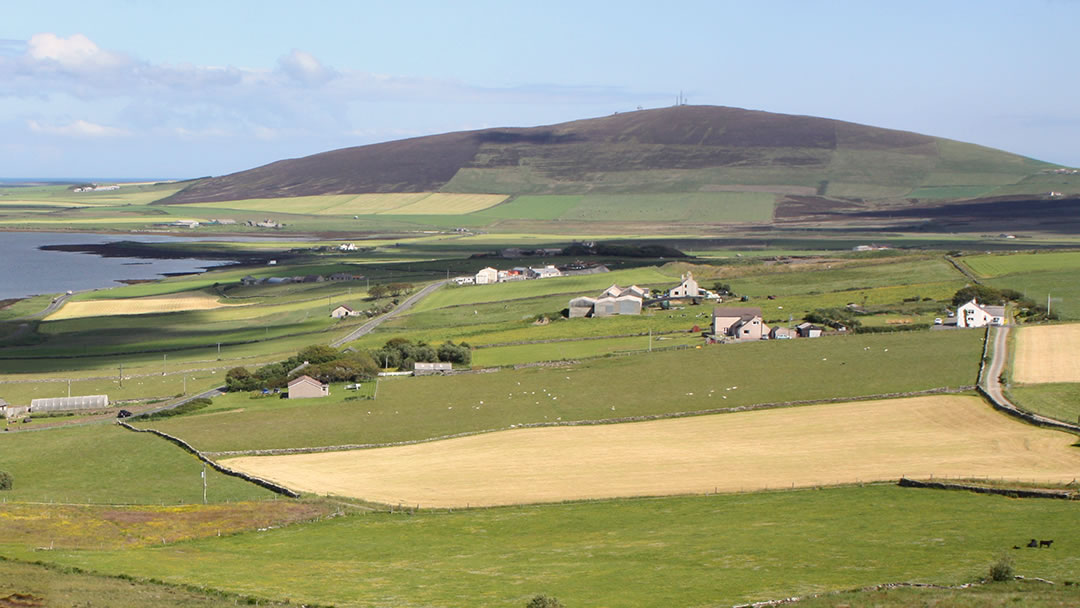 Wideford Hill (seen above from Firth) is a very prominent landmark in Orkney, but not many have ventured to the summit. We think that makes it a hidden gem and definitely something to add to your to-do list in Orkney!

By
Shona Lawrance
A young quine with an energetic sense of adventure but dire sense of direction! Born and bred in the North East of Scotland with a long loving appreciation of the Scottish islands.
Pin it!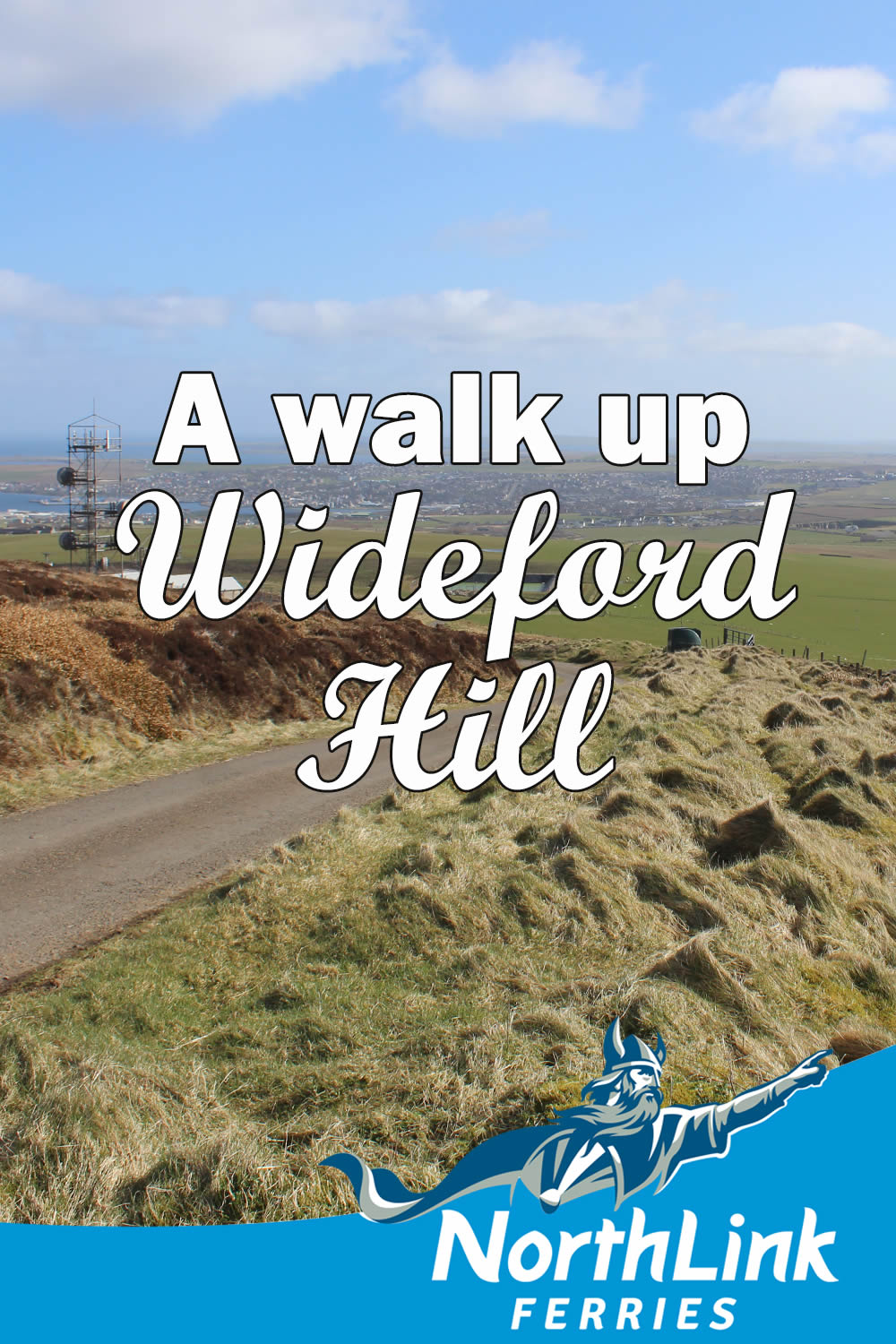 Header image: Kirkwall in Orkney, viewed from Wideford Hill photo © Copyright Shona Lawrance