NorthLink Ferries are very proud that our ferry, MV Hamnavoe sails past two of Orkney's most spectacular landmarks. The Old Man of Hoy is one of the tallest sea stacks in Britain. St John's Head is one of the highest vertical sea cliffs in Britain. We've compiled some fascinating facts about the Old Man of Hoy and St John's Head for you to enjoy!
8 Facts about the Old Man of Hoy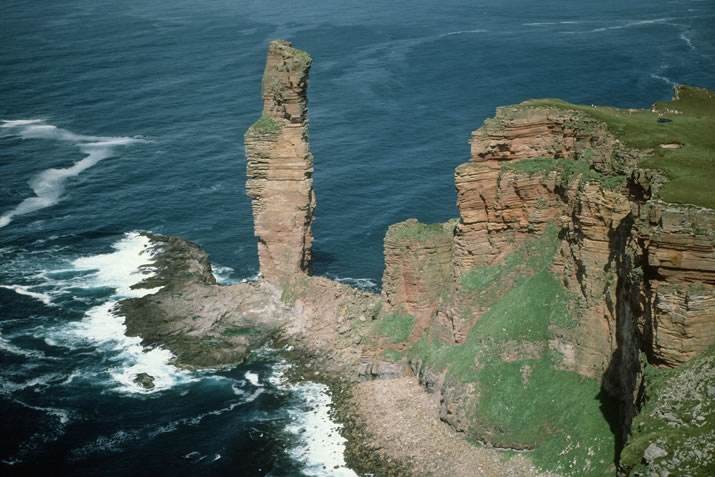 1. The Old Man of Hoy is a 137m (449 ft) tall sea stack of red sandstone perched on a plinth of igneous basalt on the west coast of Hoy. It was created by the sea eroding the cliff surrounding it and is fewer than 400 years old.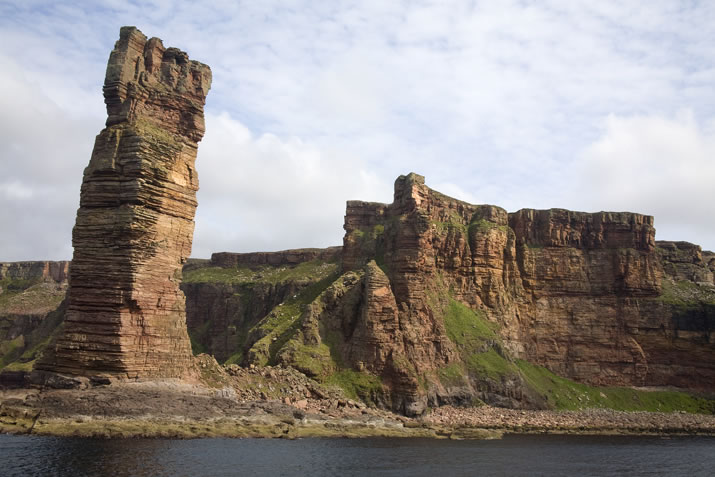 2. The stack was first climbed in 1966 by Chris Bonington, Rusty Baillie and Tom Patey over 3 days. In 8-9 July, 1967 an ascent was featured in a live BBC outside broadcast, which had around 23 million viewers.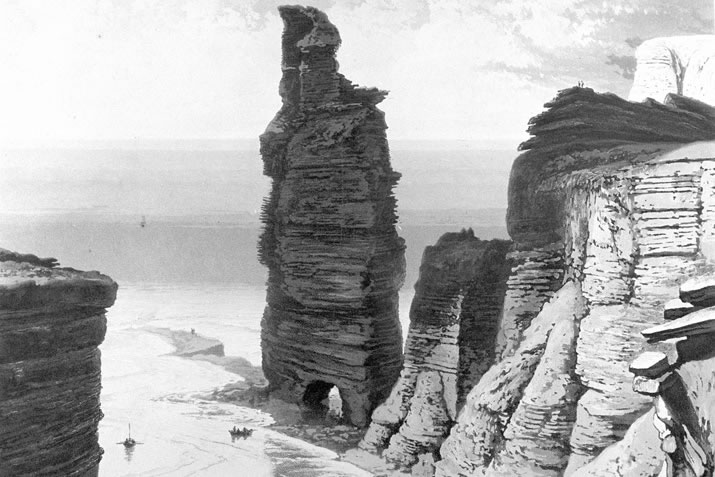 3. William Daniell sketched the sea stack with two legs in 1814. In the early 19th century, a storm washed away one of the legs leaving it as it is today.
4. The Old Man of Hoy appears in an episode of Monty Python's Flying Circus and in the Eurythmics' music video "Here Comes the Rain Again."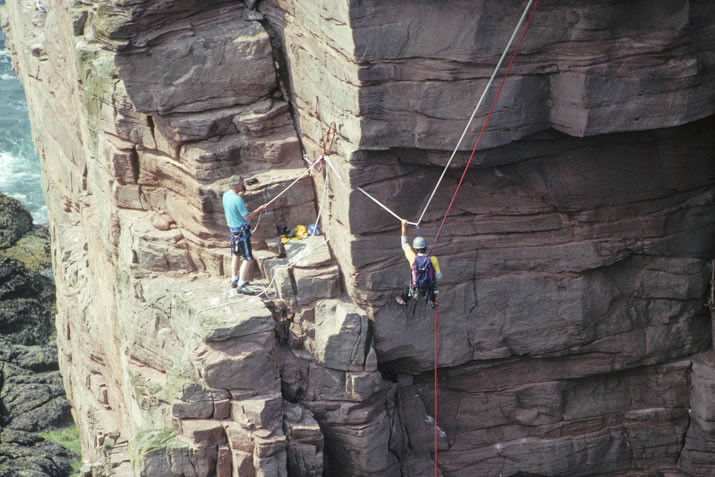 5. The stack is now climbed around 20 – 50 times in an average year. A small visitors book in a Tupperware container is buried in a cairn on the summit.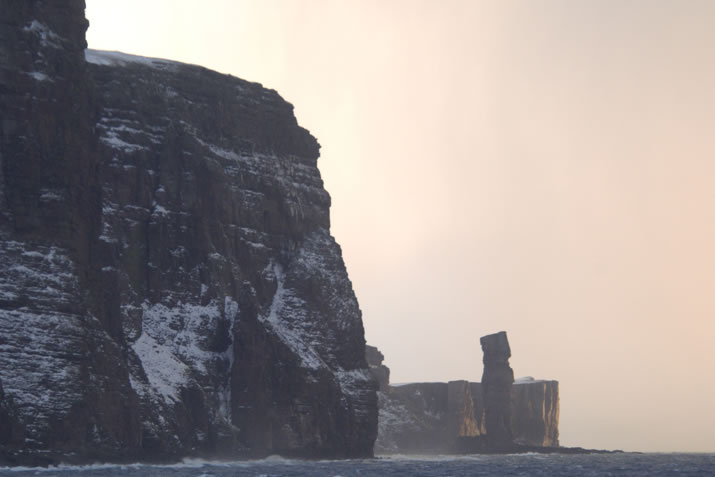 6. On the morning of 16 May 2008 the first BASE jump was performed off of the top by three people.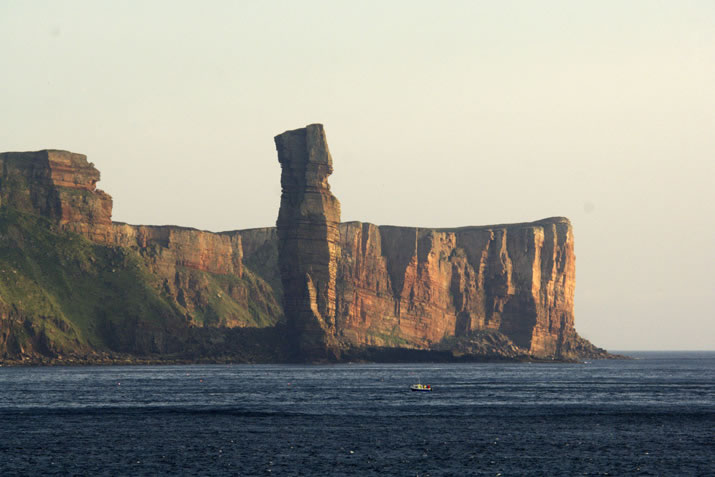 7. In June 2013, Red Szell became the first blind person to climb the Old Man of Hoy and raised over £13,000 for the charity RP Fighting Blindness!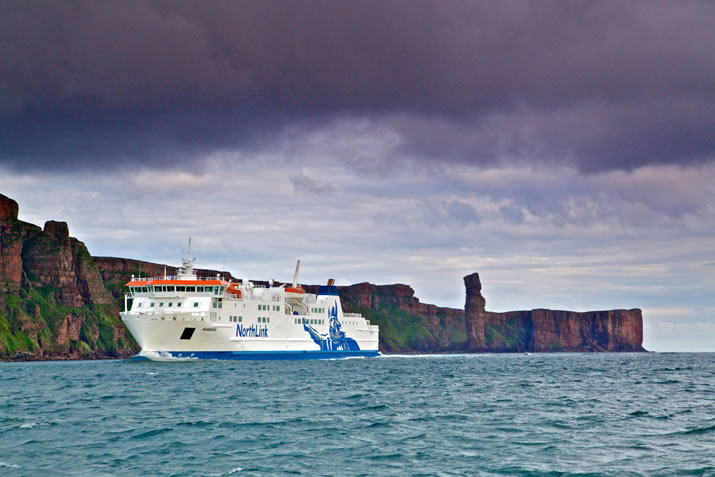 8. You can see the Old Man of Hoy from MV Hamnavoe, or you can take an Orkney Ferries ferry from Stromness to Moaness on Hoy (foot passenger only) or from Houton in Orphir to Lyness on Hoy (cars and foot passengers). Make your way to Rackwick and climb the hillside of Moor Fea to reach the cliff opposite the Old Man of Hoy. Please leave three hours for the walk to the Old Man of Hoy from Rackwick and back again.
5 Facts about St Johns Head
1. St John's Head is one of the highest vertical sea cliffs in Britain which rises to a sheer 352m (1,154 ft) above a rocky beach.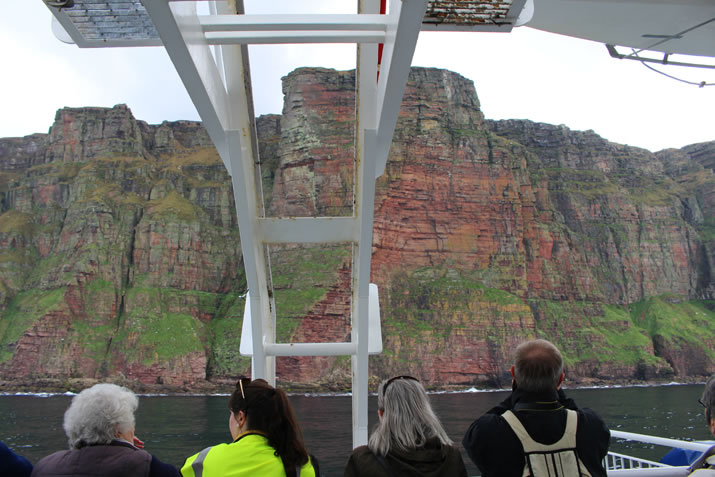 2. The horizontal beds of sandstone at St John's Head have weathered to give dramatic vertical red and yellow cliffs, which are especially vibrant with a low evening sun.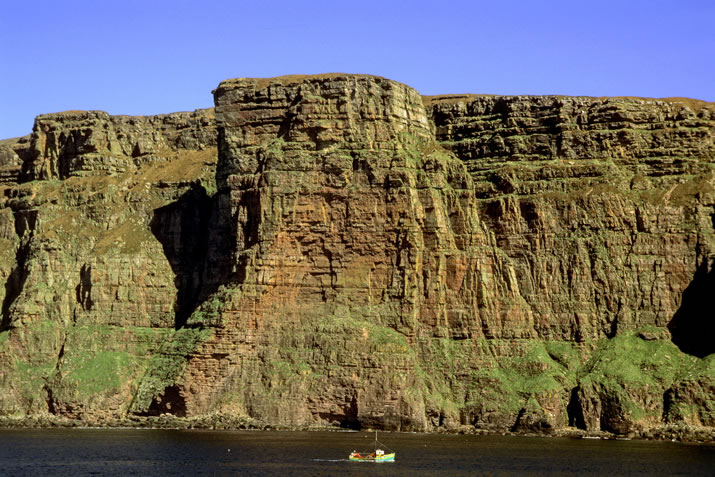 3. The first direct ascent was made in 1970 by climber and poet Ed Drummond together with Oliver Hill. They took two days to get down and then five days to climb back to the top, sleeping in suspended hammocks on the face on the way up.
4. In 2011, Dave MacLeod performed the first free-climb of St John's Head in just ten hours. In free climbing, ropes and equipment are only there as protection against a fall and cannot be used as an aid. The climb was filmed and released as a superb DVD called 'The Long Hope'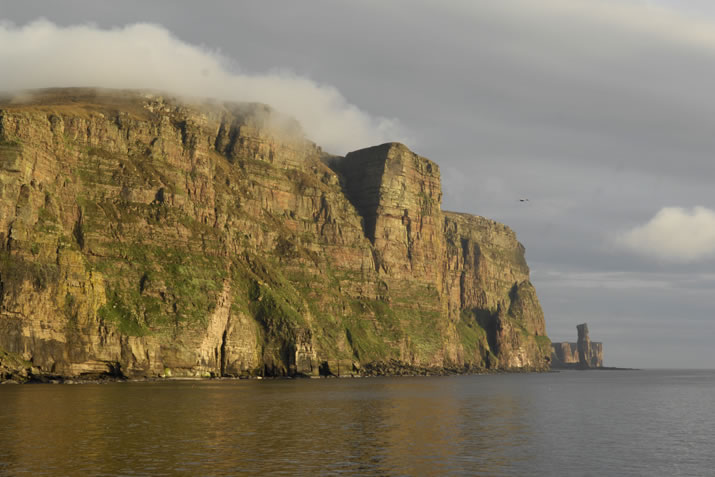 5. At the top of St Johns Head, the prow (Bre Brough) is almost separated from the surrounding cliffs. Some speculate that one day Bre Brough will be a seastack, twice the height of the neighbouring Old Man of Hoy.

By
Magnus Dixon
Orkney and Shetland enthusiast, family man, loves walks, likes animals, terrible at sports, dire taste in music, great taste in films and tv, eats a little too much for his own good.
Pin it!