How to visit Orkney during your North Coast 500 road trip
The North Coast 500 is an amazing Scottish Highland road trip which starts and finishes in Inverness, taking in the Black Isle, Easter Ross, Caithness, Sutherland and Wester Ross. Along the way you will see Munros, glens, beaches, and wildlife which take your breath away.
Orkney lies north of the Scottish Mainland, just a 30 mile sailing from Scrabster to Stromness. The islands have incredible scenery and wildlife, delicious food and drink, and fascinating historic sites. Whilst you are on your NC500 road trip, there's no better opportunity to nip across to see Orkney for yourself!
When you reach the very northern tip of Scotland you'll see dark islands on the horizon, rising like whales from the sea. These are the Orkney islands.
Orkney lies north of the Scottish Mainland, just a 30 mile sailing from Scrabster to Stromness. The islands have incredible scenery and wildlife, delicious food and drink, plenty of places to camp, and fascinating historic sites.
Whilst you are in the very north of the UK there's no better opportunity to nip across to see Orkney for yourself!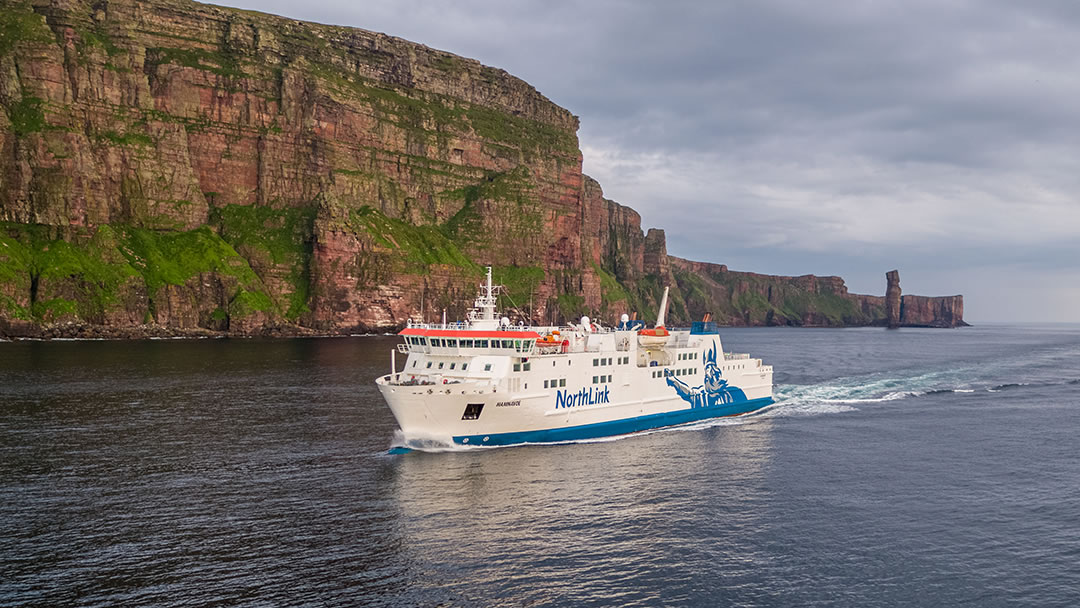 NorthLink Ferries offer a 90-minute sailing on MV Hamnavoe for passengers and their vehicles from Scrabster near Thurso to Stromness in Orkney. It makes this return trip two times a day, and three times a day in summer – view the Scrabster to Stromness timetable here.
MV Hamnavoe is a beautiful modern ship, purpose-built for the route, and equipped with comfort and accessibility in mind. The range of facilities on board include a restaurant, bar, lifts between decks, a gift shop, children's play area, and a pet lounge.
Though it is often possible to turn up and go, we always recommend booking ahead to avoid disappointment. View our competitive fares from Scrabster to Stromness here.
---
Whilst you're in Orkney, we'd suggest seeing the following seven 'must-visit' places: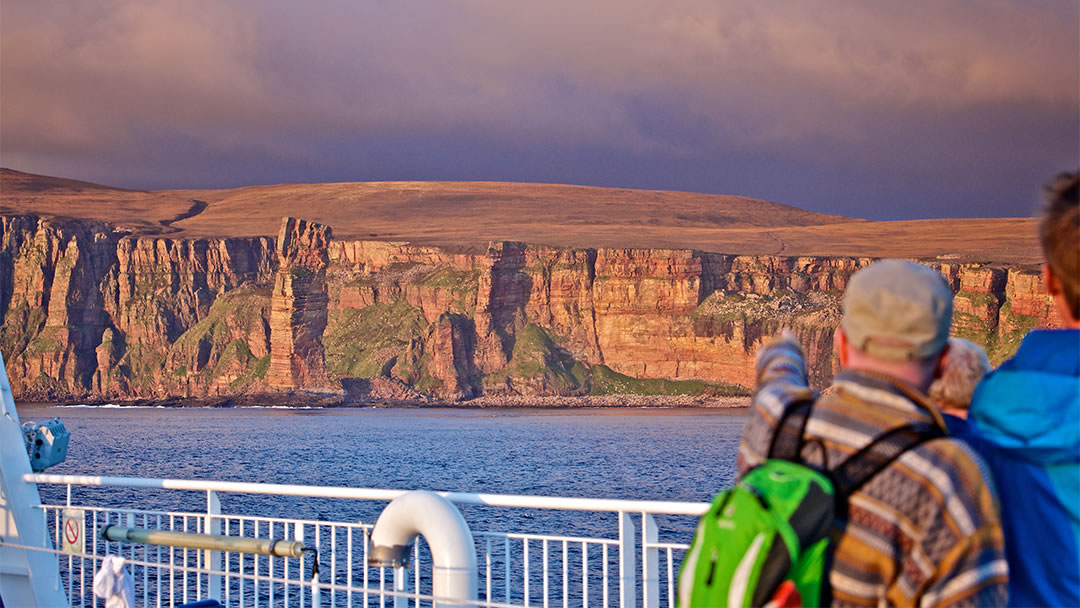 1. Glimpse the Old Man of Hoy from the sea
When you leave Scrabster for Stromness on MV Hamnavoe, you'll sail west of Hoy. This is Orkney's wild, dark island, with soaring red sandstone cliffs, carved by the sea. The proud sea stack, the Old Man of Hoy is here, standing 137m tall.
The Old Man of Hoy was formed 400 years ago when cliffs around it collapsed, leaving it, a thin tower of rock, standing alone. Though there are other ferry services to Orkney, MV Hamnavoe is the only one which passes the Old Man of Hoy. It's particularly worth seeing in the evening, when the sun sets on the horizon and lights the Old Man and the red sandstone cliffs of Hoy on fire.
Further on, massive St John's Head is the highest vertical cliff in Britain. The Hamnavoe turns then, moving into the green embrace of Orkney's west mainland, and into the charming waterfront town of Stromness. For hundreds of years this is how tall ships, carrying explorers and merchants, arrived in Orkney.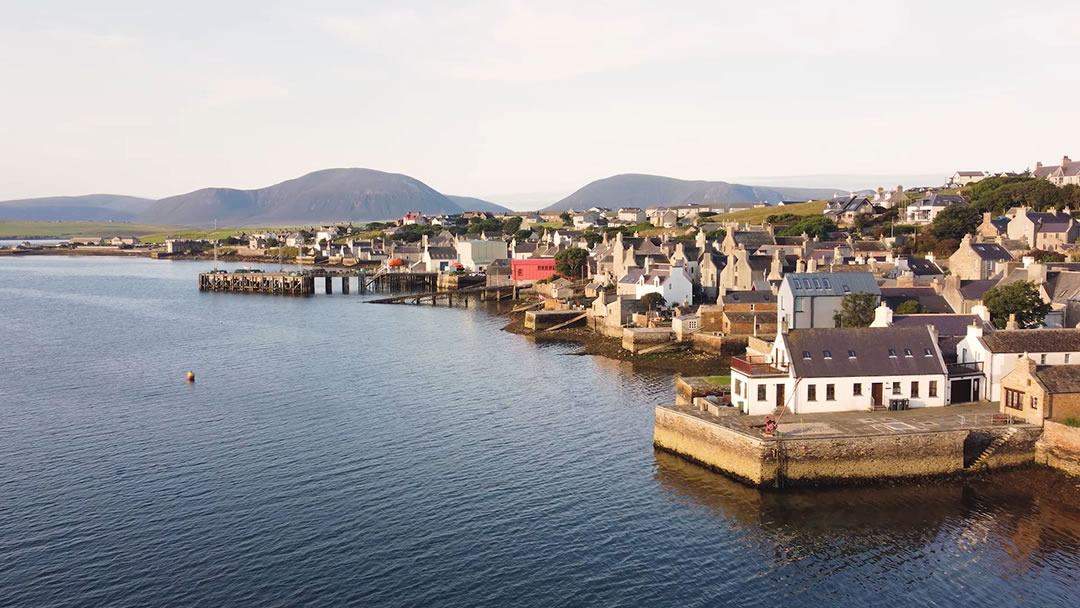 2. Take a stroll through the beautiful waterfront town of Stromness.
Between 1688 and 1815, when wars raged between Britain and France, the English Channel was a very unsafe place. Many ships passing to and from the Atlantic chose a route around the north coast of Scotland instead.
The town of Stromness began then, growing to serve the needs of visiting ships, and it once boasted 80 drinking parlours! These days it's much quieter but very picturesque, with a waterfront of tall houses with tiny piers and jetties, all set against the dramatic backdrop of the hills of Hoy. There's a meandering main street to explore, a superb museum, and fascinating stories of pirates and explorers around every corner.
Stromness is the perfect starting point for your Orkney trip as it is located within seven miles of the island's most important archaeological treasures.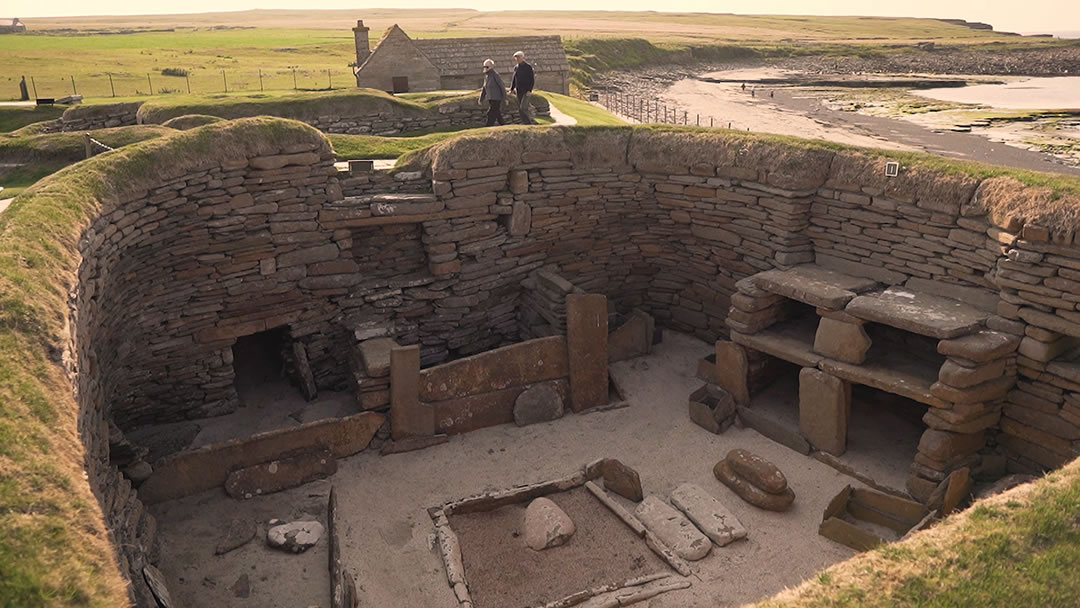 3. Be fascinated by the Neolithic houses at Skara Brae
In 1850 a terrible storm battered Orkney. At the Bay of Skaill the turf was ripped from a sand dune, and a valuable discovery was uncovered. Under the sand was Skara Brae, a series of houses closely packed together, and perfectly preserved. The occupants lived in Orkney 5,000 years ago, and Skara Brae offers a unique insight into their lives.
They left mysterious artefacts, and clues about their diet (and the surrounding wildlife) in their rubbish. Why did the Neolithic people who lived here leave their homes and their possessions behind? Was it a sandstorm, or disease, an attack by others, or a move to a different way of life? You'll enjoy puzzling it out for yourself on your visit.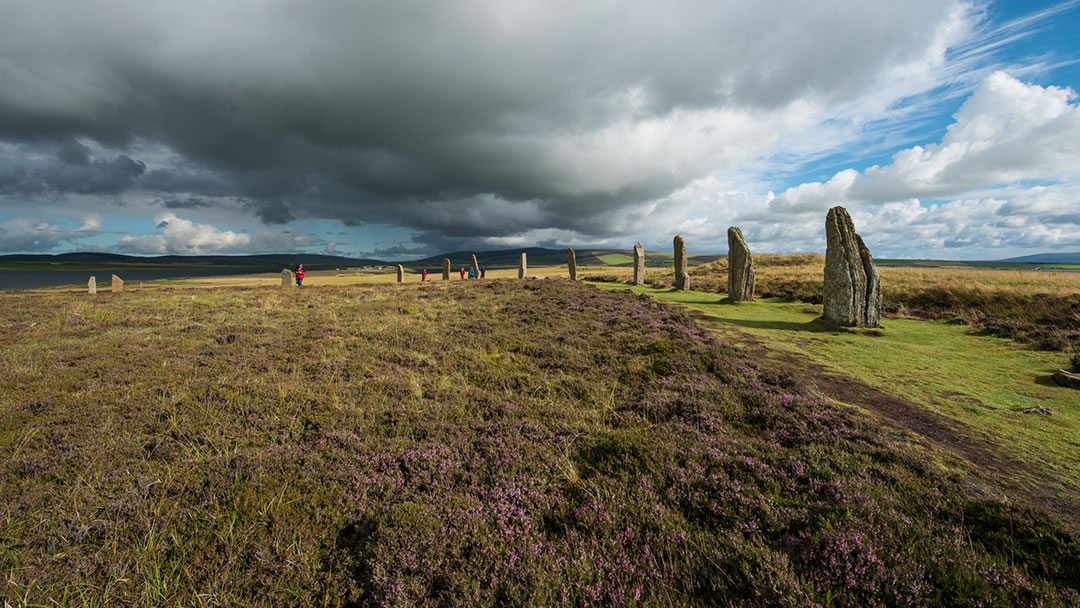 4. Wander around the Ring of Brodgar
Those who lived at Skara Brae also raised standing stones. They did it first at the Standing Stones of Stenness, lifting massive monoliths to the sun. Then they made a bigger circle of 60 stones, less than a mile away, at the Ring of Brodgar. Fewer stand today, only 27, but the Ring of Brodgar still leaves quite an impression. It stands between two lochs, in a natural amphitheatre with hills all around.
What was the purpose of the Ring of Brodgar? These days people visit at midsummer and sometimes get married here. Perhaps it was used for similar celebrations 5,000 years ago. The Ring of Brodgar is wonderful at sunset, and nearby there is a lochside walk perfect for spotting otters.
5. Visit dramatic Marwick Head
Remember the wartime 'Your Country Needs You' recruitment poster featuring a fellow with a big moustache? That was Lord Kitchener, and tragically, he and his ships' crew died off the coast of Orkney in 1916. They were on board HMS Hampshire when it struck a mine in 1916 under Marwick Head. 737 men were lost to the dark churn of the sea.
Now at the top of the cliff stands the poignant Kitchener's Memorial. It looks a little like a castle tower. On the cliff ledges below, there are thousands of screaming seabirds each summer.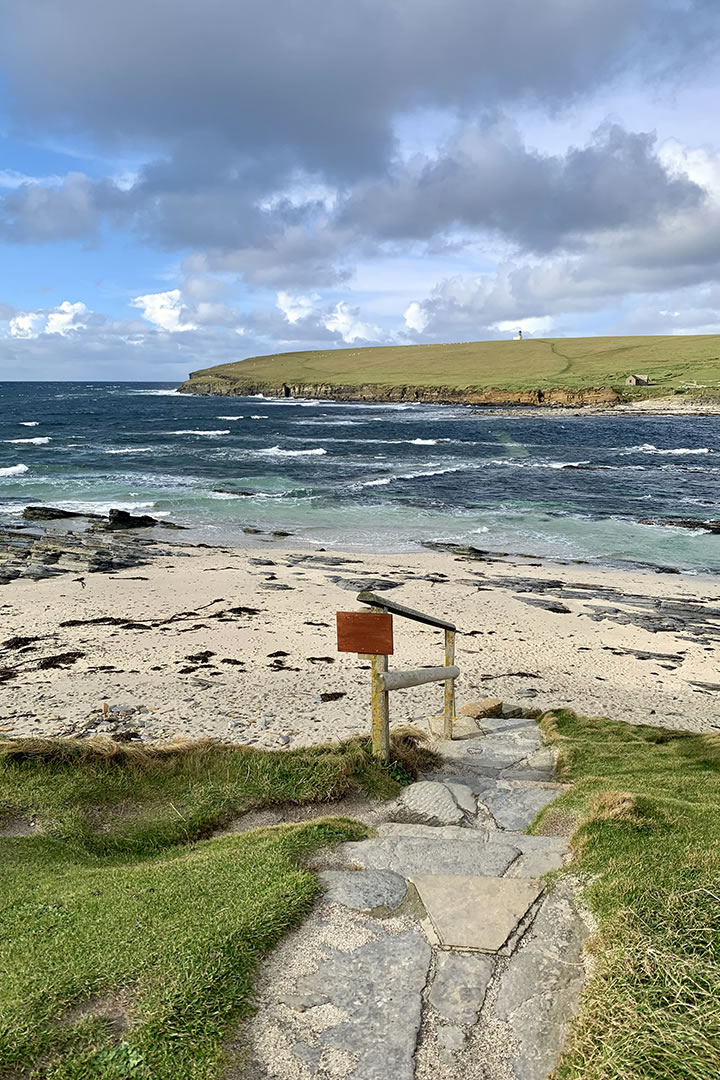 6. Cross to the Brough of Birsay to see puffins
A small green wedge of an island, the Brough of Birsay can be reached when the tide is low. There's a concrete causeway to cross, with glittering rockpools at either side. On the Brough itself there's a small lighthouse, low cliffs (the easiest place in Orkney to see puffins) and the ruins of an ancient monastery.
There are treats nearby in Birsay. For art lovers the Yellowbird Gallery is recommended. If you seek coffee and cake head to the Birsay Bay Tearooms. The Earl's Palace is a ruined 16th-century castle perfect for historians. Foodies will love a tour of the traditional Barony Mill.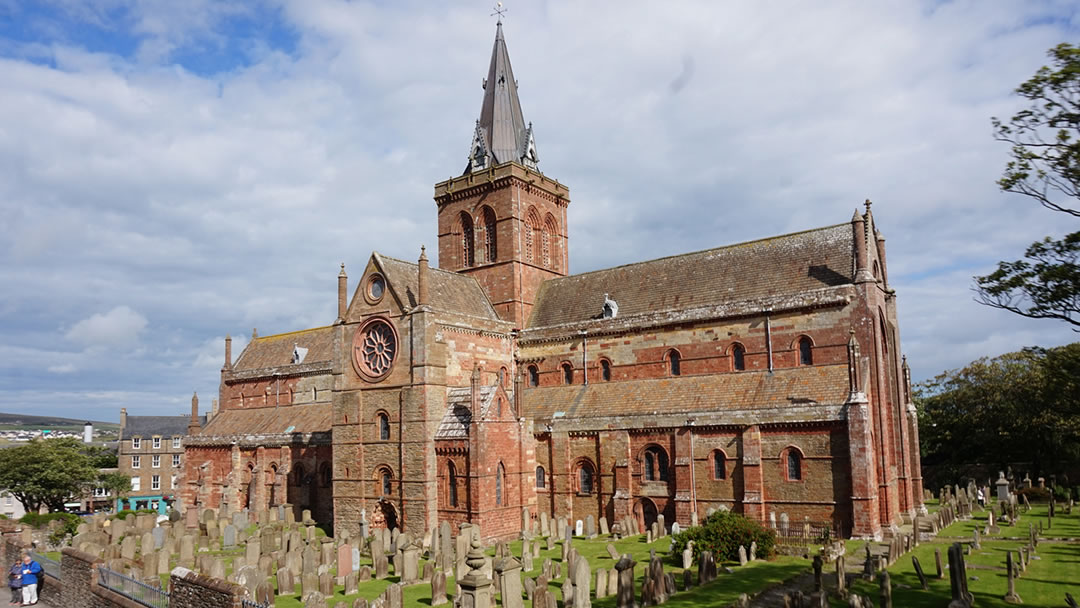 7. Be inspired by St Magnus Cathedral
Orkney's most impressive building can be found in the town of Kirkwall. St Magnus Cathedral was built in 1137, at a time when Orkney and Shetland were part of Scandinavia, and it is dedicated to a Viking saint. It's a beautiful Cathedral, still in use today, and made of red sandstone. Outside the stonework has been weathered by time, and inside there is echo and a lovely red dusky light.
When visiting Kirkwall, you'll find great places to eat. We think you should try Orkney meat, scallops, Westray fish, Orkney cheese, and Orkney beer. My wife loves Rhubarb Old Tom from the Orkney Gin Company with Ginger Ale, and I love Orkney oatcakes with Orkney farmhouse cheese.
If you find yourself in a chip shop, a pattie supper is a local delicacy!
8. Marvel at the Churchill Barriers and the Italian Chapel
In the east of the island the historic sights are more recent, from WW2. The southern islands encircle a large, sheltered area of water called Scapa Flow. During both World Wars, Scapa Flow was the main British naval base.
To protect the fleet, the Churchill Barriers were built. 66,000 large concrete blocks were laid between islands, with a road on top, and 5 islands became linked to the mainland.
Some of the builders were Italian Prisoners of War, and they left behind a beautiful chapel made from two Nissen huts, spare concrete, and scrap metal. The Italian Chapel is a very moving place to visit today.
---
There are many other Orkney places to discover during your trip, but for a short break from the NC500, these are a good start.
On your return, look into the Hamnavoe bed and breakfast offering. This is available to passengers on the first sailing from Stromness back to Scrabster. For a very reasonable price, you can board the evening before your sailing and sleep in one of the ship's cabins. Then you can wake up during the sailing, and devour your complimentary breakfast before arriving back on the Scottish Mainland.
It's the perfect way to end your visit to Orkney and return to the adventure of the North Coast 500.

By
Magnus Dixon
Orkney and Shetland enthusiast, family man, loves walks, likes animals, terrible at sports, dire taste in music, adores audiobooks and films, eats a little too much for his own good.
Pin it!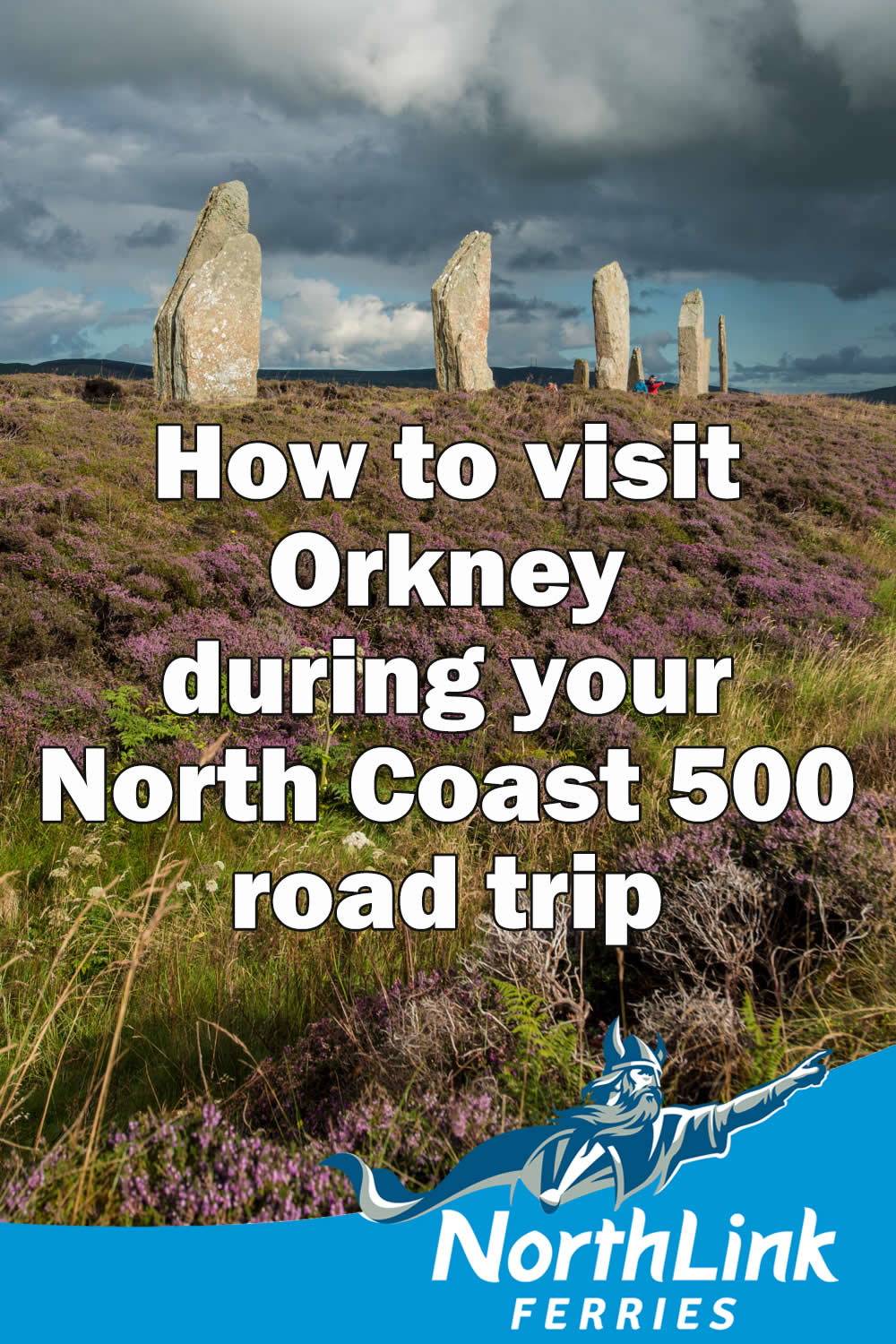 Header image: MV Hamnavoe leaves Scrabster in the north of Scotland photo © Copyright Karen Munro