Island in Focus – Westray
Westray is a great island to visit for a day, but there is so much to see, we would recommend staying overnight so that you can visit all of the main sites of interest. Besides, if you stay a little longer, you can also try eating the best fish and chips you'll taste anywhere!
We'd recommend a visit to Pierowall in late July to see the Westray Regatta. There you will see Westray skiffs in action. These are narrow in design with a stern which looks almost the same as the bow. This makes Westray skiffs very sleek and fast in the water!
Westray (from the Old Norse Vestrey, meaning West Isle) has another name – the Queen o' the Isles. With its bright green farmland, wild seabird cliffs, dark moorland, and peaceful sandy bays, it showcases all of the elements that make Orkney so special.
The island was special to people in the past too and there is a wealth of archaeological sites here dating from 3500 BC. Many Viking settlements can be found on Westray also. The Norse folk were attracted by the island's safe harbour and fertile agricultural land.
Westray is the sixth largest of the Orkney Islands, home to 600 people, and is located in the northwest of the archipelago. To reach Westray, Orkney Ferries run a passenger and vehicle sailing from Kirkwall harbour which takes around one and a half hours. There are also flights from Kirkwall Airport to Westray's airfield – more on that later!
Rapness and the Castle o' Burrian
The ferry lands at Rapness, in the quiet south of Westray. The main settlement is Pierowall, 7 miles to the north. A bus to Pierowall sometimes meets the ferry.
The narrow road is lined with wildflowers in the summer, tractors putter in the fields, and tiny wheatear can be spotted on drystone dykes.
A mile from Rapness, the Castle o' Burrian is one of the best places in Orkney to see puffins. In Orkney, sea stacks are sometimes called castles, and the Castle o' Burrian is a low grassy sea stack, riddled with puffin burrows.
Low grassy cliffs surround the sea stack, offering visitors the perfect vantage point to watch puffins going about their business.
The best time to see puffins is between May and the end of July, in the afternoon and the evening.
The Castle o' Burrian was also the site of an early Christian retreat, and it's possible to make out the outlines of buildings on its top.
For the adventurous, it's possible to walk further along the cliffside to nearby Stanger Head. There are some interesting cliff features to see and some have fantastic names. Who wouldn't want to visit the Geo o' Rustling Stones?
Pierowall
The lovely village of Pierowall stretches around a large circular bay which has offered shelter for boats for hundreds of years. Pierowall was important during Viking times and was referred to in the Orkneyinga Saga as the Hofn (Haven). Its current name is roughly broken down as 'Pier on the Bay' – the 'wall' comes from the Old Norse word for bay – Vagr.
Thinking with my stomach, I'd like to mention first the unforgettable fish and chips that you can buy in Westray at the Pierowall Hotel or Jack's Chippy, made using the freshest fish caught by Westray's fishing fleet.
Westray folk have always been sea-farers. In the past they went haaf fishing in open boats 80 miles offshore, and more recently they joined crews fishing for cod in Icelandic waters. However, since the 1980s, Westray men have invested in a fleet of modern white fish vessels, and these land a fresh catch daily at Pierowall.
The island is prosperous. As well as the whitefish industry there is creel fishing for crab and lobster, a fish and shellfish processing factory, salmon farms in the clear tidal waters, and beef cattle and sheep in Westray's fields. Tourism is also important – there are plenty of places to stay and to eat.
There are also some great shops. Amongst these, in Pierowall, make sure you visit Hume Sweet Hume to admire the unique textiles created by the talented Hume sisters. Westray Art Gallery features the arresting work of Peter Brown and guest artists. Just north of Pierowall the superb Wheeling Steen gallery is run by Edwin and Rosemary Rendall.
WFM Brown is a family bakery which was established in 1892 making heavenly Orkney treats, including flaky biscuits and rolls. This author's first encounter with fattie cutties happened in Westray! Make sure that you return home with a jar of delicious Westray Chutney too.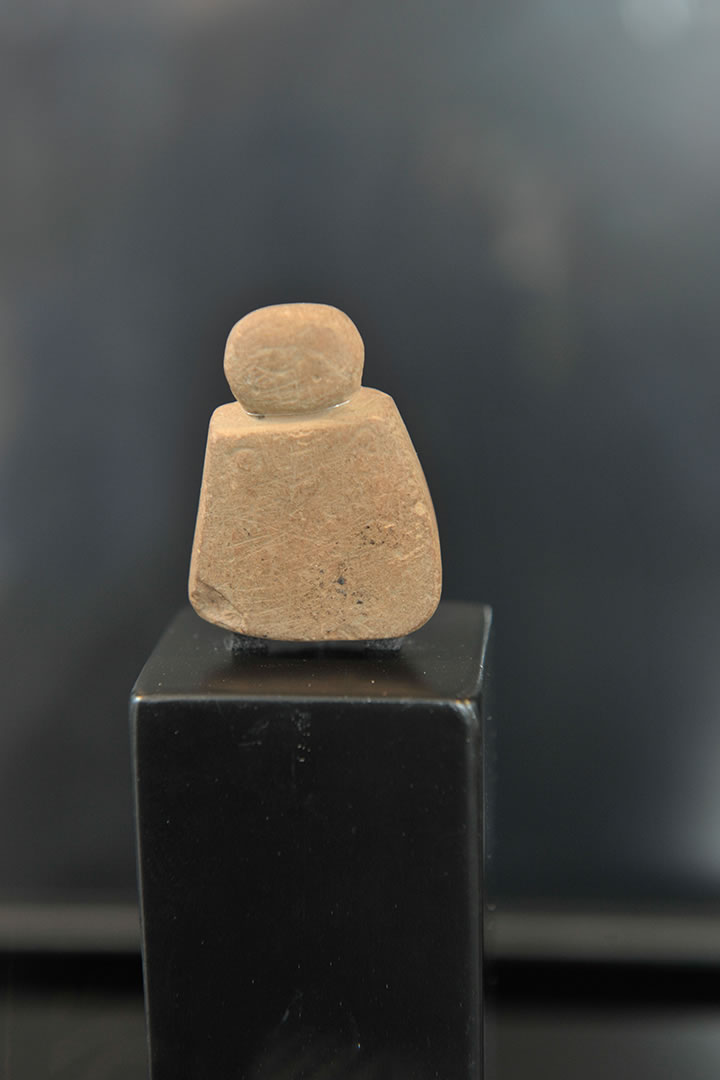 The Westray Wife and the Westray Heritage Centre
Westray has hit the headlines through the years with significant archaeological finds, including 9th century Viking graves in Pierowall and the Westray stone, a rock covered in intricate carved spirals.
Treasure discovered recently during the excavation of a Neolithic and Bronze age settlement at the Links of Noltland was even more momentous – though the find was tiny – only 4 cm tall! A carved figurine was uncovered, the earliest representation of a human in Scotland. It was named the Westray Wife. Since its discovery, four more figurines have been unearthed.
You can see the Westray Wife for yourself in the Westray Heritage Centre in Pierowall. The Westray Stone is there also, as are fascinating exhibits about the history, flora, and fauna of the island. The lovely thing about the Westray Heritage Centre for regular visitors is that every year, a new display based on a local topic is created. It's a great place to go for genealogical research also.
The Westray Heritage Centre puts together a book called 'Fae Quoy Tae Castle' which details all of Westray's homes and buildings – a fascinating read.
Noltland Castle
Westray's grandest building is Noltland Castle, which was built in 1560 by Gilbert Balfour. Balfour was the Sheriff of Orkney and the Master of Mary Queen of Scots' household. Noltland Castle was intended as a place to shelter Mary if she managed to escape her imprisonment.
The castle, which is peppered with holes from which to fire a gun (71 in all), would have been a good place to defend Mary from her enemies. However, as support for Mary dwindled, so too did Gilbert Balfour's power. He became a mercenary and in 1576 was executed for plots against the Swedish King.
Noltland Castle changed hands and further improvements were made during the 17th and 18th century. The Noltland Castle we see now though is roofless, and the story of how this happened is a tragic tale of backing the wrong horse!
After the Battle of Culloden in 1746, those who had supported the Jacobite rebellion was persecuted, including four Westray lairds. The four went on the run, and Balfour Castle's owner Jerome Dennison arranged to bring food and drink to their hideout.
The lairds hid in a sea cave on Westray's west coast. Looking at it today, the Gentleman's Cave, as it became known, couldn't have been a pleasant place to stay! Dennison was questioned, but when he refused to reveal the lairds' whereabouts, the authorities destroyed the roof of Noltland Castle.
Despite that, the castle still stands proudly above Pierowall. It is a joy to explore its dark dungeon, impressive staircases and massive dining hall, as skylarks call overhead.
Noup Head
Whilst much of Westray is flat rolling land, the west coast is a little more dramatic. Westray's highest peak, Fitty Hill (169m) lies in the south, but to the north there are 5 miles of cliffs. In the summer, wildflowers bloom on the salty clifftops – look out for the rare but tiny Primula Scotica.
At the northwest tip of Westray there is a jutting ship's prow of a seabird cliff. This is Noup Head. The 76m tall crags below are lined with thousands of screaming guillemots, kittiwakes, and razorbills each summer – Orkney's largest seabird city.
Noup Head lighthouse looks out over the Atlantic. It was constructed in 1898 to warn ships off the rocks. After the lighthouse became automated in 1964 the keeper's accommodation was demolished and thrown over the cliffs – a practise that would be frowned upon today!
Noup Head is a short (but very bumpy) drive from Pierowall, and it's an atmospheric place be – like looking out to sea from the end of the earth.
Grobust beach
Westray has several fine beaches but my favourite (possibly my favourite in all of Orkney) is Grobust beach.
On the walk to Grobust you'll pass Westray's nine-hole golf course. On my first visit to Westray 25 years ago, rabbits had turned it into a 289-hole course. However, these days the green is very well-maintained, and playing golf with a towering castle and sea whispers nearby is very pleasant indeed.
Grobust is a lovely stretch of white sand, backed by dunes and wildflowers. It looks across to Noup Head Lighthouse and is quiet and dramatic all at once! Children will love playing here whilst the surf gathers and breaks on the shore.
Other brilliant Westray beaches to explore include Mae Sand, Swartmill Bay, Rackwick, the Sands o' Woo and the Bay of Tafts. Westray's long stretches of sand were ideal for gathering kelp, and in the 17th and 18th century, the island's lairds grew wealthy from the Kelp Boom.
They used this money to build mills, a fishing store at Gill Pier and several mansions which can still be seen today.
Ancient churches
The Norse settlers who made Westray their home adopted Christianity soon afterwards. Ancient churches are scattered throughout the island.
St Mary's Kirk is located in Pierowall, and an Iron Age broch is said to lie under its graveyard. Most of this lovely ruin was built in the 17th century, but the south wall is part of an older 13th century church.
Tuquoy Cross Kirk was built in the 12th century and considered one of best-preserved medieval churches in Orkney. It sits in the middle of Westray by the shore, a fine place to watch the sun burn the sea haar away. The church is no longer in use, but the cemetery still is. A large Norse settlement with a hall and boat nousts lies nearby.
There are other church sites and place names which suggest a church was once there. These days Westray has three modern churches which are well attended on a Sunday.
Quoygrew
In the north of the island, down by the shore, there's an impressive example of a Norse farming and fishing settlement. Quoygrew was occupied from 950 to 1937, and as different folk lived there, new buildings were added, and it evolved from a fisherman's hut to a longhouse.
Finds at Quoygrew proved that islanders had a much better connection with the outside world than we might have otherwise supposed. These included everyday implements which had been imported from Scandinavia in the 12th century and pottery which had come from the Netherlands in the 16th century.
Other interesting Westray places for archaeologists include the Knowe of Queena Howe (which may have once been an Iron Age broch overlooking Grobust beach), the Knowe of Burristae (an Iron Age broch partially destroyed by the sea), the Knowe of Skea (an Iron Age burial place), a stalled cairn from 3,000BC at the Point of Cott, and cairns at Powdykes, Fitty Hill, Knucker Hill, and Couter's Hill.
Westray and Papa Westray
Westray has a smaller neighbour to the east, Papa Westray. There's plenty to see on this lovely island, including the Knap of Howar, which is thought to be the oldest house in Europe. These days the Knap of Howar is on the coast looking over to Westray. However, when folk stood in the doorway at around 3,700 BC, it is thought that Westray and Papa Westray might have been joined.
The distance between the two islands is 1½ miles, and though Papay can be reached by ferry from Pierowall, many go to Westray's airfield at Skaill to take the plane over to Papa Westray. This is the shortest scheduled flight in the UK – don't blink or you'll miss it – as it takes less than 2 minutes!
Some interesting sea tales from Westray
Westray has its fair share of interesting sea stories. In 1588, a small boat of Spanish Armada survivors made landfall in Westray, after their ship sank. They established a settlement at North Shore, becoming active fishermen and marrying local girls. These days some Spanish features – dark hair and eyes and high cheekbones – can be spotted amongst Westray folk.
Another shipwreck tale concerns a child, Archie Angel, whose ship sank off Westray in 1730. He was the sole survivor, and named after his ship, the Archangel. One can only imagine the scene, of islanders hearing a child's cry in the darkness amidst the splintering of wood. Though the name Angel has died out, the child still has descendants on the island today.
Finally, we'd highly recommend a visit to Pierowall in late July to see the Westray Regatta. There you will see Westray skiffs in action. These are narrow in design with a stern which looks almost the same as the bow. This makes Westray skiffs very sleek and fast in the water! These are said to be not very different to the boats used in Norse times.
We hope you'll take time to visit Westray – we're certain you'll love exploring the Queen o' the Isles.
Pin it!