Orkney Beremeal and Oat Farmhouse Loaf
This old Orkney recipe makes one loaf with a fabulous flavour. Making this is a very fine way to spend a couple of hours on a winter's day, and if you have trouble getting your hands on beremeal, I'm pleased to report you can buy some online direct from the Barony Mill in Birsay.
Remember to keep some of the oats aside to sprinkle on top of the loaf.
We hope you enjoy this delicious and rich taste of Orkney!
Ingredients
150g Beremeal flour
150g Wholemeal strong flour
50g Oats
5g Bicarbonate of soda
5g Sea salt
5g Caster sugar
200g Buttermilk
200g Whole milk
50g Golden syrup
50g Black treacle
Vegetable oil (to brush the loaf tin)
10g Oats (to dust the loaf tin and sprinkle over the top of the loaf)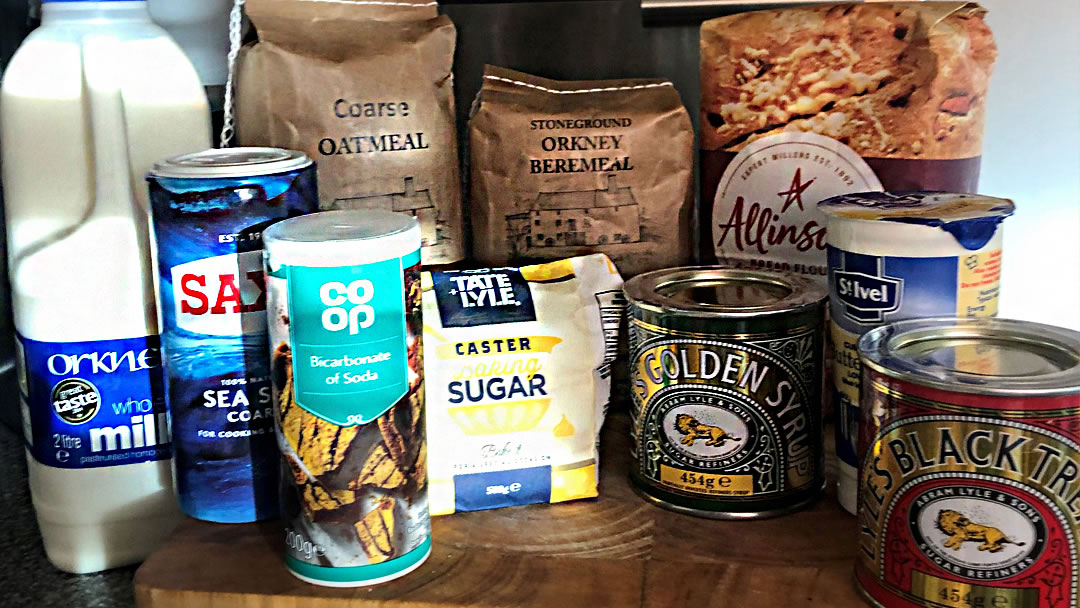 Method
Weigh out the dry ingredients, both flours, oats, bicarbonate of soda, sea salt and caster sugar into a large mixing bowl. Give all dry ingredients a really good mix together using a wooden spoon in the bowl and set aside.
Weigh out all the wet ingredients, buttermilk, whole milk, golden syrup, black treacle. Put all the wet ingredients into a small saucepan and heat gently on a low heat. Whisk the ingredients together and bring up to heat. Remove from the heat once the wet mix is warm; but don't boil.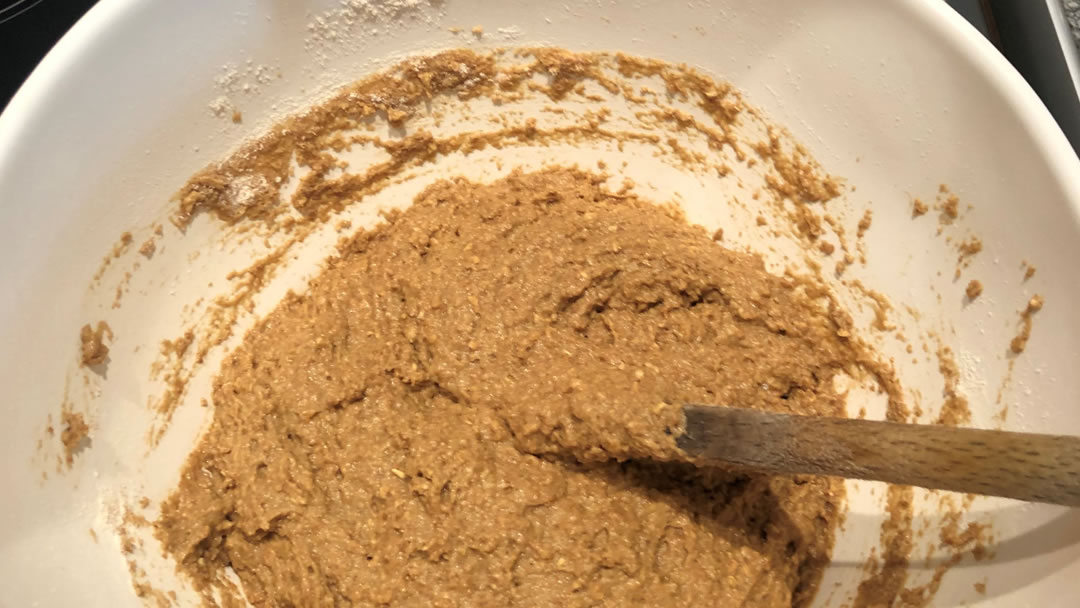 To finish the loaf, pour the wet ingredients from the saucepan, on top of the dry ingredients in the mixing bowl and mix both together, using a wooden spoon until fully combined.
Prepare the loaf tin. Using a pastry brush, brush the tin liberally with some vegetable oil and roll most of the remaining 10g of oats through the tin; remembering to keep some of the oats aside to sprinkle on top of the loaf.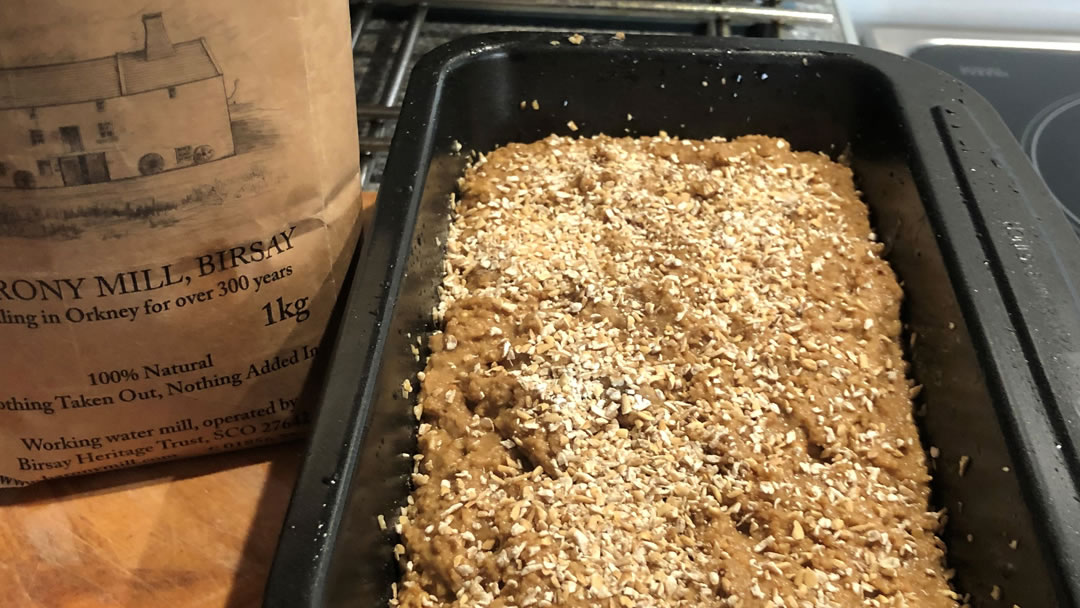 Add the fully combined loaf mix into the prepared tin and bash down on the counter a few times to ensure the loaf mix is into all the corners of the tin and is level for baking. Spinkle the remaining oats on top.
Pre-heat the oven at 160°C and once ready, place the loaf tin into the oven for 1 hour to bake the loaf.
Remove the loaf from the oven, and allow to cool slightly in the tin. Once cool enough to handle remove loaf from tin. Then allow the loaf to completely cool on a wire rack.
Once completely cool slice the loaf using a serrated knife.
Enjoy!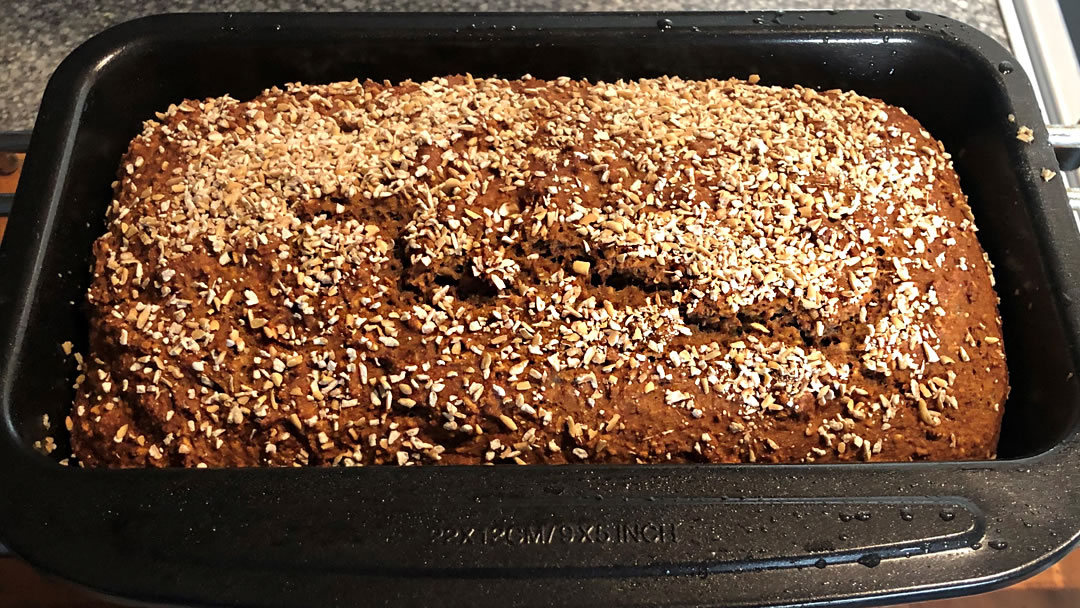 By
George O'Neill
Chef from Aberdeen who considers himself very lucky to live and work in the beautiful Orkney islands. When on leave from the ship, George enjoys cooking for family and friends and hanging out with his wonderful daughter, Eva.
Pin it!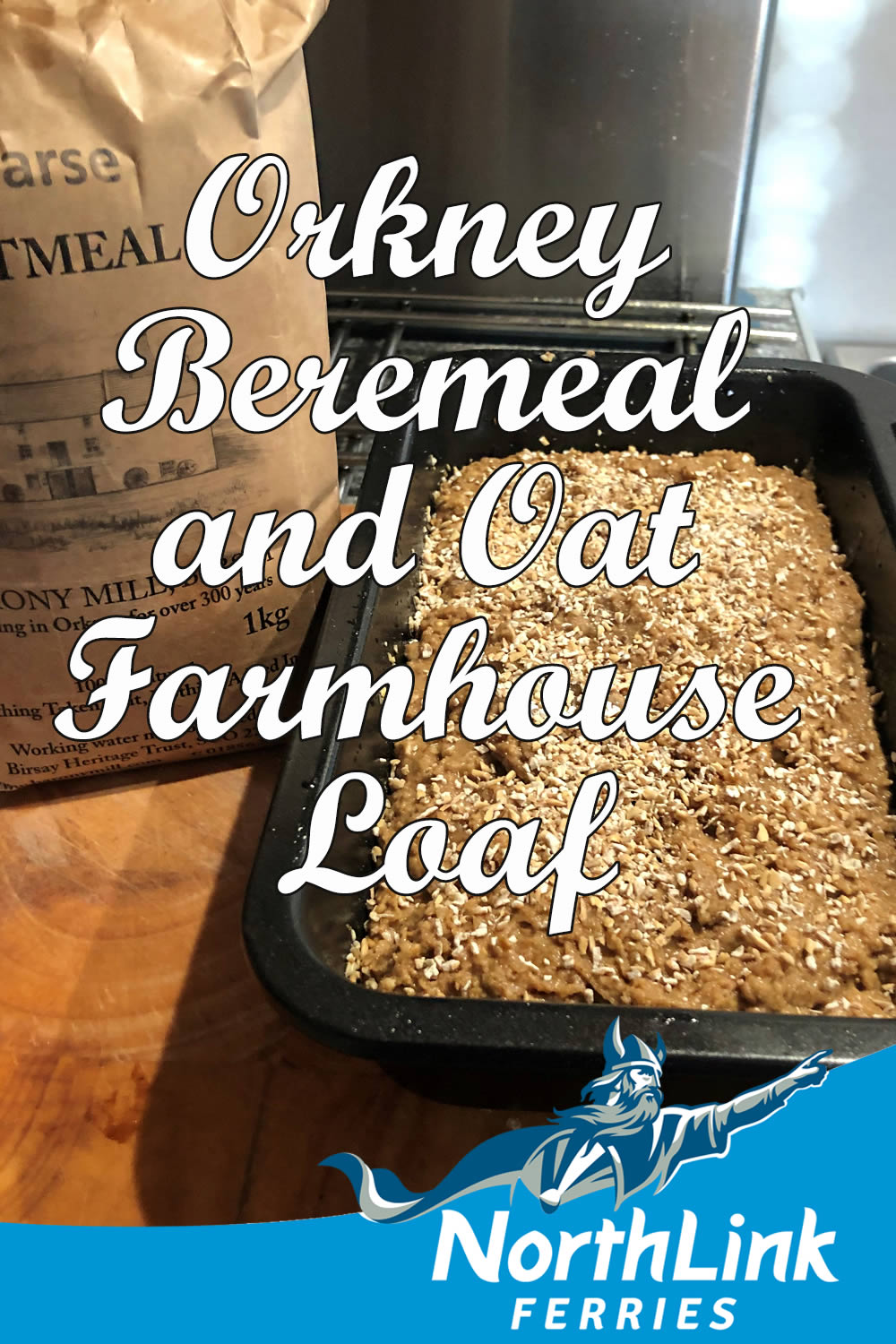 Header image: Slices of Orkney Beremeal and Oat Farmhouse Loaf photo © Copyright George O'Neill