If you're looking for a delicious sweet treat with an Orkney flavour for parties and treats, then look no further! Try our easy recipe from George o'Neill, Sous Chef on MV Hamnavoe to make approximately 16 delicious Orkney Fudge Chocolate Brownies in your own kitchen.
Ingredients: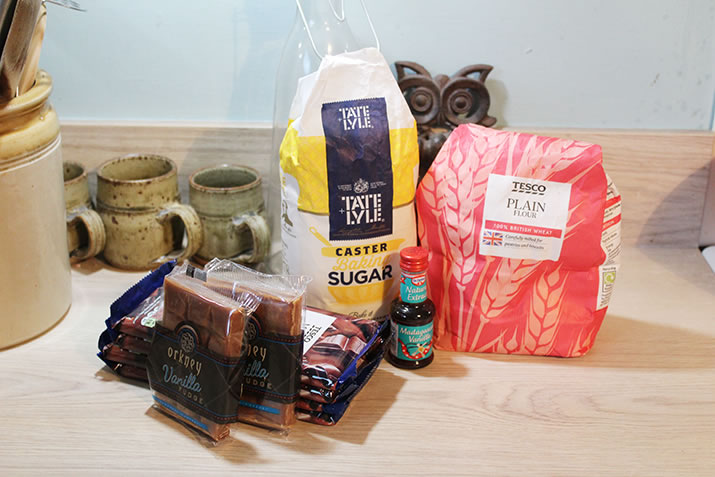 300g Milk chocolate
150g Orkney Fudge
260g Butter
600g Caster sugar
4 Eggs
1tsp Vanilla essence
450g Plain flour
Method:
Chop the chocolate, 100g of Orkney Fudge and 250g of the butter into cubes. Add to a medium sized pan, then melt on a low heat, stirring continuously with a wooden spoon. Cooking on a low heat is important as the mixture can burn on the bottom of the pan if you are not careful; causing it to taste bitter! Once everything is completely melted and fully mixed together, remove the pan from the heat and allow the mix to cool slightly.
Break the eggs and whisk them. Then add the eggs to the slightly cooled chocolate and fudge mix. It's important to wait until the mixture is cool before adding the eggs or they will separate.
Now add the caster sugar and vanilla essence. Beat everything together with a wooden spoon till glossy.
Sieve the flour into the pan and fold the flour through the mix carefully, ensuring that the flour is fully incorporated. It is important to sieve the flour to prevent any lumps of flour forming!
Pre-heat the oven at 160°c. Grease a baking tin with the remaining butter and line with a piece of greaseproof paper.
Spoon the brownie mix into the tin and flatten it out, with the back of the wooden spoon, evenly into the corners of the tin.
Grate the remaining 50g of Orkney Fudge on top of the brownie mix.
Bake the brownie in the centre of the oven for 25 minutes, until the brownie has coloured and is firm around the edges. The centre should still have a wobble.
Take the brownie out of the oven, lay a clean tea cloth over the brownie and allow to cool completely in the tin. It essential to not over bake the brownies; the brownie will finish baking in the tray whilst cooling, producing a soft brownie with an Orkney Fudge crust!
Once cooled remove from the tin, take away the greaseproof paper and cut into equal size pieces. Enjoy!
Pin it!