Have you ever come across a box or fridge, often decorated in an eye-catching way on the roadside as you are out exploring your area? An honesty box is a lovely concept, where an unattended box is left filled with treats such as home-grown produce, baking, eggs, and flowers and in exchange for an item within it, you simply deposit some cash.
There are quite a few honesty boxes in Orkney and finding these and the wonderful treats within is an exciting addition to your island adventure!
There are quite a few of these boxes in Orkney and finding these and the wonderful treats within is an exciting addition to your island adventure! We have listed some Orkney honesty boxes that are well worth a visit.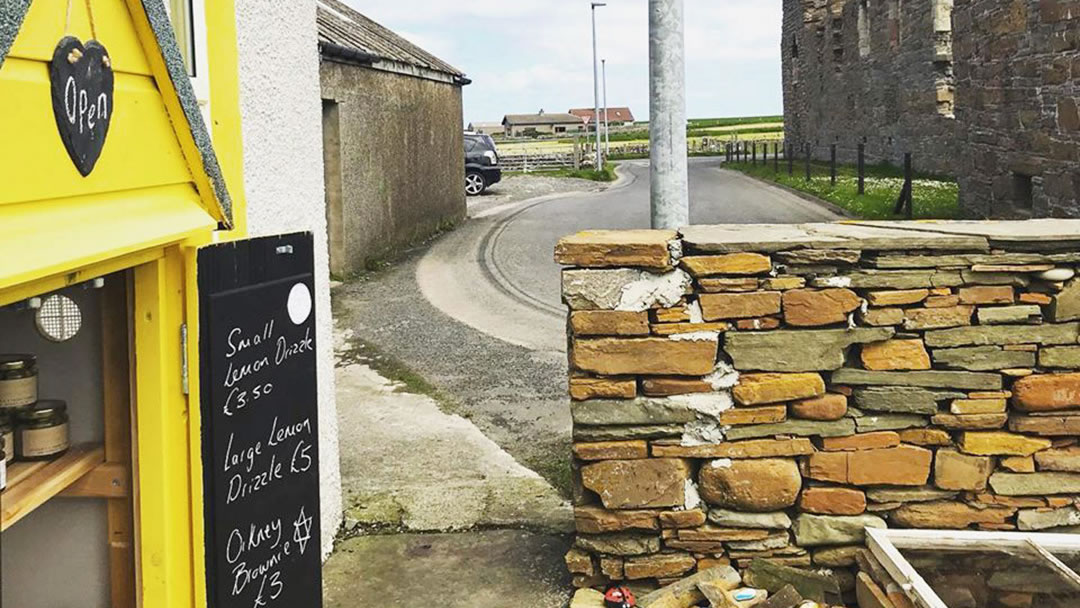 JP Orkney
JP Orkney (affectionately known as "The Little Yellow Hut") makes produce which showcases Orkney's flavours. Jane and Paul's Orkney Produce was developed through their love of working with seasonal and locally sourced ingredients. In this box you will find lots of yummy treats all made using local ingredients – jams, chutneys, relishes, tablet, fatty cutties and lots of other delicious home bakes!
Website: http://www.jporkney.co.uk
Facebook: https://www.facebook.com/JPOrkneyHolidays
Instagram: https://www.instagram.com/jp_Orkney/
Twitter: https://www.twitter.com/jp_Orkney/
Directions: Cleatfurrows, Birsay, Orkney KW17 2LX
Drive to Earls Palace and JP Orkney is the first left straight after the palace, marked by a painted sandstone sign.
What's available: The full product range is included in the box – that's 7 different jars – Orkney rhubarb jam, Orkney rhubarb chutney, spiced beetroot relish, caramelised carrot chutney, Piccalilli, rhubarb and raspberry jam (R&R), Pickled cucumber (infused with junipers taken from Deerness distillery's gin), four flavours of tablet (chocolate, vanilla, coffee, cardamom and white chocolate), fatty cutties, lemon drizzle cake, chocolate brownie stars, chocolate lollipops. Guest products are also featured, including lamingtons using JP jam, bakewell slices using JP Orkney rhubarb jam, and rum n' raisin tiffin using J.Gow rum.
Opening hours: 24/7, 7 days a week. Some customers (midnight snafflers) visited the box during the night in June!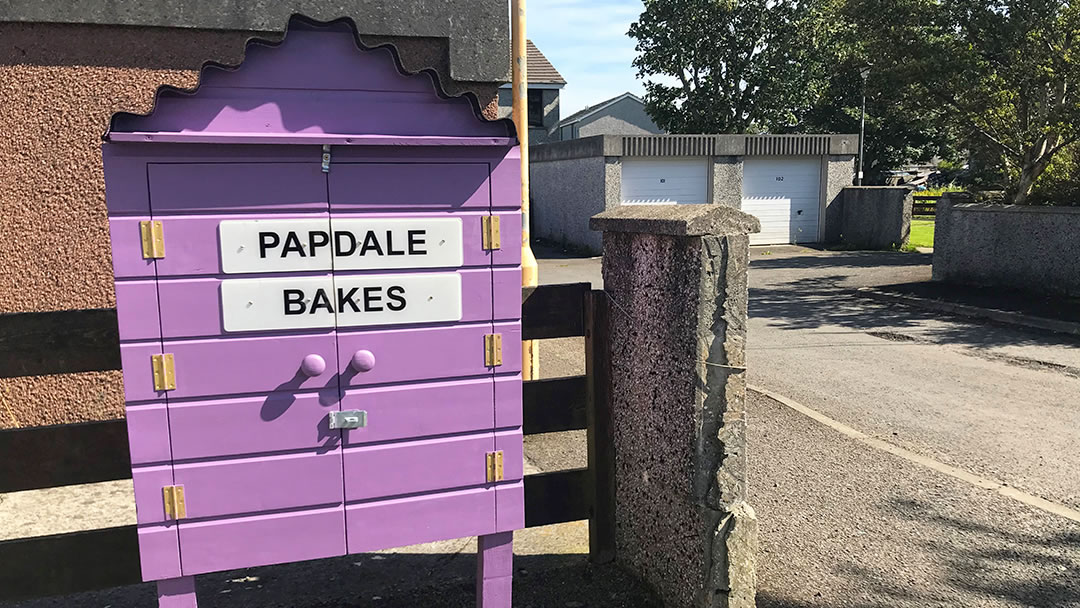 Papdale Bakes
Casey Spence has always been a keen baker. She studied hospitality/cake craft at school and college. Casey decided to start a cake honesty box at her house for everyone to enjoy. She hopes to put a wide variety of bakes into her box. She will also be considering cakes for special occasions. Casey hopes to open Papdale Bakes next week, keep an eye on her Facebook page!
Facebook: https://www.facebook.com/papdalebakesorkney/
Instagram: https://www.instagram.com/papdalebakescakeboxorkney/
Directions: 14 Ronaldsvoe, Papdale, Kirkwall, Orkney, KW15 1XE
Go into Muirs Drive, keep going past the Papdale shop road, keep going around the corner and take the first road on the left. The house is straight ahead with a drive, the box is secured onto the fence.
What's available: A wide variety of bakes including – cake, cupcakes, tray bakes, cookies, donuts, cheesecake. Please just help yourself!
Opening hours: Keep an eye on the Facebook and Instagram pages!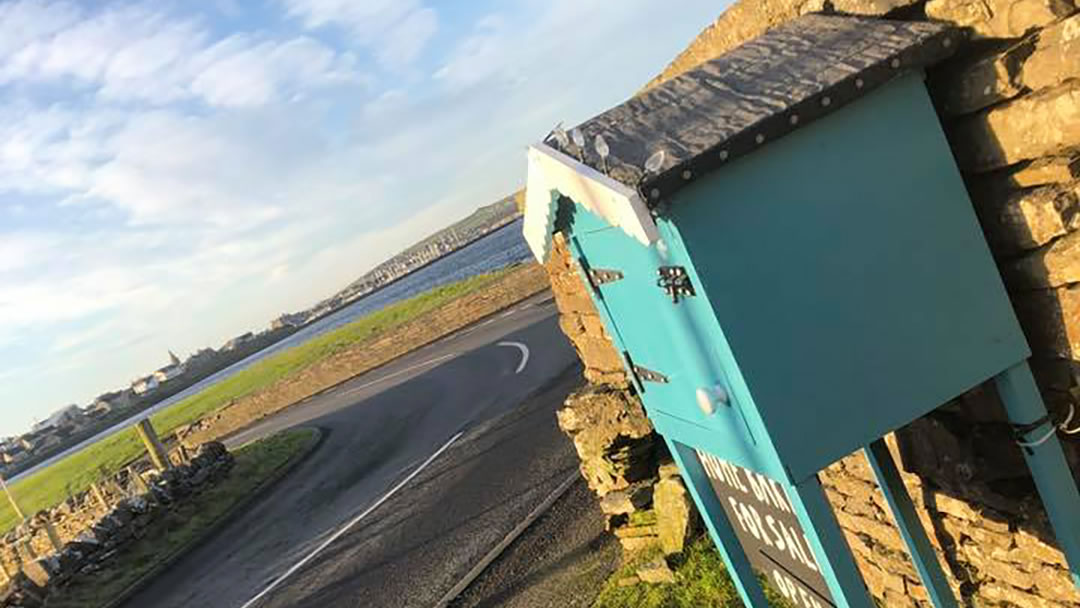 The Peedie Bun Box
Allisia Burton started up The Peedie Bun Box as an honesty box back in 2013, thinking she'd be lucky if she sold two buns. To her surprise it sold out the first day and has continued to sell out ever since! Allisia chooses one local charity a year to support through her takings. Due to Allisia having a full-time job, The Peedie Bun Box is not open all the time.
Facebook: https://www.facebook.com/Thepeediebunbox/
Instagram: https://www.instagram.com/thepeediebunbox/
Directions: Craigiefield Park, Kirkwall, Orkney KW15 1TE
The Peedie Bun Box's location is at Craigiefield Park next to Carness Road, which is a lovely shoreside walk 1 mile from Kirkwall.
What's available: A variety of delicious home bakes and treats!
Opening hours: Keep an eye on the Facebook page which is updated with opening times and details of private orders as much as possible.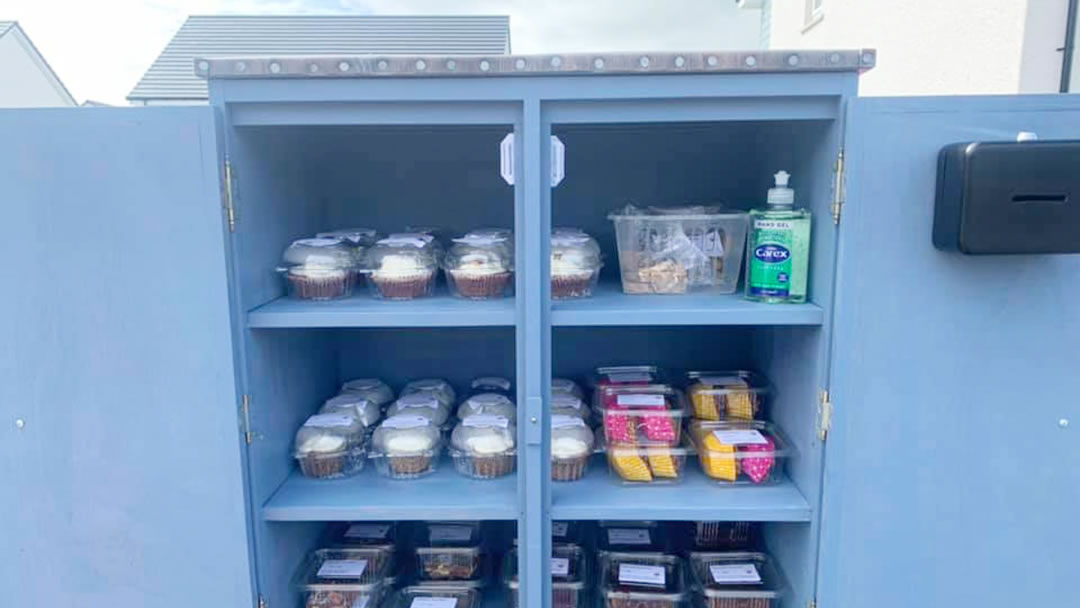 Peedie Nim Nims
Sian Smith started up a cake box in Kirkwall full of fresh home-bakes and treats! She said, "I've always enjoyed baking so I thought that I could turn that enjoyment into a money maker which I could fit it around my schoolwork and school holidays."
Facebook: https://www.facebook.com/PeedieNimNims/
Instagram: https://www.instagram.com/peedienimnims/
Directions: 18 Gold Drive, Kirkwall, KW15 1HH
Follow the road to the Picky camp site, then turn off on first left onto Macleod Drive. Follow this road round which leads onto Busant Drive then take your first right onto Gold Drive. Peedie Nim Nims box is positioned outside number 18.
What's available: A variety of fresh home bakes and fancies.
Opening hours: Days are varied but opening times are advertised on the Facebook page and Instagram page.
Little Crofty Cakes
Founded in May 2018 Little Crofty Cakes is a family business that offers a baking service to the people of Orkney. Their aim is to create delicious cakes and bakes for birthdays, weddings, Christmas or any other special occasion. Visitors to the honesty box travel from all over the Orkney Islands and further afield! Little Crofty Cakes have now made it easier for everyone to taste their goodies with an online order and delivery service which can deliver all over the UK.
The honesty box has become very popular with the local community and further afield and has offered a great opportunity to do fundraiser events for charity. Recently a fundraiser for Cardiac risk in the young (Freya Rose Dalrymple memorial fund) raised a stunning £587.07 which will help fund future heart screening events in Orkney for anyone aged 14 – 35.
Little Crofty Cakes guarantee that you will always get good value for your money. Whether you buy your bakes from our honesty box, collect them from our door, or use the delivery service your home bakes will always be baked fresh daily.
Website: https://www.littlecroftycakes.com
Facebook: https://www.facebook.com/Littlecroftycakes/
Directions: Little Crofty, Churchyard road, Tankerness, Orkney KW17 2QT
Turn in at the St Andrews Community centre and the honesty box is situated at the end of the second road on the right.
What's available: Great tasting fresh home bakes with a variety of cupcakes, traybakes, cookies, fudge alongside other treats which are posted on the Facebook page daily. Each bake costs £1.
Opening hours: 08:00 to 20:00, Thursday to Monday. Check the Facebook page to get daily updates on what bakes are being sold.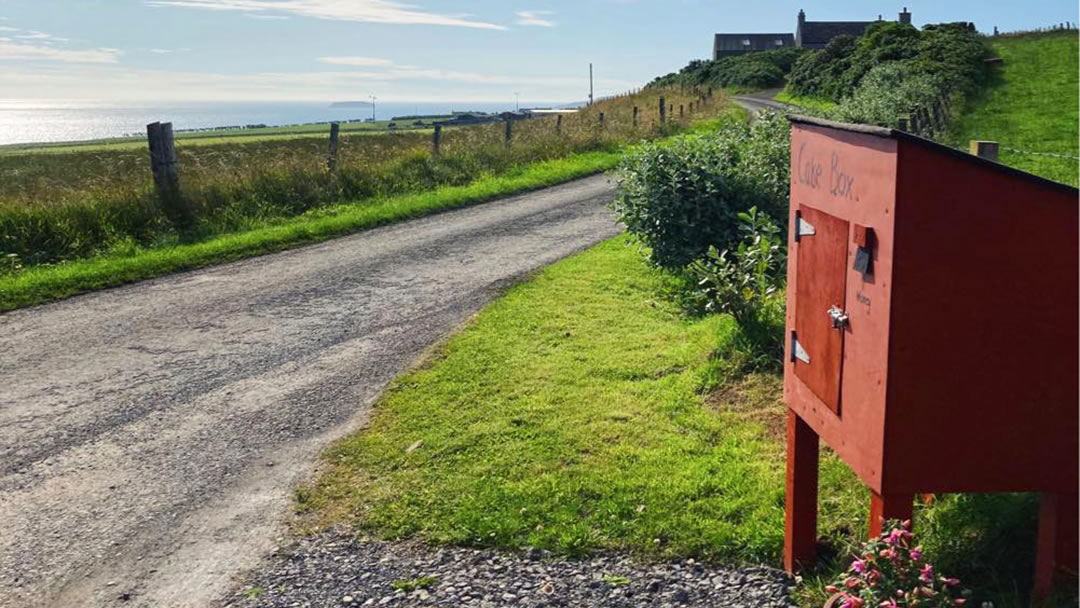 Brough Bakes
Brough Bakes is an honesty box run by Shannon Foubister which has been up and running in Deerness for two years. It began as a small hobby, offering treats one day a week to keep Shannon busy outwith work. Due to great public support, the box was a huge hit and she now fills the box with delicious home bakes two days a week! She says she cannot thank the public enough for their continued support this year and she hopes it continues.
Facebook: https://www.facebook.com/BroughbakesDeerness/
Instagram: https://www.instagram.com/Broughbakesdeerness/
Directions: Brough Bakes, Deerness, Orkney KW17 2QJ
Located in Deerness, on the left before the Deerness Gin distillery, which makes for the perfect Sunday run! Follow the main Kirkwall to Deerness road. Continue past the Deerness shop, past the Deerness Hall until the crossroads with a big white house on the left. There is a Brough Bakes sign at the junction; turn left and follow the road until you reach a cake box full of goodies!
What's available: A huge selection of delicious goodies from muffins to traybakes! Follow the Facebook page for more details.
Opening hours: 09:00 to 21:00, Saturday, Sunday and Monday.
Tankerness tREEts
Currently closed
Tankerness tREEts is a new honesty box offering a delicious range of treats – They are still figuring out what works for them so it is worth keeping an eye on the Facebook page where they will post details of any changes.
Facebook: https://www.facebook.com/Tankerness-Treets-105433967913624
Directions: Newbreck, Tankerness, KW17 2QT.
Follow the A960 out of Kirkwall, continue on past the airport for another 1.3 miles and turn left at the Groatseatter sign. Continue for 175 yards and you will see the road to Newbreck on the right, with the Tankerness tREEts box at the end of the road.
What's available: A variety of fresh home bakes and goodies including cupcakes, traybakes, scones, tarts and more! Choices will be posted on Facebook the day prior to each opening day.
Opening hours: Tuesday from 09:00 / Saturday from 09:00 / Sunday from 10:00 Closing times will vary depending on availability. If all the goodies are sold out it will be posted on the Facebook page.

By
Victoria Dixon
Orkney and Shetland fanatic, likes to capture life through a lens, loves creating, eclectic taste in music, enjoys being a Mum; would secretly love to be a star of the West End!
Please note – there are other honesty boxes in Orkney which are not featured here. If you would like to add your honesty box to this list, please get in touch via the NorthLink Facebook page!
Pin it!