The Place Names of Orkney
Orkney and Shetland have been populated for over 6000 years, and through the course of these Islands' history the languages spoken there have changed many times. We have no records of the language used by the Neolithic people who lived in Skara Brae, nor of the Bronze Age people who occupied Jarlshof.
The name Orkney itself comes from Orkneyjar, which means Seal Islands.
From the early Iron Age Orkney and Shetland were inhabited by the Picts, but there is debate over the language they spoke. It is believed to have contained elements of Irish Gaelic, and several examples of carved Ogham script found in Orkney and Shetland supports this theory.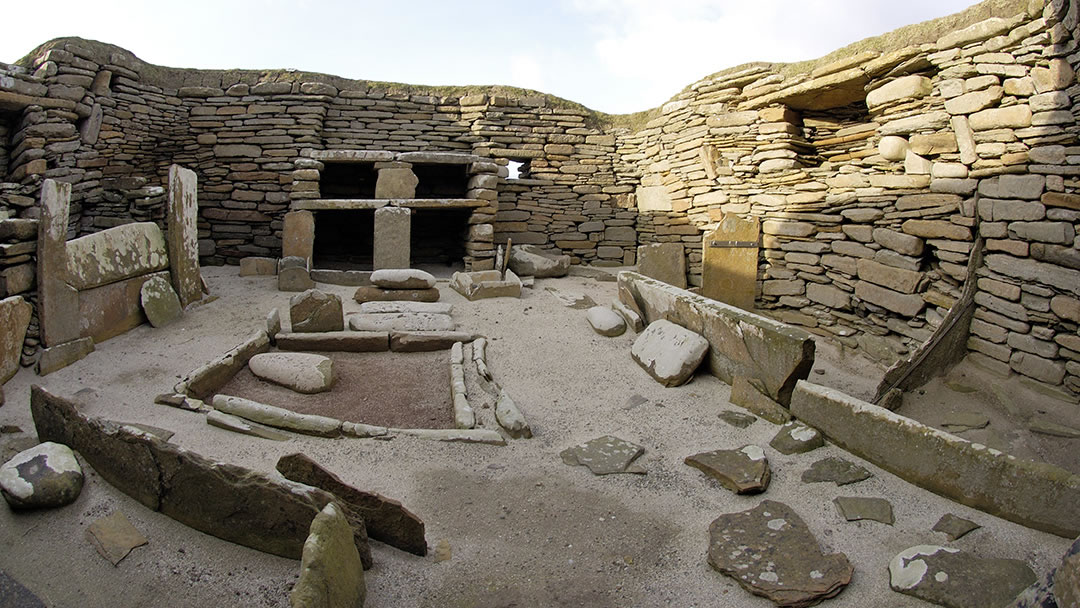 From 800AD, settlers from Norway arrived in the Northern Islands, and the language spoken in Orkney and Shetland changed to Old Norse, from which Norwegian, Faroese and Icelandic are derived. In Orkney and Shetland (and even in parts of Caithness), Old Norse evolved to Norn, which was spoken in Orkney and Shetland until the 17th century. Scots eventually took over, but there are many words in the Orkney and Shetland dialect that may be quite unfamiliar to people from the Scottish Mainland!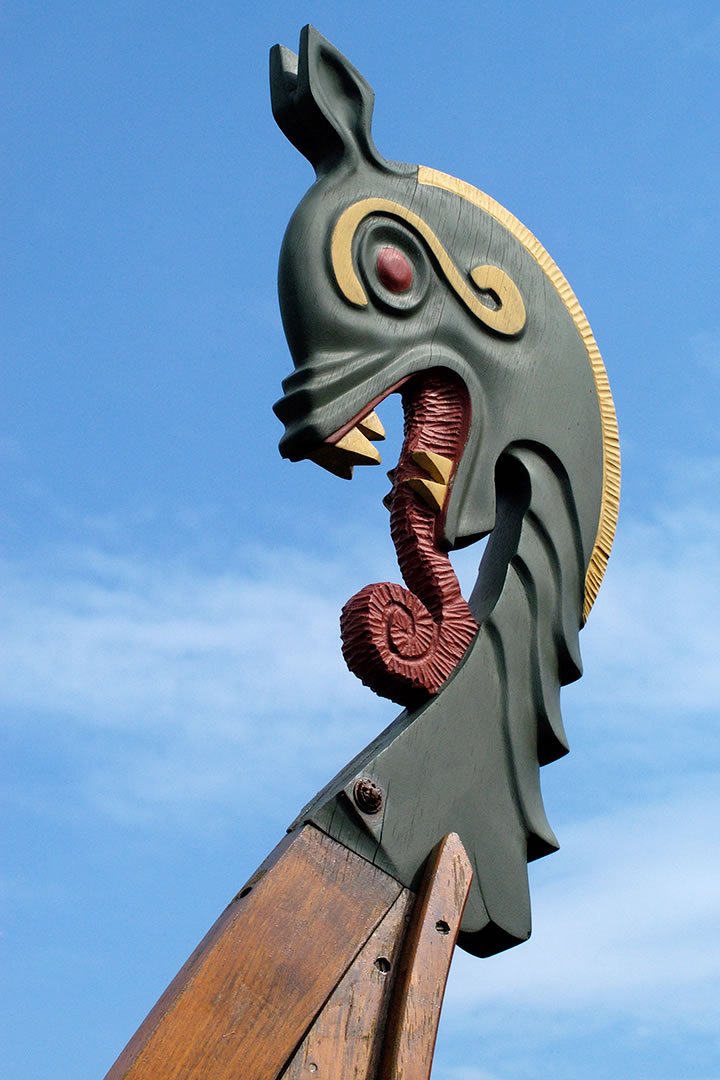 It is Old Norse that has had the greatest influence on the vast majority of modern place names. Some pronunciations have changed over time, and some place names are often the result of mapmakers mishearing local accents! One example of this is the Broch of Gurness (pictured below), which was so named because of a misinterpretation of the name of the area, Aikerness, which means 'Arable Land Point'.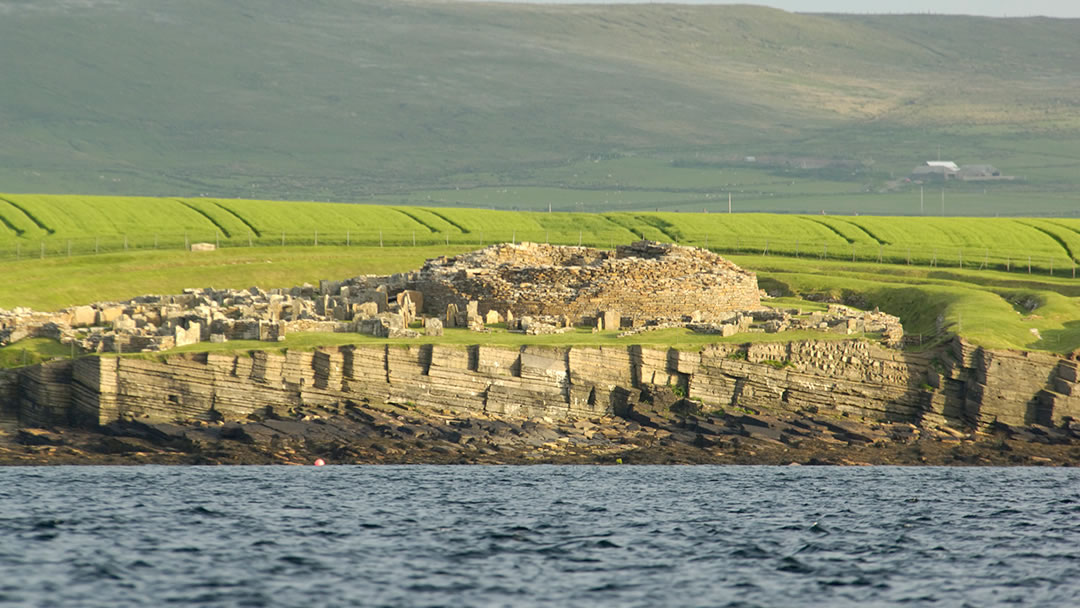 Orkney itself comes from Orkneyjar, which means 'Seal Islands'. The Orkney Mainland was once called Hrossey, and the NorthLink ship was given the same name. It means 'Horse Island'.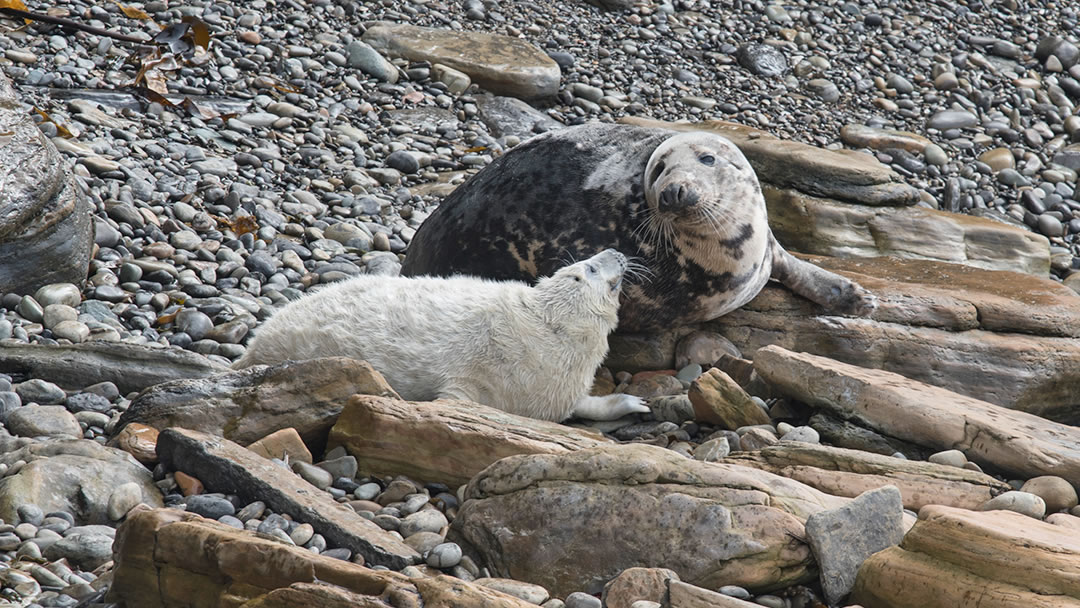 The other NorthLink ship, Hjaltland, is the Old Norse name for Shetland. One theory behind this name is that the shape of the islands on a map resemble the hilt (hjalt) of a sword. Another theory is that the Picts referred to the earlier inhabitants of Shetland as Catts, and named it the Isle of Catts.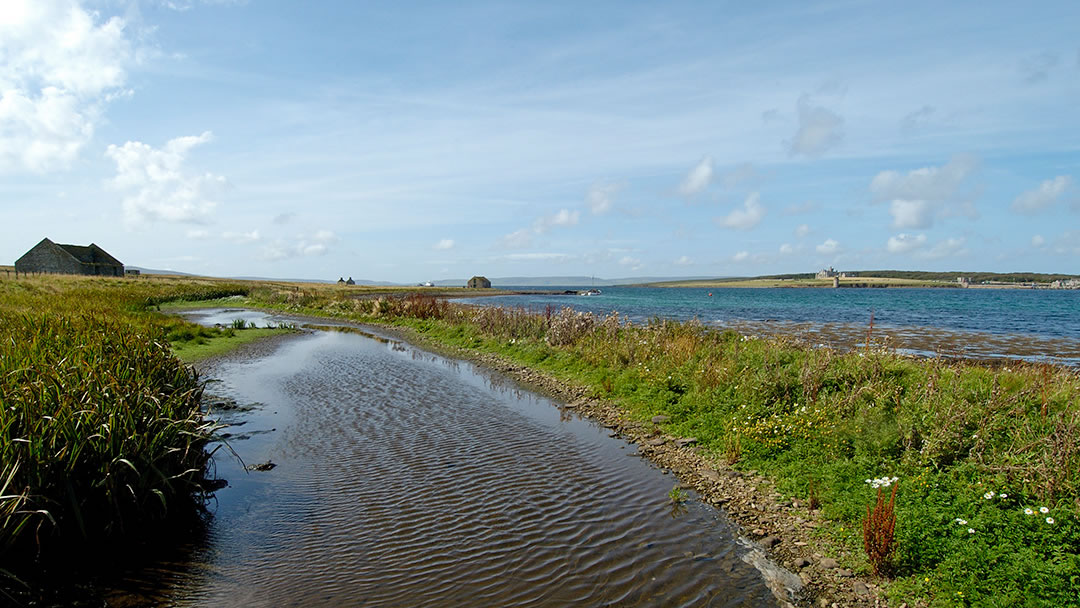 Hamnavoe (Harbour Bay) is the old name for Stromness and now the name of the Stromness to Scrabster ferry. The NorthLink freight ship Hildasay (battle island) is the name of an uninhabited Shetland island and Helliar is named after the uninhabited island, Helliar Holm (cave island) pictured above, which lies off the coast of Shapinsay in Orkney.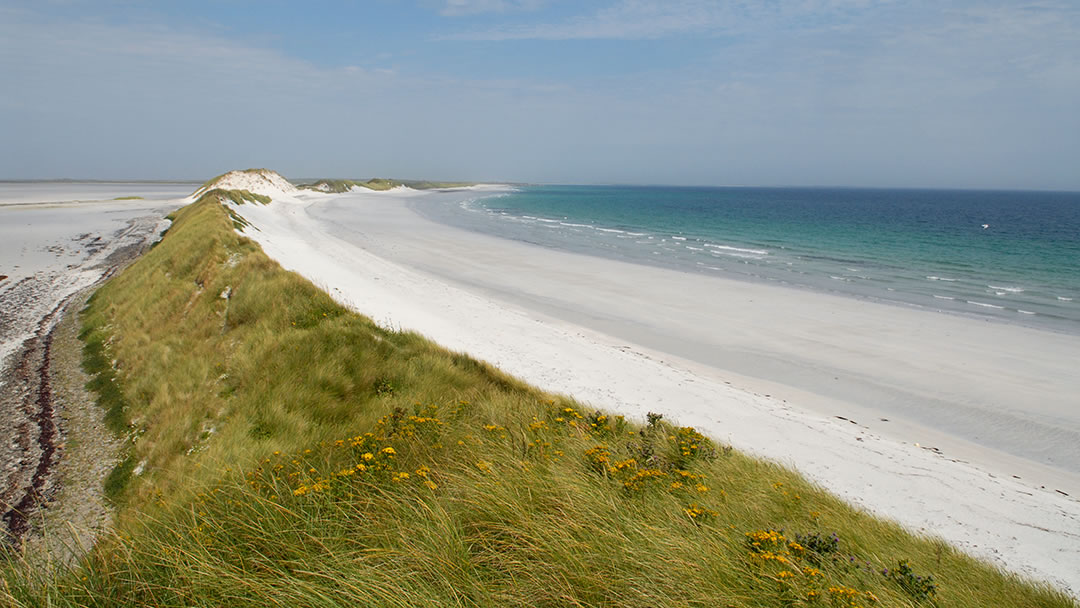 Orkney Island names and their meanings
Auskerry
East skerry.
Burray
Broch island.
Cava
Calf isle.
Copinsay
Kolbein's island.
Damsay
Twin isle.
Eday
Isthmus isle.
Egilsay
Egil's isle or Church isle.
Eynhallow
Holy isle.
Fara
Sheep isle.
Flotta
Flat isle.
Graemsay
Grim's isle.
Hoy
High island.
North Ronaldsay
Ringan's isle.
Papa Stronsay
Small island of the Priests.
Papa Westray
Big island of the Priests.
Rousay
Rolf's island.
Sanday
Sandy isle.
Shapinsay
Helping island (for ships).
South Ronaldsay
Rognvald's isle.
Stronsay
Profit island (good farming and fishing).
Swona
Sweyn's isle.
Westray
West isle.
Wyre
Spearhead.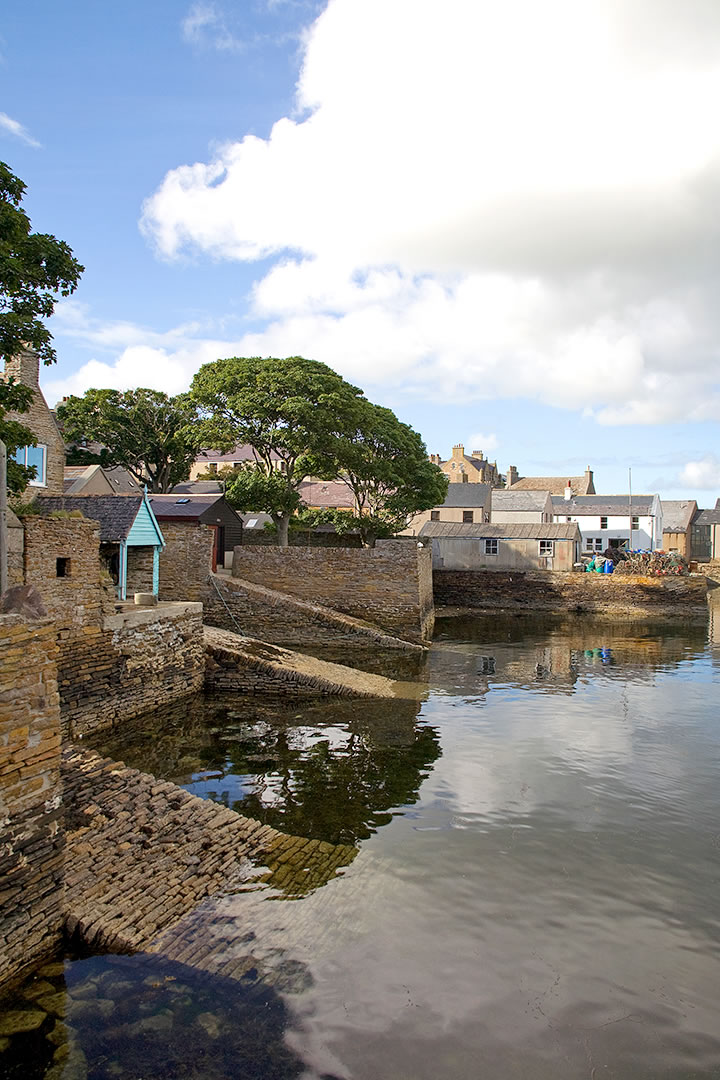 Orkney area names and their meanings
Birsay
Island of the rampart.
Brodgar
Bridge farm.
Deerness
Animal point (the Mull of Deerness is shaped like an animal's head).
Evie
Eddy (referring to strong current in Eynhallow Sound).
Finstown
Named after David Phin, an Irish soldier.
Harray
Inland district.
Holm
Haven or good anchorage.
Kirkwall
Church bay.
Orphir
Land joined to an island at low water.
Rendall
Valley of the Renna.
Sandwick
Sandy bay.
Skaill
Hall.
St Margaret's Hope
St Margaret's bay.
St Ola
Named after the church of St. Olaf (built in 1035)
Stenness
Stone point.
Stromness
Steam point.
Tankerness
Tannskari's point.
Walls
Land of bays.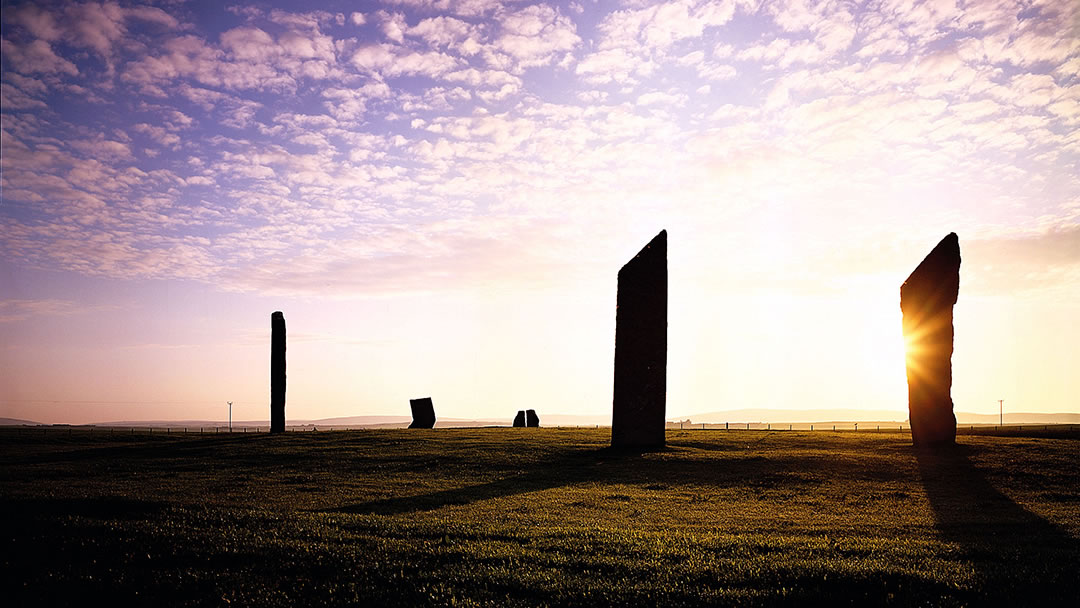 Finally, as you travel around Orkney and Shetland you may spot house, farm and place names which use parts of Old Norse words. The list below should help you decipher their meaning; often the names used were quite descriptive!
| | |
| --- | --- |
| aith | isthmus |
| ayre | gravel beach |
| berry, -ber | hill |
| bigging | building |
| -bister, -bist, -buster | farm, dwelling |
| breck | slope |
| bu , -by | farm |
| -clett , cleat | stone built house |
| -dale , -dall | valley |
| ey, ay, a | island |
| far | sheep |
| -fell, -fea , -fiold | hill |
| firth, -ford | fjord, wide bay |
| foul | bird |
| garth | enclosure |
| geo | chasm |
| -gill | narrow valley |
| gloup | throat |
| grut- | gravel |
| ho- | high |
| ham, hamn- | harbour |
| hammar | crag |
| holm | small island |
| hope | shallow bay |
| howe, hox- | mound |
| hund | dog |
| kame | ridge |
| kir-, kirk- | church |
| knap | hill-top |
| langa- , -land | long |
| -lee | slope |
| ling | heather |
| mel- | sand bank, dunes |
| mous- , muss- , -mo | moor |
| muckle | large |
| -ness | nose, point |
| noup | peak |
| noust | boat beaching place |
| peerie, peedie | small |
| -quoy | cattle pen |
| seater, -setter, -ster | out-pasture |
| -skaill | hall, house |
| sten- , -stain | stone |
| -ster, -sta | homestead |
| stove | house |
| strom- | tide, stream |
| taing | tongue |
| ting | assembly |
| -toft , -taft | site of dwelling |
| -ton, -town | enclosure |
| vel- , -wall | valley |
| voe, -wall | bay |
| ward, wart | beacon |
| wick | bay |

By
Magnus Dixon
Orkney and Shetland enthusiast, family man, loves walks, likes animals, terrible at sports, dire taste in music, adores audiobooks and films, eats a little too much for his own good.
Pin it!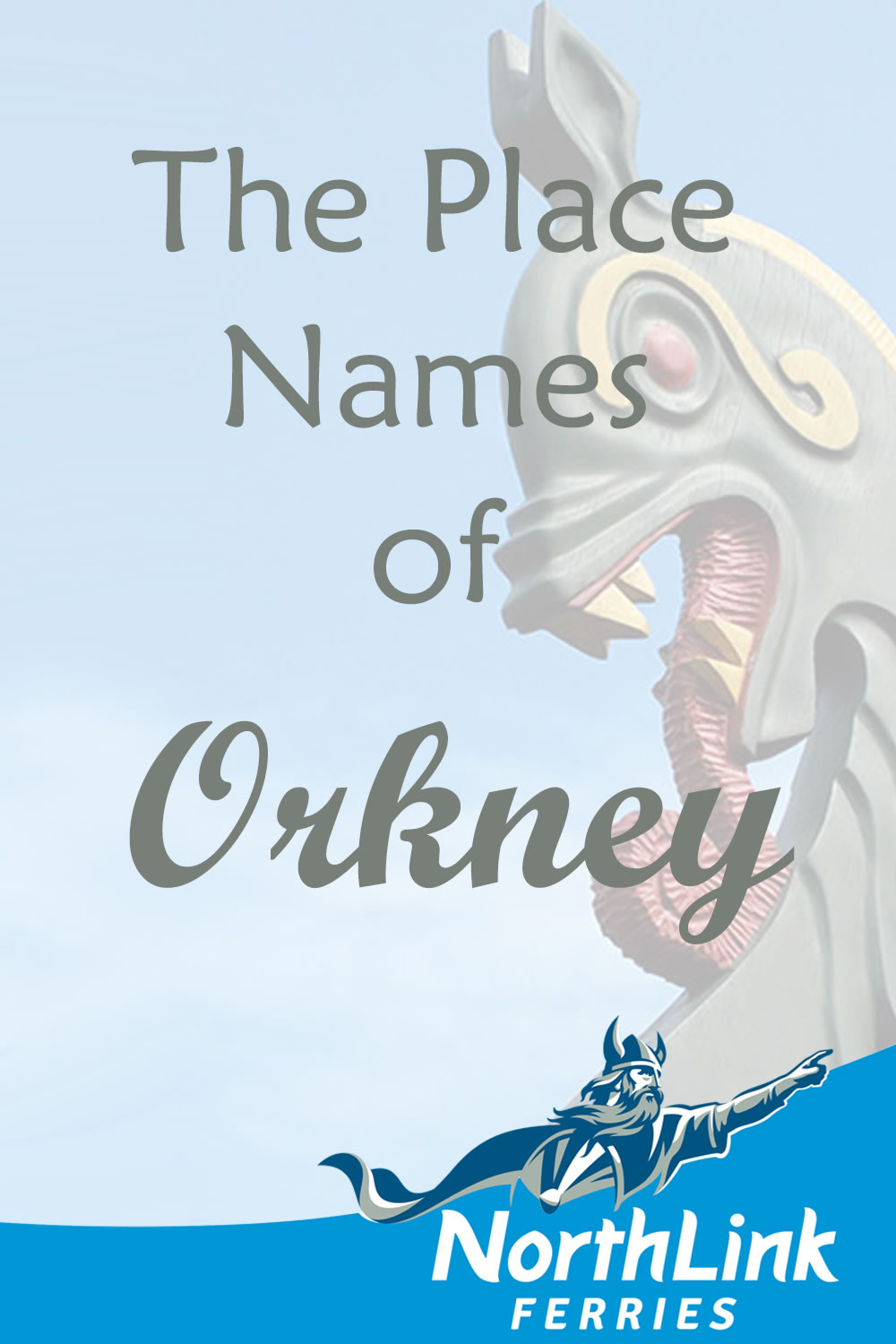 Header image: The Standing Stones, the Watchstone and Stenness Loch in Orkney photo © Copyright Victoria Dixon