Orkney Trike Tours – an interview with John Foster
Thinking of booking a tour of Orkney? Why not see Orkney from a uniquely thrilling perspective while riding in style with Orkney Trike Tours!
Well, I think I have the best job in the world! I've always said to people: do a job you want to do and not what you have to do.
We caught up with John Foster, owner of Orkney Trike Tours, who talked about his passion for bikes, Orkney adventures and his journey to becoming self-employed and doing his dream job.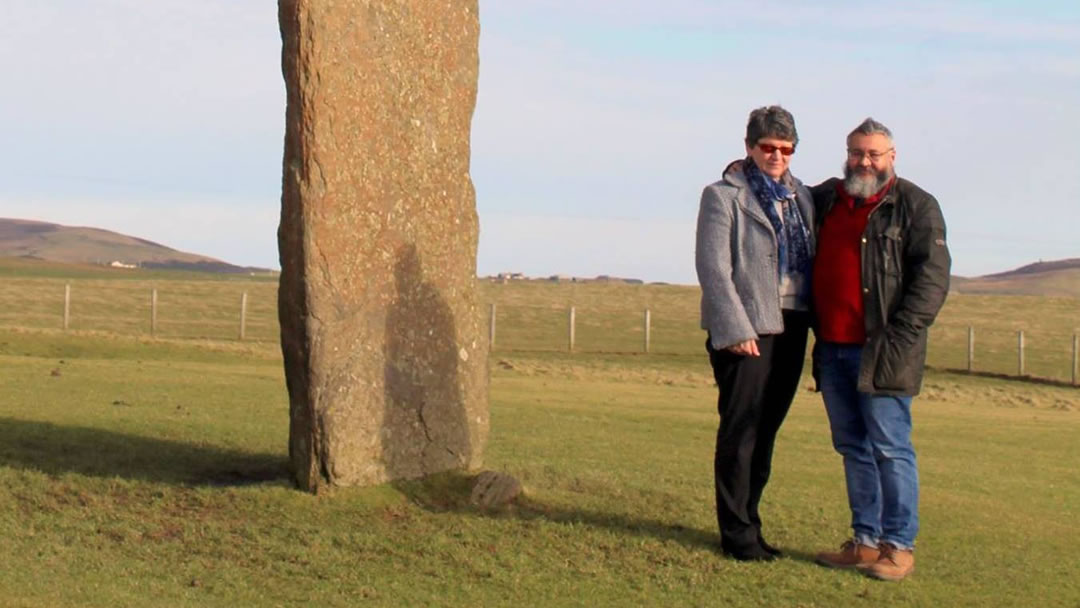 Q. Tell us a bit about yourself John!
A. I grew up in Lincolnshire and after I left school I became a nurse. I worked in that role for 34 years in various places, eventually arriving in Orkney in 2012, and becoming a Nurse Practitioner on Shapinsay. Though it was a big move, I was in my mid 50's and I wanted one more big adventure before I retired. So when I had the chance to come to Orkney, I took it and I'm so glad I did!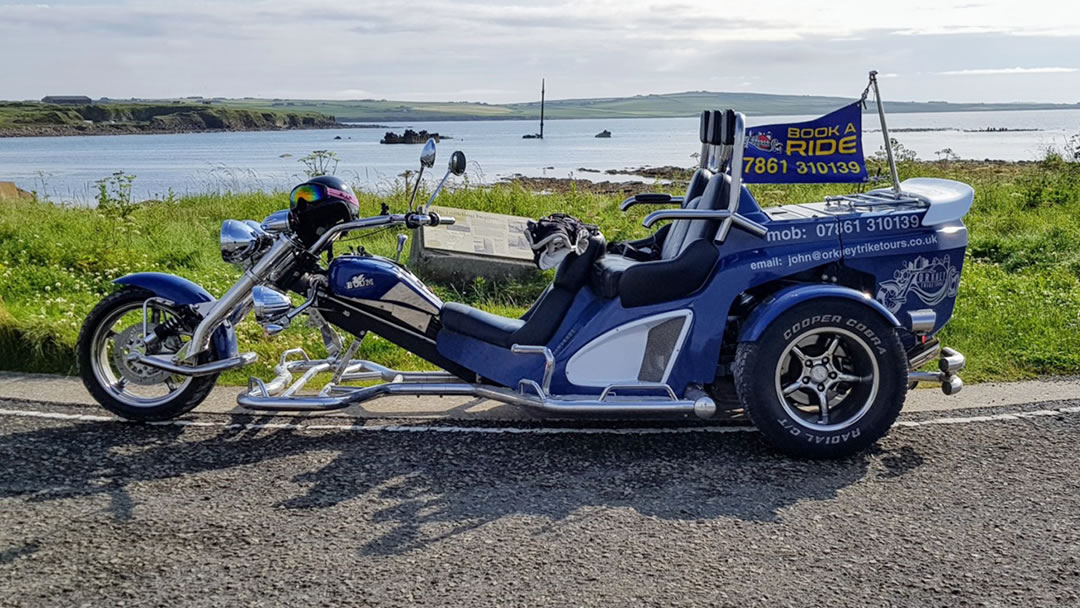 Q. Have you always been interested in motorbikes?
A. Yes. I've always had motorbikes; I've had a motorbike since I was 12! The first motorbike I owned secretly, because my parents didn't like me having one. Since then I've only been without a motorbike for about 18 months.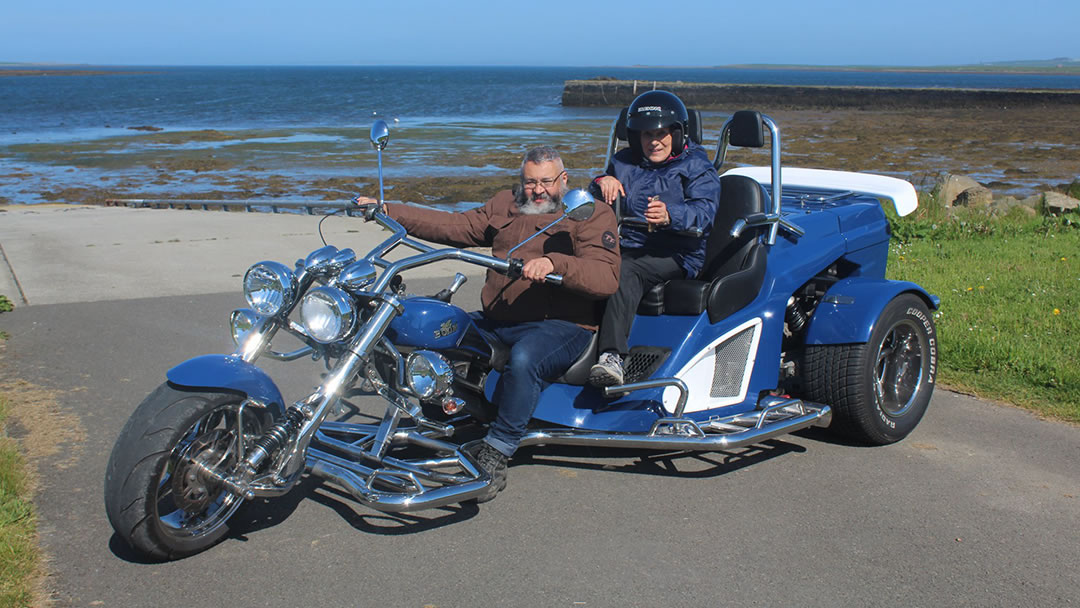 Q. Do you have a favourite brand of motorbike?
A. No, I don't really have a preference. Over the years, I seem to have had a lot of Yamaha's but I've owned all sorts. I started with the British bikes in the 1970's. Since then I've had BMW's, Honda's, and I've just bought my first Kawasaki. Honestly, I like anything on two wheels!
Q. What inspired you to start your own business? Could you tell us a little bit about Orkney Trike Tours?
A. When I retired from nursing in 2016 I took up a summer job at Skara Brae to keep myself busy. I saw lots of tour guides and bus and taxi drivers coming in there and I thought to myself 'I could do that.' After some time mulling it over, I decided that I would become self- employed for the first time ever! So I bought a Trike and started the business.
The biggest problem really was that when I looked at the private hire regulations it says, almost in the first paragraph, that I would need 4 doors and 4 seats! However the Orkney Islands Council were very helpful, and after a few months, they rewrote the regulations to include a trike. So that's how I started.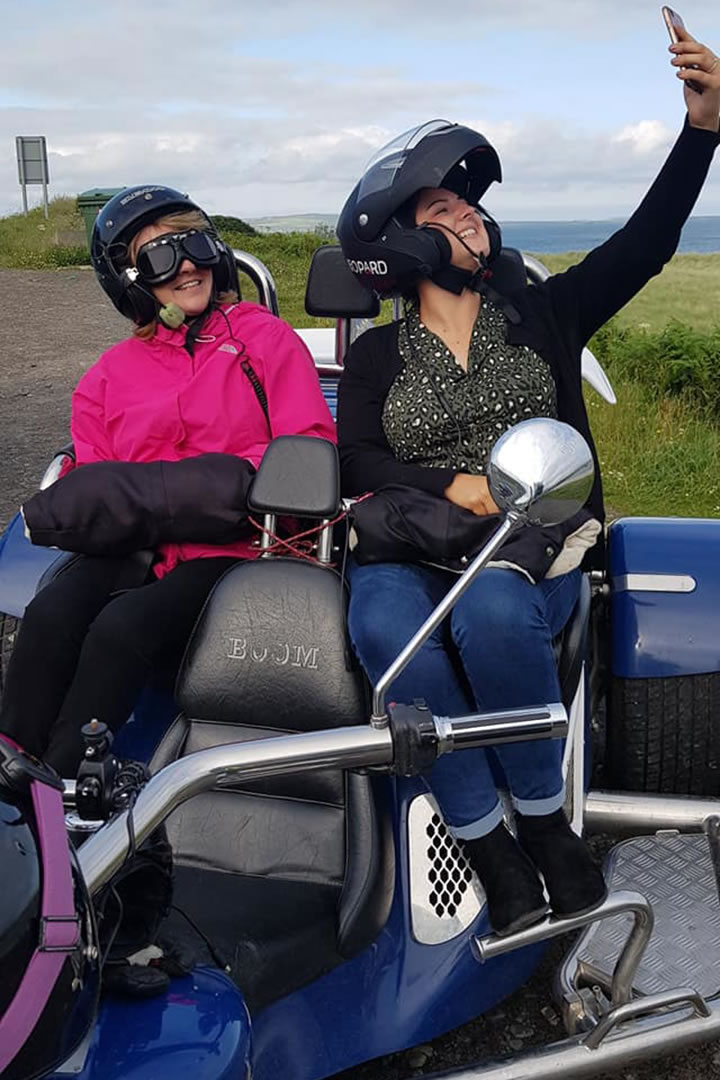 Q. Could you tell us a bit about the services that you offer at Orkney Trike Tours?
A. I run tours around Orkney, that's the biggest part of the business, catering for visitors to our shores, however they visit; by ferry, plane or cruise ship. I mostly offer 2 hour tours around the Orkney Mainland, but I occasionally do shorter runs for birthdays and anniversaries.
I've done three weddings so far and I really enjoy being part of the couple's happy day.
I've also done some surprise birthday runs where I've turned up at a house, or a restaurant or pub and taken some very surprised people out on the trike for a couple of hours – which is also lots of fun!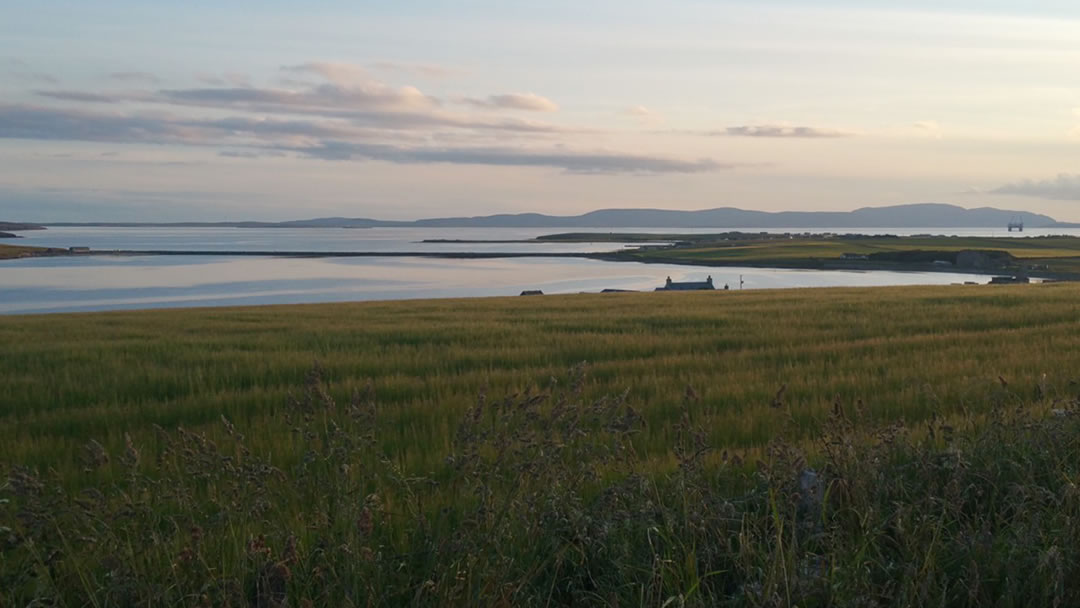 Q. What do you enjoy most about the Orkney Trike Tours?
A. Well, I think I have the best job in the world! I've always said to people 'do a job you want to do and not what you have to do.' I ride around Orkney on a trike so I'm literally doing my hobby and I'm also meeting lots of interesting people from all walks of life. I really love telling them all about this wonderful place I now call my home.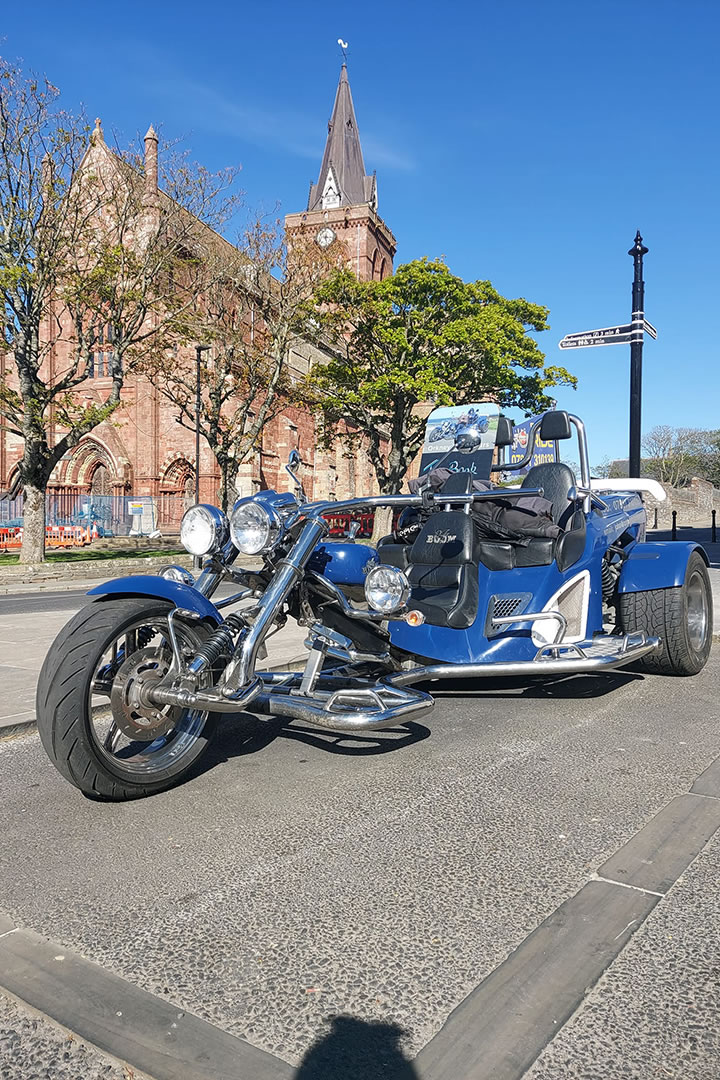 Q. We see you have rave reviews, well done! What's the nicest feedback you've received?
A. I'm delighted with all of the good reviews, but I particularly like this one from the 28th July this year, 'My husband and I were gifted a tour as a wedding present and it did not disappoint! We saw stunning views from the top of the hill, went puffin watching, saw the standing stones and the new archaeological site, had the tastiest ice cream and saw a mud house. All done in the back of a very powerful and classy motorcycle trike. Our guide John was very knowledgeable and we could have listened to him all day – fantastic present and fantastic tour'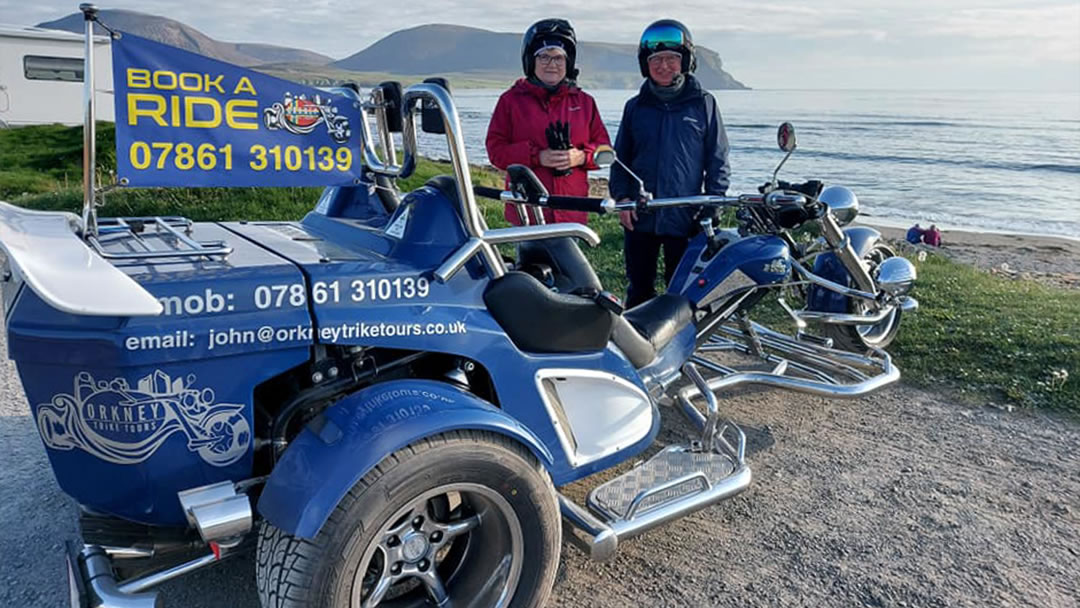 To find out more about Orkney Trike Tours and to book your own guided tour, enjoying the glorious scenery of Orkney from the back of a trike, please visit http://www.orkneytriketours.co.uk/

By
Hannah Richards
A University graduate from New Zealand with strong ties to Orkney and the East Coast of Scotland. Hannah enjoys discovering new places and is looking forward to travelling around Europe. She has great appreciation for history, music and art.
Pin it!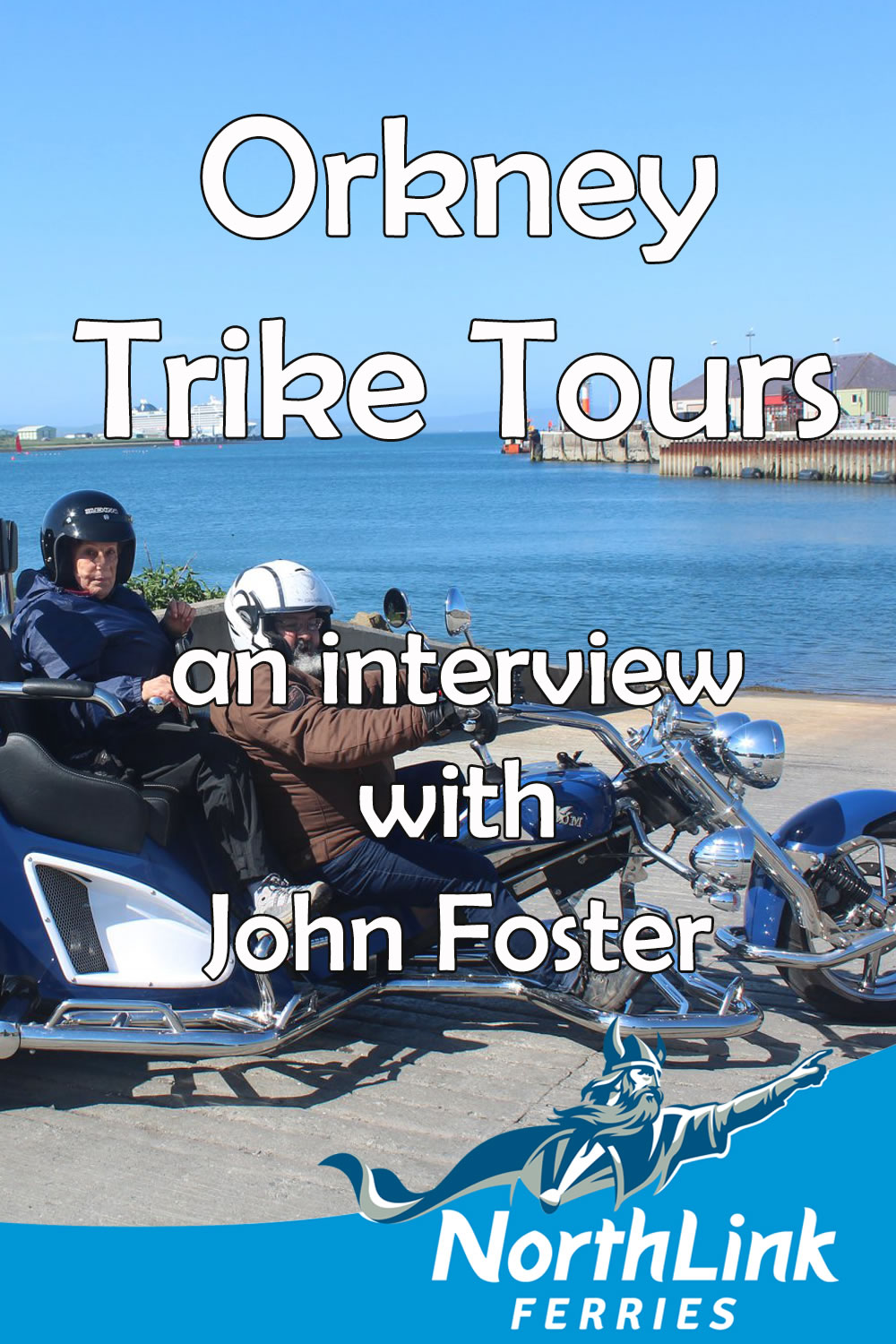 Header image: Orkney Trike Tours at the Hall of Clestrain photo © Copyright Orkney Trike Tours