Island in Focus – Shapinsay
Shapinsay is a picturesque agricultural oasis which is only a short, 30 minute ferry trip from Kirkwall. Whilst there is no public transport on the island it's a good island for walking, or you can bring your vehicle for a lovely road trip around the island.
The name Shapinsay comes from the Old Norse Hjalpandisey, which means Helping Island (for ships).
Shapinsay has a rich history, fascinating archaeological sites, beautiful ayres, charming Balfour village and Balfour Castle, and a unique, small island atmosphere.
Here are some things we love about Shapinsay, and we are certain that you will too!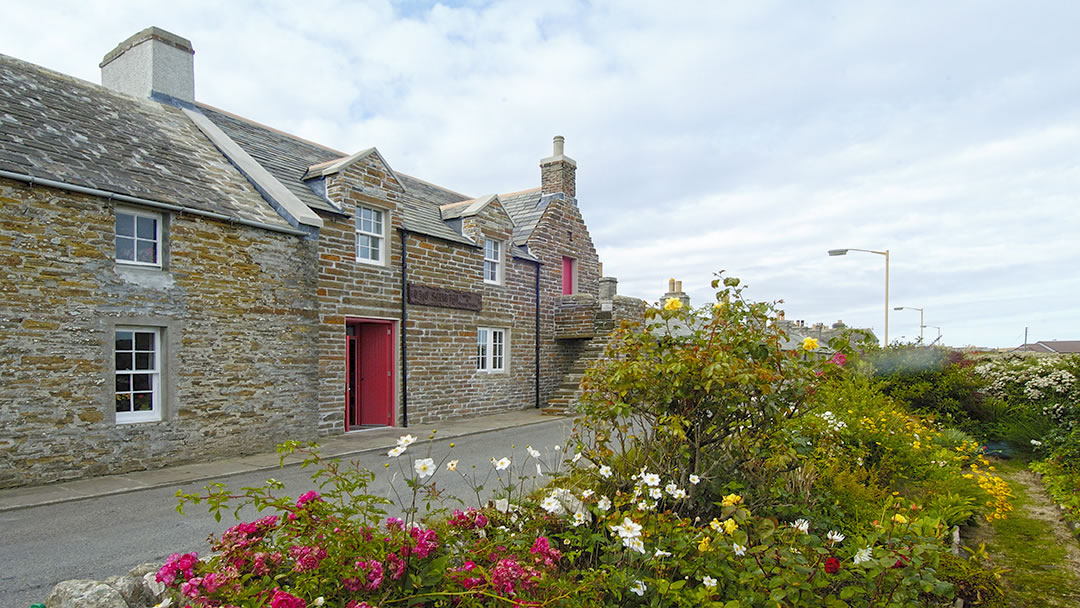 Balfour Village
The ferry to Shapinsay arrives in Balfour, Shapinsay's only village! There are just over 300 people living on this island and visitors are always welcome.
Originally Balfour was known as Shoreside, but was renamed in the 1780's. The Balfour family, who occupied nearby Balfour Castle, had a significant impact on how farming and agricultural practises were carried out in Shapinsay during the 18th and 19th centuries. They introduced new agricultural technologies, squaring the land into 10-acre fields and increasing the amount of arable land by almost 700%. New crops and breeds of cattle and sheep were also introduced.
Today Shapinsay's economy is primarily based on agriculture with a few small businesses related to the tourism industry. However many of the island's residents commute by ferry to work in Kirkwall every day.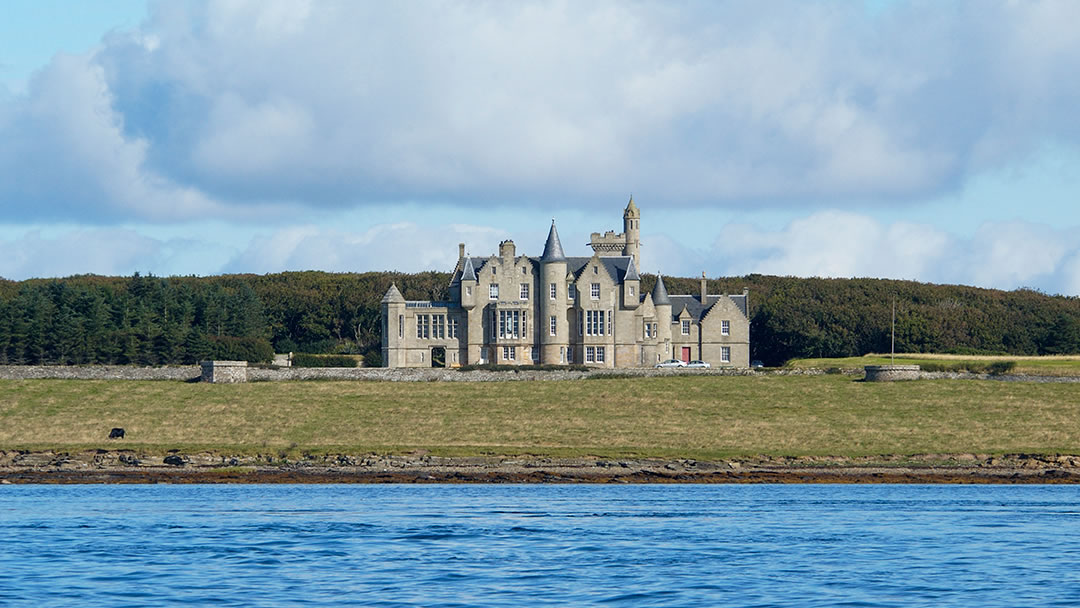 Balfour Castle
As you approach Shapinsay on the ferry, one of the first things you will see is stunning Balfour Castle. This beautiful Scottish Baronial style mansion is not too far from the shore and is one of the most prominent features on the island of Shapinsay.
The original mansion house, the House of Sound, was built in 1674 and Colonel David Balfour bought the Sound estate in 1784. When his grandson, David Balfour inherited the castle in 1846 he enlarged and remodelled the house to the impressive building seen today.
At that same point in time, improvements were made to Balfour village, including demolishing part of the village to improve the view from the castle!
Other improvements to Balfour village included the gatehouse and the Dishan Tower, known locally as The Douche. This building is a salt-water shower with a dovecote on top. A water mill and gas works were built and were in use until the 1920s. To create a water supply for the new mill a river had to be dammed. This created a wetland which today is a popular habitat for different birds, known as Mill Dam.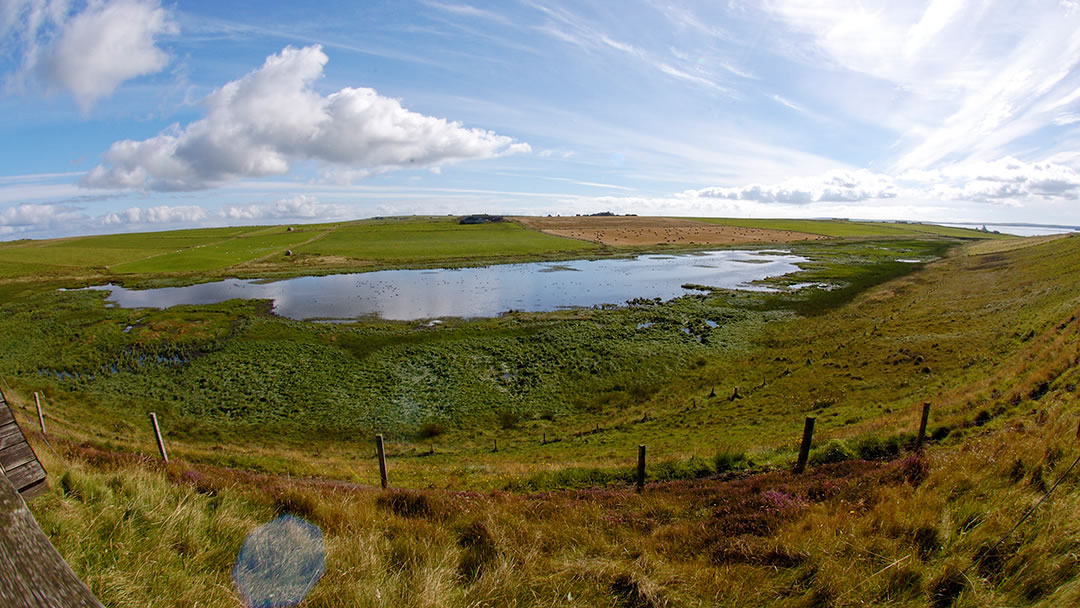 Mill Dam RSPB Reserve
If you enjoy bird watching then we'd recommend visiting Mill Dam RSPB Reserve. This wetland is home to many different bird species throughout the year. Some birds of interest include Curlew, Redshank, Shoveler and Wigeon. Up to nine different species of duck can be observed and also some birds of prey. In summer, the surrounding grassland fields and wildflowers are enticing for rare great-yellow bumblebees.
The wetland habitat can be seen from the Mill Dam hide, which has a remarkable panoramic view of the reserve and is only one mile (1.6 km) from the pier. Visitors must travel north-east from Balfour village and will find a car park at Mill Dam.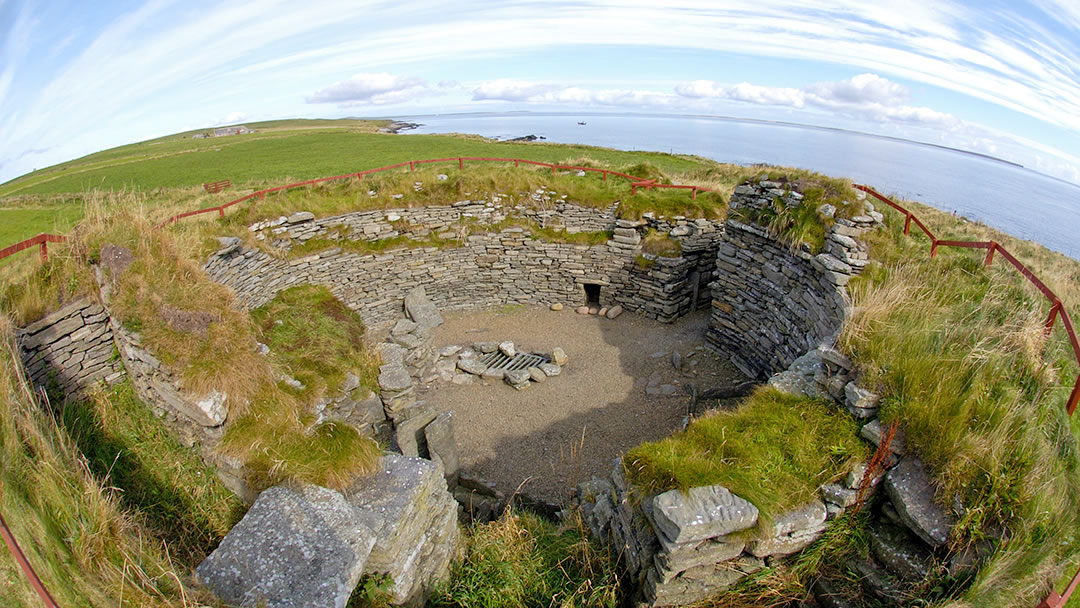 The Broch of Burroughston
In the north-east of Shapinsay you will find a well-preserved Iron Age broch. This is an impressive round building (18m in diameter) with 4m thick drystone walls. The surviving walls of the broch rise to about 3m and it is accessible to visitors, but is in a semi-wild state!
David Balfour arranged for the Broch of Burroughston to be excavated in 1861 by archaeologists George Petrie and Sir William Dryden. Deer-horn fragments and ox and sheep bones were found inside. Like the Broch of Gurness, there is evidence of surrounding buildings at Burroughston but these have not been excavated.
The Broch is situated by the shoreline and is an excellent place for seal watching.
Mor Stein Standing Stone
Mor Stein Standing Stone is a lichen covered Neolithic Standing Stone in the Southeast of Shapinsay, near the island's highest point. It has been in place for almost 5,000 years like the Standing Stones found in Stenness.
Unfortunately in the 1920's the Mor Stein stone was toppled and then re-established. This is why the stone has a jagged appearance, as some of the stone was damaged during this time.
Unlike, the Standing Stones in Stenness, Mor Stein is smaller (standing at only 2.9 metres or 10ft tall) and stands alone. However it is located close to Shapinsay's other Neolithic monuments. From Mor Stein, you can easily see a chambered cairn located 1.3km north west and known as 'Castle Bloody'. There are also a number of stone cists nearby. It is incredible to think that people were living on Shapinsay during the Stone Age!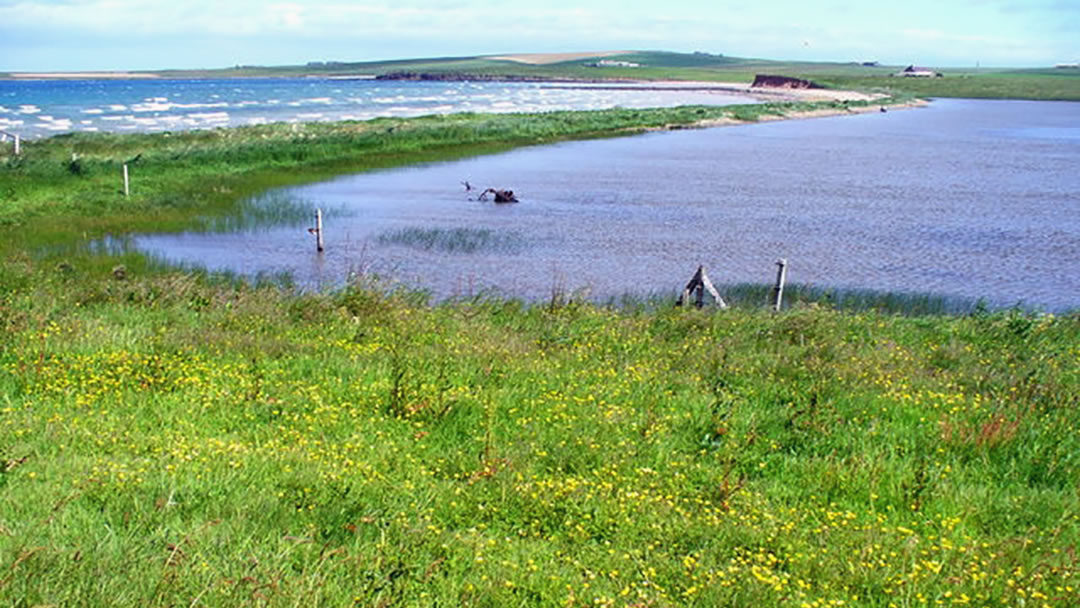 Shapinsay's graceful ayres
Shapinsay is well known for its storm beaches which are also known as "ayres" in Orkney and Shetland.
Ayres or storm beaches are typically formed during stormy conditions (hence the name!) and are formed when the sea rolls onto the beach with force, creating a ridge. These ridges can separate water from the sea and create a loch.
Shapinsay has several ayres and two of the most well-known ones are Vasa Loch and Lairo Water (pictured above). Both are very picturesque (and good places to see seals and otters) so be sure to take your camera!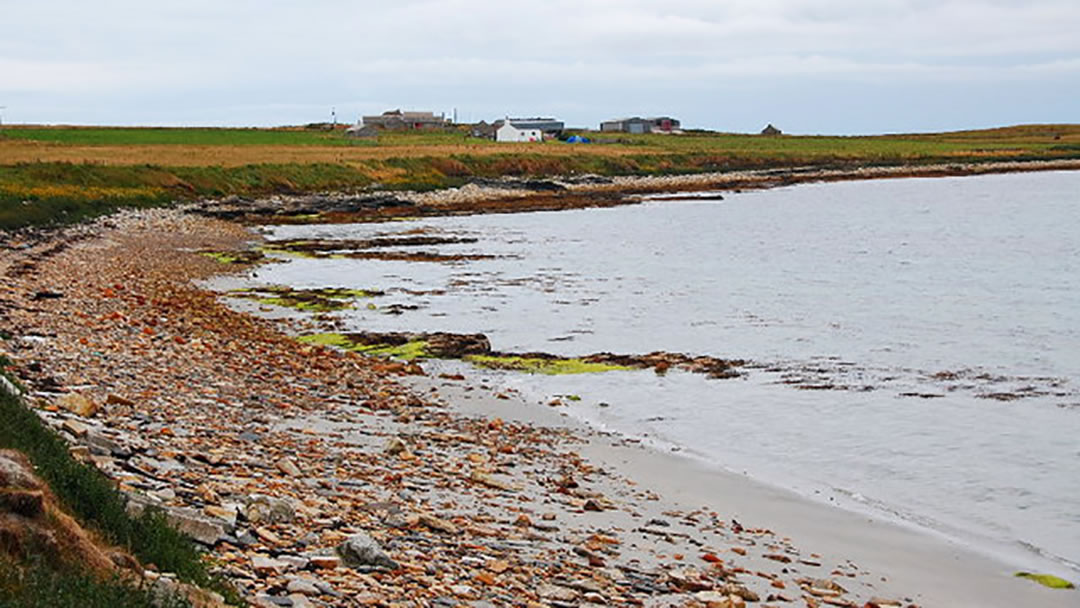 Sandgarth Bay
There are several fine beaches along Shapinsay's coast, but we would particularly recommend you visit Sandgarth Beach in the southeast corner of the island. This really pretty sand beach is a favourite with Shapinsay residents; it has clear water, a picturesque ayre, and is also a great place to spot bird life, rock formations and some stone ruins.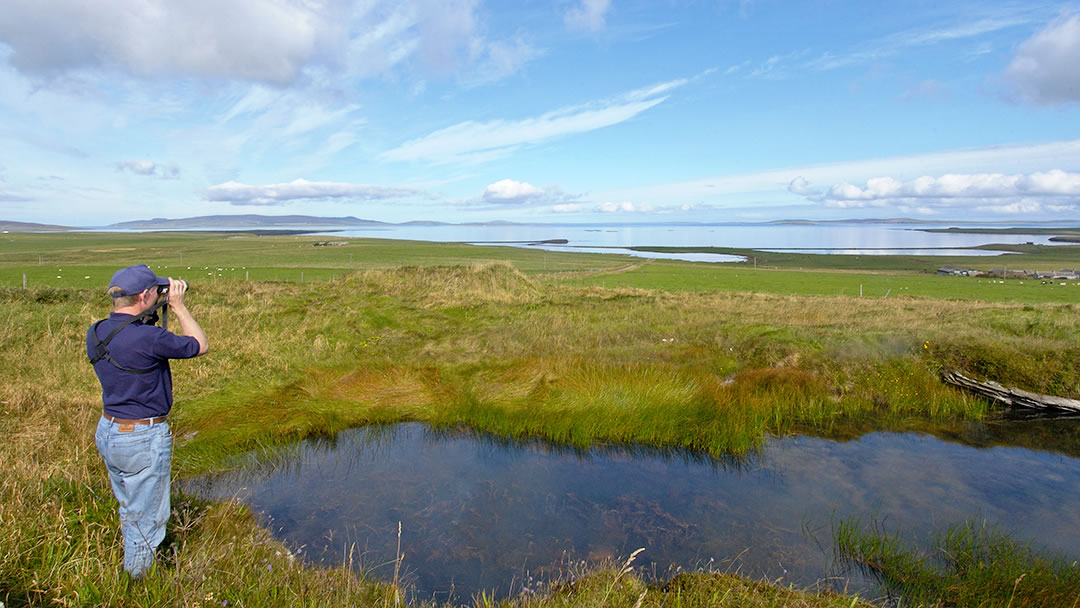 Ward Hill and Washington Irving
Though Shapinsay is considered quite a flat island, the highest point, Ward hill (pictured above) is well worth visiting for a fine view of the headland. It has an elevation of 210ft or 63m.
In the far North East of Shapinsay is a hamlet called Quholm, where William Irving was born in 1740. Irving emigrated to New York in 1763, and one of his sons was Washington Irving, celebrated author of Rip van Winkle and Sleepy Hollow.
The name Shapinsay comes from the Old Norse Hjalpandisey, which means Helping Island (for ships). The island's position shelters ships on their approach to Kirkwall and the Orkney Mainland.

By
Hannah Richards
A University graduate from New Zealand with strong ties to Orkney and the East Coast of Scotland. Hannah enjoys discovering new places and is looking forward to travelling around Europe. She has great appreciation for history, music and art.
Pin it!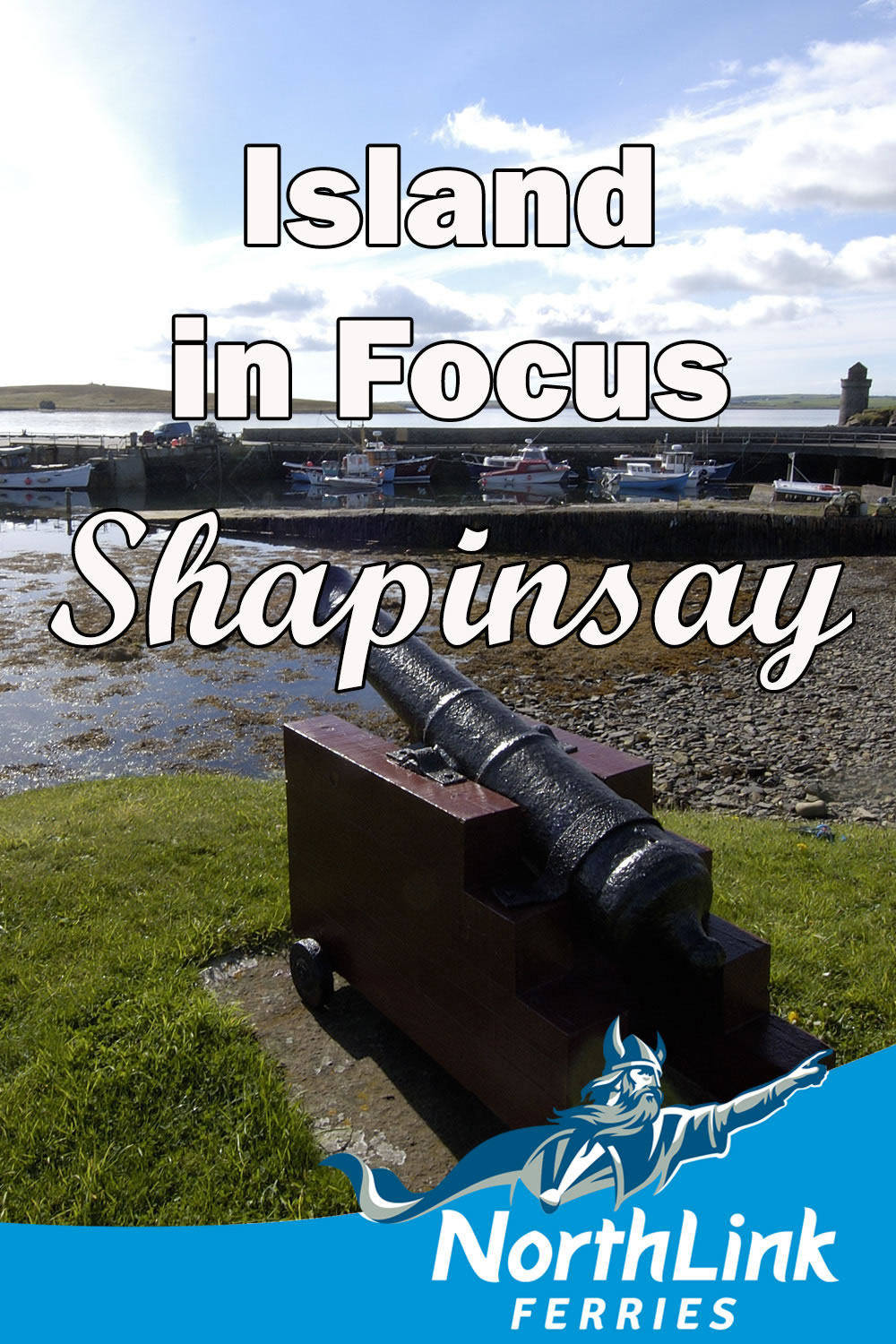 Header image: Balfour Village in Shapinsay, Orkney photo © Copyright Charles Tait