Orkney Inspired Design – An interview with Sheila Fleet
Sheila Fleet Jewellery has grown steadily, thanks to Sheila's vision and her enduring ability to create beautiful jewellery that is treasured by her customers. In 2013 Sheila was awarded an OBE in the New Year 2013 Honours for services to the jewellery industry and, a year later, received an honorary degree from Edinburgh College of Art.
An idea can be inspired by anything, from a moment in time to a beautiful surrounding. Stormy, tidal seas are a constant inspiration for me!
Sheila has five retail locations across Scotland: two in Orkney (The Kirk Gallery & Café and Kirkwall Gallery), Sheila's Edinburgh Gallery in charming Stockbridge, her Glasgow Gallery in Princes Square on Buchanan Street, and her St Andrews Gallery in the Kingdom of Fife.
Now at the age of 77, Sheila runs her business alongside her son Martin, daughter-in-law Mairi and skilled team across the company and has no plans to retire anytime soon! Sheila kindly told us more…
Q. Could you tell us a bit about Sheila Fleet Jewellery and how it all began?
A. Since graduating with a diploma from Edinburgh College of Art in 1967, I gained many years' experience in the jewellery industry before deciding to go it alone in 1993! I originally started by selling designs from the front porch of my house, but thanks to developing an online platform and having a fantastic tourist industry in Orkney, I have gained a strong global reputation which is amazing!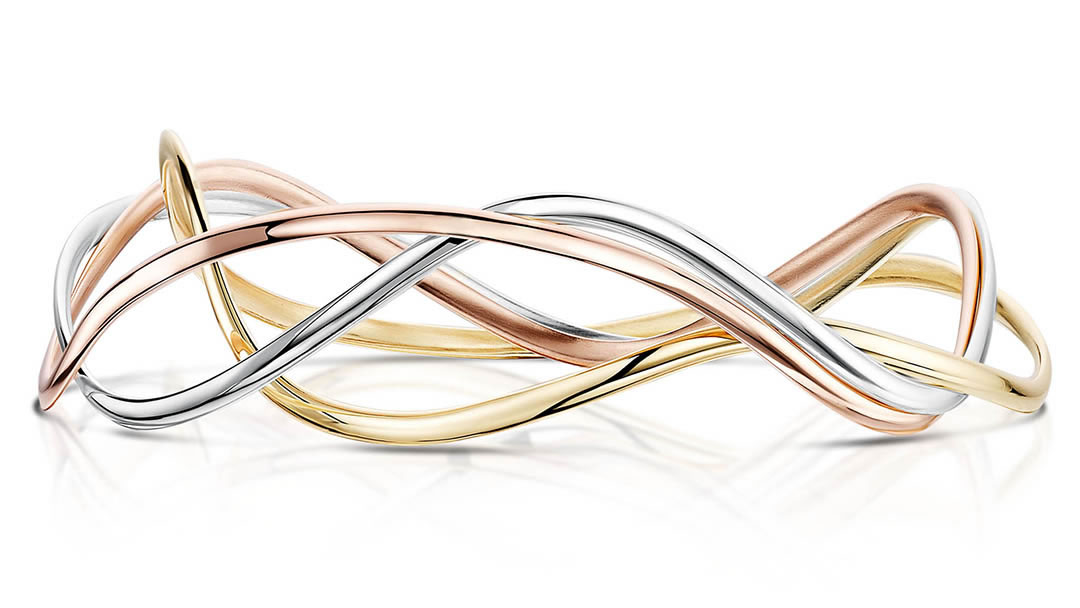 Q. Can you tell us how an Orkney inspired idea turns into a beautiful collection of jewellery?
A. An idea can be inspired by anything, from a moment in time to a beautiful surrounding. Tradition was the topic of inspiration for my latest collection, the Kirkwall Ba', which launched in Orkney just in time for the festive season, in which the games take place. If you're unsure about what the Kirkwall Ba' entails, it's worth asking a local or searching online! For many years, I had always wanted to do something that related to this historic event and make a memento that was meaningful to the tradition. Although this relates to a historic event and has strong connections to locals, I feel people from all around the world will admire the design simply for the design itself and might be very surprised and pleased to later find out the story behind it! We will be launching the Kirkwall Ba' collection online and across all retail locations later this year, but meantime is available to view at The Kirk and Kirkwall Gallery.
Stormy, tidal seas are a constant inspiration for me! We've recently added new designs to match our popular Tidal bangle which we launched online and in-store early this year. The three wave shapes of this design are interlocked, but move independently, giving different design combinations as you move. This is especially effective in the bangle and earrings where the movement is very fluid and ever interesting.
Collections can also be inspired from another, or sometimes more than one collection can come out of designing and developing a new range. A great example of this is our Secret Hearts collection! These dainty hearts were inspired by our Primula Scotica range. These tiny, rare flowers consist of 5 peedie heart-shaped petals and is where the shape of the heart was taken from!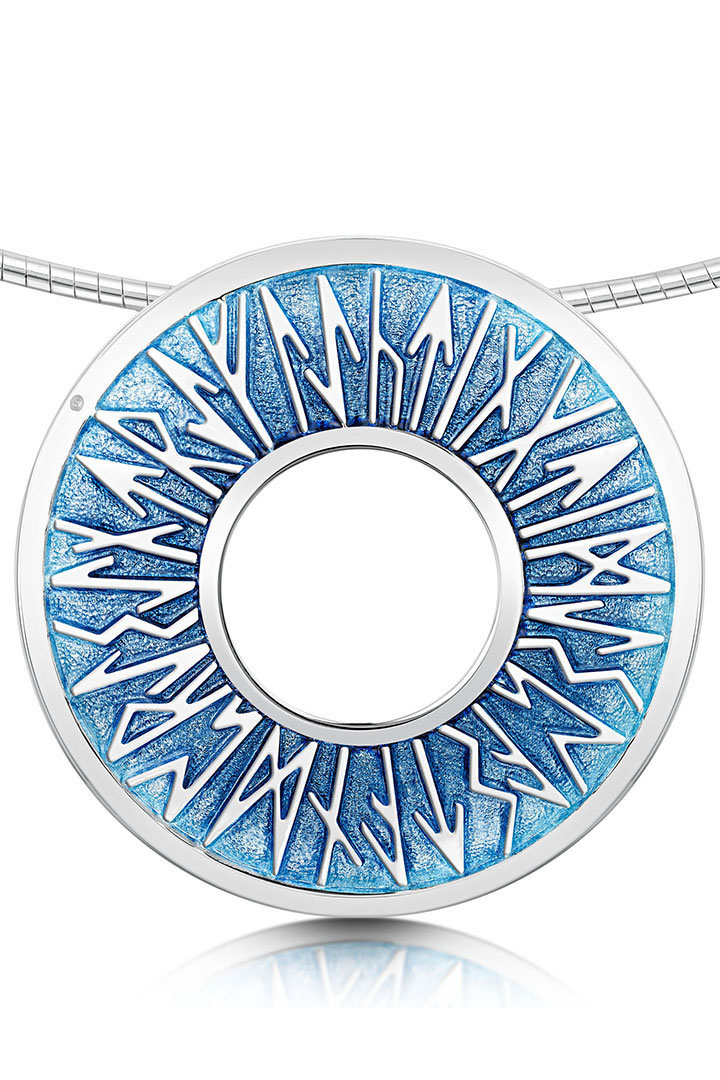 Q. Do you have a favourite design amongst your collections?
A. I have a few! Runic is the one I wear the most. It's one of my very early designs I made around 1994. The design reads 'reflecting times past and present' in runes. I gave a lot of thought to this design, and funnily enough, it still reflects how I approach designs today, either reflecting the past or admiring the present things around me. The Runic Iris also became the company logo, you might spot it in various parts of our retail and online branding!
Tidal has probably become my absolute favourite, I just have to wear my bangle every day, I don't feel able to leave the house without it! The movement of the 3 wave forms is mesmerising. It's great to watch the different designs appear as the bangle moves on your wrist.
More recently I have been wearing the Honeycomb Medium 10-link Chain Necklace in Sterling Silver. This contemporary necklace is very easy to wear and great for all occasions, whether it's daily or evening wear! I feel this whole collection is like that, very easy to wear and admired by all ages. The hexagon rings are fascinating and very comfortable to wear. They look beautiful worn on your fingers or as a thumb ring and stack beautifully in 3-tone gold!
Q. What do you enjoy most about your job?
A. I enjoy the creative aspect of the job and having a wonderful team around me! It's been really rewarding watching the business grow through the demand from customers locally and thanks to digital development, we now have lovely customers all around the world!
We look forward to celebrating 30 years of Sheila Fleet Jewellery in October and marking it with a special collection. Watch this space!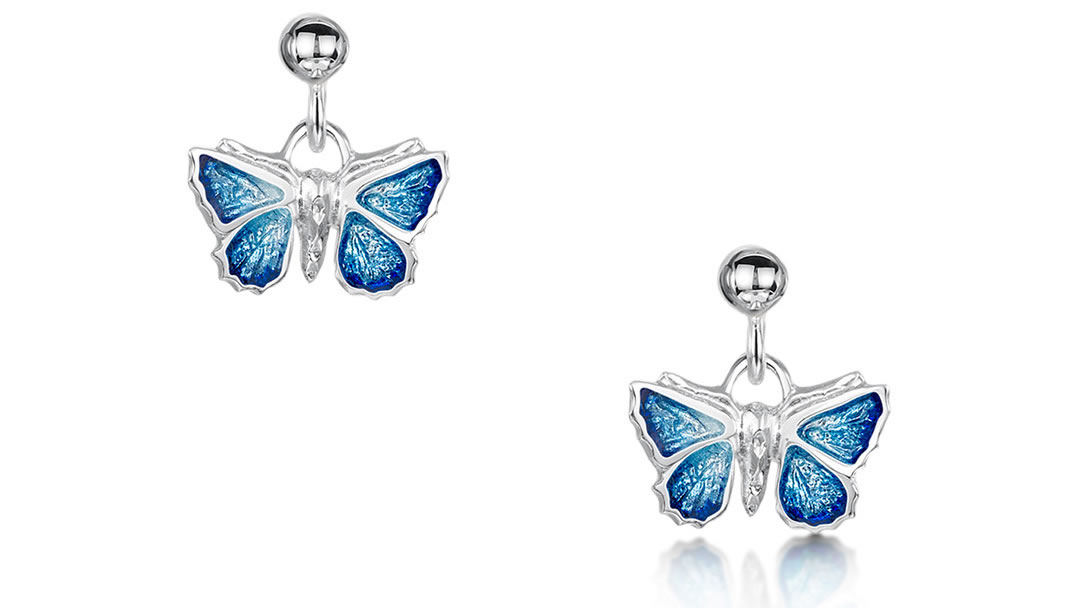 Q. For those looking to purchase high quality jewellery what must they look out for?
A. There are various things people can look out for, but hallmarks and, if included in the design, diamond quality would be some of the most important.
A hallmark is your guarantee of quality for the jewellery you buy and can only be applied by an independent Assay Office, of which there are four in the UK. The hallmark consists of three symbols: the Maker's Mark (also known as the Sponsor's Mark), the Metal Fineness Mark and the Assay Office Mark. All of my jewellery carries the maker's mark 'SD', granted by the Edinburgh Assay Office under my maiden name, Sheila Dearness.
When it comes to diamond quality, there are four things you need to understand: Cut, Clarity, Colour and Carat. These are known collectively as the 4Cs; the universal standard for describing a diamond's specific characteristics. Every single diamond we use is expertly set by hand in our workshop by our skilled craftspeople.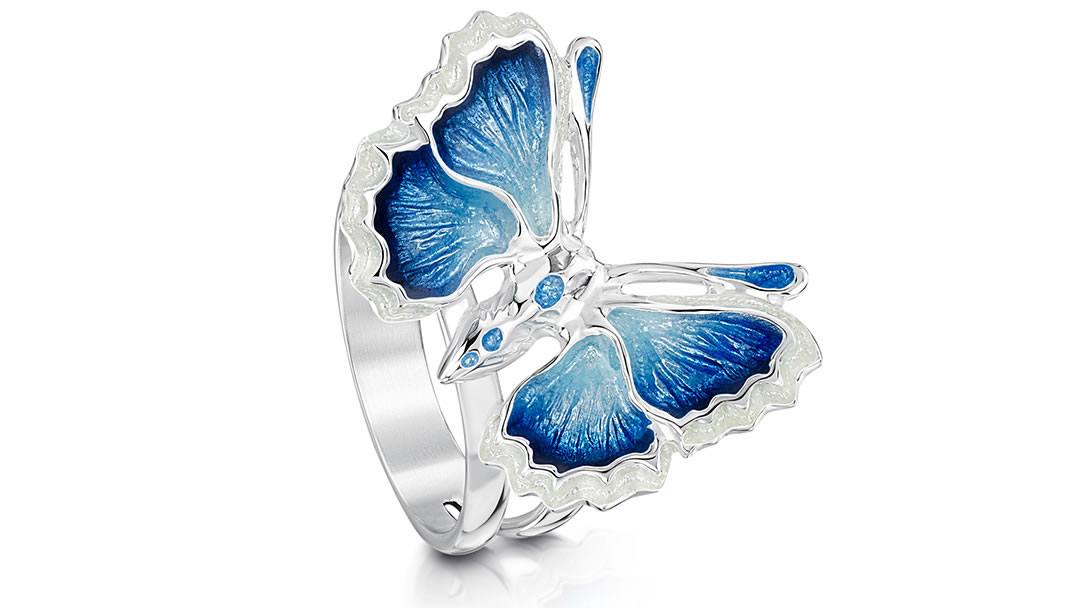 Q. How do you recommend people care for their jewellery?
A. We recommend frequently cleaning your jewellery to remove daily-wear residue. Clean in warm mild soapy water, rinse well, dry and finally buff with one of our silver polishing cloths. We have a 'caring for your jewellery' guide on our website (sheilafleet.com) where you can find some further tips. If you are unsure, pop into any of our retail locations where our team will be happy to assist you.
Q. Do you have any advice for any aspiring business owners?
A. Know your subject or craft, work hard, and enjoy the journey! All the success will be yours, as well as any mistakes you make along the way. Mistakes aren't bad, you just have to learn from them. May all your mistake be little ones! There's a true saying, find something you love doing, and you'll never work again.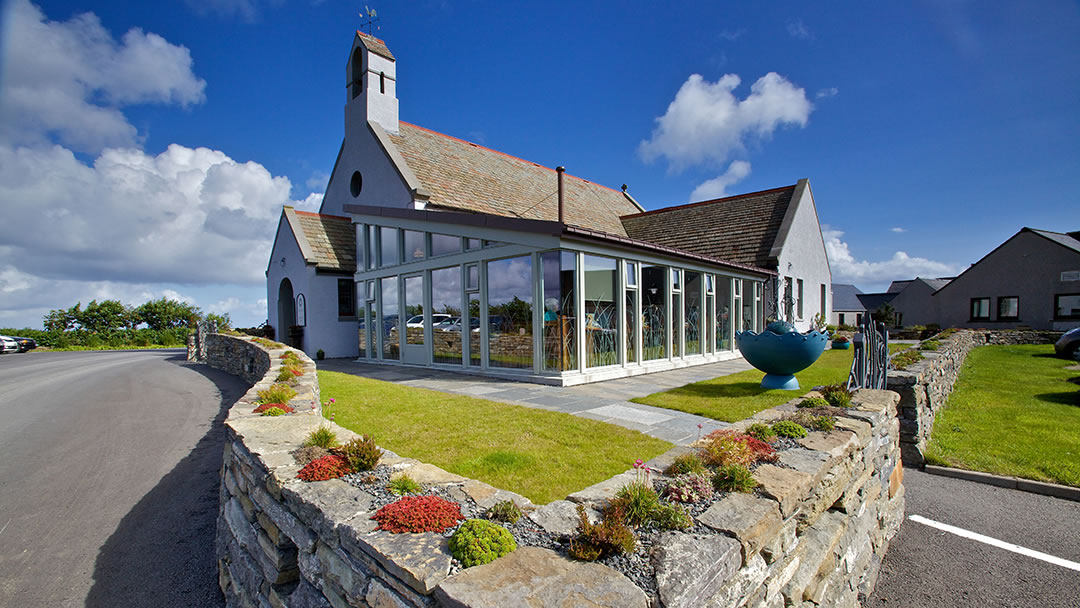 Q. Can you tell us a bit about the Kirk Gallery & Café?
A. Open in 2018, The Kirk Gallery & Café is a renovated former parish church which now showcases our extensive jewellery collections, including my very latest designs, along with a range of fantastic local and UK-based giftware in our mezzanine. Our jewellery is displayed in floor cabinets cleverly spaced out to evoke which were once pews. We wanted to restore or reuse as many original features as we could. You can spot a range of these while looking around The Kirk. Whether it's the original stained-glass windows, pulpit or brass lamps, or the design element in our chairs which holds stained-glass from windows that had to be taken out, keep your eyes peeled to see how many you can spot!
A tasteful extension houses the Kirk Café. We take delight in using as much local produce as we can to create our menu, from our hand-selected tatties from Farewell Farms to make the much-loved Hasselback Tatties, to the Bere Royale which is made using produce from Barony Mill, Hume's, Cotland Farm and Orkney Vinegar, you can be sure to enjoy a fantastic Orkney food experience at The Kirk! We recommend booking a table, especially in the spring and summer.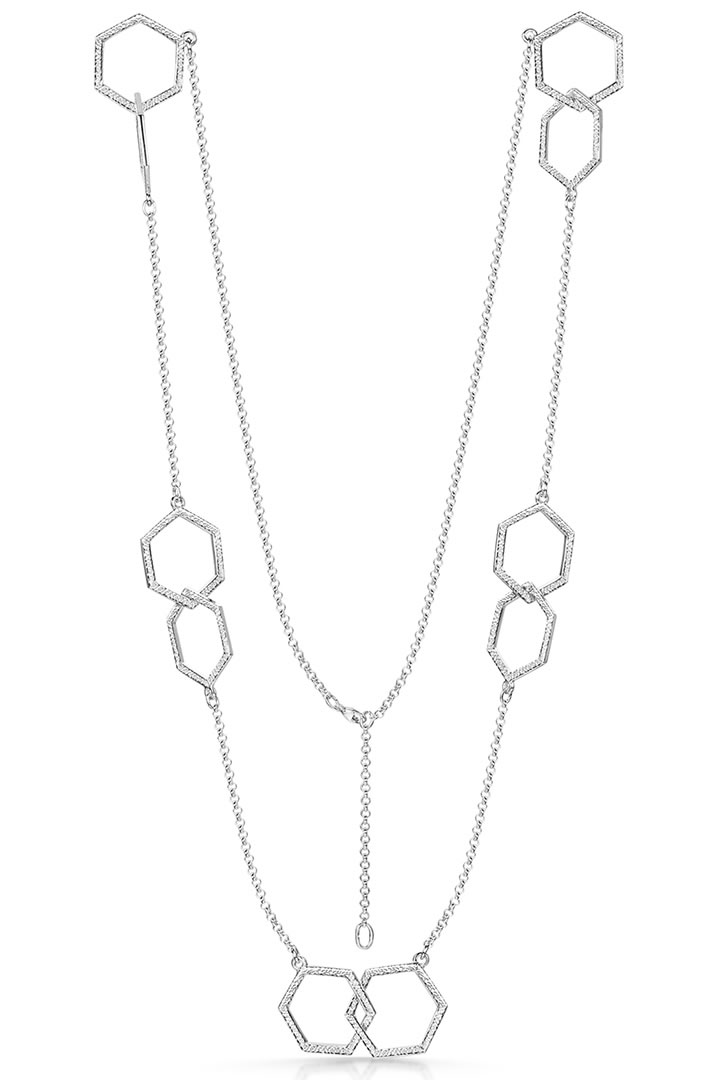 Q. Do you have any new collections on the horizon?
A. 2023 is proving to be a busy year for new designs and collections! There's always something we are working on. Whether it's an additional design to current collections, or a completely new range, it's all very exciting! We will be launching further designs to our popular Butterfly range which launched last year. We also have a very exciting new collection which will be released in the summer, plus a few others planned along the year, watch this space!
To find out more about Sheila Fleet Jewellery please visit https://www.sheilafleet.com/

By
Victoria Dixon
Orkney and Shetland fanatic, likes to capture life through a lens, loves creating, eclectic taste in music, enjoys being a Mum; would secretly love to be a star of the West End!
Pin it!