Skaill House Falconry is one of Orkney's newest attractions. It's easily found, situated in the grounds of Skaill House next to Skara Brae in the West Mainland. The business is a family affair, run by Keith Austen, along with his wife Andrea and son Lewis. Together they offer a brilliant and personal falconry experience for visitors and Orcadians alike.
"The lanner falcon usually hunts by flying horizontally and could maybe compete with it's big cousin, the peregrine, hitting about 60 mph, when flying in this manner."
Northlink Ferries were delighted when Keith agreed to answer some questions about his birds and the experience folk can expect to have at Skaill House Falconry!
Q. When did you get into falconry as a sport?
A. After watching the film Kes in 1969; that got me hooked! I lived in the south east of England at the time. After seeing the movie I tried to find people who knew about falconry and read books on the subject to learn as much as I could. There weren't tutorial videos in those days. I asked questions and learned from other falconers' experiences.
Q. How did you come up with the idea of opening a Falconry in Orkney?
A. I worked for the NHS all of my working life, and was in Orkney for the last 9 years of my career. At 55 I had the opportunity to take early retirement. The timing was perfect – I thought it was a good opportunity to open and run a Falconry Centre and there was nobody doing it in Orkney. I heard Skaill House were looking for something different…..the rest is history.
My mother is Orcadian and I am proud of my Orkney roots. Her family comes from a farm that Skaill House overlooks. I came here a lot on holiday as a kid – so I'm delighted to be doing this here in Orkney. It's a great place for visitors to come to, but it's also fantastic for Orcadians looking for something a bit different to do!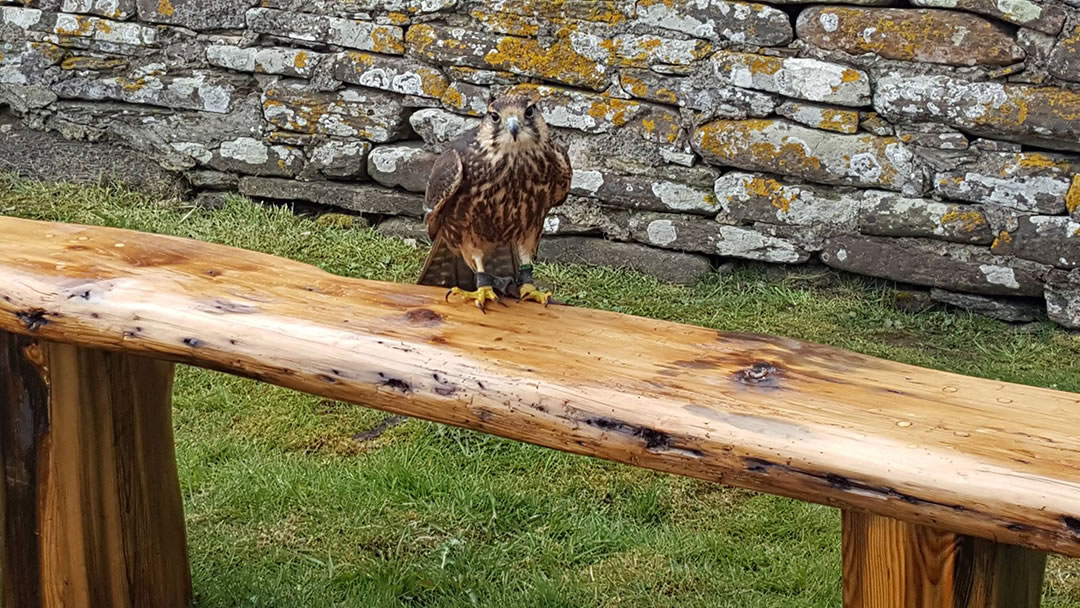 Q. How many birds do you have? Can you tell us about them?
A. I've got six. I have a lanner falcon, which is a bird from southern Europe and North Africa. It's a true falcon in the sense of the word! It is like a mini peregrine – it flies pretty fast and could probably do about 200mph in a stoop (dropping from a height)! However, it usually hunts by flying horizontally and could maybe compete with it's big cousin, the peregrine, hitting about 60 mph, when flying in this manner.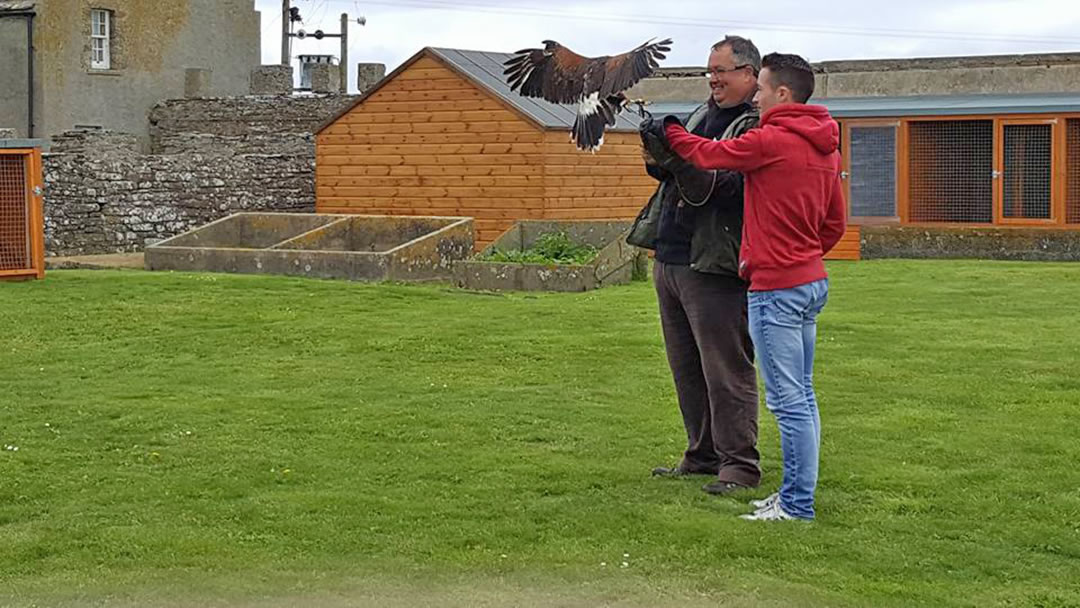 Q. What is his name?
A. Well, there's an interesting story with this because the lanner falcon is called Ragnar and all of the birds were meant to have Nordic names. It went wrong because my then-13-year-old son trained one of the Harris hawks. He said that if he was going to train it then he would call it what he'd like. I couldn't really argue with that. He named it Derek!
So I have a Harris hawk who is probably the star of the show and his name is Derek! He comes from the southern American states, like Arizona. Harris Hawks are probably the most common bird used in falconry today because they're pretty good at working with people. They live in family groups in the wild, so they are used to cooperating with each other and hunting together. This makes them good in the display environment. His buddy is another Harris Hawk called Clive. We have another Harris hawk who isn't quite trained yet – he's called Rodney.
Then we've got a Barn Owl and he's called Peedie. We only fly the owls in indoor displays because of the environment in Orkney. I worry that some of the big gulls might come down and kill these smaller birds so we try to only fly them indoors. These are the birds that people like to handle.
Finally we have Skara, who is a Boobook Owl. She has been DNA tested and is female.
It's difficult to distinguish between gender in many owls.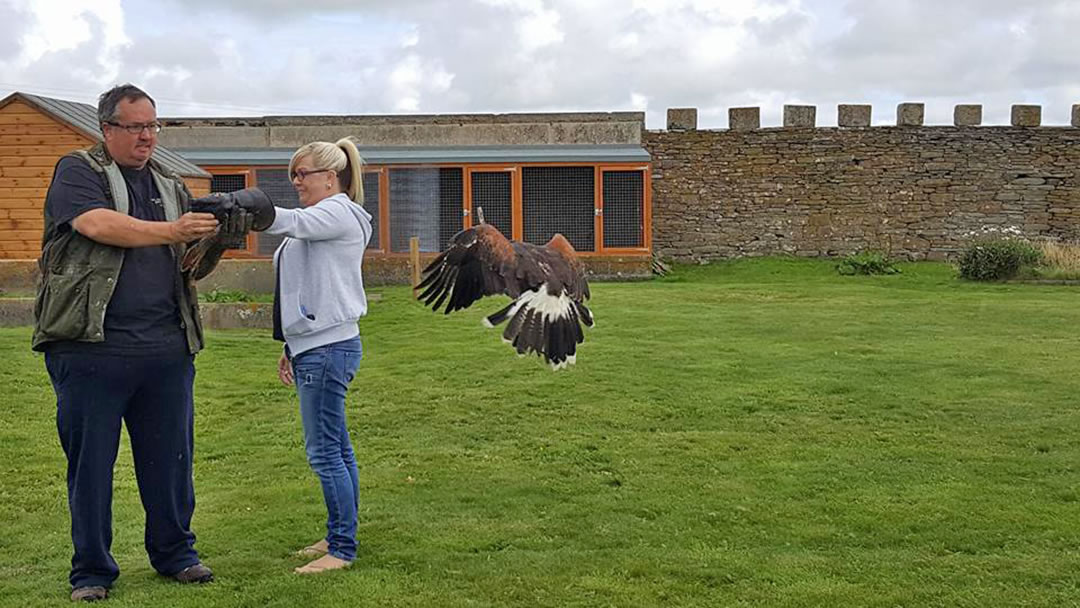 Q. Can you tell us a bit about training the birds – which are the hardest birds to train? And the easiest?
A. It's a difficult question in some ways – in many ways, lanners are probably the most difficult to train out of the birds we have. That said, there are lot more difficult falcons to train than a lanner. The owls are not so easy to train for displays, they will respond to you but maybe not in the same way that the other birds do. However, they will fly to your fist. Harris Hawks are just made for it – they love to be with you, they love to fly, and they love to be out. They just love to be doing stuff – much like a pet dog really!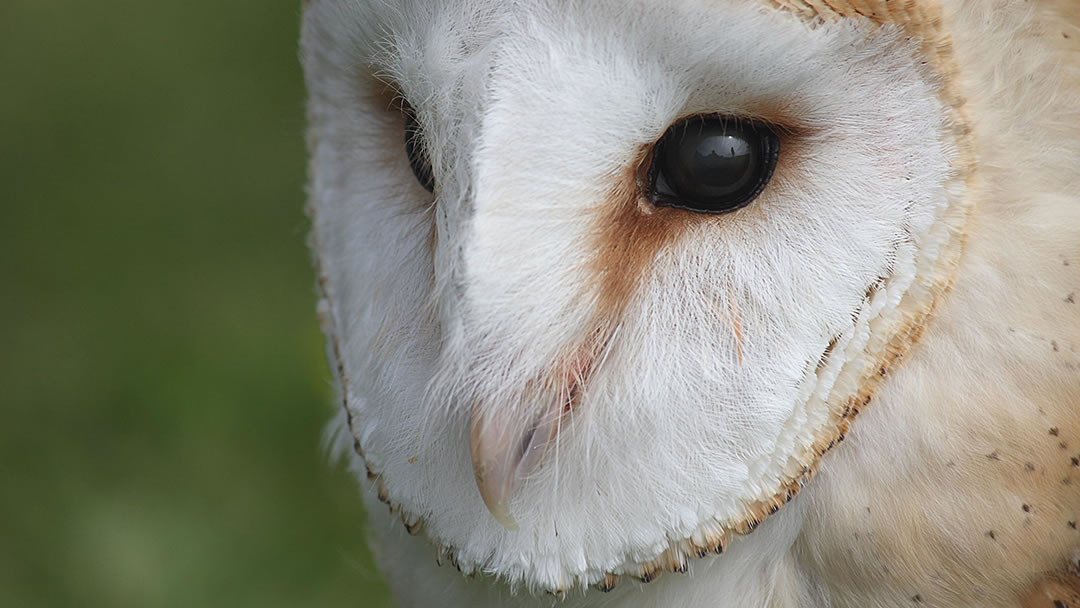 Q. And like a dog, do you use food to train them?
A. Yes – they'll receive a reward when they fly to you. But a good falconer will get a bird to fly to them without a treat.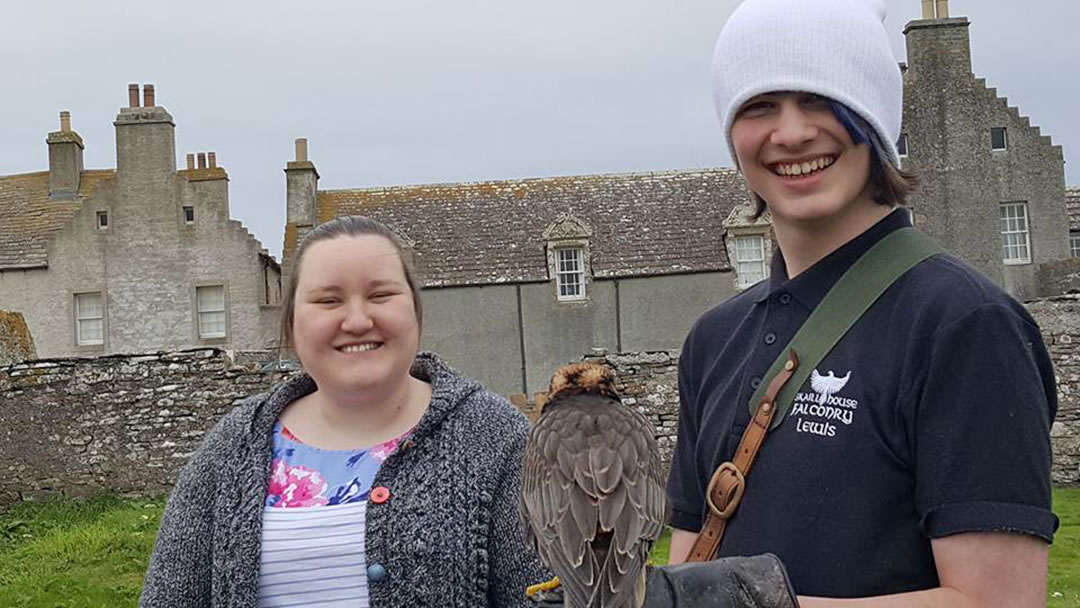 Q. How long would it take from getting a hawk to actually being able to use it for display?
A. You could probably get a Harris Hawk ready to fly free in just a few weeks. If you had nothing else to do all day, you would probably get a Harris hawk display-ready in a month.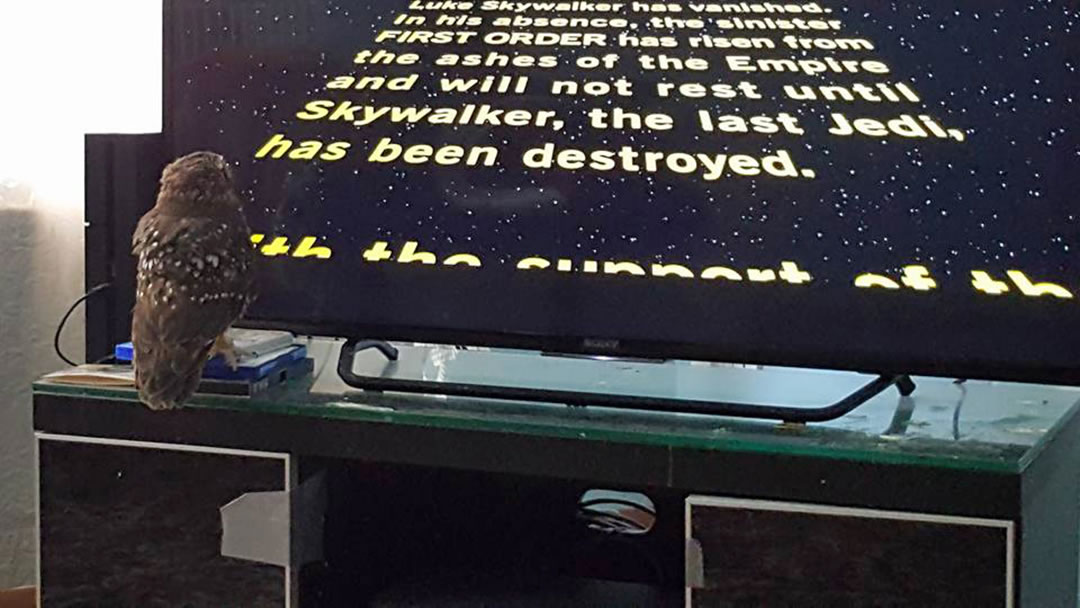 Q. I've heard of folk bringing birds of prey into their houses as part of their training. Is this correct?
A. It's really like training a police horse in many ways. You don't want to have a bird that flies away every time it hears a car or a noise. So you have to desensitise them to as many sounds as you can; then they won't be disturbed by them.
I don't think there's much that would faze them really (though we did have a helicopter arriving one day at Skaill House!) It's because they've been in the house and they've watched TV and they're used to all the noises that humans make.
It's very important to not distress a bird, and I know when a bird is distressed. So it's a slow thing. You introduce them to new sounds slowly and you make sure that they're okay with it.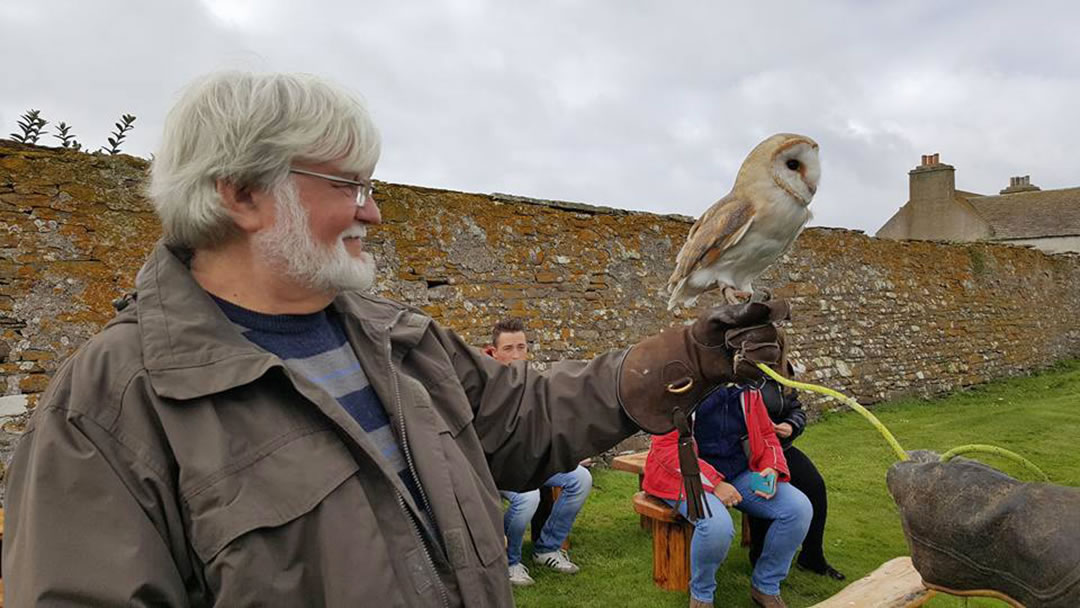 Q. We understand that this experience is a little different to other Falconry displays – why is this?
A. Well, we have the personal touch – it's a family business – you'll meet either myself, my wife or my son when you come to the falconry centre. Our whole Falconry show is family orientated because I think it's important to bring kids into this and for them to enjoy it as much as the adults do. So I try to gear it towards superheroes and things that keep kids interested. Also at the Skaill House Falconry, visitors can get really up close and enjoy more handling time.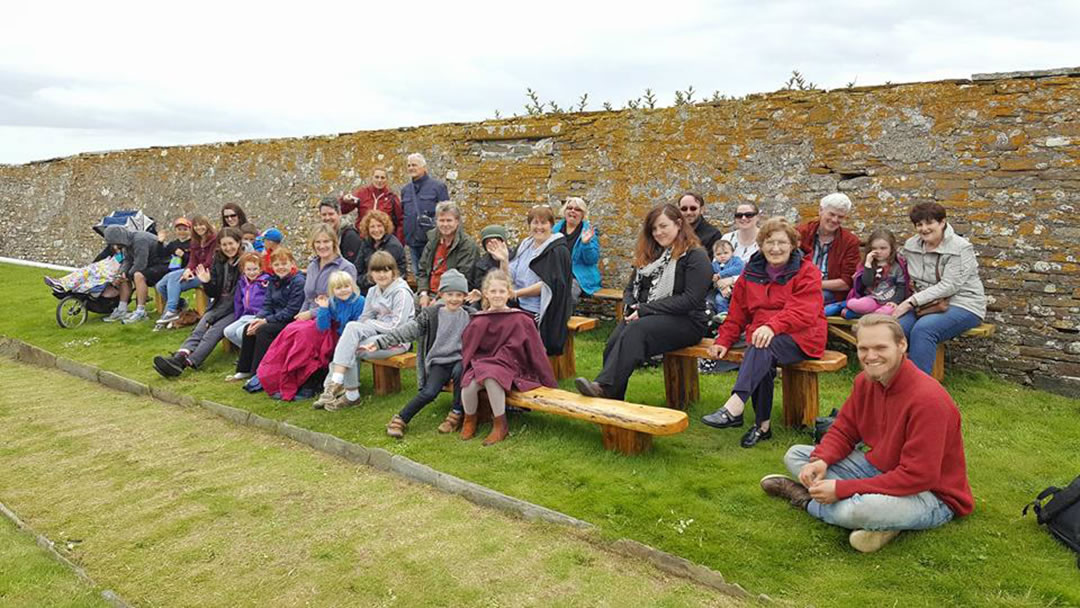 Q. How many people can come for a flying display? Can children handle the birds?
A. We use one of the big walled gardens at the back of Skaill House. We've had 210 people in there during our biggest event. We have seating for 30 to 40 people and usually, in good weather, it's about that number that comes for a flying display. We do experience sessions where adults and kids can handle the birds. I would say that the handling is best for children over the age of 8, however it really does depend on the child.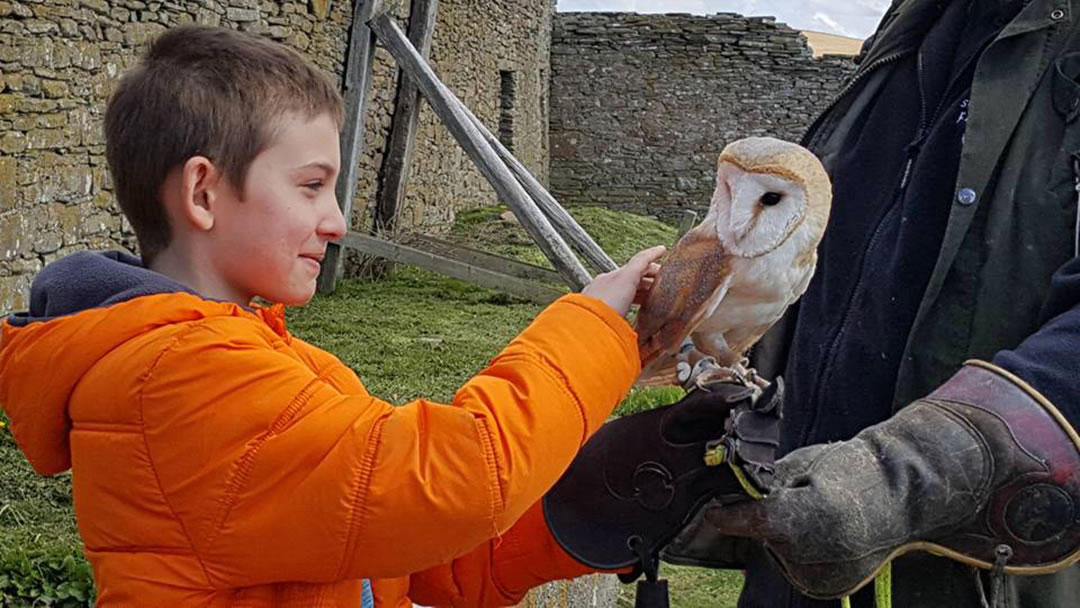 Q. What are your opening hours – do you operate all year round?
A. Our opening hours next year will be from 11:00 to 15:30 and we are open every day between April to the end of October except Tuesday. However, if there are any visitors who wish to visit outwith these times, please phone us on 01856 851160 or 07918774208/9. We're happy to do a display on a cold frosty sunny morning – but strong wind that can be tricky! We look at the weather regularly and we can see what we can do!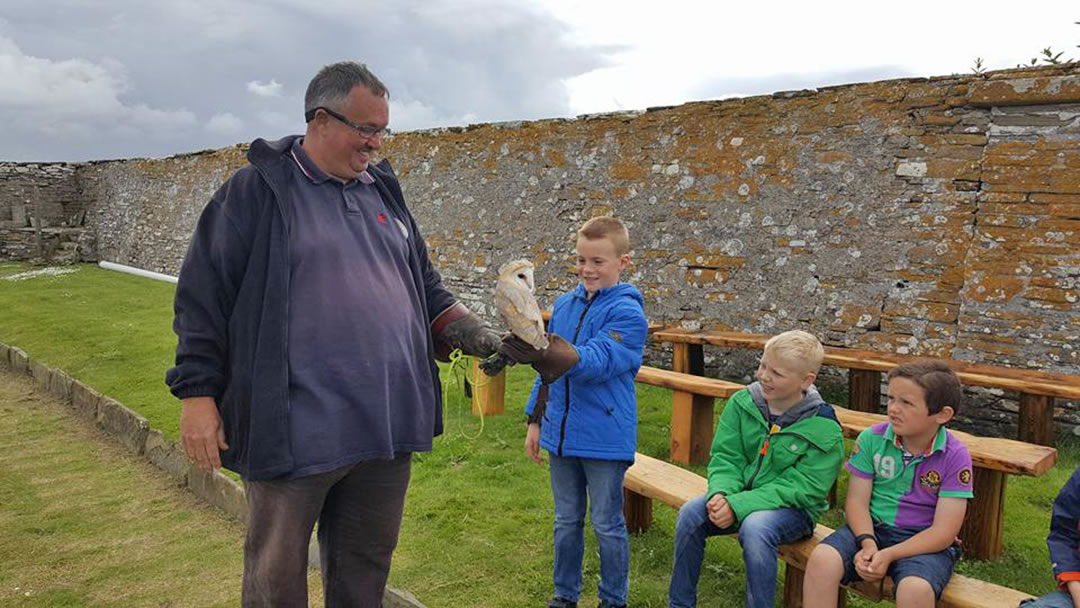 Q. What have been the nicest comments visitors have made during a visit to Skaill House Falconry?
A. Well, people have told us how thrilled they are when a bird lands on their hand. They are amazed at the closeness between us and the birds. Most people say they have found it really enjoyable and that they will come again! We've also been described as awesome!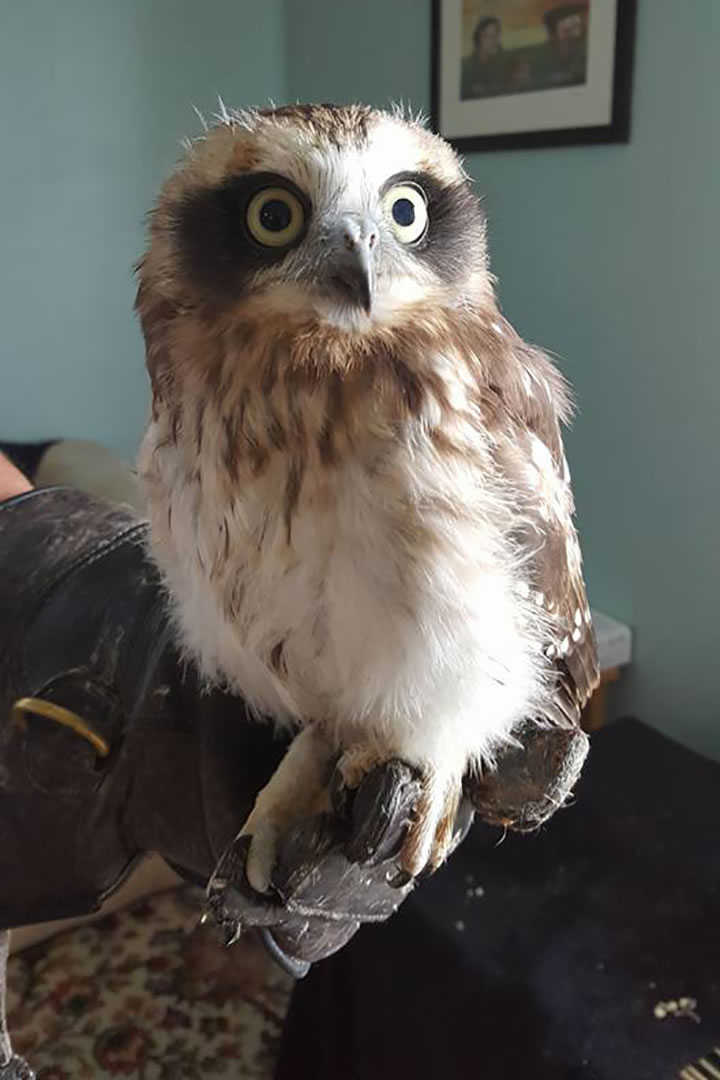 Q. We heard that you ran a competition this summer – can you tell us a little bit about that?
A. We got a new bird – a Boobook Owl – and we thought it would be best to ask people what they thought was a good name! 'Skara' was the one that came out of the hat, but we had lots of suggestions such as Aurora and Bubo (Athena's owl, the Greek goddess). It was a very popular competition – we had well over 100 entries. The winner was delighted!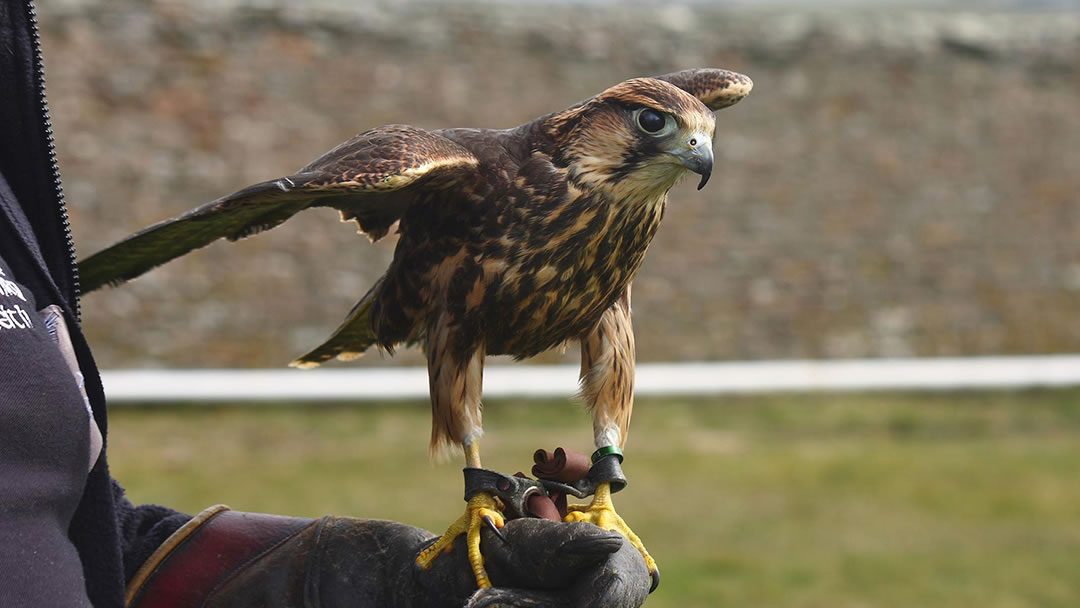 Q. We understand that falconry was practiced in Orkney in the past – is this correct?
A. Yes – it was a really big pastime for the Norse. The Gyrfalcon was used by, and gifted to, kings and queens. The Vikings went to Greenland and Iceland and took them from there. On Wyre, Falconry bells were found in Cubbie Roo's Castle and if you read any of the Orkneyinga Saga there are many mentions of hawks and falcons.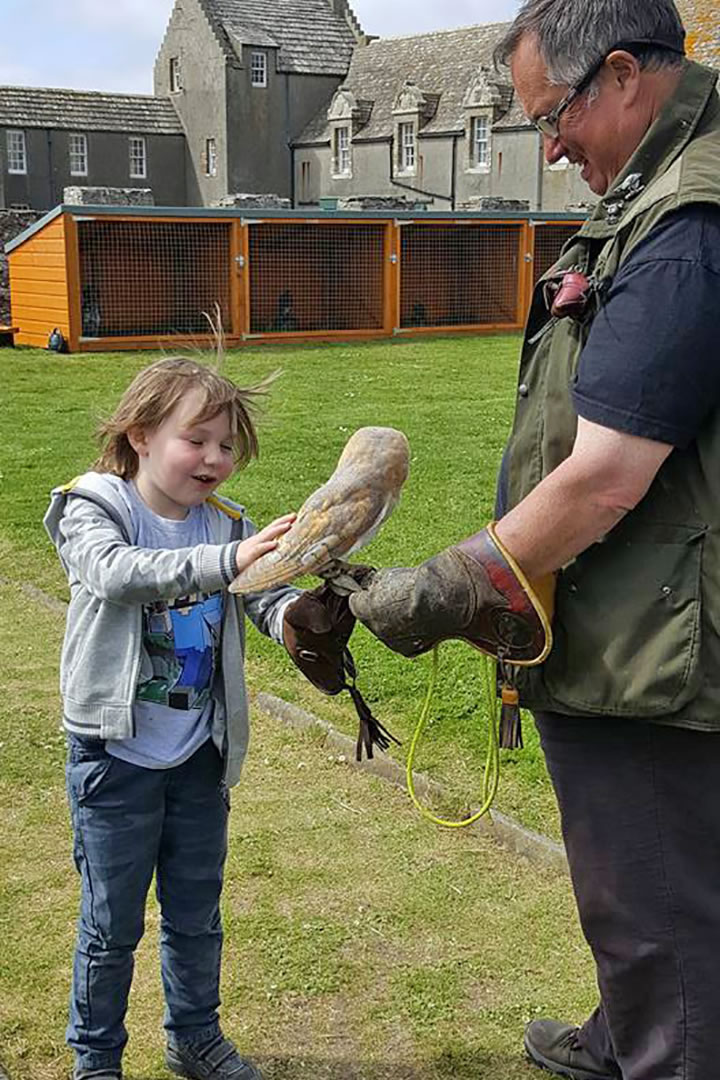 Q. What do you hope visitors will take away from a visit to Skaill House Falconry?
A. I would hope that they would get a better understanding of birds of prey and that they've enjoyed themselves doing something a bit different! I would also like to think that it could spur the interest of some young people and give them the spark to want to practise falconry when they are older!

By
Magnus Dixon
Orkney and Shetland enthusiast, family man, loves walks, likes animals, terrible at sports, dire taste in music, adores audiobooks and films, eats a little too much for his own good.
Pin it!