Stromness is a unique and picturesque town in the Orkney Islands, and we'd highly recommend a visit! The town is hemmed in by a steep hill on one side and the sea on the other. It has a lovely waterfront of houses, piers and jetties. Stromness has a colourful maritime history and this year it celebrates 200 years as a Burgh of Barony. We've compiled a list of 12 great places to see around the town!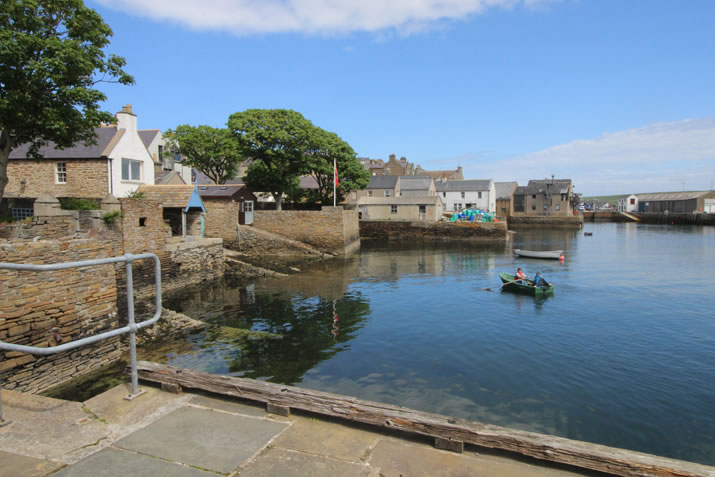 Piers and Jetties
Stromness, or Hamnavoe (old Norse for 'safe haven') as it was once called, is located around an extremely well-sheltered and deep bay. The first houses there prospered by catering for visiting ships. During wars that made the English Channel unsafe, many ships sailed around Britain via the Pentland Firth. This was the making of Stromness. With whaling, arctic exploration, fishing, and now dive-charter boats, the sea has always been a source of income for the residents of the town. The tall houses along the waterfront stand gable end to the sea (to protect them from winter storms) and many have their own jetties and piers. We'd highly recommend taking a moment to explore some of these piers for yourself!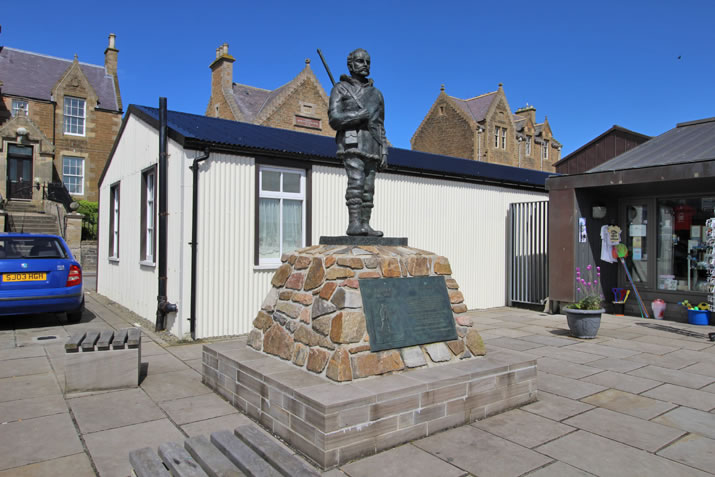 The Statue of Dr John Rae
Dr John Rae was an Orcadian Arctic Explorer who lived between 1813 and 1892. He worked for the fur-trading Hudson's Bay Company in Canada and despite discovering new passages though wild places he never received the same recognition for his achievements as other Arctic Explorers. This was because Rae discovered the fate of the Franklin Expedition, concluding that the missing sailors had been forced to resort to cannibalism. The British establishment condemned Rae's findings and questioned his integrity. In 2013 Stromness celebrated Dr John Rae's 200th Anniversary by unveiling this statue, created by sculptor Ian Scott of North Ronaldsay.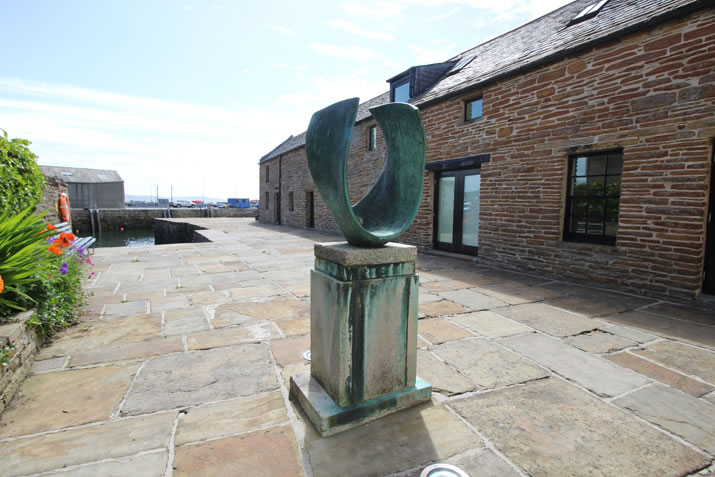 Pier Arts Centre
The Pier Arts Centre was opened in 1979 and extended in 2007. It contains works by 20th century British artists such as Barbara Hepworth and Ben Nicolson, and is home to regularly changing exhibitions of work by brilliant local and international artists. It is free to enter. The building was once the premises for the recruiting agent for the Hudson's Bay Company; who regularly employed Orcadian men as they had a reputation for being hard workers.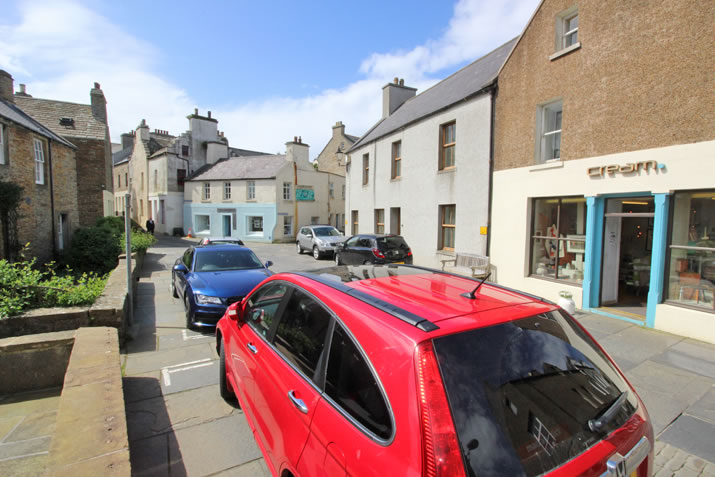 Graham Place
Stromness's main square is called Graham Place and it's a lovely place to stop; there's a great bookshop and lovely galleries to browse here. Graham Place is named after Alexander Graham; a merchant who led a 15 year legal battle in 1743 to challenge the taxes Stromness paid to the Royal Burgh of Kirkwall. The lengthy battle ended with the removal of the taxes paid by smaller towns to Royal Burghs across Scotland. Graham was financially ruined, but Stromness celebrated him – there is also a fountain at the pier head dedicated to Alexander Graham.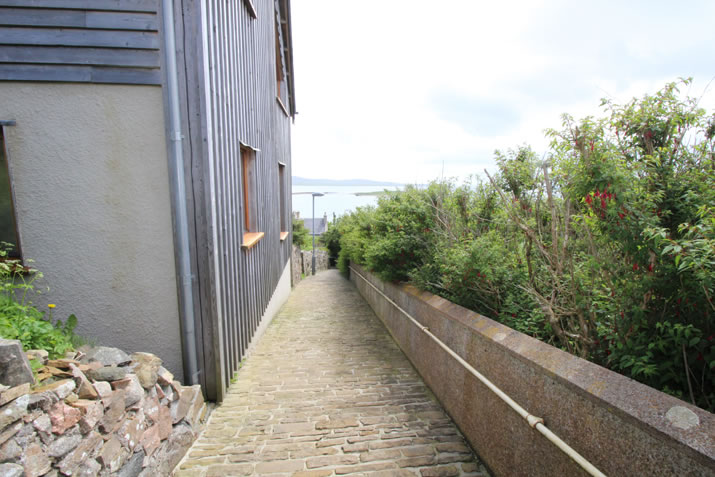 Puffer's Close
One of the reasons we love Stromness so much is because we thoroughly enjoy exploring the winding closes that lead away from the main street up the hillside. As there are only two main roads in Stromness, and the sea is nearly always in sight, it's hard to get lost. Some of the closes have great names – see if you can find the Khyber Pass! Puffer's Close was named after James Leask, who was nicknamed Puffer and was a town crier in the 19th Century. It's just off Dundas Street and the views here are lovely!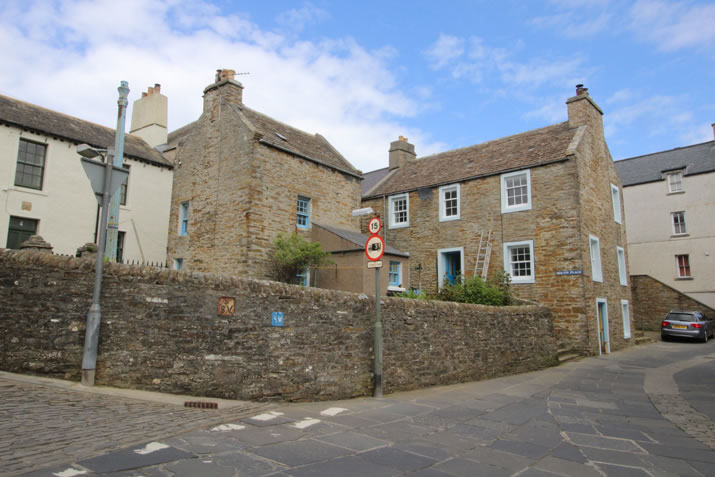 Melvin Place
At the foot of Hellihole Road, next to the old Stromness Library building is Melvin Place. Here a group of houses surround a courtyard with an unusual tall house at its centre. Melvin Place has a particularly fascinating history, being the birthplace of Jack Renton. Renton (1848 – 78) was a young sailor who was shanghaied, but escaped in an open whaleboat which drifted 2000 miles. He washed up on the shores of the Solomon Islands and was forced to go native by headhunters. Initially a slave, Renton eventually became the cannibal chief's most trusted warrior and adviser.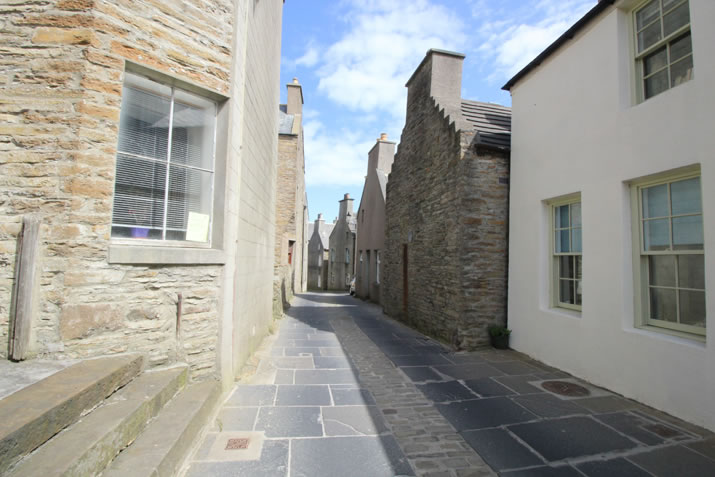 Dundas Street and Alfred Street
Walk along Dundas Street and Alfred Street and you'll see houses with fascinating stories. 42 Dundas Street was the home of Eliza Fraser who was famously shipwrecked off the coast of Queensland, Australia in 1836. The Haven was where the manager of the Northern Lighthouse Board lived. The Whitehouse was once home to George Stewart, who was alleged to be one of the mutineers on HMS Bounty. 2 Alfred Street was a whaling hospital. In the 19th century, as many as 50 whaling ships came past Stromness each Spring and this makeshift hospital was opened to treat scurvy and frostbite in sailors who had been icelocked all winter.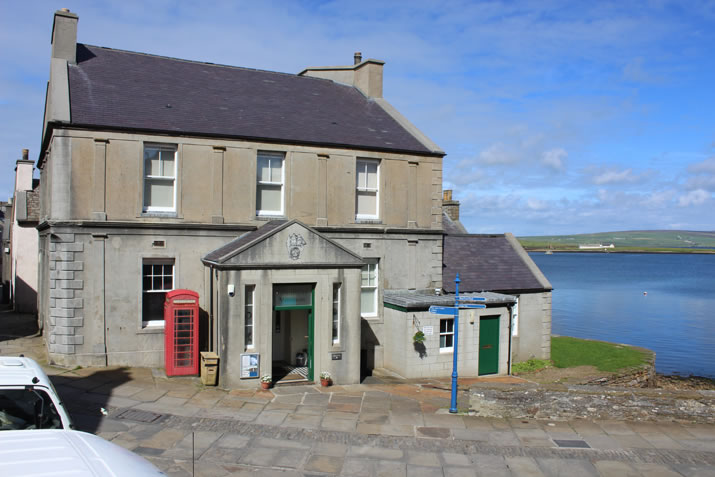 The Stromness Museum
The Stromness Museum is a fabulous treasure trove of history. It contains fascinating artefacts and curios from the past; including wartime items from the ships in Scapa Flow, survival tools for Arctic Explorers and sea chests. It also covers the natural history of Orkney, displaying fossils, shells, birds and more. The museum has its own lovely pier to enjoy, and sits across the road from Number 3 Mayburn Court, home of poet George Mackay Brown. A 400m walk south will take you to the lovely George Mackay Brown memorial garden.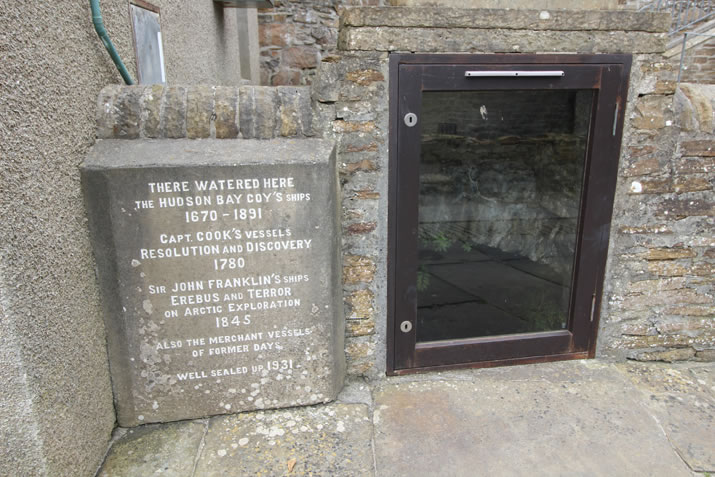 Login's Well
This well gets its name from Login's Inn, which was on the other side of the street. It was where large sailing ships took their water supplies from by the barrel! These ships included those from the Hudson's Bay Company between 1670 and 1891, Captain Cook's Vessels Resolution and Discovery in 1780 and Sir John Franklin's ships Erebus and Terror on Arctic Exploration in 1845. The well was sealed in 1931, but has since been reopened with a glass door installed.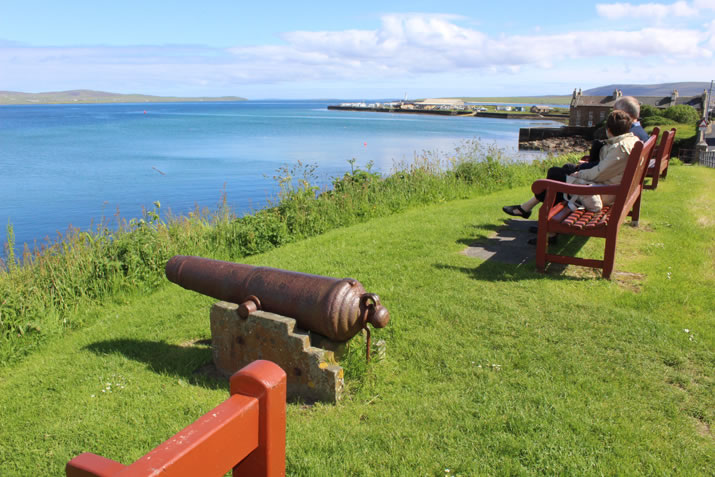 The Cannon
Along Ness Road there's a great place to stop to enjoy a sea view. On a grassy verge by the seaward side of the road there's a cannon between two benches. This is a great place to sit and enjoy the curving bay of Stromness harbour. The cannon itself comes from an American Privateer, The Liberty, which was captured in 1813. In the past it was fired whenever a Hudson's Bay Company ship arrived in Stromness.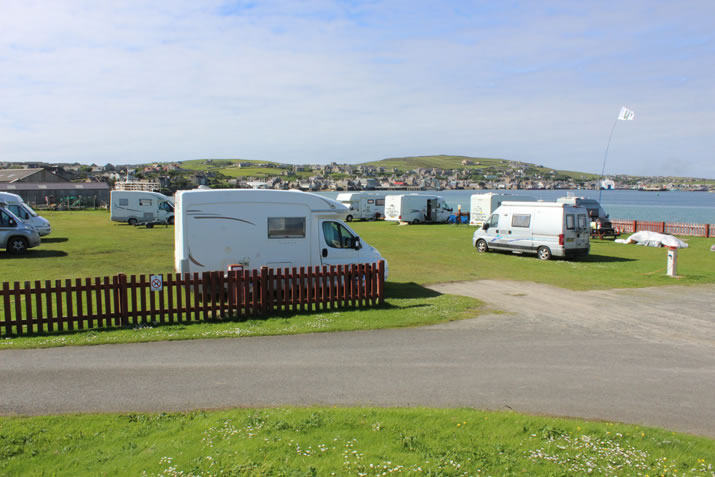 The Point of Ness
The Point of Ness is now the caravan and campsite for Stromness, and campers are treated to a great view here. It's the perfect place to see MV Hamnavoe sailing by and the start of a super walk around the west shore of Stromness, which is littered with wartime watchposts and gun emplacements. In the past the Point of Ness was the main herring curing station for the hundreds of boats that visited Stromness each season. Temporary wooden piers used to be built to accommodate the boats and the vast numbers of temporary labour that arrived in the town sometimes inflated Stromness' census returns. Early last century the town recorded a larger population than Kirkwall!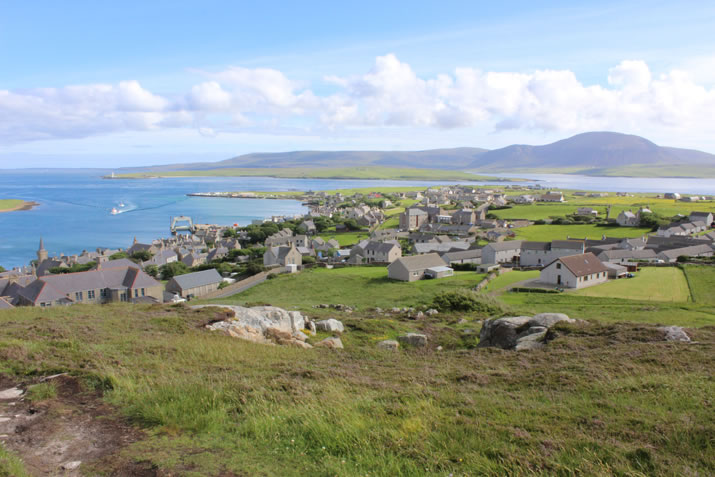 Brinkies Brae
Brinkies Brae is the large granite hill behind Stromness, and it's a rewarding hill to climb. It was once the home of Bessie Millie, an elderly lady who sold fair winds to sailors in the early 18th century. The best place to start your ascent is behind the old Academy; alternatively for an easier walk, follow the road behind Stromness Swimming Pool. You'll get a brilliant view of Stromness all the way out to the tidal flow of Hoy Sound and beyond!

By
Magnus Dixon
Orkney and Shetland enthusiast, family man, loves walks, likes animals, terrible at sports, dire taste in music, great taste in films and tv, eats a little too much for his own good.
Pin it!