The Orkney Dairy: the secret to creating delicious products
The Orkney Dairy make delicious food and drink products using the milk from their own dairy cows in the beautiful Orkney Islands. The rich grass and flat land of the islands means that their cattle produce the highest quality of milk.
We are the only dairy farm on Orkney to make and sell produce from our own dairy farm. Our herd of cattle is also a unique breed for Orkney. Fleckvieh cattle are an Austrian dual-purpose breed which produce very creamy, high quality milk.
We spoke to Lara Hourie from The Orkney Dairy to find out a bit more about her business.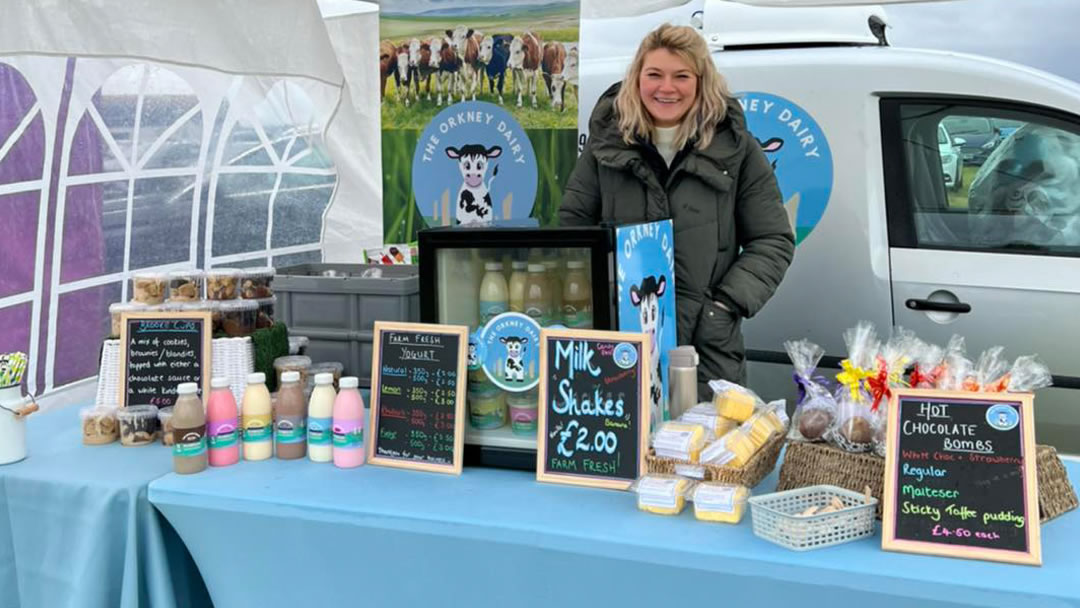 Q. Can you tell us a bit about yourself and how The Orkney Dairy came about?
A. Hello I'm Lara, the person behind the scenes of The Orkney Dairy! It has always been a goal of mine to make produce from our own milk from being very young. I studied the importance of food provenance at university, which confirmed that I wanted to make the best of our family farm's milk.
In 2017 I took the plunge of starting up the dairy with the application to LEADER funding, and after a bit of convincing dad, we converted the farm's old workshop into a small dairy. The whole project took about 3 years from starting the application to being able to sell our produce on the shelves. It was hard work but very well worth it! Dad, mum and my brother David are all part of the dairy team – I couldn't do it with them – and it's been brilliant to be back working beside them on the family farm. It's also super to showcase the quality of our milk.
We are unique in the fact that we are the only dairy farm on Orkney to make and sell produce from our own dairy farm. Our herd of cattle is also a unique breed for Orkney. Fleckvieh cattle are an Austrian dual-purpose breed which produce very creamy, high quality milk.
This last two years have been a complete whirlwind, and I have loved every minute of it.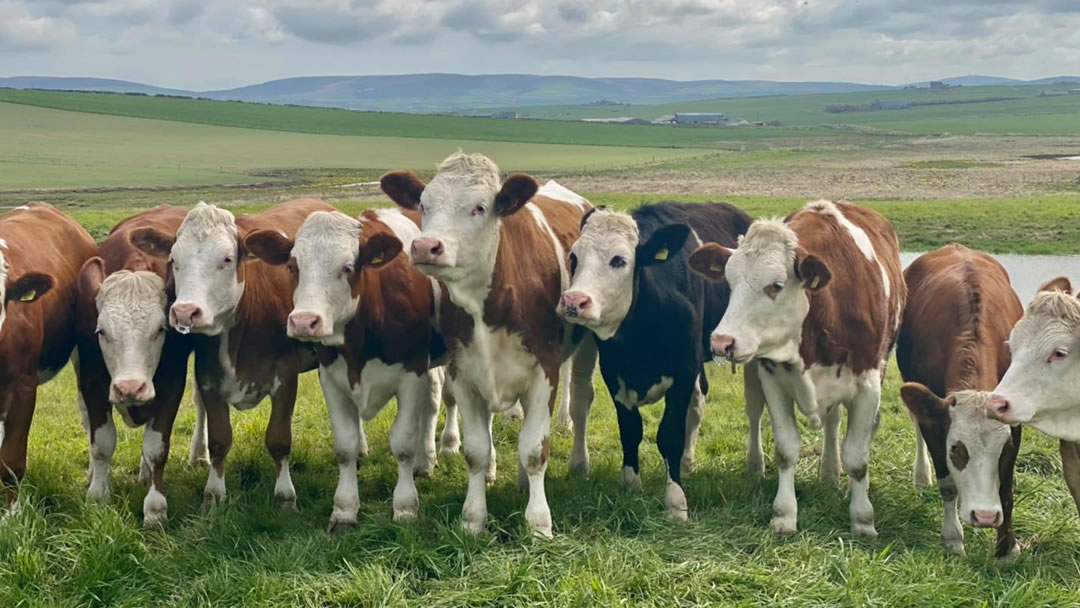 Q. What products do you offer?
A. To begin with we first launched our hot chocolate bombs over the Christmas period, then in March 2021 we started to sell our natural yogurt. Throughout the summer in 2021, we gradually added new products to our range, starting with our flavoured yogurts, rhubarb and fudge, as well as our flavoured milkshakes which are a huge hit!
This year we took out a new flavour of yogurt, lemon curd, as well as our core milkshakes. We offer a 5th flavour which changes every 6-8 weeks, these have ranged from crème egg, salted caramel, coffee and even candy floss!
This summer we also introduced the Big Bun Box which is a honesty box/shed just outside the dairy. We sell home baking, the milkshakes, yogurt, fresh milk, and recently we have lovely local veg.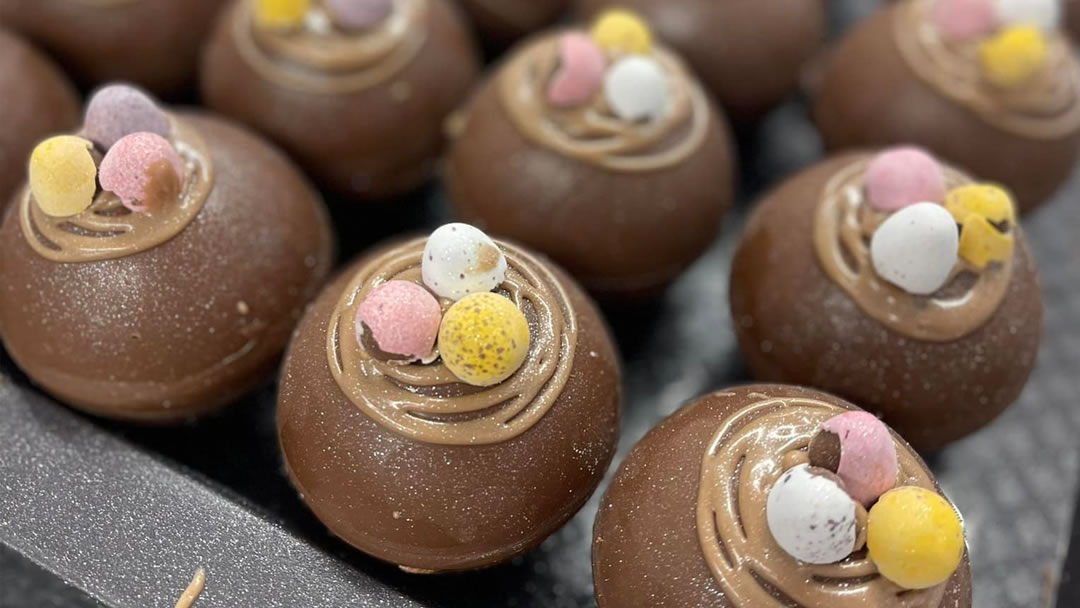 Q. How did you come up with the idea of hot chocolate bombs?
A. When COVID came, it was unfortunately just when we were about to start selling our produce, and we had to halt our dairy production. The hot chocolate bombs were initially just an idea to sell through our small bun box to help get some cash into the business. My mum had seen a video of them online, and jokingly said, "Lara, I think we could make these for Christmas."
We ordered a few moulds, figured out how to make them, put a video on Facebook, expecting a few orders to keep us going. But before we knew it, the video got such a great response and we had orders for over 500 in our first weekend! Within the 8 weeks before Christmas to New Year, we had made over 4000!
It was very full on, everyone was hands on deck. Mum, dad, nanny, aunties and cousins, everyone chipped in with a lot of early mornings and late nights. We were thrown in completely at the deep end, but was absolutely fantastic to have such good support from the local community and gave us such a good customer base before we started selling our dairy produce. I couldn't have wished for a better start to the business.
Q. Do you have a personal favourite?
A. Out of all our products, my favourites would have to be the strawberry milkshake and the Malteser hot chocolate bomb.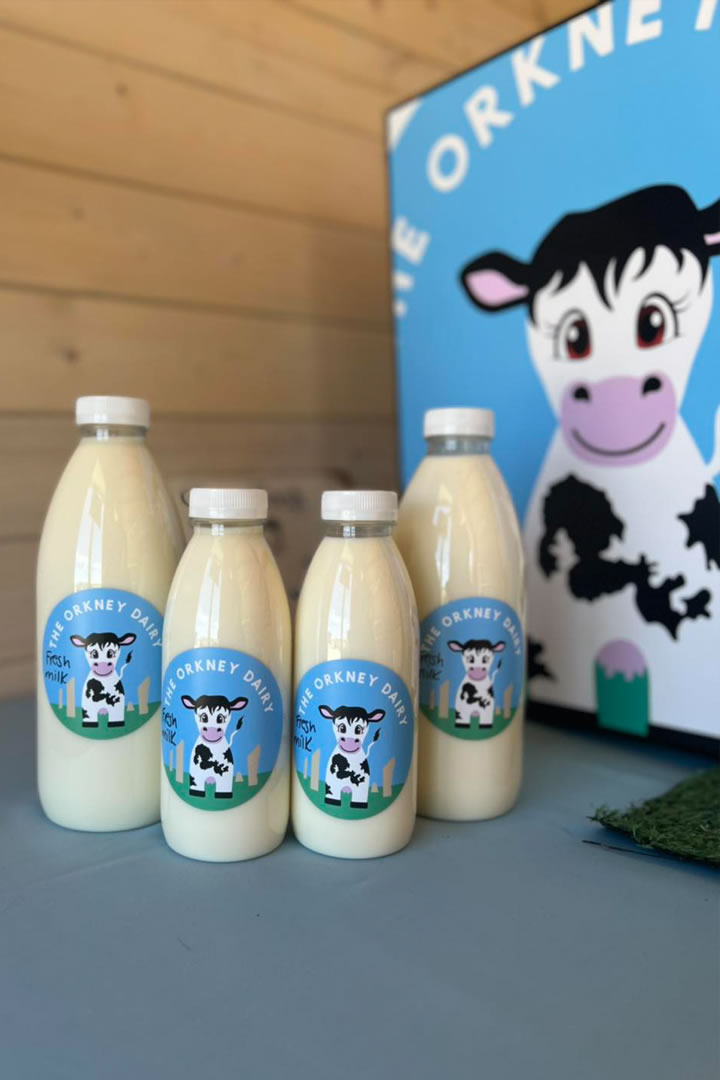 Q. What are the most rewarding and challenging aspects of the industry?
A. One of the biggest rewards has been the acknowledgment of the quality of the milk from the farm. Our produce wouldn't be what it is without it! As well as this, I've loved the freedom of creating new products with our milk. I'm hoping to do a few more dairy products in the future, if time ever allows!
But the biggest challenge would be the logistics of getting it off the island. We have a lot of interest in our produce on the mainland of Scotland. However, we need refrigerated transport to get our products onto the mainland and we are trying to find a solution to this, so watch this space!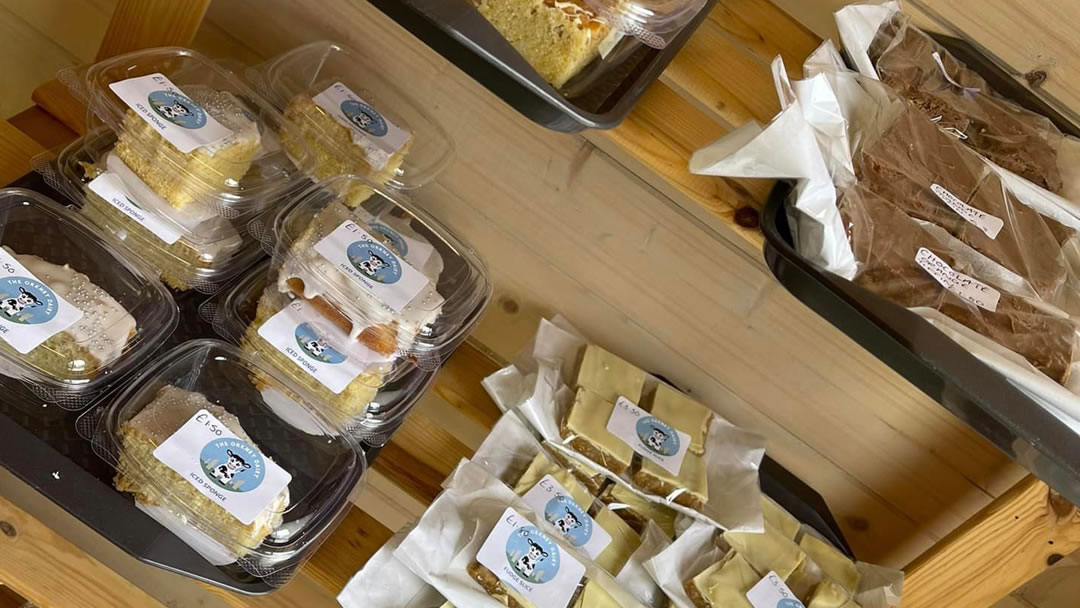 Q. Where could I buy products from The Orkney Dairy?
A. Our products are available in the majority of local shops/delis throughout Orkney, we have an updated list on The Orkney Dairy website and The Orkney Dairy Facebook page. People can also buy our produce from The Big Bun Box at The Orkney Dairy, Bain Farm, Sandwick, KW16 3HZ!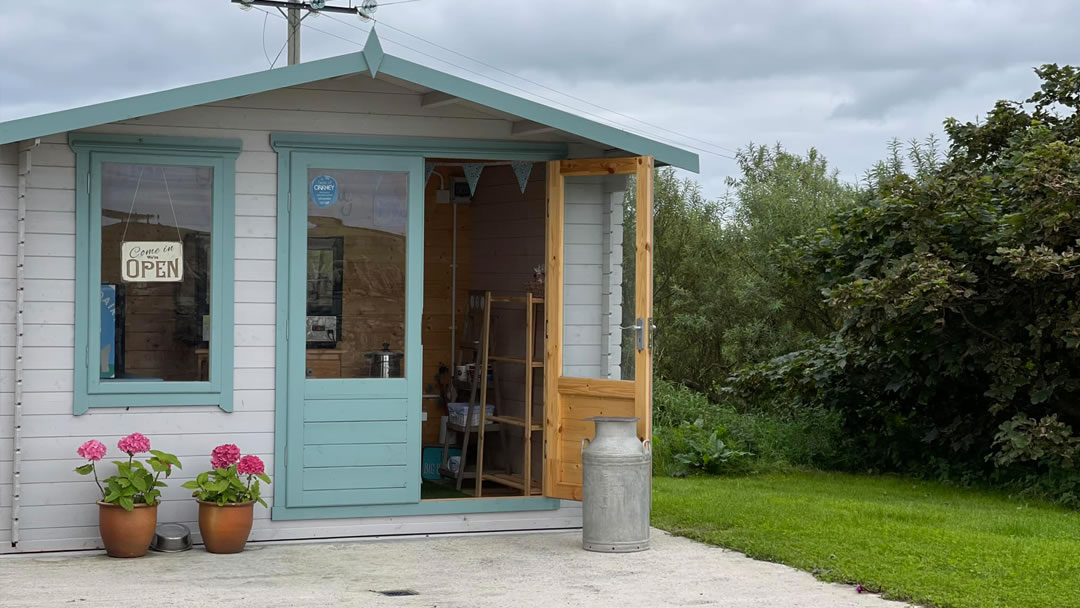 Q. Do you have any new products on the horizon?
A. Yes we do! We have just taken out our Brookie Cups this last few weeks. These are a tub of cookies and brownies / blondies with the choice of white hazelnut sauce or milk chocolate sauce. These can be eaten cold, or pinged in the microwave for 20-30 seconds for a real treat! We also new autumn-themed milkshakes coming out, as well as a few surprises before Christmas.
To find out more about The Orkney Dairy, including news and more tasty products, please visit their Facebook page at https://www.facebook.com/theorkneydairy or website at https://www.theorkneydairy.com/

By
Victoria Dixon
Orkney and Shetland fanatic, likes to capture life through a lens, loves creating, eclectic taste in music, enjoys being a Mum; would secretly love to be a star of the West End!
Pin it!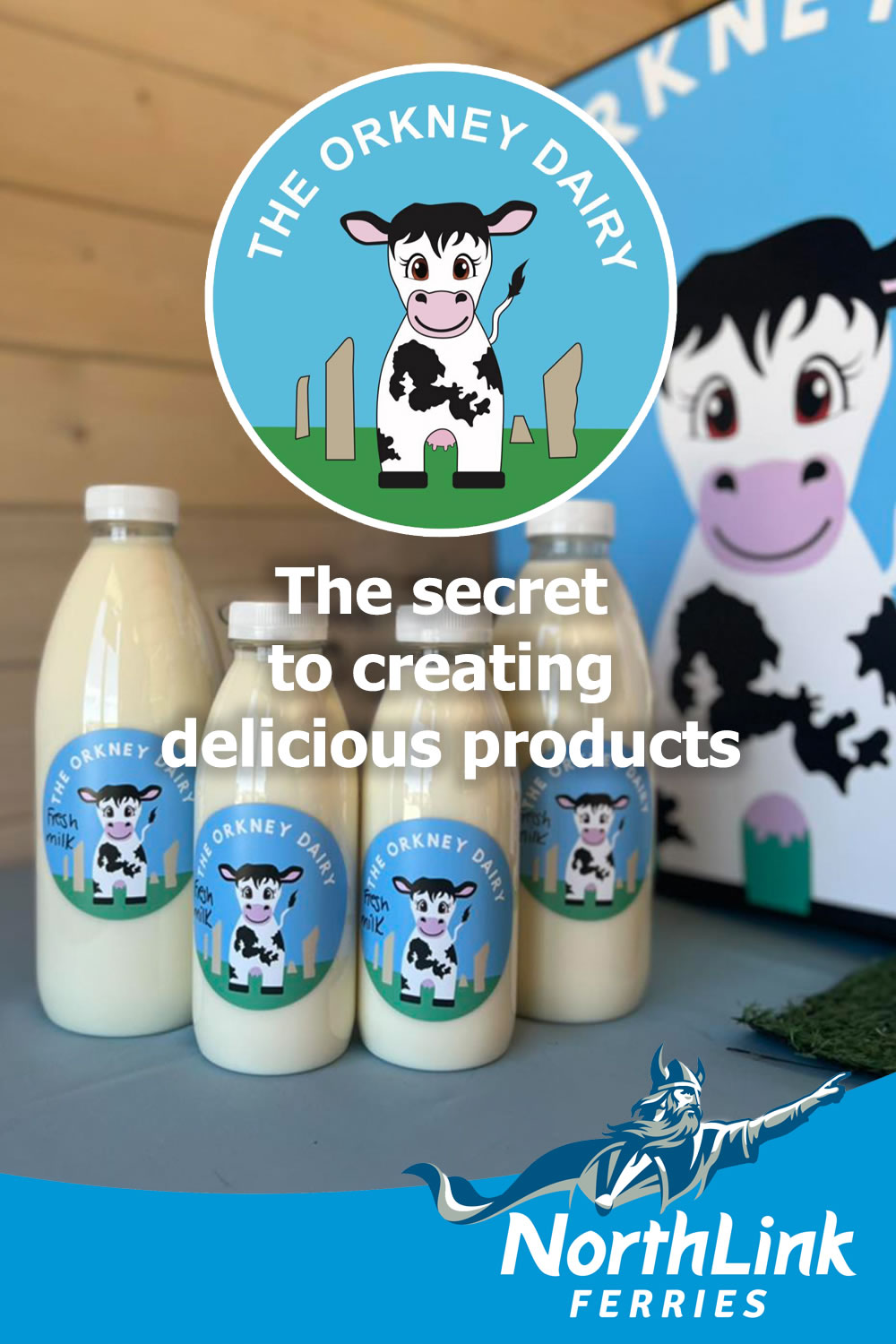 Header image: The range of food products from the Orkney Dairy photo © Copyright The Orkney Dairy