Make approximately 10 fat slices of this moreish Yuletide Rocky Road Log as a sweet treat or homemade gift. Our fail-safe recipe comes from George o'Neill, Sous Chef on MV Hamnavoe. This amazing chocolate delight doesn't take long to make and is quite delicious indeed!
This amazing chocolate delight doesn't take long to make and is quite delicious indeed
Ingredients:
200g Chocolate
50g Butter
2 Ginger nut biscuits
25g Pistachios
25g Glacé cherries
25g Cranberries
100g Marshmallows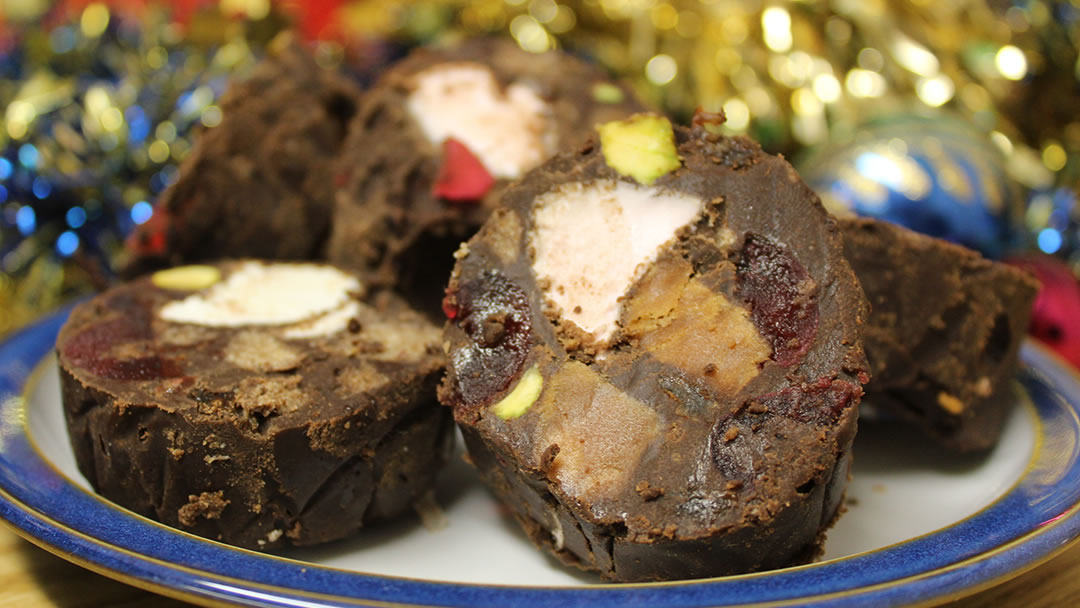 Method:
Chop the chocolate and the butter into small pieces and add to a small pan over a low heat. Stir continuously with a wooden spoon as the mixture melts. Cooking on a low heat is important as the mixture can burn on the bottom of the pan if you are not careful; causing it to taste bitter!
Once the mix is fully melted, remove the pan from the heat. Break the biscuits into bite size chunks, then add them, along with the pistachios, glacé cherries, cranberries and marshmallows to the pan. Mix everything together with a wooden spoon and allow to cool slightly (cooling the mix is important as it will make it easier to make the log shape).
Lay a sheet of greaseproof paper on the work surface, then spoon the rocky road mix into a sausage shape along the middle of the greaseproof paper. Tuck the paper over the mix and pull towards you, creating a parcel. Smooth the paper along the sausage shape until tight, then roll the rocky road mix away from you until an extra tight log shape is achieved. Twist the ends of the paper like a Christmas cracker.
Spread cling film onto the work surface and wrap the log in cling film. Use the cling film to make the log extra tight and twist the ends as tightly as possible.
Place the Yuletide Rocky Road Log in the refrigerator for a few hours to firm up and set the shape. When ready to serve, remove the cling film and greaseproof paper from the log and cut into equal slices. To cut the rocky road log, neatly, mark the log into equal portions with a small knife as a guide. Add boiling water to a jug, dip your knife into the water, quickly dry the knife with a tea towel. Then cut a portion. Continue with this method and even sized slices of the log will be achieved. Enjoy!

By
George O'Neill
Chef from Aberdeen who considers himself very lucky to live and work in the beautiful Orkney islands. When on leave from the ship, George enjoys cooking for family and friends and hanging out with his wonderful daughter, Eva.
Pin it!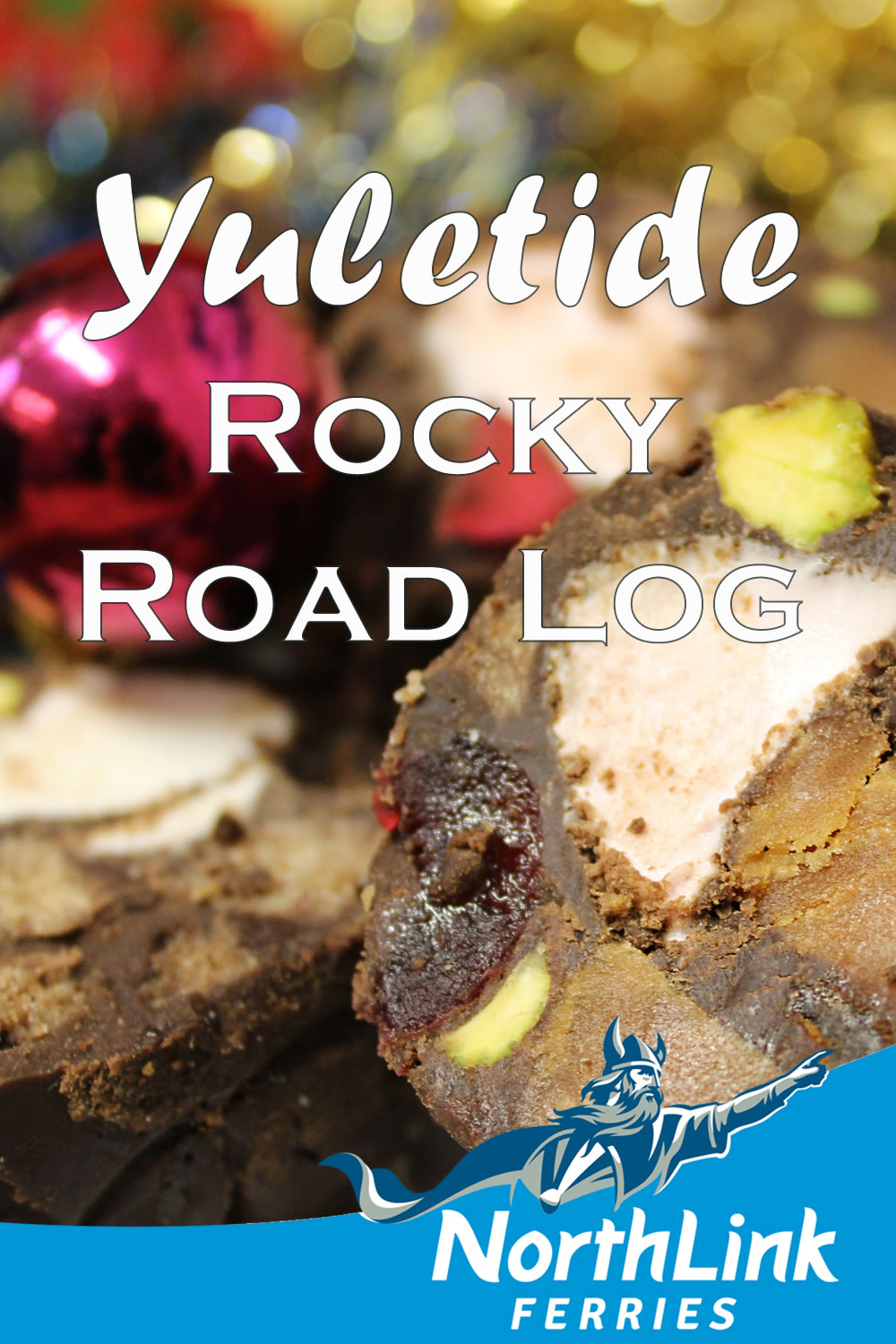 Header image: Yuletide Rocky Road Log recipe photo © Copyright Victoria Dixon