A must visit on your Shetland campervan trip: St Ninian's Isle
When I began planning my Shetland campervan trip, I stumbled upon photos of St. Ninian's Isle and its breathtaking beach that connects it to the main island. Instantly, I pulled out my trusty planning list and added St. Ninian's beach to the very top, marking it as a must-visit destination for my Shetland campervan adventure.
The sprawling beauty of St Ninian's Beach and its connection to the mainland left an indelible mark on my Shetland experience, ranking among my favourite sights from the entire trip.
My campervan trip to Shetland commenced as I arrived in Lerwick early in the morning aboard a NorthLink Ferries' ship, which proved to be a seamless and enjoyable experience. After a quick stop at Tesco to stock up on groceries for my campervan and to withdraw some cash for coin showers and the alluring baked good honesty boxes I had heard so much about, I eagerly set off for St. Ninian's Beach, around a 30-minute drive from Lerwick.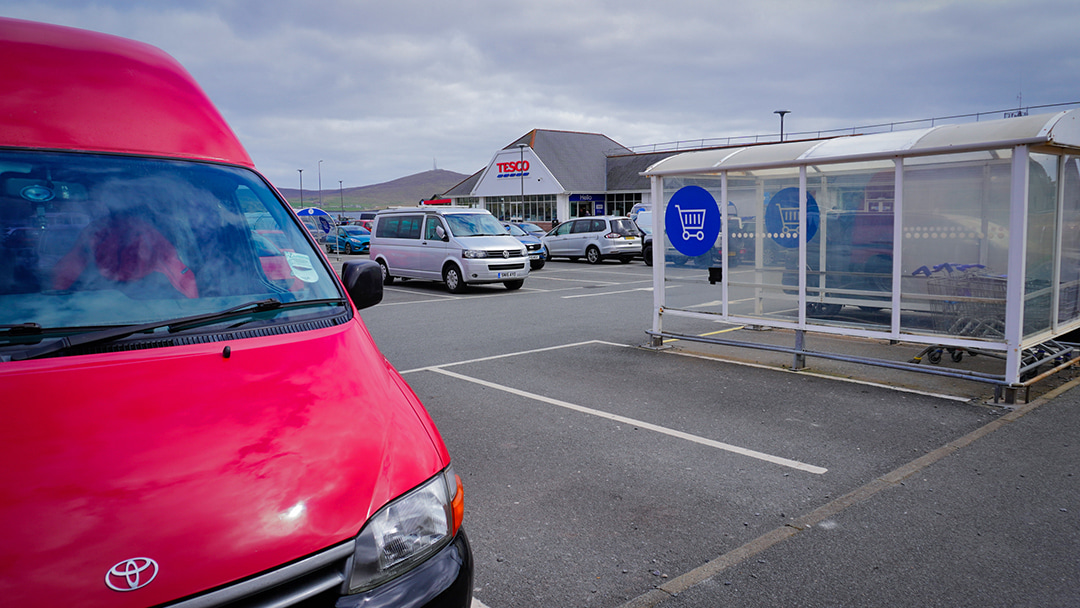 The striking scenery of Shetland unfolded within minutes of leaving Lerwick, and it was an incredible feeling to be surrounded by the sea in every direction. Along the way, I passed through the town of Bigton, which provided convenient amenities such as public toilets, a well-stocked shop, and bins – always useful for those traveling in campervans or motorhomes.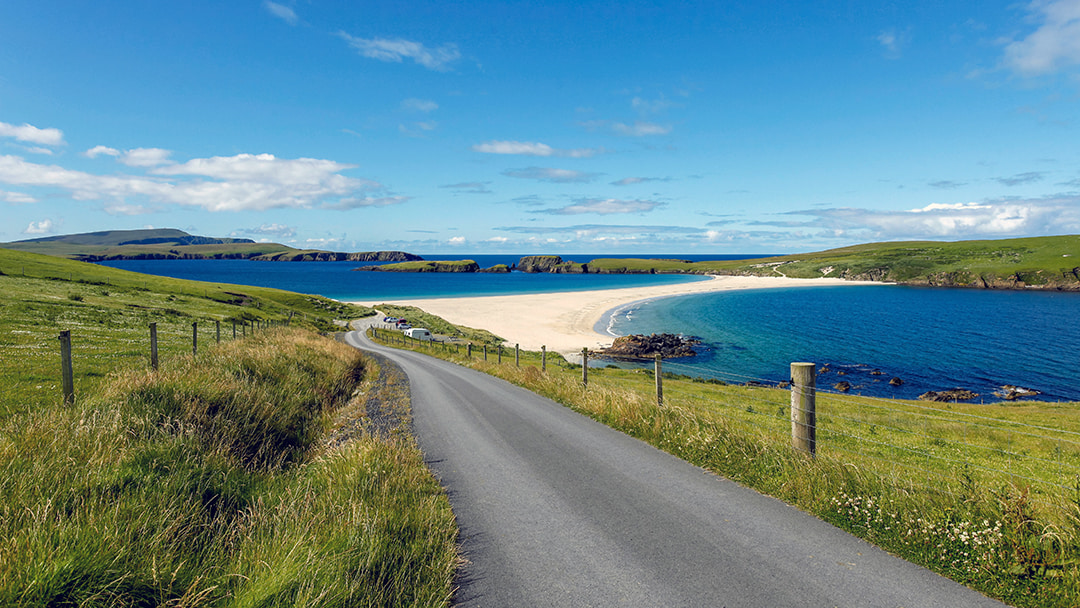 The road leading to St. Ninian's Beach from Bigton was well-marked and accessible to campervans and motorhomes of all sizes, without any height barriers to worry about. Despite being a single-track road, there were numerous passing places, making it easy to navigate, even when encountering other vehicles or, in my case, a friendly encounter with horses.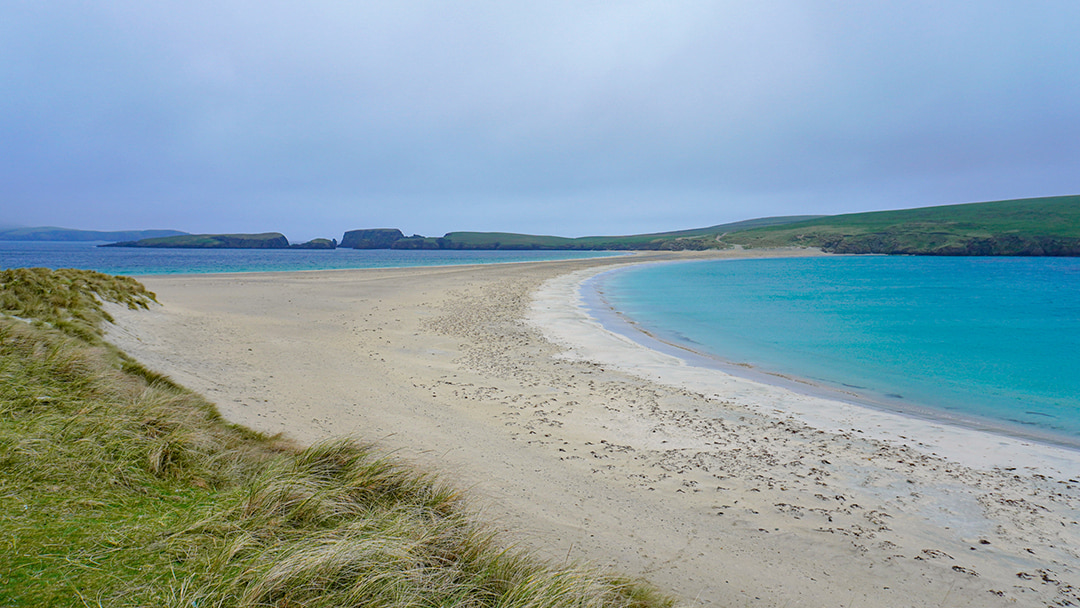 As I descended the hill in my campervan, the breathtaking view of St. Ninian's beach gradually came into focus, surpassing the beauty captured in the photos I had previously seen. My timing was incredibly fortunate, as the weather on my first day in Shetland was nothing short of remarkable. With its turquoise blue waters, I could have easily mistaken St. Ninian's Isle for a slice of the Caribbean!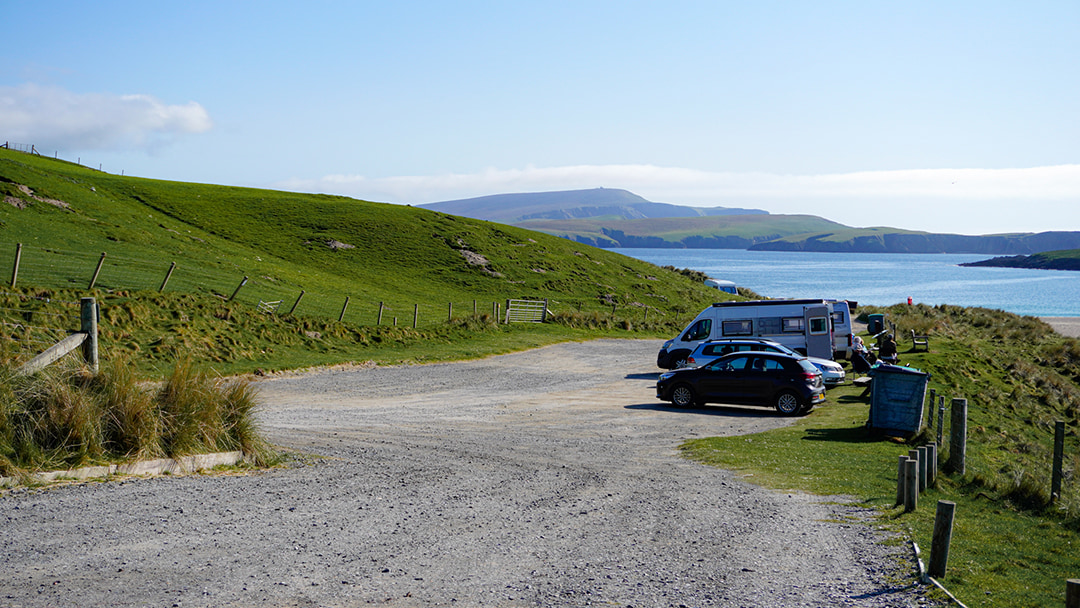 A few motorhomes were already parked, taking in the tremendous views. The level ground provided ample parking space, and it felt incredibly safe to leave my campervan behind and make my way to the beach, just a short stroll away.
The pristine white sand and inviting waters created a picturesque scene. Families and picnickers enjoyed the beach, making it a delightful place to spend time and capture some remarkable photos and enjoy the refreshing Shetland air.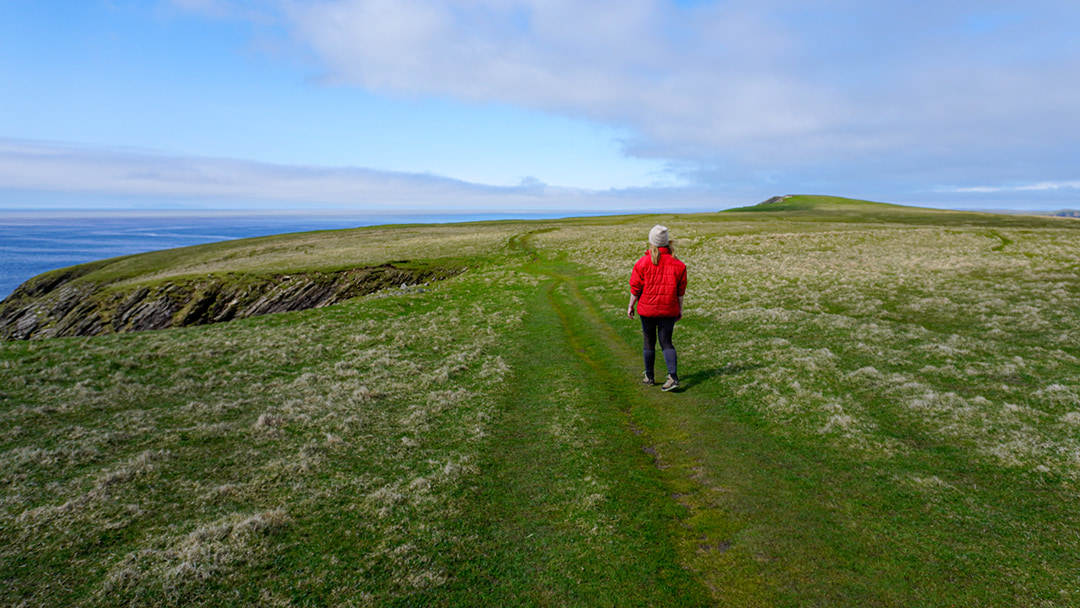 I opted to walk across the natural sand causeway and embark on the circular 2-3 hour walk around St. Ninian's Isle, taking advantage of the glorious weather. The path around St. Ninian's Isle was relatively flat, offering spectacular views of the rugged rocky coastline and neighbouring islands in the distance. As I meandered along, I kept a keen eye out for seals, orcas, and seabirds, hoping to catch sight of these marvellous creatures in their natural habitat.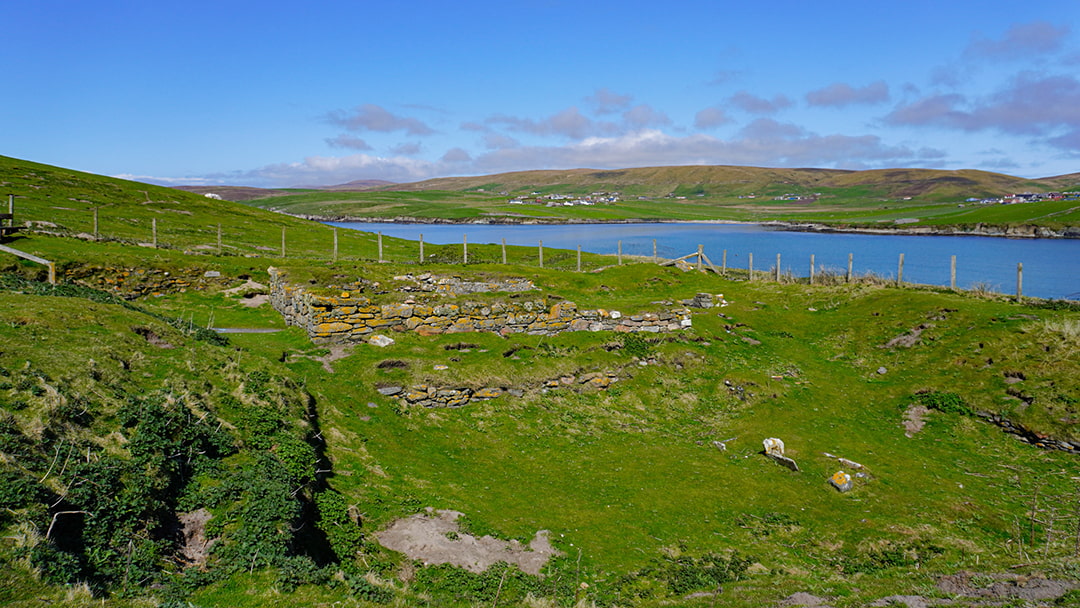 After an invigorating walk, I stumbled upon the St. Ninian's Chapel archaeological site. Even if the circular walk doesn't pique your interest, it's worth checking out the St. Ninian's chapel site, located at the entrance to St. Ninian's Isle. The approach to the beach from this vantage point provided awe-inspiring views.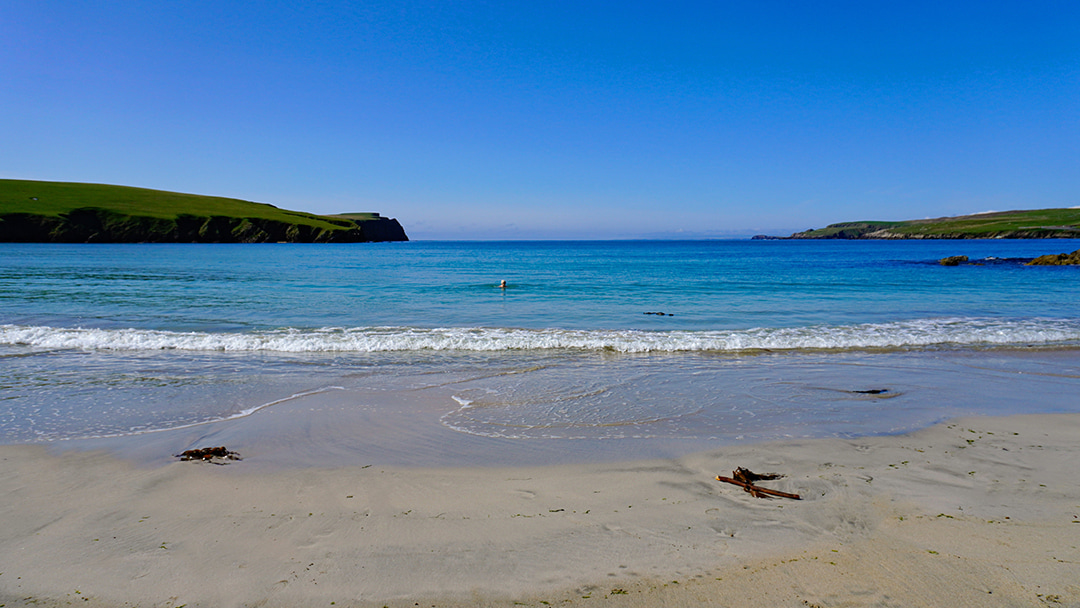 Unable to resist the allure of the clear water, I returned to my campervan, changed into my swimming costume and took a refreshing dip. Though it was a bit chilly, it turned out to be one of my favourite wild swims, and to my surprise, a curious seal popped up to say hello.
Having the campervan as a changing room was incredibly convenient. I indulged in a leisurely lunch and savoured a cup of coffee while gazing out at the spectacular beach through my van's windows. I spent most of the day at St. Ninian's Beach, encountering no issues. The friendly locals and the fact that parking was free further added to the charm of this welcoming and safe spot.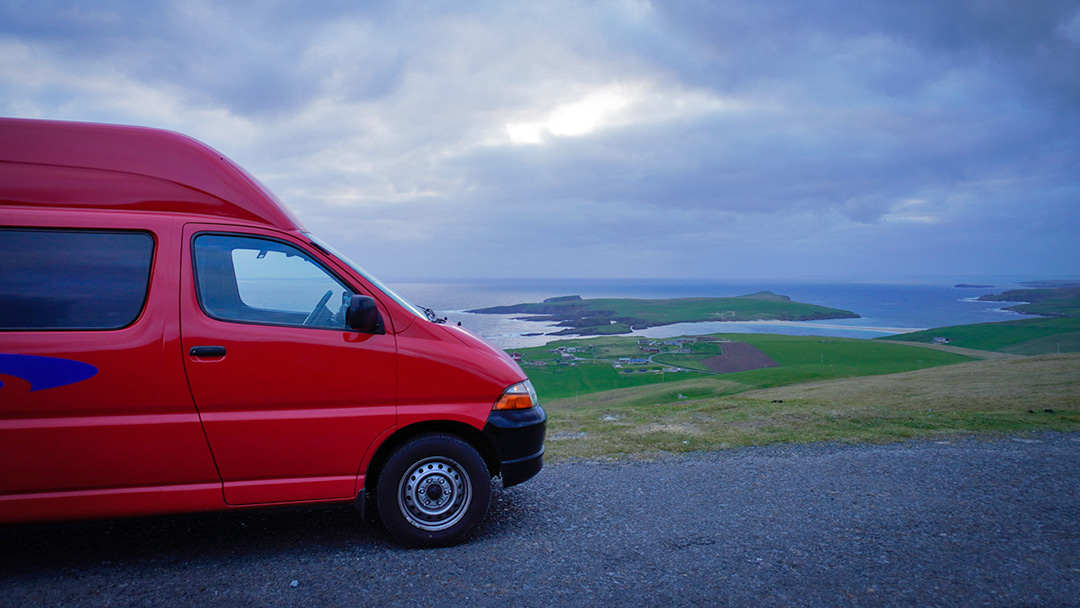 On a friendly local's recommendation, I took a detour over the hill near Scousburgh en route to my overnight spot at Levenwick community hall. The journey provided me with an unforgettable aerial view of St. Ninian's Beach. From the elevated road, the sprawling beauty of the beach and its connection to the mainland left an indelible mark on my Shetland experience, ranking among my favourite sights from the entire trip.
During my time in Shetland, I found myself drawn back to St. Ninian's Beach on numerous occasions. Whether it was for leisurely walks, watching sunsets or simply enjoying a cup of coffee in my cosy campervan, I couldn't resist the serenity and views that the beach offered.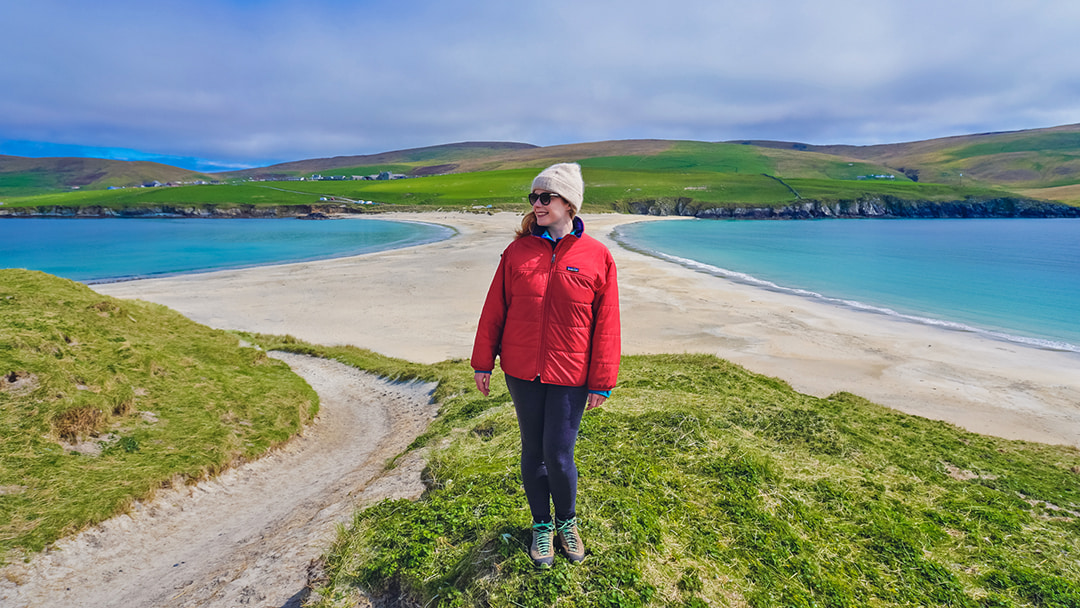 St. Ninian's Beach is a must-visit for anyone traveling to Shetland by campervan. Additionally, there is another parking area near the local graveyard that provides a different view. St. Ninian's Isle offers a warm and secure environment for campervan travellers. If possible, I highly recommend visiting on a sunny day to witness the beach and water in their most spectacular form – a sight that will leave an everlasting impression.

By
Ruth Aisling
Ruth Aisling is a Scottish content creator with a passion for adventure, campervan travel, and the great outdoors. You'll often find her showcasing unique off-the-beaten-path destinations and inspiring others to explore. Discover more at
www.instagram.com/ruthaisling
Pin it!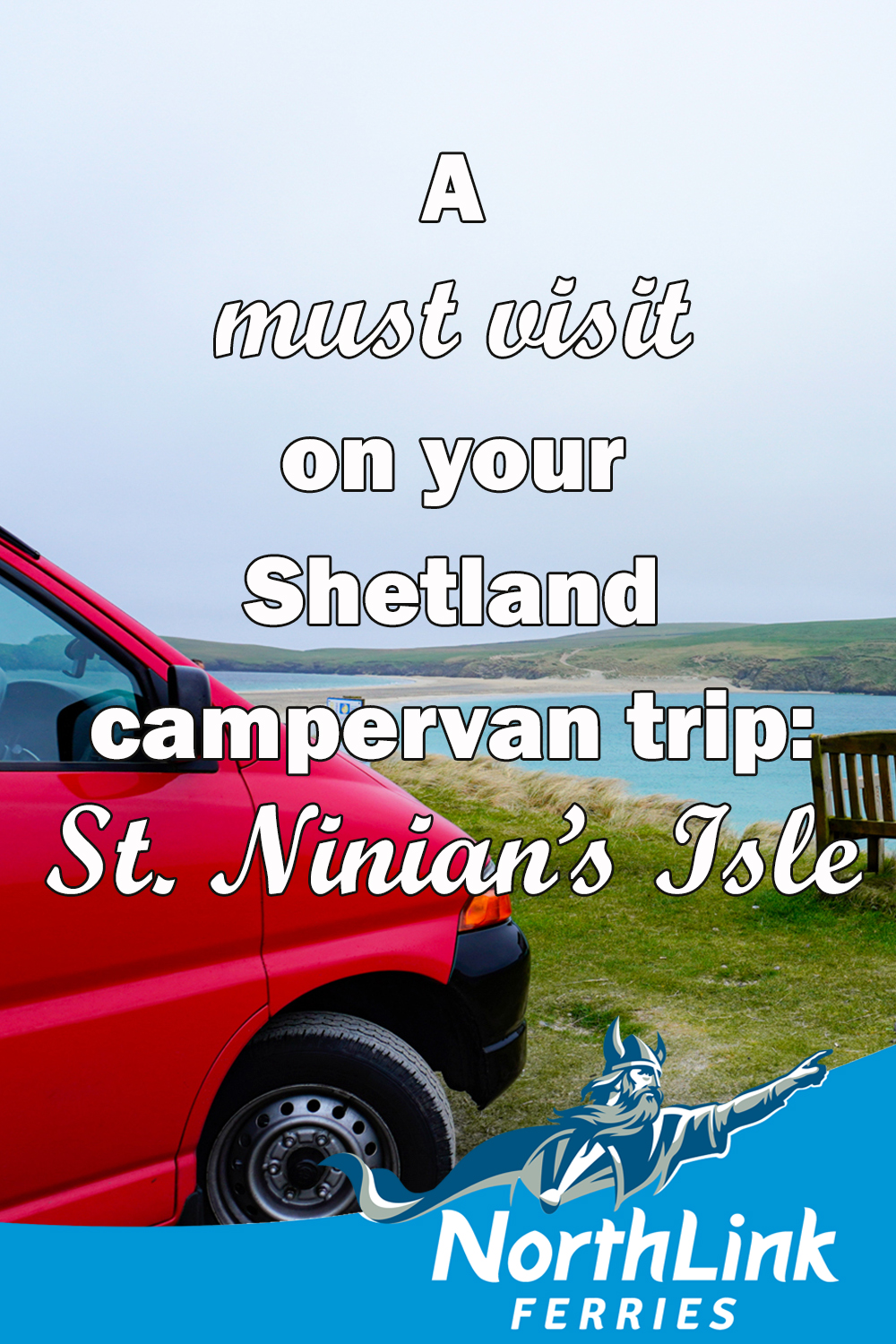 Header image: Visiting the breathtaking St Ninian's Isle in a campervan photo © Copyright Ruth Aisling