All about Shetland Ponies – an interview with Irvine Burgess
For many people, mention the word Shetland and they think of ponies! These lovely animals can be found throughout the islands, and the purity and quality of the breed is maintained by the pony breeders of Shetland.
"The Shetland pony is one of the purest breeds around due to the fact they were essentially left to their own devices, survival of the fittest so to speak, until the mid 1800's."
Irvine Burgess runs a Shetland Pony Stud and is also the Chairman of both the Shetland Pony Evaluation Scheme and the Pony Breeders of Shetland Association! As you'd imagine, this doesn't leave Irvine a lot of spare time, so were very grateful when Irvine kindly agreed to answer our questions about Shetland Ponies!
Q. When did you start Shetland Pony Breeding?
A. My family has always had ponies so you could say I was born into it.
The Prefix or Stud Name that goes before the name of each pony you breed was created by my Mother and Grandfather in the mid-sixties and is the name of their house "Robin's Brae".
Some of my earliest memories are of foals being born and I was only three or four when I was put on the back of a pony and led around.
I actually fell off a pony when I was four and broke my arm but a few weeks later, while still in plaster, I won two cups at a local show in the lead rein classes.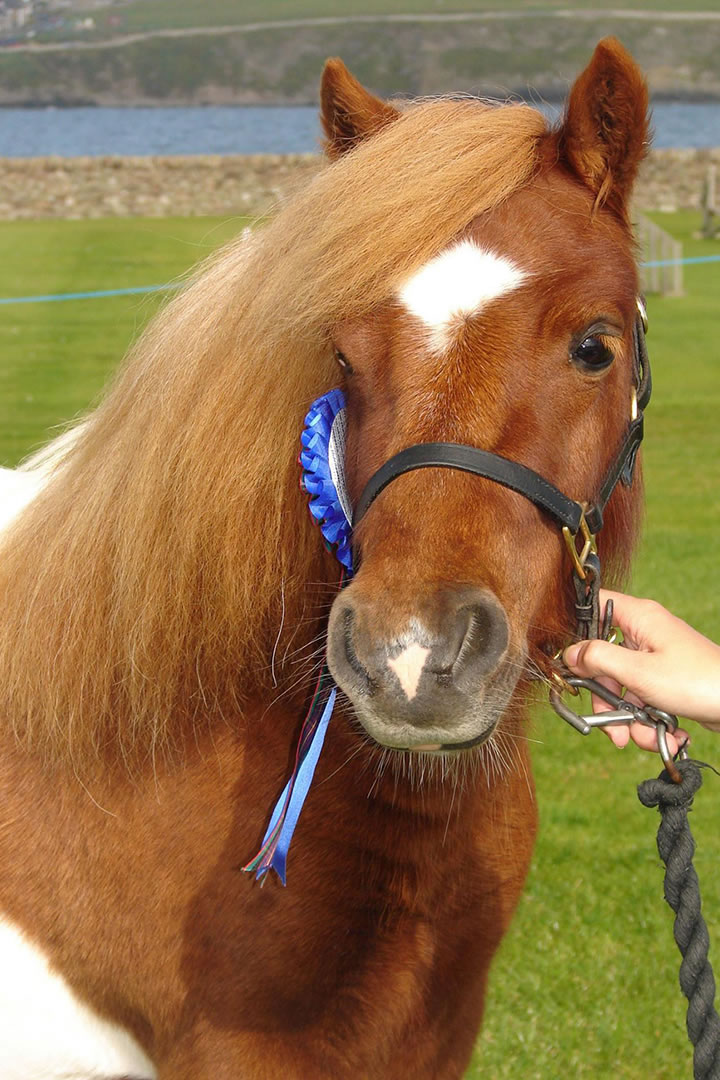 Q. How did you learn the trade?
A. I learned from my mum and other local breeders. My mum was the Area Organizer of the Stallion (Adult Male that has been approved for breeding) Inspections and I used to go with her and other judges when I could.
Judges like Tommy Burgess from the Quendale Stud, Brian Hunter from Clivocast, Bertie Nicolson from Brindister, Myrna Flaws from Grutness and Jim & Eva Smith from the Berry Stud. These were well known breeders and I tried to learn from them and also from Edwin Moar the veterinarian who inspected the stallions.
I have been showing ponies for over 25 years now and still learning all the time. I became a Director of the Shetland Pony Stud Book Society, the governing body for Shetland ponies in 2003 and served two 3 year terms.
During this time, much to the dismay of Shetland pony breeders in Shetland, the Society ceased to run any stallion inspections so myself and other members of the Pony Breeders of Shetland Association (PBSA) decided to set up an Evaluation Scheme of our own in order to protect the purity and quality of the breed. I am currently Chairman of both the Shetland Pony Evaluation Scheme (SPES) and the PBSA.
I have been a Shetland pony judge for the last few years (having previously gone through an assessment and probation period) and judge all over the country. I travel as much as I can to shows outwith the UK too and have been to international shows in Norway, Sweden, Belgium, Australia and Holland.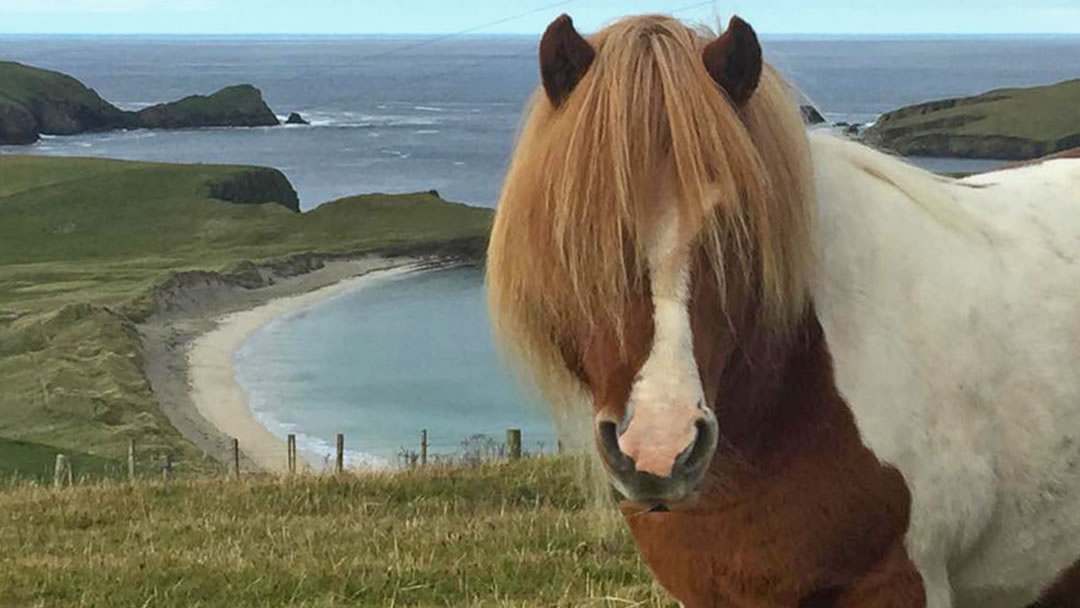 Q. Can you tell us a bit about the history of Shetland Ponies and what makes them so special?
A. The Shetland pony is one of the purest breeds around due to the fact they were essentially left to their own devices, survival of the fittest so to speak, until the mid 1800's.
The abolition of child and women labour in the coal mines around this time meant there was demand for a certain type of pony and for the first time humans used selective breeding programs to give more uniformity and a slight change in type.
Prior to this the Shetland pony had been used for transport peat and people, maybe some light ploughing. Now folk wanted them stronger, sturdier and Male. The industry demand created escalating prices which benefited the islanders, as Shetland pony studs sprang up all round Scotland and the rest of the UK.
This type of pony is still very evident today in many studs in mainland Scotland. America too began to seek the import of Shetland ponies with high prices recorded. The down side was that with so many good stallions being exported from the islands, not enough were being retained and demand was outstripping supply.
In 1890 a group of breeders decided to form a stud book to keep records of ponies and their pedigrees and the stud book still exists today, charged with maintaining and protecting the breed standard and protecting the purity of the breed. Various stallion programs were put in place to help re-stock the islands and this work has been carried on by the Pony Breeders of Shetland Association formed in 1970's.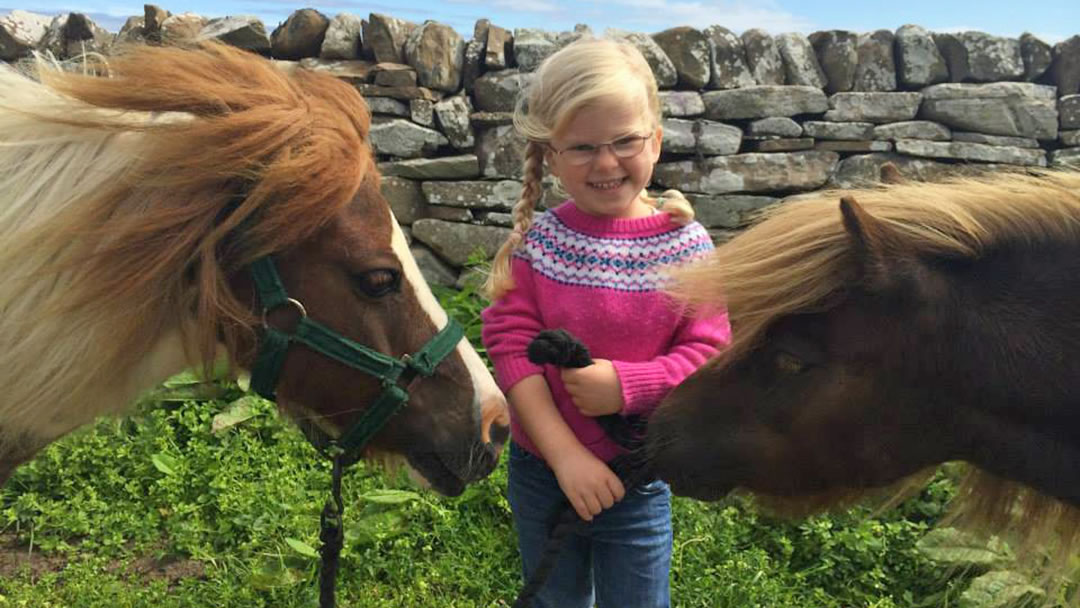 Q. Do Shetland Ponies have personality traits to watch out for?
A. All ponies have their own individual personality, some are lazy and some are fiery. Shetland Ponies sometimes have a reputation for being cheeky and sometimes a bit stroppy but the truth is they are an intelligent breed capable of figuring out how to escape and how to take advantage of a situation.
It's like having a bright child they will soon take advantage of you, given half a chance, so it's important to set boundaries, give them structure and be consistent with what you teach them particularly when they are young.
Feeding tit bits is a classic way to make the pony nippy and therefore not good for small kids so avoid it if you can. In general though, they make ideal children's ponies as they are kind and gentle and not easily spooked. They are also hardy and can live up to thirty or forty years of age.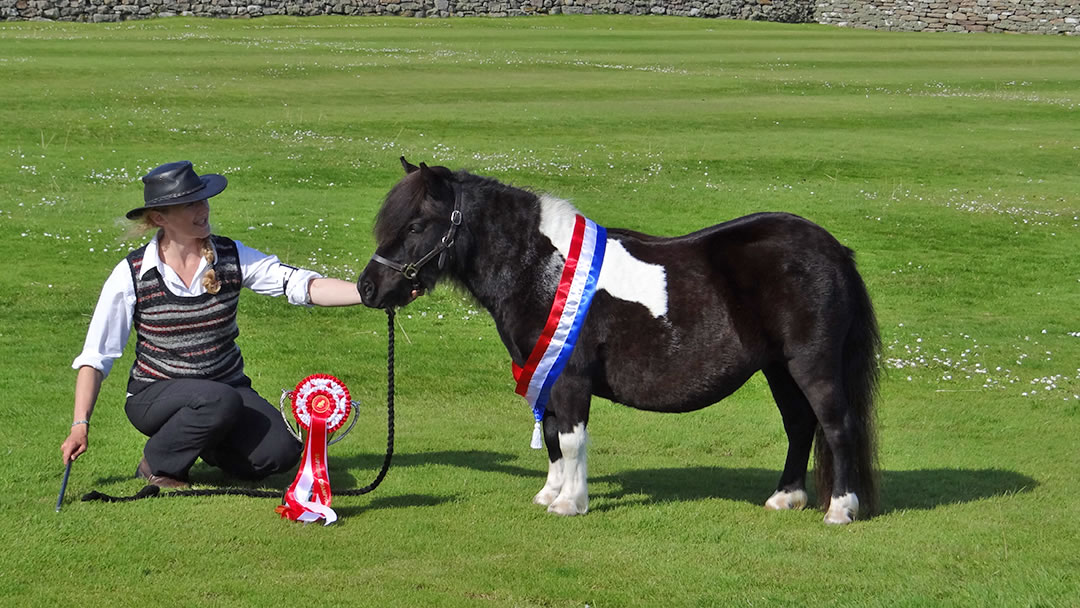 Q. Is Shetland pony breeding a rewarding job?
A. Yes of course, particularly if you love working with animals. It's a pleasure to relax with them, to get to know their individual personalities, train them and when you win a prize having breed or produced a pony, it gives great satisfaction. They can be quite therapeutic at times!
It's also very rewarding to see ponies you have sold being used by children or winning in the show ring for someone else. It gives you a sense of pride.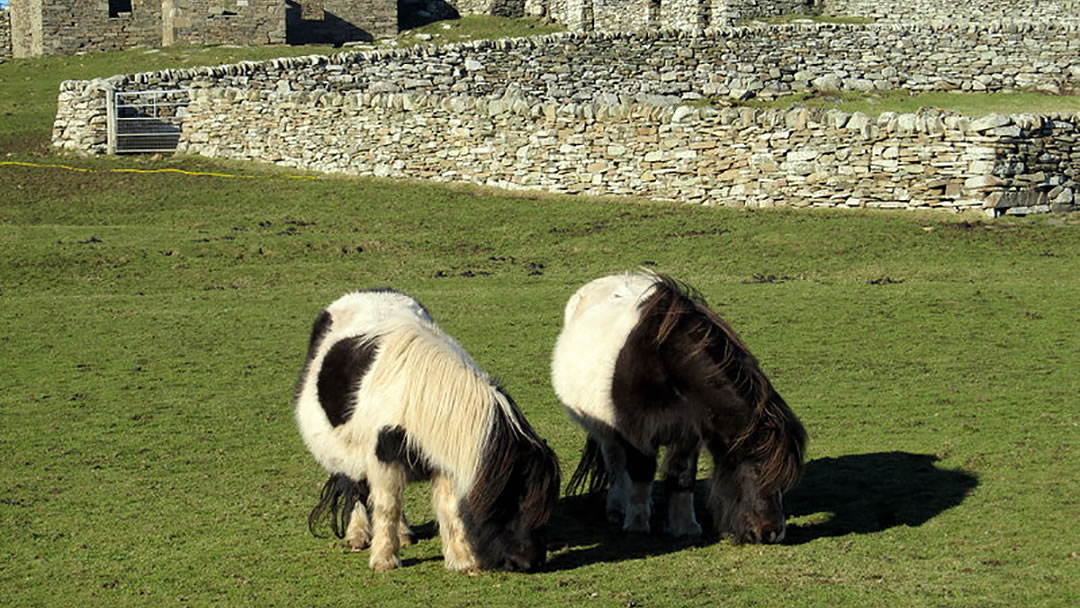 Q. Any downsides?
A. There is a lot of hard work required. The animals must be cared for and you need adequate grazing. They have to have their feet trimmed which requires' specialised knowledge and skill. They have to be wormed at least every three or four months.
You can incur high vets bills if the pony becomes ill or has an injury, so it's not something to go into on a whim and you must have adequate resources.
To make the most of your ponies attributes or to do your pony justice when showing them you will need some skill in preparing and showing. The PBSA tries to host instruction nights on horsemanship, in-hand showing, and long reining whenever they can and hope to have one on foot-trimming in the near future.
Economically, the pony world has been hit by the recession in recent years. A combination of factors has seen the price of the Shetland Pony at Auction Sales go down. However, there have been signs of improvement of late and the private market for serious enthusiasts has remained reasonably strong for specific ponies and bloodlines.
Q. How many ponies do you own at the moment?
A. The family currently own around 30 ponies at the moment. A group of 18 ponies all under 34 inches (known as miniatures) and a group of 12 ponies from 38 to 42 inches. A Shetland pony is not permitted to be greater than 42 inches. Our web site is www.robinsbraeshetlandponystud.com and our Facebook page is https://www.facebook.com/RobinsBraeShetlandPonyStud
Q. Have you won any awards?
A. Prior to 1989 we rarely showed other than the annual sale show for foals in October but in the build-up year to the Centenary of the Shetland Pony Stud-Book Society in 1990 we became much more active in attending summer shows.
In 1990, we won Miniature Ring Champion at the Shetland Centenary Show with Mack of Knowe – a very well-known stallion we used and at the same show a mare we bred (Robin's Brae Jem) took the coloured Ring Championship.
Since then, we have done consistently well in the show ring. We have continued to improve our stock and have won Champion Foal in the miniature ring at the Viking Shetland Pony Show in 2010, 2011, 2012, 2013 and 2015.
Q. Have you had a favourite Shetland Pony?
A. Yes a few, my first child's pony Veda, then there was the Twins; Mum called them Pride and Joy. Born in the late sixties, two piebald filly foals, they are extremely rare and until quite recently the only twin fillies to survive.
I also had a pony called Robin's Brae Birthday Wish, which was a birthday surprise for me and I won many prizes with her under saddle.
From a breeding perspective there was Mack of Knowe (pictured above). Mack was a Piebald (black & white) stallion 33.75 inches, very powerfully built for a miniature and he could have been used for pulling coal or as a child's pony unlike many of the lighter miniatures around today but we used him just as a stallion.
He was bought by my mum in 1985 at the October foal sales. She liked him and suggested to the owner, who was a close friend, that he put a reserve price on him as he was too good to let go cheaply. He didn't make the reserve so mum thought she had better buy him. It turned out to be a great bit of Luck as he went on to win many prizes and his offspring have continued to do the same.
His daughter, Robin's Brae Dazzle, as a foal won the best filly foal from all the Shetland shows and she has in turn produced four Stallions and we have retained her fillies Robin's Brae Jewel, Opal and Quartz who were all best miniature foal at the Viking show. Jewel herself has produced champion foals and last year Opals first foal was first at a local show. Five of our current stallions can be traced back to Mack so he has had a big influence on our stud.
Q. Where have the Shetland Ponies you have sold gone in the world?
A. We have exported to various countries over the years, France, Denmark, Switzerland, Germany, England, Ireland, Hungary, Norway but most are sold closer to home in Shetland, Orkney and Scotland.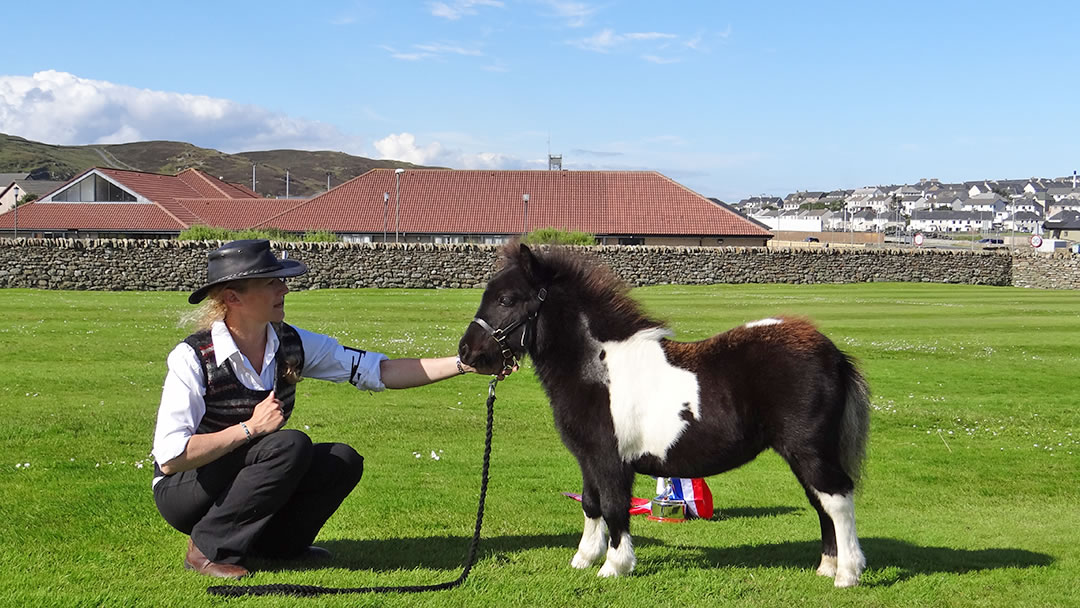 Q. If I wanted to find out more about owning a Shetland Pony, where should I go?
A. The PBSA or Shetland Pony Stud Book Society.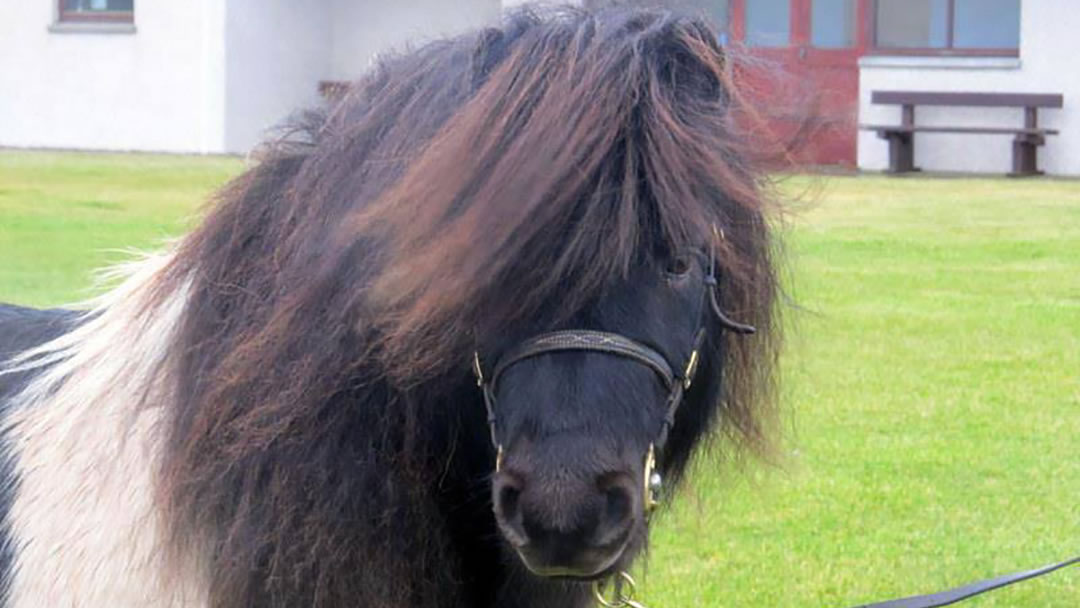 Q. Any advice for potential pony owners?
A. Lots, they should think long and hard about what they are looking for and as I mentioned before must have adequate resources and knowledge.
If you know what you are looking for it is easier for a breeder to find something suitable. Is the pony for showing or competing in ridden competitions or just a pet? Do you want a miniature or large size, a male or a female?
Do some research; the less knowledgeable you are the more you should seek out well -known reputable studs or organisations for advice.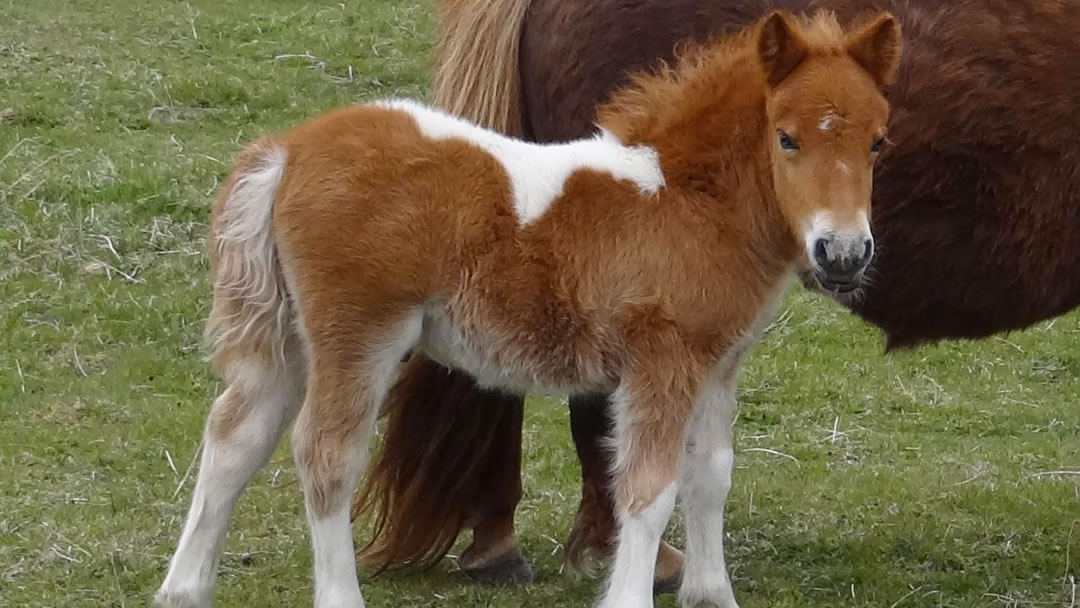 Q. What are the important dates on your calendar as a Shetland Pony Breeder?
A. Our foals arrive between late April and the end of May. We have our Shetland Pony Evaluation weekend the last weekend in July.
August is show season with Voe Show the first weekend, Wall Show the second weekend followed by the large District Cunningsburgh Show the second Wednesday of August, then it's the Viking Shetland Pony Show which normally is the second last Sunday in August and is our premier event. Next it is the two Island shows in Unst and Yell.
The next big event is the annual Shetland pony sales in Lerwick which is held at the start of October. 2016 dates are set with the sale show on the 6th and the sale on the 7th October. You can actually bid online by visiting the following link: http://www.i-bidder.com/en-gb/auction-catalogues/aberdeen-northern-marts/catalogue-id-ibab10029
In early November we have our Annual Young-stock Show where ponies aged 3 or under can compete and finally our AGM normally takes place later in November.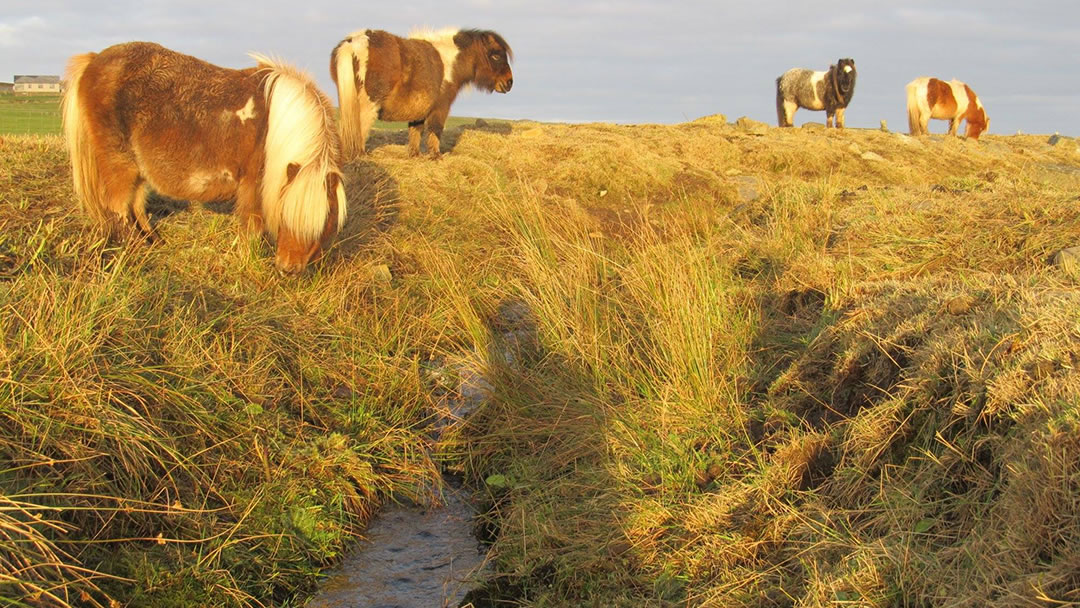 Q. Do you have any advice for visitors to Shetland about Shetland Ponies and where to find them?
A. Yes – they may not see them as easily as they would think, as many are in parks off the normal trunk roads, so they should contact the Pony Breeders of Shetland Association through either myself at [email protected] or our secretary on [email protected].
Visitors can also use web sites to see if there are any breeders in particular they are interested in seeing. It's important to contact the breeders in advance, as most work full time and would need to arrange a suitable time to meet up.
Visit the PBSA website for more information at http://www.shetlandponybreeders.com/

By
Magnus Dixon
Orkney and Shetland enthusiast, family man, loves walks, likes animals, terrible at sports, dire taste in music, adores audiobooks and films, eats a little too much for his own good.
Pin it!