Frankie's Fish and Chip Shop in Brae, Shetland, is not only Britain's most northerly chippie – it's also the best!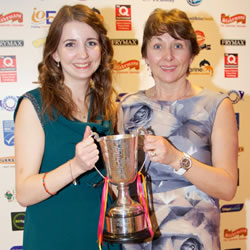 Voted No.1 Fish & Chip Shop in the UK in the National Fish & Chip Awards 2015, Frankie's, a family run takeaway and café, managed to beat nine other regional finalists with its delicious Shetland fish and chips. Frankie's also won the Good Catch Award for their commitment to sustainable seafood stocks.
"Fishing and aquaculture make up around a third of the economy here and seafood is a way of life. When you see the incredible quality of what comes out of the sea around us, you can understand why – it is truly outstanding!"
We were delighted when owner Valerie Johnson (pictured with her daughter Carlyn Kearney, shift manager at Frankie's, on the left) agreed to answer our questions about Frankie's.
Q. Congratulations on winning the UK's best fish and chip shop – how does it feel to have won such a prestigious accolade?
A. Thank you. It's a tremendous honour to have won Best Independent Fish & Chip Takeaway of the Year, to give the full title! We know all about the quality produce and great things that the other nine finalists do – there's a great camaraderie in the fish and chip trade – so to come out on top is a great achievement for all the staff at Frankie's who work so hard to ensure that every customer who comes in through the door is served with high-quality, sustainable produce.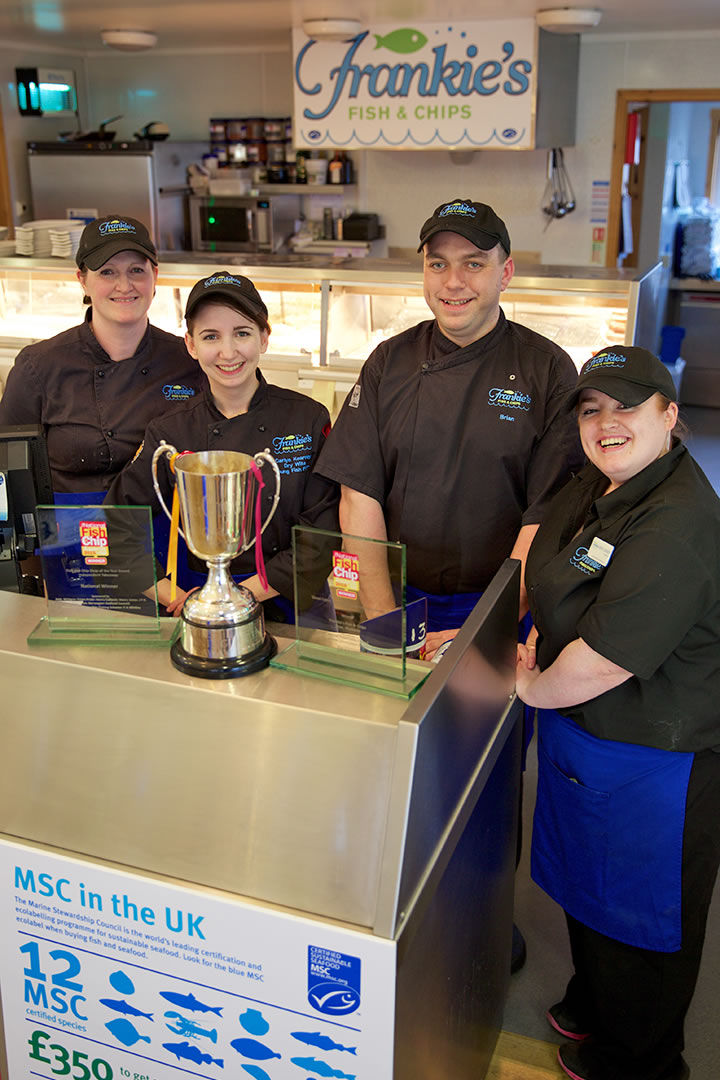 Q. Can you tell us a bit about the history of Frankie's Fish and Chips? When was it opened and how did it come about?
A. Frankie's opened in September 2008. The story of how it came about is quite funny. Basically my husband Gary, who runs a bus company and the garage here in Brae (pop. 700), got fed up having to go to Lerwick – a 50-mile round trip – whenever he wanted a fish supper. So we decided to open Frankie's, never imagining for a moment that it would become the success it has. The rest, as they say, is history.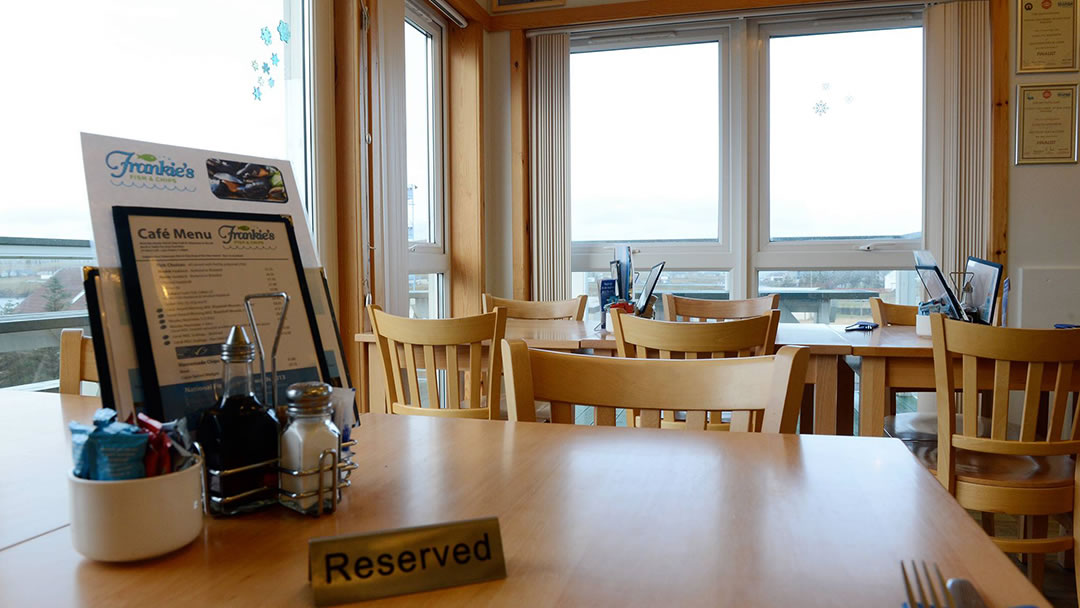 Q. Why is it called Frankie's?
A. It's named after the Johnson family dog, who was alive when we were building the shop but sadly is no longer with us.
Q. What do you think makes Frankie's Fish and Chip Shop such a special place to come to?
A. Well we think Shetland is a special place to come to. Fishing and aquaculture make up around a third of the economy here and seafood is a way of life. When you see the incredible quality of what comes out of the sea around us, you can understand why – it is truly outstanding! In a way all we have done at Frankie's is showcase Shetland's tremendous fish and shellfish – unusually for a fish and chip shop we have crab, mussel and scallop dishes on our menus alongside the more traditional haddock. The shop/café is also family-friendly and purpose-built, modern and clean and nice to visit.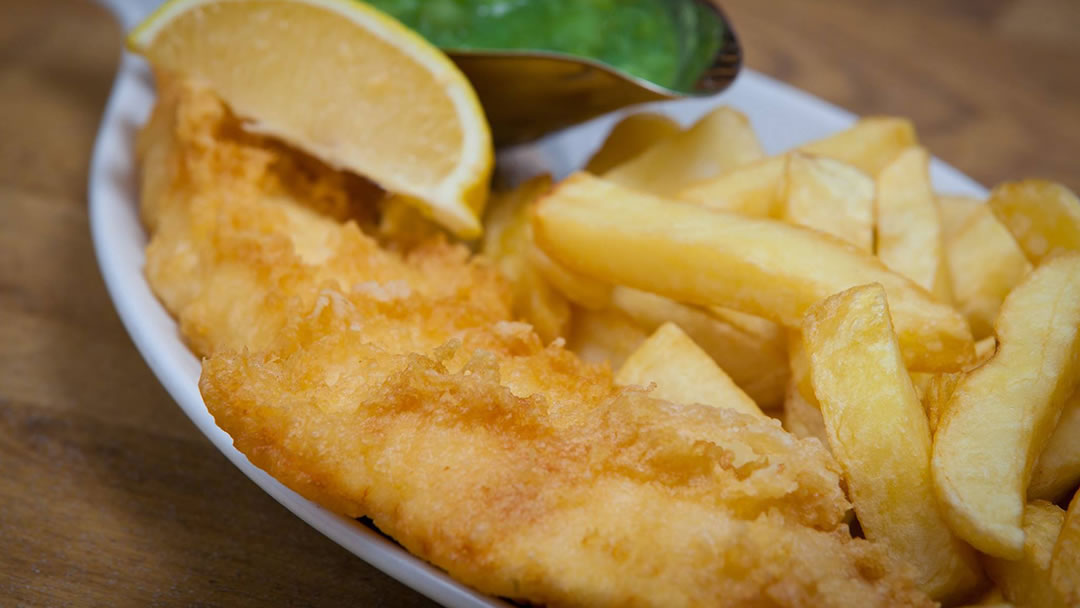 Q. What is the most requested item on your menu?
A. The good old fish supper – haddock and chips!
Q. Is there a meal on Frankie's menu you'd recommend to someone visiting Shetland for the first time?
A. I'm going to cheat with my answer to this one and suggest two things! You really have to taste Shetland mussels and scallops to believe how big and succulent they are. So steamed mussels or pan-fried scallops. (We have a range of tasty variations on these dishes but I'd recommend starting with the basic ones.)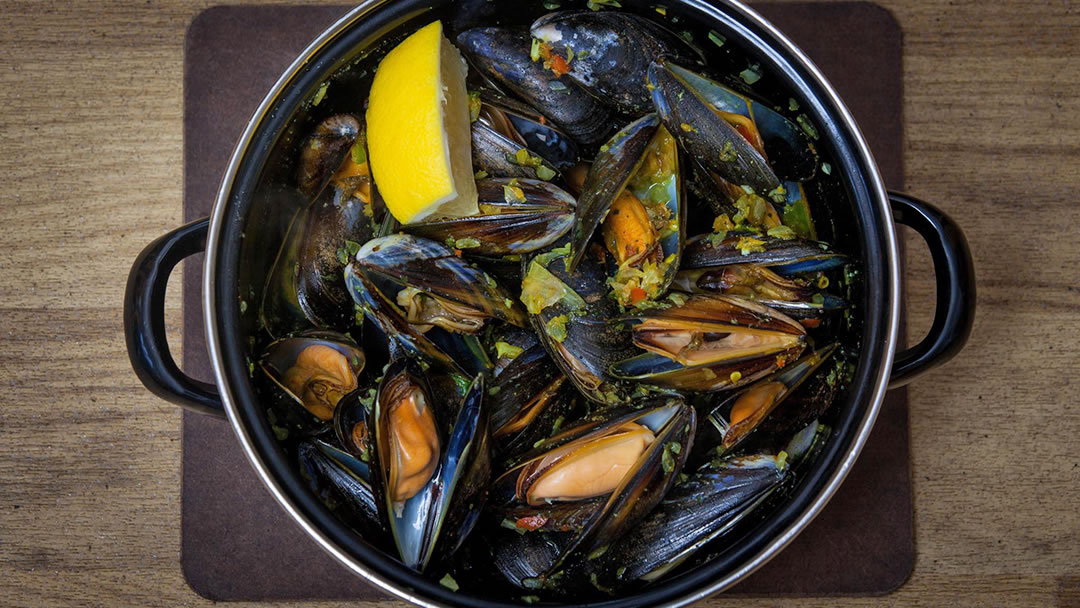 Q. Have you ever had anyone famous or from very far away sampling Frankie's Fish and Chips?
A. We've had the actor Dougie Henshall, who played Jimmy Perez in the BBC TV drama Shetland, which is based on the Ann Cleeves books (she's a big fan too). He was really down to earth and we didn't make a fuss over him, which I think he appreciated. We tend not to be starry-eyed here in Shetland and treat all our visitors hospitably and courteously. We've had people from all over the world including a couple from Australia who made the trip specially to come to Frankie's, or so they said!
Q. What's your personal favourite item on Frankie's menu?
A. My favourite dish from our menu would be a small breaded haddock accompanied by a few chips and our delicious homemade tartare sauce.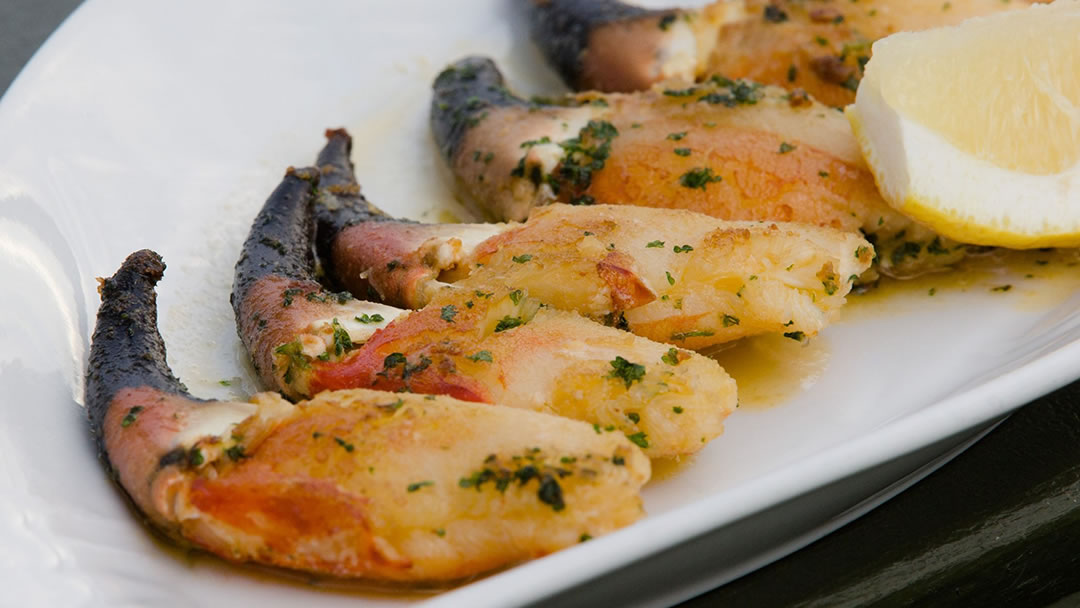 Q. What other fish and seafood could I get at Frankie's and where do they come from?
A. I've mentioned mussels and scallops, but you can also get crab. Our crabs come from the nutrient-rich waters around Shetland – one of the few MSC crab fisheries in the world – and are delicious. Also luscious langoustines, which we get from the BBC Trawlerman skipper Jimmy Buchan and are caught in the North Sea.
Q. Why is sustainability important to Frankie's Fish and Chip Shop?
A. Quite simply we think it is right not to exhaust natural resources and to leave enough behind for future generations. It is a Shetland tradition not to over-exploit fish stocks (born out of necessity – our ancestors simply would not have survived if they had done otherwise). We are really just carrying on that tradition. Of course it's now becoming increasingly important for consumers who don't want to be playing a part in destroying the planet. In all 98 per cent of the fish and shellfish we sell is Marine Stewardship Council-accredited, which means it is sustainably caught or harvested.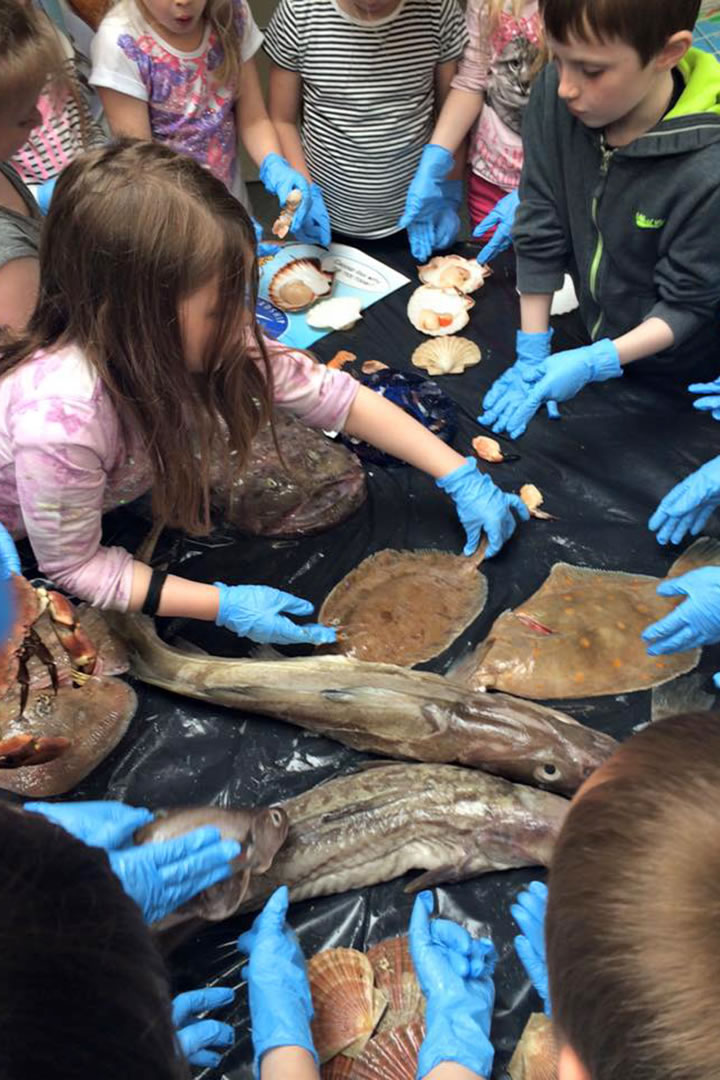 Q. Is it true that you educate youngsters about fish?
A. We do – and about sustainability. We run something called the Frankie's Fish Course, which involves taking along a box of fish and shellfish to different schools and giving them a fun presentation on types of fish (and some fishy tales!) before letting them get their hands on things like monkfish and crabs for themselves. They love it! Last year we got primary children to do some seafood drawings and put the best of them in a 2015 charity calendar which raised £800 for the Archie Foundation and Anthony Nolan.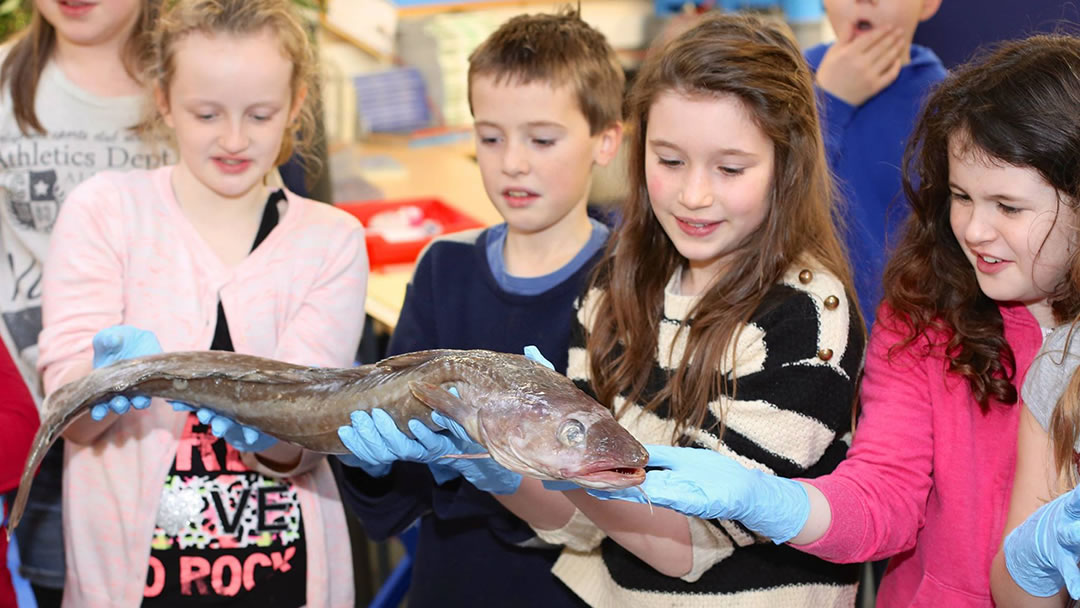 Q. What are the busiest days in Frankie's calendar?
A. The Voe Show is held in the nearby village of that name every August. Increasingly it seems that everybody who has been at the show stops off for their dinner or tea on the way home, which is great! The most recent one last August was our busiest day ever. Until that point one of our charity events, the Charity Seafood Weekend, held in June, had provided us with our busiest day – the Saturday.
Q. We've heard Frankie's Fish and Chip Shop do great charity work – can you tell us a bit about that?
A. Yes. Our Charity Seafood Weekend involved Janne and Kristian Johansson of the Edinburgh/Glasgow Mussel Inn, who came to Frankie's to help us cook some very special dishes, the proceeds of which (more than £1,500) were donated to the local branch of the Fishermen's Mission, an important charity which supports the fishing community. We also hold the Frankie's Charity Cycle Sportive every year. We held our fourth at the end of August last year and succeeded in raising more than £10,000, again for the Fishermen's Mission. We do a great deal of small-scale charity work throughout the year as well. It's very important to us.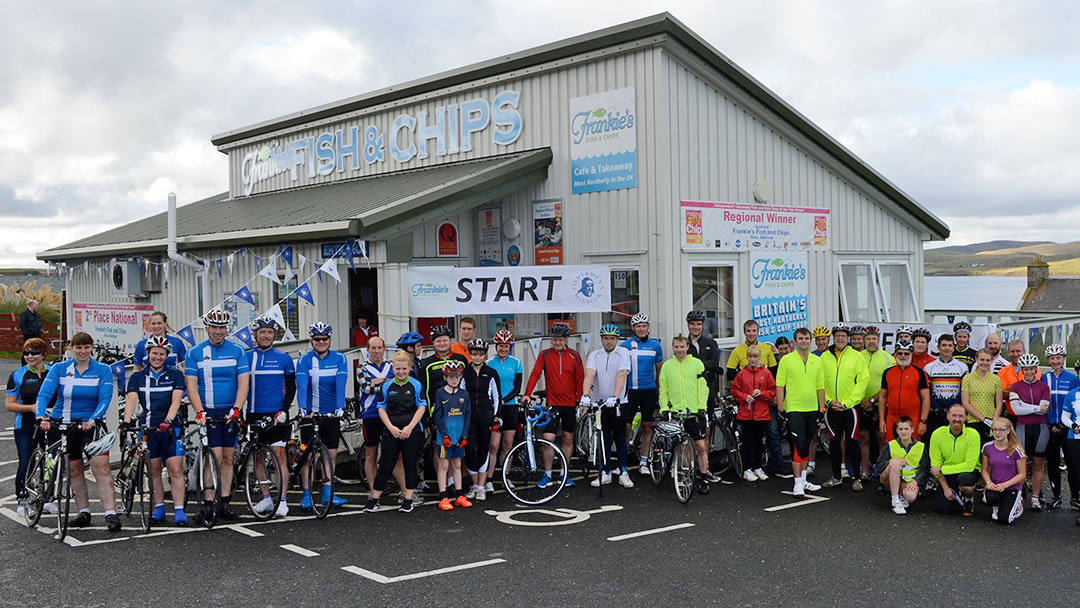 Q. 2015 is the year of Scottish food and drink – do you have anything new planned for this year?
A. We are supporters of the Year of Food and Drink and, yes, we've got lots planned. We'll be sharing our plans with you when we have finalised the details, so check out our website at www.frankiesfishandchips.com and follow us on Facebook and Twitter to keep up to date.
Q. Would you ever consider moving Frankie's Fish and Chip shop from Brae (to say, close to the NorthLink Terminal in Lerwick?
A. We're always delighted to serve NorthLink customers and staff, but I'm afraid they'll have to come and see us rather than the other way around. Maybe you could consider moving the NorthLink terminal to Brae!

By
Magnus Dixon
Orkney and Shetland enthusiast, family man, loves walks, likes animals, terrible at sports, dire taste in music, adores audiobooks and films, eats a little too much for his own good.
Pin it!