Even with my dire sense of direction I managed to find this true gem, an understated adventure in the heart of Lerwick. Clickimin Broch is a must stop on any Lerwick visit, and you'll find it at the edge of Clickimin loch, close to Tesco, with the entrance opposite a petrol station!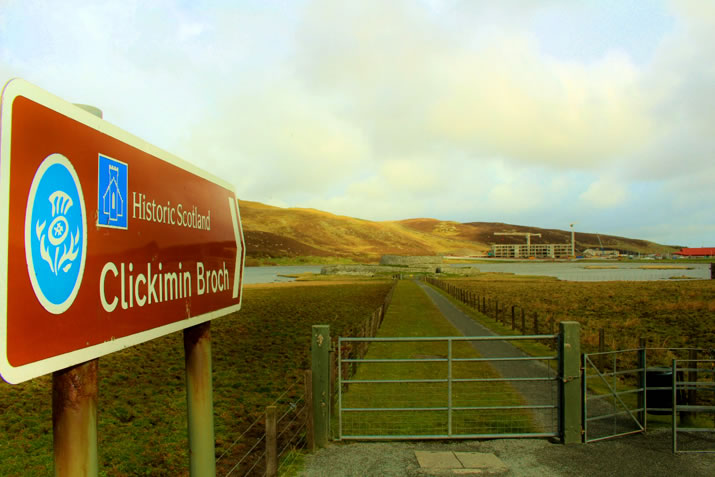 Brochs are unique to Scotland and the majority can be found in Shetland, Orkney and Caithness. There are 120 candidate brochs listed in Shetland. The word broch is Scottish and means fort.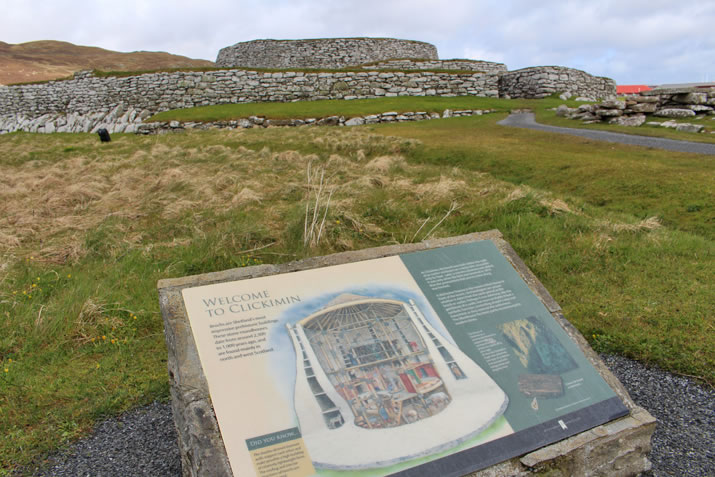 Brochs are defensive structures from the Iron Age, and these best way to describe them is that they are similar to the keep of a castle. Some stand alone (like Mousa Broch) and some are surrounded by clusters of smaller dwellings (like the Broch of Gurness in Orkney). Brochs are round tall buildings with a spiral staircase running between the inner and outer wall.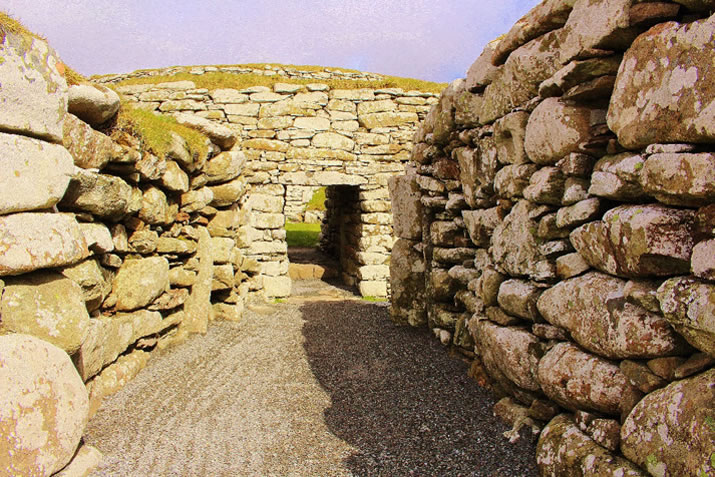 The fact that brochs are all so solidly built, all have a single entrance, and are all located in places which are hard to reach, led archaeologists to believe that they were places of refuge for the Iron Age community and their livestock when they were attacked.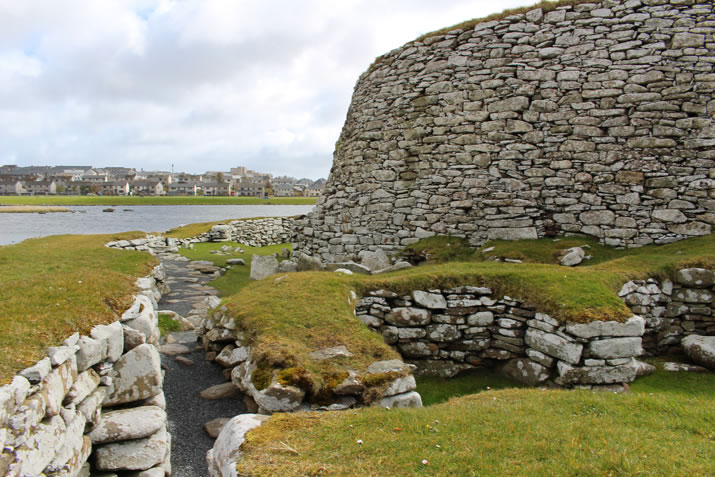 Clickimin Broch was certainly located in a good defensive position. It was built on a small holm in the middle of the Clickimin Loch which could only be reached by causeway. The holm was first occupied in the Bronze Age by a small oval house, which was later overtaken by the larger broch. In 1874 the water level of the loch was reduced making the broch much easier to visit.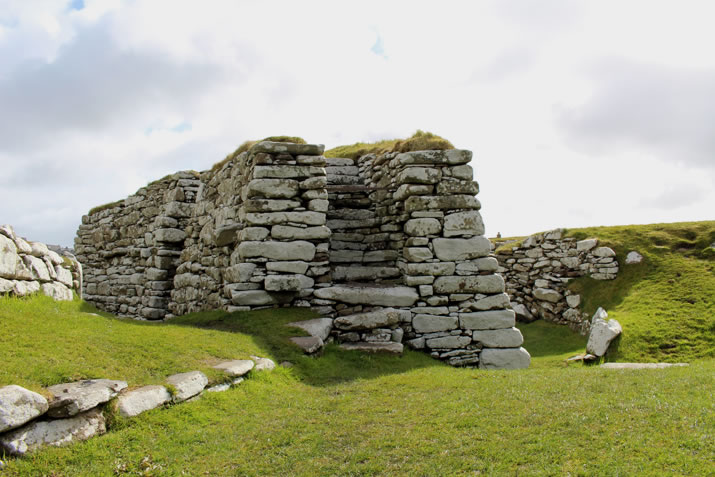 Clickimin Broch was occupied from 1,000BC to 600AD, is 20m in diameter and was originally 12-15m high. Unusual for brochs, Clickimin has a symbolic defensive entrance – a blockhouse (pictured above) in front of it's entrance. This resembles another, shorter, curved section of broch wall and it stands between the broch and the causeway.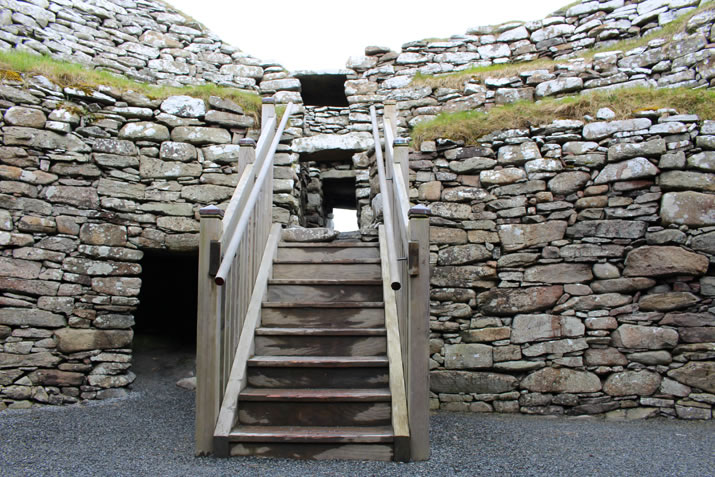 For the young at heart there's plenty of places to hide, jump, run and climb around Clickimin Broch. Whilst you're there see if you can find a slab of stone with two footprints carved into it on the causeway – what do you think the meaning of this was?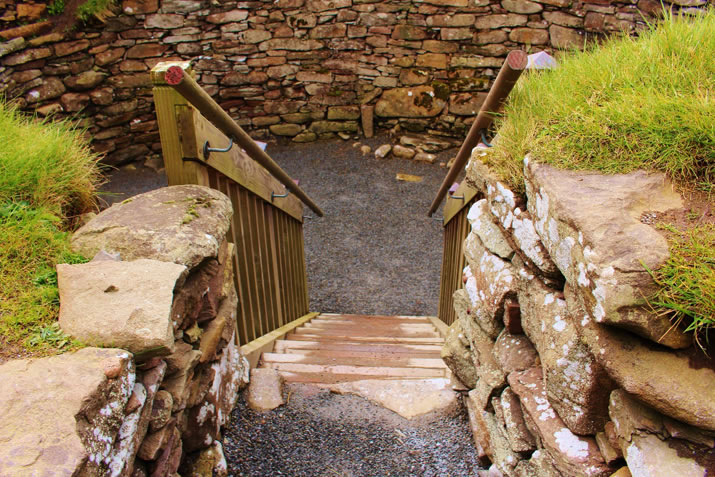 One final note about brochs in Shetland – in Old Norse brochs were called borgs or burgs – and this gave Sumburgh Head its name – there was a broch where the lighthouse now stands. Again – another good defensive position!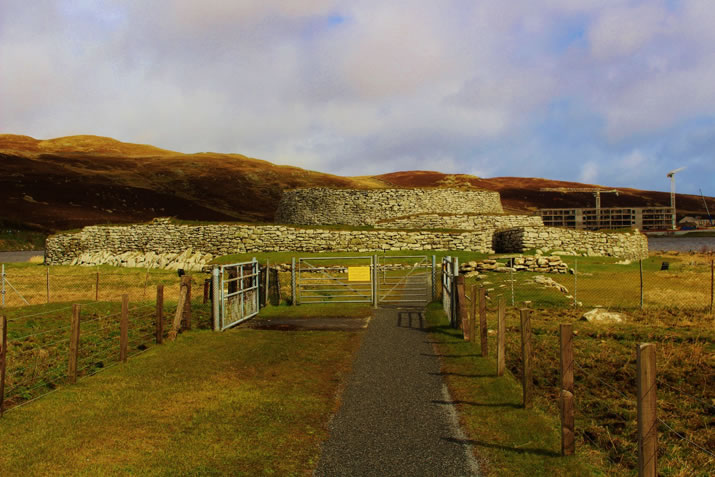 I'd highly recommend a visit to Clickimin broch – it's a true treasure to be found and explored and it's easy to get to, on foot or by car. Entrance to the broch is free, and it looks over a gorgeous loch – Clickimin Broch really is a must see!

By
Shona Lawrance
A young quine with an energetic sense of adventure but dire sense of direction! Born and bred in the North East of Scotland with a long loving appreciation of the Scottish islands.