E-scape to the Shetland Islands with your electric vehicle
For electric vehicle (EV) drivers looking to take their car on holiday somewhere new, we'd recommend visiting the beautiful Shetland islands.
We hope that EV drivers will embrace Shetland as a hassle-free holiday destination. There are over 30 public charging points dotted all around the islands, and the short distances between places in Shetland make the islands perfect for EVs with even the shortest range.
One of the great joys of Shetland is the stunning landscape, and when driving around on the smooth island roads you'll find a breath-taking view around every corner.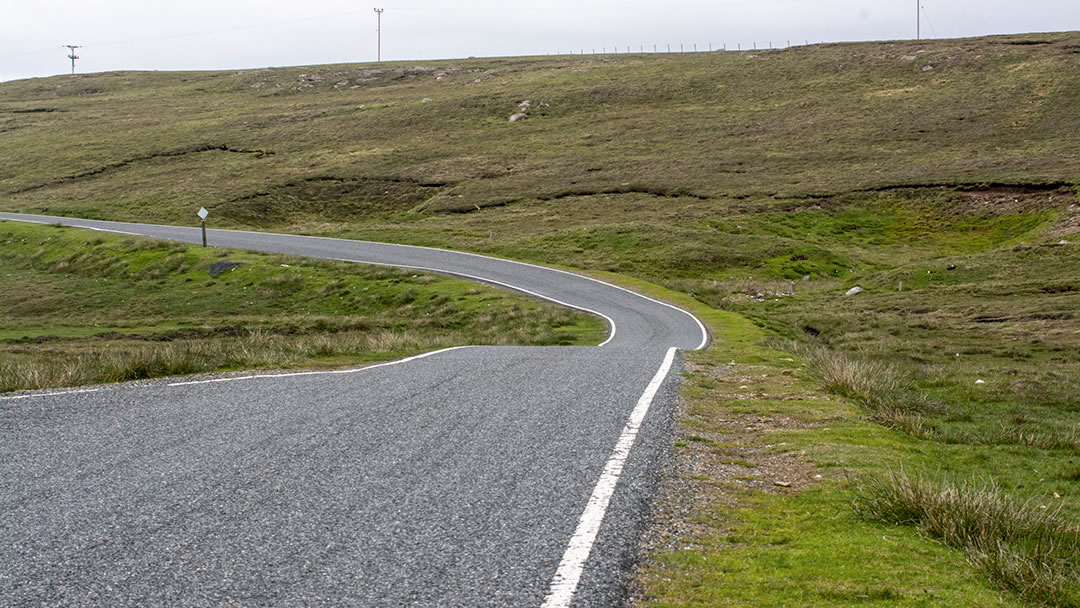 EV owners might be concerned about opportunities to recharge when travelling to parts unknown, but they needn't fear. Shetland has a robust EV charging infrastructure, which should come as no surprise, as the Northern Isles have a reputation for pioneering green technologies.
In fact, Shetland has the potential to generate huge quantities of renewable power from its wind and waters and has bold ambitions for the future. In 2021, Shetland made headlines when Nova Innovation installed an EV charging point on the island of Yell. This public charger powers cars purely with tidal energy, in what's believed to be a UK first.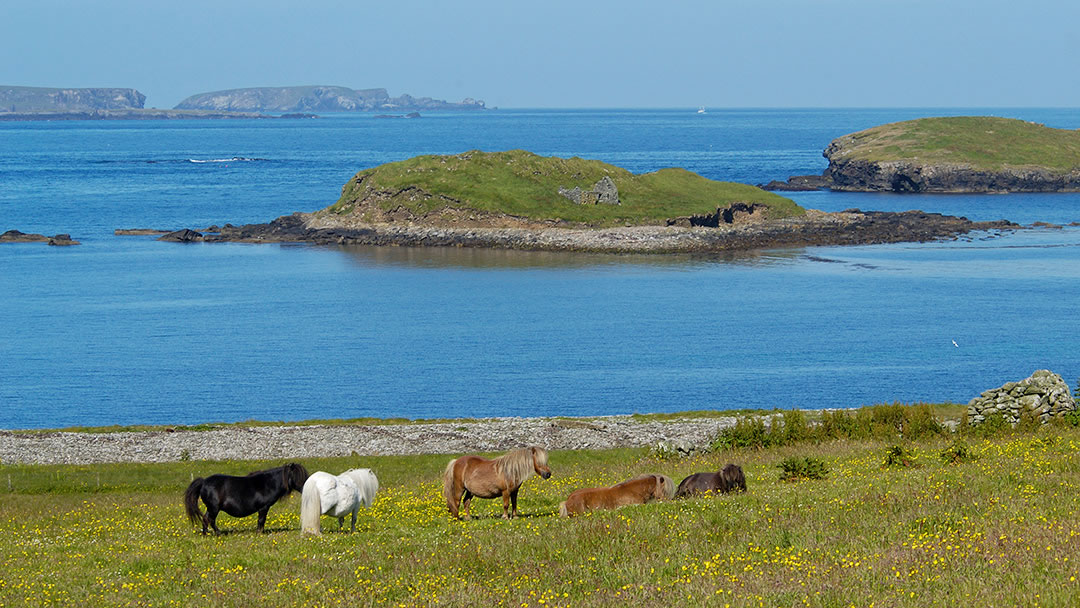 Visitors will find over 30 public charging points (mostly 7kW AC fast charge posts with around five 50kW DC Rapid Chargers) dotted all around the islands, making Shetland a great destination for EV owners. The islands are also perfect for EVs with even the shortest range. The longest road distance between any two points on Shetland is the 85 miles between Sumburgh Head in the far south and Skaw Beach in the most northerly island of Unst.
We hope that EV drivers will embrace Shetland as a hassle-free holiday destination. Nowhere is more lovely than Shetland in a shifting dapple of sun and rain. There are voes and beaches to discover, otters, puffins and orca to spot, Viking ruins to explore and brilliant nights out with amazing food and a lively soundtrack of toe-tapping traditional music!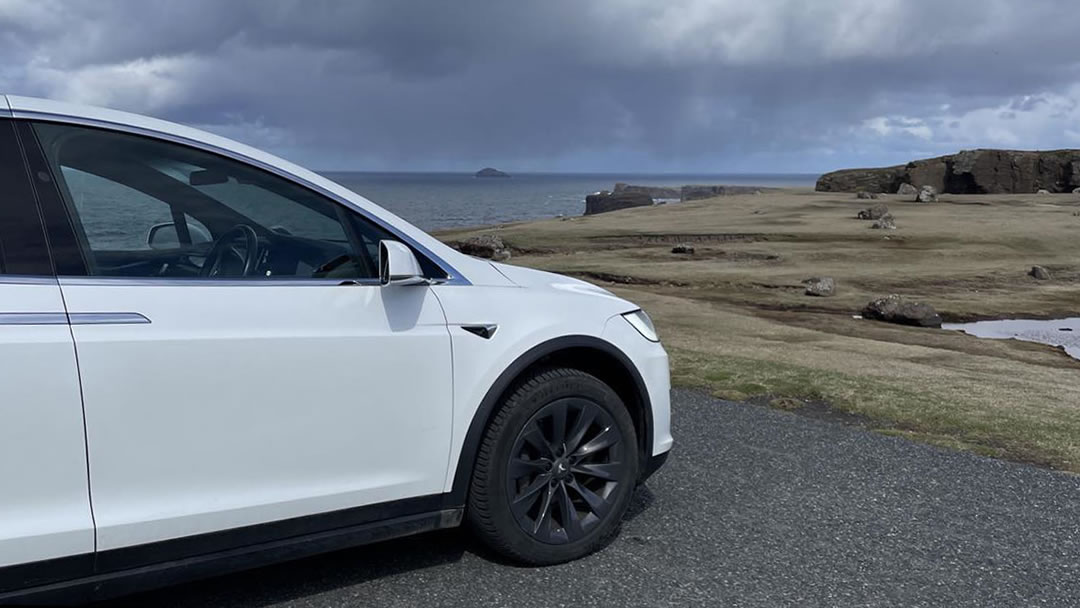 Plug in at NorthLink Ferries terminals
Even before arriving in Shetland, EV drivers will find that the NorthLink Ferries team is keen to help them on their way. We are installing EV charging points at each of our ferry terminals, so that EV drivers can charge their car while they wait to board our ships and hit the ground running at their destination.
There are four ChargePlace Scotland 7kW AC fast charge posts available at the Aberdeen Ferry Terminal and charging point installations are scheduled to get underway at Lerwick Ferry Terminal in Shetland and the Kirkwall / Hatston Ferry Terminal in Orkney soon. Customers will also find a Charge Place Scotland 50kW DC Rapid Charger at the Scrabster Ferry Terminal in Caithness and two 7kW AC fast charge posts at the Stromness Ferry Terminal in Orkney.
Please speak to a member of staff when you arrive at a NorthLink Ferries terminal who will be pleased to help you access the charging points.
Also nearby in Aberdeen there is a Tesla Supercharger at Wellington circle, 7kW chargers in the Union Square multi-storey car park, and 150kW chargers at MFG North Esplanade West.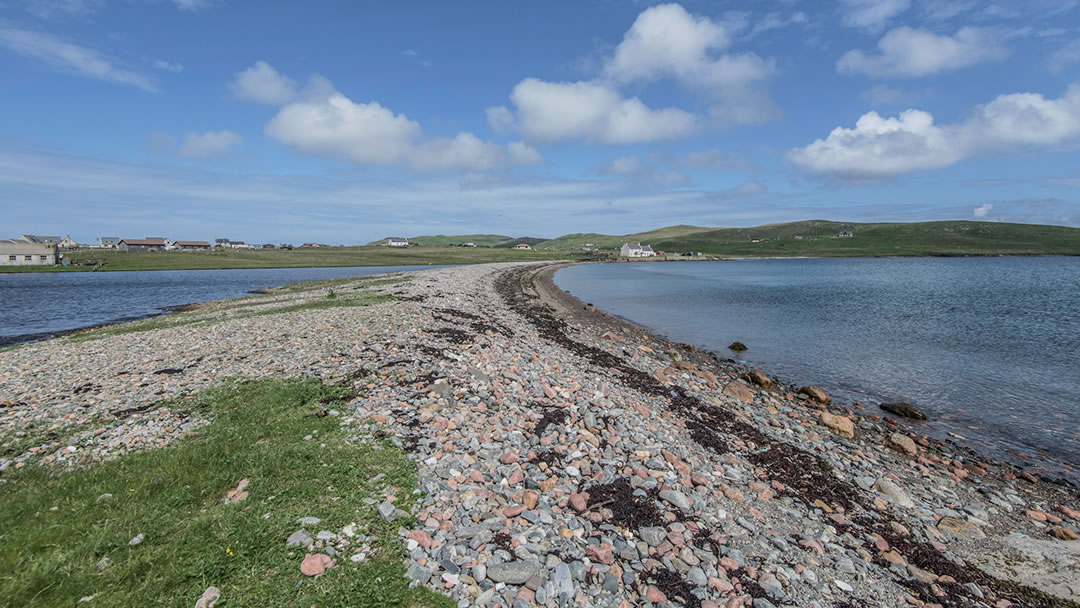 Top Tips for EV owners visiting Shetland
I own an EV myself, so along with some pals from Shetland, we have compiled a list of top tips.
The majority of public charging points on Shetland (and in the rest of Scotland) are run by ChargePlace Scotland. We would strongly recommend requesting a ChargePlace Scotland card a few weeks before you visit for easy access to their charging points.
Most chargers in Shetland are 7kW AC fast charge posts, with around five 50kW DC Rapid Chargers, which tend to be found in Lerwick and other key locations in Shetland such as Sumburgh Airport. All ChargePlace Scotland Rapid chargers in Shetland have three connections for Chadamo, CCS and AC equipped vehicles (AC for older Renault Zoes to Rapid charge).
Supermarkets sometimes have Pod Point chargers, so make sure you download the app and put some money in your Pod Point wallet before charging.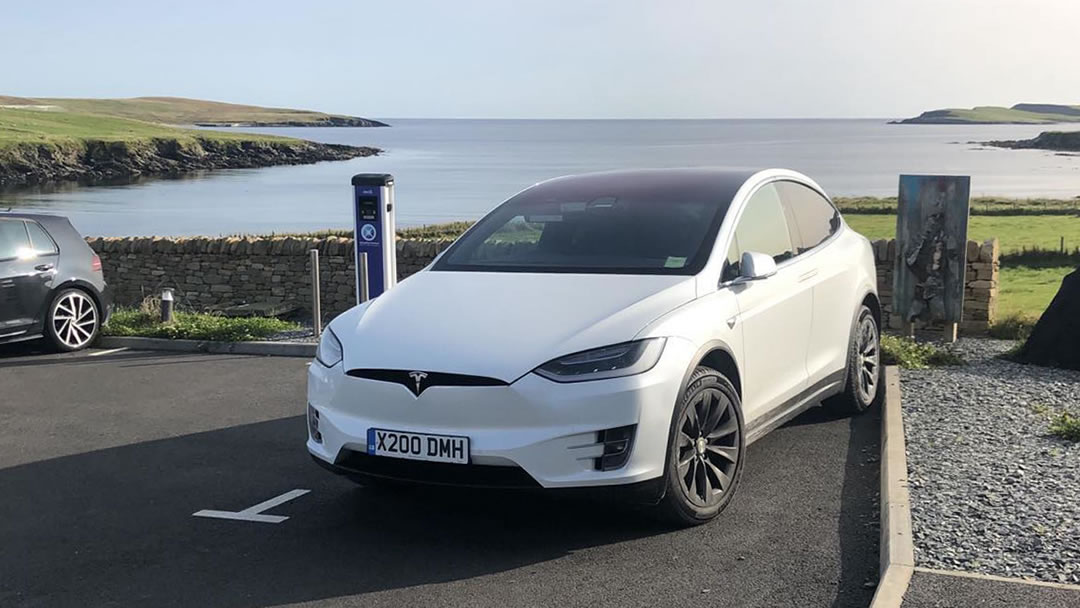 Many public chargers will fine you if you stay beyond the maximum charging time. This is usually an hour, but details should be found on the machine itself. Please be considerate to other EV owners by moving your vehicle away from the charging space once charging is completed.
Public chargers in Shetland tend to be in towns and villages, so make time to visit some shops, restaurants, cafes, galleries and museums whilst you wait. You may wish to consider choosing accommodation in villages with public 7kW AC fast charge posts, so you can fully charge whilst you sleep!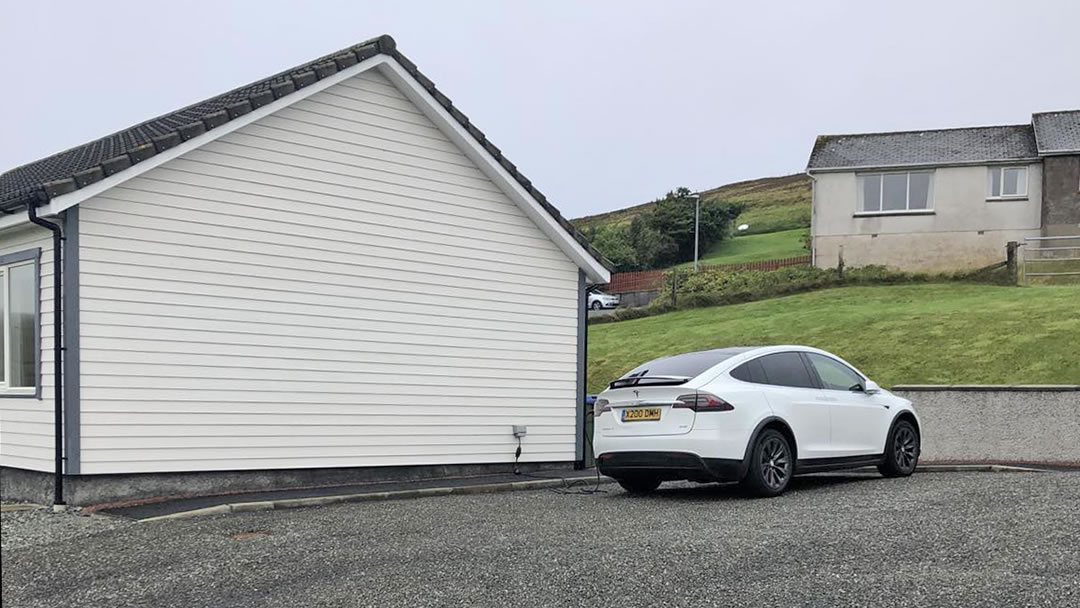 Some accommodation providers in Shetland may offer EV charging facilities. If you have a three pin plug charging cable, other accommodation providers may be willing to let you charge overnight from the domestic supply if you offer to pay them (perhaps a little bit more than what you use.)
Range may be affected by colder weather, and air resistance can cause a higher energy consumption. Remember when planning a journey in Shetland that it is the most northerly place in the UK and one of the windiest!
Be aware that, although distances between places in Shetland are short, you can cover a significant number of miles in a day whilst exploring.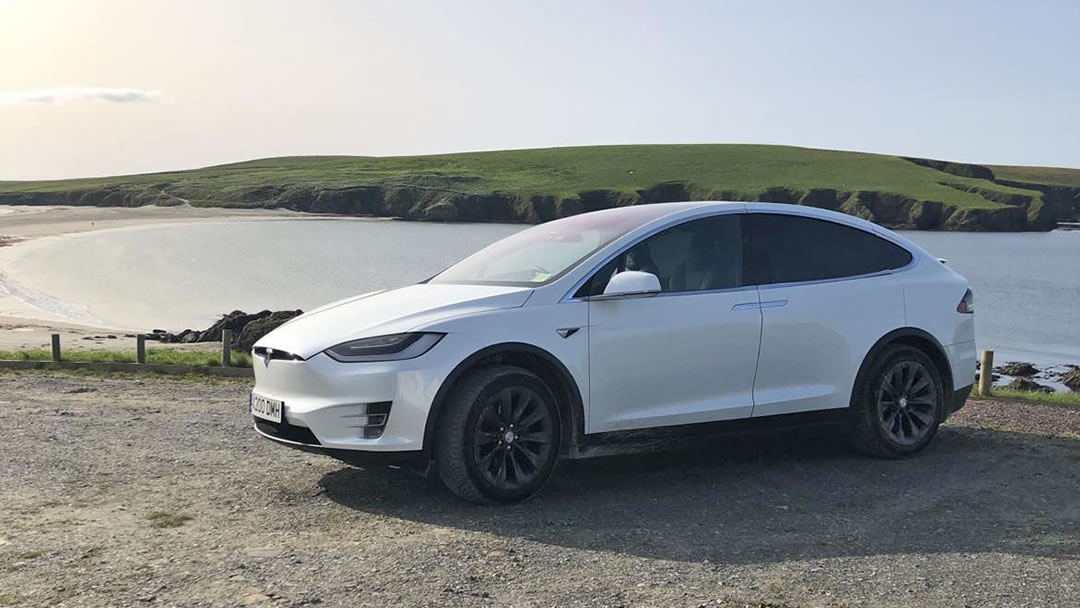 When planning your route north to Shetland, there are many stops that have ChargePlace Scotland Rapid chargers, so use the onboard maps in your car or online maps such as Zap Map. To help you with planning, the number of miles needed for the journey north are as follows:

Glasgow to Aberdeen is 145 miles.
Edinburgh to Aberdeen is 127 miles.
Glasgow to Inverness is 187 miles, Edinburgh to Inverness is 155 miles and from Inverness to Thurso it is 110 miles.

Ensure you have plenty of time to reach your destination and be aware that vehicle and passenger check-in closes 30 minutes before each NorthLink sailing.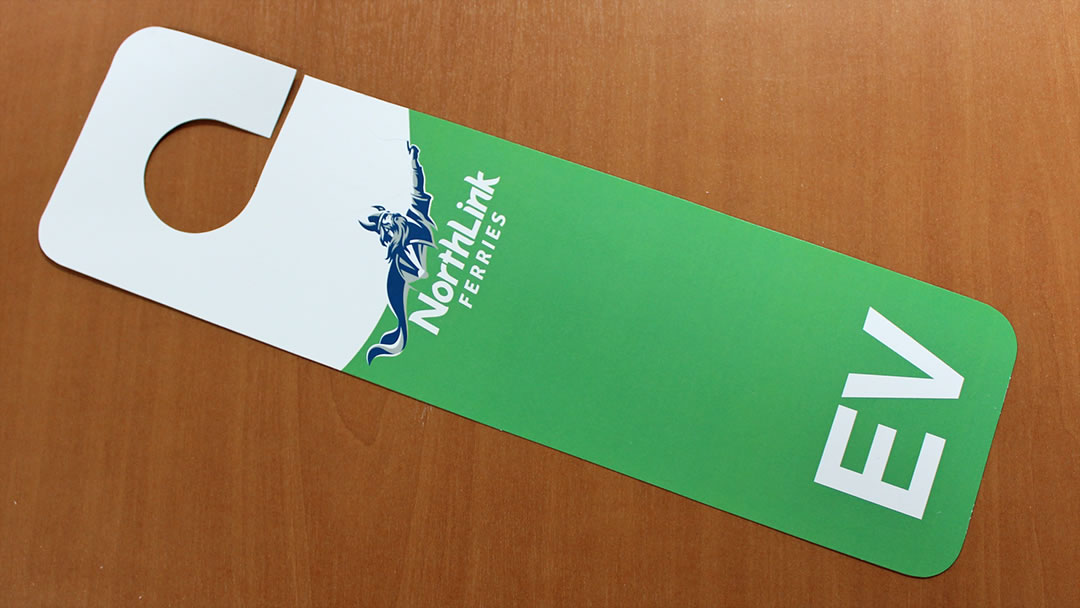 When you check in, you will receive a green EV hanger. It can hang from your rear-view mirror and should be clearly displayed when your vehicle is on the car deck. The reason for this is that NorthLink Ferries have procedures specific to the carriage of EV's, which would be implemented in the unlikely event of an EV vehicle fire. These green placards allow our onboard staff to identify the location of hybrid or EV vehicles once onboard. When you arrive at your destination, store your green hanger carefully so that it can be reused on your return journey!
Make sure you have plenty of fun driving around the Shetland islands in an EV – the roads are brilliant in Shetland, and EVs are perfect for frequent stops at interesting places before continuing on again. There is so much to see along the deep blue voes, the purple sheep-covered hills and glittering shore of the Shetland Islands.

By
Magnus Dixon
Orkney and Shetland enthusiast, family man, loves walks, likes animals, terrible at sports, dire taste in music, adores audiobooks and films, eats a little too much for his own good.
Pin it!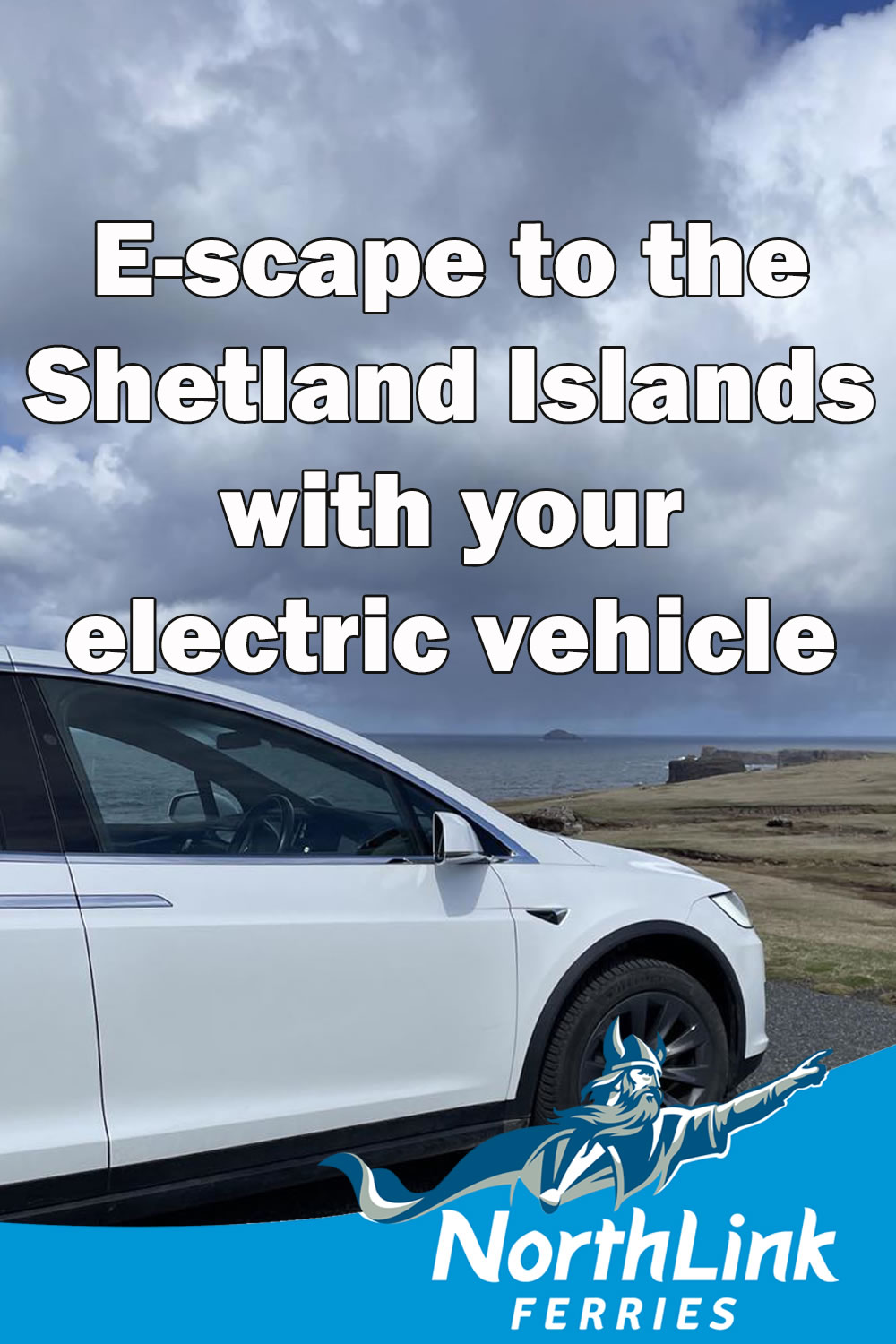 Header image: EVs in Shetland – a Tesla Model X at Bigton photo © Copyright Deryn Harvey