Being the Guizer Jarl – an interview with Neil Robertson
Neil Robertson was the Up Helly Aa 2015 Guizer Jarl, or Chief Guizer, leader of the Jarl Squad. The Jarl's Squad are Vikings for the day at Up Helly Aa, Lerwick's annual fire festival. The Jarl's Squad also perform other duties in Shetland and beyond throughout the year. Now that the dust has settled after the big day, Neil very kindly agreed to answer some questions about the experience!
"When folk are all circling around you in the park, you have to be aware of the torches and flames. It's like being a witness at your own funeral, a weird feeling. It reminded me of a James Bond film. A surreal experience, but a beautiful one none the less."
Q. Now that Up Helly Aa is over – did you enjoy the experience?
A. It's not really over – it's more or less a two year shot than a one day thing! Overall it was brilliant, a big yes for enjoyment! It was a lot of hard work, the Jarl suits really heavy – about 3½ stone. There are lots of events that follow Up Helly Aa that the Jarl and his squad have to attend. The following Friday we tend to go around and see some of the nurseries and special needs kids that we didn't get the chance to see on the day. It's much more relaxed, a bit more time to spend with the kids – the children's faces when they see the Jarl's Squad – it's absolutely uplifting to see them!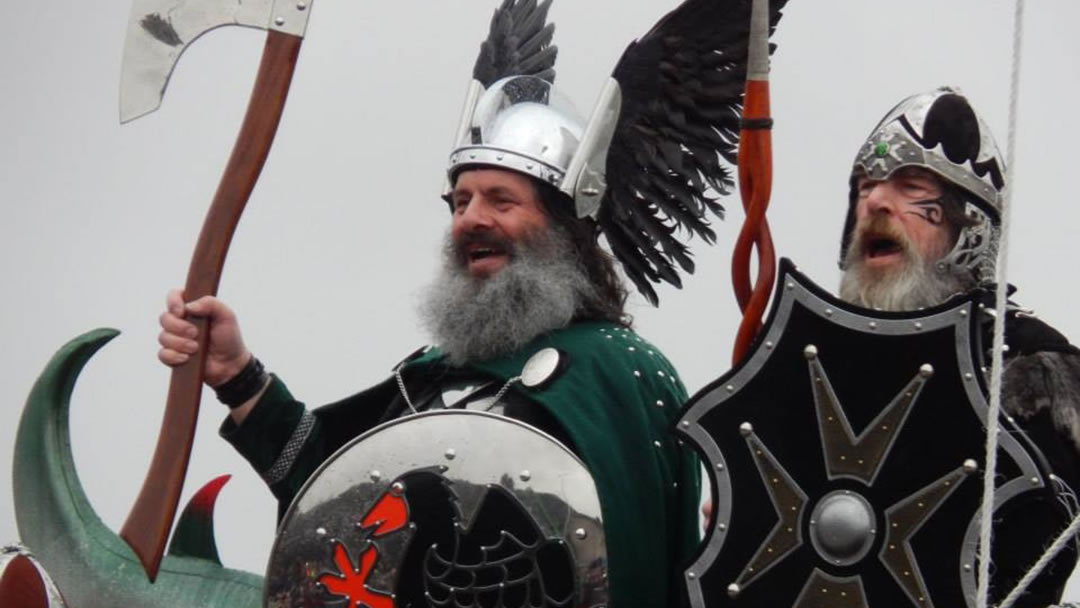 Q. What time did you wake on the morning of Up Helly Aa, and when did you eventually get to bed?
A. About 6 o clock – I had to go and visit the torch boys and galley boys who eat their breakfast on the go at that time. I turned up with a bottle of champagne and wished them all the best for the day then I had to join my squad at 7:30am. I eventually got to bed the following day. I gave breakfast a miss as I had to rest my calf muscles having torn one in October – so it was about 9:30am. If I had gone for breakfast it would have been nearer 11am – then I had to be up and at 'em to organise the house ready for visitors, so I was up about 2pm. There's a fair bit to do on the Wednesday night visiting all the clubs such as the British Legion and the Lerwick boating club then there's an after party in the TA until 2am in the morning! Thursday is a rest and recuperation day. The Friday night is the big squad dance which is akin to a wedding; the amount of organisation it takes; top tables, invites, decorations and presentations and if you're lucky you can have a dram in amongst it all!
Q. What was the best part of the day as Guizer Jarl?
A. The best part for me was probably the civic reception in the town hall where all the great, the good and maybe not so good gather there. I'm a council employee so it was a rare chance for me to stand up and have all the councillors listen to me! It's a nice way to start the day – the convenor has a wee speech where he takes the mickey out of the Jarl and the Jarl gets to answer back and toast Up Helly Aa.
Q. How did it feel to be on the Galley surrounded by all those flaming torches?
A. It's a surreal sort of feeling – when folk are all circling around you in the park, you can see them trailing around you. You have to be aware of the torches and flames. It's like being a witness at your own funeral, a weird feeling. It reminded me of a James Bond film. A surreal experience, but a beautiful one none the less.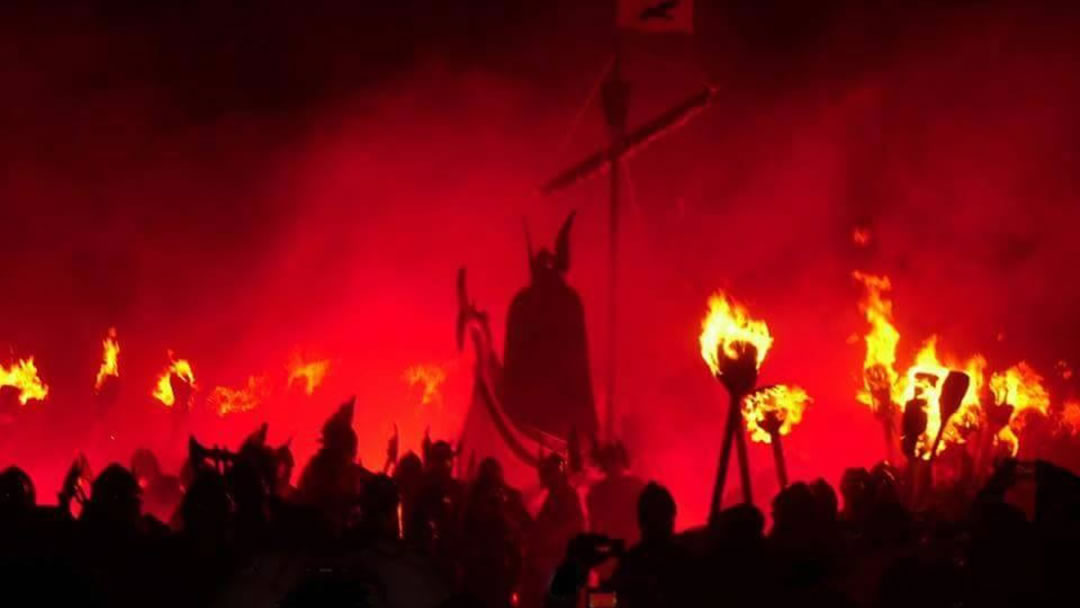 Q. Can you tell us a bit about yourself? What do you do when you're not the Guizer Jarl?
A. I'm a roads engineer with the council's roads department. Up Helly Aa has been a huge part of my life for the past 15 years and working as an office employee is useful as I'm always at the end of a phone or email. Next year's Jarl in the South Mainland Up Helly Aa is one of my colleagues – another colleague is 2017's Delting Up Helly Aa Jarl – lots of other colleagues' have been involved so lots of Up Helly Aa chat goes around our office, lots of experts!
Q. Growing up, when were you first aware of Up Helly Aa and when did you first participate?
A. I think my first memories are really fairly early – my dad and uncle were keen guizers and my grandmother, mother and sister were all hostesses, my sister still is! Always a lot going on in my family around Up Helly Aa. I would always remember the night when my Dad or Uncle Jim came home with a suit in a bag, and they wouldn't want anyone to see it – it was a big secret – I'd be keen to get a peek at this before the big day.
Q. You returned from South to Shetland in 2000. Can you tell us a bit about that?
A. I moved away in the mid 90's to get some experience in different work – it proved to be a good decision as I made a lot of really good friends. Having done a fair bit of transport policy work while I was away I got offered a job back in Shetland in the planning department – then I got my job in the roads department in 2002 as the road network engineer. I took lots of holidays home during my time away and folk thought I was nuts going on holiday to Shetland in January but they didn't know about Up Helly Aa!
Q. When did you join the Up Helly Aa committee?
A. I enjoyed a trip to Aberdeen for the Festival of the Sea with a schoolmate and his squad along with a number of other squads and had a ball with everybody. Perhaps with the help of some lubrication I was then encouraged to stand for election onto the committee!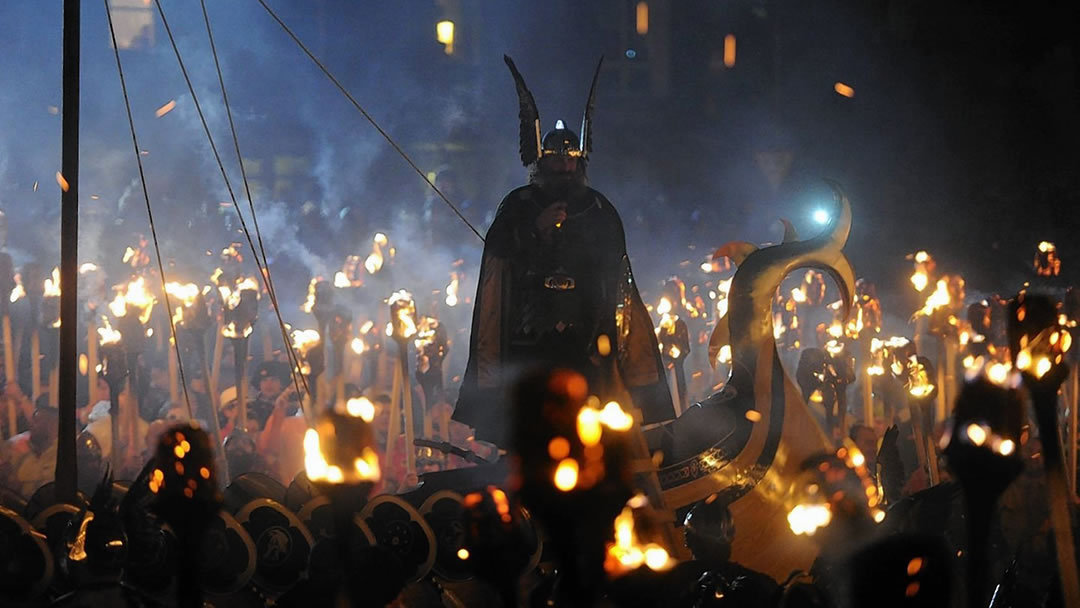 Q. When did you find out you would be Guizer Jarl in 2015?
A. When you are elected onto the committee you become the 'water carrier' – traditionally a role the newest member takes on and ensures everyone's glass is topped up at events. The newest member nowadays also becomes the caretaker to help look after the shed and exhibition workshops for the first year which gives them a fantastic grounding in everything that's there and you are then aware of the amount of work that goes into the night from the start. In your 16th year you're the Jarl and 17th year you're the Marshall in charge. I only did 14 years and in my 15th year became the Jarl. This was because a member stepped down from the committee.
Q. Was there a particular Guizer Jarl that you looked up to and thought, 'I'd like to be like him'?
A. I was in the Jarl's Squad in 1971 as a 9 year old boy and you're impressionable at that age up to about 13. I remember being very excited by Up Helly Aa at that time and a couple of my teachers were Jarl's one after the other 1974 and 75. When I was at school we had to respect our teachers! These two guys have been lifelong friends of mine from when I left school. One of them taught me silver craft, Jim Kerr – one of the nicest people I know! He would definitely be one of them and Morris Manson, who I have a small libation with on a very regular basis! So I looked up to them as teachers' and when they were Jarls they were something else; they've been friends all the way through!
Q. How long ago did you and your Jarl's Squad start preparing for this Up Helly Aa?
A. Financial preparations started about 7 or 8 years before – in 2026 Brydon Wright is the Jarl, he just sent me a message about starting to plan in April! Design was probably about 2 years before. You don't want to come up with something too soon in case any of the Jarls in between have similar ideas. The year before I got to see what the previous year did but we didn't start making anything until about the end of April 2014. As for the beard; I usually grow a bit of a beard every year Up Helly Aa all my days but would rarely have a full beard. I had about 20 months' worth of beard for Up Helly Aa! The Jarls suit is the same basic suit every year, and the one thing that can look different is a beard so I thought, 'Let's go for it'!
Q. Can you tell us why the Galley was called Nils Olav?
A. The guy I portrayed was Olaf Haraldsson. Because he had been done before the name of his galley had also been used before. There was another name for the Galley but it was long and more complicated to carve! So I used Google and strangely enough the first thing I found was a Wikipedia entry for Nils Olav who is a King Penguin that resides in Edinburgh Zoo. He is also the Colonel-in-Chief of the Norwegian Royal Guard. My nickname happens to be Penguin so I thought that has to be it. It was quite appropriate!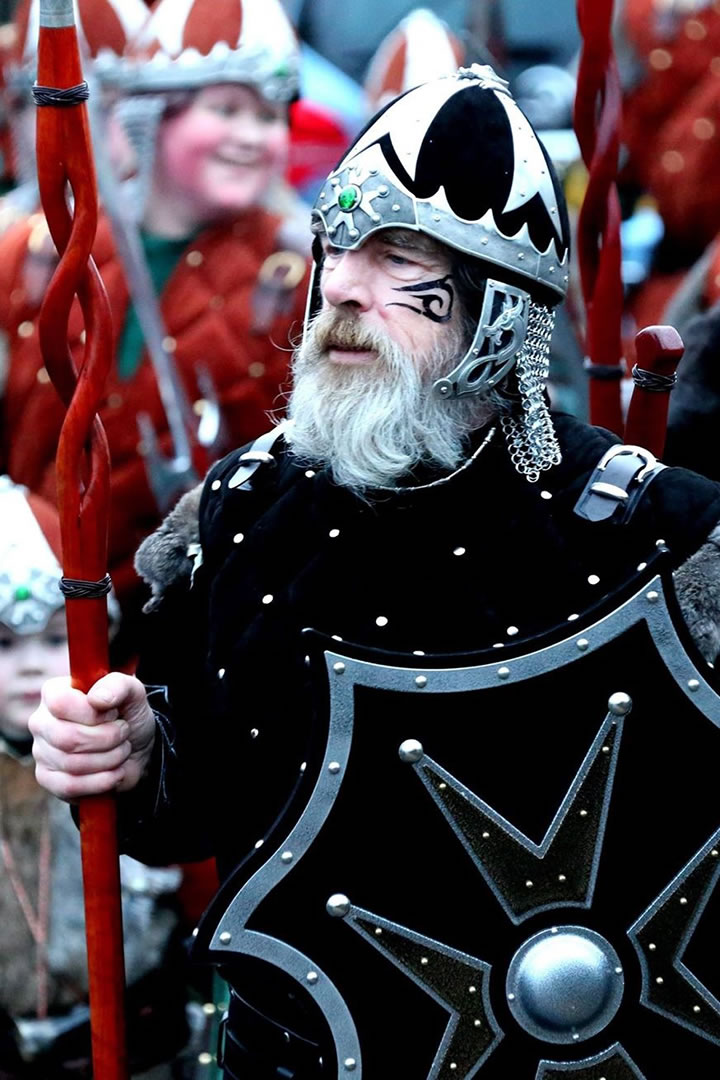 Q. Where did you get the inspiration for the Jarl's Squad's outfits?
A. Lots of ideas were getting pushed around the office and one of the guys sent me a link to a Japanese gaming artist's character from a game called 'The Viking Battle For Asgard' – there were hundred of different characters (some of them bare chested which wouldn't be any use!) but I chose one, printed it off, ran it through a program so that it looked pencil drawn and added colours myself. There was very little discussion about it – I presented it at a meeting and everyone said yes, let's go for that!
Q. Who makes the Viking outfits?
A. We make most of it ourselves – there are certain items like the castings for the axe heads, swords and spears that we make plugs for and then send to a foundry down in Sussex, Taylors foundry – they then produce a cast for us and polish it up. When the first dagger blades came back you could've probably shave with them. We put them back! All the leather work was done by a guy called Pete Tucker who has worked on suits for big films like 300 and the TV programme Vikings! He came up to Shetland and gave us a workshop on how to assemble the leather! It was great and if any other squad were to work with leather; it's a very cheap item to add into your total cost – it saves you a fortune!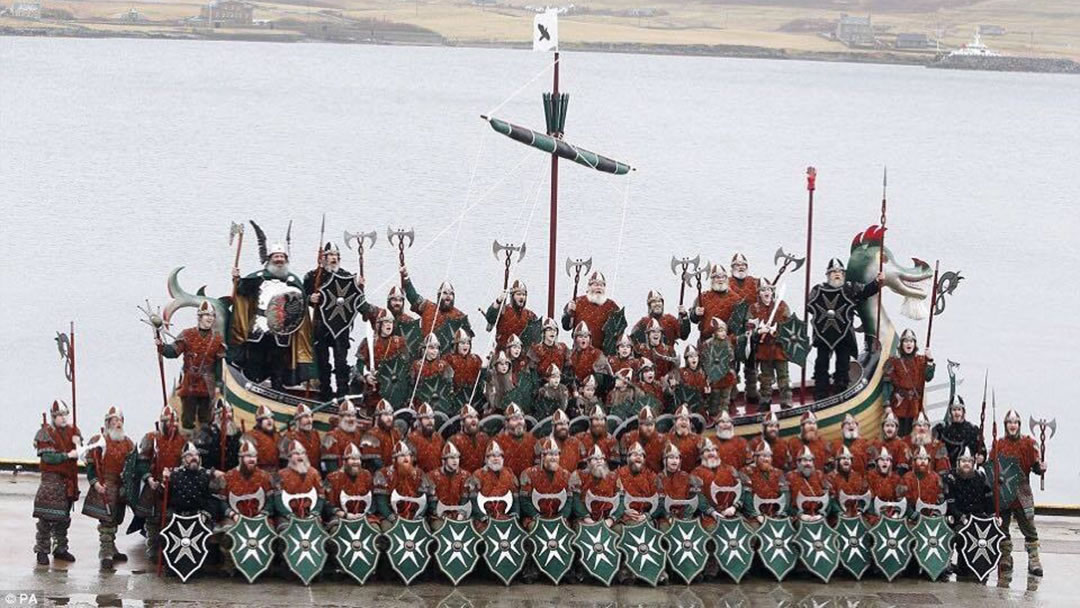 Q. You were representing 'Olav Haroldsson' – can you tell us a little bit about him?
A. He was crowned King of Norway in 1015 – 1000 years on it seemed appropriate to represent him! He was an incredible man, his father died while his mother was in childbirth with him. By the age of 12 he was given his first command of a longship and led raiding parties in the Baltic areas – unbelievable and may be exaggerated but impressive all the same! He ended up in England fighting, and the nursery rhyme 'London Bridge is falling down' is thought to have come from him. It was Southwark Bridge at the time, in part of the battle he brought the Longships up and they put ropes around the bridge piers and they pulled it down, which stopped the enemy from having a hold point on the bridge! He learned about Christianity and united all the small kingships in Norway as one country and he changed the Norwegian laws from a feudal system to a Christian Law system and that's the basis on the country Norway is today.
Q. The Junior Jarl was Magnus the Good who was Olav's son. Do the Junior Jarl's Squad and the Jarl's Squad meet often?
A. No, most of it is quite separate, we see the Junior Jarl's Squad in the morning of Up Helly Aa when we walk into the town centre and at the schools. Then we next see them when they have their junior festival at about 5:30pm and give them a cheer. The next time we see them is on Friday at the squad dance. We get invited to lots of events together, but it tends to be one or the other that goes.
Q. What was the Jarl's Squad theme song this year and why?
A. We picked the Monkees 'Daydream believer' –one of our musicians Mike Philips had been with the Jarl's Squad the year before and he said the important thing is to get a song with a chorus that pretty much all the women will sing!
Q. Finally, if you were to advise a visitor to Shetland about Up Helly Aa, what would you say?
A. Book your travel early – if you can find someone in Shetland and get an inside track on getting a ticket for the hall – it's far more fun and a better party if you know somebody!

By
Magnus Dixon
Orkney and Shetland enthusiast, family man, loves walks, likes animals, terrible at sports, dire taste in music, adores audiobooks and films, eats a little too much for his own good.
Pin it!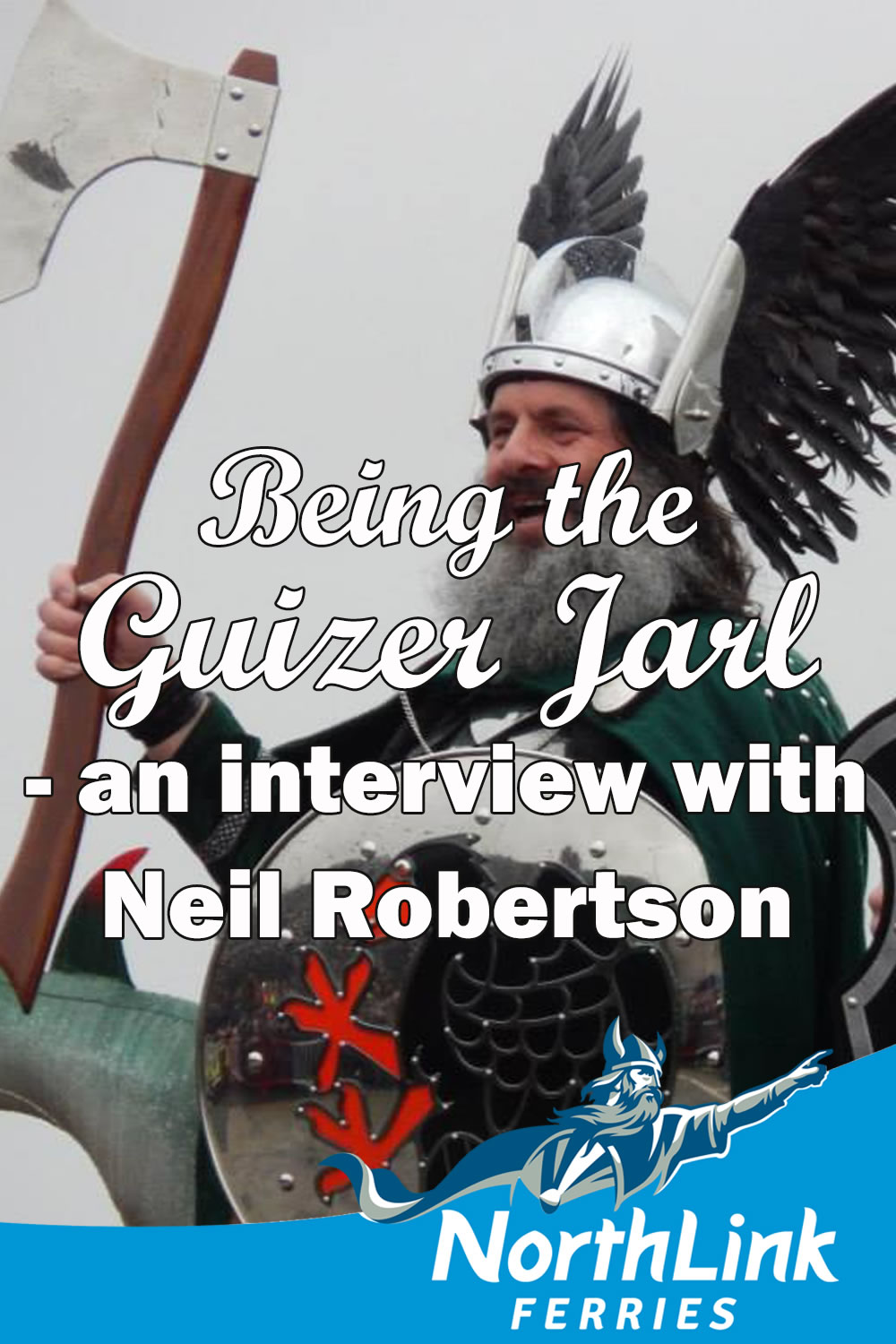 Header image: Guizer Jarl Neil Robertson marching through Lerwick photo © Copyright Danny Lawson / PA Wire