Photographer Charles Tait offered some valuable advice for taking pictures of Shetland Fire Festivals. These can be particularly difficult subjects to take good photos of as they take place during the winter on dark nights and feature lots of movement, as Jarl Squads march quickly with bright flaming torches. However we have some tips that may help you!
The Shetland Fire Festivals will take place on the following dates in 2020:
Scalloway Fire Festival – Friday 10th January 2020
Lerwick Up Helly Aa – Tuesday 28th January 2020
Lerwick Junior Up Helly Aa – Tuesday 28th January 2020
Nesting & Girlsta Up Helly Aa – Friday 7th February 2020
Uyeasound Up Helly Aa – Friday 14th February 2020
Northmavine Up Helly Aa – Friday 21st February 2020
Bressay Up Helly Aa – Friday 28th February 2020
Cullivoe Up Helly Aa – Friday 28th February 2020
Norwick Up Helly Aa – Saturday 29th February 2020
Walls Junior Up Helly Aa – Friday 6th March 2020
South Mainland Up Helly Aa – Friday 12th March 2021 –

Cancelled for 2020

Delting Up Helly Aa – Friday 30th October 2020 –

Postponed from March until October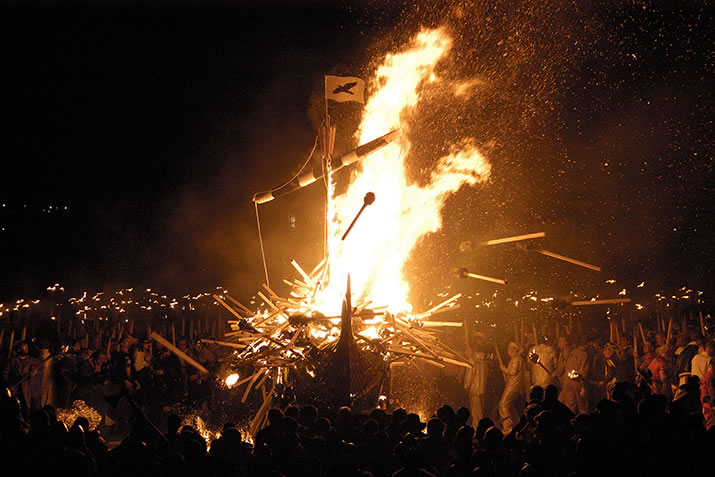 Wrap up warm and protect your gear
As you'll note from the dates above, most Shetland Fire Festivals take place between January and March. As a result, many of the Shetland Fire Festivals take place in rainy or windy conditions. Make sure you are wrapped warm in rainproof gear (that will smell of smoke by the end of the night) and that your camera equipment is protected from the elements. Most importantly, watch your surroundings when taking photos; flaming torches are dangerous!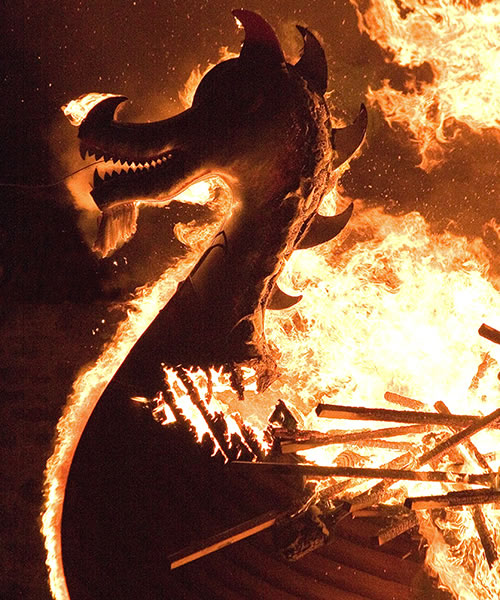 Get into a good position
Make you go well in advance to a good view of the burning site. Though a tripod is always recommended, the large number of people attending a Shetland Fire Festival means this isn't always easy. Instead, find a good spot and stick to it.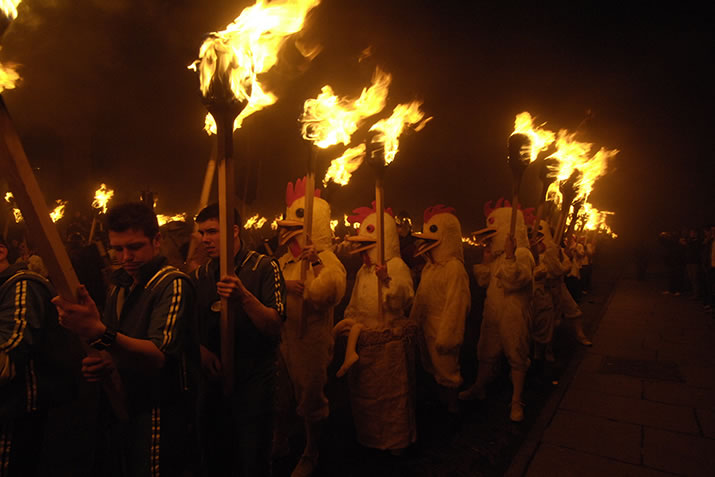 Turn up the ISO setting
Turn up the ISO on your camera to a high setting like 3200; this will increase the camera's sensitivity to light, and then you can get sharp pictures of marching Vikings and guizers due to the high shutter speeds.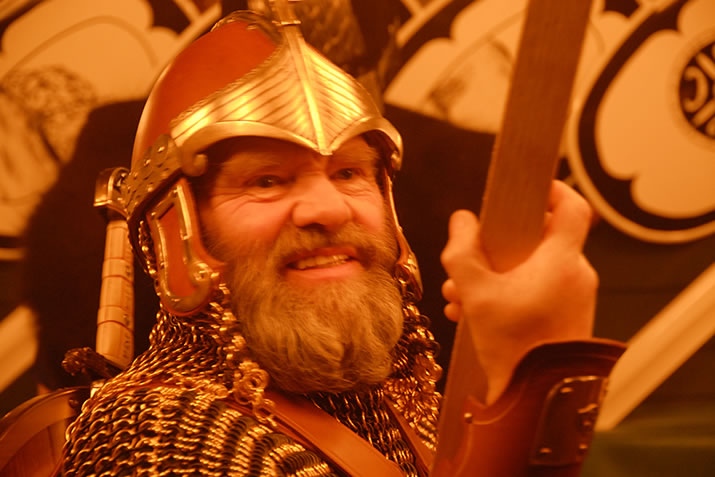 Turn your Flash off
As well as washing out and ruining the atmosphere of your photos, a flashing camera will blind the marching Vikings and make them angry – which is always ill-advised! Make sure your flash is switched off.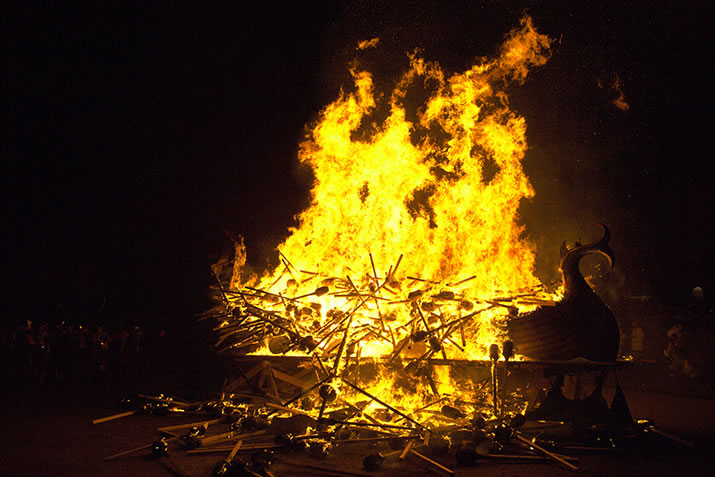 Leave automatic focus on
As there is plenty of light from the burning torches and then from the burning galley, it's fine to leave the automatic focus on. We would generally advise leaving all of the automatic settings on, apart from turning your ISO up and switching your flash off, and enjoying the event!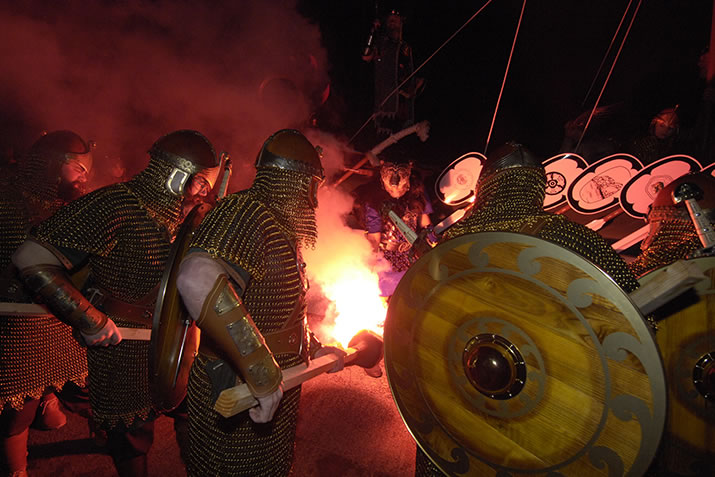 Take lots of photos
There's lots of space on your memory card and each Shetland Fire Festival only takes place once a year, so make sure you take plenty of images. You may need to delete a large percentage but there will be a few gems amongst them.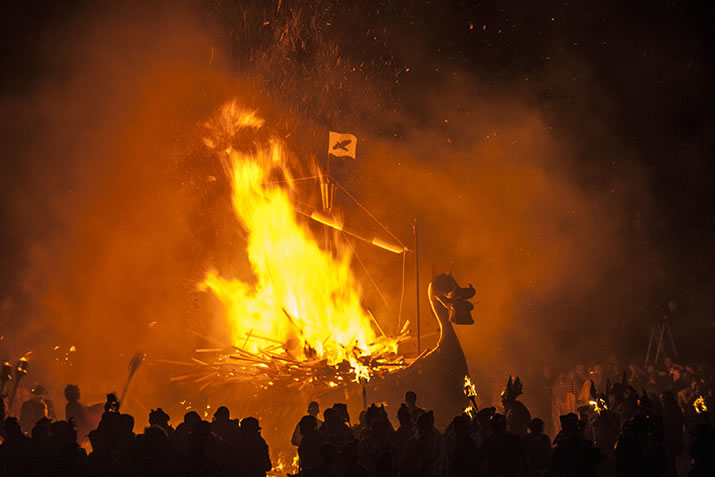 One piece of advice is that it's quite nice to capture the movement of the Vikings marching. Though you don't want to over-expose your images, it's quite nice to have a little bit of blur. So if you set your shutter speeds to a 15th or 30th of a second that can give quite nice results; especially of the lens of your camera has got image stabilisation because that allows you to shoot at a lower speed without too much blur.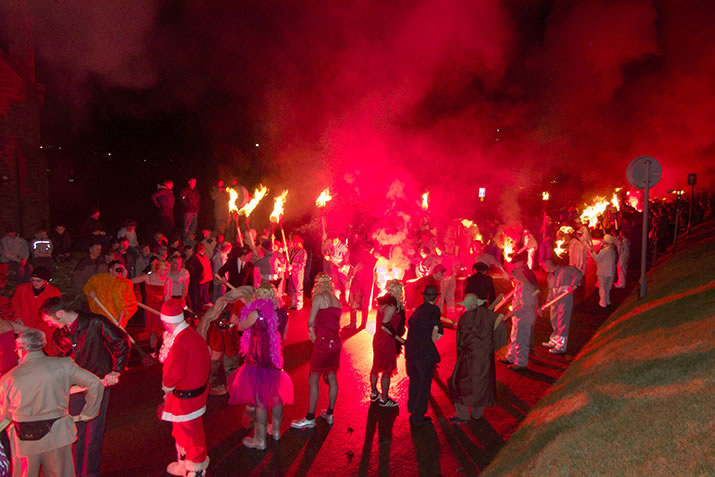 For iphones or mobile phones
Switch off your flash and select ISO 1600 or 3200. Get in a good position and snap away!
Charles Tait is an Orcadian photographer and author. His Orkney Guide Book, Shetland Guide Book and North Coast 500 Guide Book are essential purchases for those wishing to visit the Northern Isles and North of Scotland. Visit www.charles-tait.co.uk for more information.

By
Magnus Dixon
Orkney and Shetland enthusiast, family man, loves walks, likes animals, terrible at sports, dire taste in music, great taste in films and tv, eats a little too much for his own good.
Pin it!