We think that Foula is a lovely island – dramatic and remote (lying 20 miles to the west of the Shetland Mainland). The coast is nearly completely rockbound with only one beach, close to the exposed pier (where the ferry, New Advance is winched out of the water when not in use to prevent damage!)
It's best to visit Foula in the summer and even then trips to Foula can be extended by a few days as a result of rough seas or fog, so make sure your plans are flexible! In summer the foot passenger ferry (booking is essential) operates three times a week from Walls to Ham – but is only suitable if you plan to stay for a few days. On Wednesdays there is also a ferry from Scalloway which goes round Foula – passengers can view the cliffs and then go ashore for the afternoon.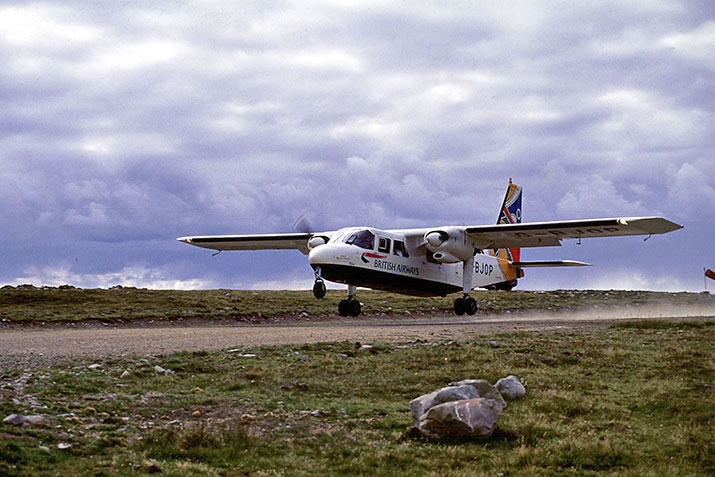 There are also flights from Tingwall four times a week, in an eighter-seater aeroplane, which allow you a few hours to explore.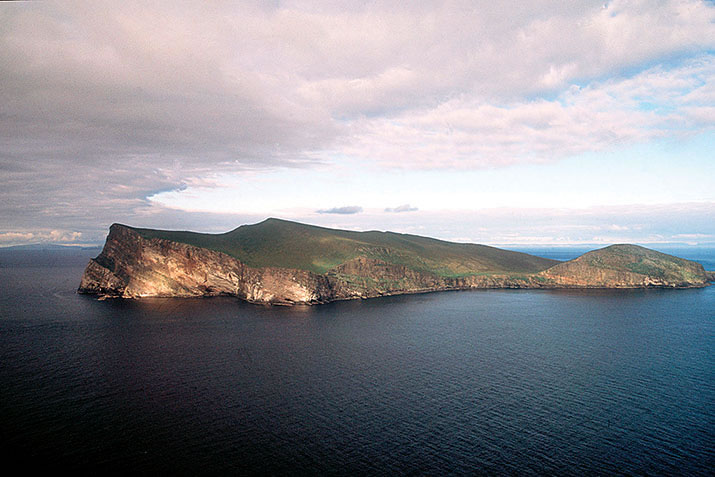 Five dramatic peaks
Foula has an amazing shape! The island is 2.5 miles long and has a narrow and fertile coastal strip to the east and north. This is Hametown and Ham and it is where all of Foula's 16 crofts and 38 inhabitants reside.
The rest of the island is dominated by five dramatic peaks called Da Noup, Hamnafield, Da Sneug (highest at 1371 feet), Da Kame, and Soberlie. Foula is definitely an island for keen walkers and birdwatchers!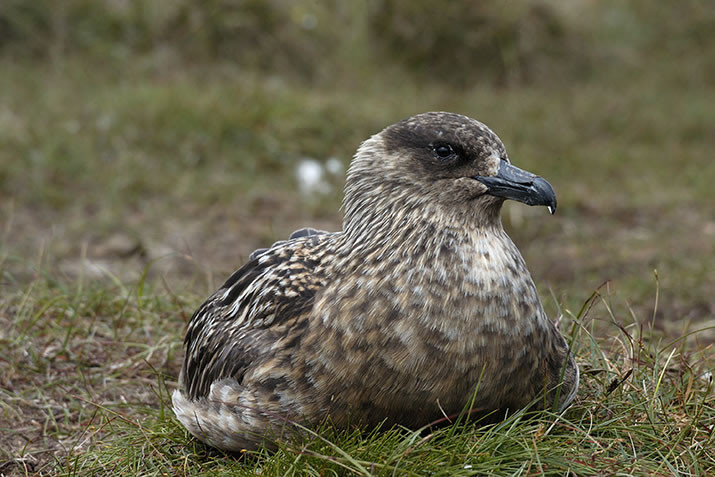 Birdwatchers paradise
The name Foula comes from the Old Norse Fuglaey, "bird island", and Foula is an island to visit if you are enthusiastic about birds. The fact that it is so lightly inhabited by people, that so much of the island cannot be farmed, that Foula is so remote and surrounded by rich feeding grounds, and the fact that there are few predators on Foula, make it ideal for bird life.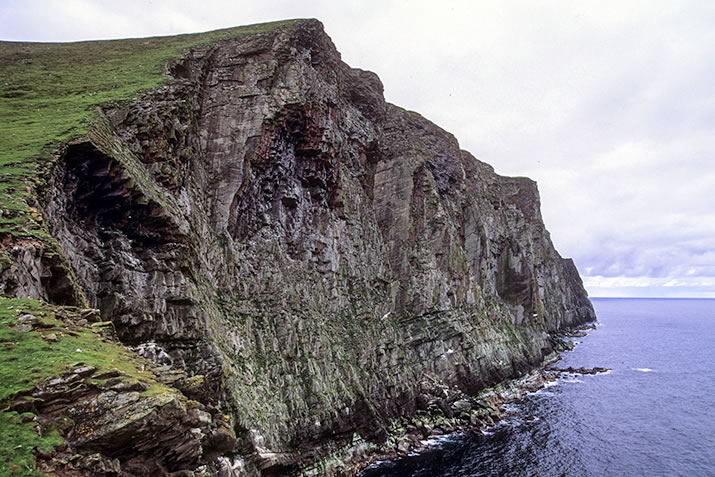 On the west of Foula, the seabird cliff, Da Kame rises to 1233ft and is home to an uncountable number of birds. The rest of the land is occupied by moorland birds (Foula has the world's largest colony of bonxies) and waders occupy every small loch in the island! The remote location of Foula means that migrating birds often fall here – and rare birds from America and Siberia have been spotted. Visit http://www.foundonfoula.co.uk/ to see some of Foula's amazing winged visitors!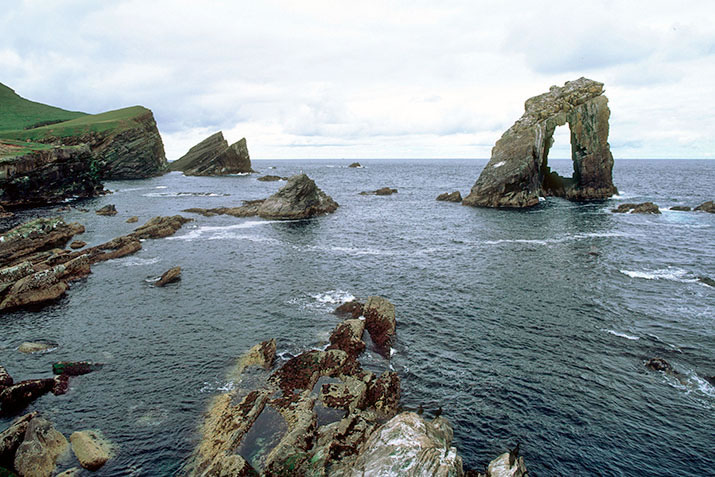 The Gaada Stack
Along the dramatic coastline of Foula there's other treats to see, so don't forget your camera! The Gaada Stack is a 131ft sea stack punctured by a hole. You'll find it at the north end of the island.
If you go to the south west of Foula you'll find Da Sneck ida Smaallie. This is a dark rock fault which cuts down towards the sea. It is over 98ft deep! You can get down (with an experienced guide only) to see the seabird colonies under the cliffs.
Foula's coastline became briefly famous in 1914, when RMS Oceanic hit the Shaalds o' Foula two miles east of Foula. The Shaalds are a reef with fierce tides which comes within four feet of the surface at low tides. RMS Oceanic was owned by White Star Line, the shipping company who lost Titanic two years before! It was also, between 1899 and 1901, the largest ship in the world and was the first passenger ship to be lost in the First World War.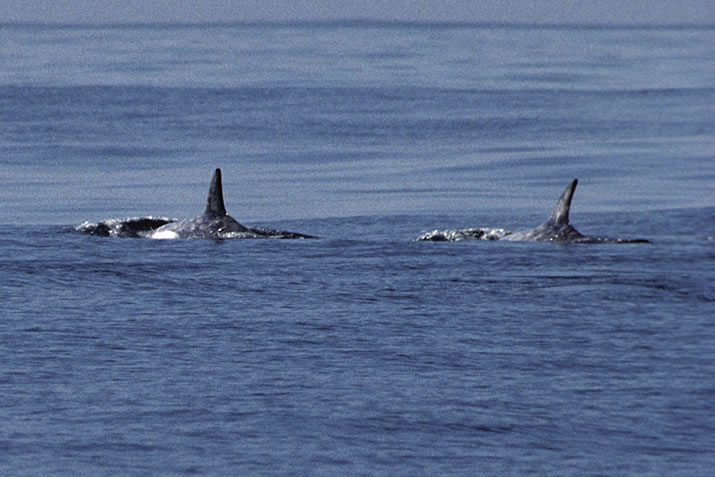 Other Foula wildlife
As well as being an amazing island for bird, Foula has more amazing wildlife on offer! The island has its own subspecies of fieldmouse. It is also easy to spot Grey and Common Seals and schools of Killer Whales, and you may even find Harbour Porpoises following the Foula ferryboat! Shetland ponies roam freely and the sheep on Foula are multi-coloured native Shetland sheep that graze seaweed and on the cliffs. The wildflowers that cover Foula are remnants of ancient woodland plants!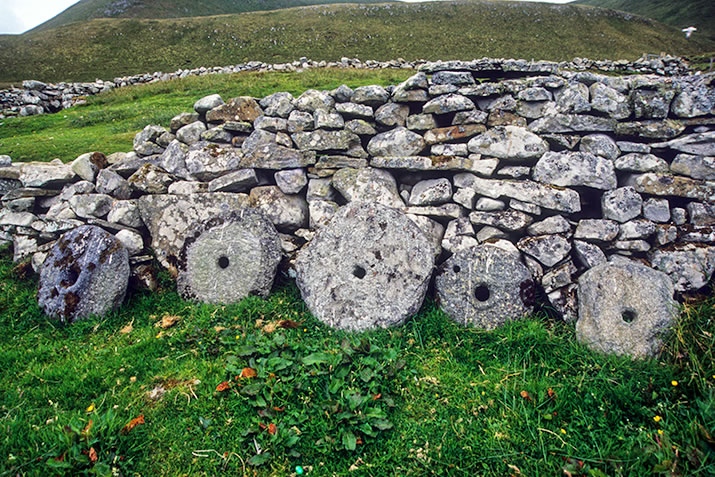 Being remote
Foula is so remote that it is often the last place to be influenced by changes that have affected the rest of Shetland. For instance it was one of the last places Norn was spoken, and the last place in Scotland where Udal Law was upheld. These days Foula still uses the Julian calendar even though the rest of the UK adopted the Gregorian calendar in 1752. In FOula, Christmas Day is observed on 6 January and New Years Day on 13 January!
Being remote is not always easy though, and Foula suffered from extended periods of being cut off from the outside world and unable to obtain supplies until the gravel airstrip was built in the 70s! Also, in 1720, when a smallpox epidemic struck, the 200 islanders had no immunity. It is said that only 6 people were left to bury the dead.
Foula was used as a location for Michael Powell's 1937 film, 'The Edge of the World' – a fictional account of the evacuation of St Kilda. The title of that film sums up Foula very well.
Foula is remote indeed, but it is very well worth the effort to reach the island – especially if you are a birdwatcher! Please note that Foula has accommodation, but no pub or shop (apart from a post office), so make sure you bring supplies for your visit! For more details on Foula, please visit www.foulaheritage.org.uk

By
Magnus Dixon
Orkney and Shetland enthusiast, family man, loves walks, likes animals, terrible at sports, dire taste in music, great taste in films and tv, eats a little too much for his own good.