Only have one day in Shetland?
When travelling to Shetland we'd recommend spending a few days to get a good flavour of the Isles. Then, as well as seeing the sights, you can get used to the more relaxed way of life, enjoy the delicious food Shetland has to offer, and maybe hear some live traditional music. There's so much to do, we'd recommend staying for more than just one day.
From the road, you can look right down into Rerwick bay, a popular haul-out spot for seals. In the distance you'll see the island of Colsay, where the sheep are transported out in boats to graze! We'd recommend keeping an eye out for Clocki Stack, and Spiggie Beach itself is quite beautiful.
However, sometimes one day is you have. If you're on a whistle-stop tour, on business, or on a visiting cruise ship and only have one day in Shetland, here's what we'd recommend you do with it! We're assuming you have a car or have rented one!
See St Ninian's Isle
St Ninian's Isle is a small island on the south-west coast of Shetland, attached to the mainland by a 500m long strip of sand. Walking across this beach is very special – the sea laps to the shore at either side of you – in stereo! The surrounding landscape is stunning also – the south end of St Ninian's Isle is rocky and dramatic, and there's a great story connected to St Ninian's Isle about a hoard of Viking Treasure which was found by a schoolboy!
St Ninian's Isle is easy to locate – take the A970 road south out of Lerwick and head towards Sumburgh. After 15 miles, you'll pass the village of Sandwick. You'll see a road, the B9122, which turns off to the right to Bigton. Follow this road to Bigton Village and you'll find a signposted road leading down to a car park above the beach.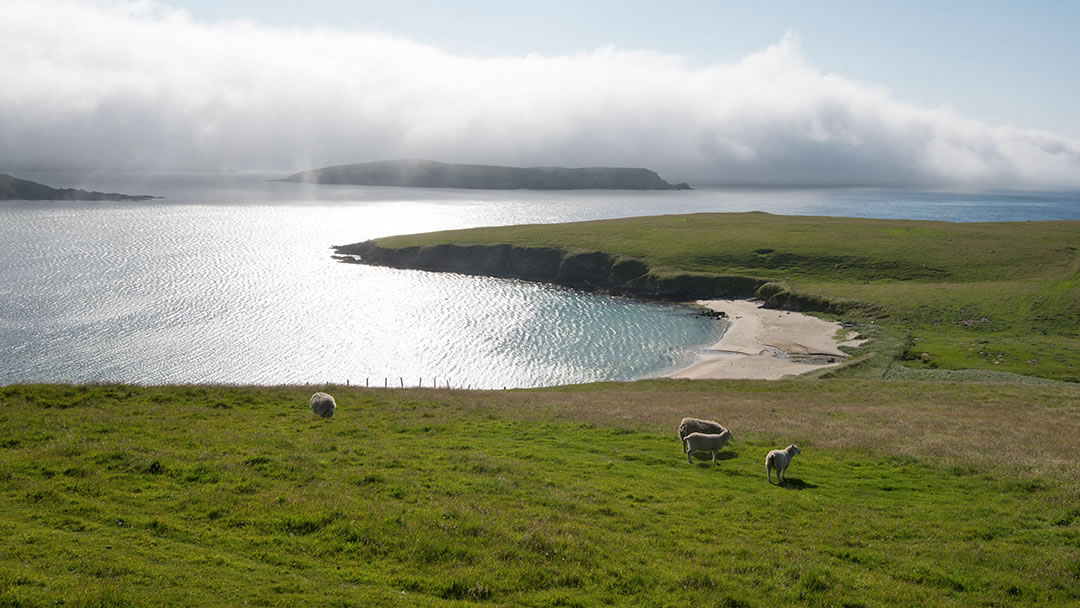 Drive past Rerwick and Spiggie Beach
After St Ninian's Isle, keep travelling south using the B9122 and you'll be treated to some amazing coastal scenery. From the road, you can look right down into Rerwick bay, a popular haul-out spot for seals. In the distance you'll see the island of Colsay, where the sheep are transported out in boats to graze! We'd recommend keeping an eye out for Clocki Stack, and Spiggie Beach itself is quite beautiful. The lovely sand here was once lined with fishing Yoals.
As you drive along you may spot Shetland ponies grazing at the roadside. Shetland ponies are often very friendly and some will even pose for photos!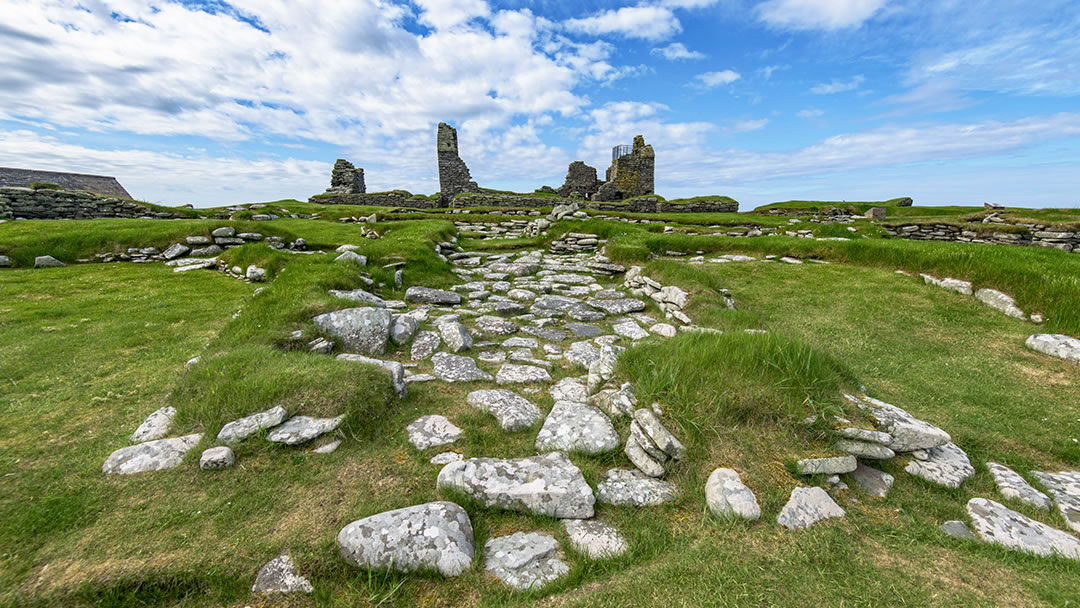 Explore Viking (and older) history at Jarlshof
If you keep on the B9122 you'll emerge out onto the A970 again. Keep heading south to the very tip of Shetland, past Sumburgh Airport (the road goes over the runway!) and you'll come to Jarlshof.
Jarlshof is an amazing settlement that was occupied for over 4000 years. Here you'll find Bronze Age buildings, an Iron Age broch and roundhouse, seven Viking houses and one longhouse, and finally a fortified house belonging to Robert Stewart, Earl of Orkney. Archaeology is often confusing, especially when buildings of one period are constructed using materials from buildings of an older period – Jarlhof demonstrates this very well. It is also a great introduction to Vikings in Shetland!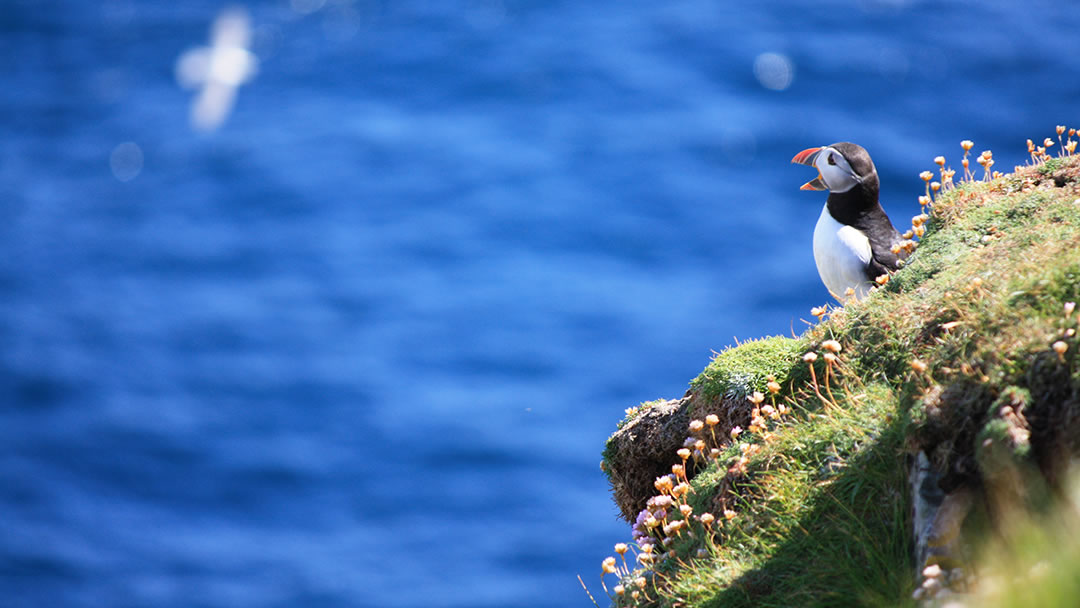 See a puffin at Sumburgh Head
Sumburgh Head is the imposing cliff face towering above Jarlshof – it's a short drive away. It's very well worth going as from May until July, it's a seabird city and a popular home for puffins! The cliff edges at Sumburgh Head are fenced off and safe for all ages, and the last time we were there we were within two metres of a puffin. Make sure you remember your camera to capture the moment when you got up close and personal with these funny birds! The Sumburgh Lighthouse has recently been restored and is a popular visitor attraction.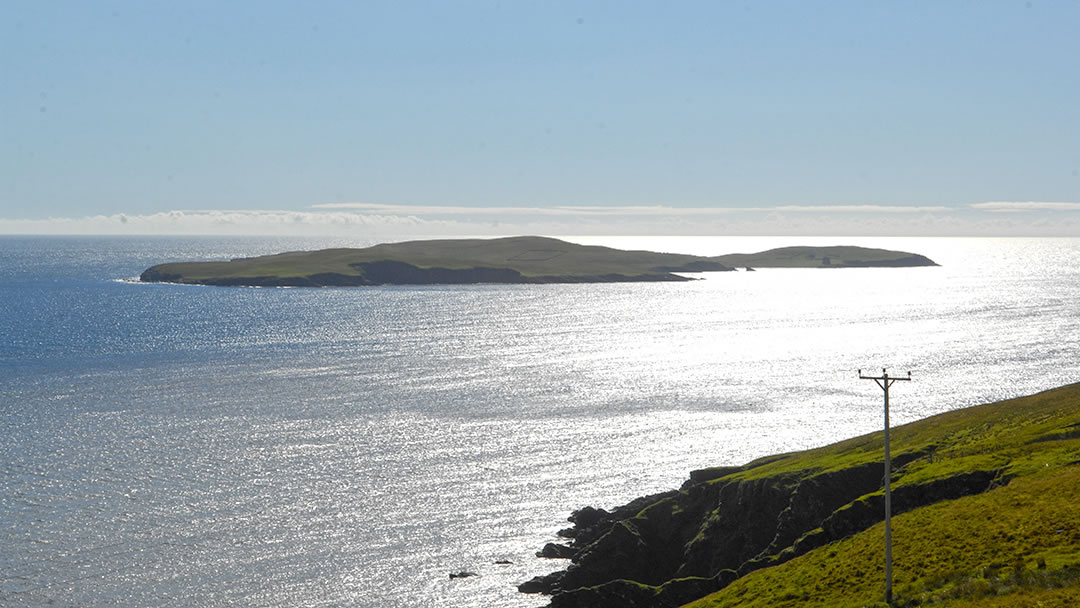 See Mousa broch from afar
In one day, there's not the time to visit the island of Mousa and see the nearly-intact Iron Age broch. However it is possible to see it from the mainland. Even a glimpse of this towering 2500 year old building is special!
As you come back from the south, drive along the A970 back to Lerwick. It you take the turn off (to the right) to Sandwick and Hoswick, you'll get great views of Mousa as you descend the hill to the village of Sandwick. We'd recommend taking the second, more coastal turnoff to Sandwick for the best views.
Also, when exploring Shetland, we'd recommend stopping at a country shop or two. You can buy a snack or a postcard or Shetland biscuits and you'll get great service and hear the lovely Shetland accent too!
Visit beautiful Scalloway Castle
When you're just 3½ miles from Lerwick, just past Gulberwick, you'll notice a big junction to the left to Scalloway. Follow this road, the B9073 for 3 miles to get to the old capital of Shetland, Scalloway! Scalloway is a lovely town, lying in a beautiful bay, and the skyline is dominated by 200 year old Scalloway Castle – once one of the finest castles in Scotland. Entry to Scalloway Castle is free and there is a recently opened Museum in Scalloway which tells the story of the Castle, Scalloway's place in history and the Shetland Bus, a secret WW2 operation between Shetland and occupied Norway!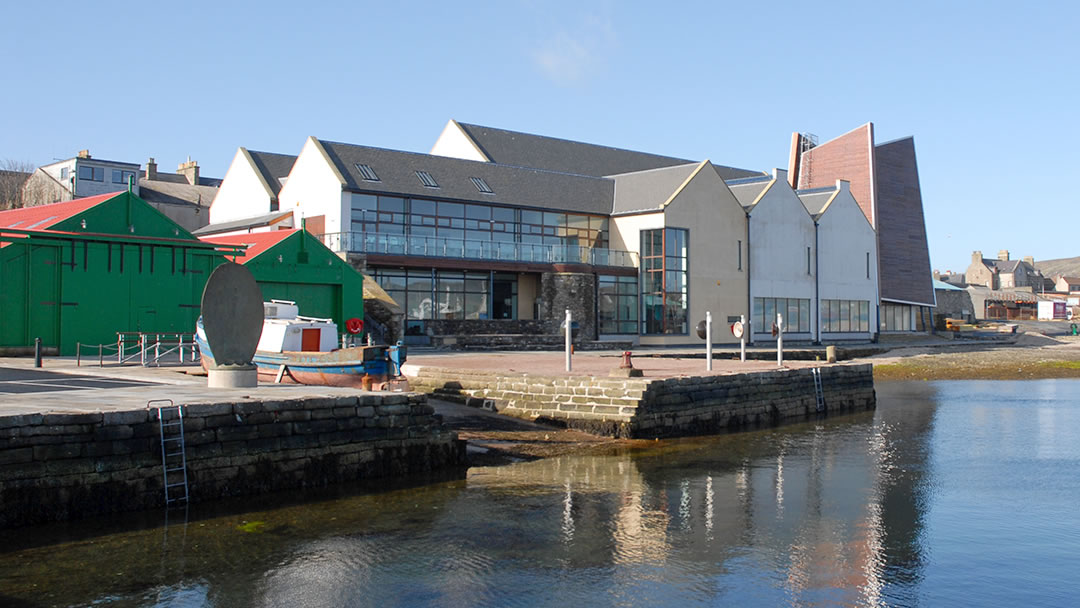 Stop at the fascinating Shetland Museum
When you return to Lerwick, we'd advise a visit to the brilliant Shetland Museum in Lerwick. Here you'll find out about Shetland's history, folklore, and industry. You'll learn about how important fishing was to Shetland, about the Wool Industry and Fair Isle patterns. There are also displays about Shetland Music, Lighthouses, Up Helly Aa and transport to the isles and dressing up boxes for children!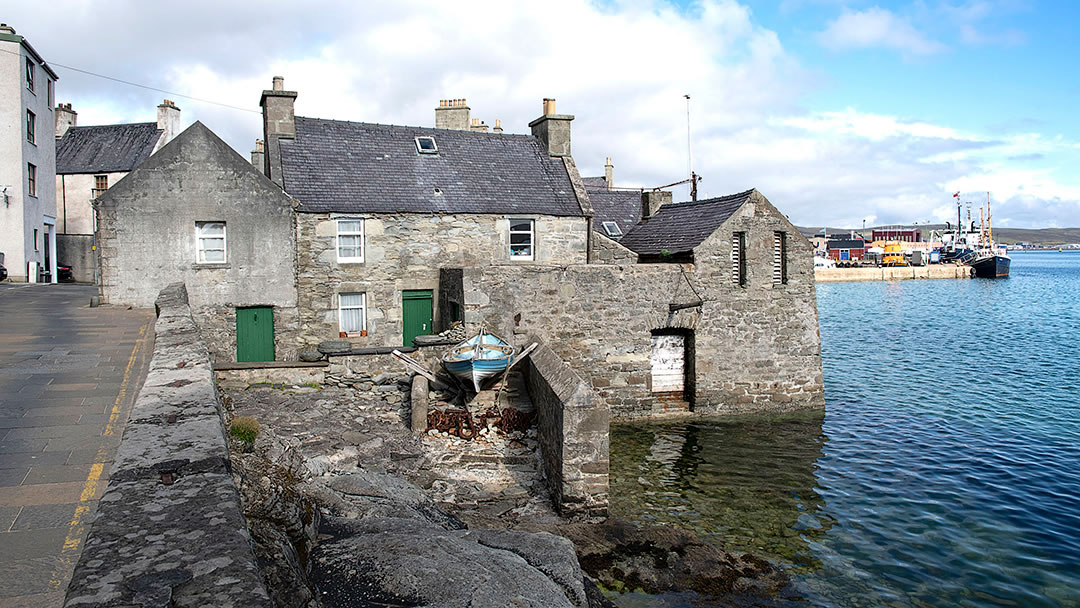 Walk through Lerwick
To finish off your day we'd recommend a walk through Lerwick. There are some unique local shops where you can pick up a momento, and Commercial Street is a joy, a winding passageway that rises up and down like the gentle lap of a tide. The Shetland Bookshop is here if you want to pick up a Shetland related book. The Shetland Soap company produces a lovely range of bathroom items. There's music shops, craft shops and more and at the south end of Commercial Street, you'll find the Lodberries – old merchant houses which once lined the foreshore. These old houses have their own jetties above a lovely shingle beach.
NorthLink Ferries ships arrive in Lerwick at 07:30 – early in the morning and departs again at 17:30 (for Kirkwall and Aberdeen) and 19:00 (for the direct ferry to Aberdeen). Please make sure you're back at least half an hour before the ship departs or you may find yourself staying in Shetland for more than one day!
We hope your one day in Shetland is super – and inspires you to come back for longer next time!

By
Magnus Dixon
Orkney and Shetland enthusiast, family man, loves walks, likes animals, terrible at sports, dire taste in music, adores audiobooks and films, eats a little too much for his own good.
Pin it!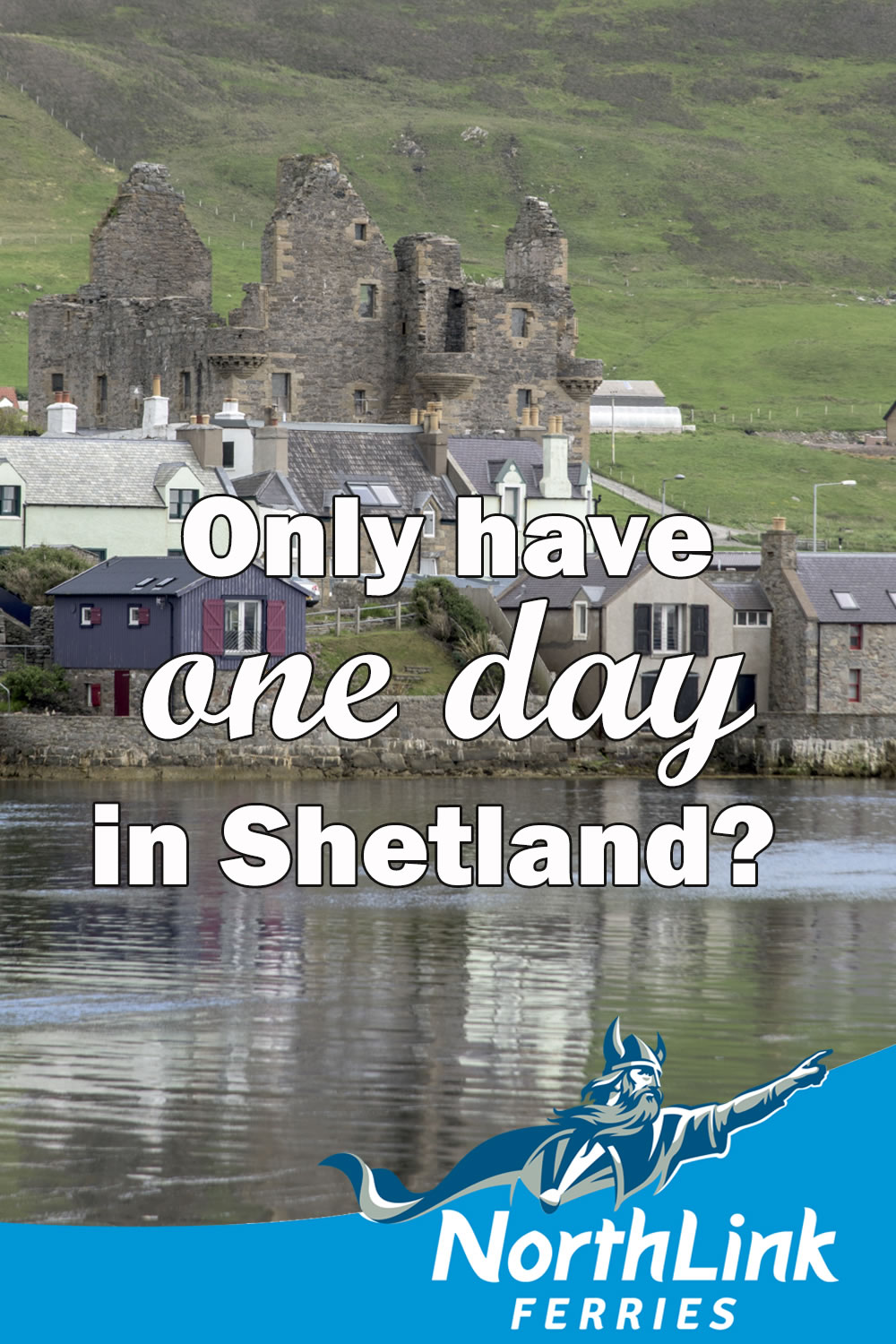 Header image: St Ninian's Isle photo © Copyright Charles Tait