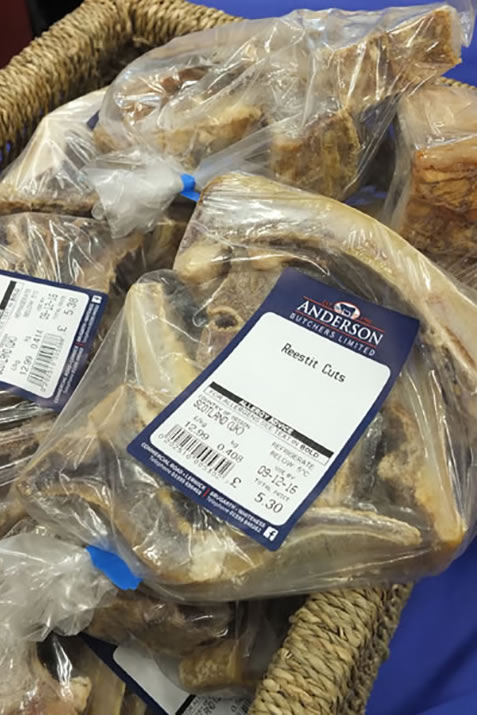 Reestit Mutton is a variation of the Scandinavian skerpikjøt, an air dried mutton, or vivda, Norse for 'leg meat'. It is a traditional Shetland way of preserving mutton with salt for consumption during the winter months.
The mutton is first salted in brine and was then traditionally hung in the rafters (reest) of houses, where the peat smoke will add flavour and help preserve the meat. It could very likely be called Shetland's national dish.
One of the most common ways you'll encounter Reestit Mutton when you visit Shetland is in the form of delicious Reestit Mutton Soup.
This recipe comes from our friend Elizabeth Atia, whose brilliant website, Elizabeth's Kitchen Diary, contains many more mouthwatering Shetland recipes along with an insider's guide to the islands!
Ingredients:
Reestit mutton – 2 lb
Cold water – (to cover)
Onion – 1 (finely diced)
Potatoes – 300 grams (peeled and finely diced)
Turnip – 225 grams (peeled and finely diced)
Carrots – 200 grams (peeled and finely diced)
Water – 2 pints (or lamb stock)
Method
Place the reestit mutton in a large pot and cover with cold water. Bring to the boil and continue to boil for almost two hours, or until tender. Remove the meat from the pan.
Reserve a ladleful of the cooking water. Skim off the fat and add more water (or lamb stock) to your own taste.
Add the chopped potatoes, carrots, turnip and onion and boil until tender, about 20 minutes.
Mash the vegetables into smaller pieces, if desired, and add the reestit mutton, finely chopped for the last few minutes of cooking.
Serve with buttered bread.
Storage advice for unused reestit mutton: Store in a dry environment. Do not refrigerate. Alternatively, cut to your requirements and freeze.
Photos © Elizabeth Atia
Pin it!