Robin McKelvie in Shetland: The perfect place to fire up wee imaginations
"Is that the place with the puffins, ponies and Vikings?" asked my youngest daughter Emma when I suggested we head back to Shetland for the fourth time. It is. And so much more. Tara and Emma never need any convincing to head to an archipelago that could scarcely be better set up, nor more rewarding, for families.
Every coastal walk is a joy for the kids in Shetland as you always spot seabirds, and often seals, dolphins and even whales too.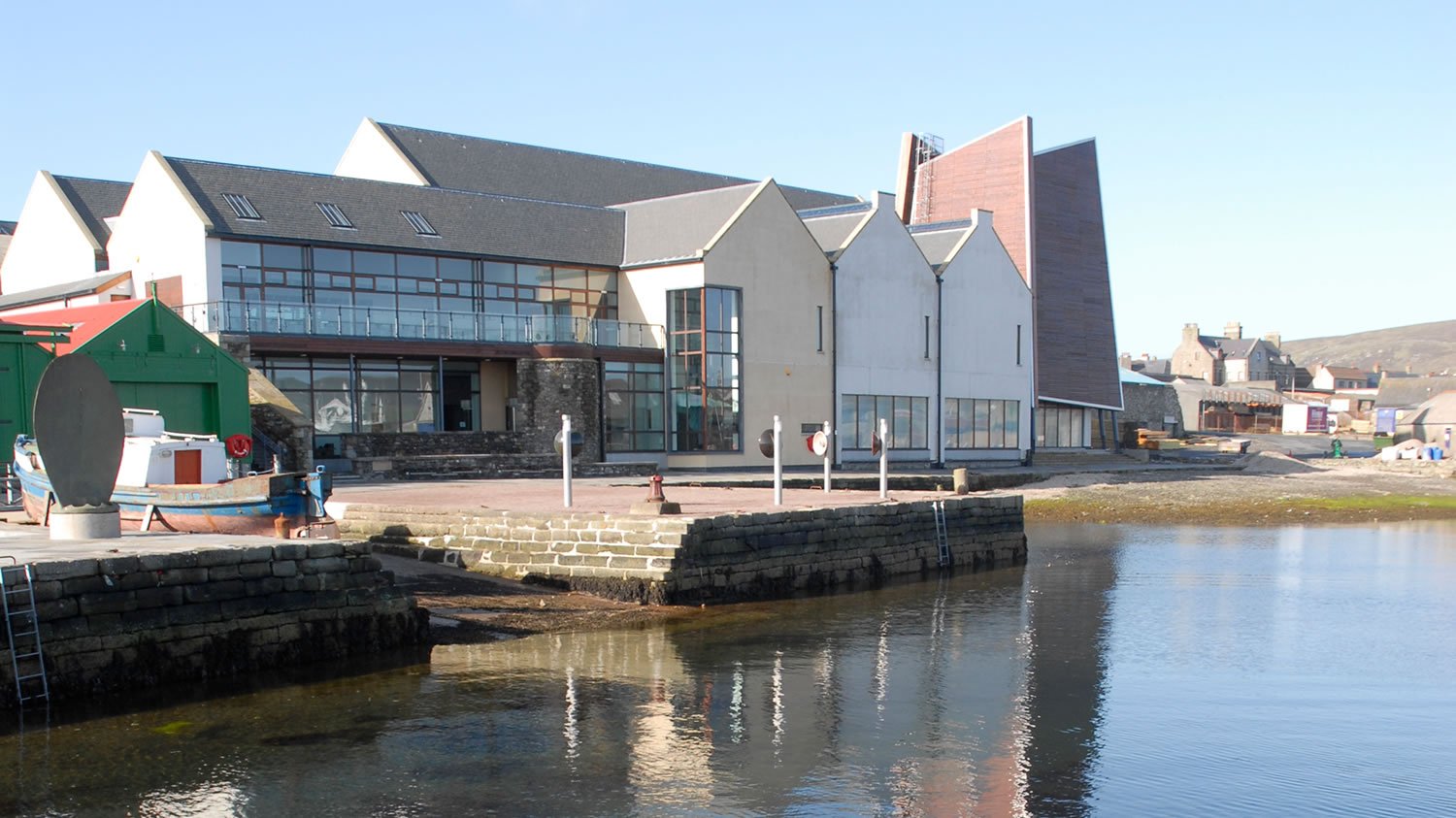 Our first stop off the ferry in Lerwick is always the Shetland Museum, which sets the scene brilliantly for exploring this eclectic, rich and endlessly fascinating archipelago. It's a great way to introduce the isles to kids as it delves into those Vikings, the Neolithic sites, those cute ponies, and endless heritage knickknacks that fire up wee imaginations.
No Shetland trip for us would be complete without meeting up with the Brownlees, Shetland-based artist Ruth and her teenage daughter. Ruth for me is an artist who most brilliantly captures the light and ever-changing moods of Shetland's landscapes – you can read my interview with her here. She also thinks the Shetland Isles are a great place for kids.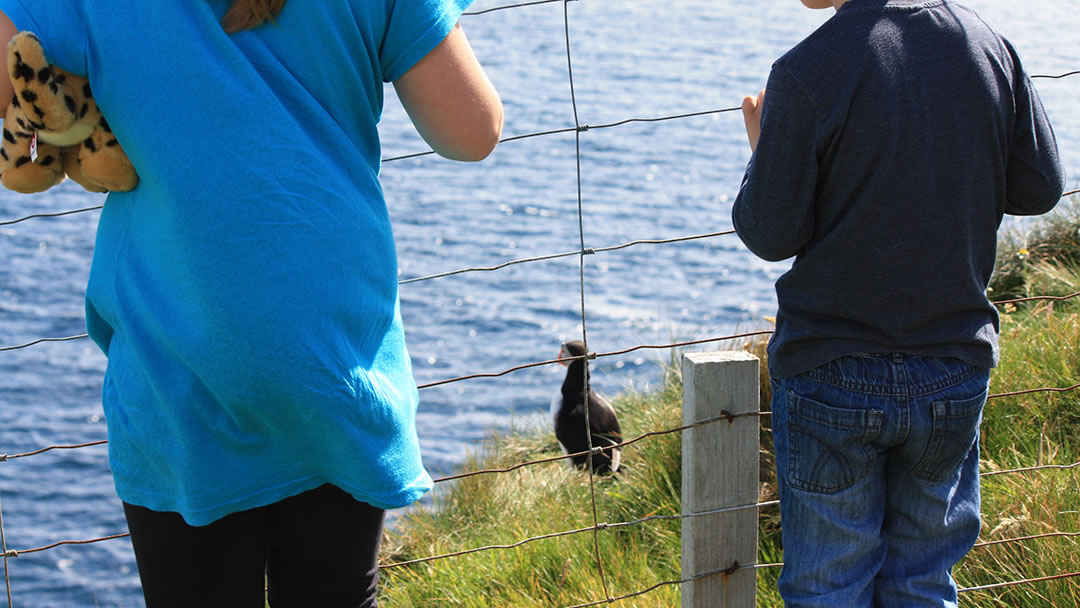 With the Brownless we normally enjoy a wee coastal ramble. Every coastal walk is a joy for the kids in Shetland as you always spot seabirds, and often seals, dolphins and even whales too. And yes orcas! My girls still talk about the time we spotted an orca off Sumburgh Head. It even momentarily distracted them from their favourite Shetland pastime – puffin viewing! Shetland teaches kids more about wildlife than any class in school.
Shetland is also deeply educational with its history too. Its culture is as richly woven as a Fair Isle jumper, with Scottish influences, of course, but also a strong Nordic strain courtesy of the Vikings. I remember being entranced by this mysterious seafaring people – my girls are too – and this is the closest in Scotland you can get to their culture: physically and spiritually.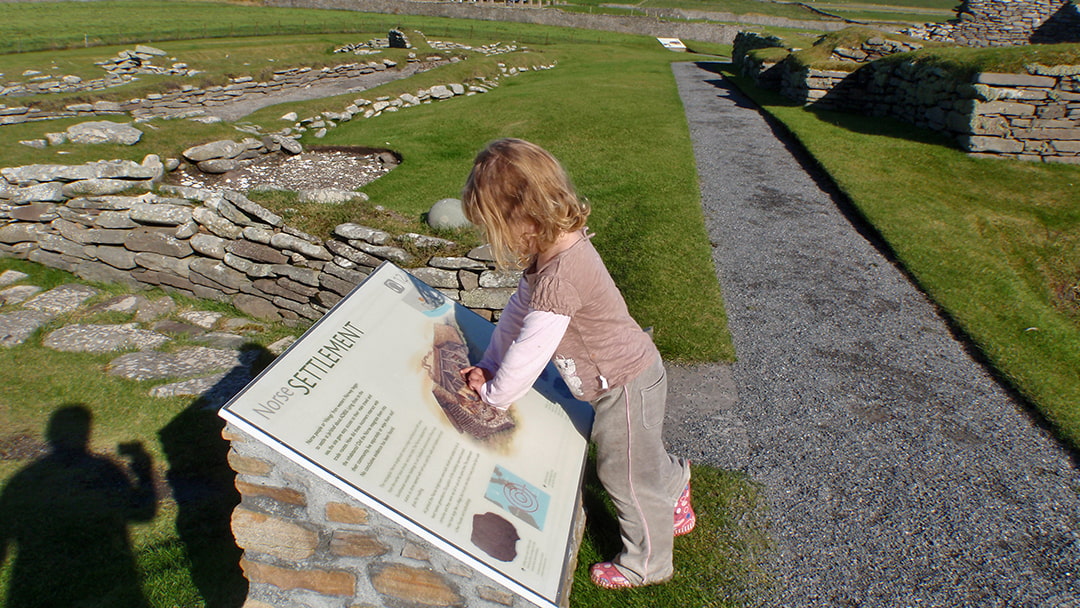 Our favourite historic site is Jarlshof. You can ramble around an old Viking village after an obligatory spot of dressing up in the visitor centre. The centuries peel back at Jarlshof even further as there are also the remnants of a Stone Age and an Iron Age settlement here. It's a thrilling experience eking into the old stone houses, closing your eyes together, and enjoying the same sea breeze our ancestors would have felt tingle their noses all those millennia ago. In Shetland, the past and the present constantly intertwine, which is great for firing up wee minds.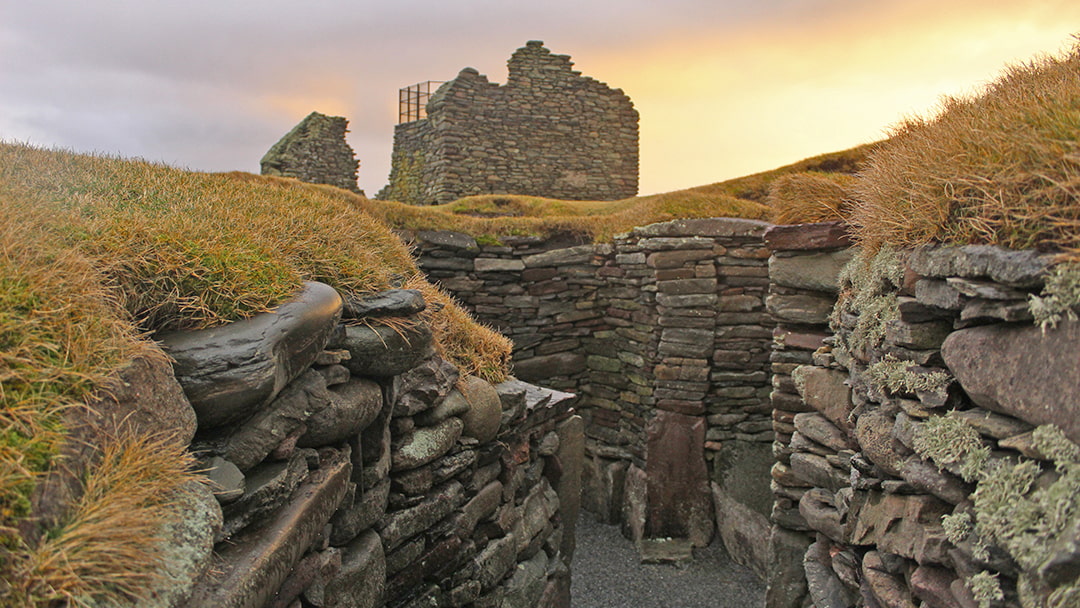 The sea is never far away in Shetland, of course. Indeed, you are never more than four miles from it, which means you are always close to a world-class beach. The starched white beaches here are Caribbean-esque. Perhaps most famous is the tombolo at St Ninian's Isle, a postcard-perfect sweep of sand hemmed in by water on both flanks that eases out to the eponymous island. We love a picnic and a paddle here, with a seal splashing in the background for company.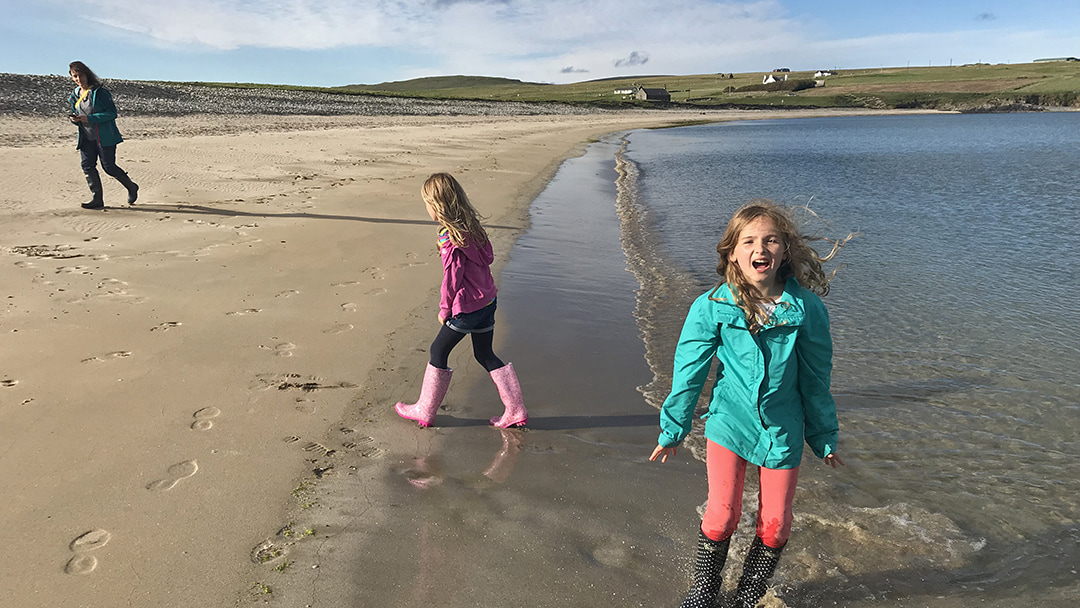 Some of our other favourite beaches lie beyond the Shetland Mainland, two ferries distant on the isle of Fetlar. We spent a couple of glorious days on this sparsely populated oasis. It felt like our own real life Treasure Island. We didn't see another soul on the beaches we rambled to and around – it was just us, the sheep, the rabbits, and the seabirds. Bliss.
Spending time on Feltar was a real privilege, a fascinating window into an island with a very different history to the Scottish mainland and a totally different feel. Shetland has so many island options – there are always more here, and I've still got half a dozen I'm keen to get to.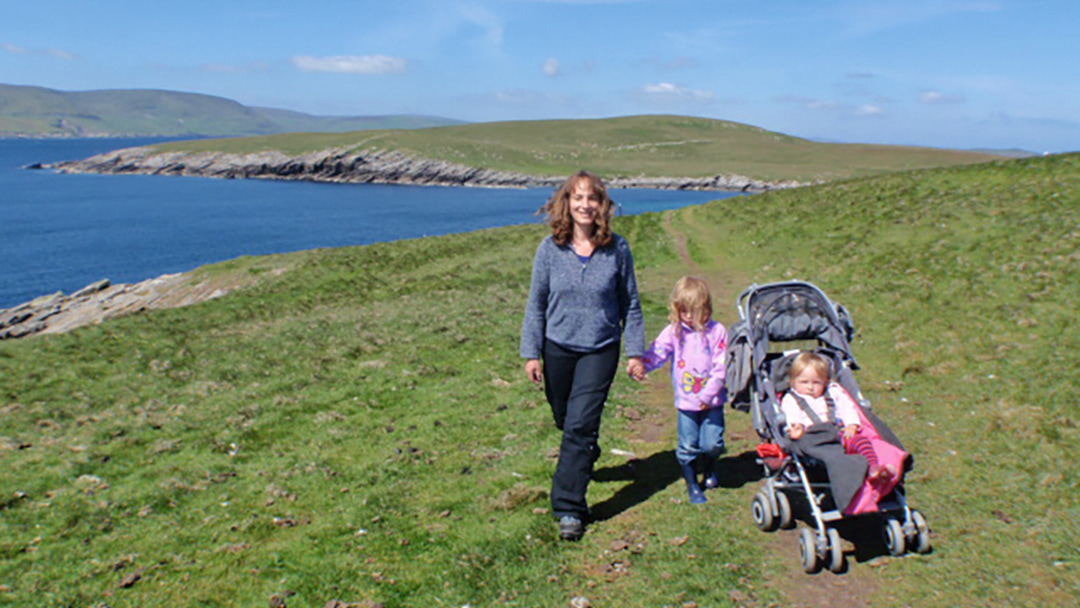 Another island that stirs up warm family memories for us is Mousa. The ranger we met here was quite surprised to see us when we emerged off the ferry – toddler and baby in a pushchair in tow. But the kids loved exploring this rugged island – they don't do pavements on Mousa – with its swirling seabirds and the mysterious broch, the best preserved in all of Scotland. We felt like a real adventure family, the type kids read about going on bear hunts and this was ours, adventuring around Mousa.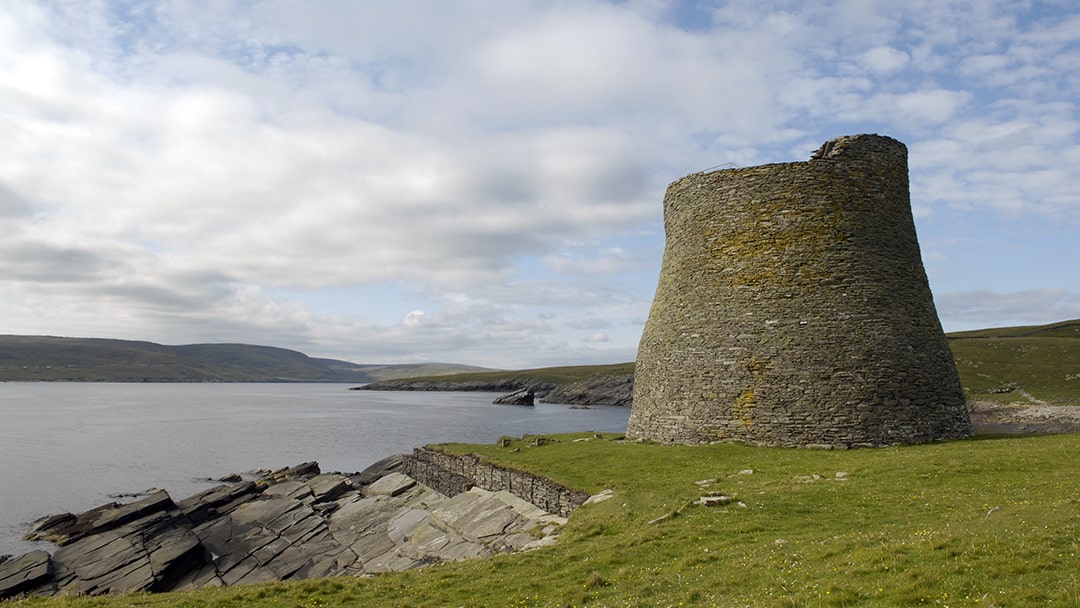 Islands, history, and wildlife are huge draws on Shetland, but it is the people's warmth that I instantly think of when planning a trip to the archipelago. On solo trips I've had a warm welcome from Fair Isle to Unst, from Bressay to Foula. It's the same with my family. One time we came out of a well-known major supermarket in Lerwick to find a local fair on. Tara was delighted to see real Shetland ponies up close and then even more delighted when we were welcomed with open arms, and she was soon smiling ear-to-ear as she swept off on a pony ride of her own.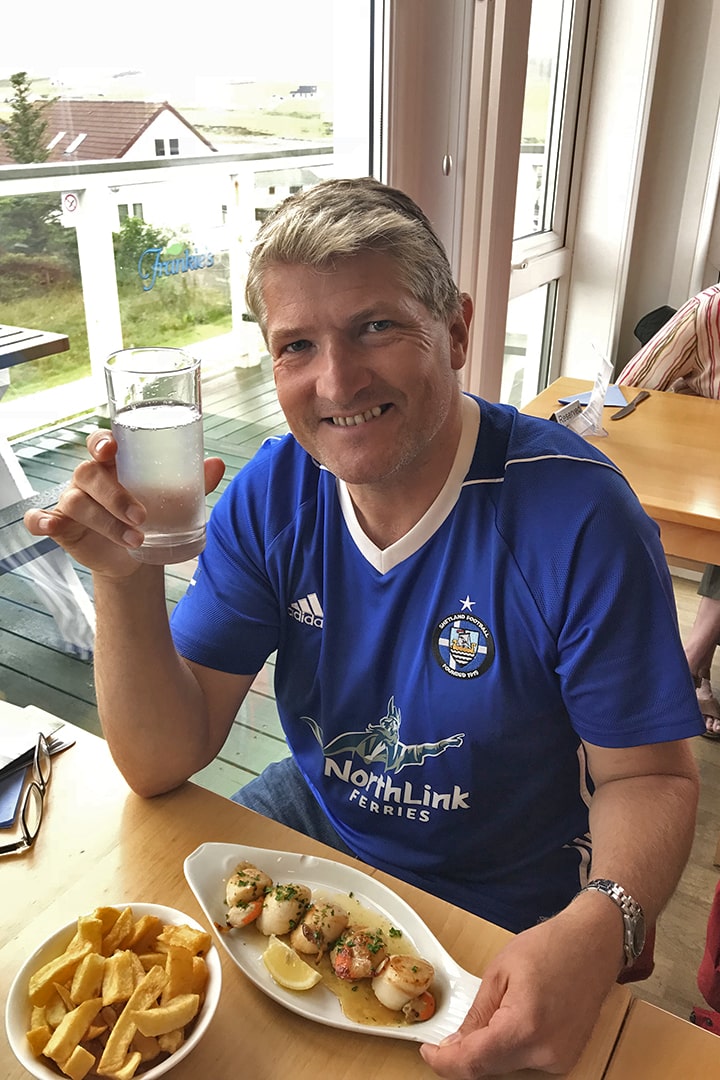 It's handy in Shetland that you can snare local produce in some of the supermarkets and the wee shops. Very handy as that local produce is always superb. And eating food so close to where it comes from has lessons that are so positive for my girls. We love snaring freshly hot smoked salmon and devouring it with salty fingers on Bain's Beach in Lerwick, tucking into king scallops and chips at Frankie's, the most northerly chippie in the UK, savouring a bowl of steaming, plump Shetland mussels and tucking into delicious Shetland lamb. Another highlight was daddy catching mackerel on a sea angling trip off Scalloway and cooking it fresh in our wee self-catering cottage.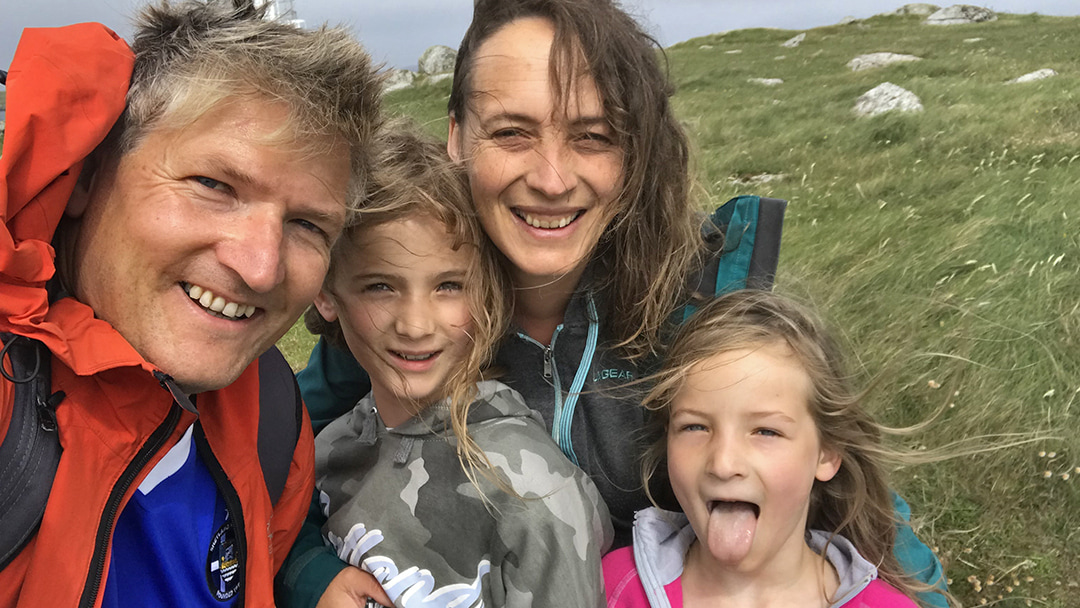 All too soon on our Shetland adventures it is time to get back aboard our trusty NorthLink Ferries' steed and head back to our own lives. But we always leave knowing that this remarkable archipelago lies just one sleep away from Aberdeen, not remote or distant, closer to our hearts and deep in our memories. If you or your kids are thinking about a Shetland holiday, I would thoroughly recommend it. As would my wee Shetland veterans – Tara and Emma, who have a lifelong love of Shetland.

By
Robin McKelvie
Robin McKelvie is an award-winning travel writer and broadcaster who has been published in over 200 magazines and newspapers worldwide.
Pin it!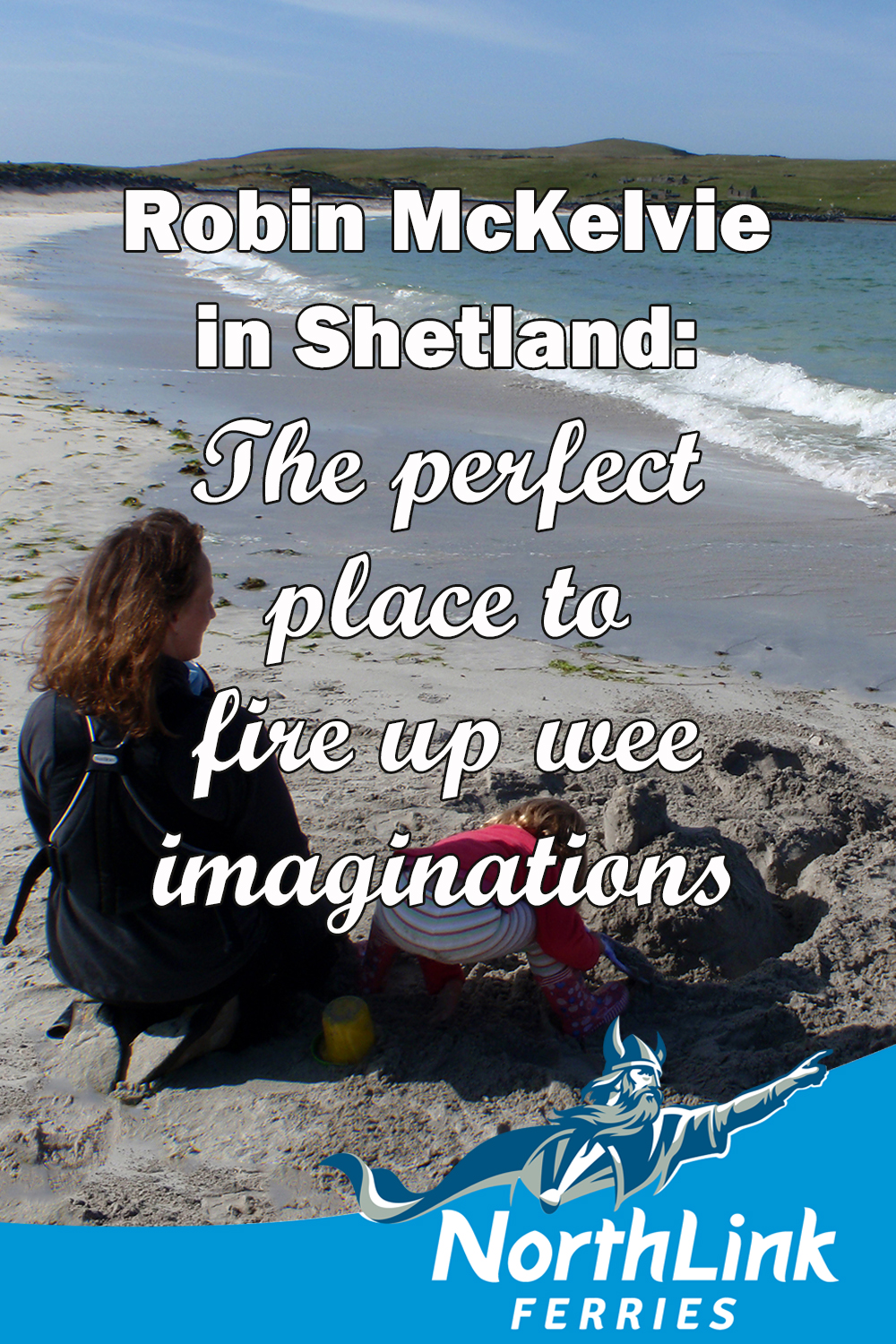 Header image: Having fun on the beach in Shetland photo © Copyright Robin McKelvie