Angus and Wendy Nicol offer brilliant Sea Kayak tours around the beautiful Shetland coastline from their website: http://www.seakayakshetland.co.uk/. We were intrigued to hear what seeing Shetland from this new angle was like, and were pleased to catch up with Angus and ask him some questions!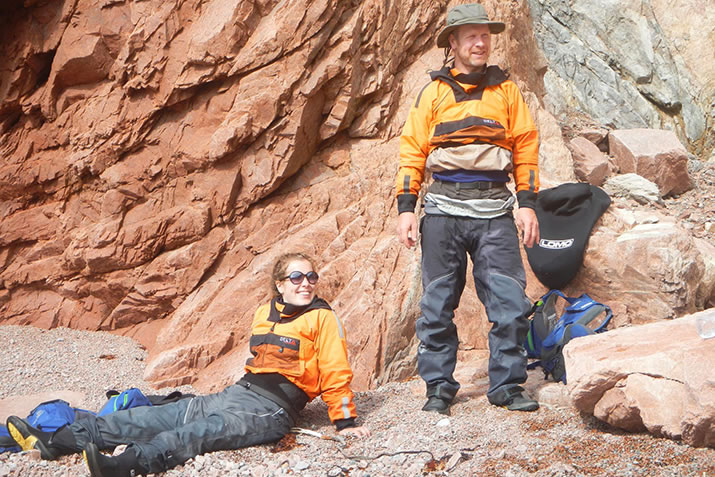 Q. Tell us a bit about your business – when and why did you start offering sea-kayak tours of Shetland?
A. Tom Smith started Seakayak Shetland around 2004. We took over the business when he left Shetland, about 2010. I had been kayaking for a few years by then and had helped Tom on occasion, Shetland's coastline is amazing with wildlife, caves, arches, tunnels and sea stacks and kayaking is a brilliant way to get into all those nooks and crannies, and to get close to wildlife without disturbing it. When I was given the opportunity to share that experience I jumped at the chance.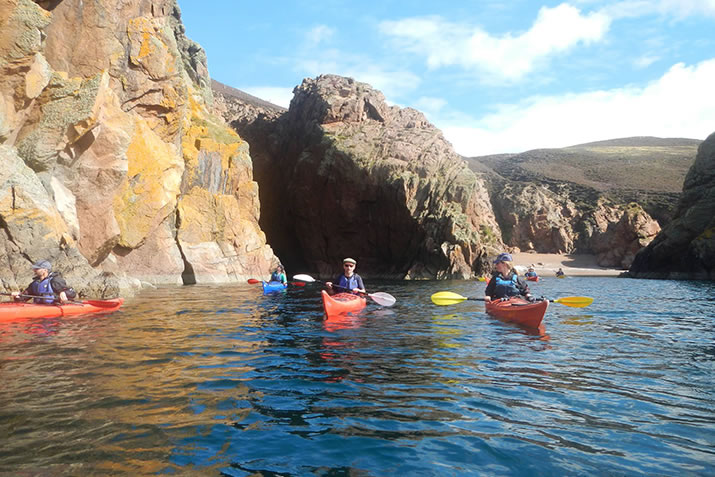 Q. How much experience in sea-kayaking does someone need before taking a tour?
A. No experience is needed. We tailor all our trips according to the weather and sea-state and most of the people we take out are 'holiday paddlers'. We want our clients to enjoy the outing, not give them an adrenaline rush! Of course, when we take out experienced kayakers we can take them on some of the more challenging paddles.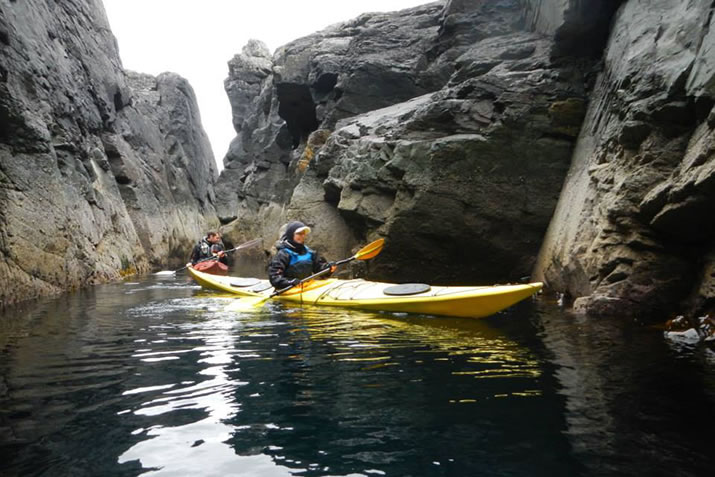 Q. Where do you go on your Sea Kayaking tours?
A. Our trips are all round the coast of Mainland Shetland. The Shetland archipelago is bigger than visitors tend to realise. Although there are interesting paddles on some of the outlying islands, the logistics, cost and time involved in getting to those locations usually makes it impractical to go there. We have stunning paddles closer to home.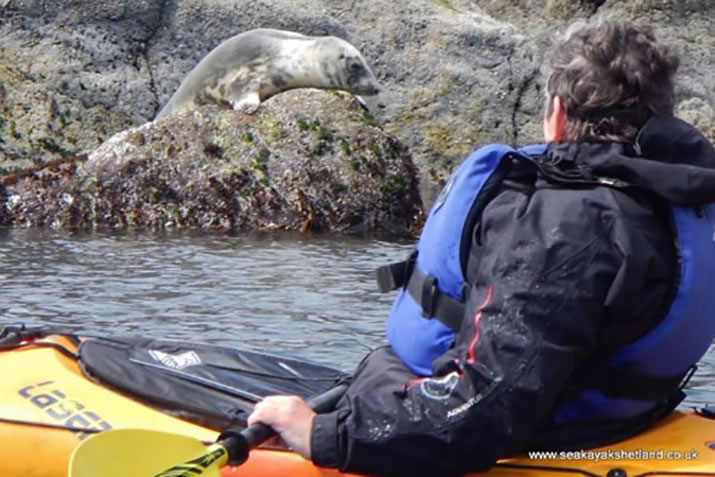 Q. Do you see any interesting wildlife?
A. We usually see seals, frequently otters, very rarely dolphins or whales but always seabirds of some description. There is also interesting life below the waves that we can look down on when we are in some of the caves and geos (narrow channels in the rocks).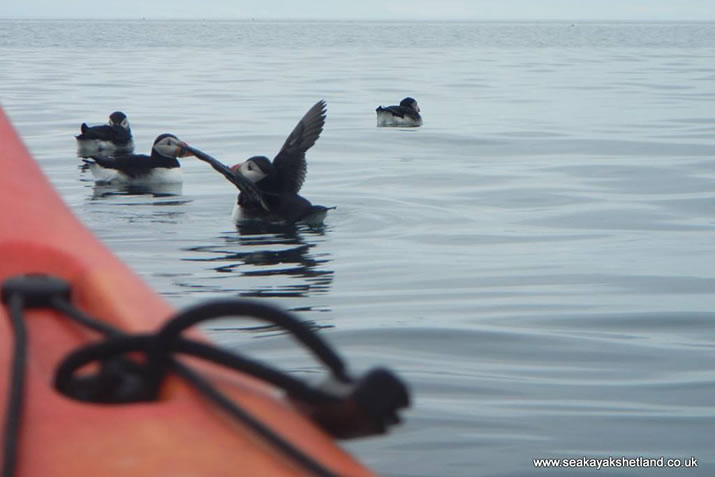 Q. So you visit caves? Can you tell us about the coastal features you see?
A. There are amazing caves, sea stacks and tunnels all round the coast, though mainly on the west (Atlantic Ocean) side of Shetland. Conditions have to be just right to explore the caves and appreciate the sea stacks. Sometimes we can't get into the caves because of waves, or it is too windy to go to stacks.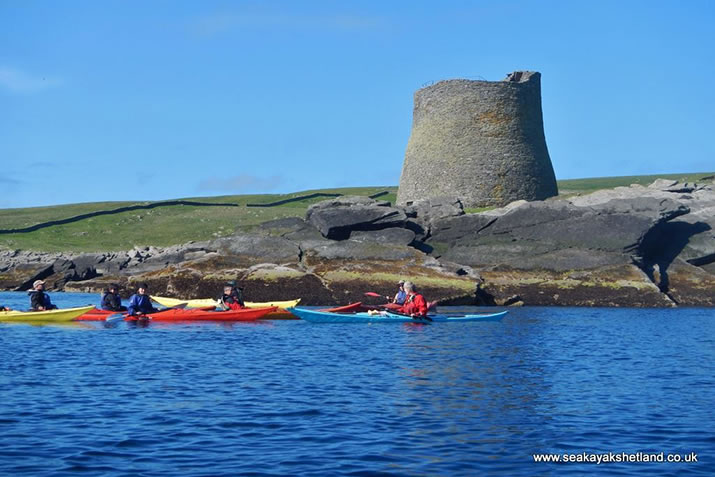 However, we also have some lovely, more rural than dramatic, paddles on our doorstep and it is always interesting to have the different perspective of Shetland from the sea.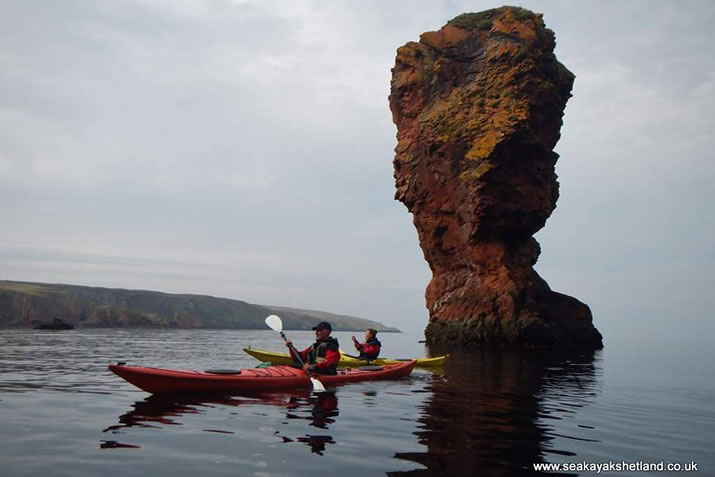 Q. What equipment do you provide and what should I bring?
A. We provide all necessary equipment, including a jacket and waterproof over-trousers. Even for a short trip you should bring a snack and something to drink. You need to wear shoes and clothes you don't mind getting wet (though nothing cotton as it can be very cold if it gets wet) and a change of clothes for afterwards. We also hope you will need sunscreen and maybe a sunhat!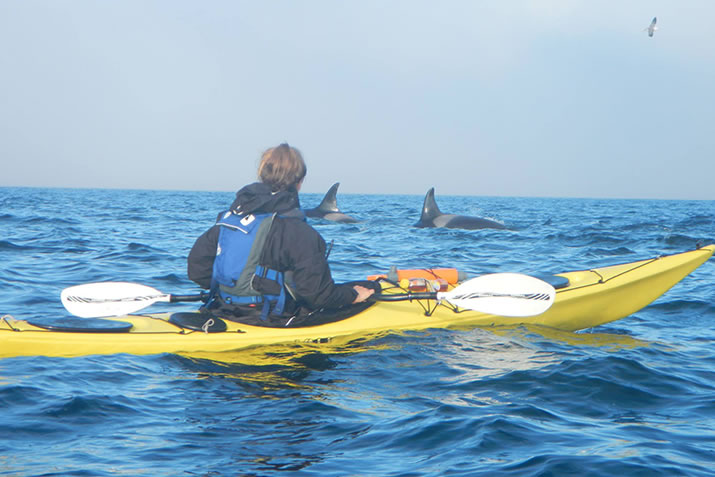 Q. Any good stories from your sea-kayak tours of Shetland?
A. In 2014 we took a couple of people out for a paddle north from Lerwick harbour. They were keen enough to accept that going out to explore the harbour entrance would be fine. We were not long out from the harbour entrance when we spotted a pod of killer whales. They performed beside us for a considerable time. It was awesome, in the real meaning of the word!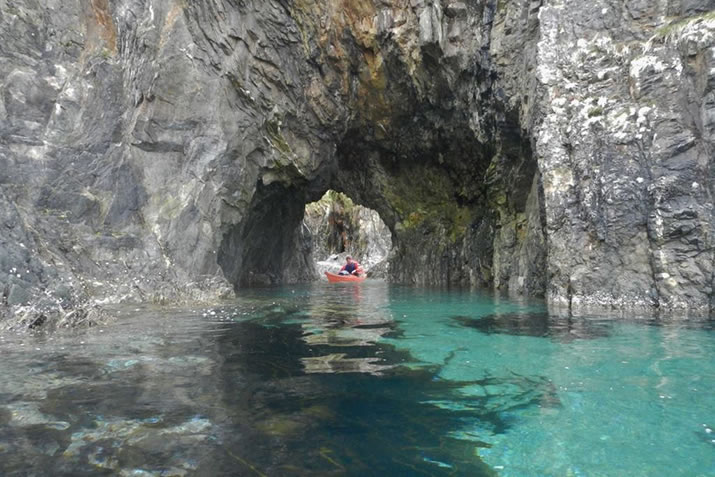 Q. What is your personal favourite place to go in Shetland by sea-kayak?
A. There are so many incredible places with many fantastic memories but because of the weather they are different each time you visit so I couldn't put my finger on that one place.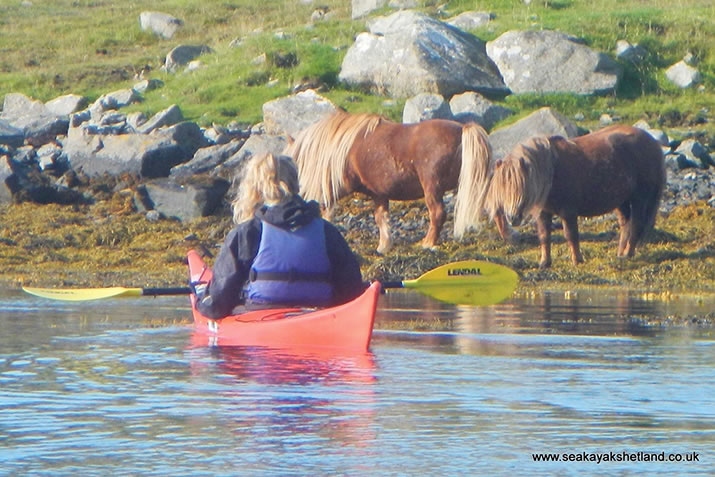 Q. What would you hope a visitor would take away from a sea-kayak tour of Shetland?
A. Happy memories of a trip that exceeded expectations.
To find out more or to book a Sea Kayak Tour, visit http://www.seakayakshetland.co.uk/ or https://www.facebook.com/pages/Sea-Kayak-Shetland/106200582890379

By
Magnus Dixon
Orkney and Shetland enthusiast, family man, loves walks, likes animals, terrible at sports, dire taste in music, great taste in films and tv, eats a little too much for his own good.