A Shetland Christmas gift guide
Header image: Vintage Fair Isle Snood from Ninian, Shetland photo © Copyright Ninian
With Christmas just around the corner, here are some fantastic Shetland gift ideas to support local makers and share a little piece of Shetland with a loved one.
If you're in Shetland, please be sure to visit the annual Christmas Craft Fair, held at the Clickimin Leisure Centre and featuring over 100 local makers. It is held in 2023 on Friday 3rd to Sunday 5th November.
Buy a craft experience
For those who are tricky to buy for, or have a visit planned to Shetland, why not buy a craft experience? Here are a few ideas:
Glansin Glass
Unst-based Glansin Glass is a fused glass studio creating and selling decorative and unique glassware including jewellery, tableware and art pieces, all inspired by Shetland. Their Unst studio offers workshops where visitors can make coasters or wall hangings. This is great fun for anyone, and you need no experience to take part!
https://www.glansinglass.co.uk
Red Houss Shetland
Renowned artist, jeweller and sculptor, Mike Finnie, runs jewellery-making workshops and watercolour classes from his studio in Burra. Perhaps you have a special piece of sea glass or pottery that you'd like to turn into something special, or would like to try your hand at silverworking, if so, Mike's workshops are fantastic!
https://www.redhouss.co.uk
Splurge on a piece of island-inspired jewellery
For the someone special in your life, buy the gift of jewellery. Not only is this the perfect way to support small businesses, but it's sure to brighten someone's day!
Karlin Anderson
Karlin Anderson is a Shetland-based jewellery designer creating stunning collections with inspiring stories. Karlin's bespoke designs and ready-to-wear pieces in platinum, gold and silver set with precious stones are the perfect gift for your loved one.
https://www.karlinanderson.com
Shetland Jewellery
Long standing island jewellers, Shetland Jewellery, have been creating designs inspired by Scandinavian mythology, Fair Isle knitwear, local wildlife, the northern lights and from traditional Celtic patterns since 1953. Visitors can buy online or pop into their Commercial Street shop in Lerwick or visit the studio and shop in Weisdale where a team of skilled designers work. Shetland Jewellery also runs classes where visitors create a set of stacking rings.
https://www.shetlandjewellery.co.uk
Yala Jewellery Shetland
Yala Jewellery Shetland creates beautiful designs from a small workshop in Yell and is very much inspired by the landscape around us. One range features traditional crofthouses which are so much a part of Shetland's heritage.
https://www.yalajewelleryshetland.co.uk/
For the knitter in your life …
For the knitter in your life, the choices are numerous, unique and sure to raise a smile on Christmas morning.
Why not try buying a unique piece of knitwear from:
Burra Bears
Buy your loved one a Burra Bear. Each unique, Fair Isle bear is given an identity, inspired by a person and a place. Established in 1997, these bears make the ideal gift and companion.
https://www.burrabears.co.uk/
Paparwark
Bigton-based Paparwark create finely crafted furniture, gifts, homeware and their famous textile collection featuring jumper boards, hap stretchers and yarn bowls – ideal for the knitter in your life!
https://www.paparwark.co.uk
For the bookworm …
The Shetland Times Bookshop is a long-established, family-owned bookshop in Lerwick. The shop is a welcoming and interesting place to browse and explore, offering fantastic service and an array of books and unique, bespoke gifts.
They have a knowledgeable team and offer every local interest book currently in print, including their own extensive list of locally related publications.
Two of my favourite books that make great gifts are pocket guides Shetland Summer Birds and Otters in Shetland.
All their books can be ordered online via their website – https://shop.shetlandtimes.co.uk/
Make it boozy…
Why not buy a bottle of Shetland Reel Gin or a selection of island-inspired beers from the Lerwick Brewery.
https://www.shetlandreel.com/
https://www.lerwickbrewery.co.uk/
Make a statement
Shetland is an inspiring place to live, with artists finding inspiration in the landscapes around them. Buy a piece of original artwork from one of Shetland's renowned artists.
The Shetland Gallery
The UK's most northerly art gallery on the island of Yell showcases a range of local artists who are inspired by Shetland, the sea and the landscapes of the north. Featuring paintings, ceramics, jewellery and woodwork, there's something for everyone in this light and bright gallery.
https://www.shetlandgallery.com
Here are a few more favourite Shetland artists to check out:
For a full list of creatives, check out the Shetland Arts & Crafts Trail.
https://shetlandartsandcrafts.co.uk/craft-trail/
If you're in Shetland, please be sure to visit the annual Christmas Craft Fair 2023, held at the Clickimin Leisure Centre on Friday 3rd to Sunday 5th November, featuring over 100 local makers.
Pin it!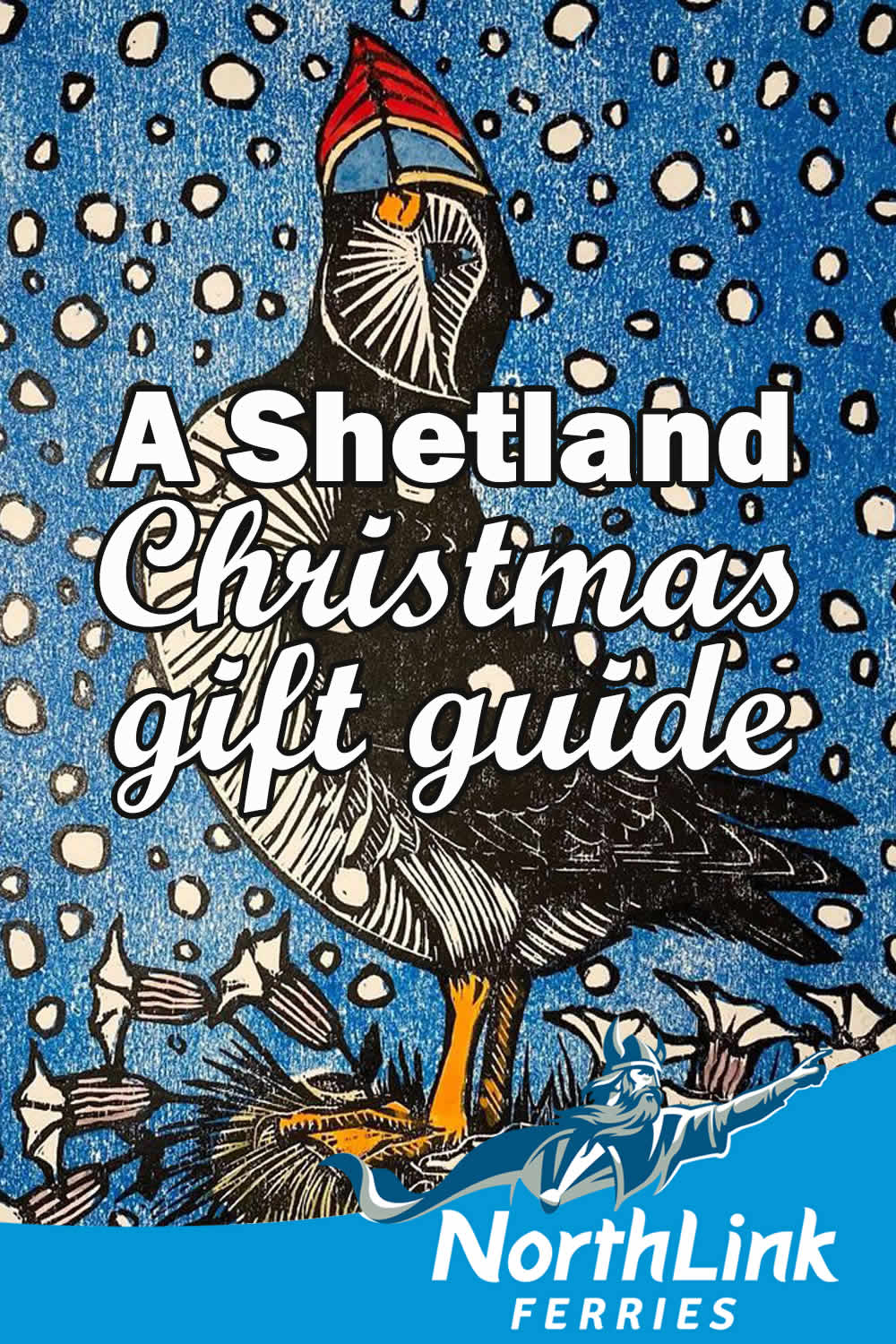 Pinterest image: Puffin in a snowstorm, Woodcut photo © Copyright Howard Towll