Shetland cooking with Akshay Borges
Akshay Borges, also known as the Shetland Chef, has been adding a pinch of spice to Shetland produce since he moved to the islands over a decade ago. Akshay is a passionate chef who has been directing his energy and creative eye to cooking stunning dishes which showcase the best ingredients Shetland has to offer.
"I see what local produce is available and try to use them so the flavours complement each other. I like to keep it simple so that you can taste each ingredient with just some seasoning or spices added to enhance the dishes."
Using a spectacular fusion of Shetland's produce and Indian influences, Akshay skilfully creates some truly unique and memorable dishes. We asked him more!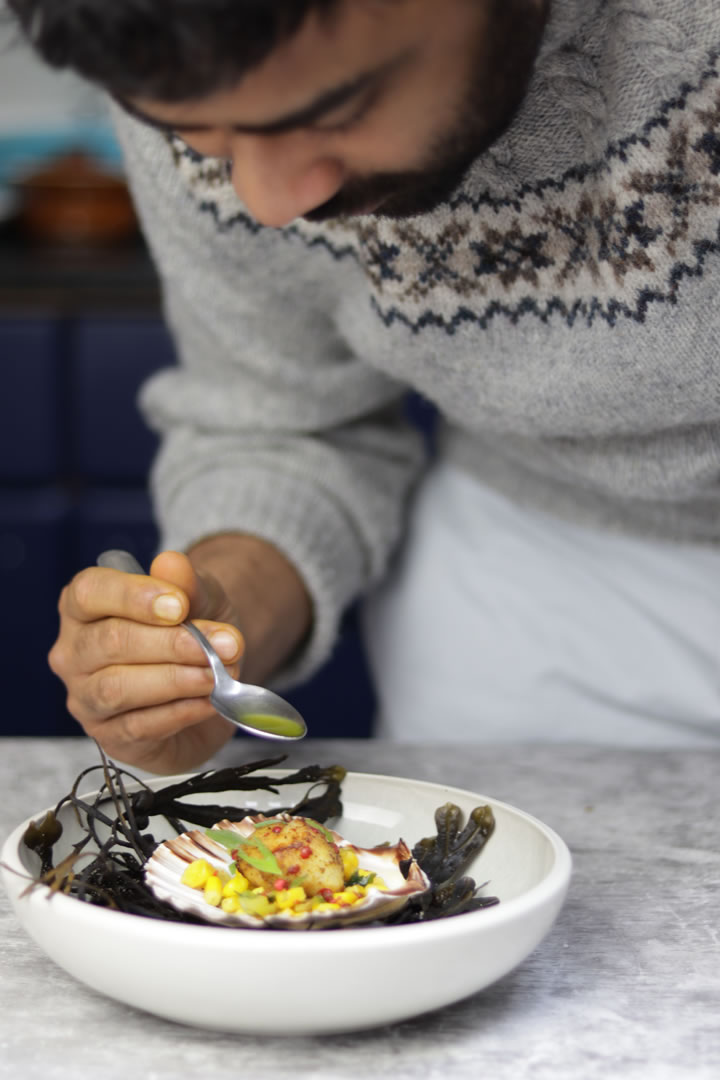 Q. Can you tell us a bit about yourself?
A. I'm a chef and I've lived in Shetland for nearly fifteen years. Ever since I got here, I've love working with local produce and producers – it's one of the best things about cooking here and really inspires my food.
During lockdown I started making YouTube videos to share recipes and promote local produce. Recently I've also made videos about sea-swimming and other things I love about living here like the agricultural shows and amazing scenery.
Q. What brought you to Shetland?
A. I was looking for a trainee chef's job and got the chance to work at a family-run hotel whose menu focused on local produce. I flipped a coin and chose the job in Shetland instead of one down south in England. It was the right decision.
In a small place like this, you can go meet the local farmers who take pride in and are passionate about their jobs – it's their whole way of life. Fresh fish lands every day (which I always love working with) and it's been great to see more local veg being produced over the years too.
It was a difficult decision to pack everything up and go somewhere totally new but sometimes you just take a leap of faith and go with your gut instinct.
Q. What makes Shetland produce so special?
A. Farmers grow vegetables in this ever-changing weather using natural, organic methods and a very short growing window. The farms are sometimes only a few miles away from you and the quality and flavour shows in every bite. When it comes to lamb and beef the flavours come from their environment and the way they graze.
Every farmer I have met takes so much pride and puts so much hard work into what they love, and it shows in the quality of meat and vegetables. The animals have been cared for and roam freely on acres of land feeding on nutritious seaweed, heather, and natural vegetation – it comes across in the meat.
We have one of the biggest fishing ports in the United Kingdom. Almost half of the fish landed in the country are caught within 100 nautical miles of the pristine waters of Shetland. A huge range of seafood including lobster, scallops, mackerel, crab, langoustines, white fish, and naturally rope-grown mussels are freshly landed throughout the year. We get it super fresh.
Q. Do you have a favourite food that can only be found in Shetland?
A. I would say Sassermaet, it is a lightly spiced mincemeat that's traditional to Shetland and is a great addition to recipes or just eaten fried in slices. You can find varieties in local shops and the one made by Uradale Farm has even won awards for its outstanding flavour.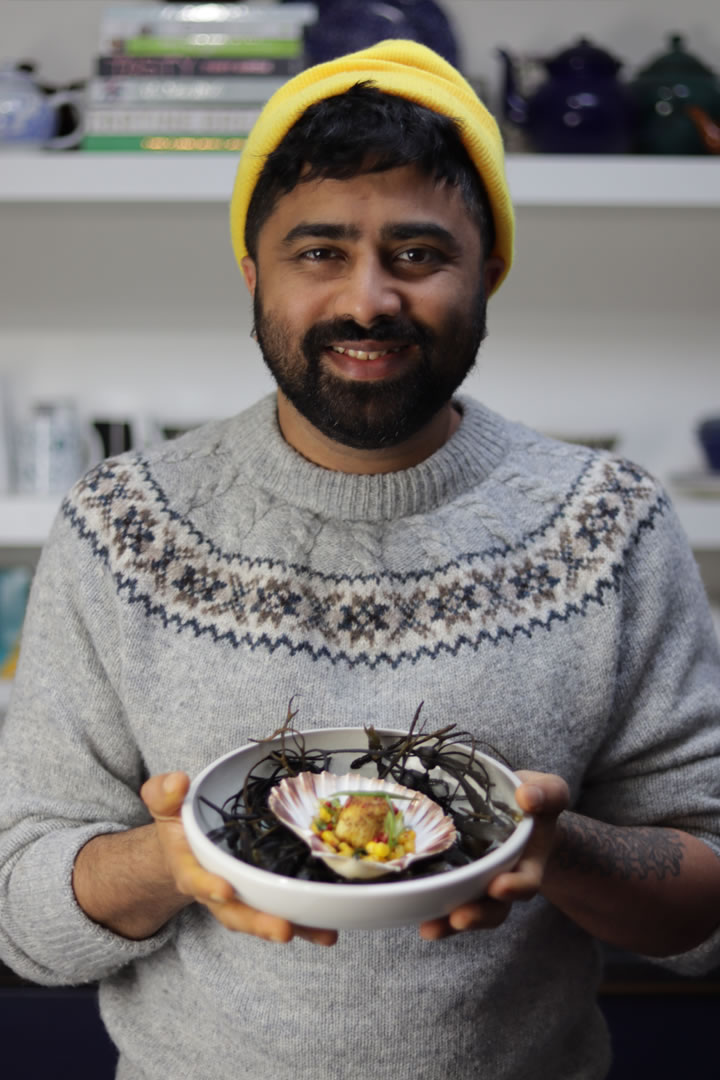 Q. Do you have any 'must try foods' for folk visiting Shetland?
A. I would say something simple like fresh mussels or locally-reared lamb cooked very simply because these ingredients are packed with flavour. Even if you're used to eating these things, there's nothing like Shetland seafood and meat, it really is incredible quality.
Q. What are the most rewarding and challenging aspects of the industry?
A. One of the most rewarding things is getting to know the suppliers and using the local produce they take so much care over. Another is the freshness of the seafood. Since it lands here before it's exported we always have it on our doorstep which is great.
The weather here means that the growing season is short so local fruit and veg are in shorter supply and are only available during the summertime. Fish has seasons for things like lobsters and mackerel but there's always something great available.
Q. How do you use local ingredients in your dishes?
A. I see what local produce is available and try to use them so the flavours complement each other. I like to keep it simple so that you can taste each ingredient with just some seasoning or spices added to enhance the dishes.
I use all types of local produce in my cooking from meat and fish to vegetables and flowers. I make pickles, have foraged for seaweed and more. I like to avoid waste so I use the bones and less well-used parts of the veg and meat to pull as much flavour as possible. Whether it's using cauliflower leaves, edible flowers or the meat from a pig's head, it's important to use as much as possible of each ingredient to get the most out of it.
I like the challenge and the chance to be creative but it's also a good way to respect the animals and the producers too.
Q. Do you have a favourite recipe using local produce?
A. I do – the following recipe is one of my favourite dishes as it gives a south Indian flavour to fresh Shetland mussels! The sauce can be made in advance and mussels cooked to order to save time. I think it is best enjoyed with sourdough bread.
SHETLAND MUSSELS IN SOUTH INDIAN TOMATO RASAM
Ingredients:
1 tbsp vegetable oil
1½ tsp mustard seeds
½ tsp cumin seeds
1 thumb ginger (finely chopped)
1 bulb garlic (finely chopped)
80g onion (medium diced)
½ tsp garam masala
½ tsp coriander powder
¼ tsp turmeric powder
1 medium spiced chilli (sliced)
20 curry leaf
600g tomato (chopped) (You can use tinned good quality tinned tomatoes, if needed)
1 tsp salt
20g red lentil
200ml water
¾ tsp sugar
1kg mussels (rinsed and debearded)
20 coriander springs (finely chopped)
Method:
In a pot on medium-high heat add the vegetable oil, mustard seeds, and cumin seeds, and cook for a few minutes mixing occasionally until mustard seeds start spluttering.
Add the ginger, garlic and onion, and keep mixing and cooking until the onions turn translucent. This should take about 5-7 minutes.
Add the garam masala, coriander powder, turmeric, chilli, and the curry leaf. Cook for another 2 minutes
Add the tomato, salt, red lentils, water, and sugar. Turn the heat to medium and let it come to a simmer. Put a lid on and cook for 15 minutes until the lentils are cooked.
Add the mussels and cook for another 5 minutes or until the mussels open up. Make sure to mix it a few times so that all the mussels are covered in sauce.
Finally add the coriander and serve.
For more from Akshay, including recipes and advice from his Shetland kitchen, please visit his website: https://cookwithakshayborges.wordpress.com/, his Facebook page: https://www.facebook.com/Shetlandchef, his Instagram page: https://www.instagram.com/Shetlandchef/ or his YouTube channel: https://www.youtube.com/c/ShetlandChef

By
Victoria Dixon
Orkney and Shetland fanatic, likes to capture life through a lens, loves creating, eclectic taste in music, enjoys being a Mum; would secretly love to be a star of the West End!
Pin it!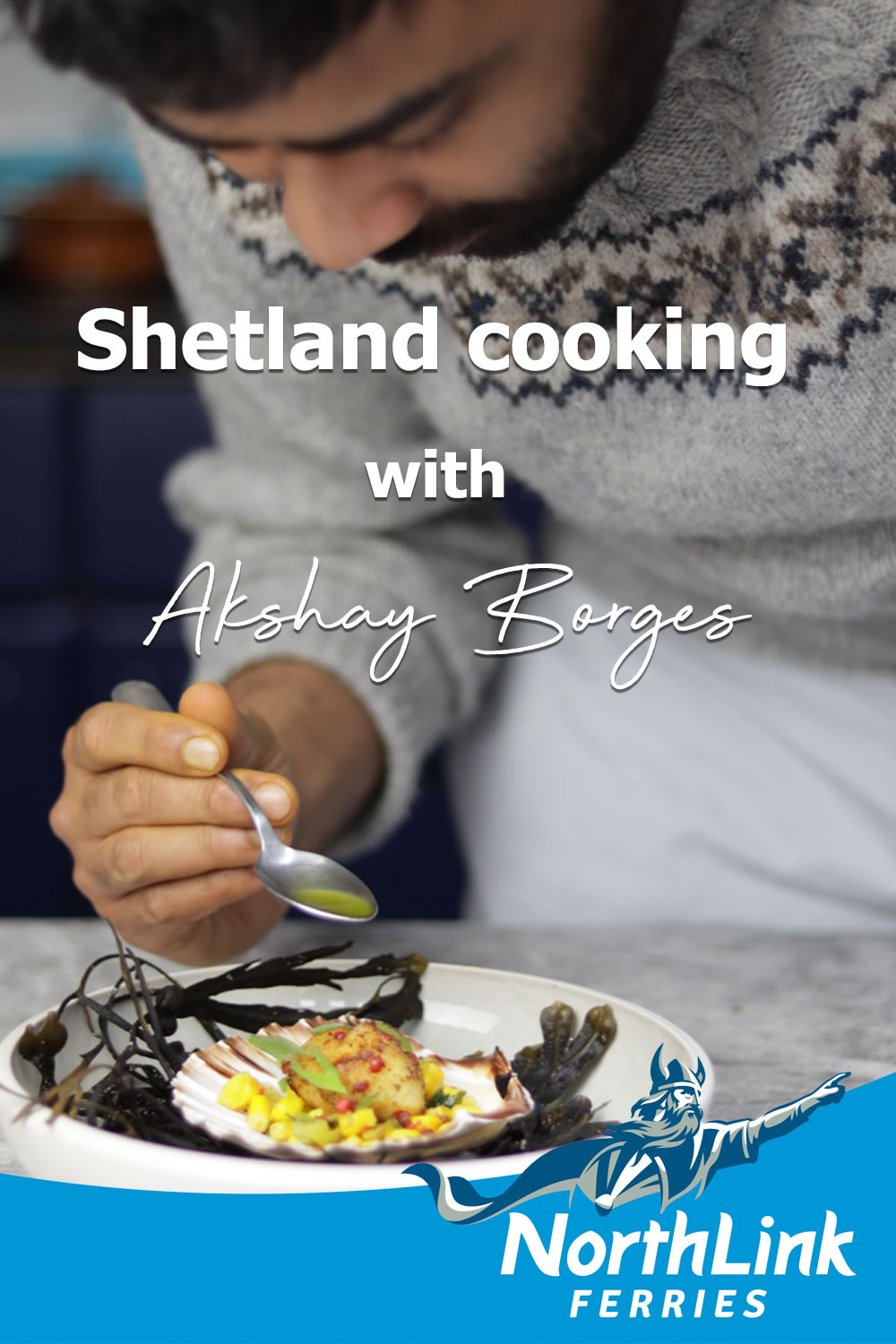 Header image: The Shetland Chef, Akshay Borges photo © Copyright Charlene Storey