Great walks with your dog in Shetland
With dramatic scenery in spades, miles of heathery moorland and lovely sandy beaches, the Shetland Islands are a fantastic place to take your dog, and there are many fine Shetland dog walks to be had! We asked Sara from the Lerwick Terminal about her dog Dougal's favourite walks.
Please note that the dominant agricultural activity is Shetland has always been sheep rearing, so please, on all Shetland walks, keep your dog on a lead when appropriate.
We hope that you and your dog enjoy visiting these wild and beautiful places!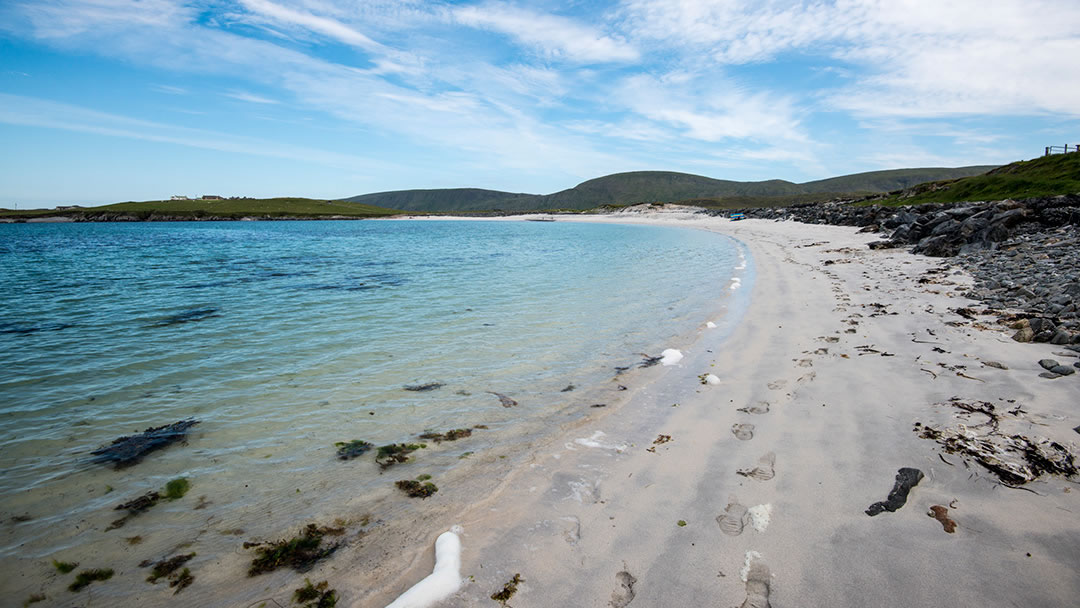 1) Banna Minn
The island of Burra is attached by bridges (and a road through neighbouring island Trondra) to the Shetland Mainland near Scalloway, and to reach Minn beach, follow signs for Papil and then Banna Minn. There's a car park at the top of a hill and then a walk down onto a stunning tombolo. Banna Minn is the bay, and the beach is named Minn beach. Adventurous explorers and their energetic dogs can cross to the Kettla Ness peninsula. Otters and seals can be spotted here! Please note that the dominant agricultural activity in Shetland has always been sheep rearing, so please, here and on all Shetland walks, keep your dog on a lead when appropriate.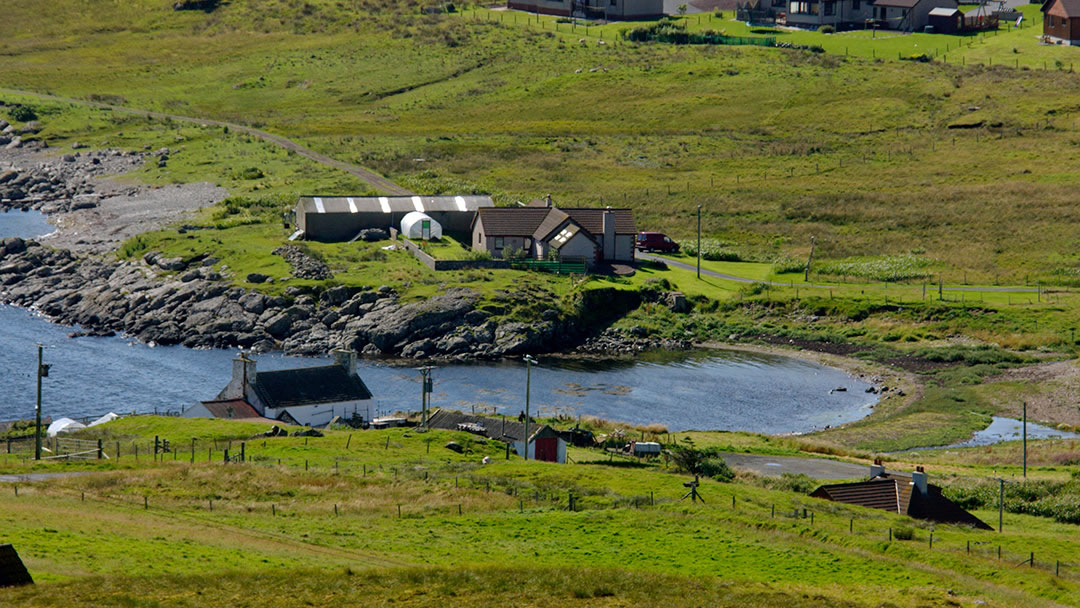 2) Fladdabister
You'll notice signs to Fladdabister on the A970 north of Cunningsburgh; take the road which leads you closer to the coast. There's a cluster of ruined croft houses and ruined water mills next to the burn and a lovely shingle beach. Above the beach limestone was crushed and burnt in drystone limekilns for agricultural purposes in the 19th century. You and your dog will really enjoy the walk along the Fladdabister; you'll enjoy spotting sea caves, wild flowers and birds!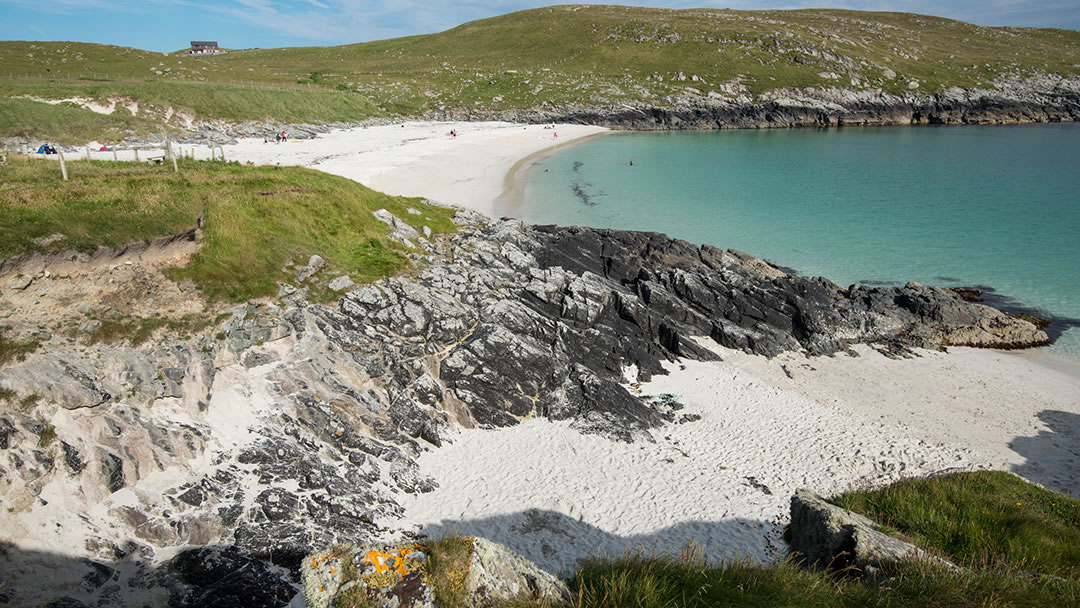 3) Meal Beach to Hamnavoe
Meal Beach is one of Shetland's finest beaches; it's located on West Burra, 275m below a car park and public toilet. The white sand and turquoise water of Meal Beach is quite lovely! From the beach there's a coastal path to the nearby fishing village of Hamnavoe. The heart of Hamnavoe is its harbour; see if you can spot a shell covered house and a knitted Shetland lace (garden) fence on your walk back to the Meal Beach car park. The harbour of Hamnavoe is protected from Atlantic storms by the peninsula Fugla Ness; you can extend your walk by visiting the Fugla Ness Lighthouse!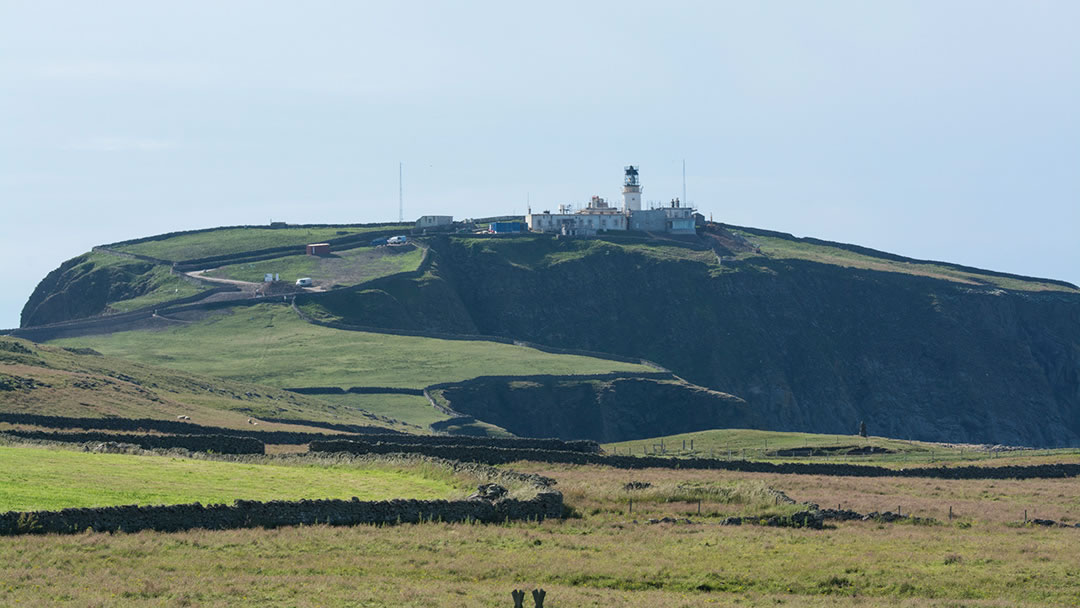 4) Sumburgh
A trip to Sumburgh is always well worth making, in the summer to enjoy the seabirds, and in the winter to see the spectacular seas. There are a couple of options for dog walkers here – for a short walk, parking at the Sumburgh Head car park and walking up to the Lighthouse is recommended. For a longer walk we'd recommend parking at Jarlshof and following the coast uphill towards Sumburgh Head. There are stiles in place to help you cross walls; and please be wary of cliff edges! You'll see Jarlshof, amazing cliff scenery, the lighthouse, Sumburgh airport and if you return via the road, we'd recommend a stop at Grutness Pier before returning to the Sumburgh Hotel and Jarlshof.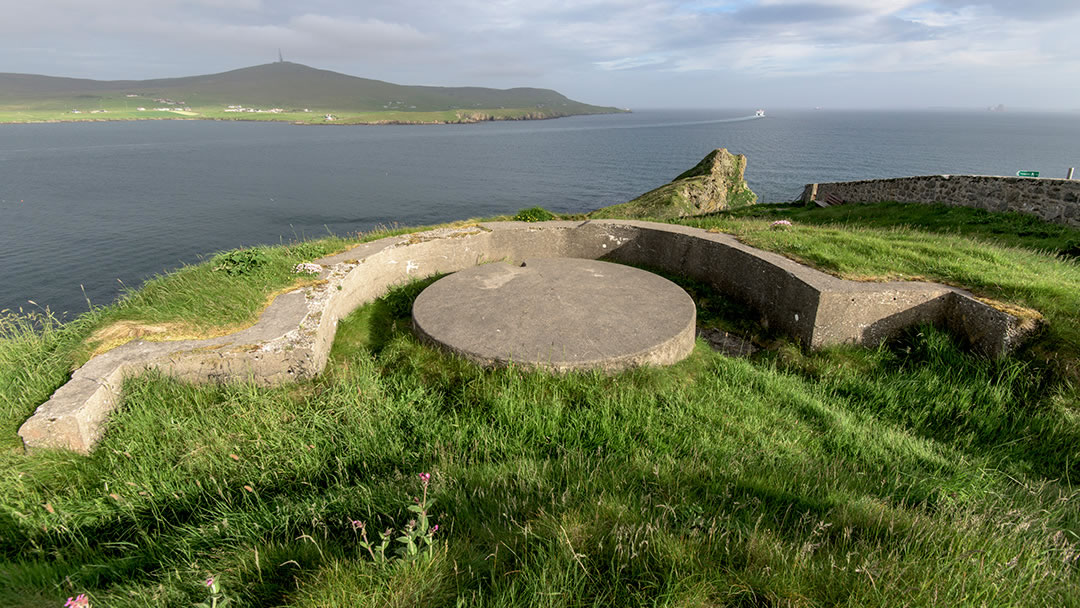 5) The Knab, Lerwick
A favourite in Lerwick, a walk to the Knab takes you to a rocky headland with fantastic views of the Sooth Mooth (the southern approach to Lerwick harbour). It's a great place to see NorthLink ships sailing to and from Shetland, and there's a WW2 lookout nearby and torpedo tube platform on the shore below! We'd recommend walking from Commercial Street, past the Lodberries (the fictional home of Detective Jimmy Perez), and along Twageos Road. You can either continue along the coast or head up Gressy Loan towards the Knab. Dog owners may be pleased to find bins at the Knab! Many folk continue the walk by taking the path beside the golf course down to Breiwick Road and beyond.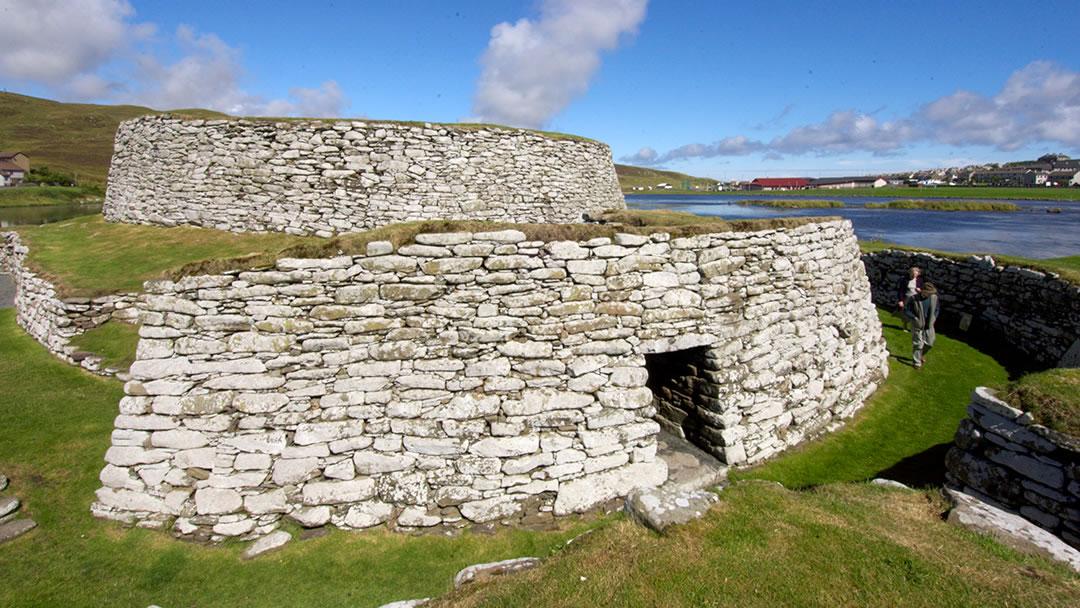 6) The Loch of Clickimin, Lerwick
Another great dog walk around Lerwick is around the beautiful Loch of Clickimin. There are a number of places to park nearby, either at the Clickimin Leisure Centre, Tesco or even on Westerloch Drive. Wherever you start from, the path around the Loch of Clickimin should take about 30 minutes for you and your dog to walk around, and offers lovely views of the town, passing Clickimin Broch and Staney Hill. A small part of this circuit is near a busy road so don't forget your dog's lead!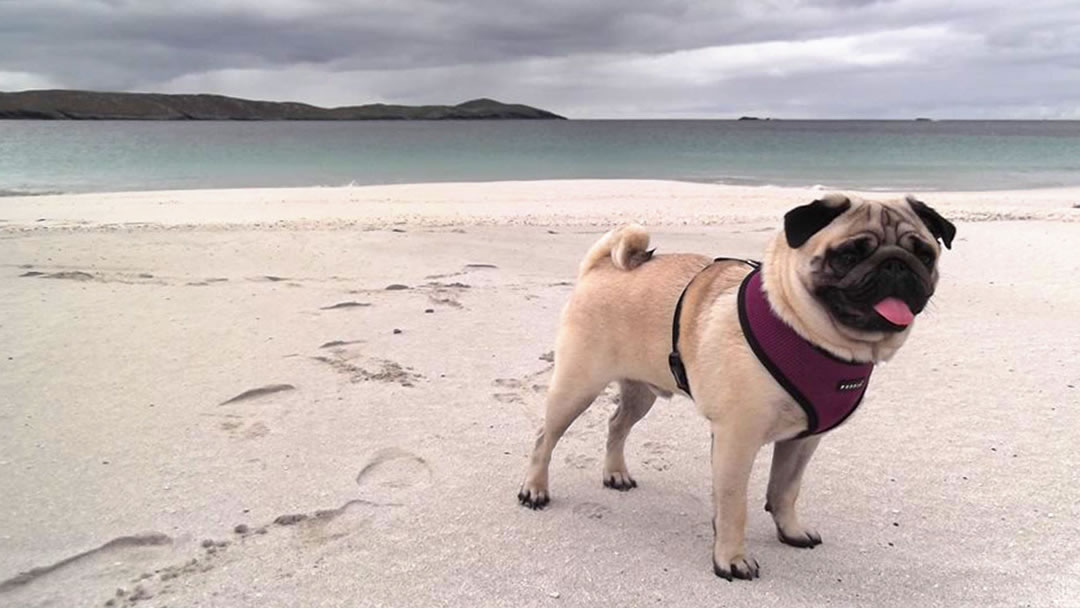 7) St Ninian's Isle
St Ninian's Isle is a lovely place for dogs, children and adults; there's a lovely long sandy tombolo (at 500m, the largest in the UK) which attaches St Ninian's Isle to the mainland at Bigton. Medieval Treasure was found on St Ninian's Isle in 1958. As you walk across to the island, waves wash in at either side of you, which is a very unusual sensation and creates symmetrical arching beaches! There is ample car parking and bins aplenty nearby.

By
Magnus Dixon
Orkney and Shetland enthusiast, family man, loves walks, likes animals, terrible at sports, dire taste in music, adores audiobooks and films, eats a little too much for his own good.
Header image: Dougal the pug in Shetland photo © Copyright Sara French