Food from the Shetland Islands that you must try!
When visiting the Shetland Islands we recommend that you sample the unique food that can be found there. Throughout history Shetlanders have relied on the sea to fill their larder. The heathery landscape is also ideal for sheep farming, so lamb also features heavily.
The Shetland Black Potato is quite a distinctive spud – it has a blue skin, yellow flesh and a deep blue ring. They are small and oval in shape and very tasty indeed.
For your taste-buds' sake, make sure you sample some of the examples below during your time in Shetland!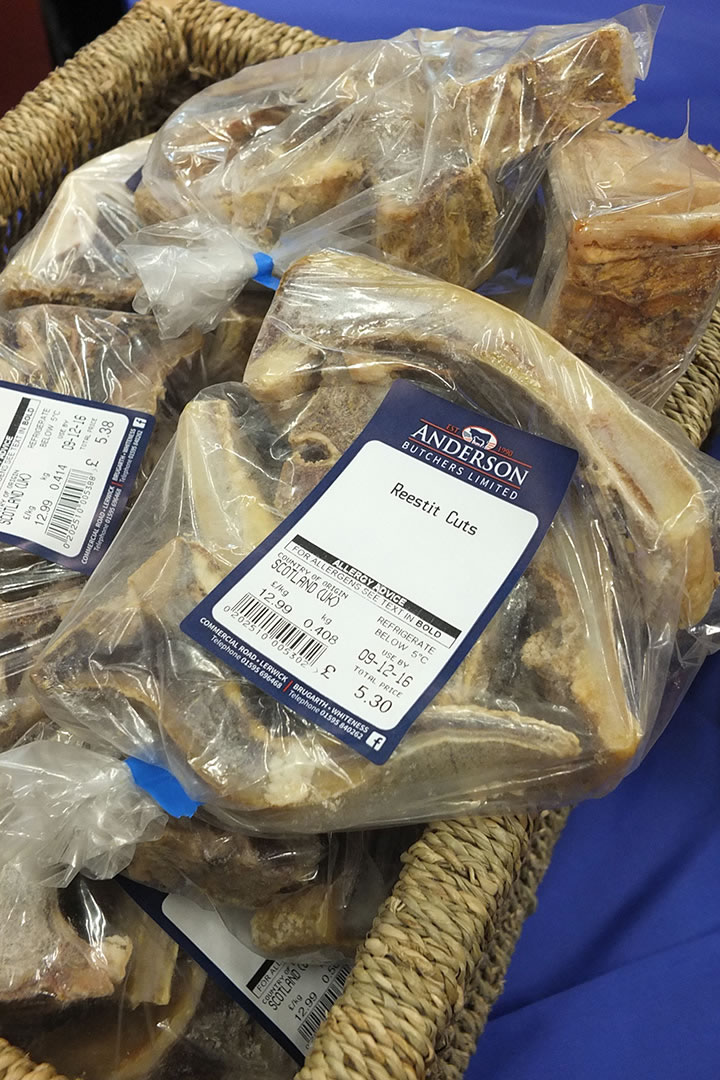 Reestit Mutton
Shetland Sheep are a unique breed. They are short and hardy and produce wool for Shetland's famous knitwear industry. They also a source of high quality meat. Reestit mutton was a traditional way of storing meat so that it can be eaten in slices through the winter. A potato is added to a bucket of water. Salt is poured in until the potato floats! The potato is then removed and the mutton added and left to steep for three weeks. The meat is then left to dry by hanging it from the rafters above a peat fire; this gives it a distinctive flavour!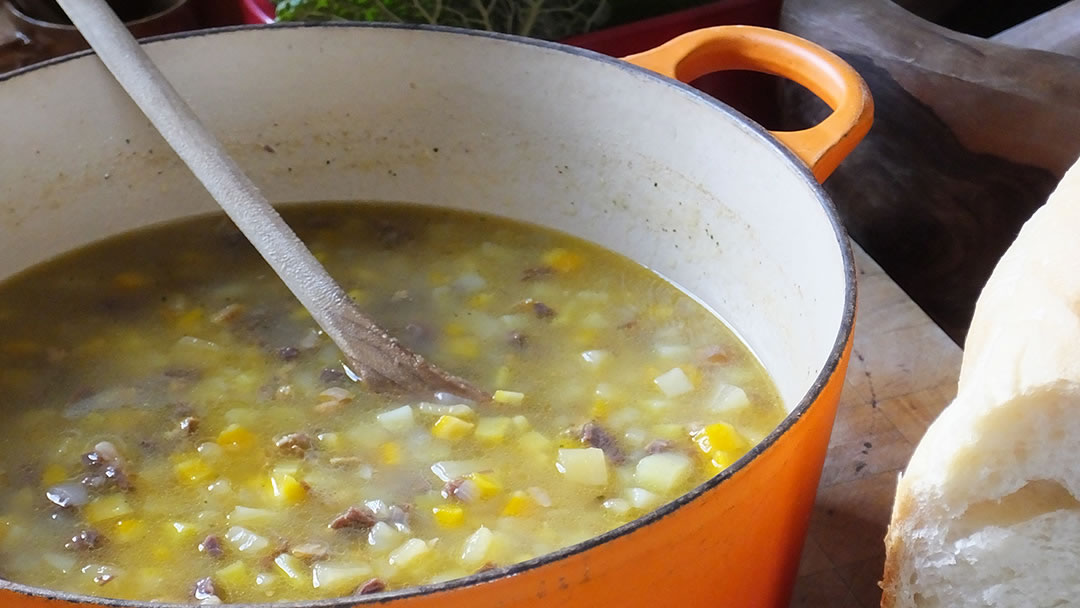 Tattie Soup
The most common way of consuming Reestit mutton is in Tattie soup (also known as Reestit Mutton Soup); you'll perhaps get a sip in the halls during Up Helly Aa. You'll also find Tattie Soup available in restaurants throughout the islands. Tattie Soup is a delicious warming broth made from Reestit mutton, onions, carrots, turnips and cabbage. It's best served with delicious Shetland Bannocks!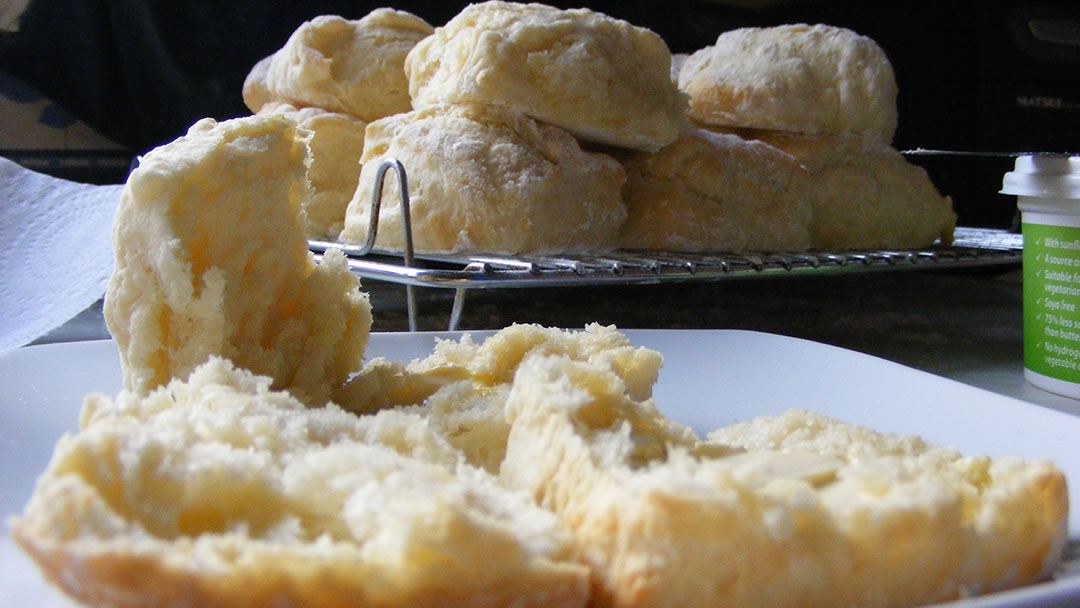 Shetland Bannocks
Just as Orkney has unique bere bannocks, Shetlanders also have their own unique bannock recipe. For Shetland Bannocks the key ingredient is self-raising flour from the Johnson & Woods bakery in Voe. Shetland Bannocks resemble scones; they have a similar sharp taste which comes from using yoghurt or buttermilk, but unlike scones they are savoury rather than sweet.
You can find Shetland Bannocks in Shetland shops, cafes and restaurants. There's also a great recipe for Shetland Bannocks on the Taste of Shetland website. Serve warm with butter or some reestit mutton soup!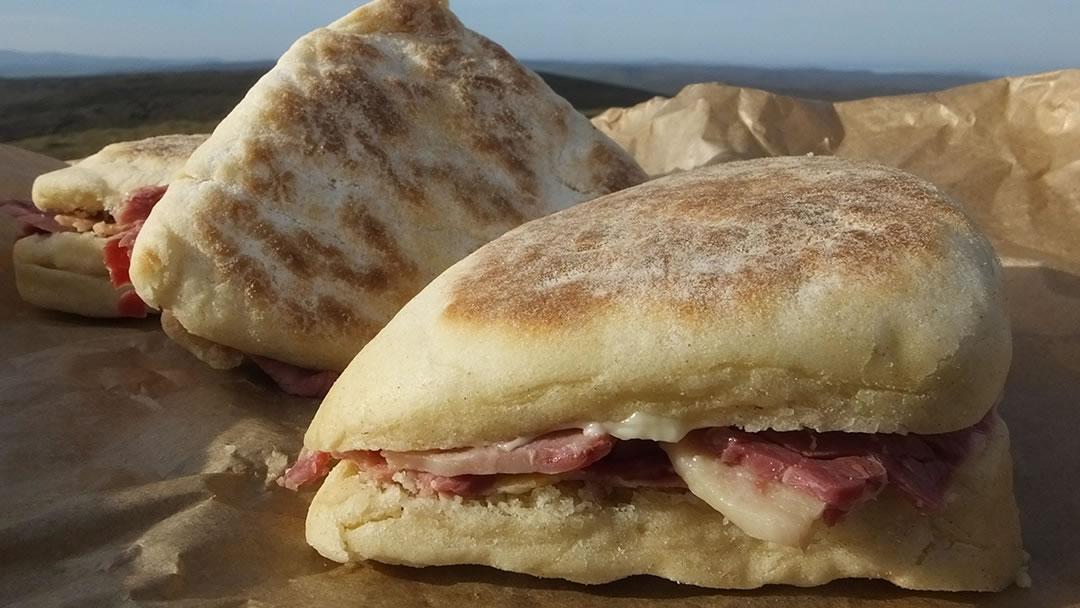 Saat beef
Like Reestit mutton, saat beef is a taste of the past, before the days of freezers and supermarkets. In those days meat was stored for the winter (fish was eaten during summer), Scandinavian-style, by steeping it in salt and then drying it out. Saat beef is delicious; an old treat brought out for special occasions, and like Reestit Mutton, it's most often served up with Shetland bannocks! You can get it on menus around Shetland, but also in the local butcher shop.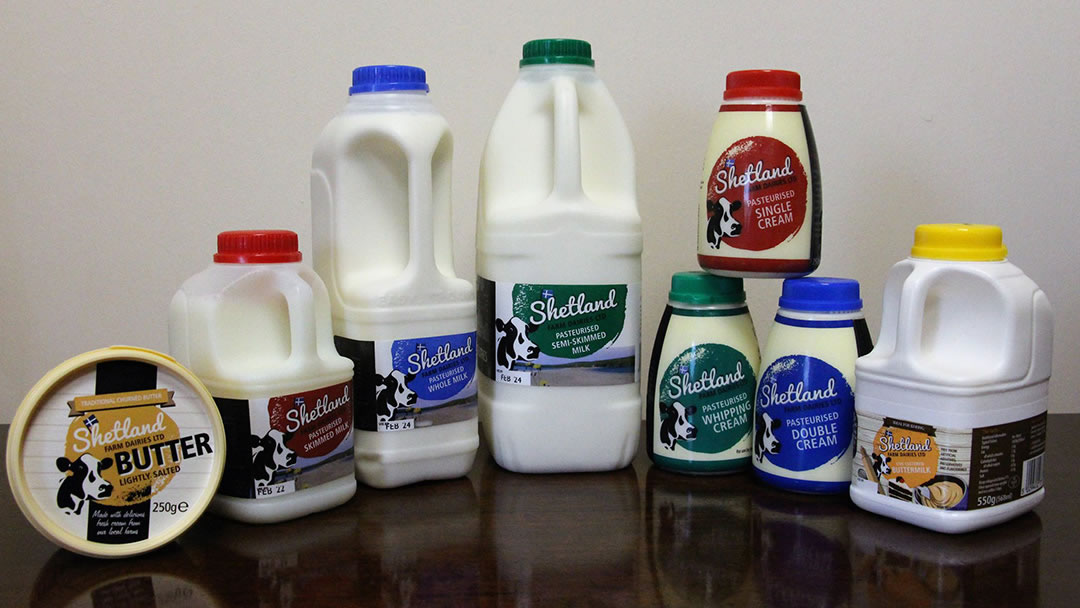 Shetland Milk and Butter
The Shetland landscape is distinctly heathery, hilly and dramatic, but the four dairy farms in Shetland are nestled into green, fertile low areas in the South and Central Mainland. The herds of cows that graze here do so in a clean environment, and the milk that comes from Shetland Farm Dairies is about as fresh and tasty as it gets. Shetland butter, made from fresh Shetland cream is also particularly delicious!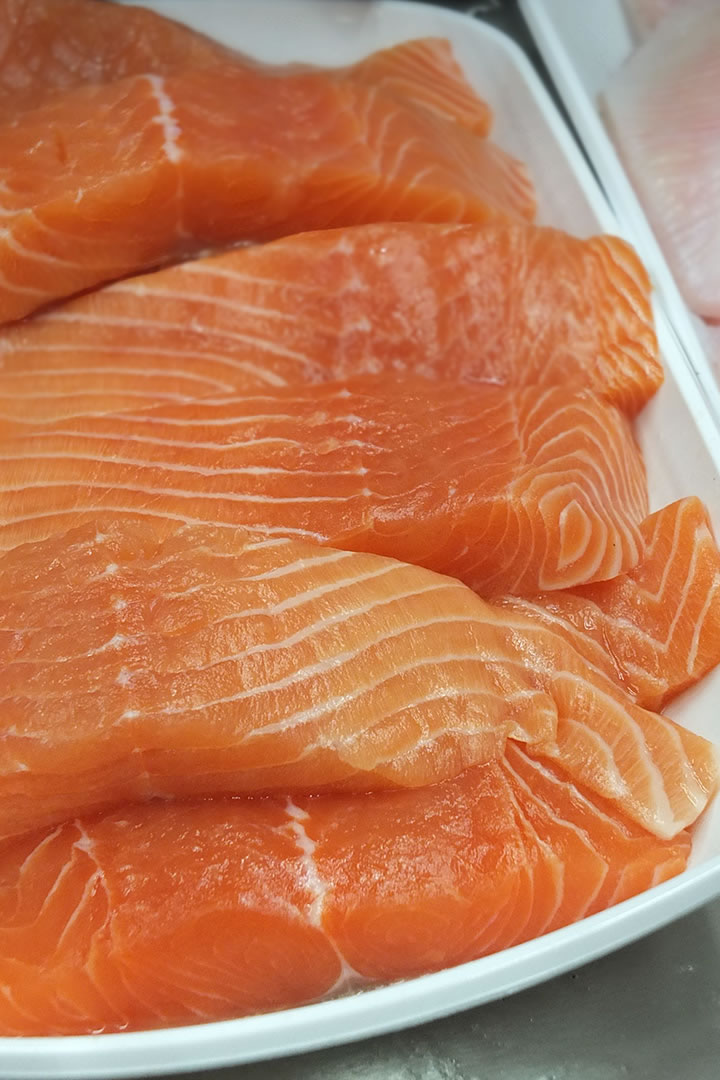 Shetland herring / mackerel / salmon
Shetlanders have always had a close relationship with the sea. In the past, every family owned a boat. Most settlements in Shetland are by the sea; there are very few houses inland. Fish has always been an important part of Shetlanders' diets and the wild, clean waters of the North Atlantic are where you'll find the freshest tasting herring and mackerel.
The clean waters and strong tidal currents of the voes around Shetland have also created the perfect conditions for firm, muscular and succulent Shetland salmon.
We'd highly recommend trying Shetland fish when visiting; they are rich in omega 3, vitamins and minerals, and best of all; very easy to cook!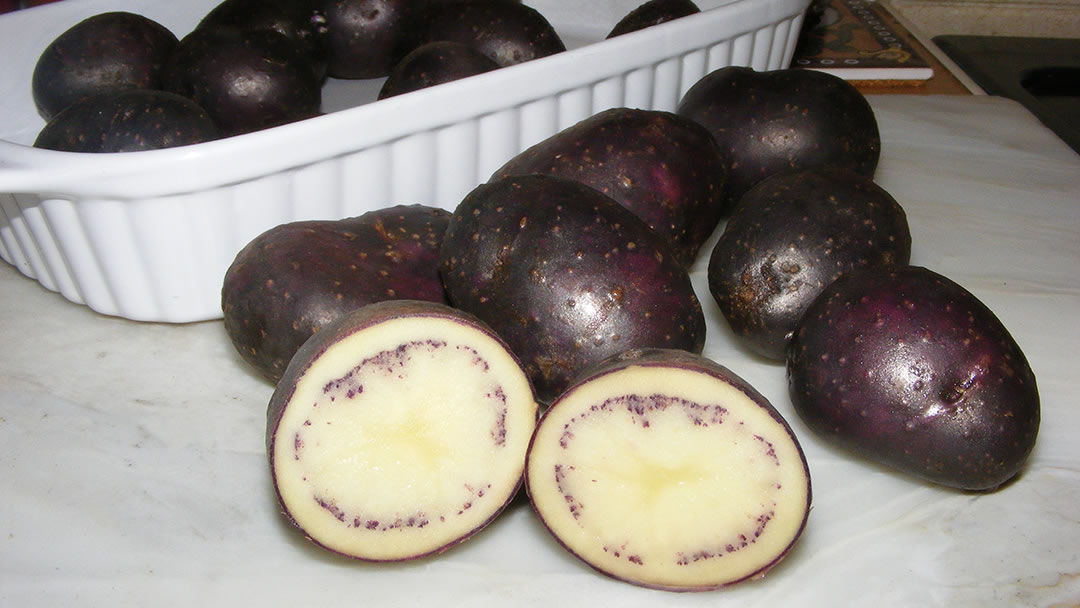 The Shetland Black Potato
The Shetland Black Potato is quite a distinctive spud – it has a blue skin, yellow flesh and a deep blue ring. They are small and oval in shape and very tasty indeed. They have a floury texture so make excellent chips and roast potatoes but we'd recommend eating them boiled with their skin on; all the better to admire their distinctive appearance!
Shetland Black Potatoes are slightly tricky to grow because the plants don't always flower and when it comes to digging them up they are very well camouflaged against the soil!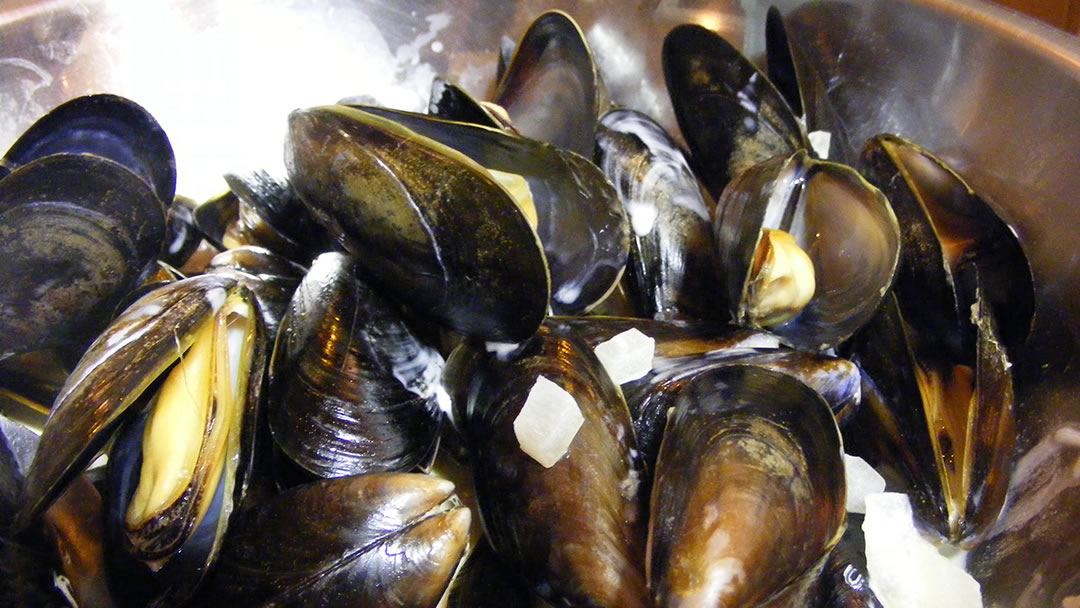 Shetland Mussels
As you travel around Shetland you may see lines of floats in the waters of the voes and inlets. These are usually perfectly spaced out, and the lines are usually far enough apart to allow a boat to travel between them. These are ropes which are used to grow plump, meaty and delicious mussels. The mussels thrive in the clear and clean waters around the Shetland Islands. We recommend trying Shetland Mussels during a stay in the Northern Isles – they're outstanding!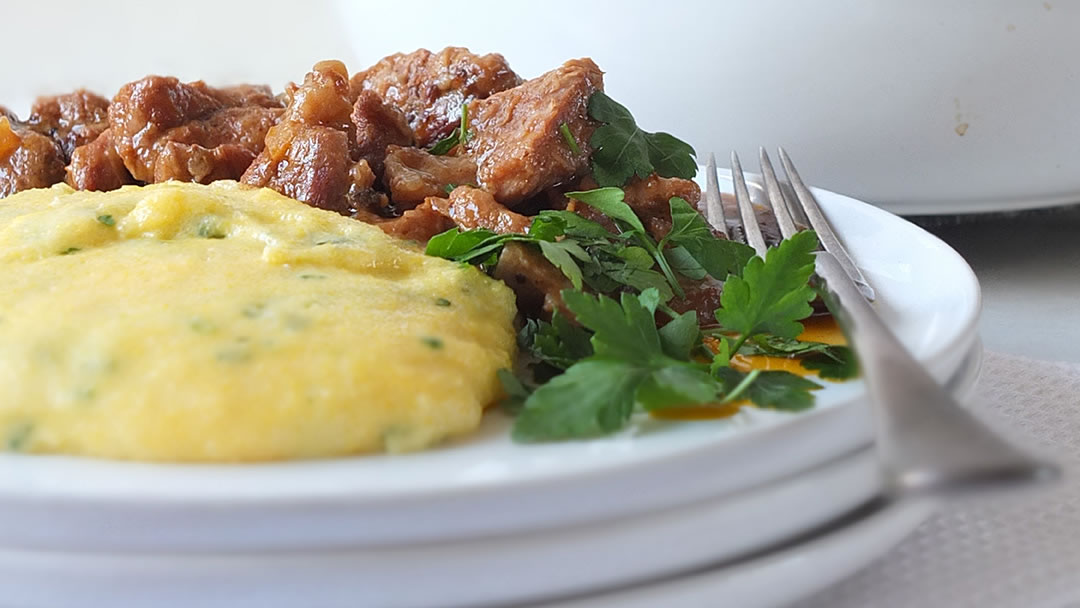 Shetland lamb
Shetland's heathery landscape is perfect for sheep-farming, and the meat of the distinctive sheep that live here is highly sought after. Shetland Sheep are half the size of other sheep, but their meat is lean and tasty, due to them having spent their lives grazing across large areas of heathery, herb-rich land. Shetland lamb has a delicate, slightly sweet flavour, and is a dish well worth seeking out in restaurants throughout Shetland!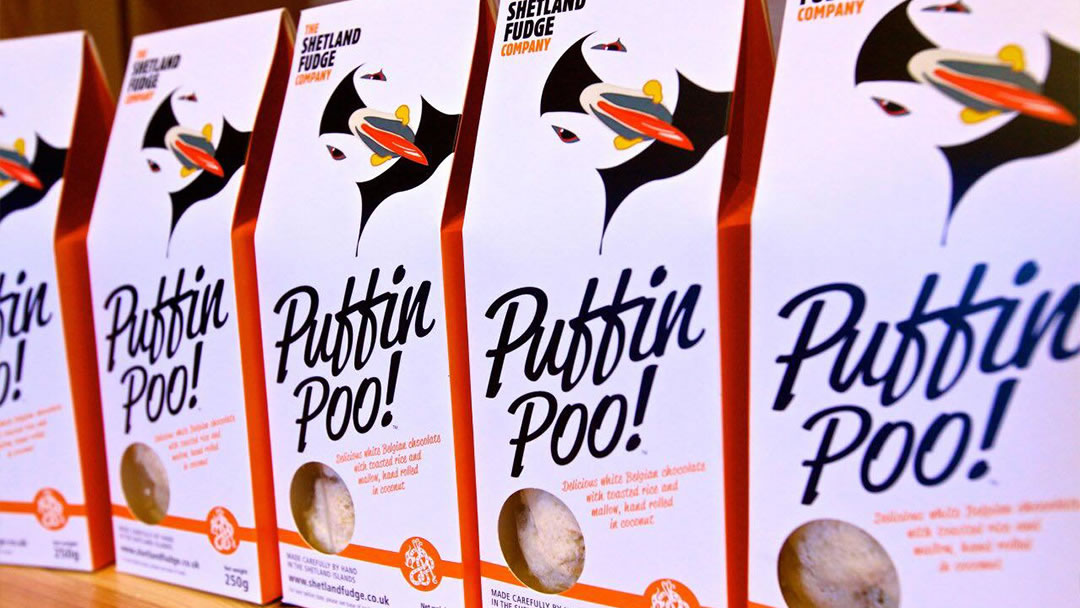 Puffin Poo
Don't let the name put you off! Puffin Poo is actually a tasty sweet made of white Belgian chocolate with toasted rice and mallow, rolled in coconut. It's created by the Shetland Fudge Company based in Lerwick and makes the ideal gift to take home from your travels; bound to raise a laugh and delicious too! We'd also highly recommend trying some of the Shetland's Fudge Company's other products – they have a range of unusual fudge flavours well worth sampling!
With grateful thanks to Elizabeth Atia for many of the photographs used in this article. Head over to Elizabeth's Kitchen Diary for amazing recipes (from Shetland and beyond), stories and holiday inspiration!

By
Magnus Dixon
Orkney and Shetland enthusiast, family man, loves walks, likes animals, terrible at sports, dire taste in music, adores audiobooks and films, eats a little too much for his own good.
Pin it!