Shetland Fudge Company: Delicious treats from the islands
The Shetland Fudge Company is a premium bespoke chocolate company with a huge range of confectionery including fudge, truffles, tablet, Puffin Poo, preserves and gourmet mallow which has been made entirely by hand.
"It says on the packet that Puffin Poo is collected fresh daily from the banks and cliffs of Shetland but obviously it's not really!"
From having 3 employees and one 'peerie' kitchen when they started this venture, they now have two premises within Lerwick town centre and employ 13 staff members. The continual enthusiasm from the owners has led to new and exciting services, including chocolate workshops, educational trips, Birthday parties and a gourmet street-food takeaway.
We caught up with Nicola and Magnus to find out more about the business!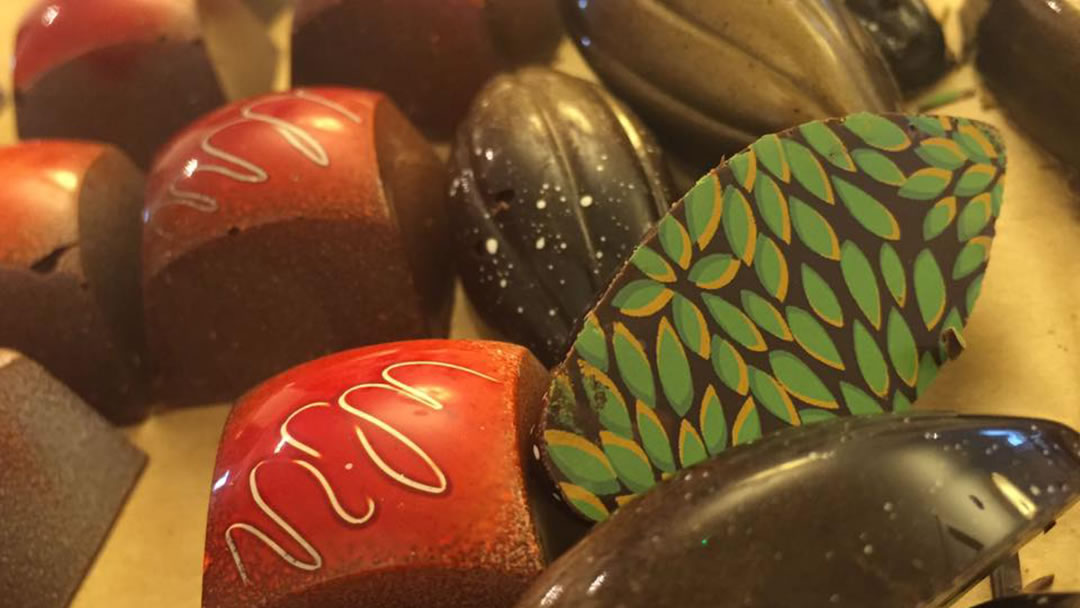 Q. When did you become owners of the Shetland Fudge Company?
A. Nicola: The Shetland Fudge Company actually began in 2006 and it had previously been trading under another name – I started working for the company when I was 14 years old, so I've been there a while. I worked there on Saturdays to begin with and once I finished school I went to off to Glasgow Caledonian University and studied a business degree. Whilst I was studying I came home during the holidays and I worked as a seasonal member of staff until 2012.
In 2013 I was working as Shetland and Orkney Victim Support Coordinator and Magnus was working as a workboat skipper for a local company. We went on holiday to visit family just outside Edinburgh and we went to a really bonny farm shop where Magnus sat at the table and was really quiet. He turned to me and he said "this is what we should do!"
So we went home and contacted Gillian (the previous owner) and within a year we got the keys to the business. So at the end of 2014 we became the owners of the Shetland Fudge Company.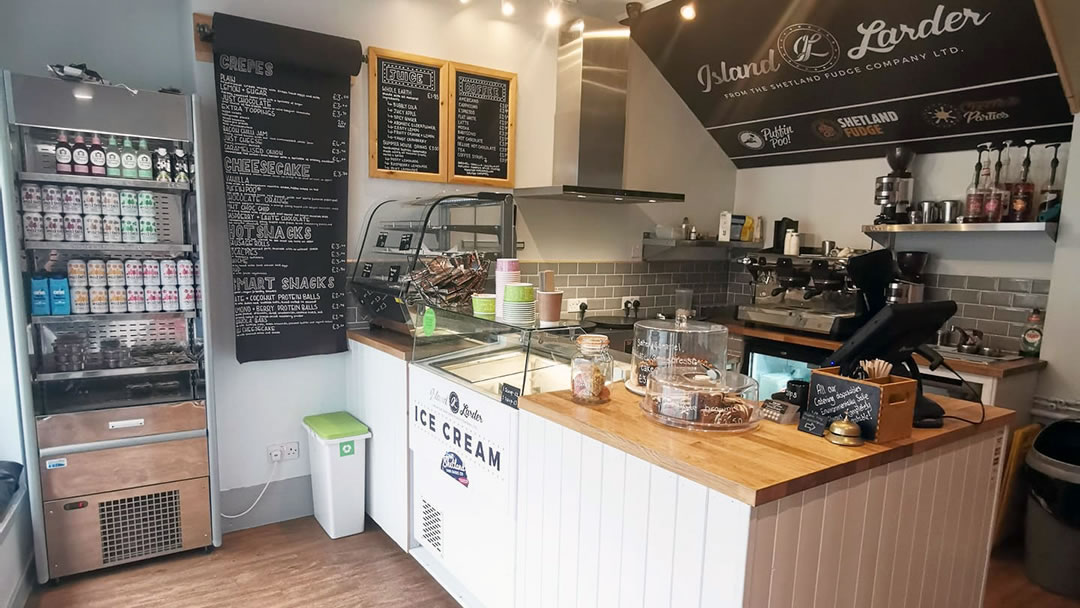 Q. Why was the confectionery business so interesting to you?
A. Nicola: Who doesn't like chocolate?! It wasn't necessarily confectionery we were interested in – I studied a business management degree and I never really knew what I was going to do with that but it did open a lot of doors for me with Victim Support; I managed that service across Orkney and Shetland; so it was an opportunity I would never have gotten unless I had that degree. When Magnus and I got together and went to pursue the Shetland Fudge Company the decision really made sense because of my background and Magnus' desire to run his own business.
Magnus: It worked because Nicola knew that business inside out having worked there for so long; so it was a really good fit for us.
Nicola: But it wasn't until 2014 and it was just before we took over the business, I went south to Peebles and I did my first chocolatier workshop. The masterclass is run by the world chocolate master, Ruth Hinks, who was my tutor and it was here that I learnt the science behind chocolate. I learned how you work with chocolate and we made the most beautiful chocolate I've ever seen and tasted and it wasn't until then that I was actually hooked.
It was so interesting, and it was an eye opener, it showed me the potential and the opportunity of the Shetland Fudge Company and since then I have done two more masterclasses, one more with Ruth Hinks and one with Martin Chiffers – who is an international pastry and chocolatier consultant and runs a masterclass in chocolate showpiece. I can't stop learning! I love learning about chocolate and new skills.
We are constantly coming up with ideas and because of that we have opened up our second premises called the Island Larder. Here we have a second kitchen that allows us to keep up with the demands of Shetland Fudge Company production. Along with that, we opened up a street food café, so it never really stops.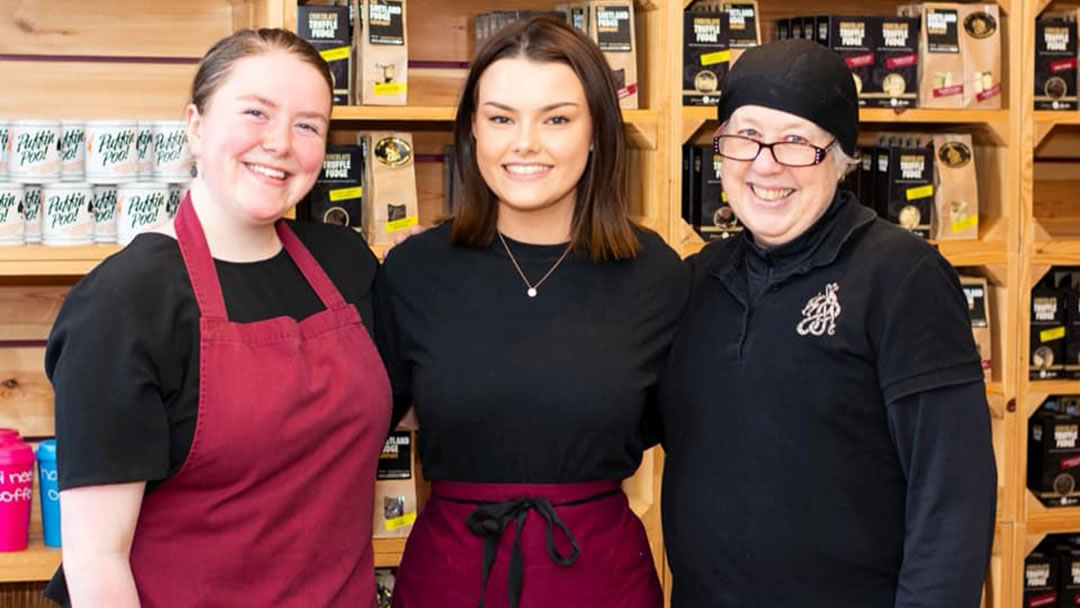 Q. Are some of the ingredients sourced locally?
A. Magnus: We try and get as much locally as we possibly can – obviously we can't get the chocolate locally because we are in Shetland! We do try to use local products wherever we can, so we have used Shetland Honey; we have tried things with locally harvested seaweed; Shetland Seasalt 'SaatBrack'; obviously all the dairy products (milk, butter, eggs) and then we do quite a few ranges with local spirits in them as well. We use Shetland Reel Gin, Stewarts Rum and Highland Park.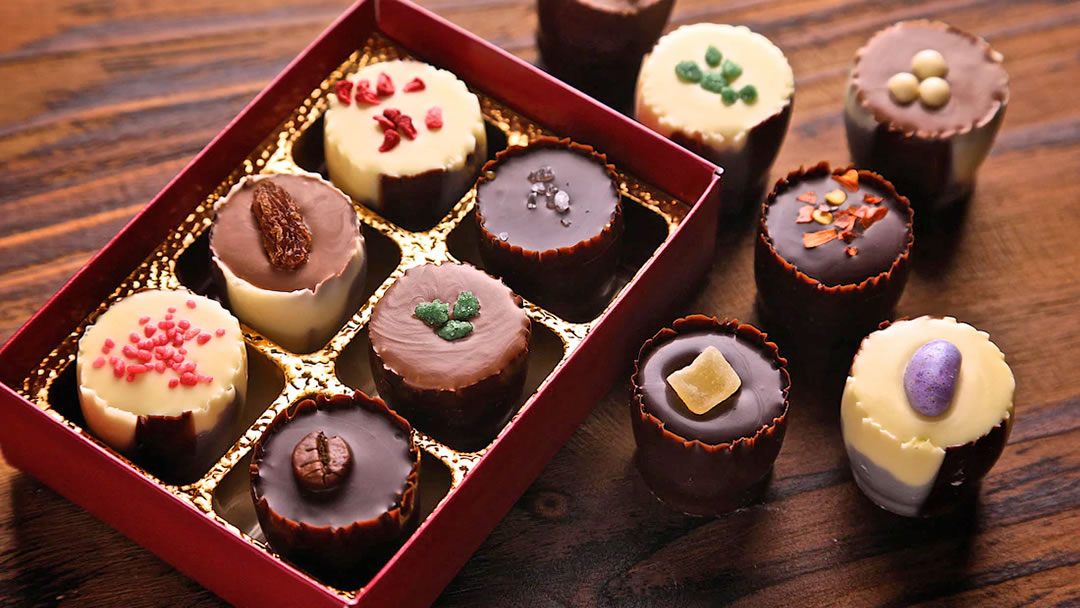 Q. How would you describe the taste of Shetland Fudge?
A. Nicola: We have over 50 different chocolate fudge flavours and that's not including the Scottish tablet, the marshmallow and truffles! The 50 flavours of chocolate fudge include a range of white, milk, dark and Belgian chocolate and some of them are even double layered. We have one that is fruit based, and have a range of caramel fudge and nutty fudge. We don't use any additives or preservatives in any of our products, though we sometimes add a peerie nip of alcohol, which is a natural preservative. We have everything from refreshing gin and lime, smooth malt whisky and ginger and creamy Irish coffees – we literally have it all!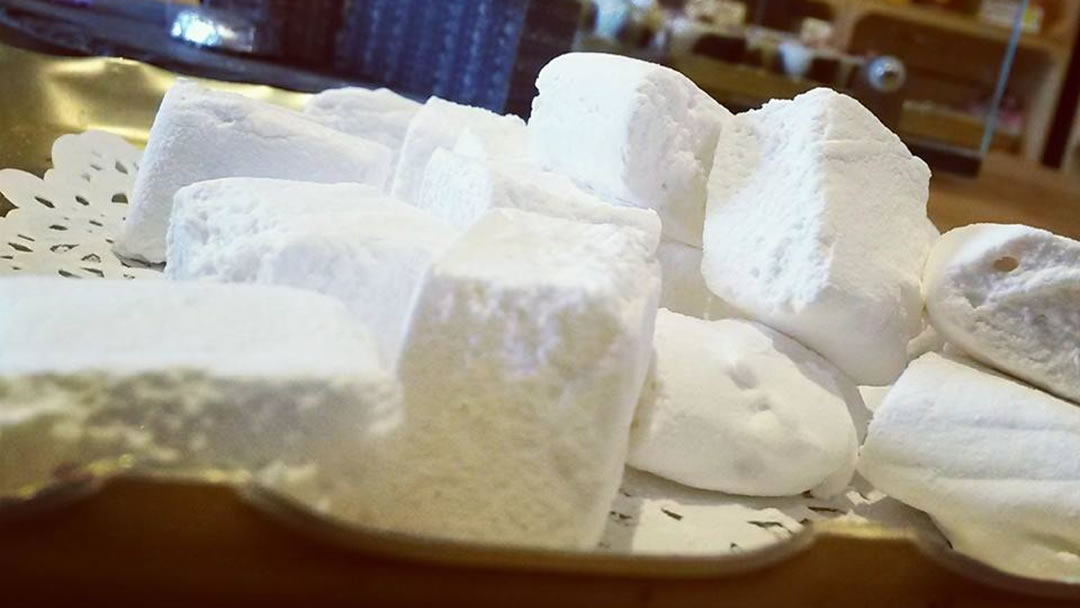 Q. Do you have a favourite product in your range?
A. Magnus: I think my all-time favourite is the Filsket & Foo Fudge – I normally like dark chocolate but Filsket & Foo is made from white but it's got Jelly Belly beans in each square and it's got vodka in it too and a wee dash of lime, so it's a really nice refreshing sweet flavour.
Nicola: We actually make our own range of homemade marshmallow and mine is the salted caramel marshmallow, it's delicious, I don't like manufactured marshmallows but the homemade stuff that we make is completely different, soft, billowy – it's just delicious!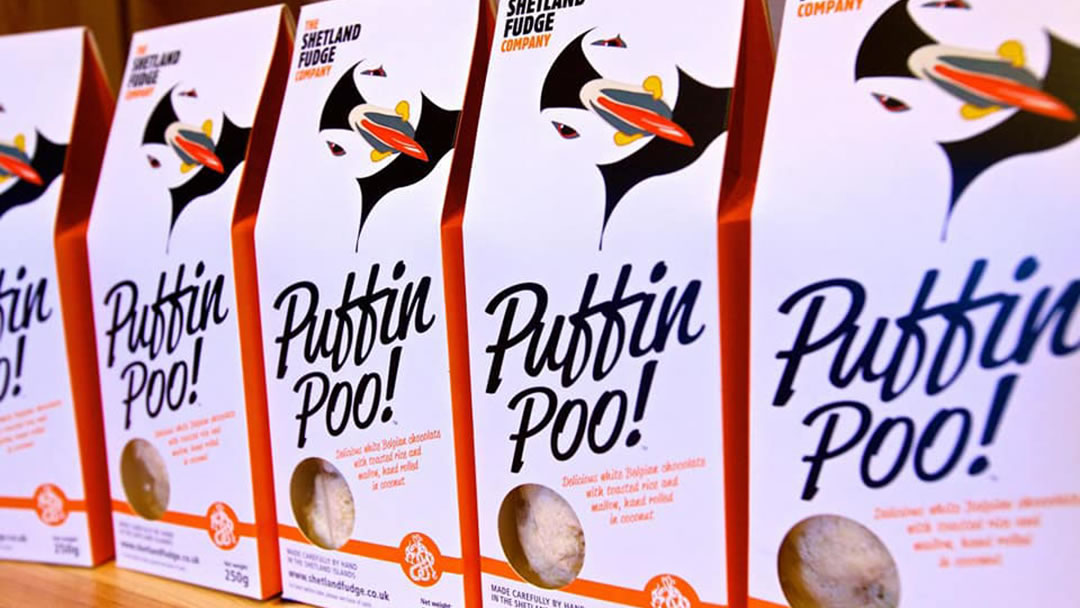 Q. What is Puffin Poo?
A. Magnus: It says on the packet that Puffin Poo is collected fresh daily from the banks and cliffs of Shetland but obviously it's not really!
It is Belgian chocolate, mallow and crispies hand-rolled in coconut, so it's all completely handmade. It's a pretty labour intensive one to make but it's so popular – it's by far our biggest seller. We have actually started putting it into the crepes and ice cream that we make in the Island Larder.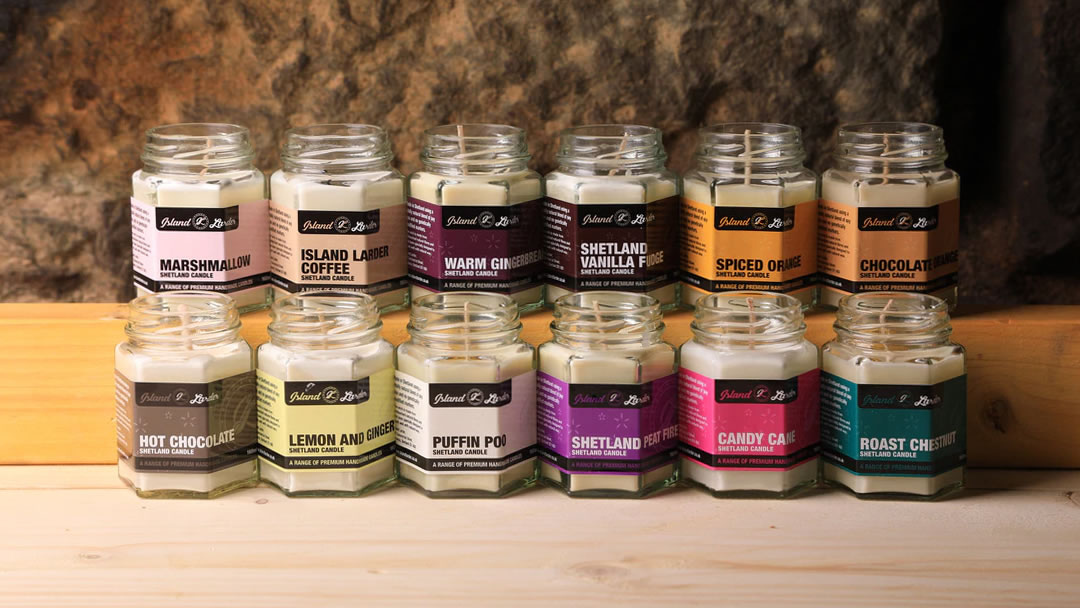 We also have a range of candles, made locally by Beltain using our own sweet related scents, one of them just had to be puffin poo…
We have a large world map pinned up in our shop and it has the slogan across it 'how far has your Puffin Poo'd?' We get sent Puffin Poo selfies from all over the world – someone even sent us a photo of themselves in Antarctica holding onto a bag of Puffin Poo!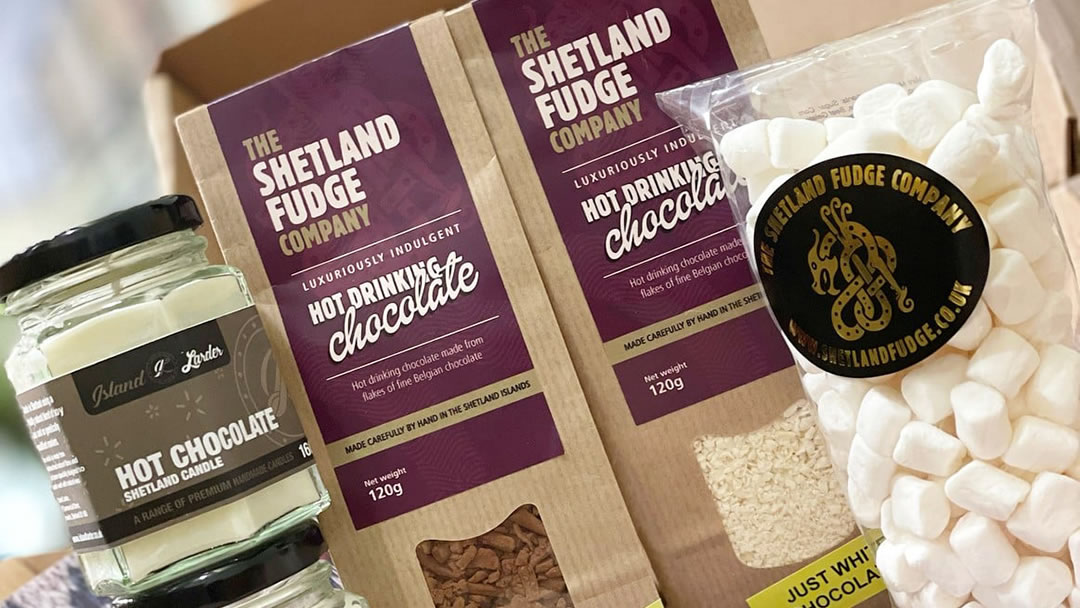 Q. What are the most rewarding and challenging aspects of the confectionery industry?
A. Nicola: I don't really know how to answer that because we both have totally different goals in the business but I think we would both agree that we find it really satisfying when someone goes out of their way to tell us how much they like our products and that they want to order it again.
Magnus: It's great because when you have spent a lot of time and effort trying to come up with a really good quality product then you get told by someone that it is; that really is the most rewarding part of the whole thing; getting good feedback from customers.
Nicola: For the most challenging aspect, again we both see it differently. However for me, I find it really annoying when something doesn't come out right in the kitchen. Because of the weather conditions Shetland has and the conditions in our manufacturing kitchen; it can upset everything. So you can have too much humidity or it can be too hot or too cold; in Shetland it can go from extreme to extreme. So sometimes, when something goes wrong in the product, it annoys me when I can't figure it out. But it's all learning – and you learn from your mistakes!
Magnus: I find it challenging to make a top end product that is luxurious but affordable at the same time. I don't think folk realise how highly taxed confectionery is – as soon as you turn it from a raw chocolate ingredient into a confectionery product then everything gets taxed on that too. It's tricky. Trying to make quality products at affordable prices is challenging.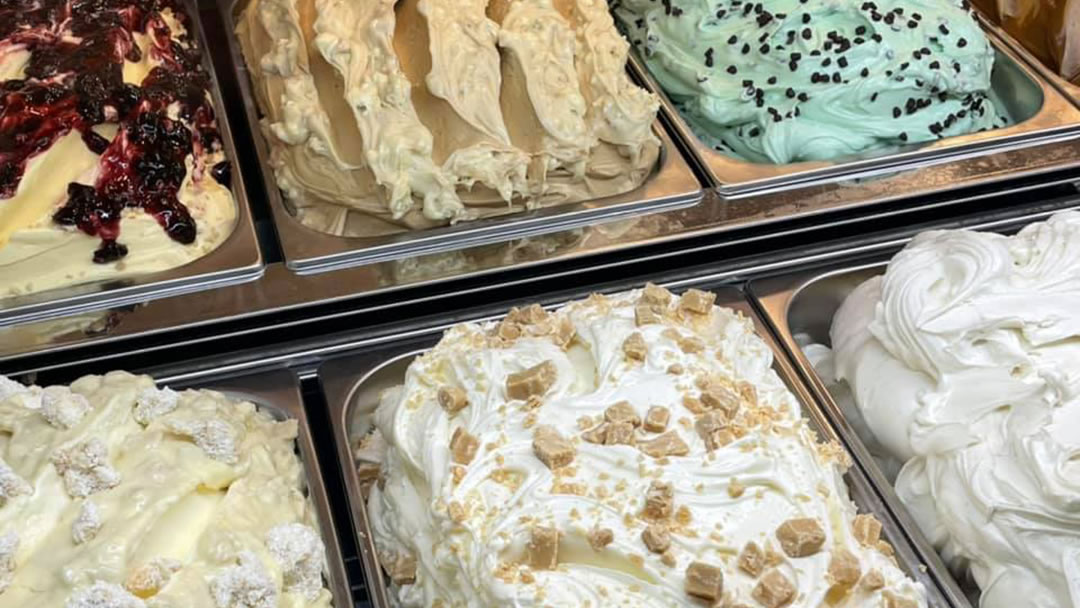 Q. The Shetland Fudge Company's range of products includes fudge, chocolates, mallow, preserves, hot chocolates and candles, but do you have any new products on the horizon?
A. Nicola: We have recently received funding through LEADER to manufacture Shetland Ice Cream. We do make our own ice cream already but it's completely by hand, we have no machinery and it's the same freezer we had before we bought the business. So now we are going to be able to produce artisan ice cream in Shetland using the Shetland dairy products and we cannot wait! There's going to be a really strong link between the Shetland Fudge Company and the ice cream – it's all going to be flavours of the fudge and tablet and products that we already make going into the ice cream.
Magnus: Martin Chiffers, international pastry consultant and chocolatier, who has worked as a judge on the Great British Bake Off crème de la crème and we are getting him up to Shetland to do staff training and development with us this year. So we are investing quite a lot into the staff this year. Who knows what the future holds but we are very excited about whatever lays ahead.
Shetland Fudge Company products can be purchased on board NorthLink ships, in shops throughout Shetland and further afield. Delicious products can also be bought online at https://www.shetlandfudge.co.uk/
---
Island Larder and where we are now.
9th February 2021
We got the keys to our new premises in February 2020, we were so excited, to eventually be in a position to make our dreams for the business come true after 6 years of hard work getting it to that stage. We had worked for over a year to secure the paperwork, designs, building plans and completion of project plans and grant applications to secure the manufacturing and production of Shetland Ice-Cream. We also had lots of late nights designing our New Website whilst undergoing Re-Branding – we were finally getting all our arms and legs to the business under one roof!
Within the building we had all the plans drawn up – our new premises would be home of Shetlands Finest, including a take-away street food café. There would be a two floor fine food shop that hosts a large zero waste food station with over 200 items to offer plastic free. Island Larder would be home of the first cook school kitchen that will cater for adults and children to take cookery classes and host Chocolate Parties for all ages. The cook school kitchen would be in full view to our café area that can hold 65 people on two levels. We plan to serve Shetlands finest foods using local produce and quality ingredients from our deli shop and zero waste station. So while enjoying a coffee, ice cream or a plate of Tattie Soup in our laid back café you can watch our qualified chocolatiers at work (and the temptation of a hot chocolate will always be on the mind!)
To take on this project Magnus had to reduce hours with his very secure job as a skipper to be our full time manager while I raised our peerie boys who were only 6 months and 28 months old at the time.
Then March came, and we were hit with the first COVID-19 impacts to our business.
We worked throughout lockdown and we did managed to open the doors to our fine-food and zero waste store on the 23rd of June, albeit the scariest and worrying time we have been through personally and professionally. It was November when Magnus had to get back into employment to provide for our family and I ran the business and juggled our boys and somehow with the help from our amazing family and friends we got to open our Street-Food cafe, and this was a HUGE achievement.
We are advocates in consuming responsibly with the highest quality possible, this is why we only ever use local meat in our street-food café and red tractor assured chicken and never any Palm Oil – sustainable or not. We also never supply single use plastic and all our food and drink supplies are compostable or recyclable.
Then December came. We had the busiest December in 7 years of trading. The overwhelming feeling of support and 'we got you' was incredible, never mind the amount of ice cream that went out our doors, It's never too cold for ice-cream in shetland!
As if opening a new business wasn't hard enough, never mind doing it through a global pandemic when the country is in full lockdown. It almost took everything we had, physically, mentally, emotionally and financially. With support from family and teamwork from each other we found the courage to keep going. One day we hope our Boys will be proud of us – we did this for them.
But, here we are, with 2 levels of our shop open, street-food takeaway level is open 6 days a week and the cook school ready when the world is! Shetland Ice Cream was launched and we rebranded and launched our new website. We are still a long way from where we had hoped to be but every day gets better and every day is a new day.

By
Victoria Dixon
Orkney and Shetland fanatic, likes to capture life through a lens, loves creating, eclectic taste in music, enjoys being a Mum; would secretly love to be a star of the West End!
Pin it!