A Guide to Shetland's Golf Courses
Scotland is renowned as being the home of golf with over 500 unique and challenging courses for golfers to tackle – and the Northern Isles are no different! Shetland offers a golfing experience unlike any other with remarkable scenery and the possibility to play a round of midnight golf during 'simmer dim' – where the sun barely dips below the horizon.
Shetland offers a golfing experience unlike any other with remarkable scenery and the possibility to play a round of midnight golf during 'simmer dim'
Whether you are a novice or an experienced golfer, the golf courses in Shetland are something that everyone can enjoy regardless of their capabilities. Just make sure you don't get too distracted by the wonderful scenery as you tee off!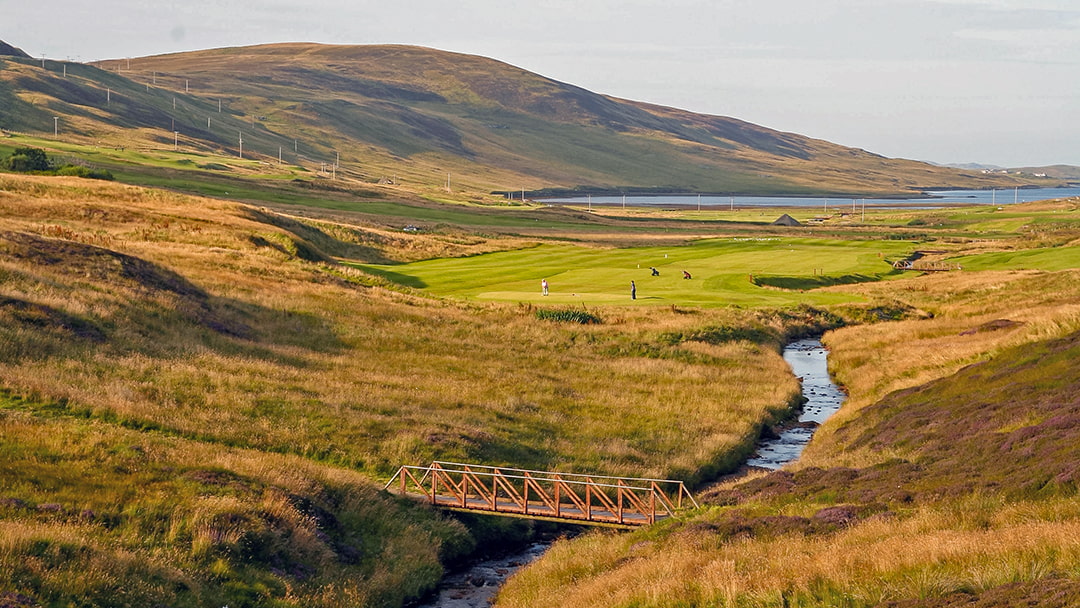 Shetland Golf Club
The 18-hole Dale Golf Course, located a short drive away from Lerwick, is the home of Shetland Golf Club. This course offers impressive views of the coastline and surrounding landscape whilst you play.
The parkland course spans over 5,500 yards with wide fairways and water obstacles to contend with. The course is quite hilly and can be especially challenging when the wind blows – which is more often than not in Shetland!
This course has excellent facilities available including a clubhouse (with a bar), practice facilities and club hire available. Club hire is payable by cash or cheque only with clubs being £15 per day and pull trolley hire being £2 per day. It is worth noting that the clubhouse is operated by volunteers and facilities may not always be open.
Green fees: £35 per day / £80 per week / £130 per fortnight
Booking: All tee times must be booked online before arrival (bookings open 7 days in advance)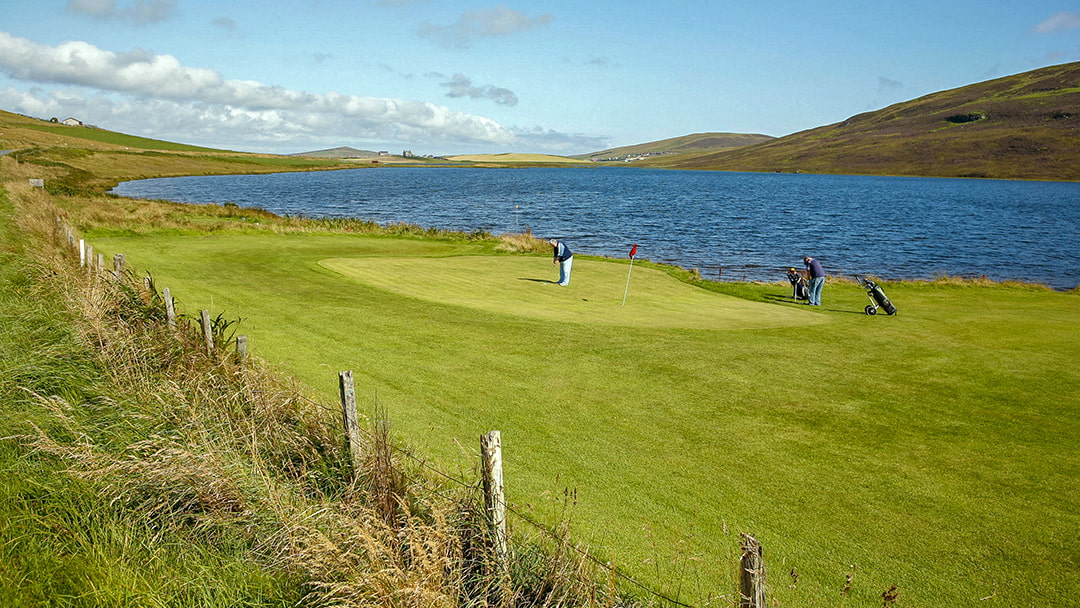 Asta Golf Club
Scotland's most northerly 9-hole course, the serene Asta Golf Course, is located between the historic Tingwall and peaceful Asta Lochs. This course is a popular spot for both locals and visitors for its spectacularviews over the loch and fantastic local wildlife.
The course is suitable for both novice and experienced golfers as it was built on a beautifully flat landscape. Every hole is unique and engaging, but with its difficult angles and fast greens – it's no easy game!
Asta Golf Club is unique in the fact that the course alternates between two distinct 9-hole courses. During the first two weeks of the month, you can play the 'Classic Course', which is the trickier of the two courses and is marked by the yellow flags. The 'New Course', marked by red flags, is available to play for the last two weeks of the month and is a more spacious course with fewer water hazards to manoeuvre.
Before or after your game, golfers can unwind in the clubhouse which offers tea, coffee and light refreshments. Since the early 1990s the clubhouse has hosted a fortnightly music night, where musicians of all ages and skill come together to play some songs.
Green fees: £15 per round / £20 per day / £60 per week / £80 per fortnight
Booking: No pre-booking required except for larger groups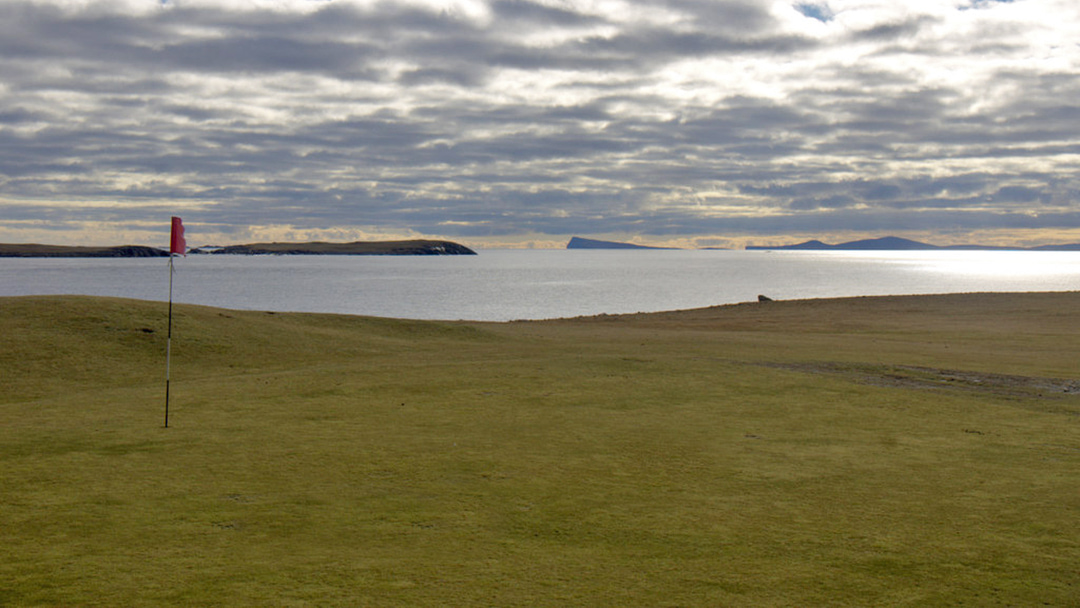 Whalsay Golf Club
On the small island of Whalsay, you can find Britain's most northerly 18-hole golf course. Whalsay Golf Club is situated in an exceptional location with the sea bordering both sides of the course. The combination of its breath-taking landscape and difficult hazards makes playing at Whalsay Golf Course a truly unique experience.
The exposed moorland course spans over 6,000 yards with dramatic clifftop scenery that many seabirds, including gulls and skuas, call home. This location is swarming with wildlife with seals and porpoises being frequently spotted swimming just offshore from the course's greens.
Whalsay Golf Club also has a clubhouse providing food and drink for golfers to grab a bite before or after their game. Other facilities here include a practice area, club and trolley hire and a pro-shop which sells golfing essentials.
Green fees: £30 per round
Booking: No pre-booking required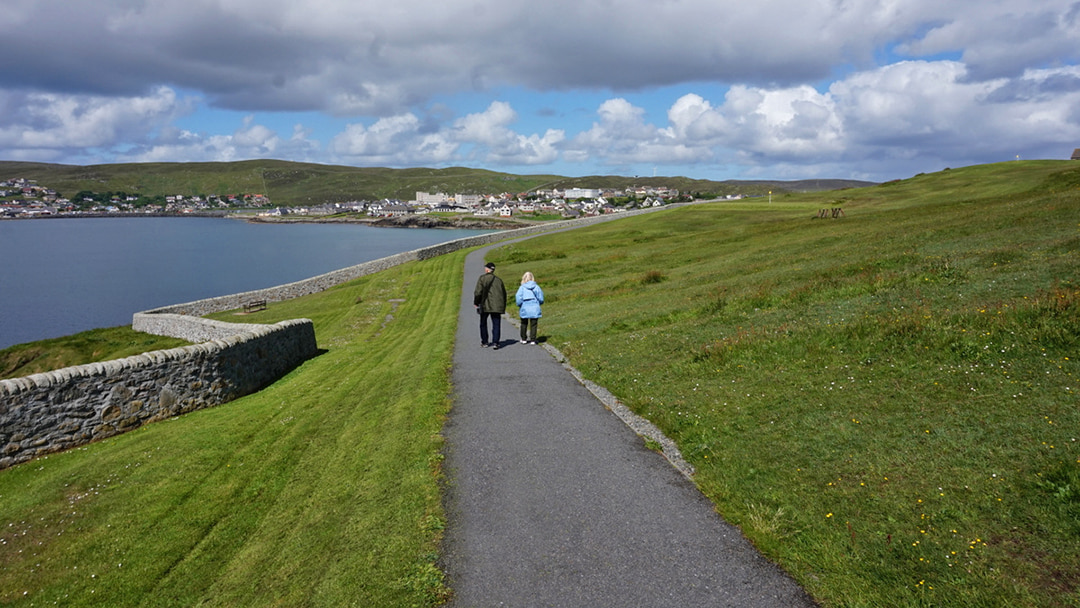 The Knab
Only a 10 minutes' walk from the historic town centre of Lerwick, you can find the quaint and modest 9-hole golf course at The Knab. The Knab is a promontory which boasts beautiful panoramic views over the North Sea and is a popular walking destination.
This is not an official golf course and it has no clubhouse or facilities. However, visitors can simply turn up and play with no payment and appreciate the beautiful surroundings of the clifftop site. The Shetland Islands Council is responsible for the maintenance of the course and it is open between May and September.
Although the golf course only covers 939 yards, it isn't a walk in the park for golfers. Each hole is fairly challenging with small and easy-to-miss greens, and unforgiving fairways.
Green fees: £0
Booking: No pre-booking required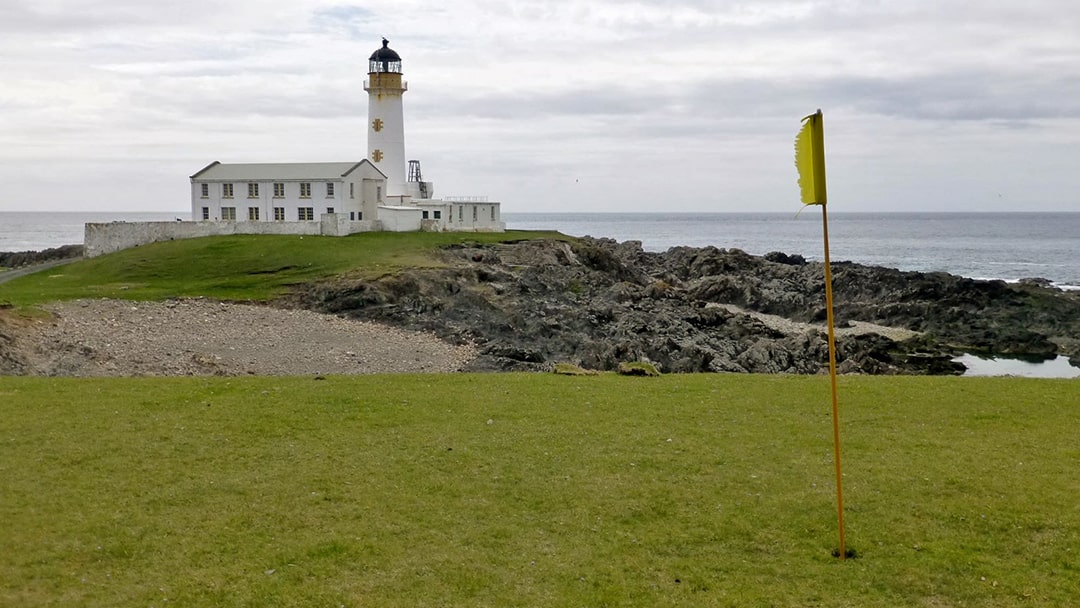 Fair Isle Golf Course
Lying midway between Shetland and Orkney, Fair Isle is home to the UK's most remote golf course. Throughout the early 20th century, Fair Isle South Lighthouse was operated by Lighthouse Keepers who shared a love for golf. So, naturally, they built their own course!
Similar to The Knab, Fair Isle is also an unofficial golf course. However, this 6-hole course makes for a difficult but exciting round. The course is located on a peninsula with jagged rocky cliffs and is surrounded by water.
The course fell into disrepair when the lighthouse became automated in 1998. However, islander Tommy Hyndman has since restored and maintained (with the help of the sheep!) the course since 2006.
Aside from your golf clubs, be sure to bring your binoculars as the area is a well-known spot for bird and whale watching. For truly one-of-a-kind golfing experience, look no further than Fair Isle Golf Course.
Green fees: £0
Booking: No pre-booking required
---

By
Amy Leith
A marketing student born and raised in Aberdeen with an admiration of the Scottish isles, desire to travel and see the world, a superior taste in music, enjoys cooking and socialising with family and friends.
Pin it!