Twelve essential historical places to visit in Shetland
The Shetland Islands have a fascinating history and a unique heritage well worth exploring for yourself. The stone-built buildings of the past have stood the test of time, and Islanders have fiercely clung on to their Viking heritage.
In 1958, a 15 year old schoolboy on his first day helping with an archaeological dig discovered treasure on St Ninian's Isle! The treasure was found under a slab in the floor of a pre-Norse church. It consisted of 28 exquisitely decorated silver objects – brooches, bowls and weapons – which were Pictish in origin.
We've compiled a list of 12 essential historical places to visit in Shetland – read on to find out more!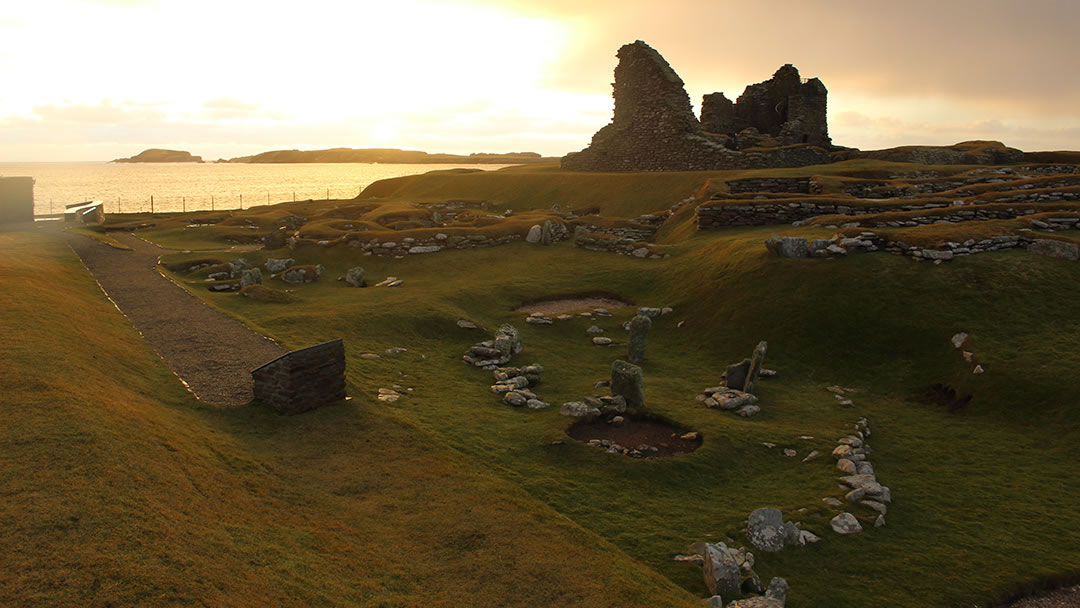 Jarlshof
Jarlshof is a great example of the value of looking under your feet! When Jarlshof was named in 1815 it was for the ruin of a Laird's house, not the archaeological treasure trove that was buried in a grassy mound beneath! However, following a great storm, some stonework was revealed and archaeological work began. What was uncovered was an incredibly detailed multi-period site including a Bronze Age smithy, Iron Age brochs and wheelhouses, Norse farmhouses and a great hall from the 16th Century.
Fascinating thought: The south of Shetland has many archaeological sites – the fertile land and links to the sea for trade and fishing made it a popular area to stay in. It is thought that the first people to reach Shetland landed not far from Jarlshof 5,000 to 6,000 years ago.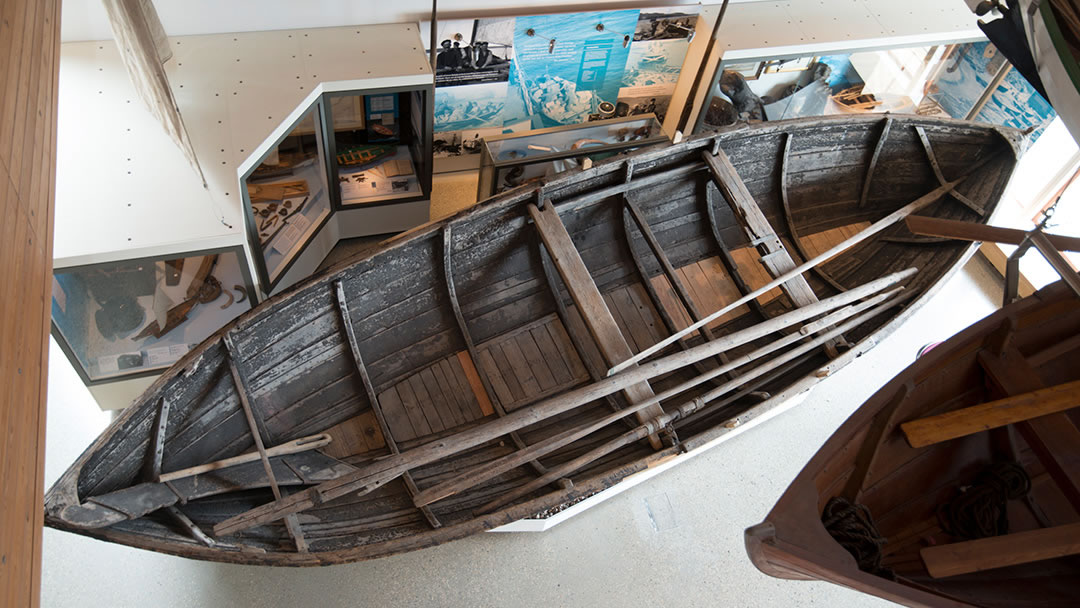 Shetland Museum and Archives
Just a ten minute walk from Lerwick Ferry Terminal, this amazing building stands on Lerwick's waterfront and details the history of Shetland from the Ice Age to Pictish and Norse times, through wartime and up to the modern day. It covers the knitting industry, crofting, fishing, folklore, and there's an incredibly impressive display of Shetland yoals hanging from the ceiling of the museum. Shetland Museum and Archives present a great deal of information in an interesting bite-sized way and the building also hosts art exhibitions, has a focus on children and an outstanding cafe serving delicious Shetland food!
Fascinating thought: When you explore the museum, start on the ground floor where you'll see historical artefacts in chronological order – from the Stone Age to the Iron Age and then Vikings. When you are beyond the medieval period the museum opens up into different themes!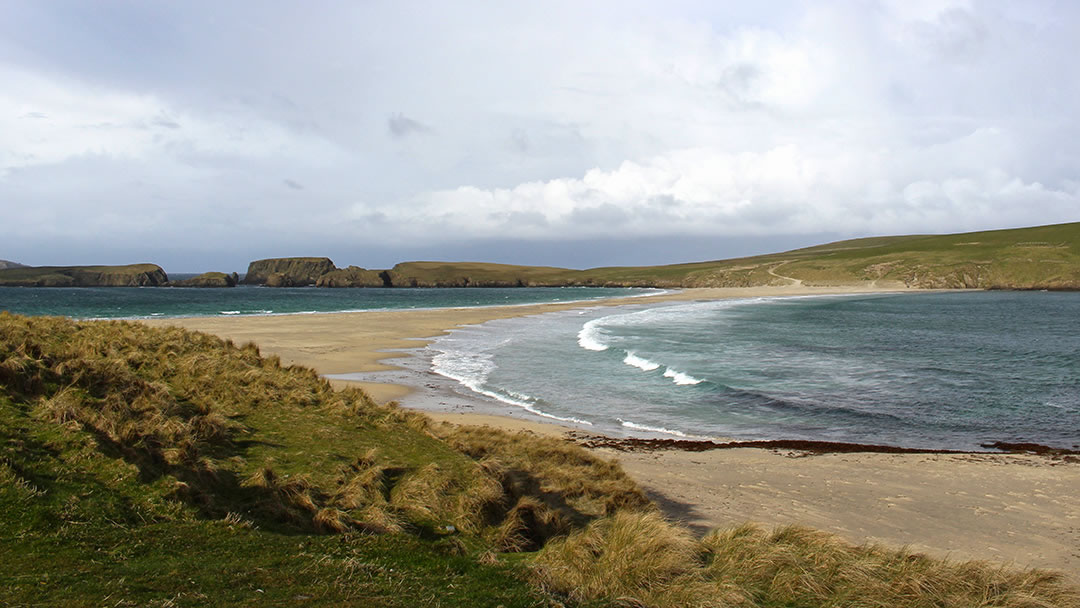 St Ninian's Isle
St Ninian's Isle is an island which is attached to the Shetland mainland by a stretch of sand – it's a beautiful spot – and walking to the island with waves rolling in at either side of you is a very odd feeling. St Ninian's Isle is also where a boyhood fantasy came true; in 1958, a 15 year old schoolboy on his first day helping with an archaeological dig discovered treasure there! The treasure was found under a slab in the floor of a pre-Norse church. It consisted of 28 exquisitely decorated silver objects – brooches, bowls and weapons – which were Pictish in origin.
Fascinating thought: The St Ninian's treasure is believed to have been buried for safe keeping during a Viking raid – it perhaps speaks volumes that the owners never returned to reclaim it.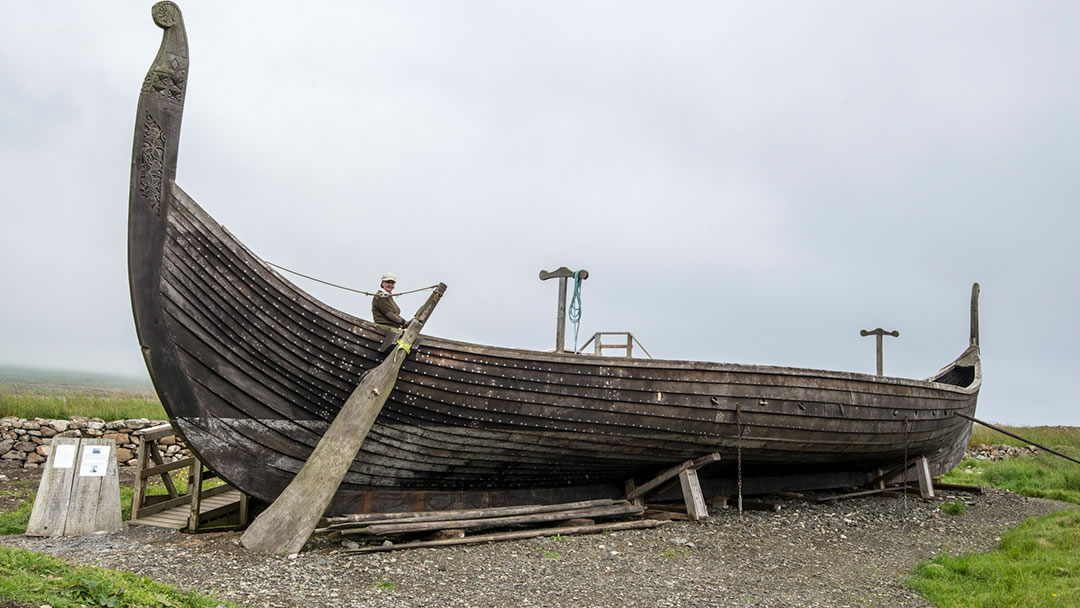 Haroldswick, Unst
To find out more about Shetland's Viking past, it's worth travelling to Haroldswick in Unst. The Island of Unst is thought to have been the first foot-fall of Vikings in the North Atlantic – over 50 settlements have been found there. At Haroldswick there is a replica Gokstad ship, named the Skidbladner, which you can board. There's a also a replica Viking longhouse; its design is based on excavation results.
Fascinating thought: Haroldswick is named after King Harald Fairhair who had to bring the Shetland Vikings under control in 875AD. They had not only been raiding Britain and Ireland but had also begun raiding Norway!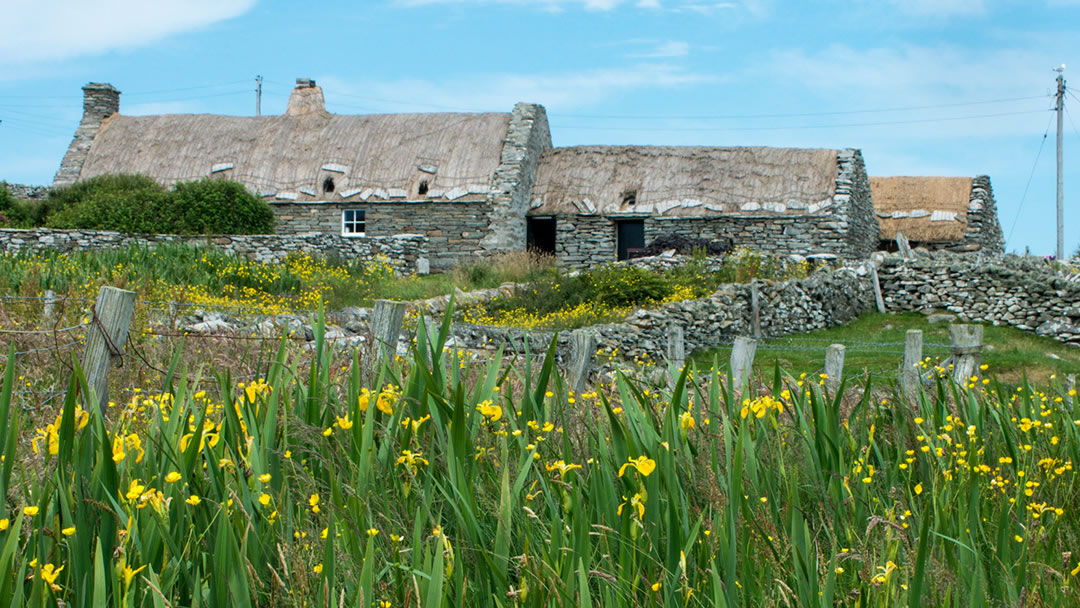 Shetland Crofthouse Museum
Open from Mid-April to the end of September, the Shetland Croft House Museum at Boddam in the South Mainland offers a fascinating insight into how Shetlanders lived in the 1800s. In those days Shetland crofthouses encompassed the house and animals byre under the one roof so the crofter didn't have to go outside in the harsh winter weather. You'll see peat fires, smoking fish, box beds, a Shetland mousetrap, a thatched roof, a lovely garden and a shed with an old rowboat for a roof!
Fascinating thought: Nearly all of the wooden furniture at the Shetland Crofthouse Museum is made of driftwood as trees are few and far between in Shetland.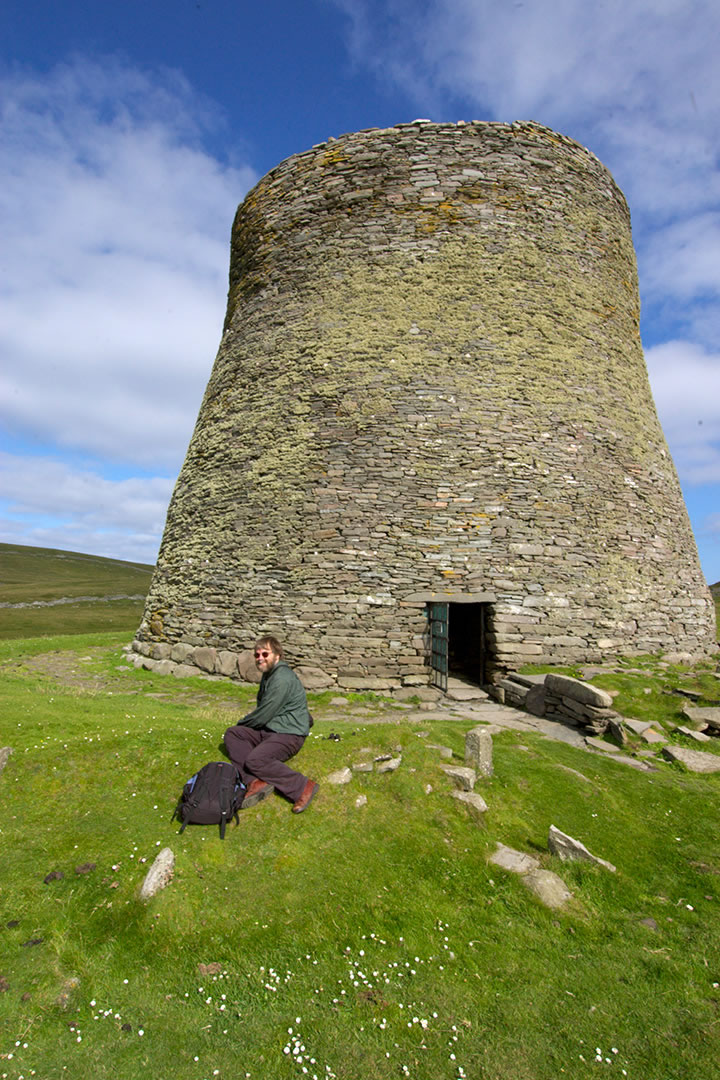 Mousa Broch
There are some great Iron Age brochs (round defensive buildings) in Shetland, including Clickimin Broch and Culswick Broch; however Mousa Broch is easily one of our favourite archaeological sites. There's not much imagination required to figure out what Mousa Broch looked like in previous times and how imposing this giant chimney-like building would have appeared. Modern visitors can go inside and climb all the way to the top for a very fine view. There's a ferry to the uninhabited island of Mousa and it makes for a super summer day trip – especially if you take a picnic!
Fascinating thought: The walls of Mousa Broch are inhabited by small birds – Storm petrels – which can be seen and heard on special twilight tours departing at 22:30!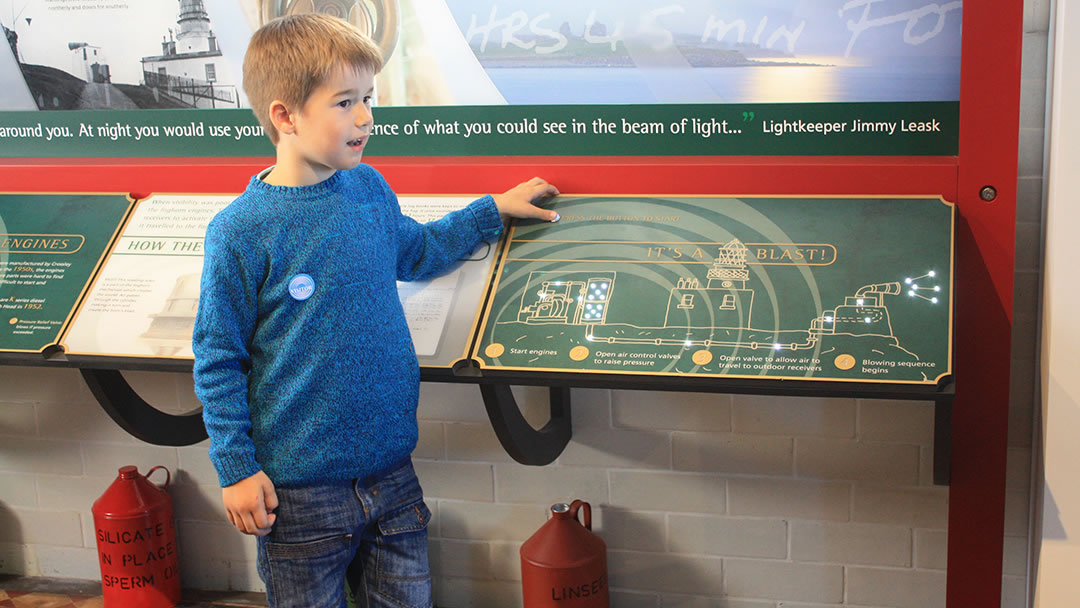 Sumburgh Head Lighthouse
Sumburgh Head is a stunning place – it's a dramatic, high seabird cliff which looks over some of the flattest, fertile land of Shetland. Sumburgh Airport is close by, so aeroplanes and helicopters fly past as you visit. You can drive halfway up Sumburgh Head and then walk the rest. The cliffside is fenced off so it's also a safe place to see puffins close up. The Sumburgh Head Lighthouse itself was built by Robert Stevenson in 1821 and is now a brilliant visitors centre – which details the marine life in the tempestuous currents of Sumburgh Roost and also tells the story of the lighthouse keepers who worked here. There's even a fog horn to give a blast!
Fascinating thought: As Sumburgh Head Lighthouse is so heavily exposed to the elements; its walls were originally built to a double thickness to keep the damp out! It stands 91m above sea level and the light can be seen for up to 23 nautical miles.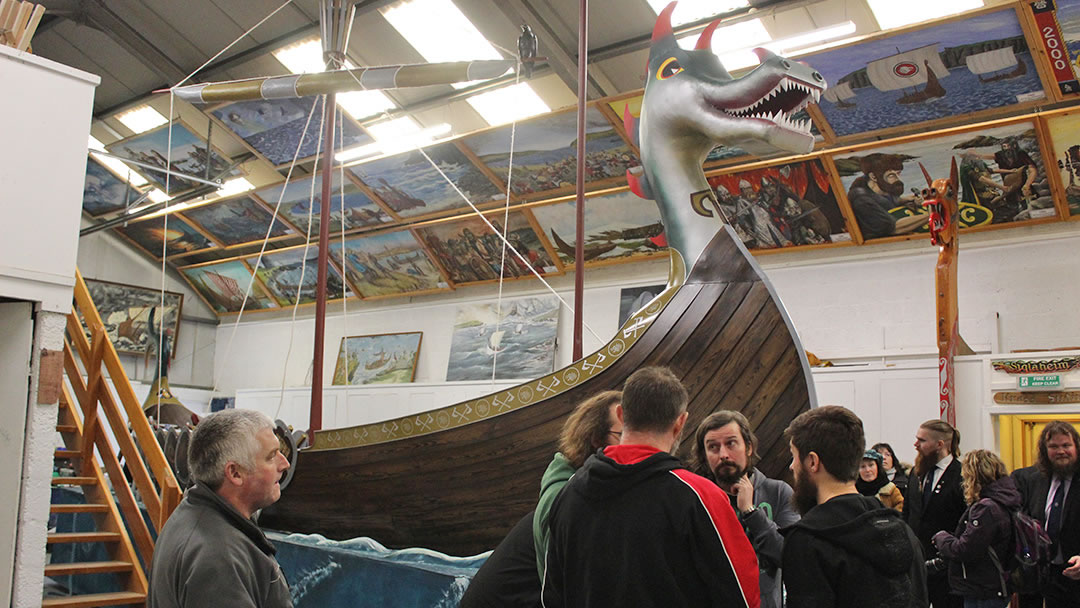 The Up Helly Aa Exhibition in the Galley Shed
Every January a different Jarl's Squad leads the procession for Up Helly Aa, and over the previous year, a considerable amount of time and money is spent on constructing armour, weapons and a galley for the fiery celebration! Between May and September, there's an Up Helly Aa exhibition in the Galley Shed where you can watch a film about the festival and see the intricate leather work and silverwork of the outfits, shields and axes close up! In the months before Up Helly Aa, the shed is where the Galley itself is constructed (pictured). Shetland has a very strong Norse flavoured heritage and the Up Helly Aa Exhibition in the Galley Shed celebrates this very well.
Fascinating thought: When looking at photos from the past you'll see that Guizer Jarls from the 1950s were often clean shaven – modern bosses are a bit more lenient about beardy employees!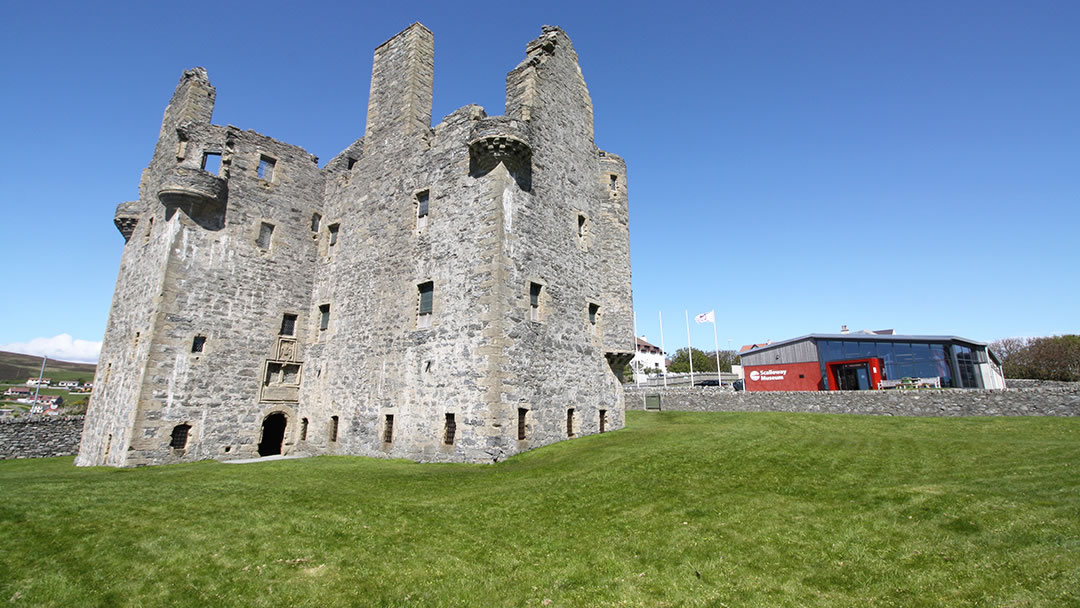 Scalloway Castle
Scalloway Castle is a very fine building in a very bonnie part of Shetland. Once the capital of Shetland, Scalloway and its castle have a very fine south-facing view of islands and the sea. The town is now a busy fishing port. The Castle was built by Earl Patrick Stewart in 1599 – he was a brutal Scottish lord who was intensely disliked locally. Scalloway Castle was once was one of the most prestigious buildings in Scotland – it's very handsomely made – and is a really nice place for adults and children to explore!
Fascinating thought: Earl Patrick, or 'Black Patie' as he was known, forced unpaid Shetlanders to construct Scalloway castle. When it was built it was surrounded on three sides by the sea.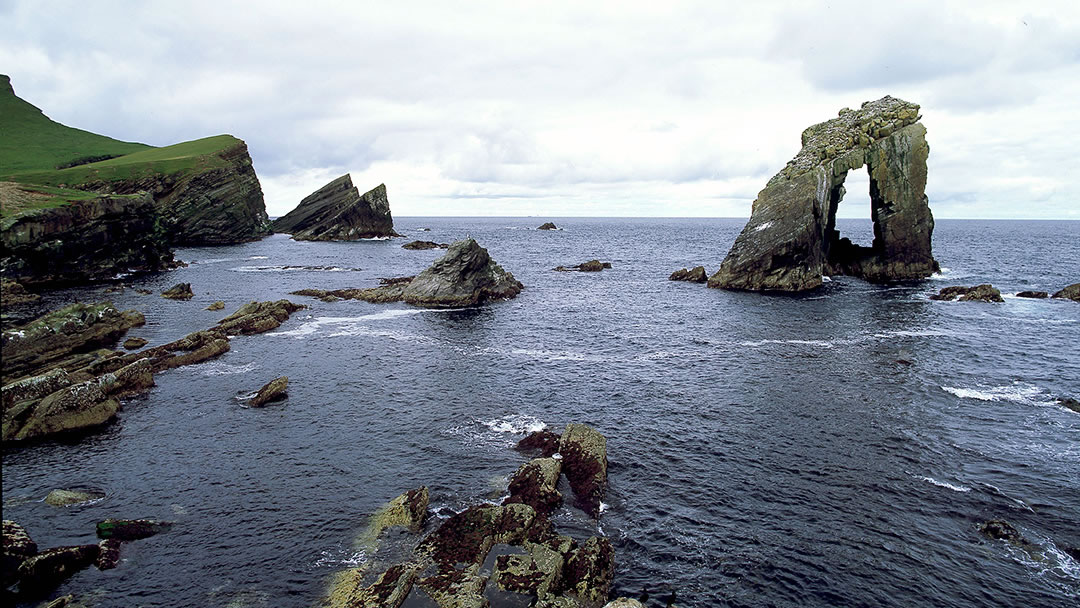 Foula
The name of the island of Foula comes from the Old Norse Fuglaey, meaning "bird island" as it's a popular landfall for migrating birds. It lies 20 miles to the west of Shetland, and because it is remote many of the old traditions have remained – it's one of the Shetland islands which has been least affected by the modern world. Foula can be reached by plane or by boat and it has a dramatic coastline. Foula still abides by the Julien calendar – which means that Christmas is on 6th January – it must be grand to pick up Christmas presents in the January sales!
Fascinating thought: Being remote has cost Foula dearly in the past – when smallpox arrived in the 1700s, it killed 90 percent of the Islanders. On a happier note – Foula's remoteness means it has its very own subspecies of fieldmouse.
Scalloway Museum
Scalloway Museum is dedicated to telling the fascinating history of the town, which was the ancient capital of Shetland. Most importantly, the museum tells the story of the Shetland Bus – an operation during the Second World War between Norway and Shetland. Fishing boats would transport supplies from Scalloway and would rescue wanted men from under the noses of the Nazis in occupied Norway. Some missions ended in tragedy during the Shetland Bus operation and there's a lovely memorial within the town to those who risked and gave their lives. The Scalloway Museum is the place which best tells the story through informative displays, photos and archives.
Fascinating thought: Most of the Shetland Bus operations took place in the winter, under the cover of darkness. It must have been terrifying to have sailed through rough conditions with no lights, trying to avoid being spotted by the enemy.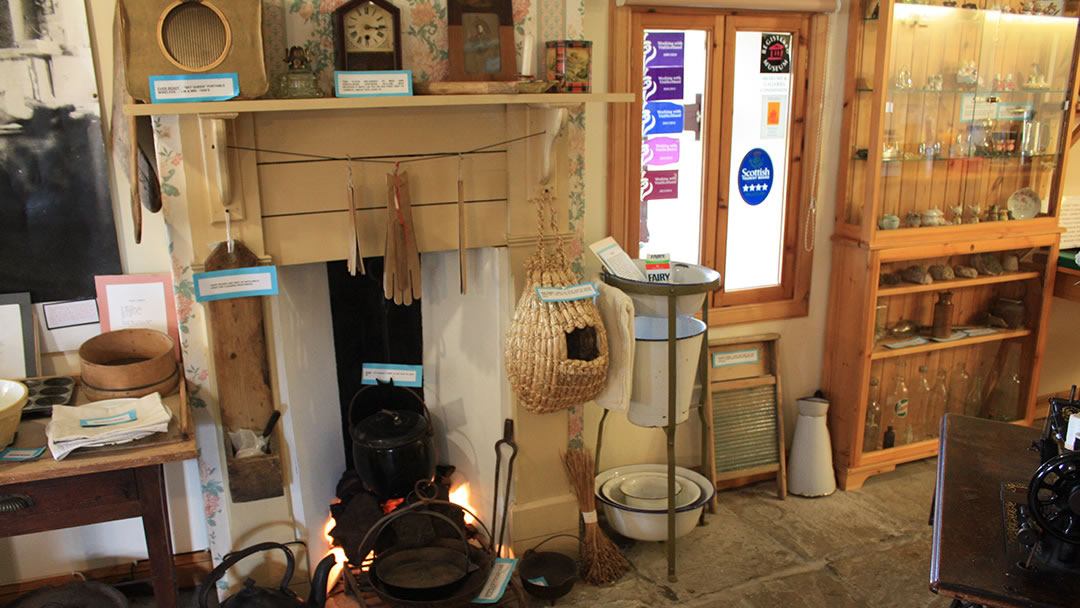 The Tangwick Haa Museum
The Tangwick Haa Museum tells the story of the history of Eshaness – one of the more rural parts of Shetland. This lovely museum was once a Lairds house and it offers an insight into what life was like in the old days. It's also a great place to go if you're looking into your Shetland ancestry as they have old parish files which you can explore at your leisure. We enjoyed a warm welcome, the peat fire that was burning during our visit, and the walled garden with picnic benches outside! The Tangwick Haa Museum is a great place to discover more about the history of Shetland.
Fascinating thought: The Haa was built for the Cheyne family in the late 1600s but fell into disrepair. When it was opened as a museum in 1988 one half was still a ruin, but it was later renovated and the museum grew bigger in 1999!

By
Magnus Dixon
Orkney and Shetland enthusiast, family man, loves walks, likes animals, terrible at sports, dire taste in music, adores audiobooks and films, eats a little too much for his own good.
Pin it!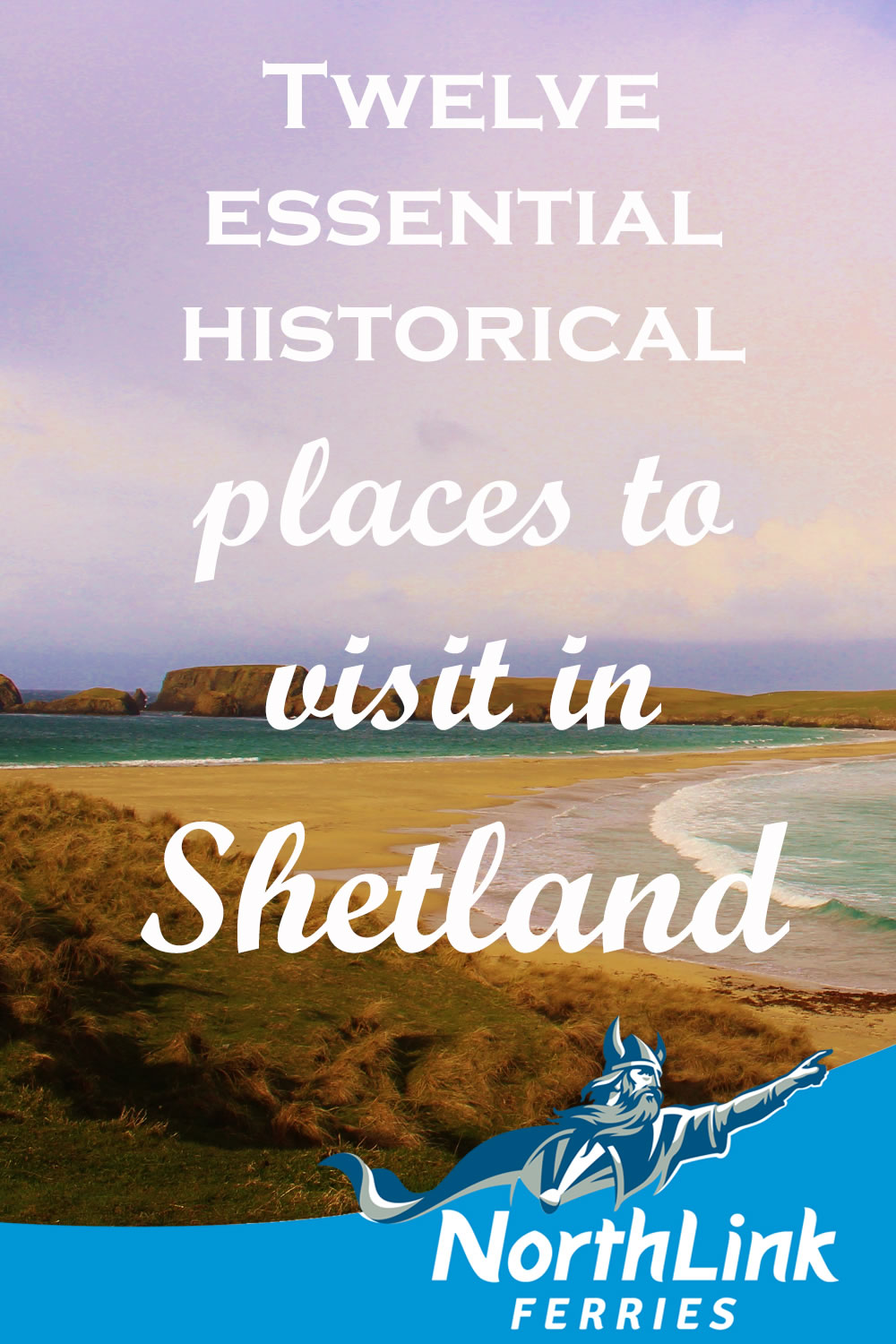 Header image: Mousa broch from the air photo © Copyright Charles Tait