Otters in Shetland – an interview with Brydon Thomason
Did you know that Shetland has the highest density of otters in Europe, possibly the world? The islands are one of the best places to see them,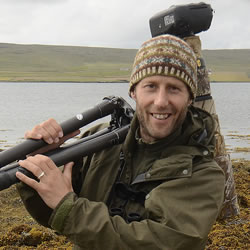 and otters have evolved here to be at home with the salt-water coastal environment and the long hours of summer daylight. That said, otters are very shy animals! We asked Brydon Thomason, who has had lifelong love of Shetland's otters and runs Shetland Nature, offering wildlife tours and holidays, for some advice on how to spot them!
"Over the years I've been given all sorts of intriguing 'titles' such as Shetlands Otter-man or more obscurely; otter addict, enthusiast and even guru or whisperer!"
Q. Can you tell us a bit about yourself Brydon? When did you first become interested in the nature of Shetland and what made you decide to establish your own wildlife tour company?
A. Wildlife always fascinated and excited me as a child. By the age of five or six birds were my favourite subject but by the time I was eight otters had become as much of a fixation. From there, my passion to be out in the wild never faded. I was never really one to have any interest in school and as a result, certainly didn't excel there! Helping on the family croft and exploring the wild outdoors was far more interesting.
I knew from quite a young age that I wanted to become a wildlife guide- ever inspired by the late Bobby Tulloch, who allowed me to accompany him on his birdwatching tours when he visited my home island of Fetlar when I was just a young lad. I was always fascinated by the thought that you could actually do that as a job!
I never lost sight of that and although I served my time as a joiner and worked on the inter island ferries, a life in the wild was always what I was working towards. It was that more than a desire to run my own business that motivated and inspired me and was the overall catalyst behind the company's development.
Q. What can visitors expect from a tour / holiday with Shetland Nature?
A. Our primary focus has always been wildlife and especially sharing knowledge and awareness, so guests learn about the species and our responsibility to them. We are renowned for our ethos in putting the wildlife's well being before our visitors experience- but without compromising the latter. Over recent years however I wanted to diversify into offering wider interest holidays too. In addition to targeting the main wildlife spectacles, this also brought in other aspects of our culture, history and heritage- all very popular with visitors and areas that I confess are not my strong points; fur, feathers, fins and flippers are more my bag! This was a very exciting development for us as it allowed us to collaborate with like minded companies such as Island Trails, Shetland Geotours and Selkie Ventures who offer the expertise that, along with ours completes the package.
Q. What happens on one of your Otter Watching tours?
A. Learning is as big and important a factor to our otter tours and holidays as the actual encounters. Obviously we want people to see what they came for and we are not known to disappoint but sharing our knowledge of otters lives, behaviour, environment and overall ecology is very important to us. Most important of all is for us to show people the importance of field craft and how to find and watch them responsibly.
Q. How did you become an expert in otter behaviour – was there a lot of trial and error involved?
A. I'm always wary when I'm referred to as an 'expert', this is certainly not something I label myself as. Over the years I've been given all sorts of intriguing 'titles' such as Shetlands Otter-man or more obscurely; otter addict, enthusiast and even guru or whisperer! I've pretty much been watching them all my life, I'm 40 now and was already learning to track them at the age of eight so I've been watching otters for over 30 years.
I was never one for academia, (the school style of learning was just not something that worked for me) and I pretty much failed every exam I sat, not something that troubled me at all- I was then and still very much am, an outdoors/visual and hands on learner. And that's how I have learned so much about otters, being out with them throughout the seasons, year after year. That and research in books by Hans Kruuk.
Q. What's your favourite thing about otters?
A. I'd struggle to name a single attribute that otters have- there are so many. There are several obvious ones to mention such as their character, antics, abilities and adaptations; their mastery of both their aquatic and onshore environments. But if I had to pick one its one that tantalises and excites me as much now as it did as a young boy- their empowering ability over me as an observer- when I'm watching and particularly photographing them, it is as if there is nothing else that exists but me and them and that very moment.
This is of course all in my head- not theirs! The beautiful thing about it all is that if you do it well, the otters never even know you are there!
It's the hunt. The excitement and adrenaline buzz in the tracking, stalking and then that final moment when I press the shutter- I can rate this above any wildlife encounter I've had anywhere in the world. I guess this is down to a combination of how exciting an animal the otter is and of course my connection and history with them that makes it all the more emotive.
Q. Do you get to know otter families, and how do you tell them apart?
A. Yes, that's one of the most special things about otters here in Shetland. They have ranges that they live within, rarely stepping more than a few feet outside them. If you get to know these and become familiar with which otters are resident within them, you are able to identify individuals. You can tell them by pale markings on their throat, chin or lips- no two are the same. You really do feel as if you get to know them and in a way you do. It is really important to me however that I don't 'humanise' the relationship I feel with them.
To me otters and their wild and wonderful nature are the species that authenticates the Shetland shoreline. I've known so many otters over the years, along ranges all over Shetland. The ones I study closest to home are obviously the ones that I get most attached to. Watching their 'circle of life' play out throughout the seasons is a true privilege. The oldest otter I ever knew lived to at least eight years of age- which is quite old for a Shetland otter.
Q. Have you seen any otter behaviour that has surprised you?
A. Although you could say they are creatures of habit, there will always be something new that surprises you. Sibling rivalry and relationships between individuals and how they show mutual tolerance and even sometimes affection towards each other is great to watch.
The choices of holts that I come across is always fascinating. I have seen them utilise all sorts structures, sites and materials from old ruins, sheds, farm buildings and hen houses through to old cars or boat wrecks. Also half a side of an old Mussel-raft float bedded into moor and even a 1 ton bag which had partly grown over into the ground behind a dry stone wall- a mother used that as a tent like structure which even though it flapped a bit in the wind- she found shelter and warmth beneath the folds and was home for her and her cubs for several months!
Their opportunism around aquaculture is intriguing, especially for such a notoriously shy animal. Steeling bait from creel boats, landing prey on mussel raft floats, even climbing in and out of salmon cages and perhaps craziest of all is bold individuals who learn to charm a salmon or two from fish processing factories. Yes, I enjoy plenty of surprises.
Q. Can you give us any tips for spotting otters?
A. Ehmm…. book a tour?! No, I'm kidding of course! Without at least 'some' knowledge of where, when and especially how to look it is notoriously difficult. When; I'd recommend a three to four hour window either side of low tide. Where; in general, otters tend to favour the lower coastlines with relatively shallow waters. There needs to be plenty of reefs and kelp beds for them to forage. How; always check the wind direction- never look for them along a shore that the wind is blowing in the direction you are walking, they will have smelt you and vanished long before you ever know they are there. Blend into the environment as much as possible, no bright clothes, keep low profile and keep quiet. That should get you started!
Q. Do you have a personal favourite moment from one of your tours?
A. As could be expected, there have been so many favourite moments with guests on tours and over the years and I've met some really great people. I think from a personal perspective it would have to be taking out world renowned wildlife cameraman Doug Allan. To see how much he enjoyed and appreciated his otter experience with me was a really special, gratifying and proud moment for me having been in awe of his work for so long.
Q. What's the nicest comment you've heard from one of your customers about your tours?
A. That's an interesting one. To be honest words, recommendations and testimonials are always hugely appreciated and genuinely mean a lot- I literally have hundreds of these. It's the impulse, real time reactions that mean the most though. I've had all sorts of unforgettable and often moving moments with guests seeing otters for the first time. I often think you can read a lot from a simple handshake and a smile but there have been all kinds of expressions of gratitude over the years; hugs and high-fives (or nowadays of course 'fist-bumps'!); even a kiss from both men and women but probably it is the tears of joy that stick with me the most- to make someone so happy that they cry is a very special thing indeed!
To find out more about otters, we'd recommend reading 'Otters in Shetland — The tale of the draatsi' by Brydon Thomason and Richard Shucksmith. Order your copy here – http://www.shetlandnature.net/otters/otter-book/ To book a tour with Brydon to see otters in the wild for yourself, please visit http://www.shetlandnature.net/
Pin it!