My visit to the Ness of Burgi
I have a great love of dramatic places, which probably explains why I love Shetland so much. Round every corner of Shetland there is an awe-inspiring view of the wild landscape shaped by the winter sea and the wind.
I imagined that on the stormiest winter days this must be an incredible place to be. With horizontal rain and the sea crashing around, it must be bedlam!
It's perhaps not surprising then that I was drawn to the Ness of Burgi – an Iron Age blockhouse located on a precarious thin stretch of headland at the very south end of Shetland.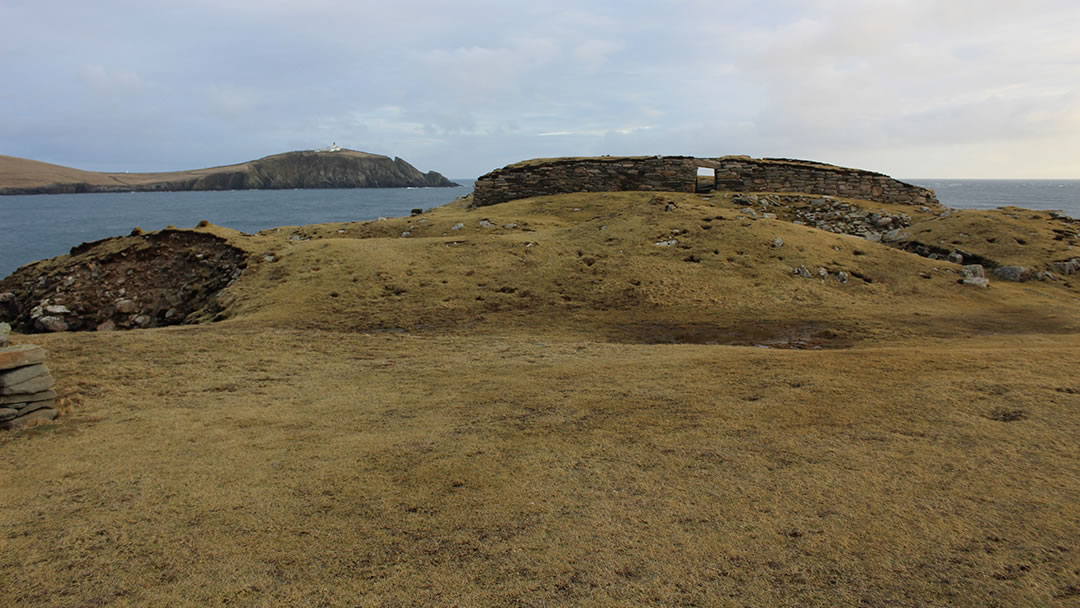 Finding it can be a bit tricky though and this probably explains why so few of my Shetland-based colleagues had heard of it. I set off on a cold but bright January day from Lerwick and drove to the south of Shetland.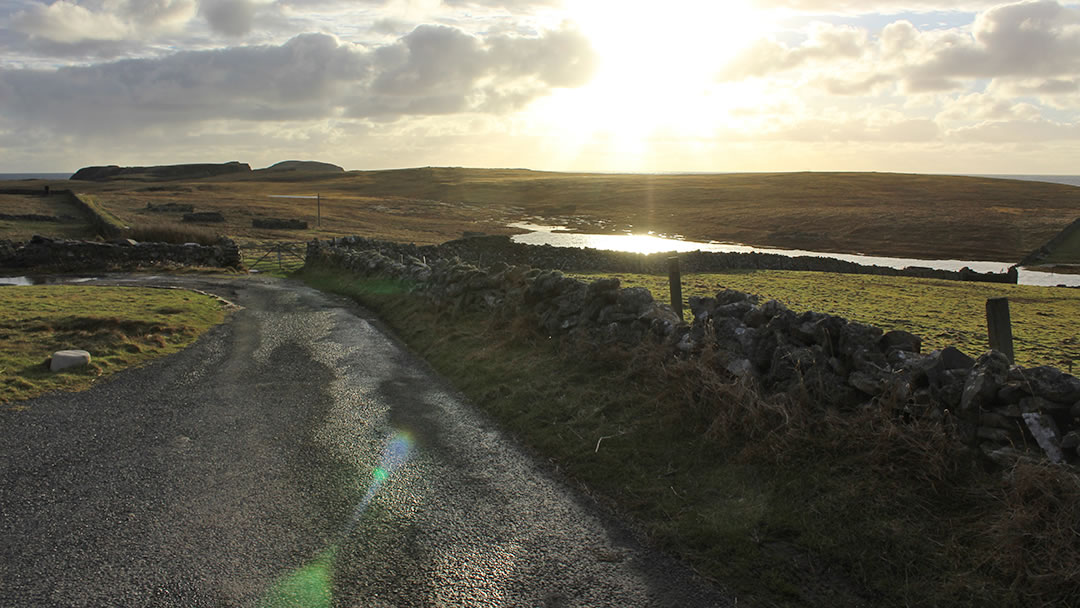 There's a point where you drive across the runway at Sumburgh Airport – directly after this I followed a signpost to Scatness. I drove past a fair few houses at either side of the road until I reached the most southerly house. There was a signpost here for the Ness of Burgi and a little car park.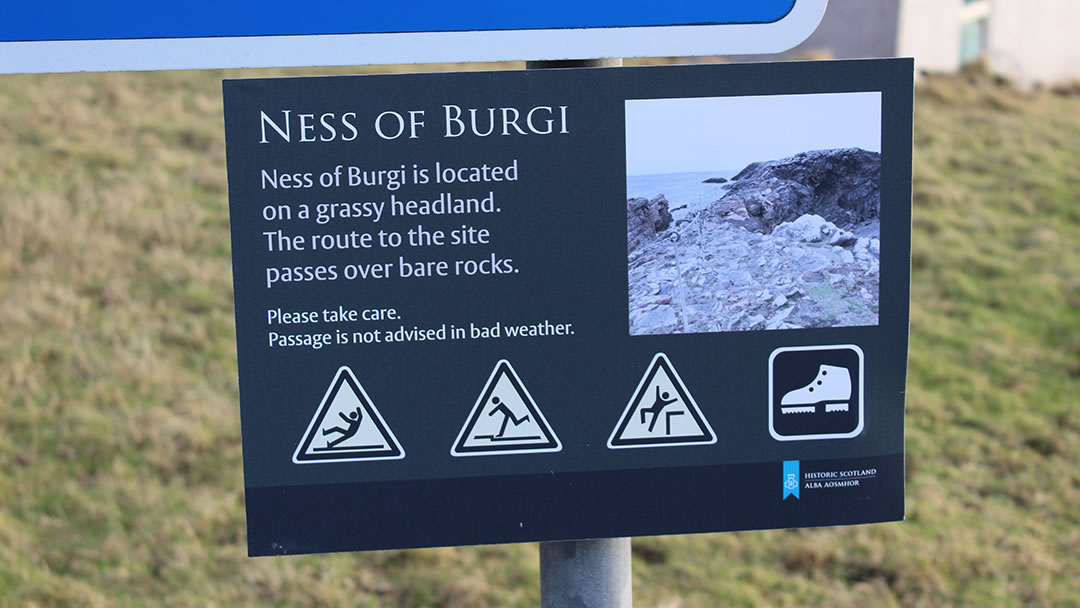 I admired the fisherman's rope which marked the boundaries of this house's garden and felt quite worried after seeing the signpost to the Ness of Burgi which depicts the many ways which you can slip and find yourself in bother on this hazardous walk.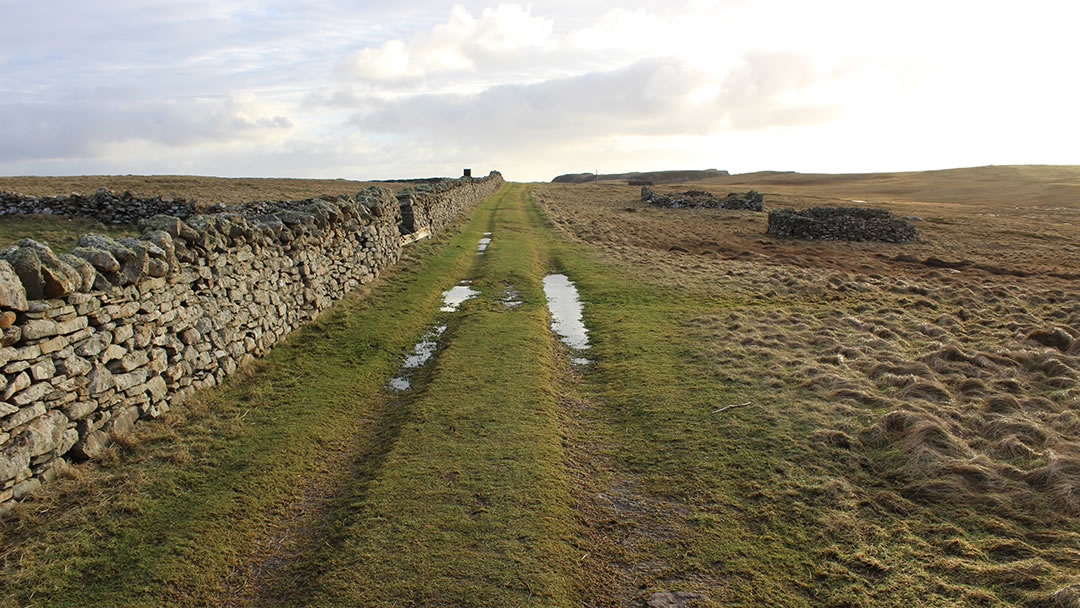 It's not a difficult walk at all though. I set off through a gate and walked beside a wall. Once the wall fell away there were lots of vehicle tire tracks to follow southwards.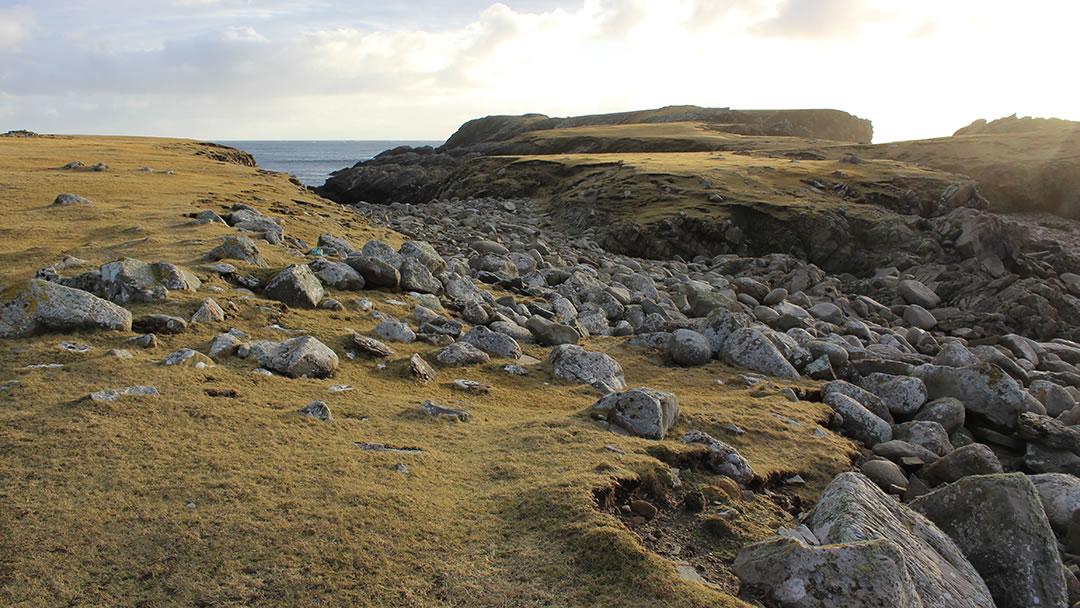 The ground is a little uneven and the track twisty. However, I eventually reached a rocky beach and made my way across smooth pebbles and continued uphill. There are pebble cairns here and beautiful views of Sumburgh Head. It was at this point when walking across to the Ness of Burgi, that I realised I was further south than Sumburgh Head.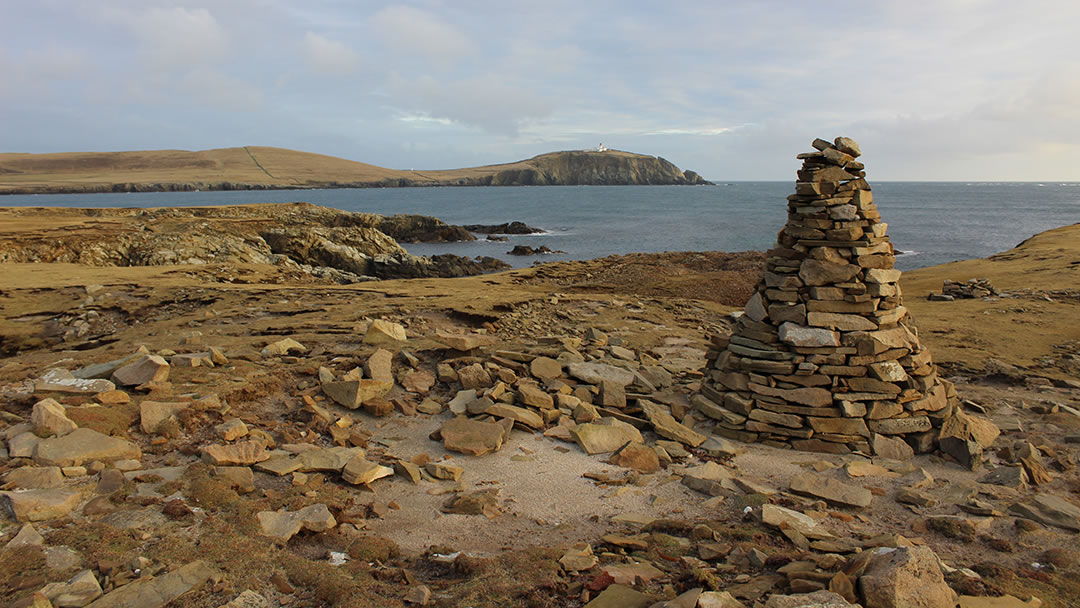 The grassy footpath itself is scattered with seashells and sprinkled with large grains of sand – you get the impression that the wind fairly gusts across here during the winter.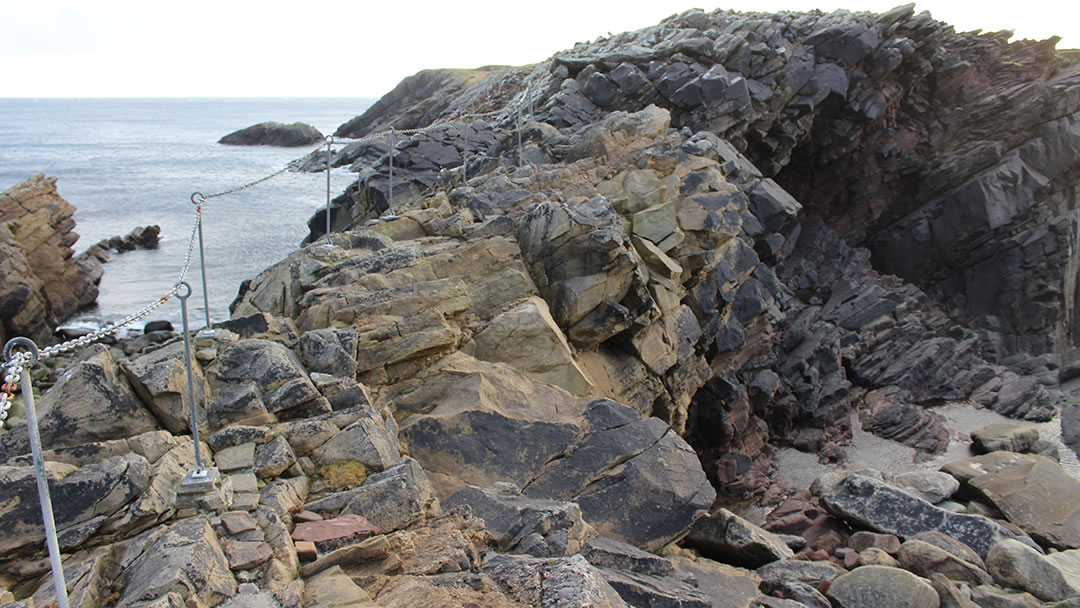 The landscape began to get rocky. I arrived at posts and chains which are there for visitors to hold onto and make their way safely across the jagged rocks. This was quite daunting at first, but I soon realised that the crossing was safe enough.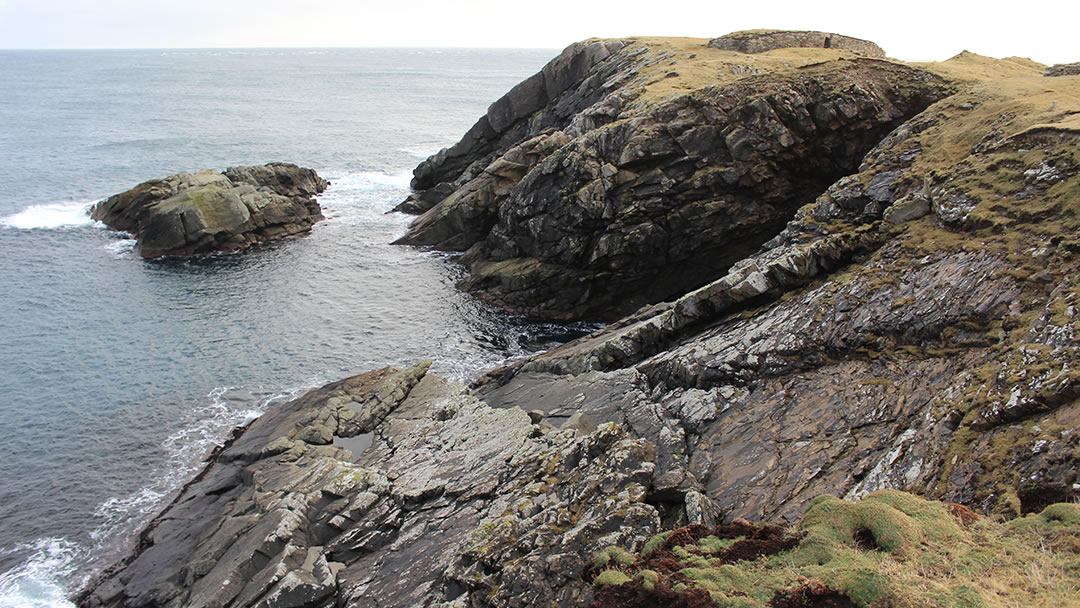 Once I reached the end of the chain the land widened out and became grassy again. I could see the Ness of Burgi in the distance. It's quite a low flat building (it reminded me of the blockhouse at Clickimin in Lerwick) and inconspicuous on the landscape. I realised that I had been looking at it all along my walk. When you know what you're looking for, you can see the Ness of Burgi from the car park!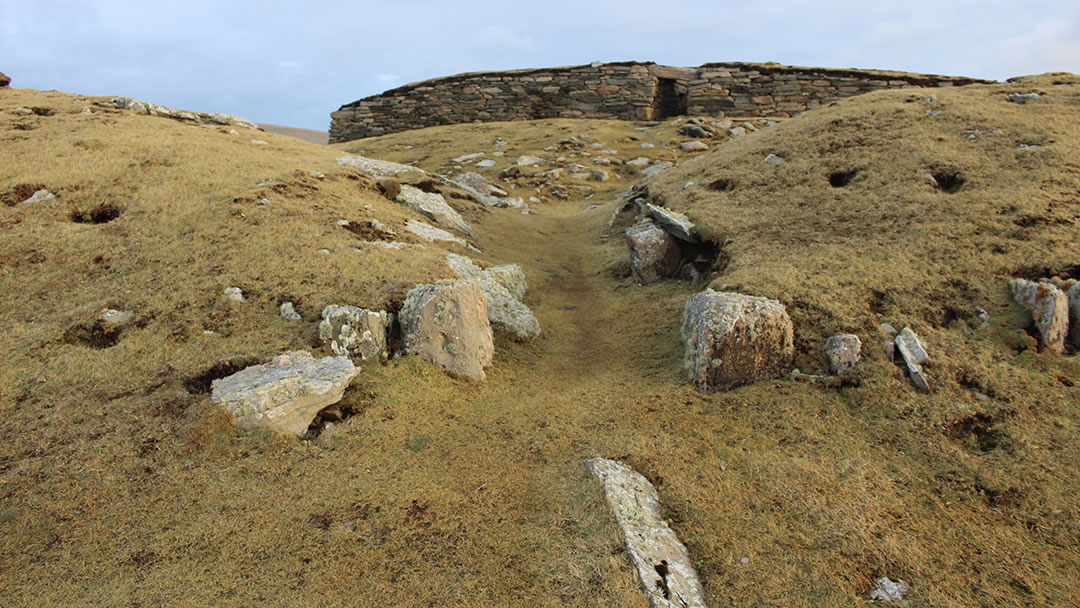 I approached the Ness of Burgi through a series of ditches and ramparts and was very impressed by it. It is low, solid and located in a brilliant defensive position. The Ness of Burgi is around 2,000 years old and bears similarities to broch architecture including drystone walling, hollow chambers and bar holes for a wooden door. Excavation in 1935 found pottery similar to that found in other broch sites too.
The Ness of Burgi has a low narrow entrance (filled with water at this time of the year) and a passageway running through the middle. I had to stoop to enter and found it safest to view the broch from above. There are three cells, one of which (a guard chamber?) is ruined. The sun was low in the west and cast a beautiful light on the blockhouse.
Despite the scary signpost, the Ness of Burgi was quite easy to get to. Who lived here though? There are many ruined brochs and forts nearby, emphasising the importance of this first footfall in Shetland from the south. However the folk that lived here would have been very far from good farmland. Did they take advantage of the cliffs and inlets for seabirds, eggs, seal-hunting and fishing? Perhaps these folk traded their maritime resources with other groups. However they lived, I imagined that on the stormiest winter days this must be an incredible place to be. With horizontal rain and the sea crashing around, it must be bedlam!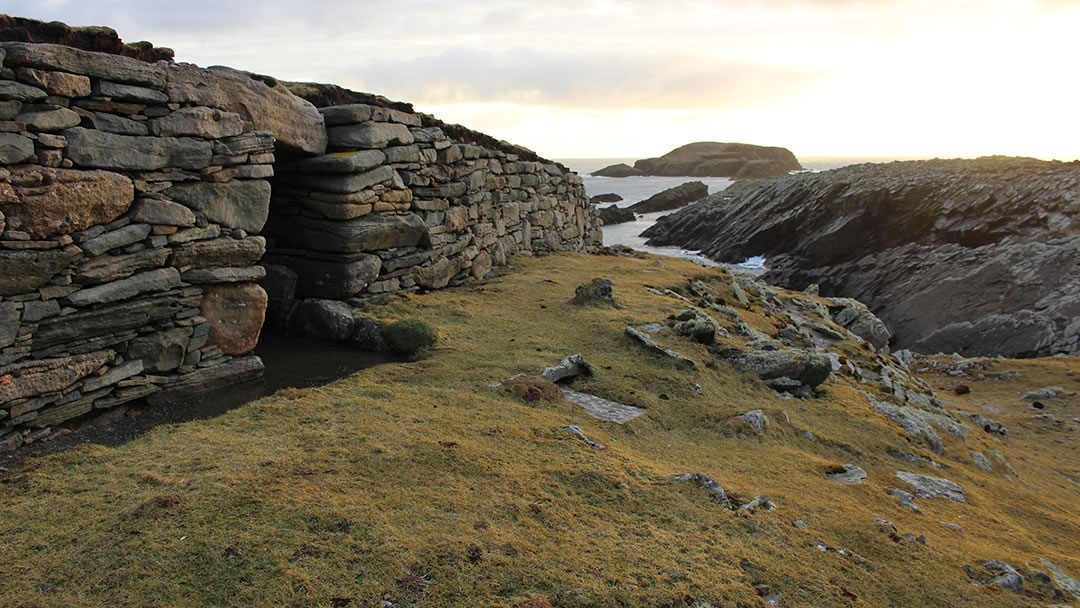 As I walked back to my car, a mist of rain drifted towards me; travelling from the north of Shetland to the south together with rainbows and beautiful light. I got back in my car as the rain began to splash around me – I was satisfied. The Ness of Burgi is an interesting place in spectacular surroundings and is definitely worth a visit.

By
Magnus Dixon
Orkney and Shetland enthusiast, family man, loves walks, likes animals, terrible at sports, dire taste in music, adores audiobooks and films, eats a little too much for his own good.
Pin it!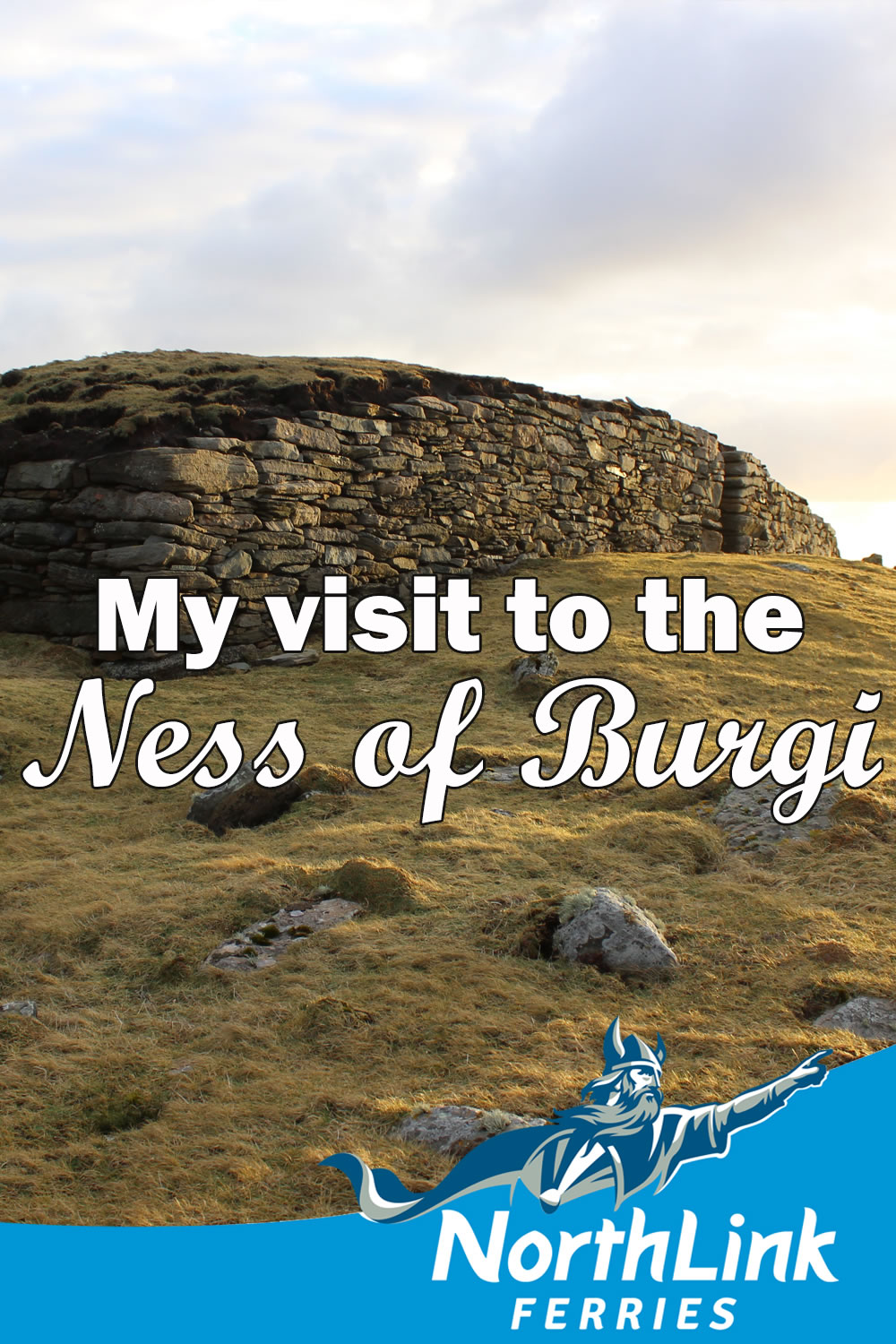 Header image: The Ness of Burgi in the South Mainland of Shetland photo © Copyright Magnus Dixon