Exploring Trondra and East and West Burra
For some of the best scenery in Shetland, we'd recommend venturing to Trondra and to West and East Burra. These are islands linked to the Shetland mainland by a series of bridges.
When travelling through the gentle rolling landscape of Trondra and East and West Burra, looking seaward to the smaller islands in the north, to Foula on the western horizon and to the imposing hills of the South Mainland alongside to the east, one very much gets the impression of looking down upon a flooded valley from hilltops.
When looking at the map, Trondra and East and West Burra are just south of Scalloway and are long, thin fingers of islands which run alongside Shetland's South Mainland. The watery space between has been gouged out by glaciers.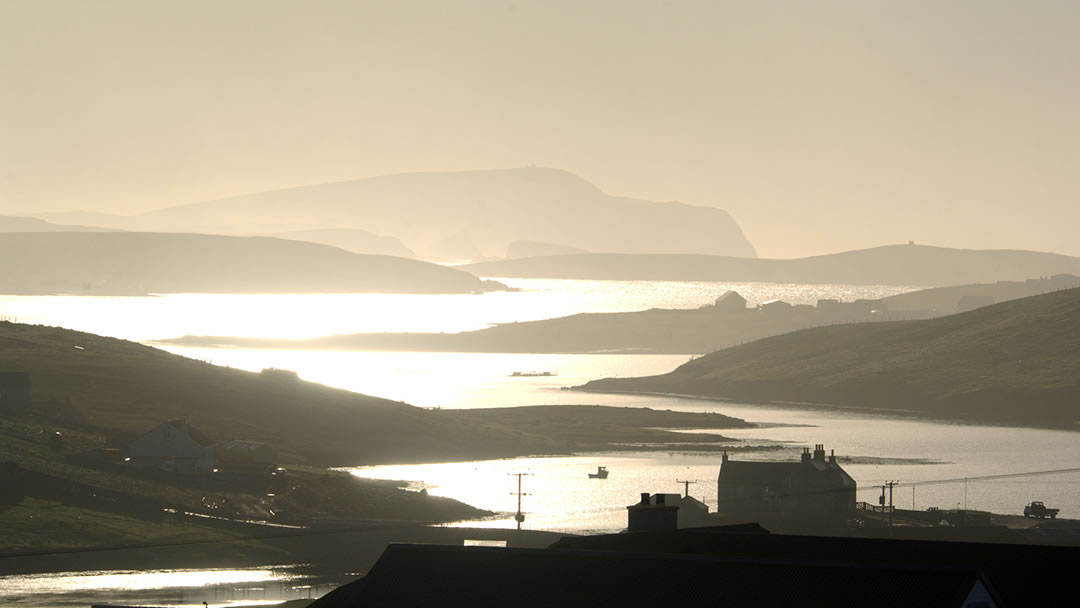 When travelling through the gentle rolling landscape of Trondra and East and West Burra, looking seaward to the smaller islands in the north, to Foula on the western horizon and to the imposing hills of the South Mainland alongside to the east, one very much gets the impression of looking down upon a flooded valley from hilltops. This view is especially fine at sunset.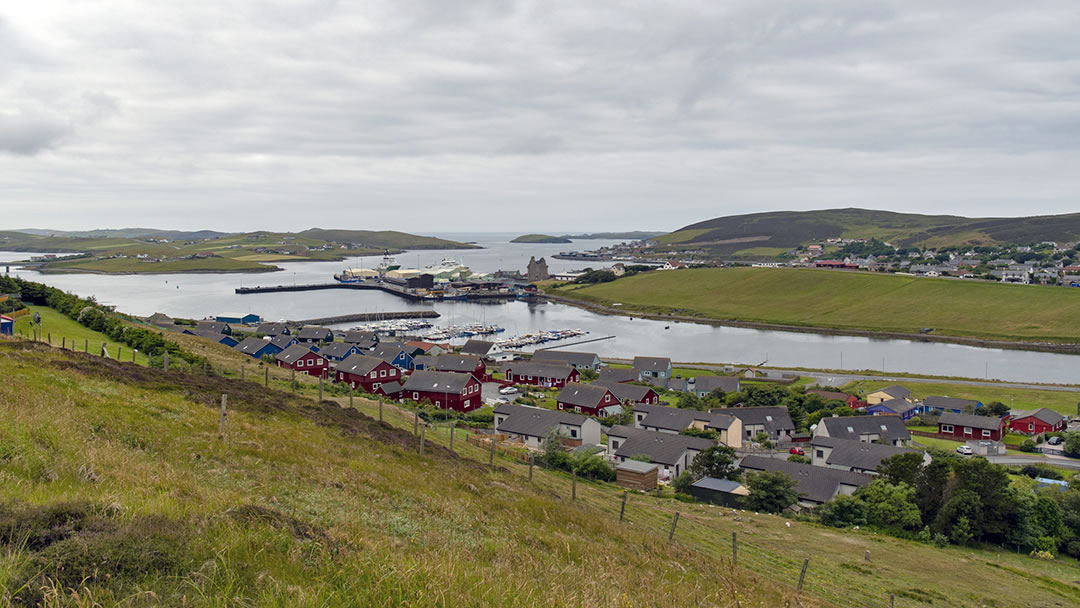 Interestingly, the location of these islands was responsible in the past for Scalloway (pictured above) becoming the capital of Shetland (until Lerwick took that title in the 1830s). Fishing boats, ferries and the Shetland bus used Scalloway harbour because it was sheltered from the wildest of seas on all sides. The mainland offered shelter to the west, east, and north, and Trondra and East and West Burra offered shelter from the south. The parliament nearby at Law Ting Holm and the religious centre on West Burra cemented Scalloway's position.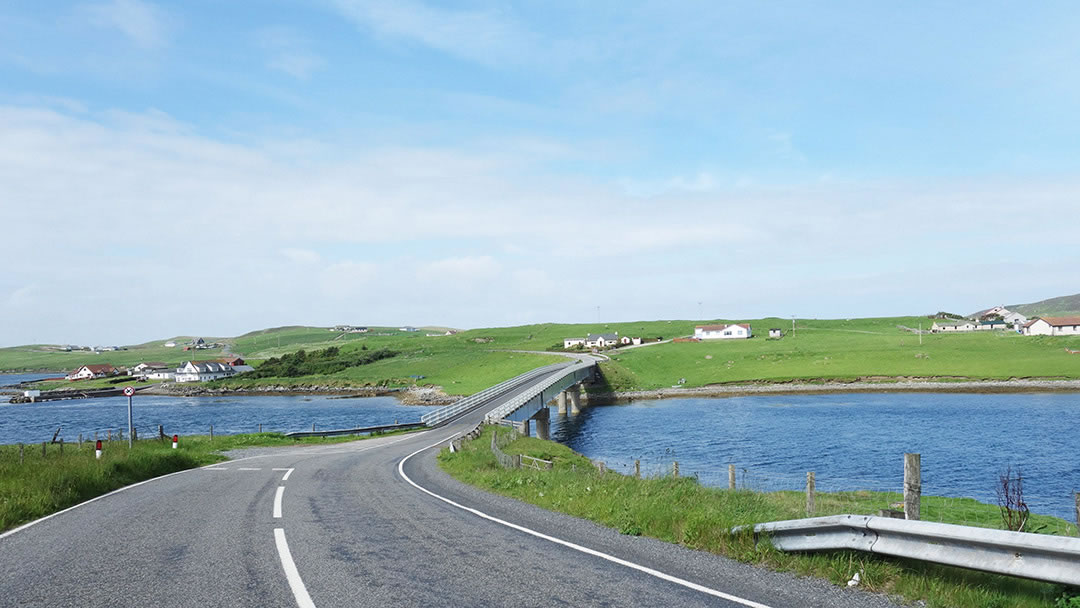 Crossing from the Shetland Mainland
To reach Trondra and East and West Burra, visitors need to head to Scalloway and follow the B9074 road along East Voe past brightly painted wooden Scandinavian houses until they meet a single lane road bridge over to Trondra. The bridge over Clift Sound was built in 1971, and its construction reversed the depopulation of the island which was occurring at the time.
A friend told me a wonderful story about staying in a rented cottage on Trondra before the bridges were built. He was there with his wife, mother, sister and brother-in-law and the cottage had a rowing boat so that holidaymakers could make expeditions to the Shetland mainland. One day the gentleman and his wife rowed the boat to Scalloway with a baited line behind them and caught four big fish on their journey. This was four more than his brother-in-law, an expert fisherman with expensive fishing gear, caught later that day!
Whilst both Trondra and East and West Burra are much easier to access from the Shetland mainland because of this series of bridges, they have retained their strong island sense of community.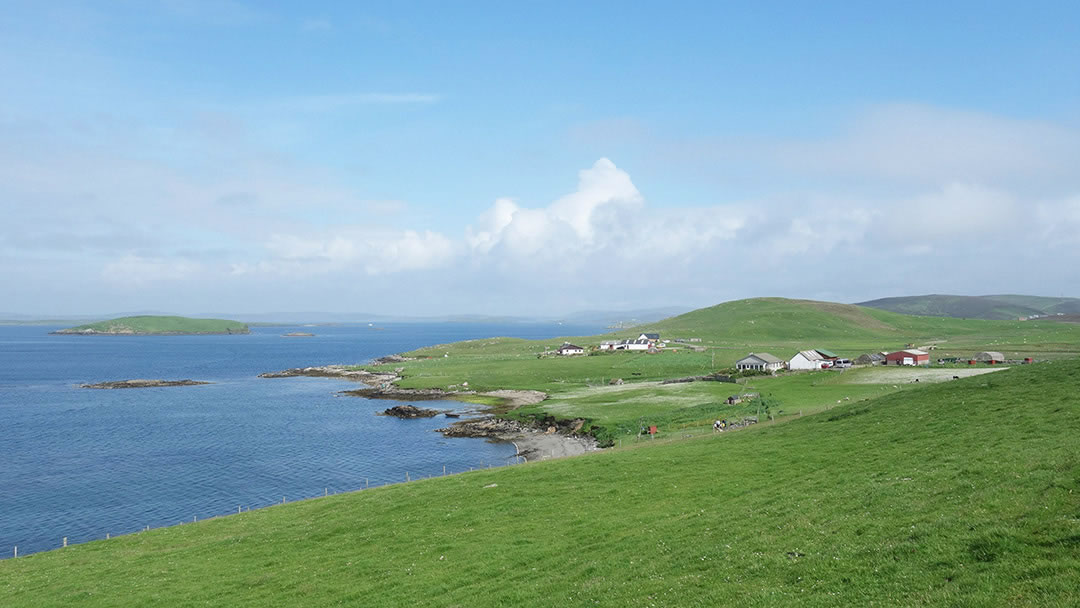 Trondra
Trondra, from the Old Norse 'Thrandr's isle' is a sparsely inhabited island with fertile croft land. At no point is Trondra more than 1km wide. The green land is dotted with sheep, ponies, and stones. Around every corner there is a new richness of blue and small islands are everywhere.
There are a few houses and a community hall. Midway through Trondra at Burland there was once a broch, but that is now long gone. These days the Shetland Croft Trail is at Burland (pictured above), where native Shetland breeds of livestock live a happy, free-range life. Tommy and Mary Isbister have lived at Burland Croft since 1976, and they use traditional crofting methods to grow Shetland crops. There is a restored Norse watermill to see, and a boatbuilding shed, where Tommy builds traditional wooden Shetland boats. We hope the Burland Croft will open again to the public soon.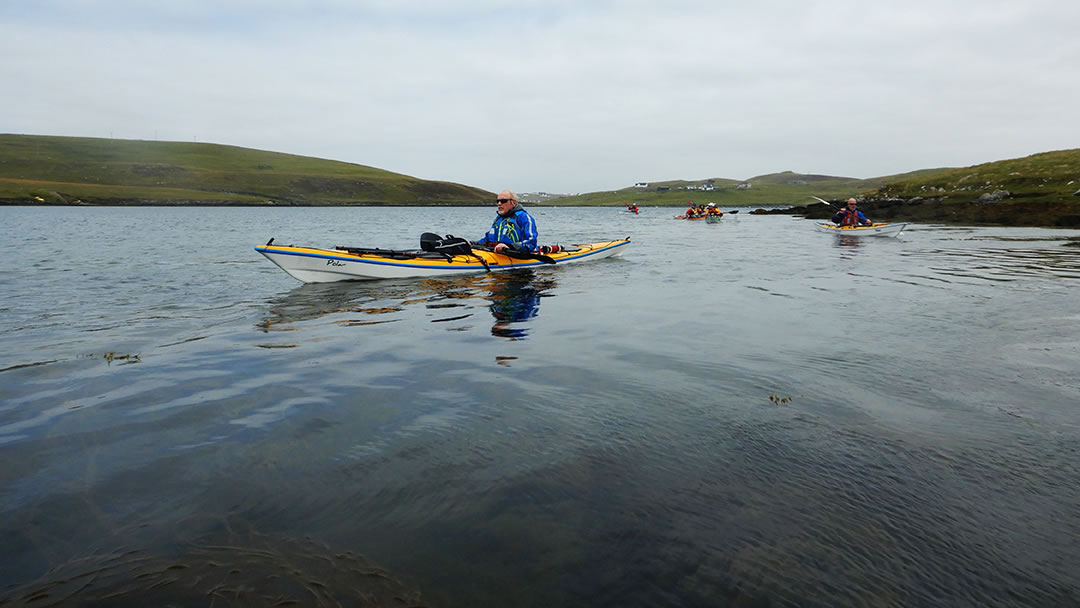 The smooth undulating roads of Trondra and West and East Burra are popular with cyclists. Kayakers love the beautiful, rugged shoreline. Trondra has caves to explore where the 'mareel' can be seen. This is a Shetland word for the phosphorescence that glows in the water when it is disturbed with a paddle.
After a short journey along Trondra's west coast there is the bridge over to West Burra.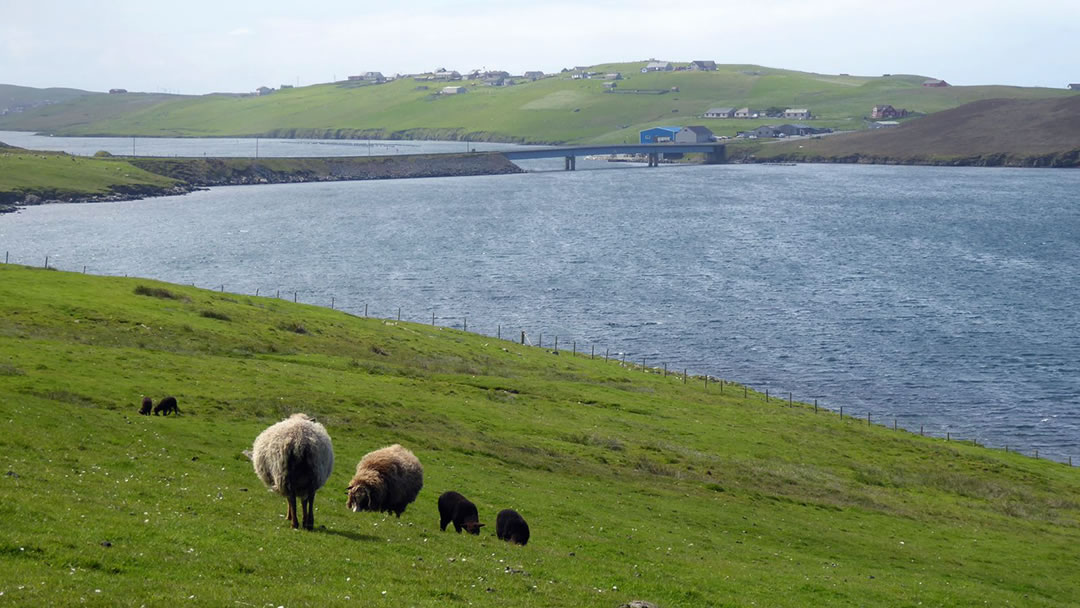 West Burra
The name 'Burra' is used elsewhere in Shetland, and there it comes from the Old Norse 'Broch Island'. However, it is unlikely that the same meaning applies here as there are no brochs to be found! With that in mind, Burra is called 'Barrey', meaning 'bare island', in the Orkneyinga Saga which is more appropriate.
Just after the bridge onto West Burra there's a road north to Setter, where fisherman and crofter Thomas Fraser lived from 1927 to 1978. He was a uniquely talented musician who painstakingly recorded his own take on his favourite blues, country, jazz, and traditional tunes. He still has a legion of faithful fans.
After a short steep climb uphill, the visitor will reach a junction where they can continue driving straight on to Hamnavoe or turn left to see the rest of the island.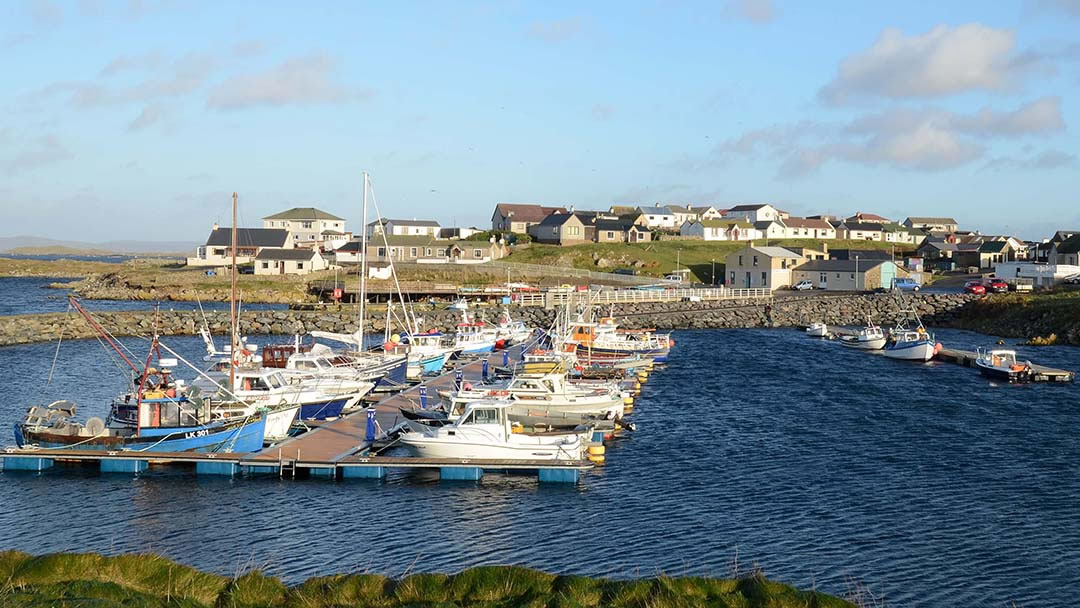 Hamnavoe
Hamnavoe, from the Old Norse 'harbour bay' is a delightful fishing village on a hillside around a west-facing sheltered harbour. At the bottom of the brae there's a marina, shop and post office.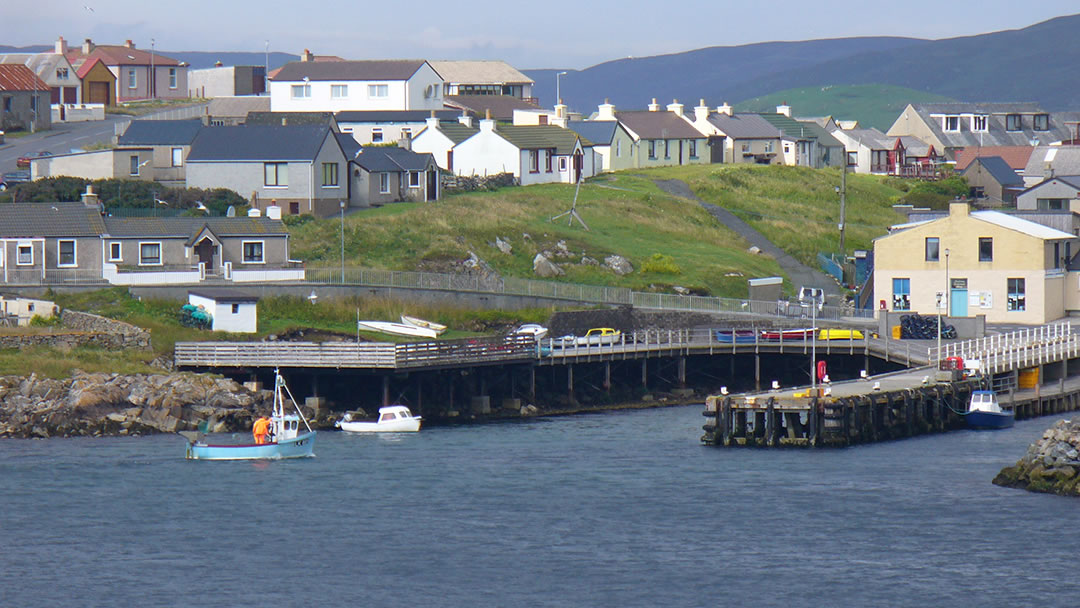 In 1890 there were only six houses here, but in the early 1900s the deep sheltered harbour at Hamnavoe was convenient for the new boats exploring the prosperous Burra Haaf fishing grounds (the area of water between the village and the island of Foula.) The community steadily grew, and several streets of fisherman's houses were built and painted with left-over boat paint. Colourful Hamnavoe has narrow alleyways, moored boats, attractive gardens, and plenty of character – see if you can spot the shell-encrusted shed!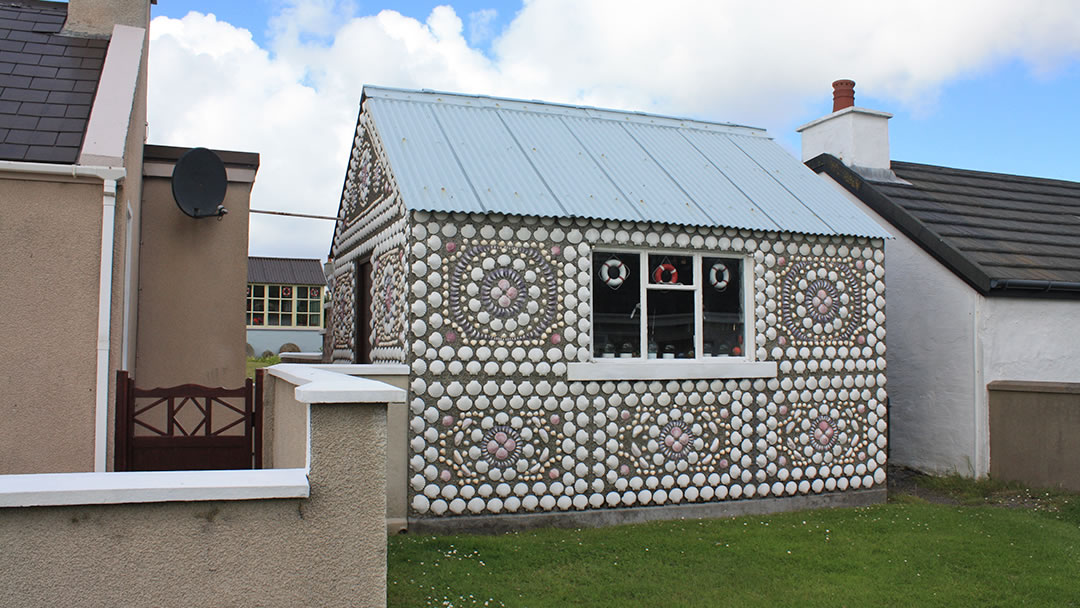 Fishing vessels still operate out of Hamnavoe, as does a boat to Foula. Everywhere in Hamnavoe there is a gleaming seaward view of the uninhabited islands Oxna, Papa and Hildasay.
After spending a bit of time in Hamnavoe we'd recommend taking the previously mentioned junction to see the rest of West Burra. Beside the junction there is Burra Public Hall, which occasionally offers Sunday teas, fish and chips, and curry nights. It is a lively place during the Shetland Folk Festival and Scalloway Fire Festival.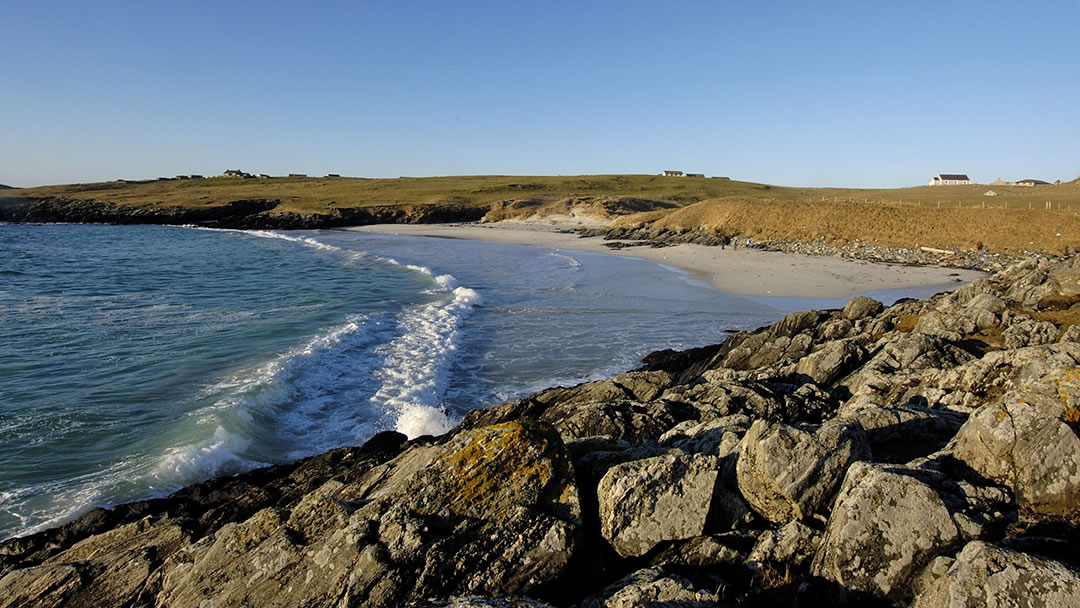 Meal beach
Not far along the road south from Hamnavoe is the lovely south-west-facing sandy beach at Meal, where the sea is a beautiful turquoise colour.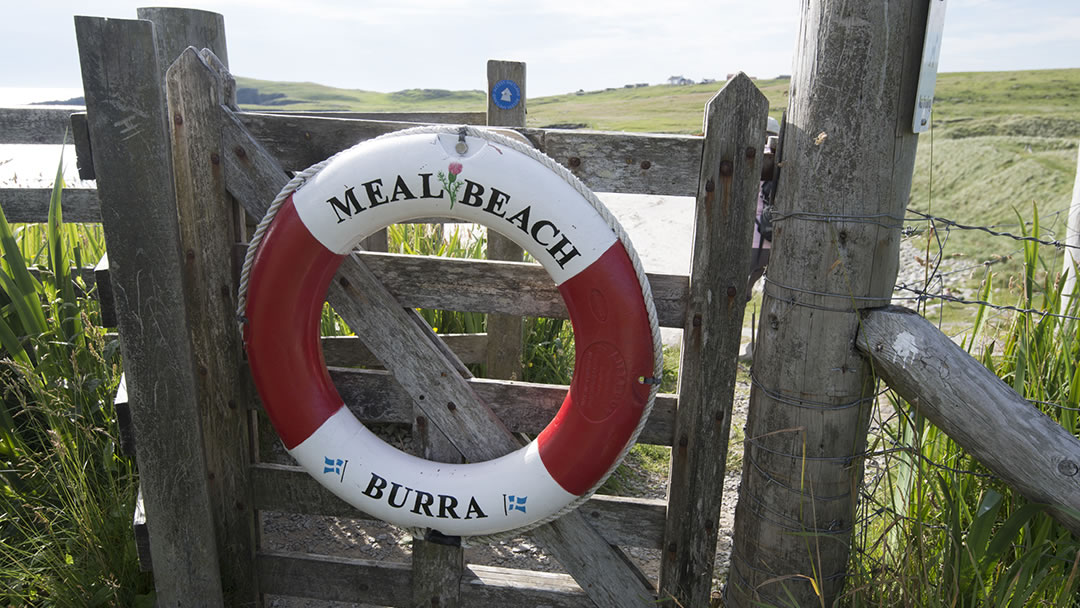 This sheltered beach is a 275m walk from a car park with toilets. The footpath down to the beach has boards covering the wetter patches, but the final scrabble down a steep grassy slope to the sand can be a little awkward so please take care!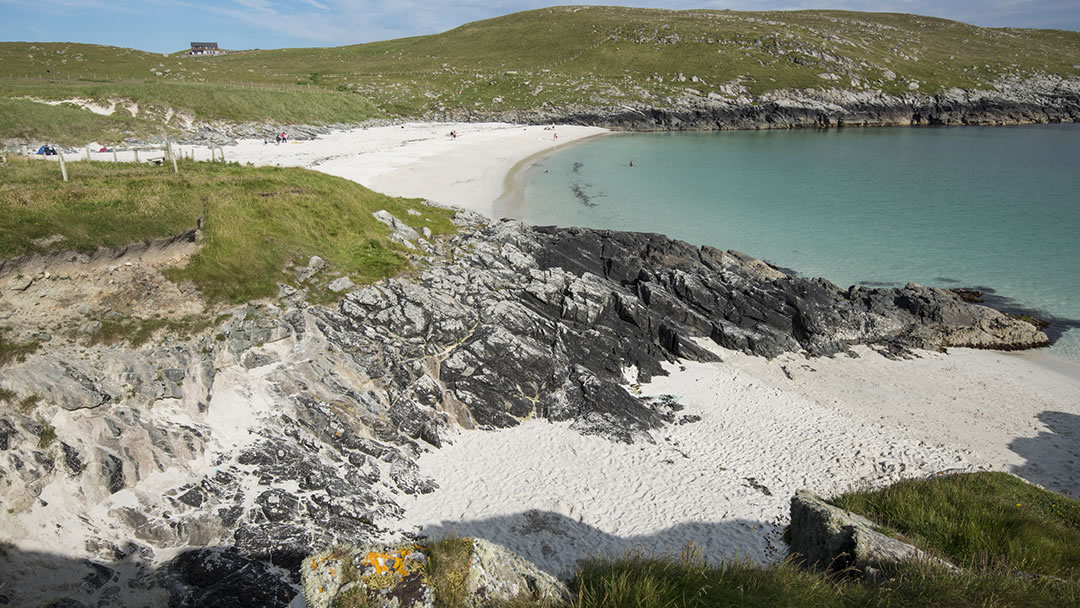 Meal beach, from the Old Norse 'Mel', meaning 'sand', is a small piece of paradise. I've visited on several occasions, once on a hot day with my cousin when there wasn't a breath of wind, and once on a summer evening with my children.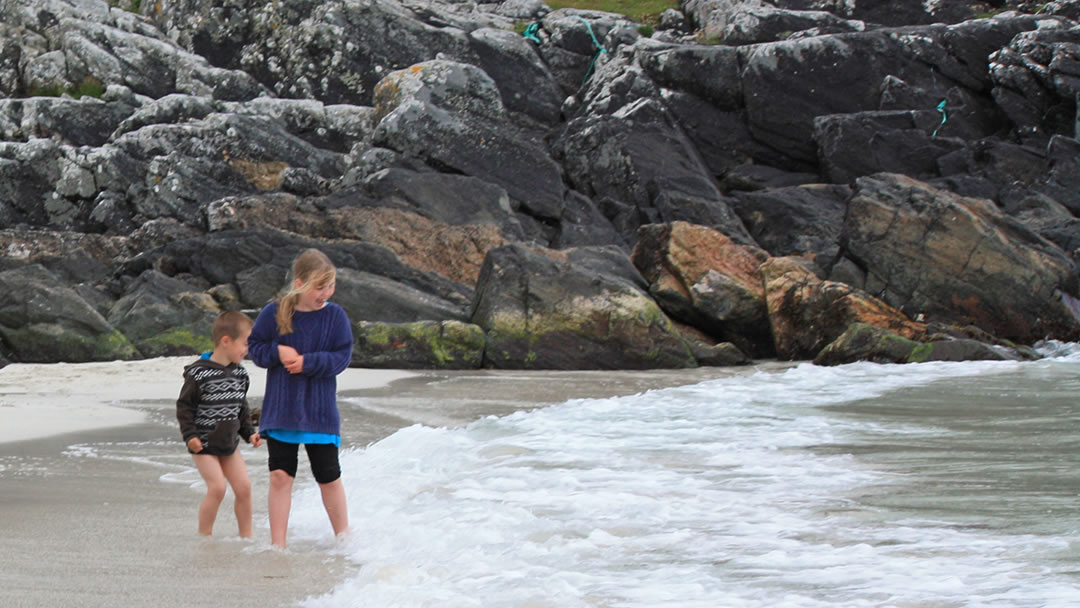 They loved playing on the soft golden sand and the water at Meal Beach is perfect for paddling and splashing in.
Explorers will enjoy the circular coastal walk back to Hamnavoe from Meal beach. After crossing and ascending the slope on the other side of Meal beach, the shoreline soon turns to jagged rocks with cold sea seething all around. On the map we think it resembles a stag's head. Neolithic houses, amazing rocks (Porphyritic adamellite, which sparkles in the sunlight) and a smugglers cave can be found along the way. At the top of the Fugla Ness peninsula (located on the tip of the stag's antlers) there is a lighthouse to guide boats safely into Hamnavoe and Scalloway.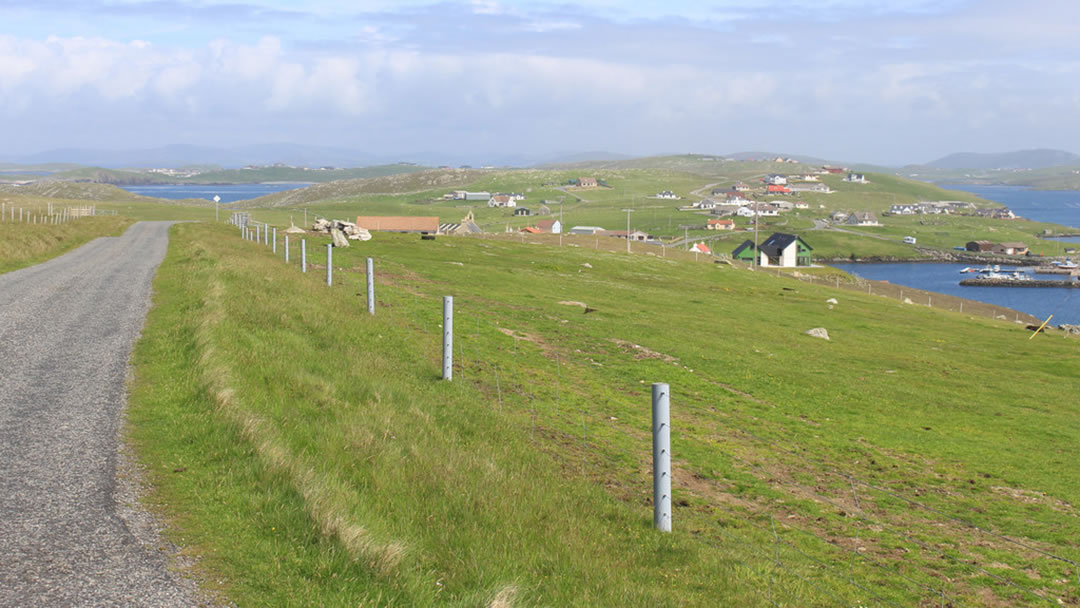 Continuing from Meal beach through West Burra, the road leads south down the middle of the thin stretch of land, with sea at either side. The scenery of these islands has inspired many talented artists and creators and we'd recommend taking a Shetland Craft Trail and Makers map to follow.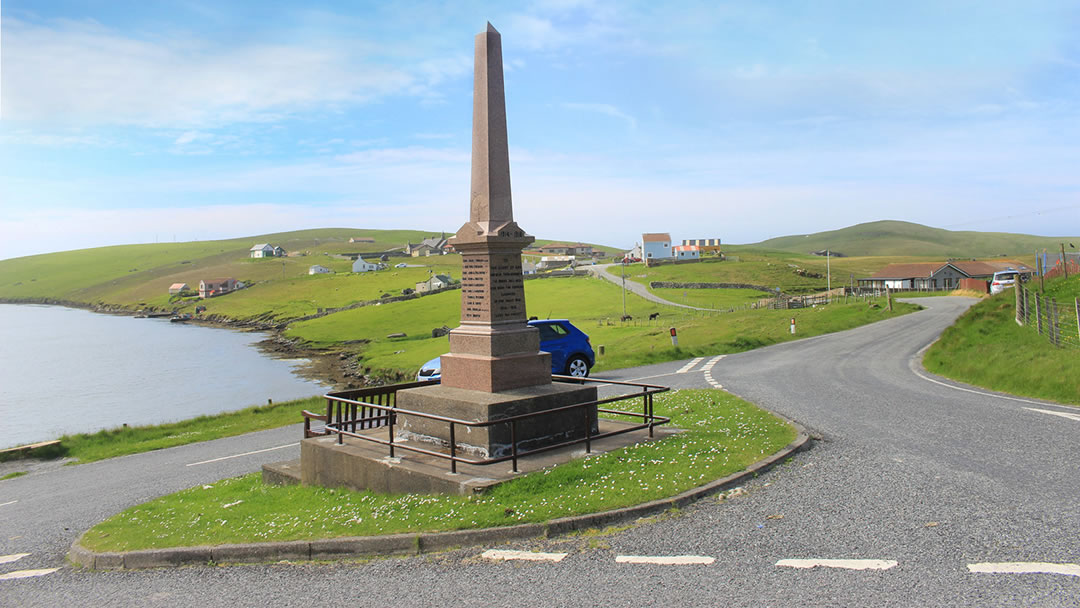 Eventually the road descends downhill to the hamlet of Bridge End. Here the road splits at the war memorial. To the right is the road to Papil and Banna Minn.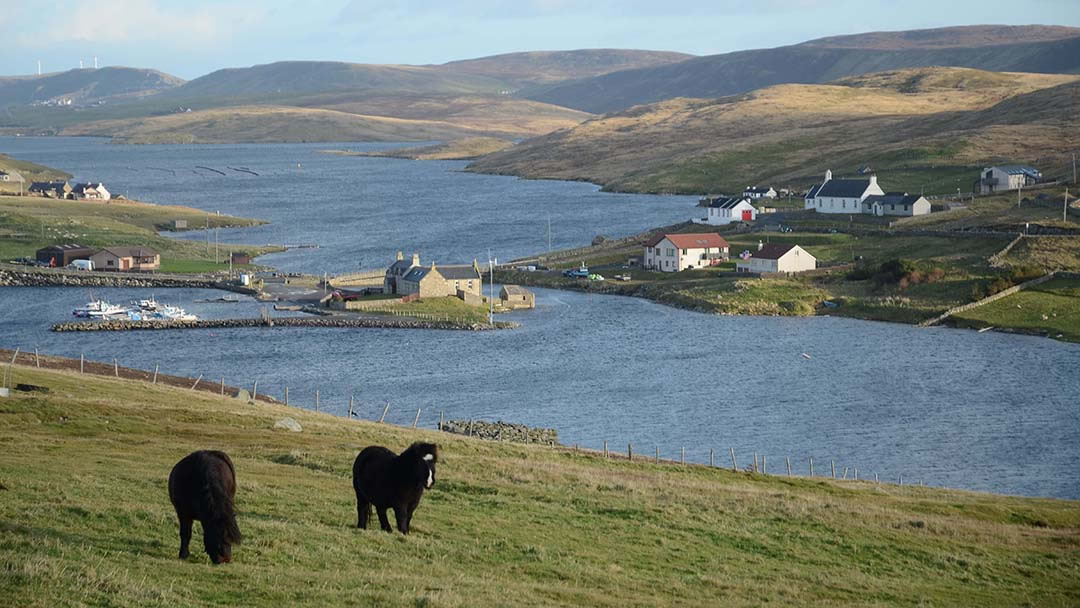 On the left, a bridge over Lang Sound joins West Burra to East Burra. Mid way across is a marina and the Bridge End Outdoor Centre, which was once the school for the area, but now offers self-catering accommodation and a Caravan and Camping site. Campers often report seeing otters from their tents!
East Burra
A short distance uphill from the bridge, the Bridge End Community Hall is another busy place on the night of the Scalloway Fire Festival. In Yaa Field behind there is a standing stone.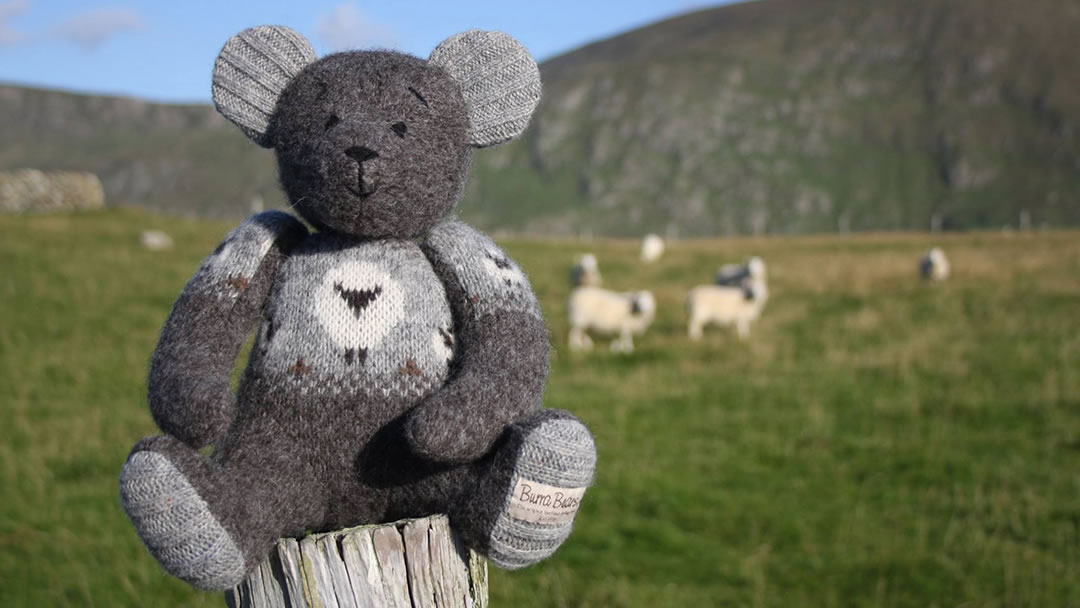 There are more highlights on the road through East Burra. At the Burra Bear workshop, Wendy Inkster and her daughter create handmade teddy bears out of recycled Fair Isle jumpers. Visitors to the studio are welcome, and the creative pair also take commissions, creating special bears out of treasured garments.
Another highlight of East Burra is The Outpost, where a Tasmanian gentleman has made a corner of Shetland resemble a watering hole down under. Visitors are invited to sample Australian sweets and drinks and see emus, wallabies, and sugar glider possums. Entry is free though donations are appreciated. When the flag is up and the wooden pig is swinging, The Outpost is open, and blokes, sheilas, and ankle biters are all welcome!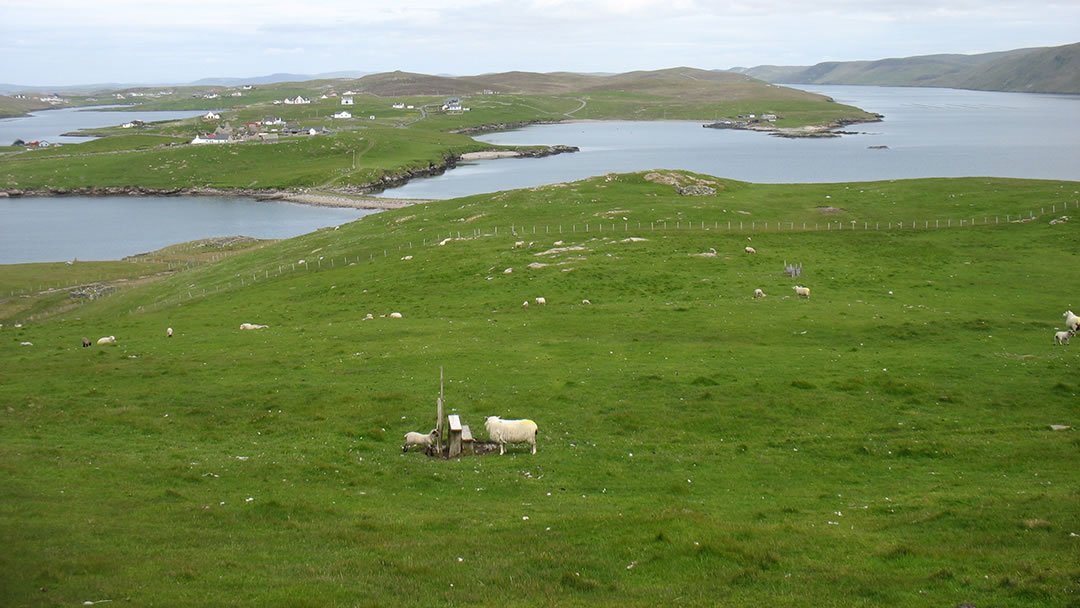 At the south end of East Burra is Houss, and beyond that there is a short tombolo called the Ayre Dyke which leads to the wild promontory of Houss Ness. At 2km long and 500m wide it is a terrific place to explore on foot. There are ruined crofts and one of the largest Bronze Age burnt mounds in Shetland to discover.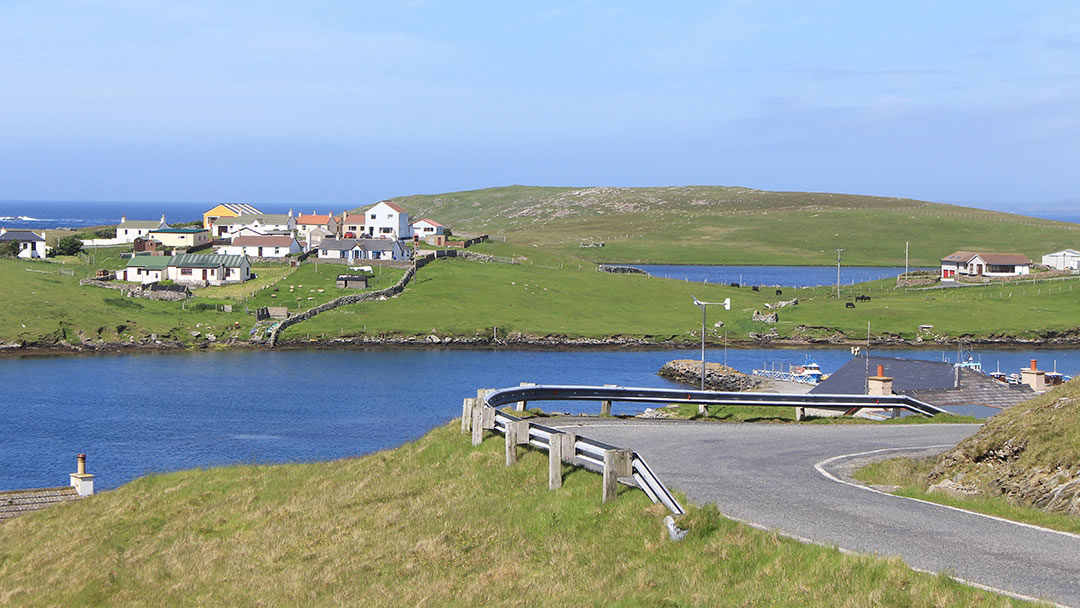 Back to West Burra and Papil
We backtracked to Bridge End (the nice thing about Trondra and West and East Burra is that because only one road passes through these islands, the visitor gets to see everything twice). Then we crossed back over to West Burra and headed south to see the rest of the island.
At Papil (from the Old Norse 'priest's farm') there is one of Shetland's earliest Christian sites. It was established before the Vikings arrived. A beautiful Pictish symbol stone, known as the Papil Stone, was found in the churchyard here, along with two other carved sandstone slabs, also from the 8th Century. A replica of The Papil Stone stands inside the gate of the kirkyard, and it depicts two human bodied bird-headed creatures holding a head between their two beaks.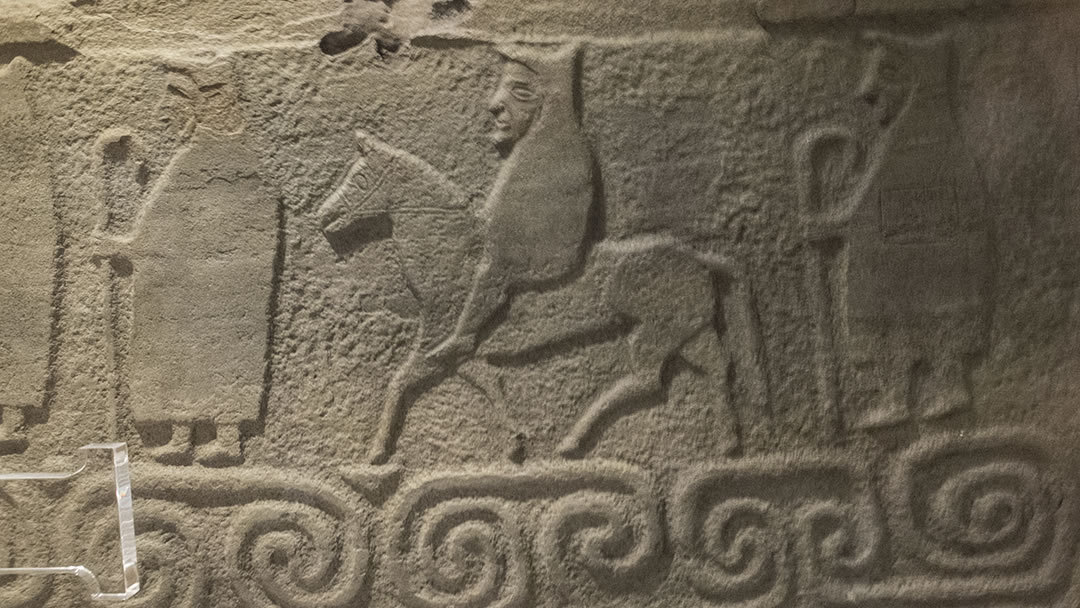 The Monk's Stone (pictured above) was also found nearby. It depicts a horseman and four priests and is possibly an illustration of the priests' arrival here. It is held in the National Museum of Scotland, but a replica can be seen in the Shetland Museum and Archives in Lerwick.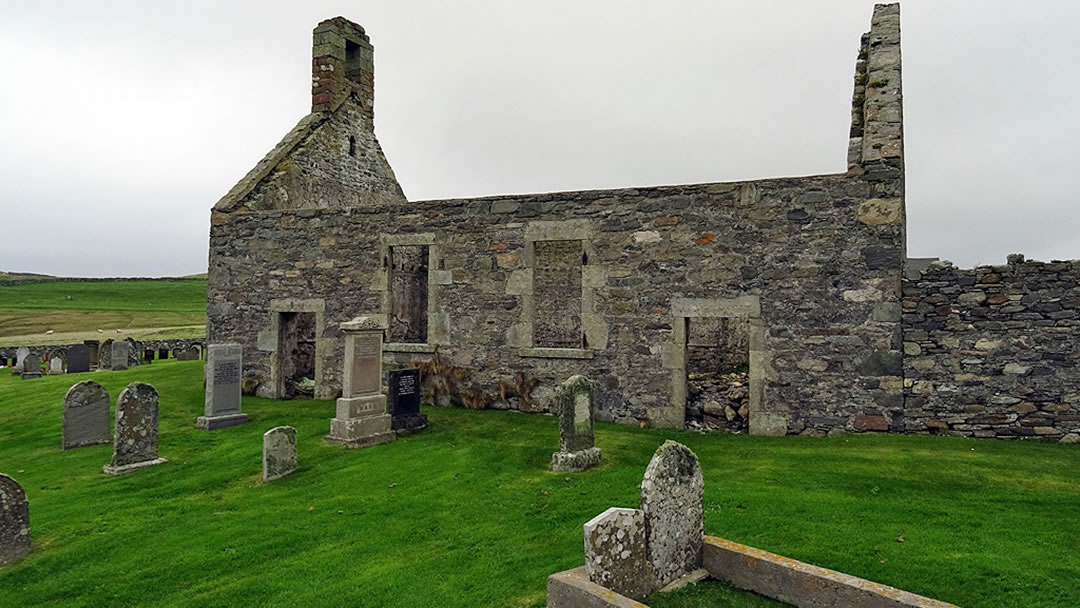 There was once a 12th century church with a tall round tower at Papil, much like St Magnus Church in Egilsay in Orkney, but it was demolished in 1790 and replaced by the (now roofless) kirk of St Laurence.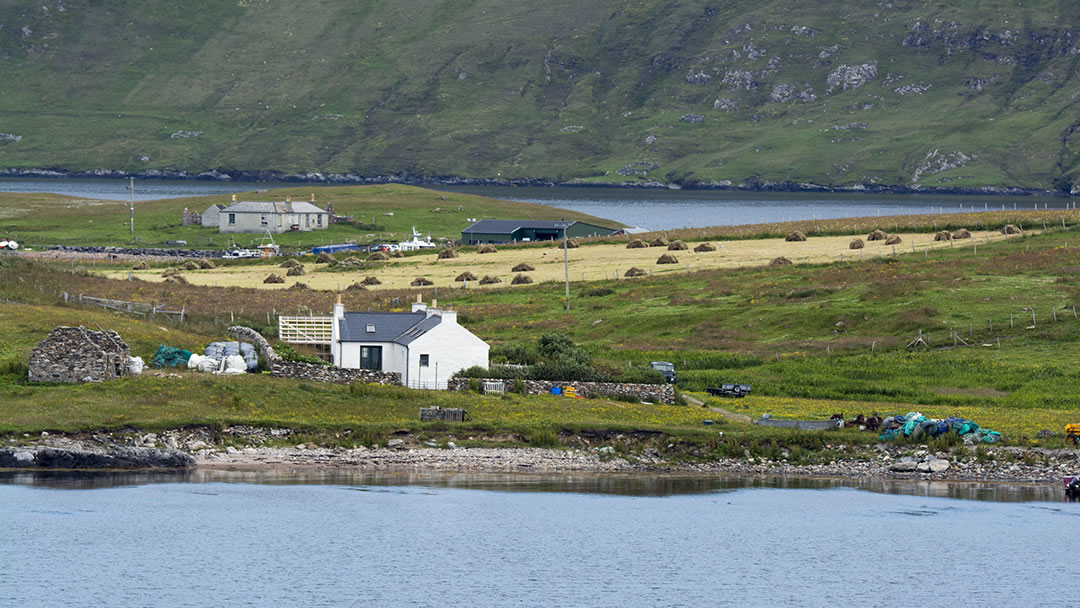 As we travelled south through both West Burra and East Burra, we were always aware of the houses across the water on each opposite island. It is odd to see buildings so near, and yet, because of the sea between, to know they are quite a distance away by road.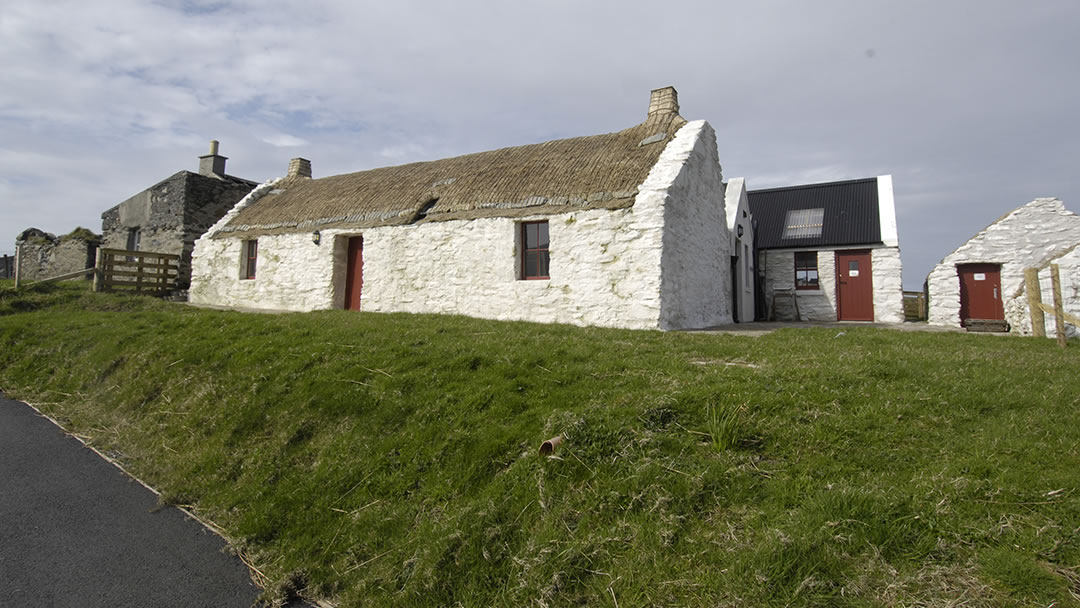 At Duncansclett there's an example of a croft with a thatched roof called Easthouse. This croft and its outbuildings have been lovingly restored by the Burra History Group and offers a glimpse into life in Shetland in the 19th century. It also houses outstanding heritage exhibitions.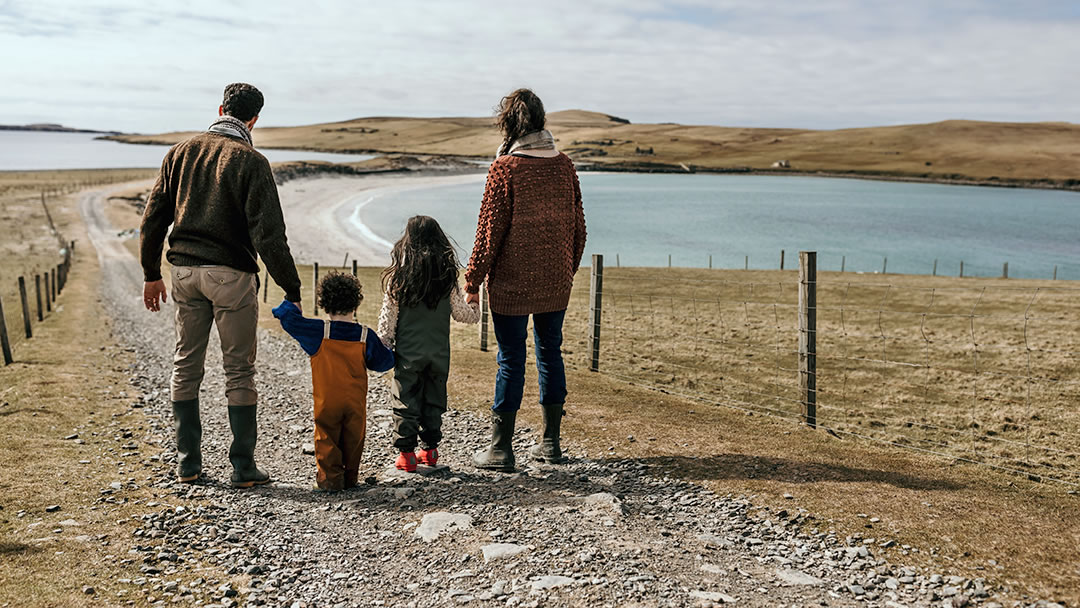 Minn beach
As the road through West Burra peters out on a hill crest there is a small car park with a glimpse of blue and a silver curve ahead. 325m down a hillside track from here is splendid Minn beach, a sand tombolo with stones built up on one side.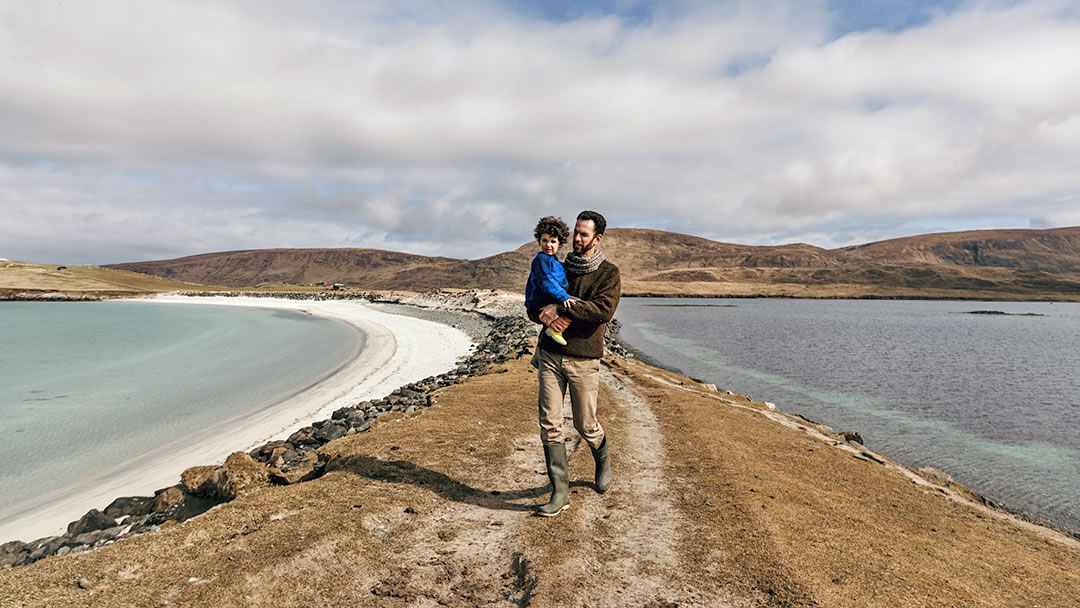 It forms a narrow land bridge to wild Kettla Ness and holds in the peaceful bay of Banna Minn (from the Old Norse 'strip inlet'). Only seals, otters, seabirds, and sheep live on the headland of Kettla Ness now.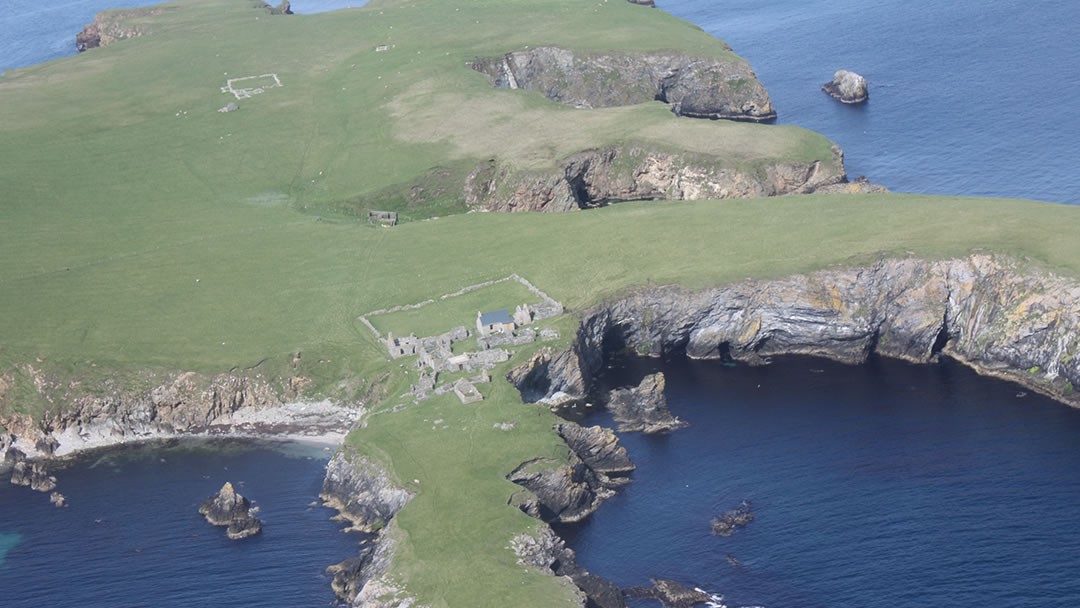 At the far end are views to another island, South Havra, which was once home to eight families. They built their houses in a cluster on the cliff edge so they could farm every inch of land, but the island was uninhabited by 1923.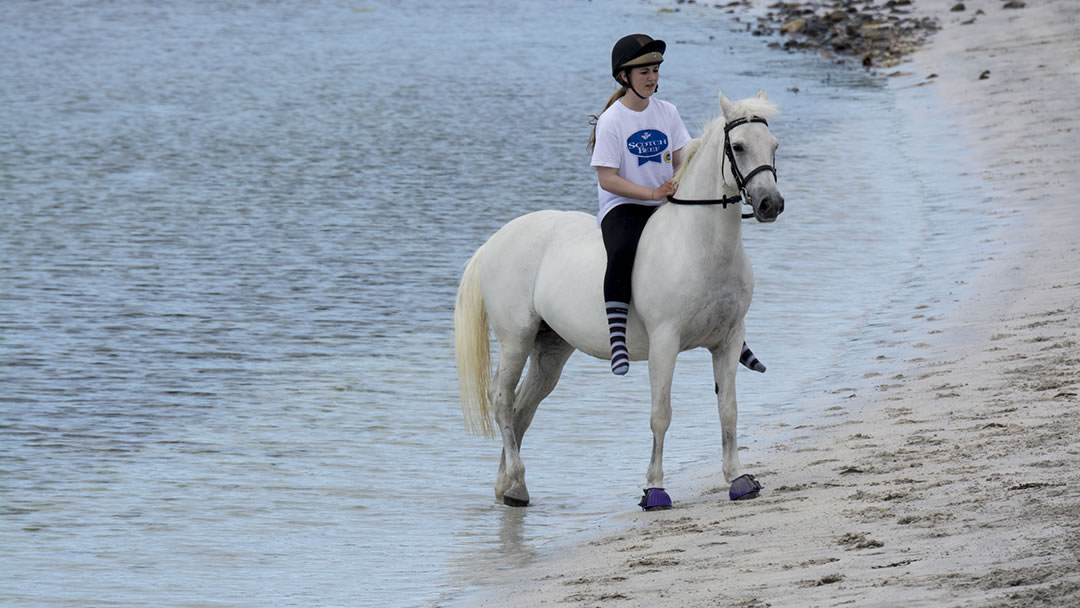 Minn beach is a popular place for pony and horse riding and there are businesses nearby which take visitors out on a guided hack.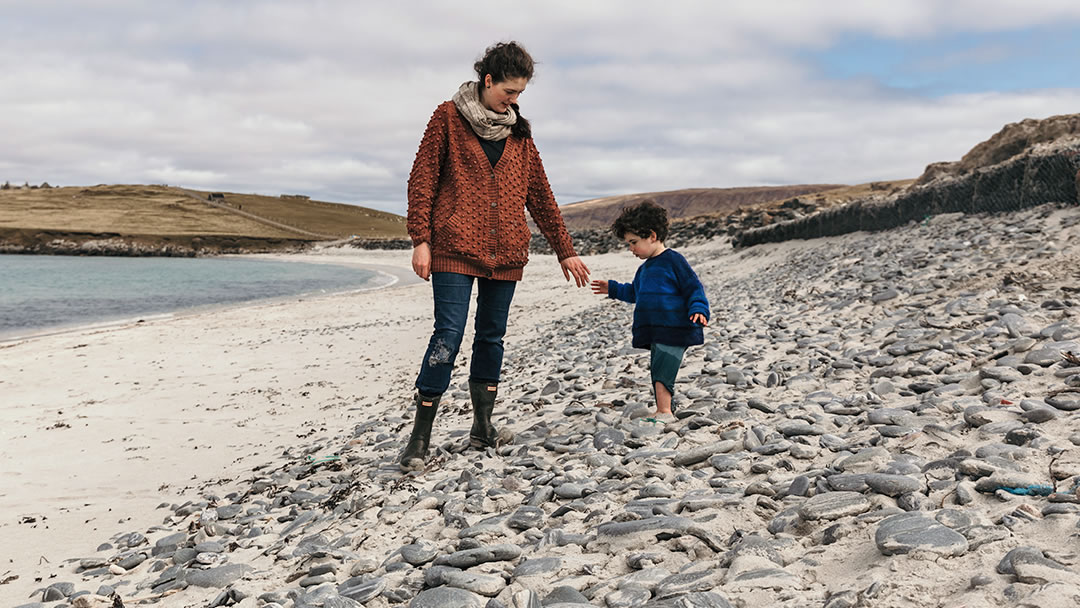 In the Shetland Islands, where the landscape all around is breath-taking, the perfect 400m arc of Minn beach stands out as a highlight!
Approaching Trondra photo, West Coast of Trondra near Burland photo, Between Papil and Bridge End photo, Memorial at the Road Junction photo, Road down to Bridge End photo © Des Blenkinsopp, Paddling past Holm of Papil photo © Andy Waddington, Bridge joining Trondra to West Burra photo © Russel Wills, Hamnavoe marina photo, Bridge End photo © Robert W Watt, Hamnavoe from Fugla Ness photo, Fugla Ness Lighthouse photo, Road bridge to East Burra photo © Colin Smith, Houss Ness photo © David Purchase, The ruined Kirk of Papil photo © John Lucas and South Havra from the air photo © Richard Cutler and licensed for reuse under this Creative Commons Licence

By
Magnus Dixon
Orkney and Shetland enthusiast, family man, loves walks, likes animals, terrible at sports, dire taste in music, great taste in films and tv, eats a little too much for his own good.
Pin it!