Exploring Caithness' great outdoors
Caithness has endless beautiful and distinctive sites just waiting for you to uncover. There is something for everyone, whether it's strolling along tranquil beaches, stepping back in time at historic sites or looking out for wildlife along its incredible coastline.
Puffin Cove is home to the largest puffin colony in the UK, with over 3,500 pairs being recorded here.
We have a compiled a list of Caithness sites that are more off-the-beaten-track, yet are truly unforgettable places to visit if you are in the area.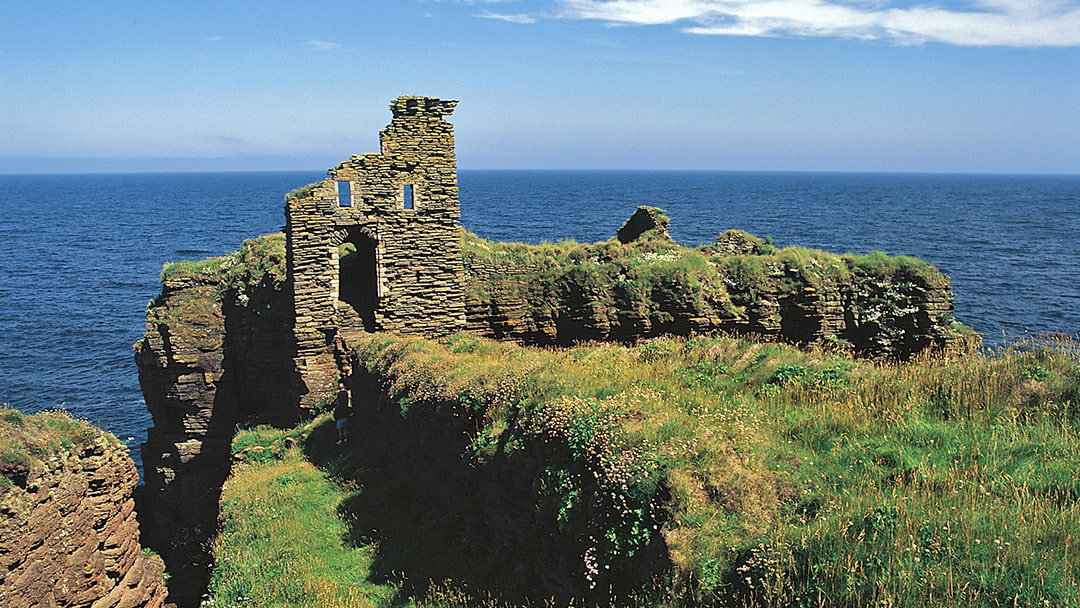 Bucholly Castle
Situated 5 miles south of Duncansby Head sits one of Caithness' most impressive yet least visited sites. Bucholly Castle is a magnificent sight to behold as it is perched on top of a rocky 100-feet-tall stack named Castle Geo. This ruinous castle is a hidden gem as it cannot be seen from public roads, meaning many visitors to the area are unaware of its once powerful existence.
The history of Bucholly Castle is uncertain. According to local legend, the notorious Viking 'Sweyn Asliefsson' built a fortress here named 'Lambaborg' around the year 1140. The Mowat Family received the land from King Robert the Bruce in the 1400s. They refortified and renamed the site after their Aberdeen estate. Bucholly Castle remained in the Mowat family until 1661, after which it fell into disrepair.
The castle can be reached after a half-mile walk from the main road across some fields. Visitors are advised not to access the castle unaccompanied. Entry to the castle is possible, but doing so can be quite dangerous as you have to cross a narrow walkway. We recommend viewing the castle and surrounding cliffs from a safe distance.
Aside from its thought-provoking history, this secluded site has incredible views of the surrounding cliffs and is a good place to observe various seabird species.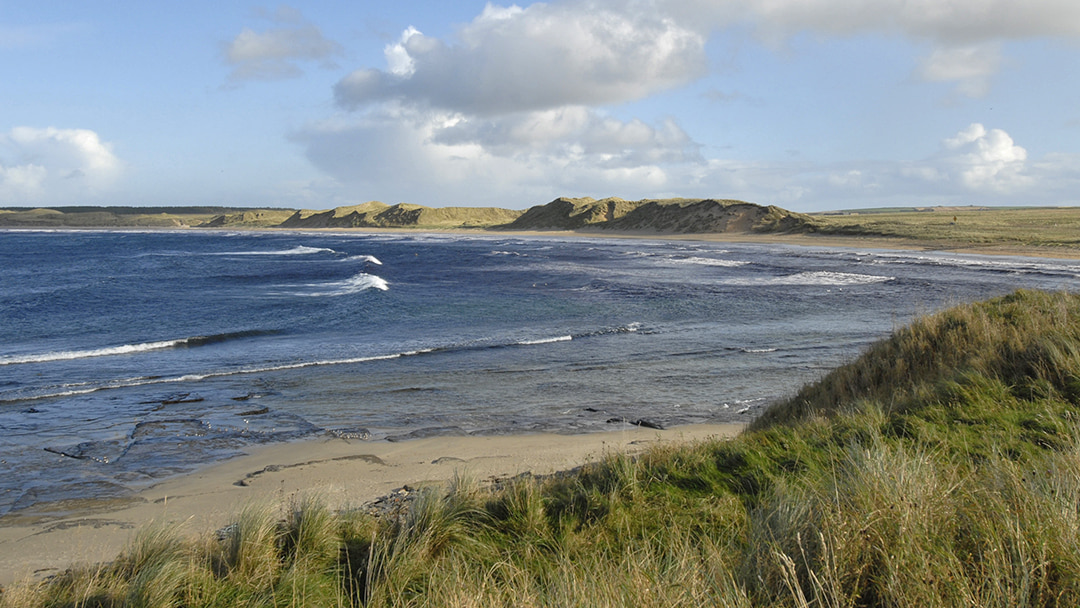 Dunnet Bay
Caithness is home to countless charming beaches and Dunnet Bay is no different! Stretching over 2-miles between Dunnet and Castletown, Dunnet Bay is a beautiful white sandy beach bordered by rolling sand dunes. The bay is fairly sheltered from the elements and is the perfect location for a gentle stroll, to sunbathe, enjoy a picnic or – if you're brave enough – try some water sports.
This beach offers excellent wildlife spotting opportunities and has a visitor centre at its northern end. The centre provides information about what species can be seen which includes: oystercatchers, eider ducks, curlew, and ringer plover.
If you are looking for something more secluded, just beyond Dunnet Bay is the lesser known Peedie Sands. Approximately a 20-minute walk along a coastal path from Dwarwick Pier – located just north of the bay – will lead you to the remote beach. Once you clamber over a few boulders, you can enjoy breath-taking scenery most likely all to yourself!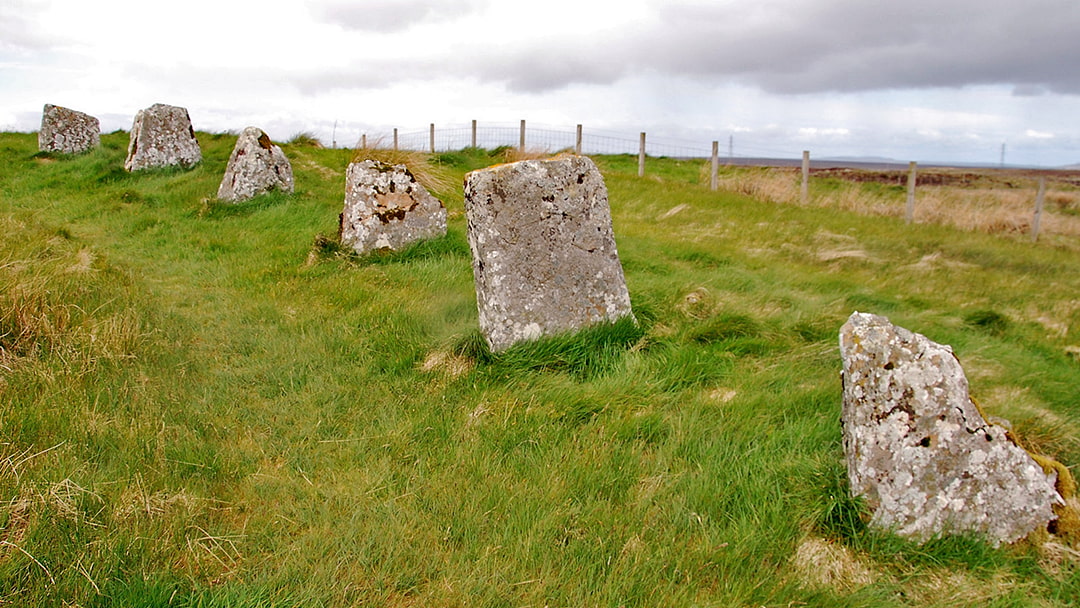 Achavanich Standing Stones
Orkney is famed for its historic standing stones, but did you know that you can see 4,000-year-old standing stones before you even leave the Scottish Mainland? Achavanich Standing Stones overlook Loch Stemster, about a 10-minute drive from Lybster, and its origin is hazed in mystery.
What makes these standing stones unique is their formation. Rather than the typical circular shape seen at other locations such as the Ring of Brodgar, Achavanich Standing Stones sit in a horseshoe pattern. Even more unusual – all of the stones' narrow edges point towards the centre. There are not many instances of this alignment found in the UK.
Out of the 54 stones originally placed here, 36 are still standing today: the tallest of which reaching up to 2-metres high. As with most standing stones, the sites purpose is unclear. However, the discovery of cremated bones found here suggests a ceremonial or burial purpose.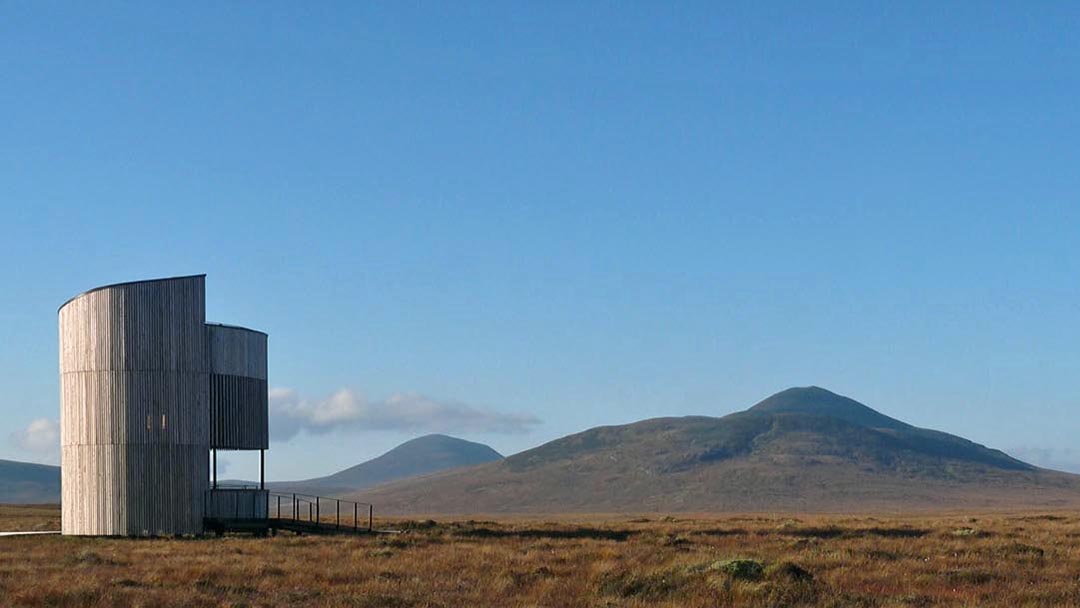 Forsinard Flows Nature Reserve
Forsinard Flows Nature Reserve is home to one of Scotland's most significant national treasures; the Flow Country. The Flow Country is a 21,000-acre area of valleys, mountains, and blanket bog. Blanket bog is one of the rarest environments on earth, and the peat here has taken thousands of years to develop.
The RSPB visitor centre, open from April to October, seeks to provide visitors with a better knowledge of the blanket bog and its huge environmental significance, as well as educate on the animals and birds that live here. Visitors can explore the reserve on two marked trails and visit the lookout tower for wonderful views.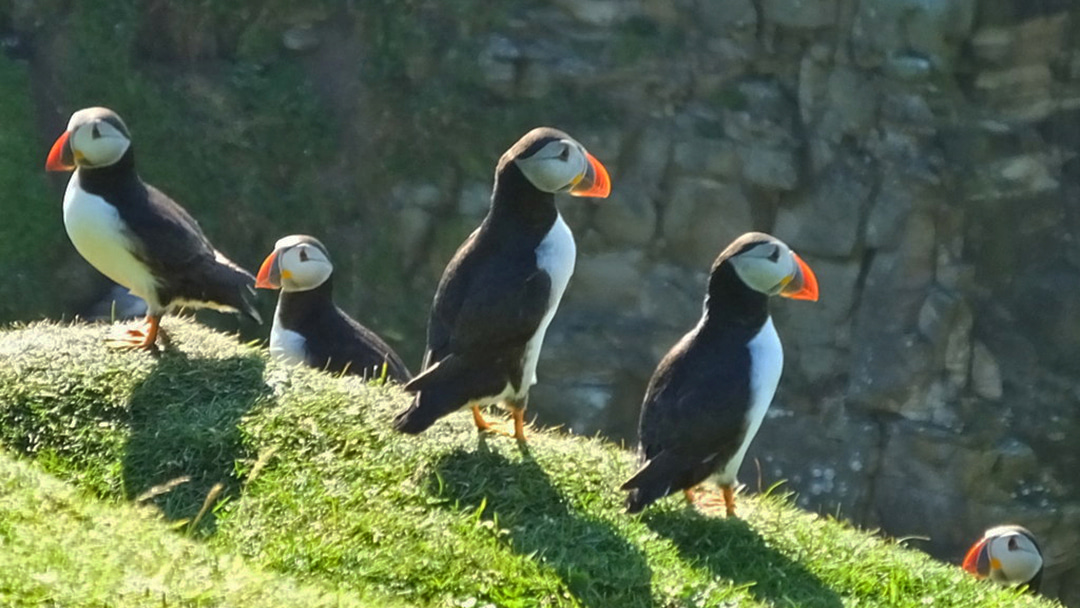 Puffin Cove
Despite its thriving puffin presence, this site is surprisingly often overlooked by visitors to the area. Puffin Cove – alternatively known as Drumhollistan – is home to the largest puffin colony in the UK. Over 3,500 puffin pairs were recorded here in 2019. Not only can you spot puffins, but you can also find razorbills, guillemots and shags which take up residence and breed here during the summer months.
Puffin Cove is located on the border between Caithness and Sutherland, and has a very small parking area. There are no signposts to direct you – so if you didn't know what you were looking for, you'd easily miss it!
To access Puffin Cove, you need to walk about half a mile across some fields towards the coast. There is then quite a steep climb down a rocky path to the cove. We recommend wearing appropriate walking shoes as the path can be quite muddy in poor weather conditions.
This is a stunning location with its shingle beach and jagged cliffs that enclose the bay. There is also a small sea cave that visitors can also explore. Remember to bring some binoculars and a good camera to catch a better glimpse of the seabirds!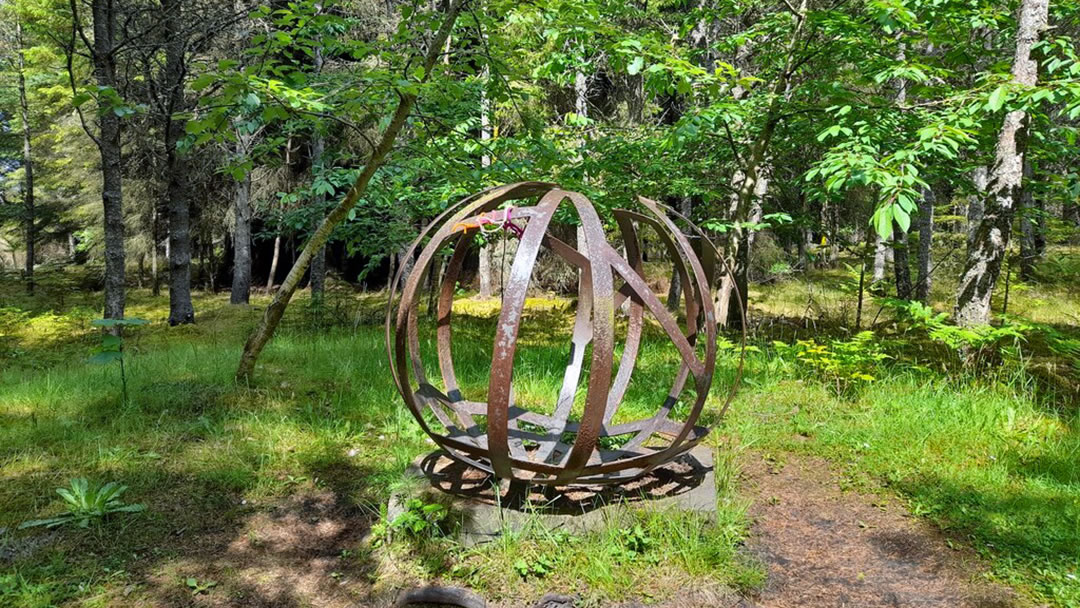 Dunnet Forest
Located just next to Dunnet Bay, as mentioned above, is the most northern communal woodland on the UK mainland. Dunnet Forest is a beautiful woodland with way-marked paths suitable for walkers, mountain bikers and horse riders. With an active zone, a quiet zone and a family zone; there is something for everyone to enjoy.
As you stroll through the forest, there are many attractions to look out for in addition to the beautiful surroundings. Along the trails lie interesting sculptures and a log cabin which provides information on the trees and wildlife found there. The 'Hut Circle' is another interesting site to explore. It is a small mound which contains the ruins of several prehistoric houses, dating back around 3,500 years.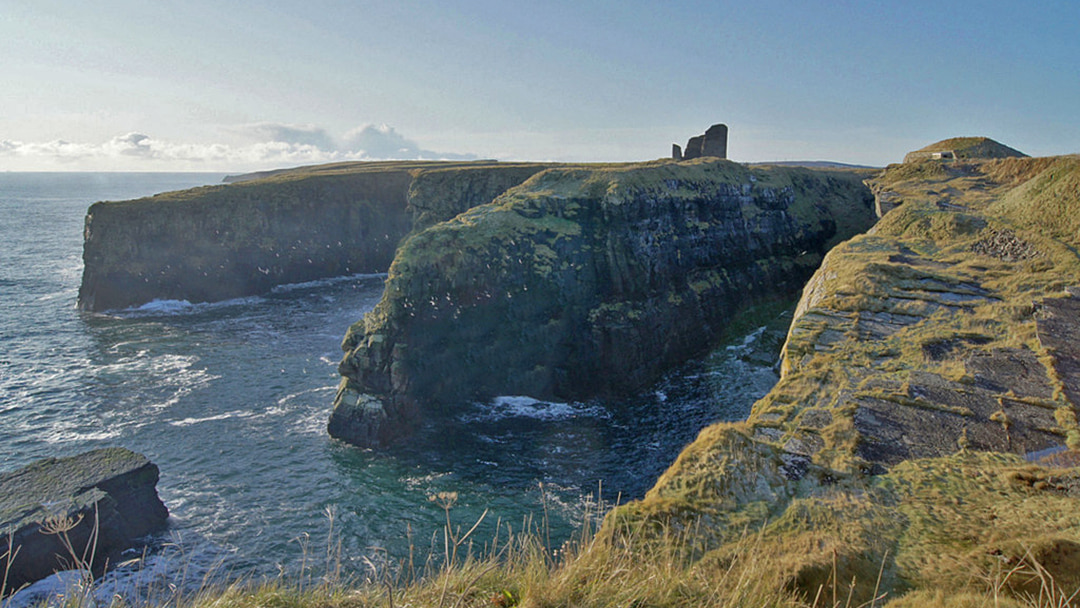 Brig O'Stack
Only a short walk from the Castle of Old Wick, the Brig O'Stack is another hidden gem on Caithness' coastline. It's an impressive sea stack that towers 25-metres-tall and is only joined to land by a narrow rock bridge. This site is a great place for birdwatchers, as guillemots, shags, skuas and kittiwakes often build their nests on the stacks' jagged ledges.
Similar to other sites we've mentioned, there are no signs encouraging visitors to this dramatic sea stack. The walk from the Castle of Old Wick to the Brig is approximately a 3km round trip and is worth a visit if you are in the area!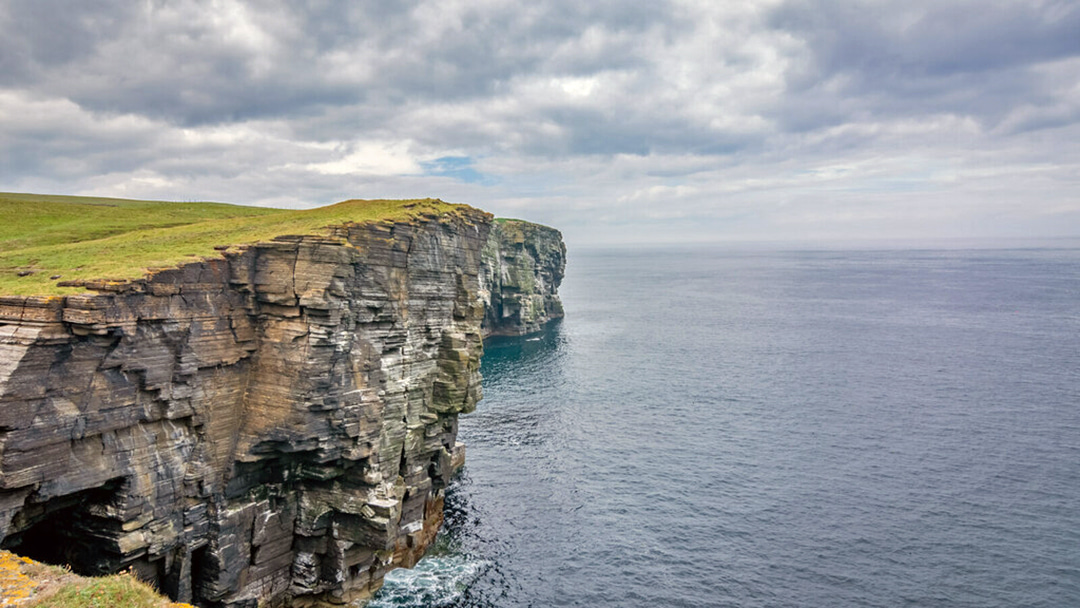 Holborn Head
On Caithness' Atlantic coast, there is a promontory called Holborn Head – a stunning yet dramatic 3-mile stretch of coastline. Holburn Head Lighthouse and the ruins of a historic fort are located respectively at its southern and northern ends.
Along this beautiful coastal walk you can spot many impressive features including sea stacks, arches, and blowholes. The towering rocky cliffs boast impressive views across Thurso Bay, the Pentland Firth and the Orkney Island of Hoy. If you time it right, you may even see a NorthLink Ferry as it sails between Scrabster and Stromness!
One of the area's most striking coastal features is Clett Rock. This isolated sea stack stands 400-feet-tall and has been shaped by the strength of the Atlantic Ocean. The stack is separated from the mainland by a 15-metre-wide channel. It's an incredible sight to watch the powerful waves crash around the arch as well as the surrounding sea caves.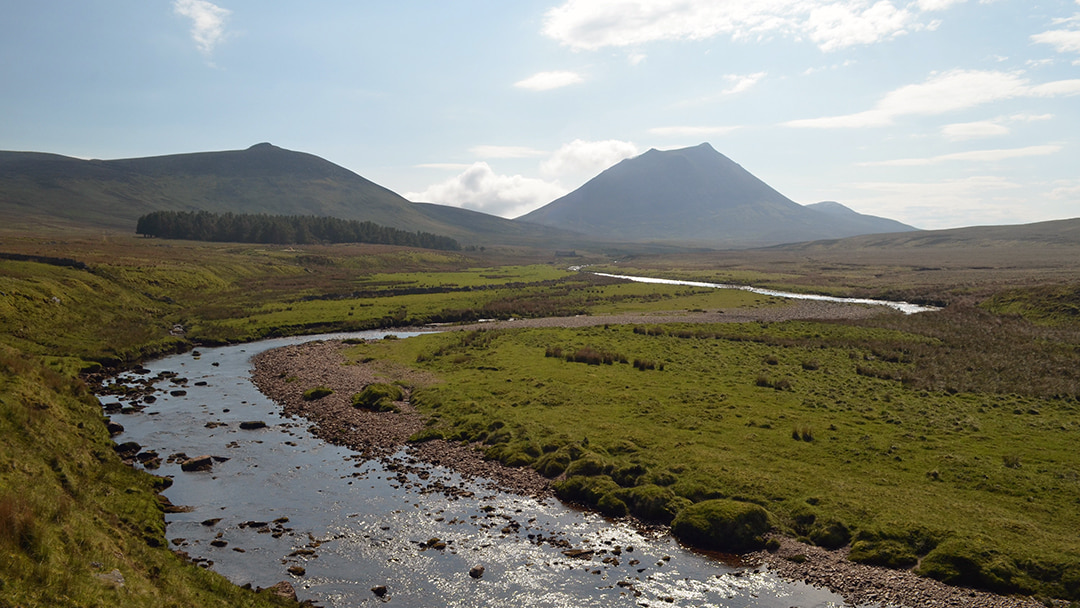 Morven Hill
For all of the hillwalker enthusiasts, we recommend having a climb up Caithness' highest point. Given that Caithness is mostly low lying, Morven Hill – which rises 706-metres-high – stands out as a notable landmark in the area.
Morven Hill can be climbed on its own, however it is often combined with Maiden Pap, a smaller neighbouring hill. Maiden Pap is 484-metres-tall, and both hills have distinctive conical shapes, with their climbs being quite steep in places.
There is no real trail to lead you up the summits, making these hills a challenging hike. However, once you reach the top, you will be well-rewarded with a spectacular and breath-taking view of the Caithness countryside.
---
For more inspiration on hidden gems in Caithness, check out our other suggestions here.

By
Amy Leith
A marketing student born and raised in Aberdeen with an admiration of the Scottish isles, desire to travel and see the world, a superior taste in music, enjoys cooking and socialising with family and friends.
Pin it!