12 great places to see in Sanday
We spent a couple of very fine days on Sanday this summer, and we would recommend the island to all. The weather during our time there was a little foggy, but it didn't spoil our experience a bit. Sanday is the largest of Orkney's North Isles (at 12½ miles long by 7 miles wide) and it is a fascinating and friendly place, with some stunning white beaches backed by impressive dunes. There are plenty of wildflowers, waders, and other wildlife to see. We've compiled a list of 12 great places to visit in Sanday in Orkney.
On the furthest eastern point is Start island, which is a tidal island, joined to the rest of Sanday when the tide is low. Even then, the crossing can be a little treacherous and requires strong waterproof boots (mostly because of the abundance of slippery seaweed) and we would recommend contacting a local guide before making the trip.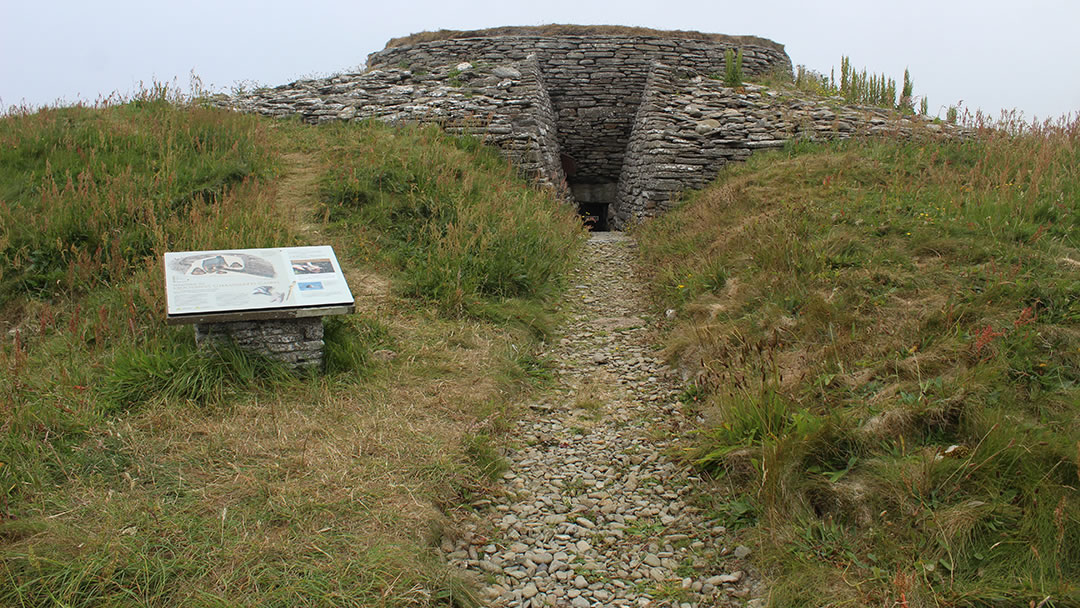 Quoyness chambered tomb
There is a sense that much of the archaeology of Sanday has been hidden by the shifting sands which give the island its name, in Old Norse meaning 'Sandy Isle'. The sand makes the land very fertile for farming and Sanday was attractive for early settlers who arrived before 4000BC. There are often new discoveries made, and there are many tombs, barrows, and brochs to find on the island.
Close to the village of Kettletoft, the drive and short walk to Quoyness chambered tomb is very well worth undertaking. Unfortunately due to COVID-19 restrictions, we weren't able to access the interior of the tomb, but the outside was very impressive, and there's an enlightening 3D model to explore online.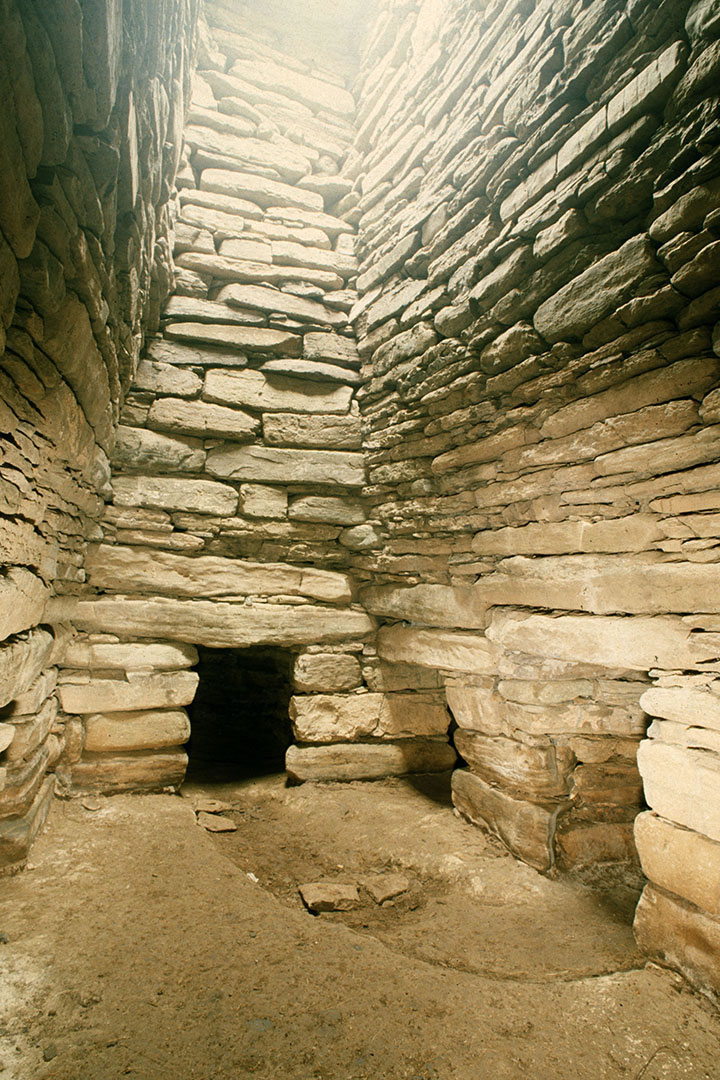 Quoyness was used between 5,200 to 4,900 years ago and inside there is a 4m high chamber built from sea-smoothed stones. It was badly damaged during its excavation in 1867, but thankfully this dig was carefully recorded, and much of the damage was repaired in 1951. Quoyness contained the bones of ten adults and five children, pottery shards, ceremonial objects, and a pin made from the bone of a sperm whale which was used to hold clothes together.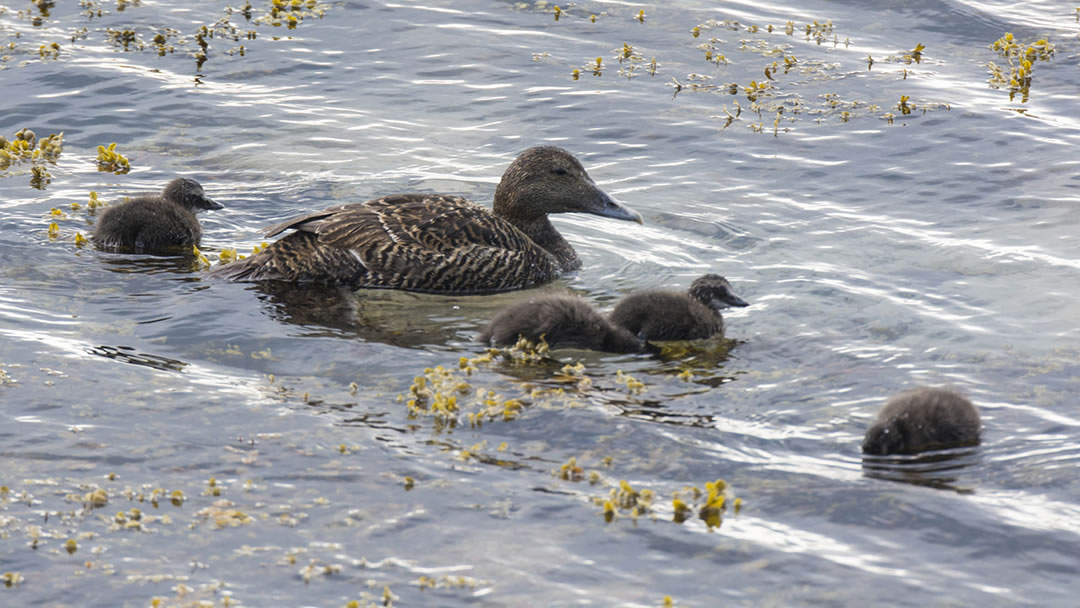 The walk to Quoyness, over rough ground and loose stones, was superb, as there were eidars, turnstones, sanderling and curlews close by, as well as evidence of otters.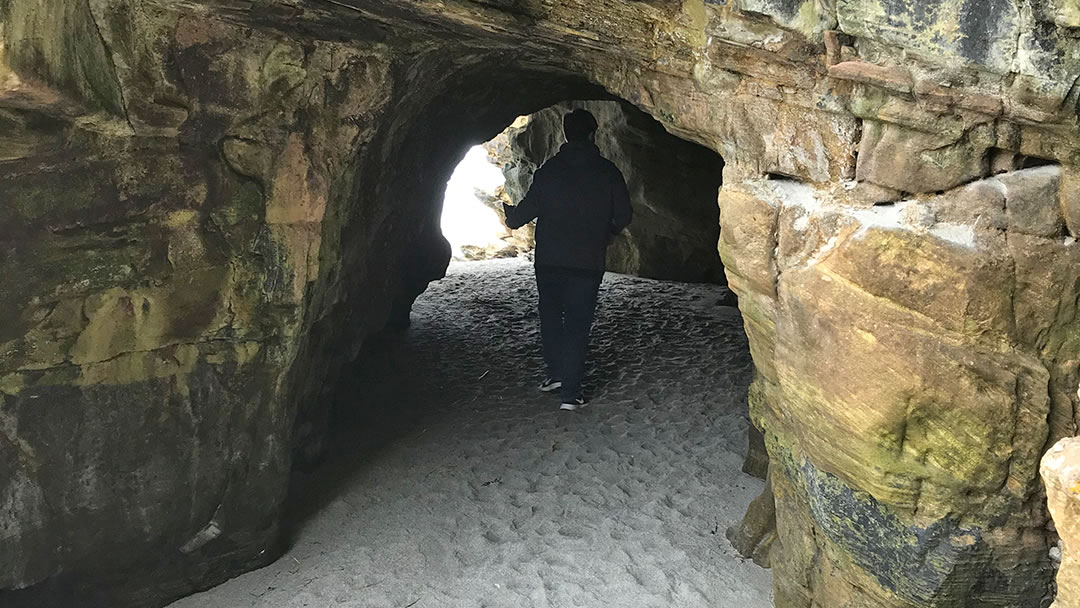 Doun Helzie
The scenery at Doun Helzie (pronounced Doon Hilly) is spectacular and it was one of my wife's favourite places in Sanday. It is located very close to the ferry but in a tricky place to get to and we will write a guide about our experience soon.
The easiest way we found to access it was to follow the road signposted to Stove, park at the electric substation close by and take a footpath which leads first up a hillside and then turns 90 degrees down to the coast. There are not very many cliffs in Sanday, but this beach is hidden under some steep cliffs (home to nesting Fulmers) and this is what makes Doun Helzie hard to reach.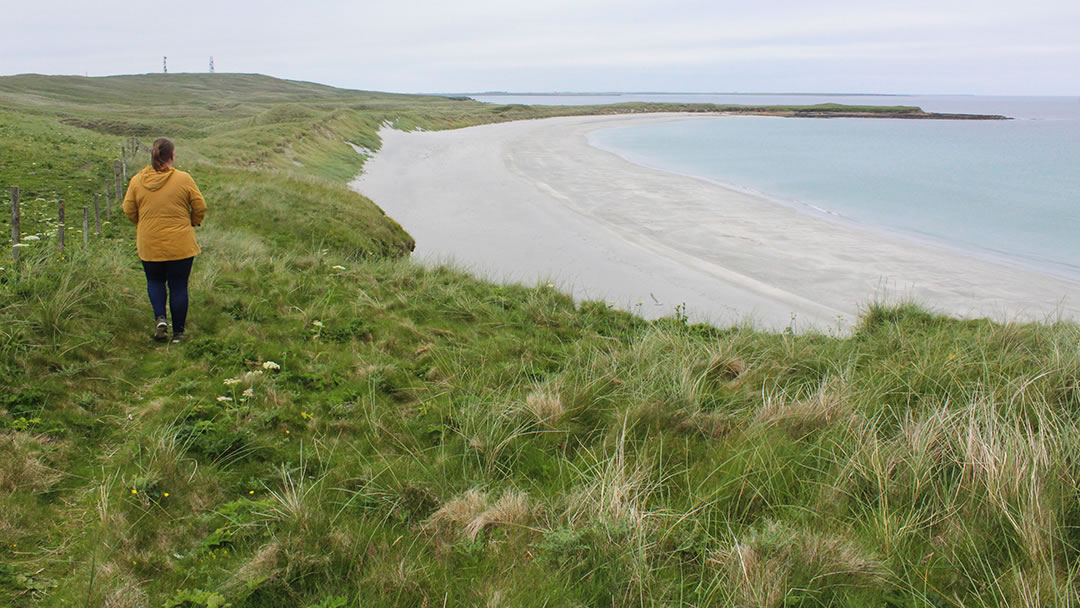 By following the footpath, we were able to descend gradually down onto gorgeous white sand.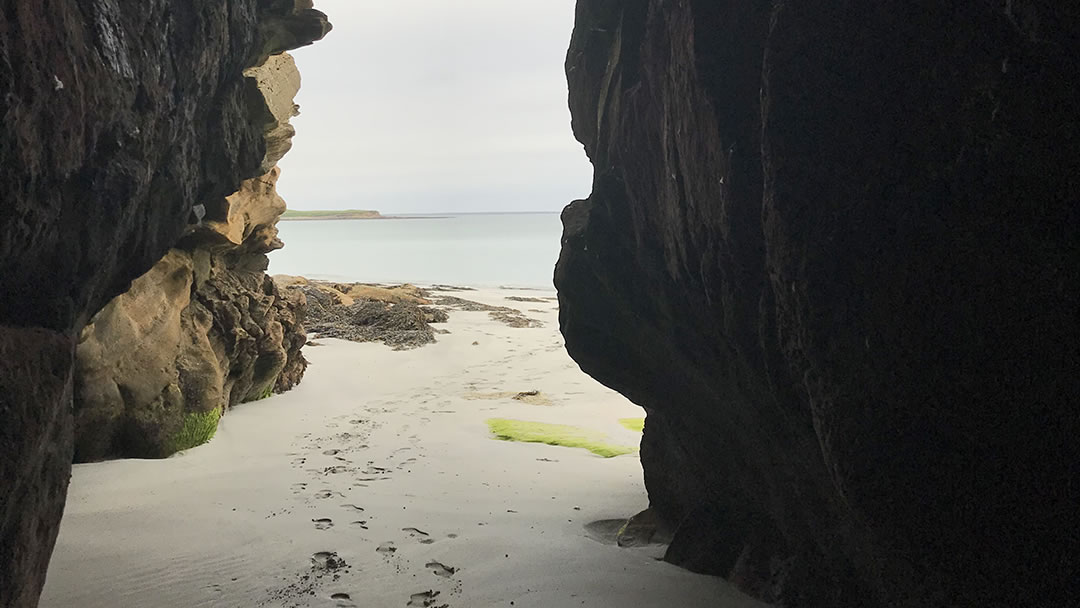 It's a lovely beach in itself, but what makes Doun Helzie special is that the sea has eroded the foot of the cliffs and there are some amazing caves to explore. It is easy to imagine pirates and smugglers hiding treasure here. To see the best of Doun Helzie, this walk is best undertaken when the tide is out!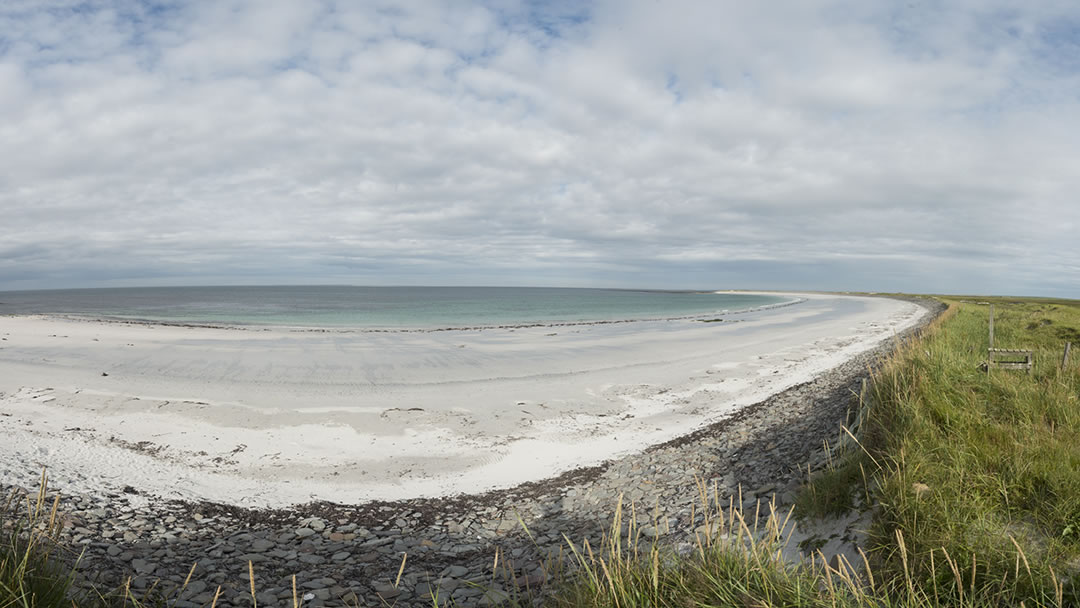 Whitemill Bay
In the far north of the island, Whitemill bay is a beautiful stretch of sand which seems to goes on forever. The 'mill' of the name comes from the Old Norse melr, meaning sandbank. There's a fine circular shoreside walk here which passes a wetland full of birds and Hellihow.
The folklore story of the Hogboon of Hellihow is well-known in Orkney. A mischievous imp (the Hogboon) lived in the mound of Hellihow (probably a burial mound – now gone from the landscape) and caused such chaos to the neighbouring farmer that the man had to leave his property. As the family was leaving, the Hogboon popped his head out of a milk kirn on their cart and said 'Wir gittan a fine day for the flittin!'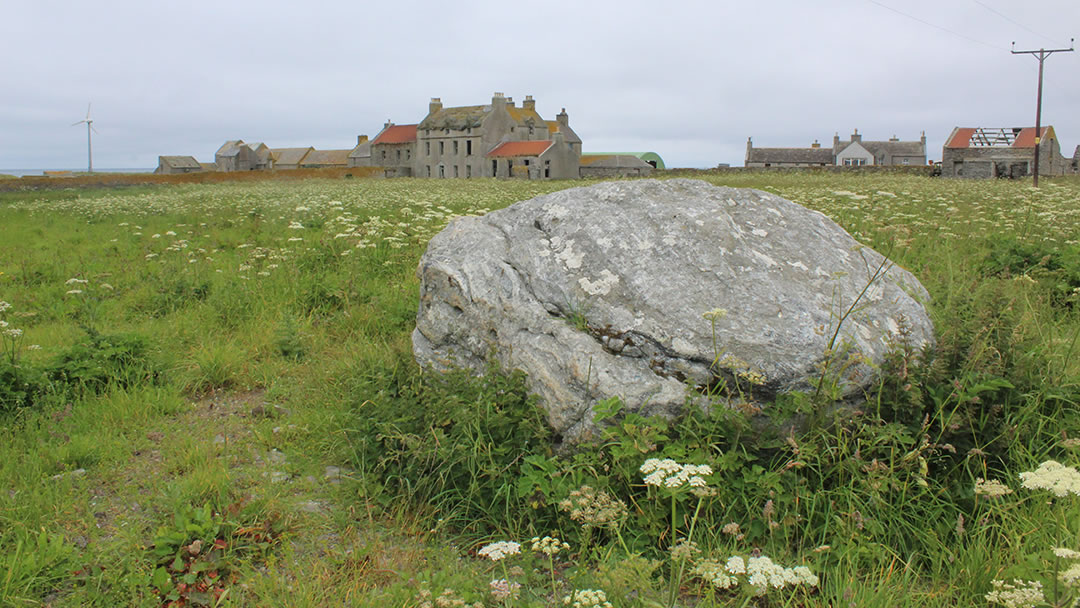 Scar
Scar is a massive 19th century Laird's house and surrounding buildings, now unoccupied. The estate must have been very grand in its day. There is a graveyard at Scar which contains the grave of one of Sanday's most famous residents, the composer Sir Peter Maxwell Davies. Just outside the graveyard there is a 16-tonne block of gneiss called the Stone of Scar, which was carried by a glacier from Norway during the Ice Age. Orkney folklore tells that the stone was thrown onto Sanday by an Eday witch.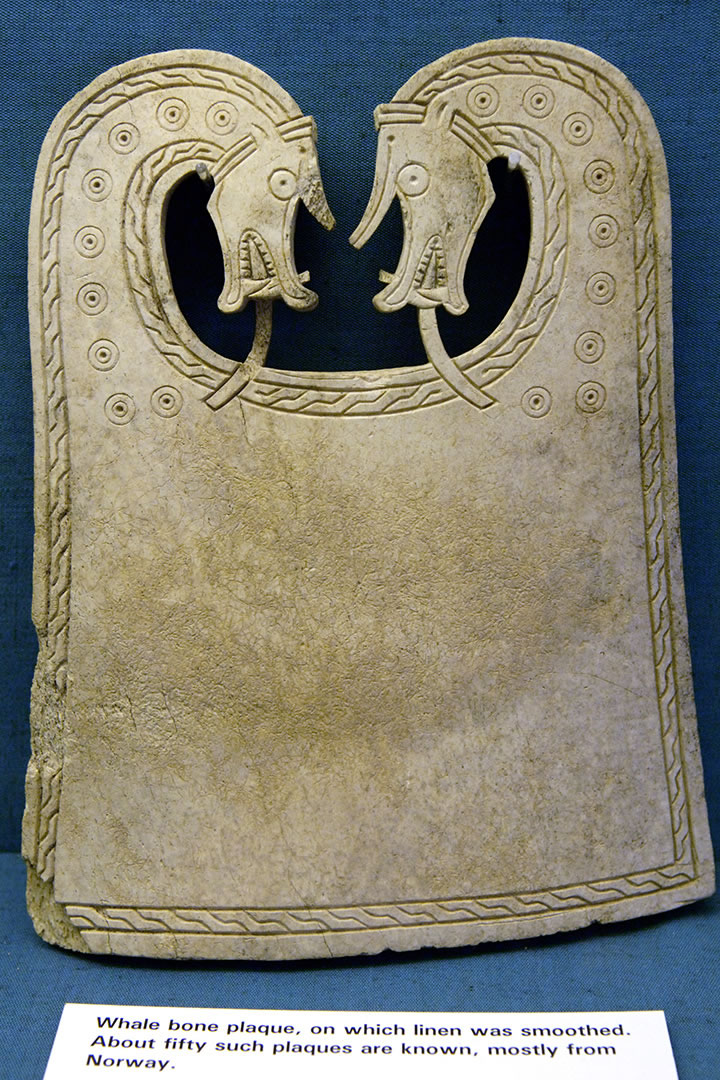 The area is perhaps best known for the Scar Viking boat burial. In November 1991, a storm exposed human bones, and the site was excavated quickly in wild conditions. Three people (a 70-year-old lady, a 30-year-old man, and a 10-year-old child) were found buried in a 6.3m long boat. The wood of the boat had rotted away, but the shape was identified by the 300 iron nails that remained. The site has now been destroyed by coastal erosion, but all the finds (including a comb, a sword, 22 pieces for playing a game and the striking Scar whalebone plaque – pictured above) can be seen in the Orkney Museum in Kirkwall.
The name Scar comes from the Old Norse 'skor', meaning rim or edge (seashore).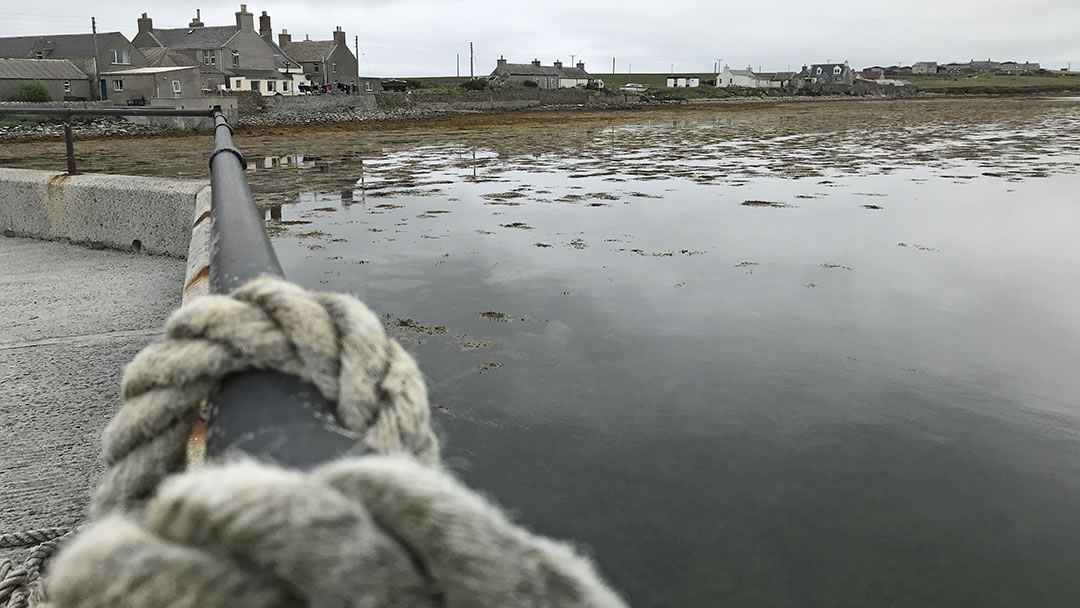 Kettletoft
Kettletoft was once where the ferry to Sanday arrived, but these days the ferry arrives on the south western tip, at Loth. Sanday Community Craft Hub is in Kettletoft village, and this showcases the work of Sanday's talented makers, as is the Kettletoft Hotel and the Belsair Hotel. Both offer very tasty menus and we enjoyed deliciously fresh fish and chips there. We would recommend contacting both beforehand as they only serve food on certain days of the week. Many of Sanday's Bed and Breakfasts also offer home-cooked meals.
Backaskaill bay
Backaskaill Bay is one of the first beaches a visitor arriving on the ferry to Sanday will encounter, and it's a quite lovely one too. There are picnic tables at Backaskaill Bay so our recommendation would be to pick up some treats from one of Sanday's brilliant shops (mentioned in a minute) and head there for lunchtime.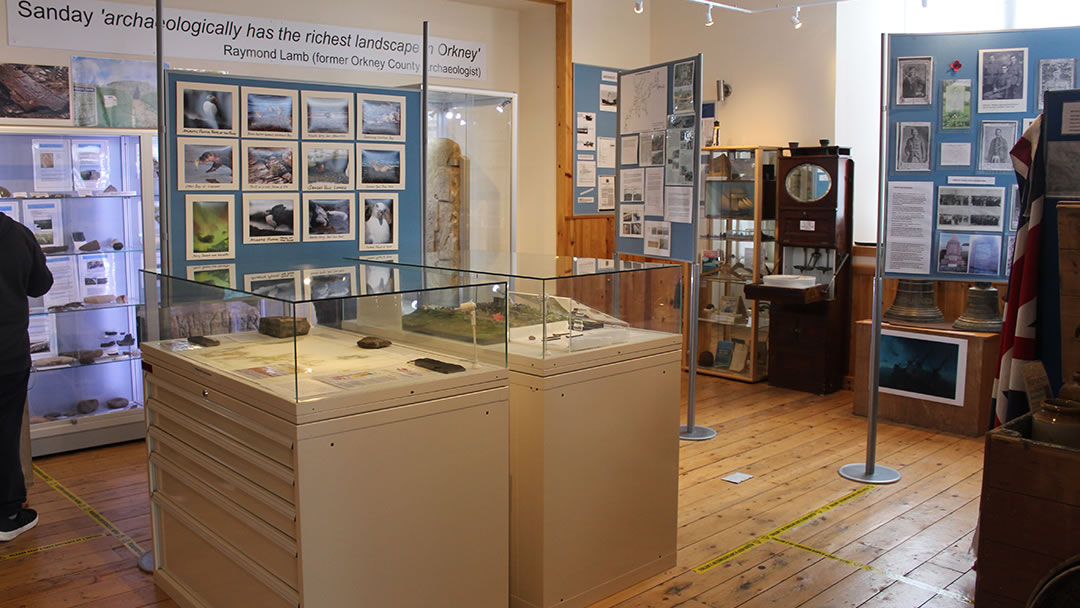 Lady Village
We liked Lady Village very much, and we especially enjoyed a visit to the Sanday Heritage Centre there. There were many interesting exhibits, including a jacket, cap, and medals (a CBE, and a knighthood medal amongst them) belonging to composer Sir Peter Maxwell Davies.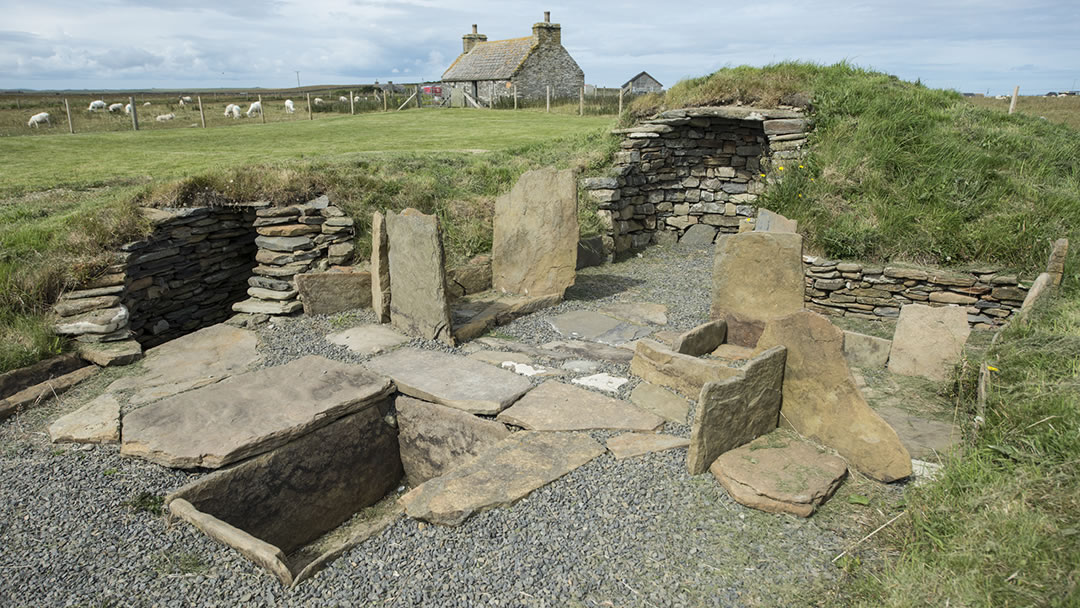 Outside the Heritage Centre was Meur burnt mound, which was moved here from a coastal site where it was at risk of being destroyed. 3,000 years ago heated stones were dropped into a well to warm the water (perhaps for bathing?)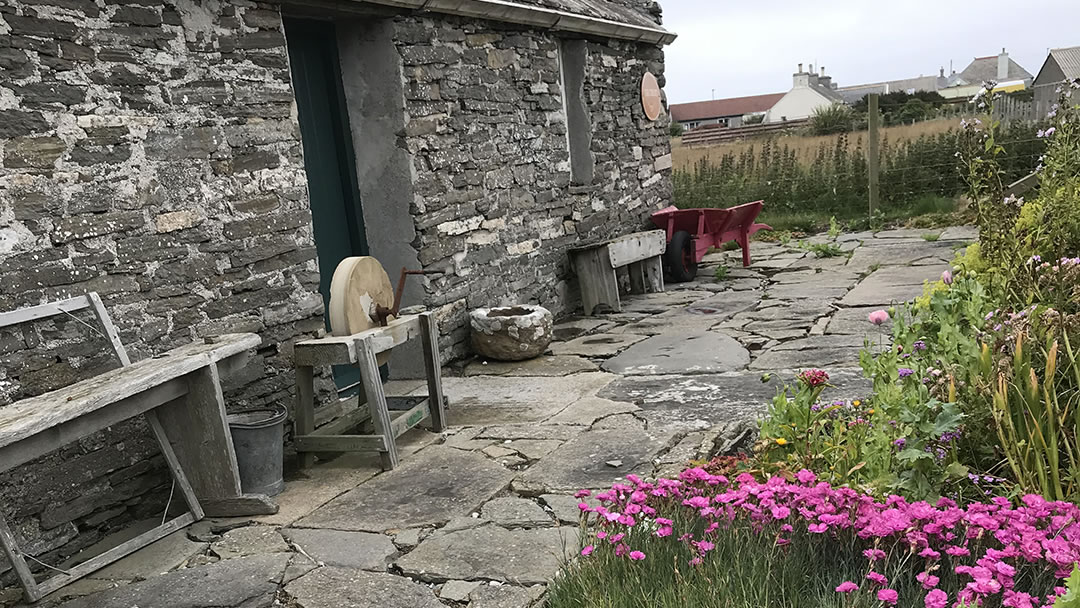 There is also a replica 19th century croft. In the past Sanday reached a population of 2075 people and crofts were quite self-sufficient, with milk, eggs and wool from animals, seafood nearby and vegetables grown. Sanday has little peat so dried cow dung was used instead to light the hearth. This led to the saying that "Sanday kye shite fire!" In World War 1, 51 young Sanday men were killed and this loss of crofting labour reduced the islands population significantly.
Just outside Lady Village the old Lady Kirk is an interesting roofless ruin. It has exterior stairs, at the top of which are said to be the clawmarks of the devil. The kirkyard also contains the grave of Orkney folklorist Walter Traill Dennison (1825 – 1894).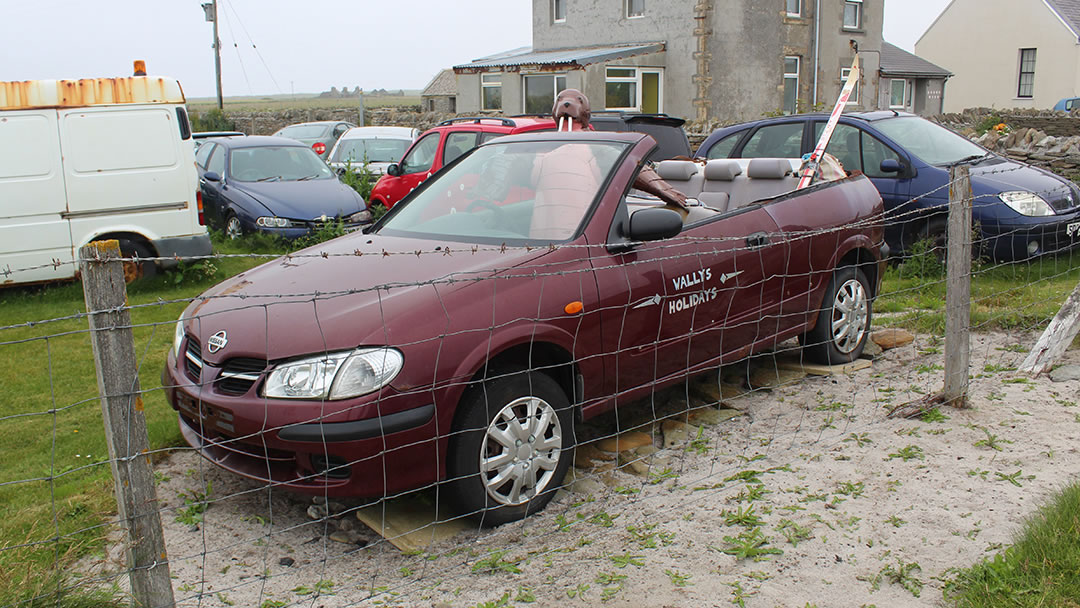 On the other side of the village is a house where a clever metal worker had created life-size Star Wars droids and a tribute to the Arctic walrus who visited the island's shore in 2018.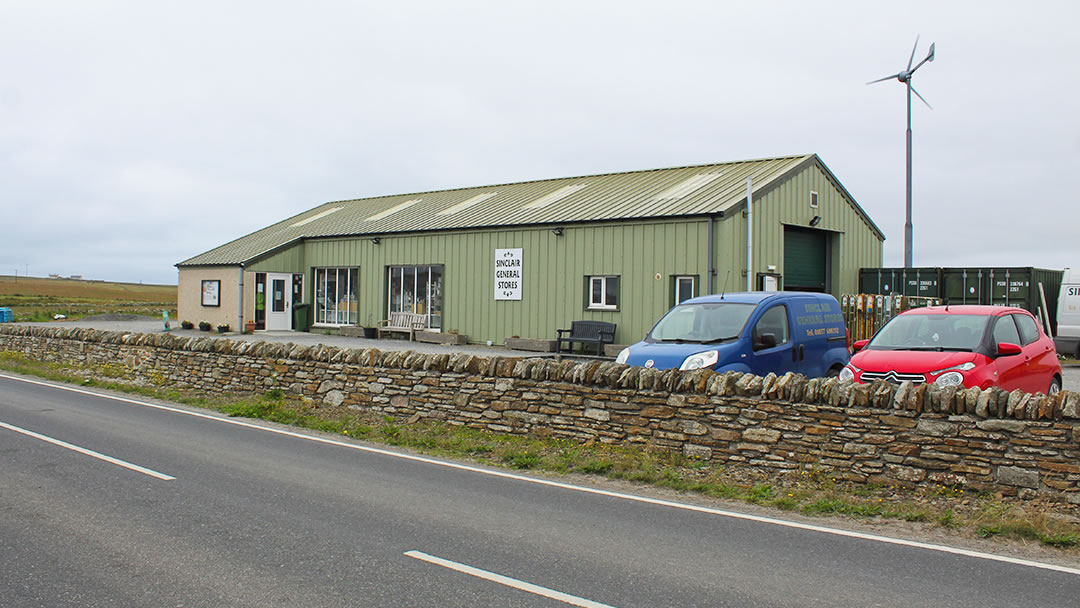 There was a petrol station in Lady Village, bike hire and repair, and the super Sanday Community Shop. We really enjoyed a visit to nearby Sinclair General Stores (pictured above) too. Shops in Sanday were surprisingly well-stocked and run by staff who always enjoyed a yarn.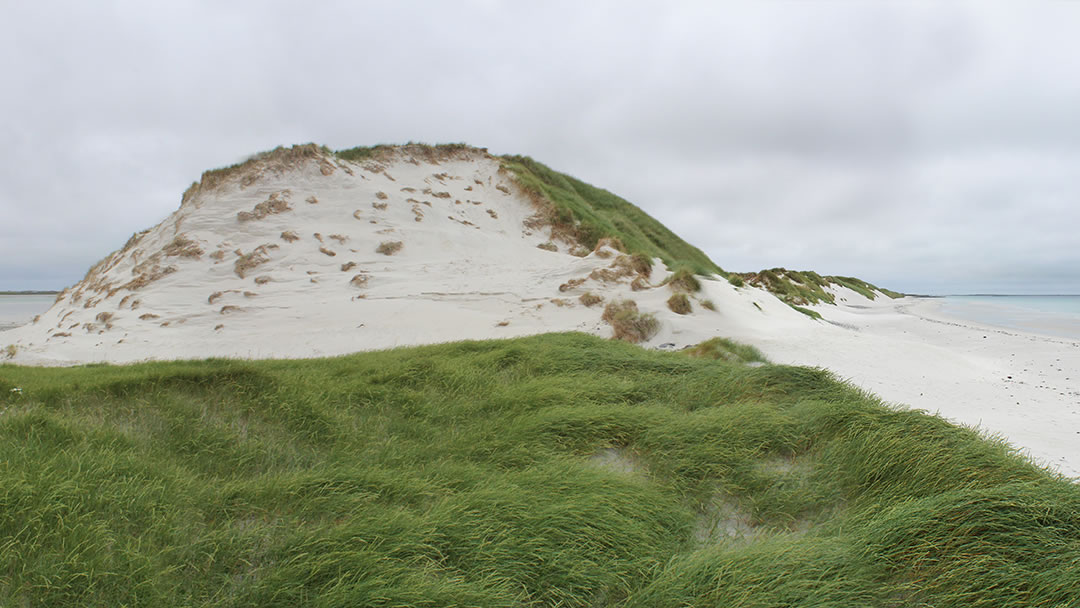 Tresness
Sanday is a low-lying island, only 65m high at the tallest point, so the colossal sand dunes at Tresness can be seen from a great distance. We parked at the Brickie Hut, which, along with the land now occupied by the Sanday Golf Course, was part of a dummy WW2 airfield used to confuse aerial enemies. The walk along the beach from here is a long one, and my teenage son did complain a little. However, the scenery is unbeatable.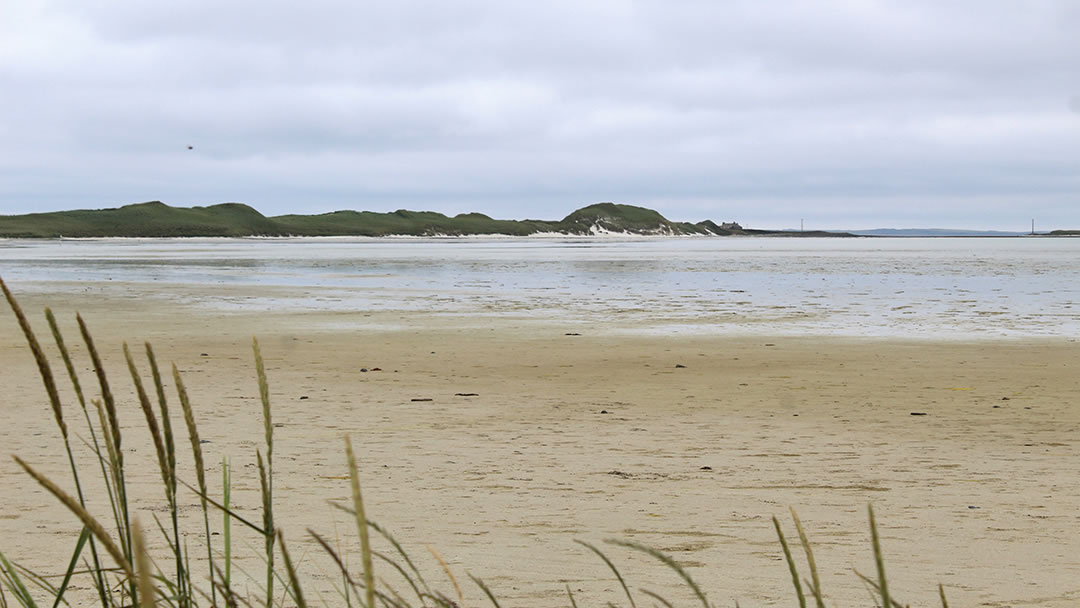 On the east side the Tresness dunes are grassy slopes, and they hold in a vast sand lagoon called Cata Sand. There is an abundance of birdlife including redshank and dunlin feeding here.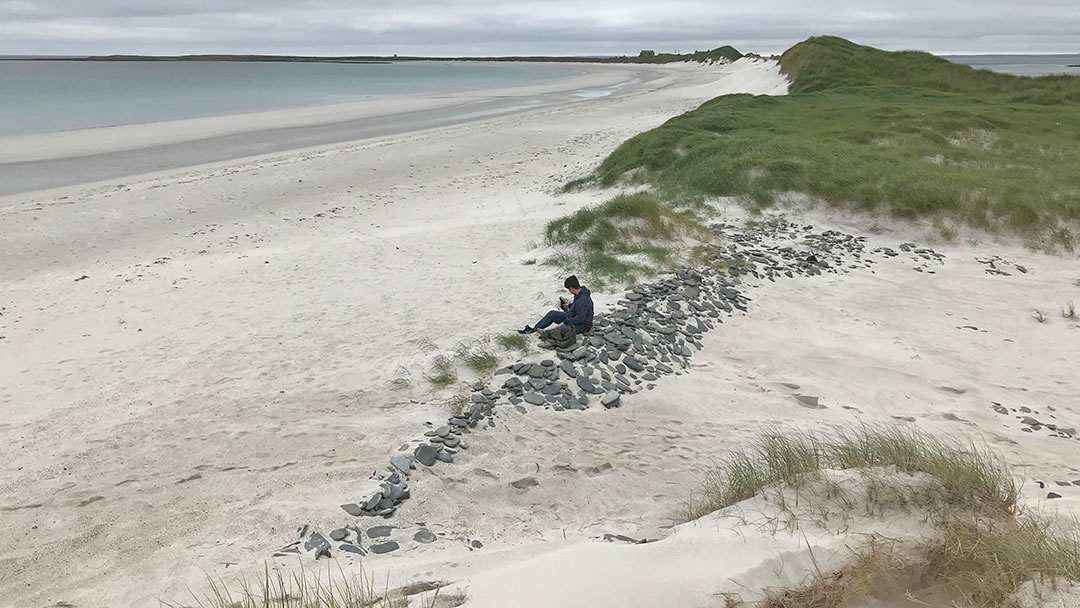 After you reach the largest of the dunes it is easy to cross to the west side of the dunes, where the dunes face the sea and they can be seen, a small mountain range of white sand, in all their breath-taking glory. My son climbed the biggest dune, but it was so steep, he came tumbling down! Thankfully he had a soft landing, and we all had the biggest laugh of the day.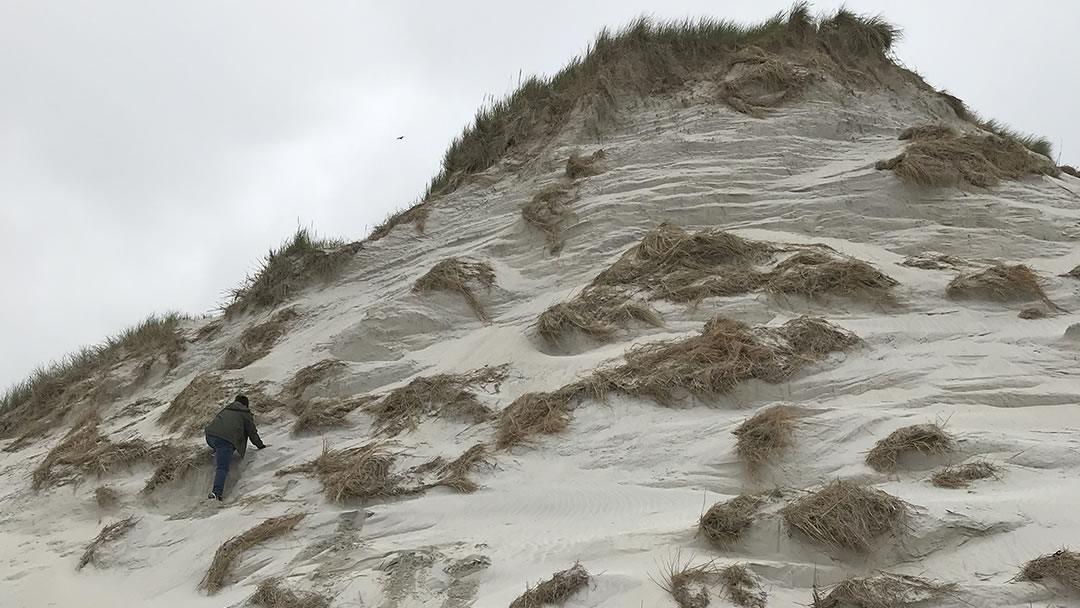 The walk around Tresness was thoroughly enjoyed by everyone, and for the adventurous, with plenty of time on their hands, there is archaeology to explore on the area beyond which is almost an island, only attached to the rest of Sanday by the sand dunes.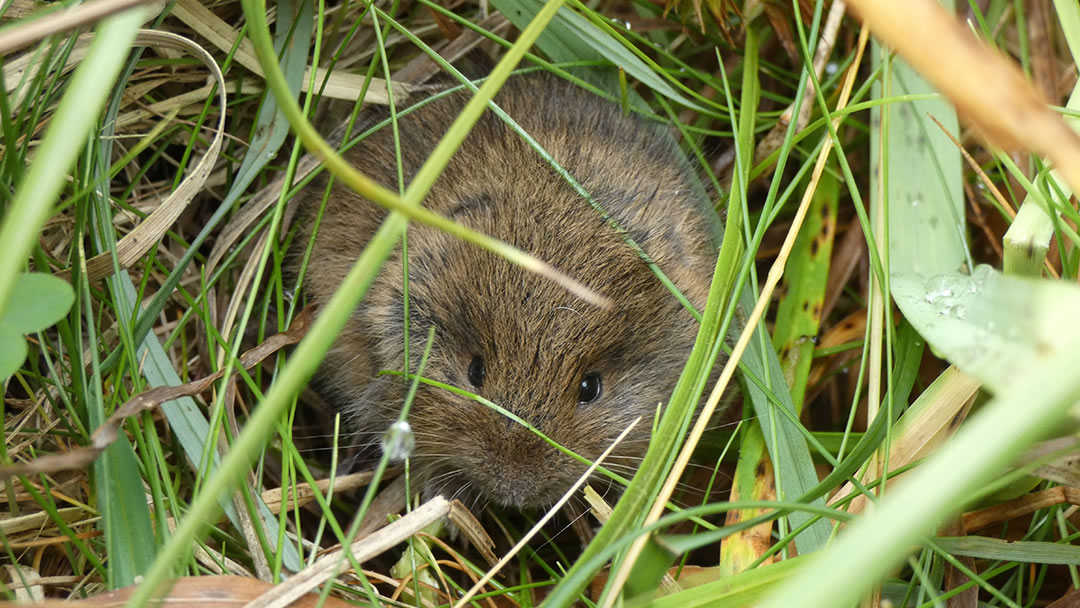 Amazing nature
Sanday is teaming with birdlife. We saw large numbers of waders and waterfowl, including redshank, curlew, oyster catchers, ringed plover, grey plover, purple sandpipers, bar-tailed godwits, knots, and common teal and mallard. We also saw a very large bird of prey – which we think was a buzzard.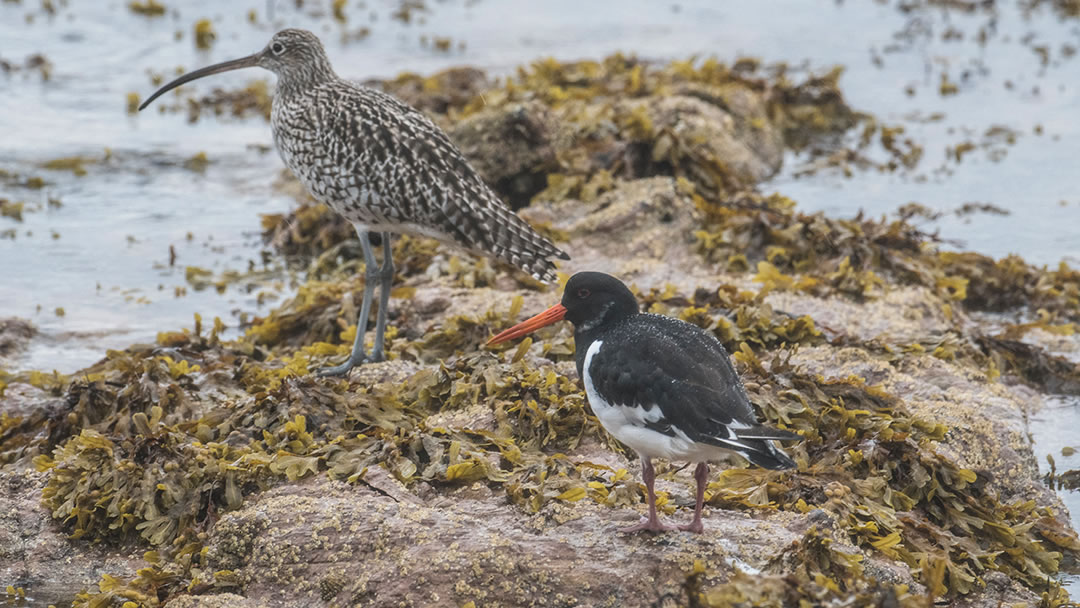 There are plenty of otters to be seen, but we only saw the tracks of these shy animals. Perhaps the next time we visit we will follow the otter-spotting advice we were given by an islander – to go to the Loth Ferry Terminal at around 6pm. Seals enjoyed the quiet beaches and Orkney voles are abundant in Sanday too, but for some reason, Sanday (and Westray) voles are distinctly lighter in colour than the dark brown voles found on the Orkney mainland!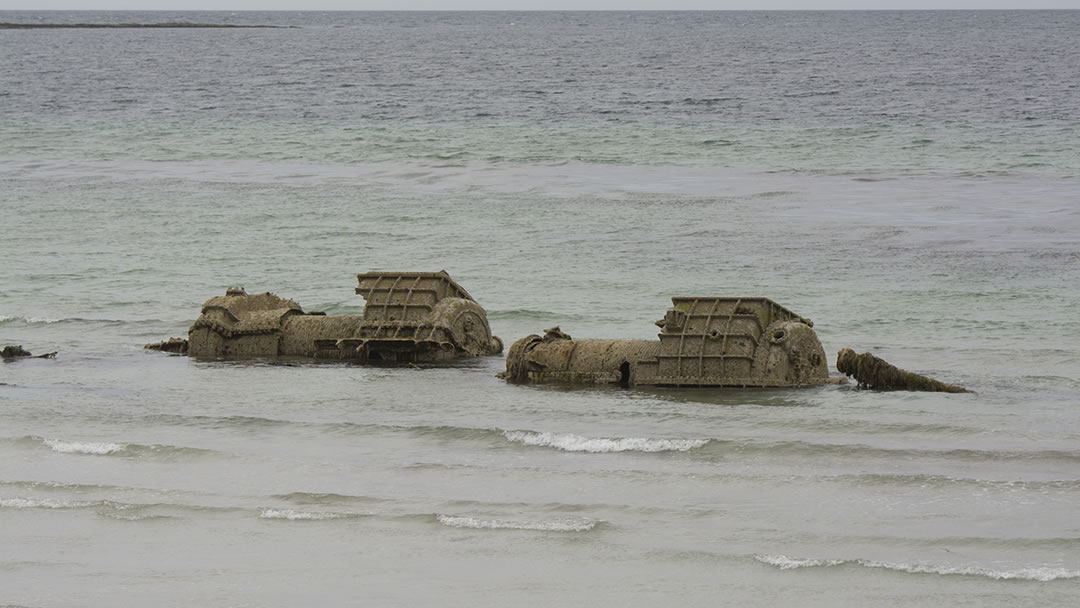 Lopness
Lopness is a 2½ mile long beach, and we loved watching turnstone darting along the tideline here. It is also notable for the visible remains of the WW1 German Destroyer B-98. This ship was launched in 1915 but was hit in the Battle of Jutland and then after repairs, struck a mine when fighting against Russian Destroyers. At the time of the scuttling of the German High Seas Fleet in Scapa Flow, B98 was used as a mailboat, and she arrived in Orkney the day after that event with letters and supplies from Germany.
B-98 was immediately impounded, and arrangements were made to tow her and several other German ships to Rosyth. Whilst en route to the salvage yard in February 1920 she encountered a storm and broke free to wash up on Sanday. The islanders immediately began stripping the ship and sold the metal. Now all that remains at Lopness are the enormous engine and turbine parts, and it is possible to walk around these remains at low tide.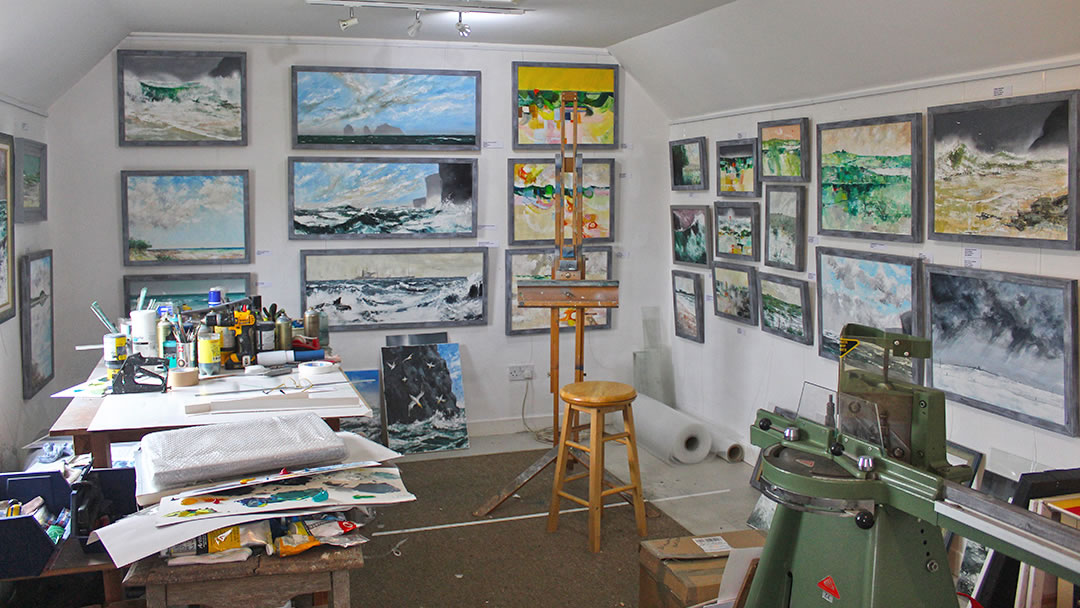 Artists' studio trail
An island as beautiful as Sanday is inspiring to talented people, and many of these artists are welcoming enough to open their studio doors to the public. We'd recommend picking up an artists' studio trail leaflet and taking some time to visit them. Many artists appreciate a call beforehand to check that they are in and able to take visitors however. The photo above was taken in the studio of Bill McArthur – who paints some dramatic seascapes.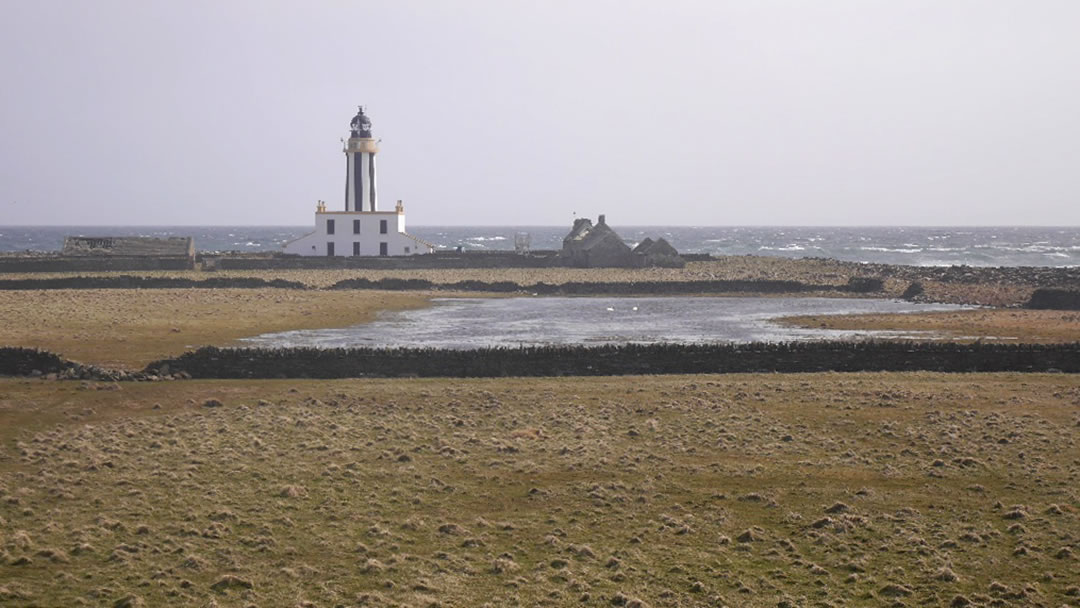 Start Point Lighthouse
On the furthest eastern point is Start island, which is a tidal island, joined to the rest of Sanday when the tide is low. Even then, the crossing can be a little treacherous and requires strong waterproof boots (mostly because of the abundance of slippery seaweed) and we would recommend contacting a local guide before making the trip.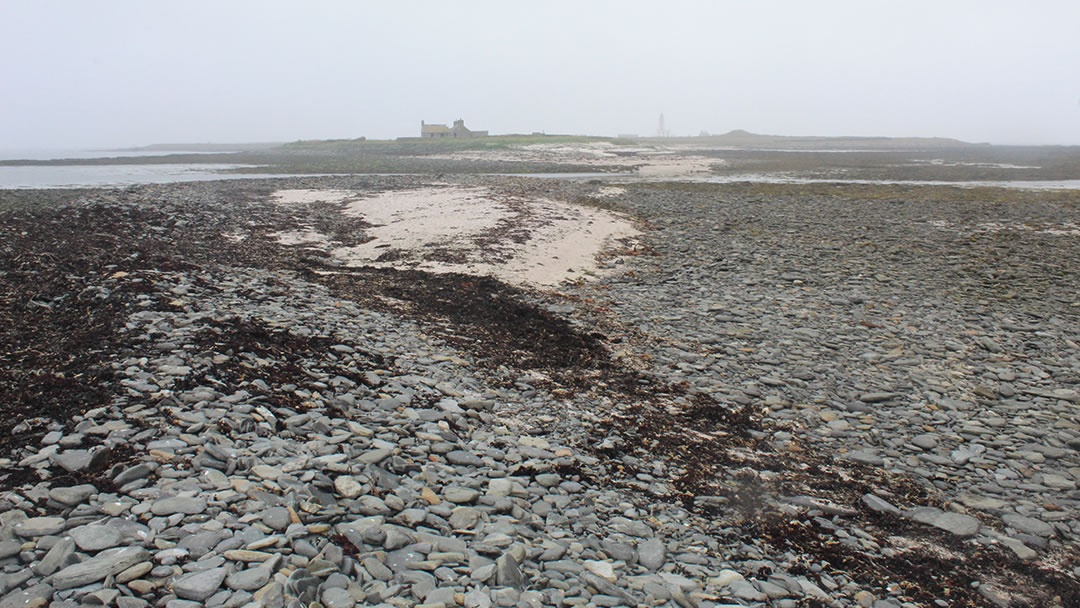 Start Point Lighthouse was built in 1806 (and rebuilt by Thomas Smith and Robert Stevenson in 1870) because the north and east of Sanday is low-lying and many ships ran into the island at night. It replaced a previous beacon – an unlit tower – you can now see the great ball from the top of the first beacon on the Old Lighthouse in North Ronaldsay.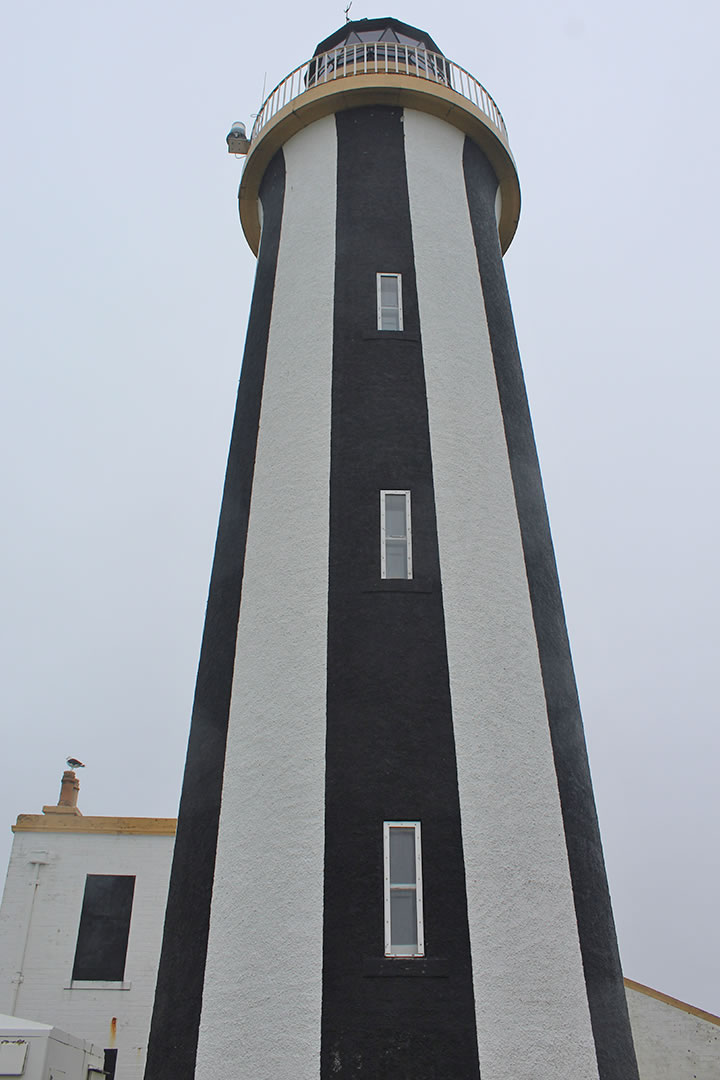 Start Point Lighthouse was the first Scottish lighthouse to have a revolving light and is the only Scottish lighthouse painted with vertical stripes. It is 75ft high and made of brick. Start Point was one of the first lighthouses to be automated in 1962 and it is now powered by solar energy.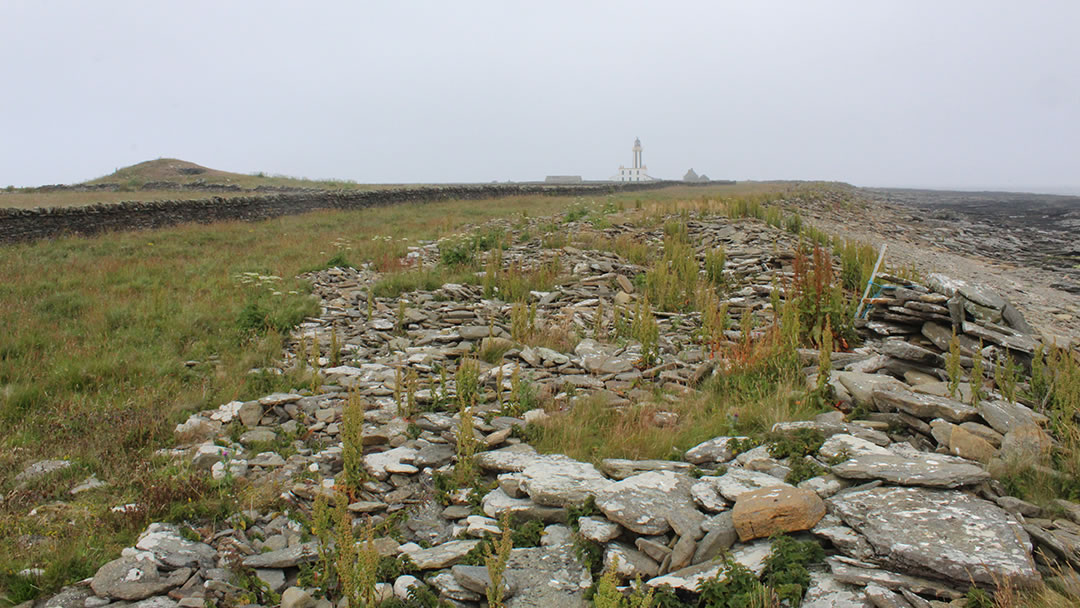 There is a Maeshowe-style chambered cairn there too called Mount Maesry. The lighthouse keepers once stored their tatties there.
Upon my visit the air swirled with angry artic terns, seals howled nearby and it felt like a very wild place. As I returned to my car, satisfied from my walk, peat smoke (hopefully not cow dung smoke) emanated from a nearby croft and the world felt like a very fine place indeed.
---
A visit to Sanday is very special, and I can't help but feel nostalgic about our time there. I am already making plans to return to the island soon. I do hope this guide helps you to make the most of your time on the lovely island of Sanday.
Ferries from the Orkney Mainland to the island of Sanday are run by Orkney Ferries. Whilst visiting Sanday we stayed at Braeswick Bed and Breakfast where we were very well looked after. There are also other accommodation options available on Sanday. For more information, please visit www.sanday.co.uk

By
Magnus Dixon
Orkney and Shetland enthusiast, family man, loves walks, likes animals, terrible at sports, dire taste in music, adores audiobooks and films, eats a little too much for his own good.
Pin it!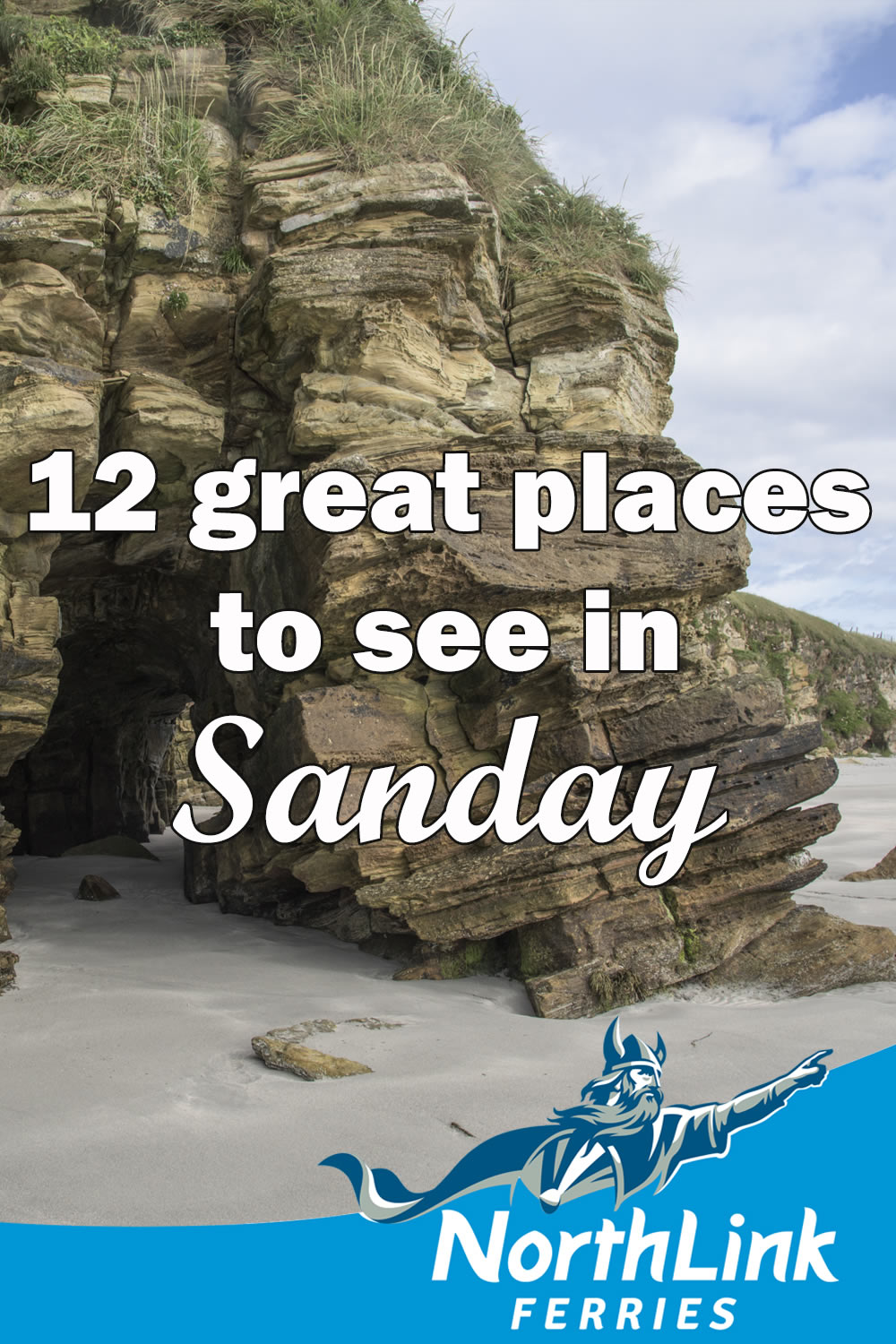 Header image: Doun Helzie in Sanday, Orkney photo © Copyright Victoria Dixon