Sir Peter Maxwell Davies: Sculpting Sounds in Orkney
Sir Peter Maxwell Davies (pronounced Davis), or Max, as he was known, was one of the most significant British composers of the 20th century. Born in Lancashire, he spent his early career in England, Italy and Australia, before finally settling in Orkney.
The pristine beauty of Orkney's environment resonated with Max and his work began to embody the essence of Orkney's landscapes. The natural elements of Orkney could be found in gentle melodies which were reminiscent of rolling hills and in grand crescendos which reflected the raw power of the sea.
Max found solace and inspiration in the tranquil landscapes of the islands, where he established a deep connection with the surroundings and its people.
He embarked on the journey that would shape his creative output when he first visited Orkney in 1970 and in 1971 settled in Rackwick, on the island of Hoy, living in a hill croft above the valley.
"One Sunday I remember going out to Hoy, and it was one of those days where everything happens as if pre-ordained. I met there some people who have become very good friends in the meantime, and also (the poet) George Mackay Brown, and this was strange because I had been reading George Mackay Brown for the first time in my life all night, the previous night, I had just not gone to sleep because I had been so excited by this man's work."
"We had a lot to drink and we all enjoyed the afternoon very much. I thought that that place was one of the most marvellous places I'd ever been to physically, the most extraordinarily beautiful valley there on Hoy, with the sea pounding in just below the house. The people that I was with there said well, if you like it here, we're sure the Doctor in Stromness would let you use this house, because he doesn't come here very much with his family in the winter, and I jumped at this chance!"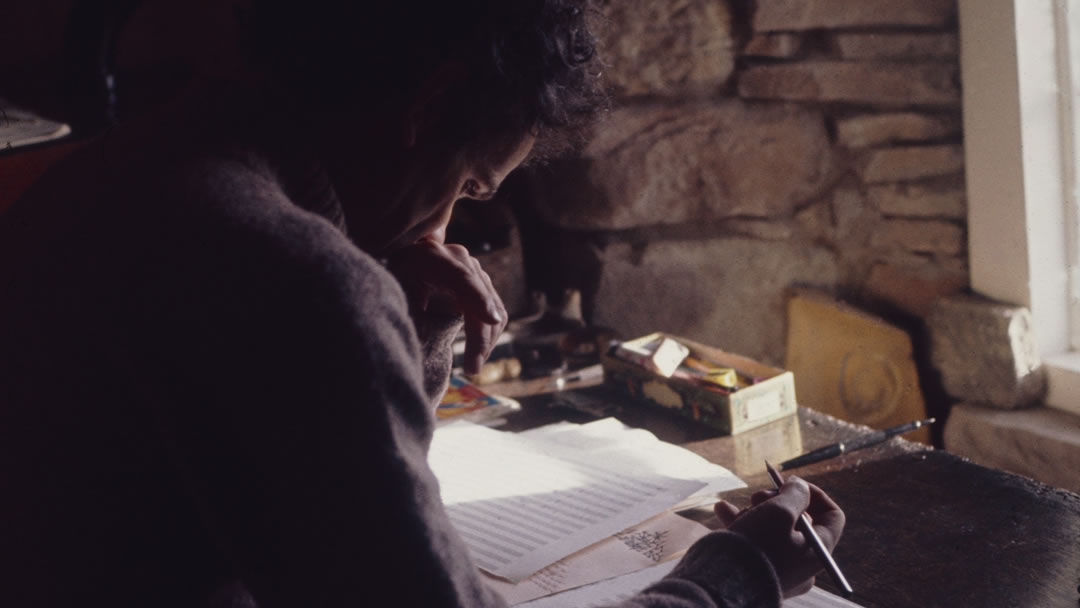 The silence and solitude of the islands allowed him to escape the demands of urban life, providing the perfect setting for contemplation and creative exploration.
"To live in those circumstances where on that beach I don't think for a whole month I saw one person, nobody came, you come face to face with yourself in a way. Under so called normal circumstances, living in a city, with telephones ringing and people coming in and your concentration being interrupted – you would never have the chance to do that. I immediately realised I'm probably writing better music now than I've written for a good number of years because I'm having to concentrate, there's no escape from yourself here. You have to realise what you are through your music with much more intensity than if you were in a city."
The pristine beauty of Orkney's environment resonated with Max's creative senses and his work began to embody the very essence of Orkney's landscapes. The interplay of light and shadow, the rhythmic cadence of waves crashing against the shoreline, and the ethereal calls of seabirds became sources of inspiration that found their way into his compositions. The natural elements of Orkney could be found in gentle melodies which were reminiscent of rolling hills and in grand crescendos which reflected the raw power of the sea.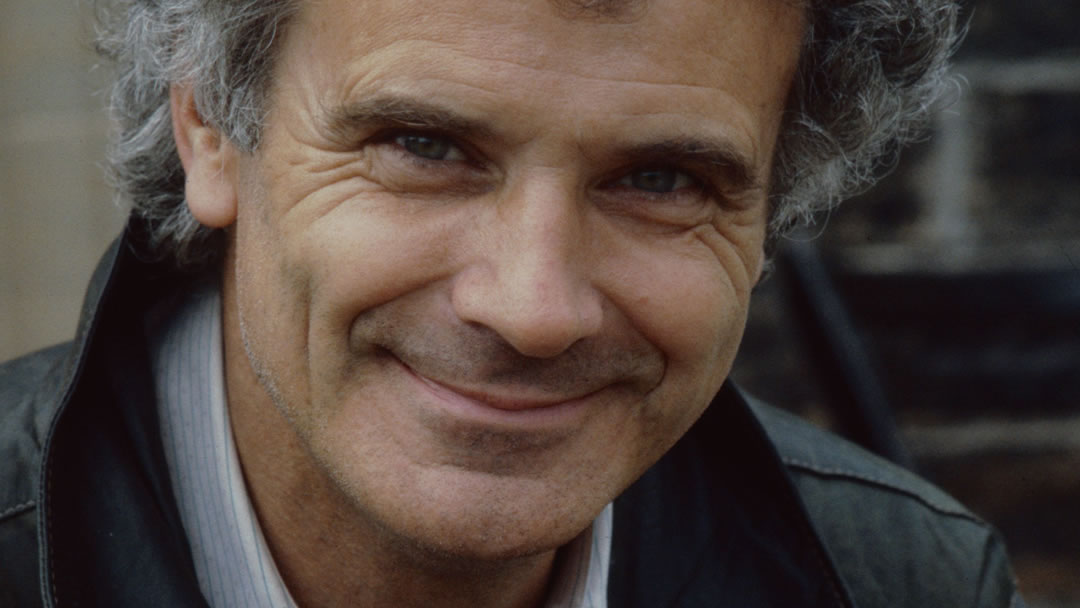 Max's time in Orkney was not limited to solitary creative endeavours. He actively engaged with the local community, collaborating with musicians, artists, and writers who also found inspiration in the islands' beauty. During that time, he composed a large number of works, either inspired by Orkney and its people, or written for particular friends and colleagues. This includes works for the children of Orkney and many works based on the poems and stories of George Mackay Brown. Together, and with the help of a few others, they co-founded the annual St. Magnus Festival in 1977.
As a midsummer event, the St. Magnus Festival provided Peter Maxwell Davies with a way to repay Orkney people for their welcome. Max's opera, The Martyrdom of St. Magnus, told the story of the Orcadian earl and pacifist, and was cast with relatively few resources, so that it could be performed as the principal event of the first festival, in St. Magnus Cathedral in Kirkwall.
In addition to bringing outstanding musicians to the islands, the St. Magnus Festival also brought tourists. Max's contribution to Orkney was not only a wealth of musical compositions but also speeches, interviews, and broadcasts. He was both an embraced member of the Orkney community and a figure of national and even international prominence.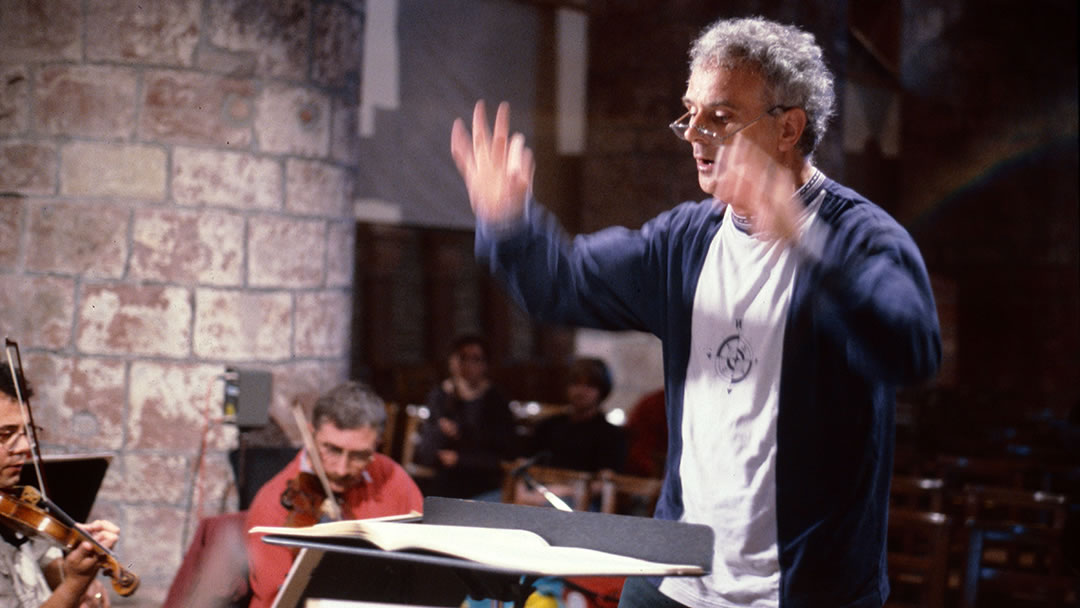 Knighted by the Queen in 1987, Peter Maxwell Davies was also a respected conductor. He served as an associate conductor of Britain's Royal Philharmonic and BBC Philharmonic Orchestras, and made guest appearances with ensembles including the Cleveland Orchestra, the Boston Symphony and the Leipzig Gewandhaus Orchestra.
He was associated in particular with the Scottish Chamber Orchestra, of which he was a composer laureate. In 2004 Max was made Master of the Queen's Music. Other notable works by Sir Peter Maxwell Davies include his ten symphonies, the opera The Lighthouse, and the Orkney Wedding, with Sunrise.
His compositions are known for their experimental nature, challenging traditional musical conventions, and pushing the boundaries of contemporary classical music.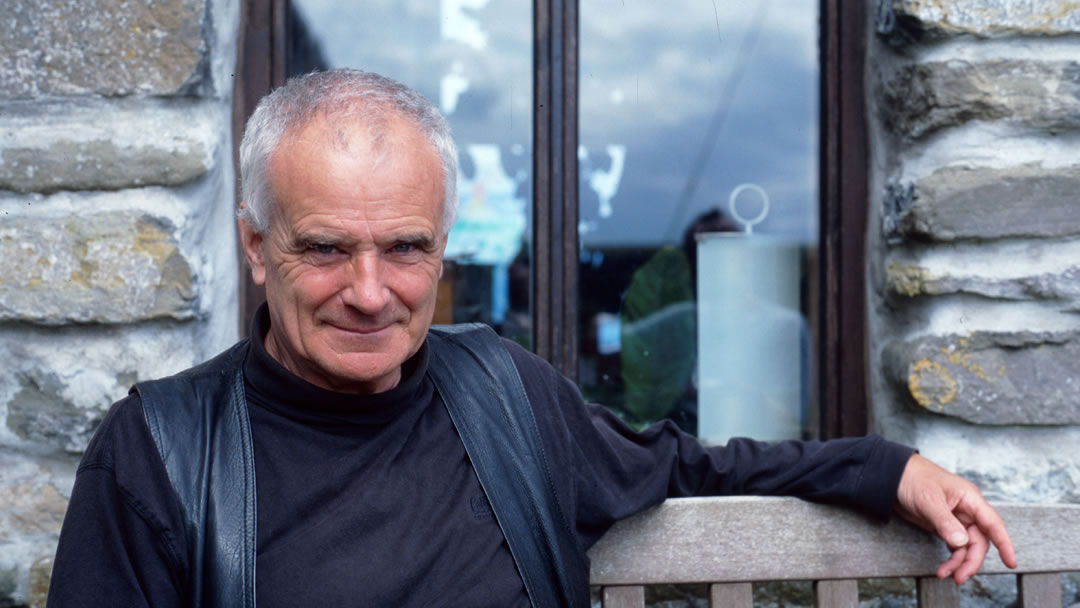 Perhaps one of Max's most recognised pieces of music is Farewell to Stromness, originally for solo piano. It was written as a protest against a proposed uranium mine near Stromness in Orkney, composed at a time when the future of the lovely town was uncertain. Farewell to Stromness is often played at local funerals nowadays, and it is a beautifully poignant composition that captures the emotive nature of such a gathering.
Max moved from Rackwick to the island of Sanday in 1998 and lived there until his death in 2016 at the age of 81. He was laid to rest in Burness Kirkyard Church burial ground on the island.
Max was one of the most influential composers of the 20th century, whose contributions to the contemporary classical music canon encompassed hundreds of innovative compositions. His dedication to pushing the boundaries of musical expression continues to inspire musicians and audiences alike.

By
Victoria Dixon
Orkney and Shetland fanatic, likes to capture life through a lens, loves creating, eclectic taste in music, enjoys being a Mum; would secretly love to be a star of the West End!
With grateful thanks to the Gunnie Moberg Archive, Orkney Library and Archive for photos and quotations from Sir Peter Maxwell Davies.
Pin it!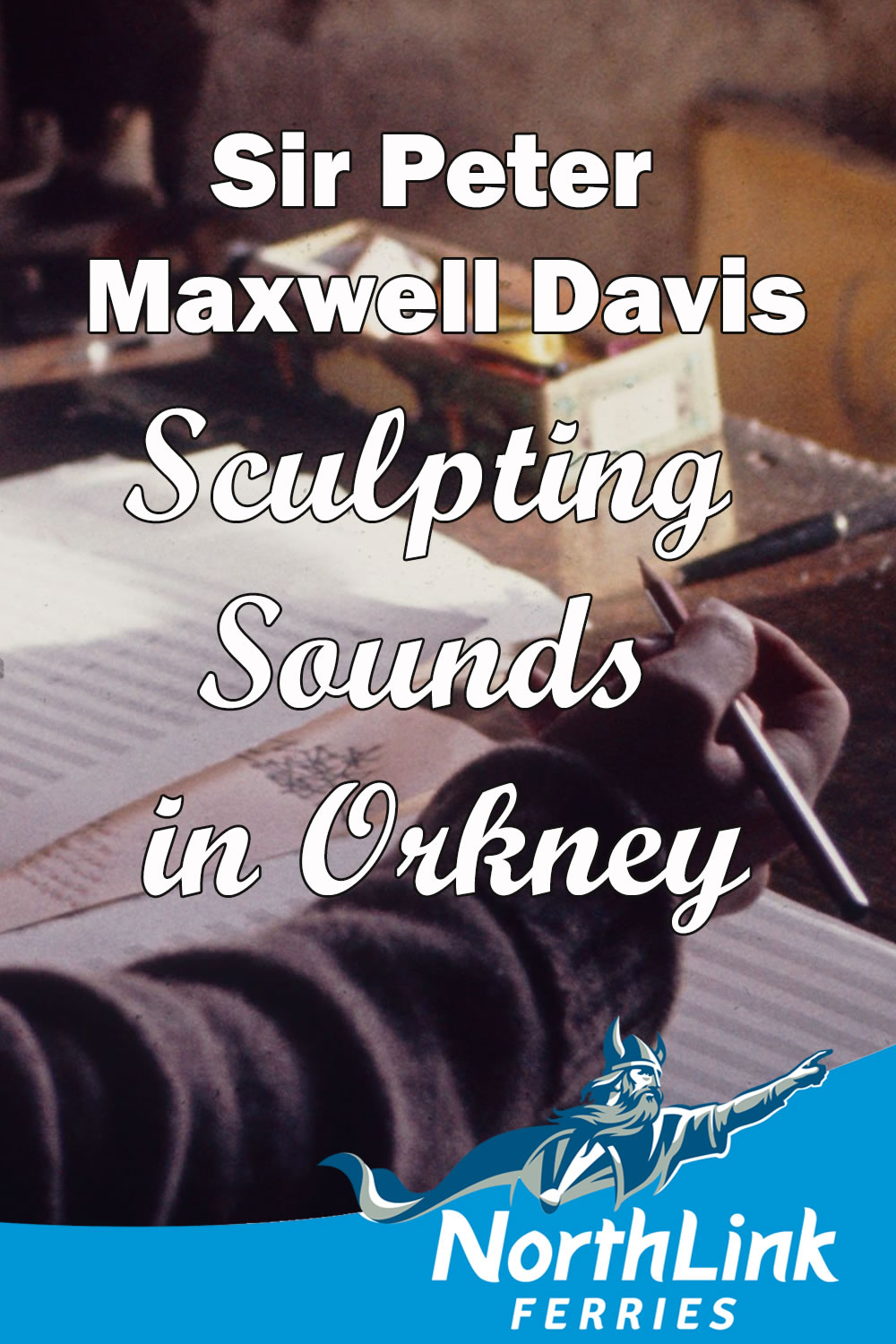 Header image: Sir Peter Maxwell Davies with the cliffs of Hoy pictured in the background photo © Copyright Gunnie Moberg Archive, Orkney Library and Archive