Mince and clapshot recipe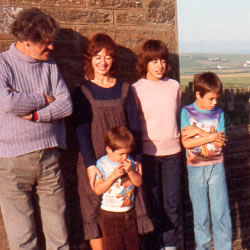 Our mince and clapshot recipe is the perfect warming dish for cold nights. Whilst there are plenty of super recipes in cookery books and websites for mince, this recipe was my mother's and so will always be the best in my mind!
Clapshot is an Orcadian dish of mixed mashed tatties (potatoes) and neeps (swede or turnip).
It makes a very fine plate of mince with a thick gravy sauce which is best served alongside clapshot, an Orcadian dish of mixed mashed tatties (potatoes) and neeps (swede or turnip).
Every Monday night, my mother's uncle, the Orcadian poet George Mackay Brown, would join our family at teatime, and once he offered an excellent bit of advice about making clapshot which I've shared below.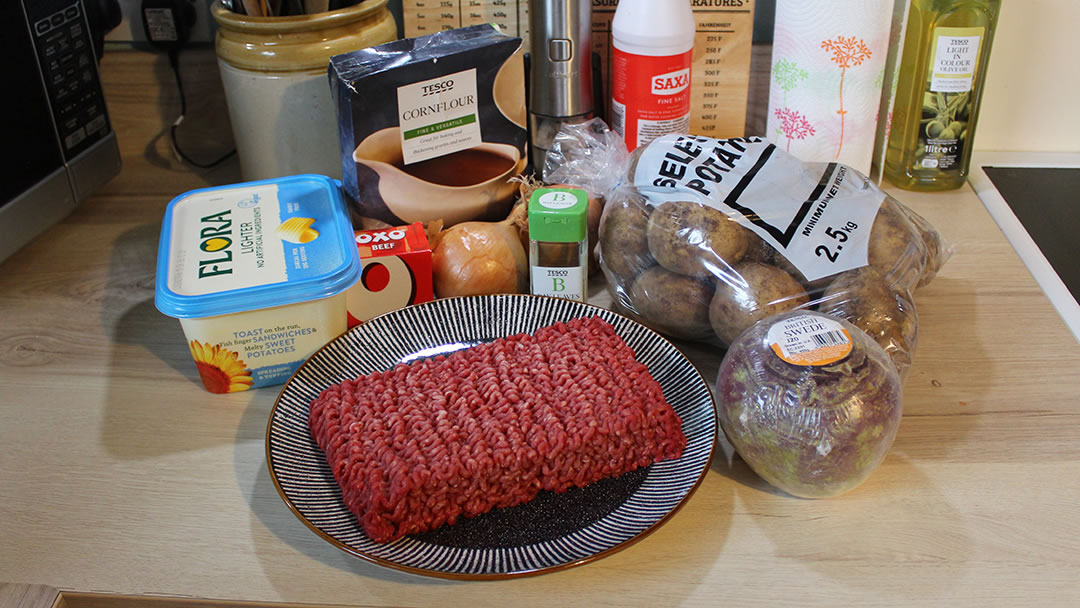 Mince Ingredients:
750g minced beef
1 Medium or large onion
2 or 3 beef stock cubes
Bay leaves
Cornflour
Method:
Put a tiny amount of oil in the bottom of a pan and set it over a medium/high heat.
Add the minced beef and cook until it starts to brown.
Add the chopped onion to the pan and stir it round for a few minutes.
Sprinkle in the crushed beef stock cubes. My mother always added a bay leaf or two at this stage, but it's not essential.
Pour in some water so that it barely covers the mince. Little mountains of mince should peak out of the water's surface.
Cover the pan and simmer over a low heat for an hour or so.
Then, in a cup, mix a tablespoon of cornflour with just enough water from the tap to blend it.
Pour the cornflour mixed with water into the mince mixture, stirring all the time.
In two minutes your mince will be ready to enjoy.
Tips:
If the sauce is too thin, add more cornflour mixed with water. Allow it then a couple of minutes to thicken. If the sauce is too thick, add water.
We also think the mince is nice with a couple of carrots (or mushrooms?) chopped up and added at the same time as the onion.
This mince has a thick gravy sauce which makes it especially tasty in sandwiches and rolls.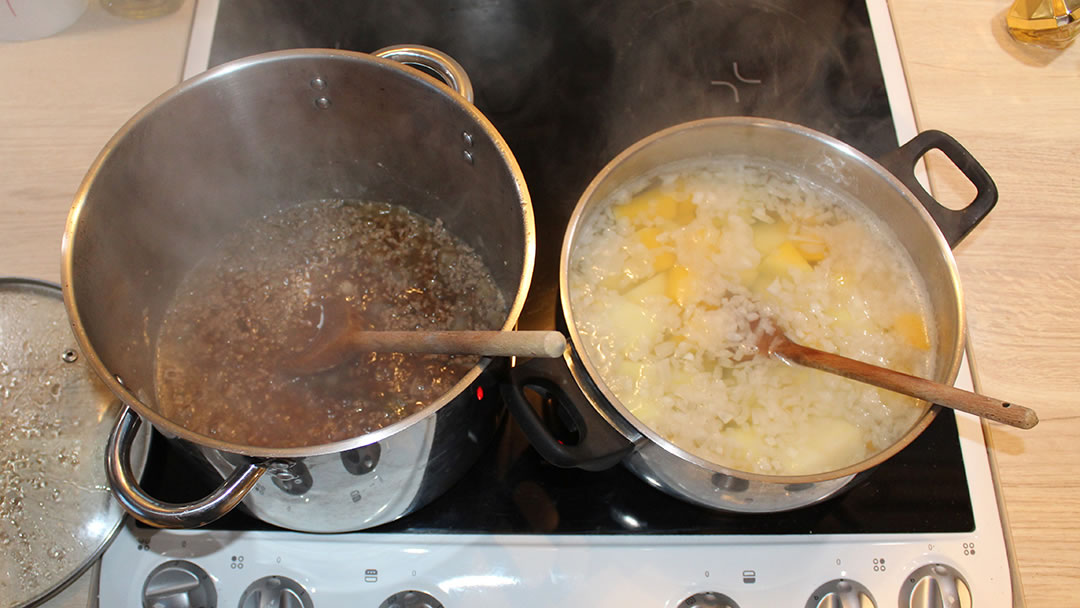 Clapshot Ingredients:
1kg tatties (potatoes)
500g neeps (swede or turnip)
Salt and pepper
Margarine or butter
After peeling the tatties and neeps, cut into a sensible size (about half a medium sized tattie) and cut the neeps into peedier (smaller) cubes.
Put the neeps into a pan and just cover them with water, adding a good teaspoonful of salt.
George Mackay Brown swore by adding a chopped raw onion at this stage – and we recommend this too!
Bring the neeps to a boil and simmer for ten minutes.
Then add the tatties and enough water to cover the tatties, neeps and onion in the pan.
Bring to the boil and simmer for another 20 minutes or until everything in the pan is tender when tested with a fork.
Drain and mash with a scoop of margarine or butter until smooth, adding pepper and salt to taste.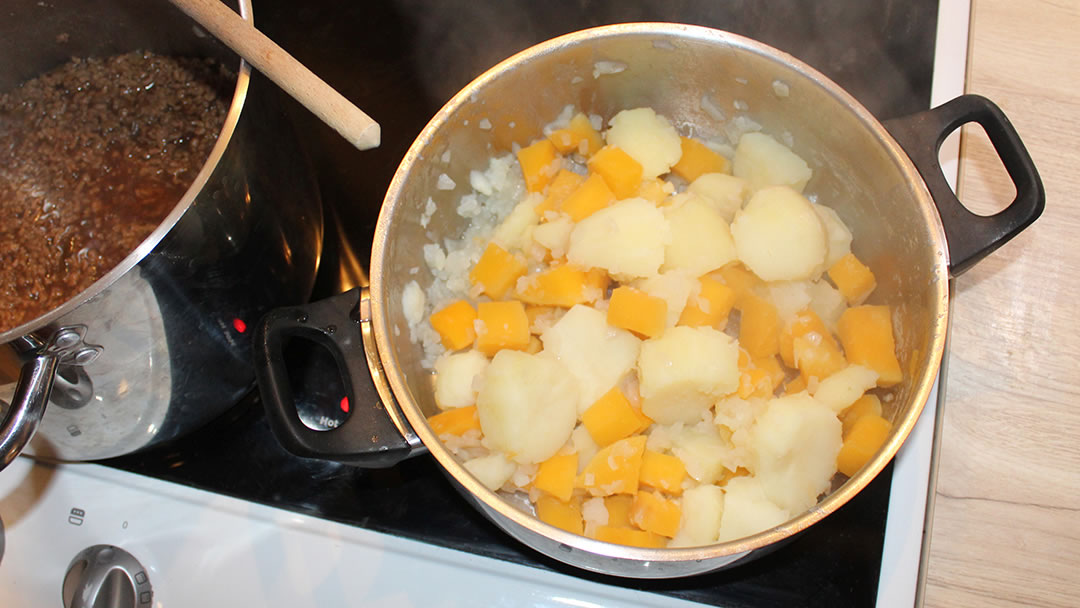 Tips:
Clapshot can be made with any quantity of neeps and tatties (our version should serve four), but in our opinion, the ratio of twice as many potatoes as neeps gives the best result.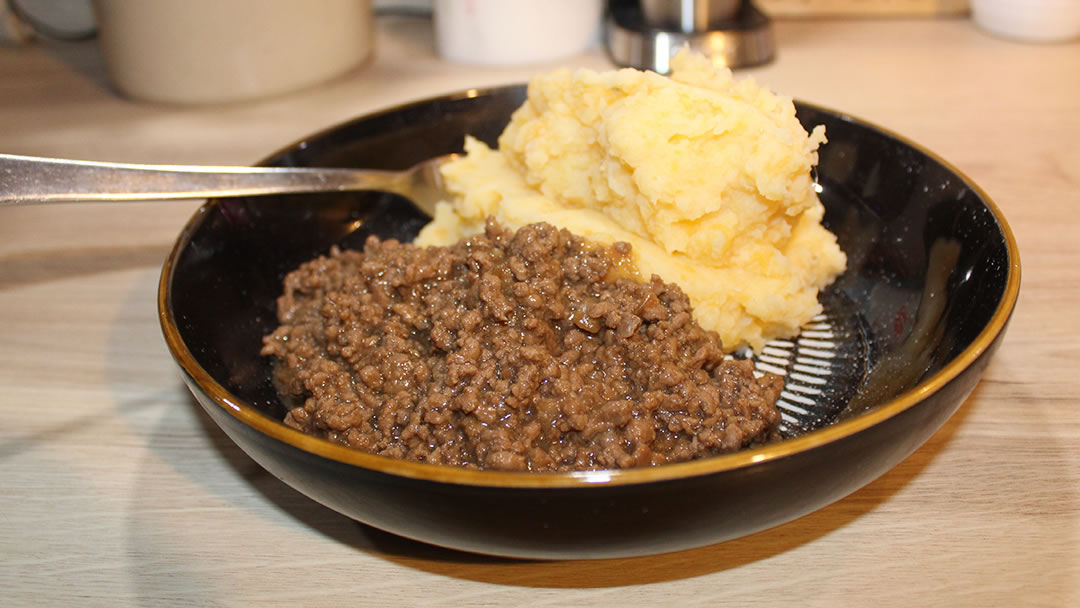 We hope you enjoy this delicious and simple meal from the Orkney islands!

By
Magnus Dixon
Orkney and Shetland enthusiast, family man, loves walks, likes animals, terrible at sports, dire taste in music, adores audiobooks and films, eats a little too much for his own good.
Pin it!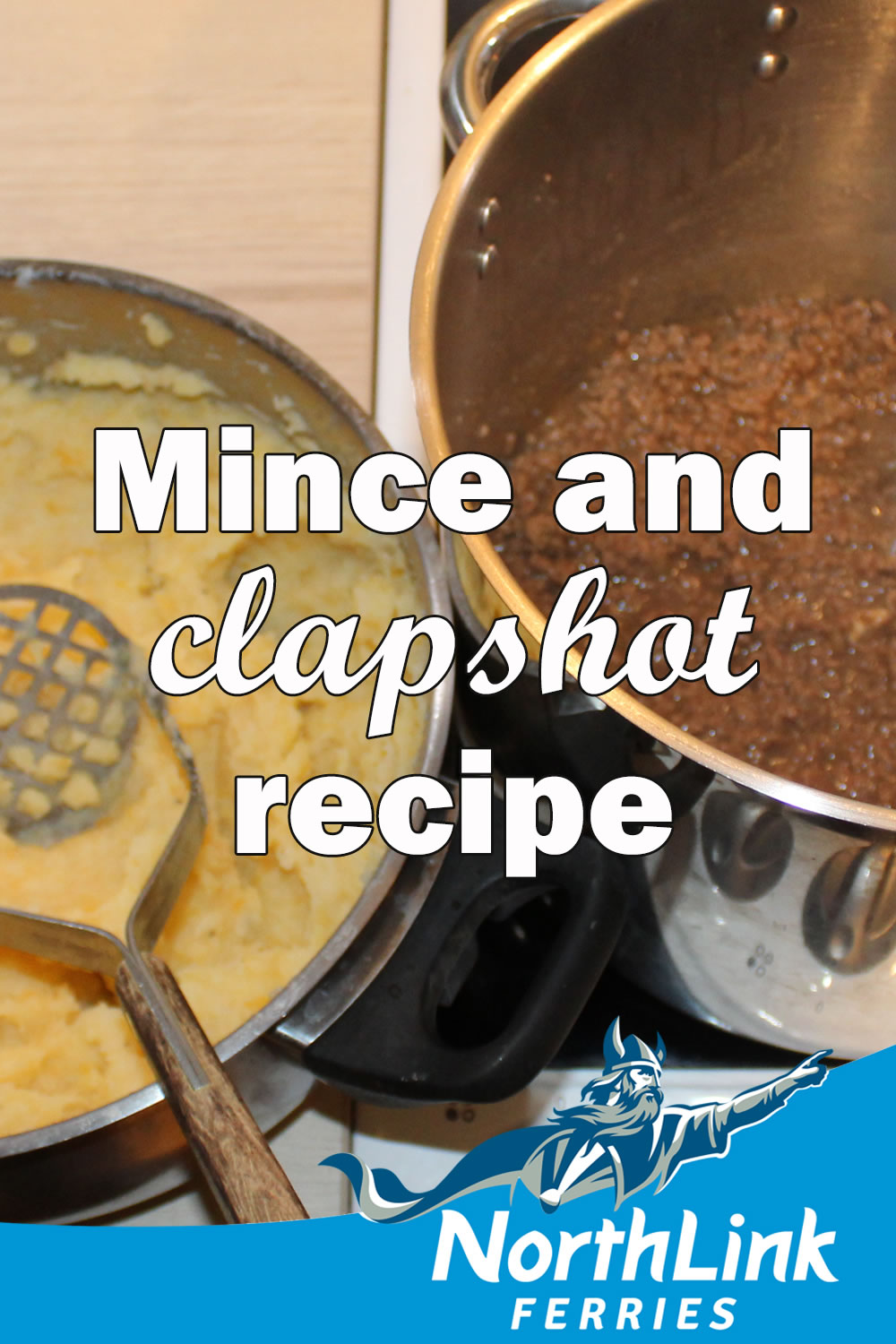 Header image: Clapshot and mince photo © Copyright Magnus Dixon
Inset image: George Mackay Brown, with Allison, Magnus, Judy and David Dixon photo © Copyright Fraser Dixon