Remembering George Mackay Brown
It is remarkable to think that visitors to Stromness in Orkney thirty years ago might have encountered one of Scotland's best poets speaking to the fishermen at the pier head or bidding them a friendly hello as he wandered through the streets.
After leaving school, George worked in the Post Office until, aged just 20, he was diagnosed with tuberculosis. Recovery took him several years, but whilst he recuperated, George spent much of his time reading and writing. He discovered The Orkneyinga Saga during that time and in Saint Magnus, George found a fascinating figure.
George Mackay Brown lived and worked in the waterfront town for nearly all of his 74 years. 2021 marked what would have been his 100th birthday.
This introduction to George Mackay Brown and his work was written by his great nephew – Magnus Dixon from NorthLink Ferries.
---
George Mackay Brown was born in Stromness on 17th October 1921, the youngest of six children. His father, John Brown, was a postman and tailor. His mother, Mhairi Mackay, was from Strathy in Sutherland. She had moved to Orkney to work in the Stromness Hotel and it was there that his parents met. Mhairi was a lovely lady known for her great generosity.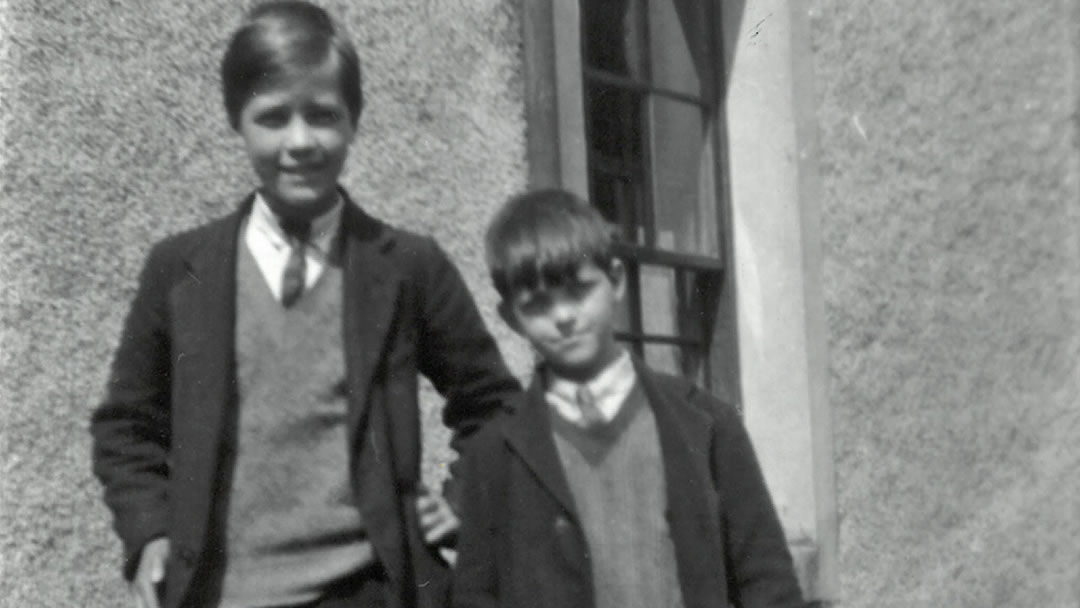 From his family, George inherited his mother's Calvinist work ethic and his father's talent for storytelling. In the tailor's shop where his father worked, George listened to the men's tales about the past and present folk of the town. Other influences came from George's brother Norrie, my grandfather, who shared George's love of poetry, and George's sister Ruby, who taught him Scottish Ballads when he was very young.
Hamnavoe was the old name for Stromness and George's poem follows his father on his postal round through its lively streets:
Hamnavoe

My father passed with his penny letters
Through closes opening and shutting like legends
When barbarous with gulls
Hamnavoe's morning broke

On the salt and tar steps. Herring boats,
Puffing red sails, the tillers
Of cold horizons, leaned
Down the gull-gaunt tide

And threw dark nets on sudden silver harvests.
A stallion at the sweet fountain
Dredged water, and touched
Fire from steel-kissed cobbles.

Hard on noon four bearded merchants
Past the pipe-spitting pier-head strolled,
Holy with greed, chanting
Their slow grave jargon.

A tinker keened like a tartan gull
At cuithe-hung doors. A crofter lass
Trudged through the lavish dung
In a dream of corn-stalks and milk.

Blessings and soup plates circled. Euclidian light
Ruled the town in segments blue and gray.
The school bell yawned and lisped
Down ignorant closes.

In 'The Arctic Whaler' three blue elbows fell,
Regular as waves, from beards spumy with porter,
Till the amber day ebbed out
To its black dregs.

The boats drove furrows homeward, like ploughmen
In blizzards of gulls. Gaelic fisher girls
Flashed knife and dirge
Over drifts of herring,

And boys with penny wands lured gleams
From the tangled veins of the flood. Houses went blind
Up one steep close, for a
Grief by the shrouded nets.

The kirk, in a gale of psalms, went heaving through
A tumult of roofs, freighted for heaven. And lovers
Unblessed by steeples lay under
The buttered bannock of the moon.

He quenched his lantern, leaving the last door.
Because of his gay poverty that kept
My seapink innocence
From the worm and black wind;

And because, under equality's sun,
All things wear now to a common soiling,
In the fire of images
Gladly I put my hand
To save that day for him.

George Mackay Brown
After leaving school, George worked in the Post Office until, aged just 20, he was diagnosed with tuberculosis. Recovery took him several years, but whilst he recuperated, George spent much of his time reading and writing. He discovered The Orkneyinga Saga during that time and in Saint Magnus, George found a fascinating figure. Magnus was a Viking Earl who had sacrificed himself to end a bitter civil war in Orkney.
George became a journalist for The Orkney Herald in 1944, when one of the reporters was called away for service. However, like many young Islanders, he felt a longing to leave the confines of Orkney and, in 1951, he travelled to Edinburgh to study at Newbattle Abbey College. The warden there was the Orcadian poet, Edwin Muir. As his studies progressed, George discussed poetry with Norman McCaig and other Scottish poets in the Rose Street pubs. He also fell for a girl called Stella Cartwright.
George converted to Catholicism in 1961. Then in 1964, after two years of postgraduate research at Edinburgh University and an aborted attempt to become a teacher, George returned to Orkney, leaving Stella behind. He was determined to make a living as a writer and was mindful that his island home was his inspiration.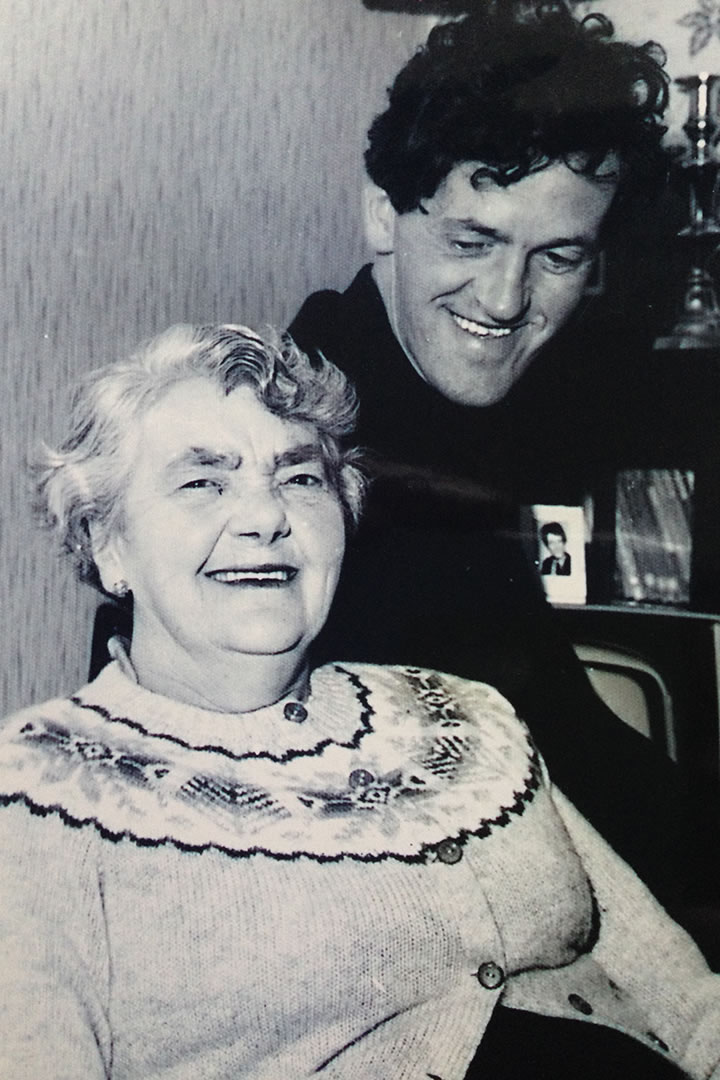 This was not an easy choice to make. In Stromness, George was acutely aware of being seen as a layabout who lived with his mother and drank a little too much. His poem The Old Women voiced these concerns, and though his first poetry collections were well received, they were not very profitable:
The Poet

Therefore he no more troubled the pool of silence
But put on mask and cloak,
Strung a guitar
And moved among the folk.
Dancing they cried,
'Ah, how our sober islands
Are gay again, since this blind lyrical tramp
Invaded the Fair!'

Under the last dead lamp
When all the dancers and masks had gone inside
His cold stare
Returned to its true task, interrogation of silence.

George Mackay Brown
In 1967 Mhairi passed away and a year later, George moved to a new house at Mayburn Court, which looks beyond Stromness Museum to the sea. He began to write novels and short stories as well as poetry. In Greenvoe, his first novel, an island community is invaded by an outside force (possibly North Sea oil or uranium mining) which threatens to destroy the island's landscape and culture. This fear appears frequently in George's work. His second novel, Magnus, told the story of the Viking Earl and how this peaceful man stood apart from his community, sacrificing his life for a greater good.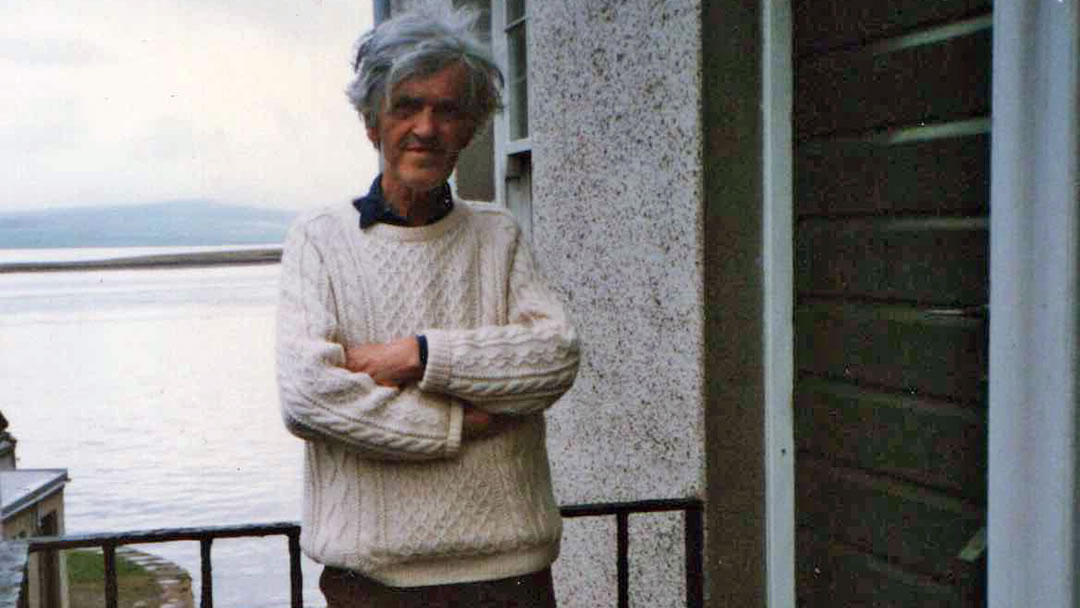 As he grew older George became much more prolific and drank much less. He wrote to a family member: 'I keep fairly busy, to keep melancholy at bay'. His weekly routines were important to him. My mother, his niece, was an excellent cook and George joined my family for tea every Monday night. He also had a ritual for working, writing in the morning, and tending to letters in the afternoon. George told a friend who aspired to be a poet: 'write a little every day, for an hour or so: whether one feels like writing or not. It is like prayer, a discipline. The discipline becomes a joy.'
Rhythms and repetition often appear in George's work. Poems were composed around the cycle of the farming year, the circle at Brodgar, the 12 Stations of the Cross, and the understanding that life goes on after death. When George was diagnosed with tuberculosis, the illness was responsible for one death in every eight in Britain and he was certain he would die young. This inflected his work with dark humour:
Beachcomber

Monday I found a boot –
Rust and salt leather.
I gave it back to the sea, to dance in.

Tuesday a spar of timber worth thirty bob.
Next winter
It will be a chair, a coffin, a bed.

Wednesday a half can of Swedish spirits.
I tilted my head.
The shore was cold with mermaids and angels.

Thursday I got nothing, seaweed,
A whale bone,
Wet feet and a loud cough.

Friday I held a seaman's skull,
Sand spilling from it
The way time is told on kirkyard stones.

Saturday a barrel of sodden oranges.
A Spanish ship
Was wrecked last month at The Kame.

Sunday, for fear of the elders,
I sit on my bum.
What's heaven? A sea chest with a thousand gold coins.

George Mackay Brown
Over the years George received awards and in 1974, an OBE. Despite becoming well-known as a writer, he remained a familiar face around Stromness who enjoyed time with family, friends and well-wishers. He liked outings to different parts of Orkney. Rackwick in Hoy was a favourite destination.
George relished collaborations with others, including the composer Peter Maxwell Davies (a resident of Rackwick), the photographer Gunnie Moberg, and his nephew, artist Erlend Brown. His later novels included the epic Vinland and the Booker prize nominated Beside the Ocean of Time. Every week George wrote a column for The Orcadian newspaper called Under Brinkie's Brae and these thoughts, now collected across three books, are a joy to read.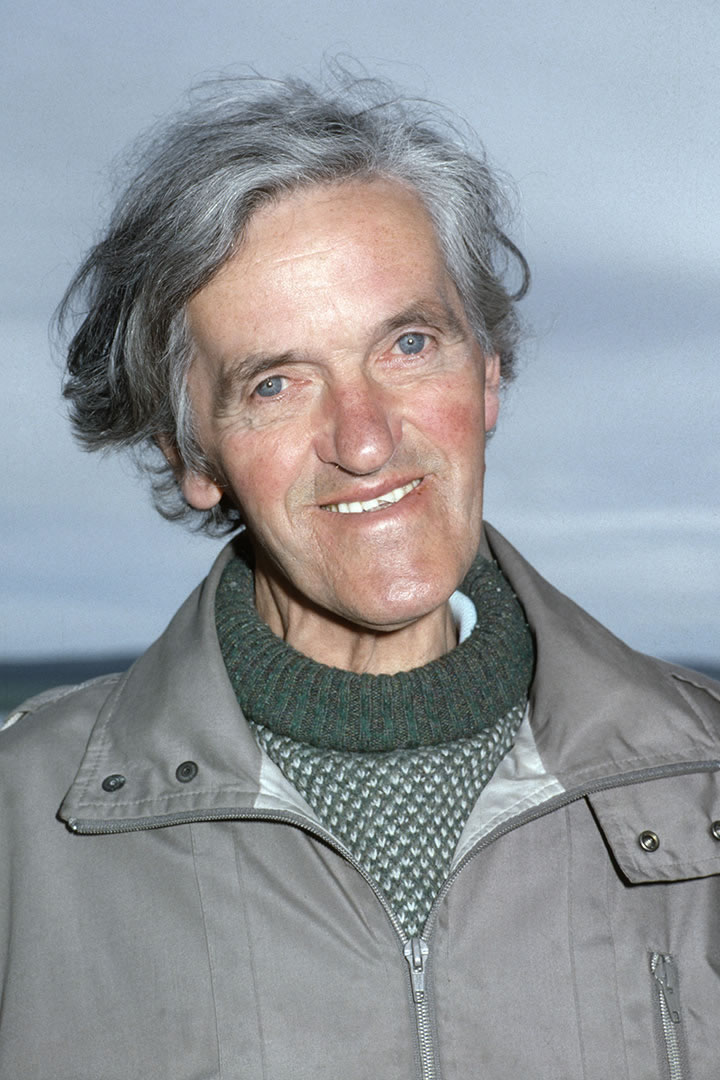 My own memories of George are that of a gentle, kind, great uncle with a mischievous sense of humour. He was fabulous with children; imaginative in a way few adults can manage. He could slip into a story with a child like a seal into water. My grandfather and George's brother, Norrie, passed away in 1964, and George occupied that role in his absence. I still miss George very much.
George passed away on 13th April 1996 and his funeral took place on St Magnus Day three days later. St Magnus Cathedral, hosting a Catholic service for the first time since the reformation, was full. George dedicated his final collection of poems Following a Lark to me, but it was published shortly after his death and I never had the chance to thank him. In it is a beautiful poem:
A Work for Poets

To have carved on the days of our vanity
A sun
A ship
A star
A cornstalk

Also a few marks
From an ancient forgotten time
A child may read

That not far from the stone
A well
Might open for wayfarers

Here is a work for poets —
Carve the runes
Then be content with silence

George Mackay Brown
Poems reproduced by permission of the Estate of George Mackay Brown.

By
Magnus Dixon
Orkney and Shetland enthusiast, family man, loves walks, likes animals, terrible at sports, dire taste in music, adores audiobooks and films, eats a little too much for his own good.
Pin it!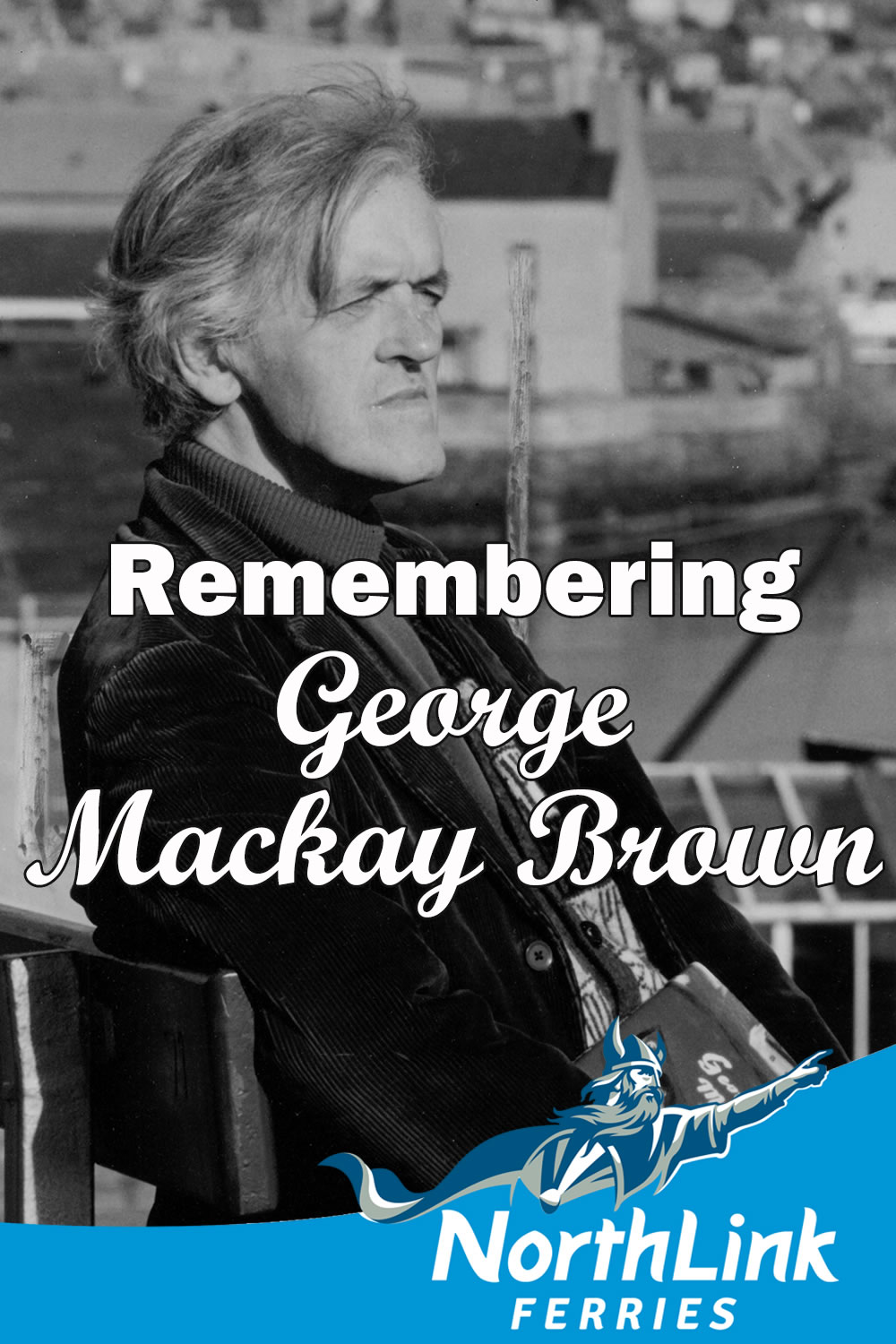 Header image: George Mackay Brown and the Stromness waterfront photo © Copyright the Estate of George Mackay Brown