Simple Farmhouse Cheese from Orkney
I am proud to be part of the Kirkwall City Pipe Band and one of best aspects of this has been meeting and socialising with new folk. Maureen Firth works at the Orkney Museum and sometimes in St Magnus Cathedral and like me, she is a tenor drummer in the pipe band.
Add a crushed garlic clove when you add in the salt for another version.
Maureen has made this cheese for us many times over the years. It is so good that I asked her if she wouldn't mind sharing it, and she very kindly agreed. I have tried and tested the recipe (by feeding it to my colleagues in the NorthLink Stromness office!)
This is a simple farmhouse cheese recipe which doesn't require rennet or a cheese press. It is very easy for beginners and perfect for using up any leftover milk.
This cheese takes approximately 90 minutes to make and is delicious served with crackers or oatcakes (see Laurie's oatcake recipe) and some homemade chutney.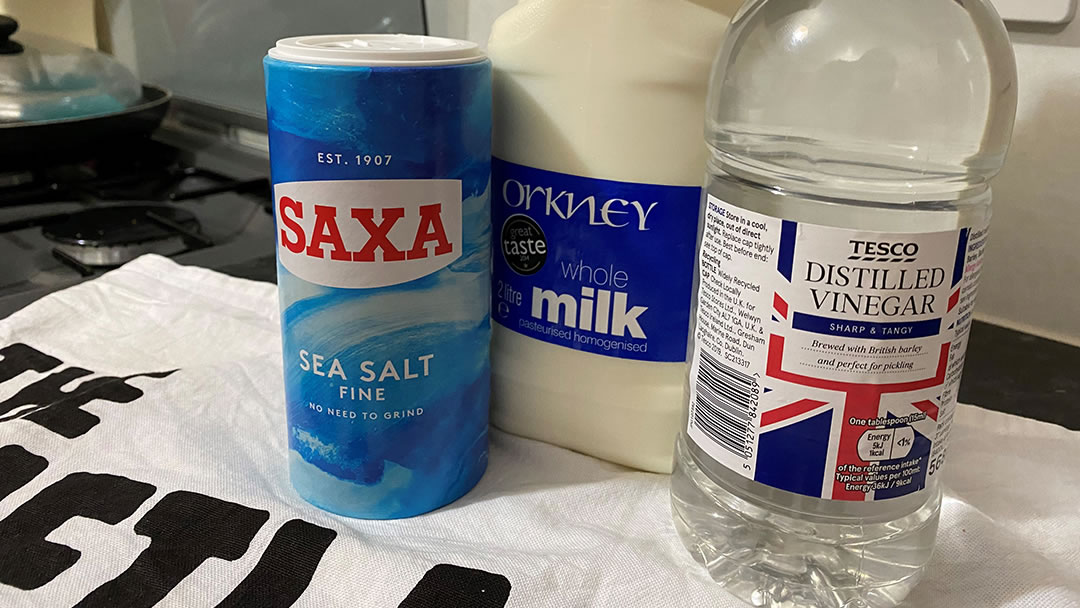 Ingredients:
3 litres of full fat Orkney milk.
¼ cup white vinegar
1½ teaspoons salt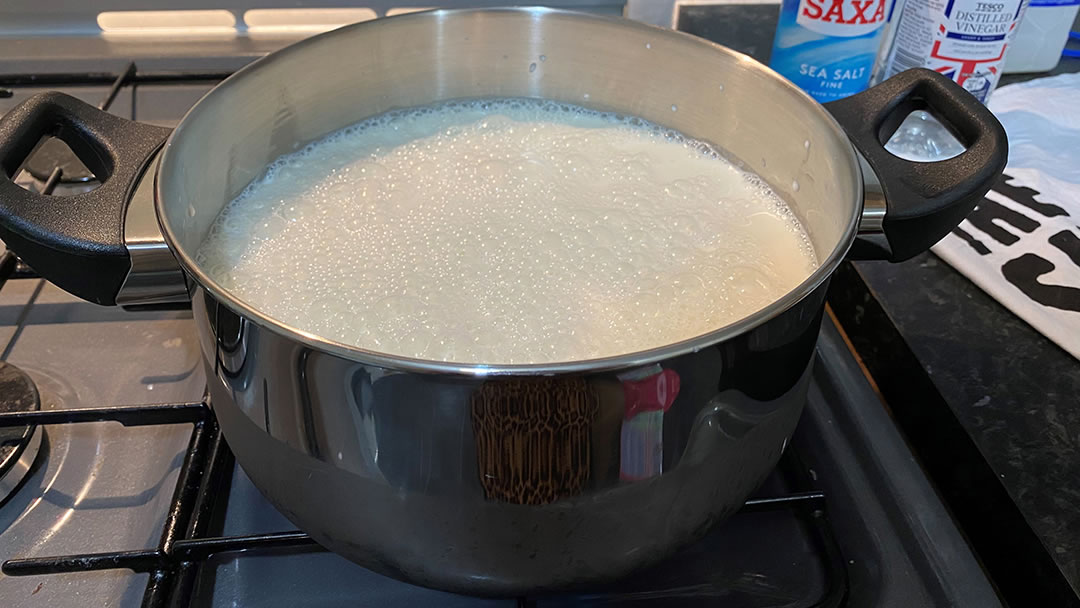 Method:
Heat the milk in a pot until it's just foaming, before it starts to boil, stirring to stop it scorching.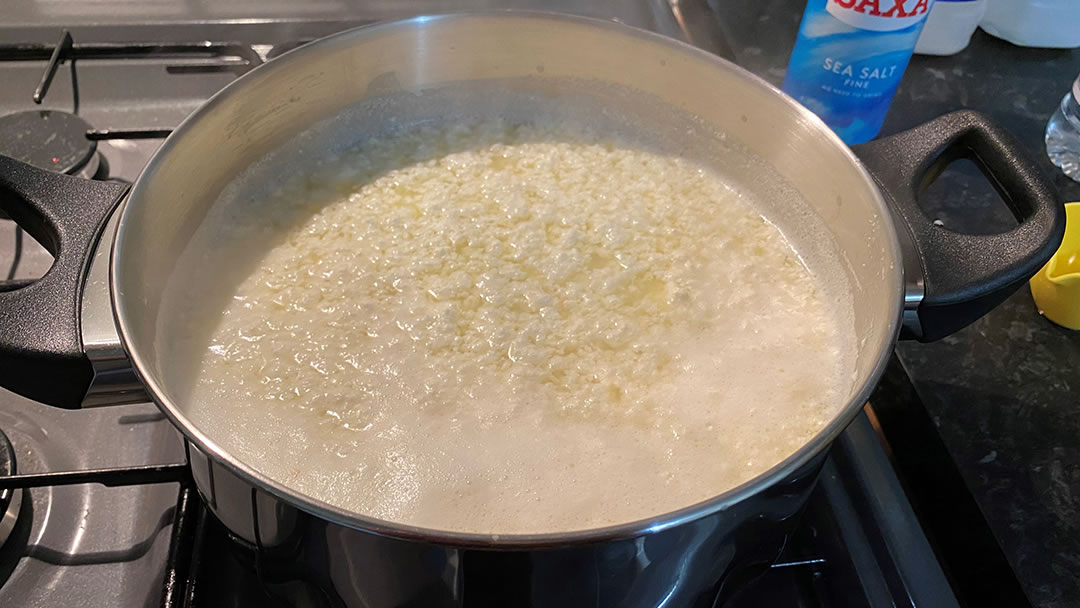 Turn off the heat and add a quarter cup of white vinegar. The milk should immediately separate into curds and whey. If it does not separate, add a bit more vinegar one tablespoon at a time, until you see the milk solids coagulate into curds swimming within the whey.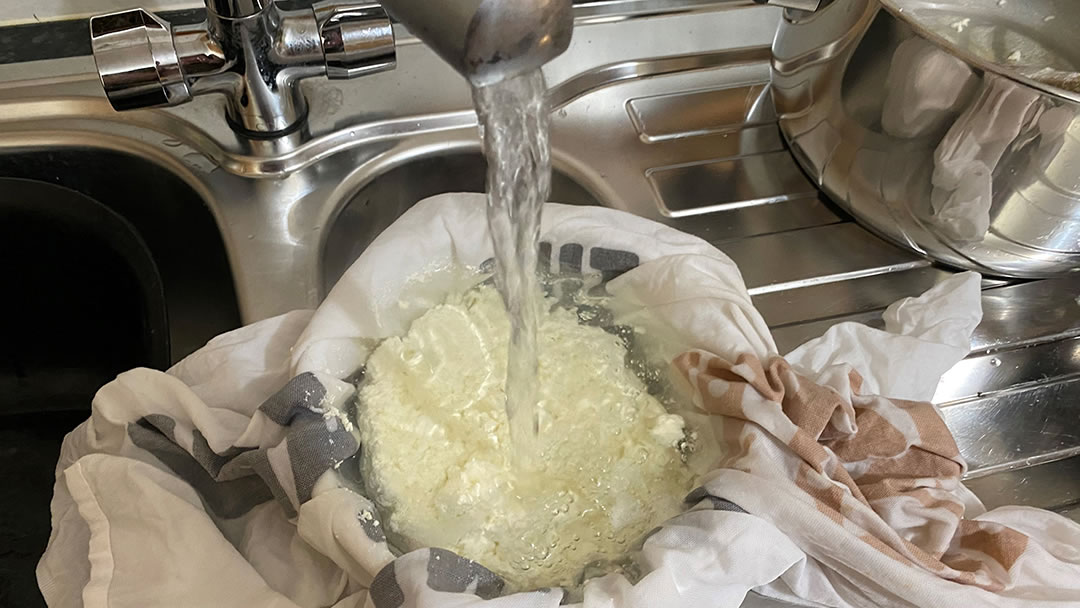 Pour into a fine colander lined with a tea towel, muslin or double layer of cheesecloth, set in your sink and and wash with cold water.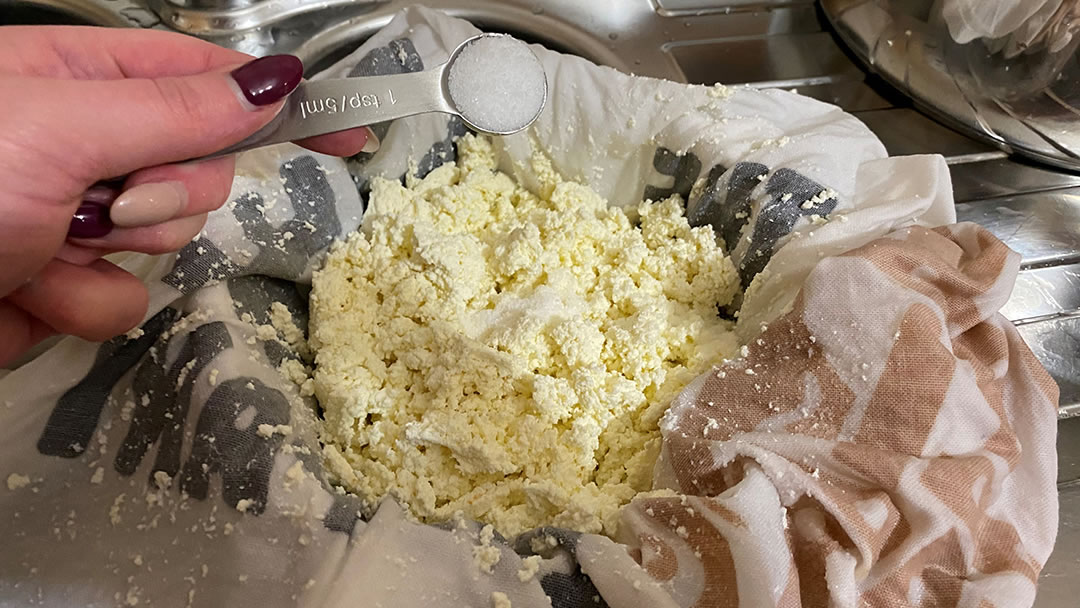 Then add 1½ teaspoons of fine sea salt and mix in. Then wring the tea towel until you can't wring it anymore to get as much of the liquid out as possible.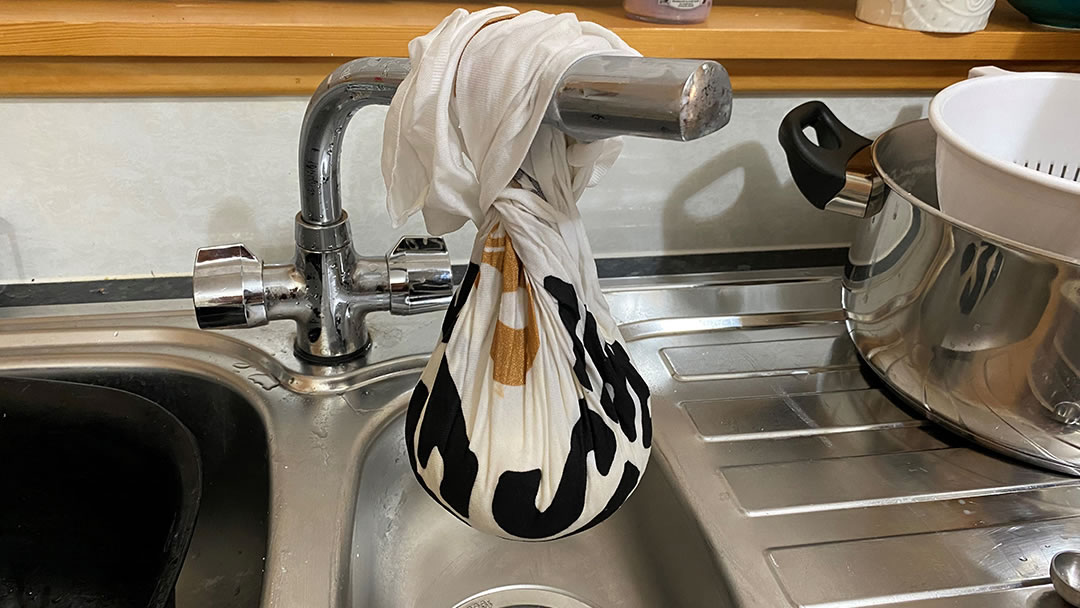 Fix the tea towel or cloth with an elastic band and hang it up for an hour (I hung it off my tap so that all the drips went in the sink) then transfer onto a plate.
It is best to chill the cheese before serving.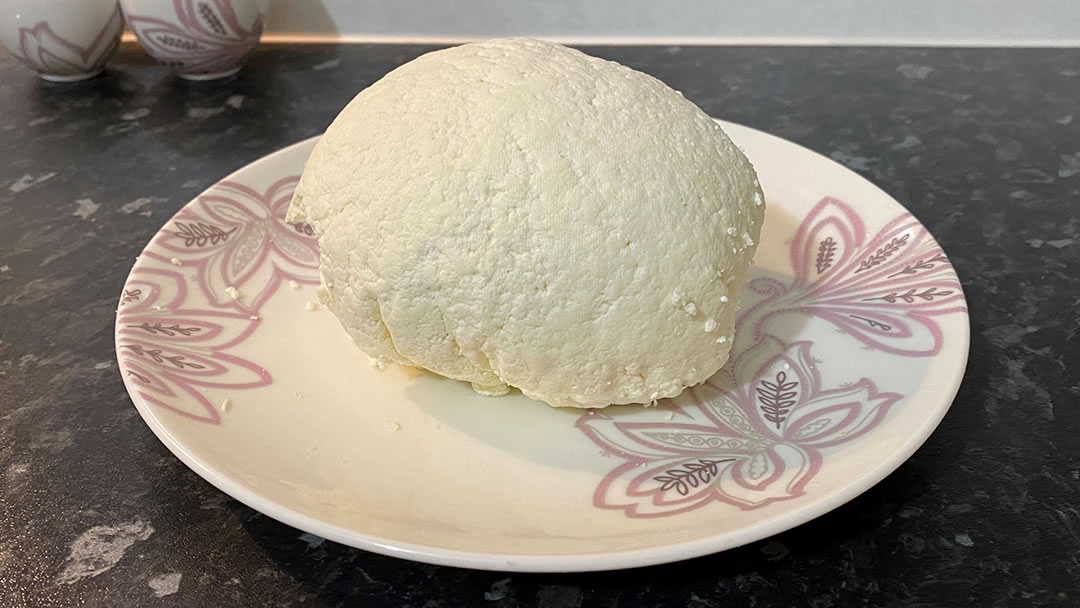 Tip: Add a crushed garlic clove when you add in the salt for another version.

By
Cheryl Kelday
Orkney born and bred. Enjoys socialising from spending time in Shetland for events and catching up with friends; playing tenor drum in the Kirkwall City pipe band; cooking and baking for folk; or playing netball with her team mates in her spare time.
Pin it!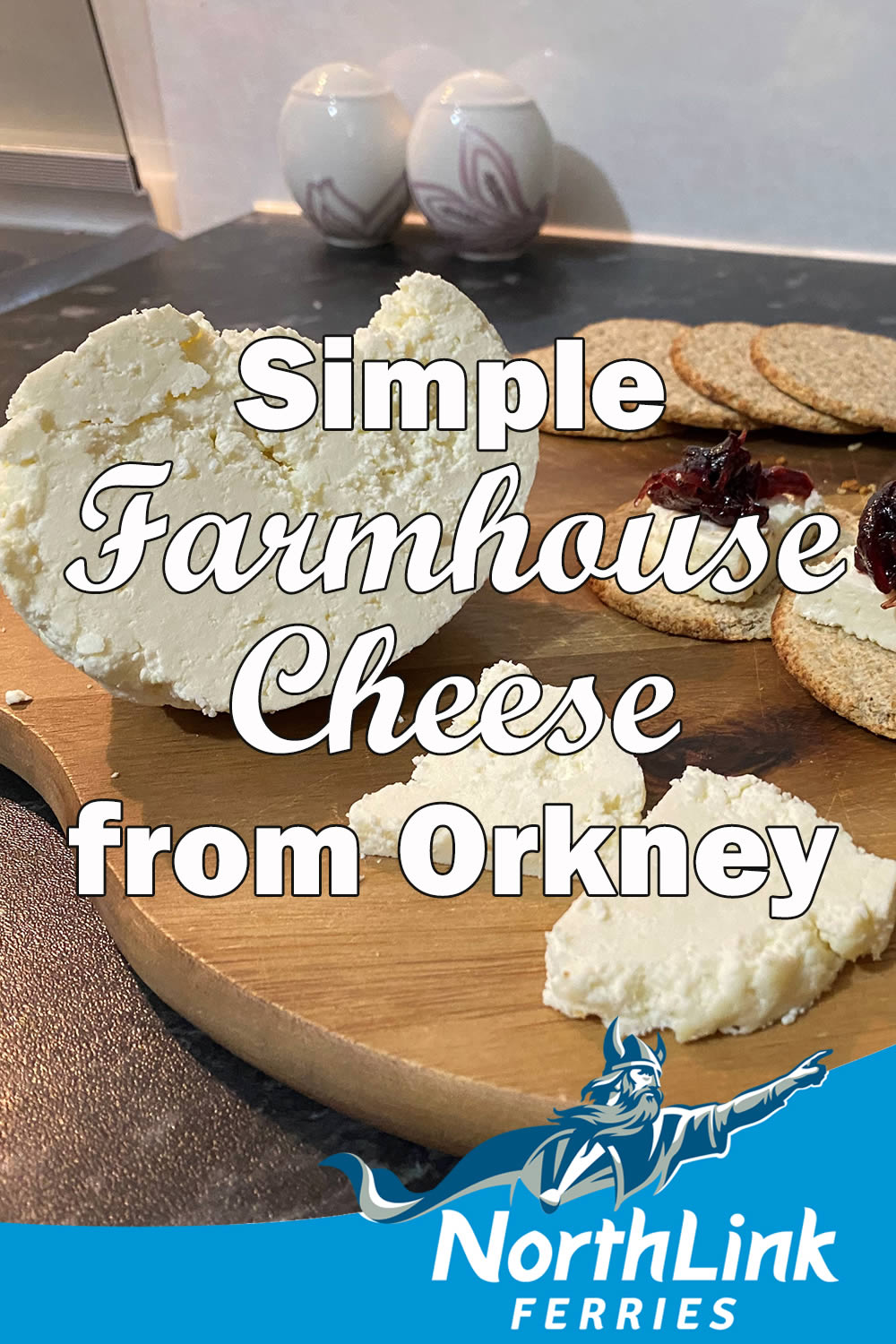 Header image: Simple Farmhouse Cheese with biscuits photo © Copyright Cheryl Kelday