For most people coming to Shetland, a trip to Unst is high on the agenda. Not only does it carry the promise of adventure with the two-ferry hop to get there, but it also allows visitors to tick the' most northerly part of the UK' from their bucket lists.
Geologically speaking, Unst is incredible. It's sometimes difficult to get people enthused about the rocks beneath our feet. Still, when you consider that parts of Unst once lay at the bottom of the ocean and formed part of the Earth's mantle before being forced to the surface by the collision of two continents – it's pretty impressive!
Unst is so much more than just the UK's final frontier; it's a geologist's dream, an archaeological treasure trove, a birding paradise, and it has incredible landscapes, rare plants and beautiful beaches to boot.
Here are 10 reasons why you should visit Unst: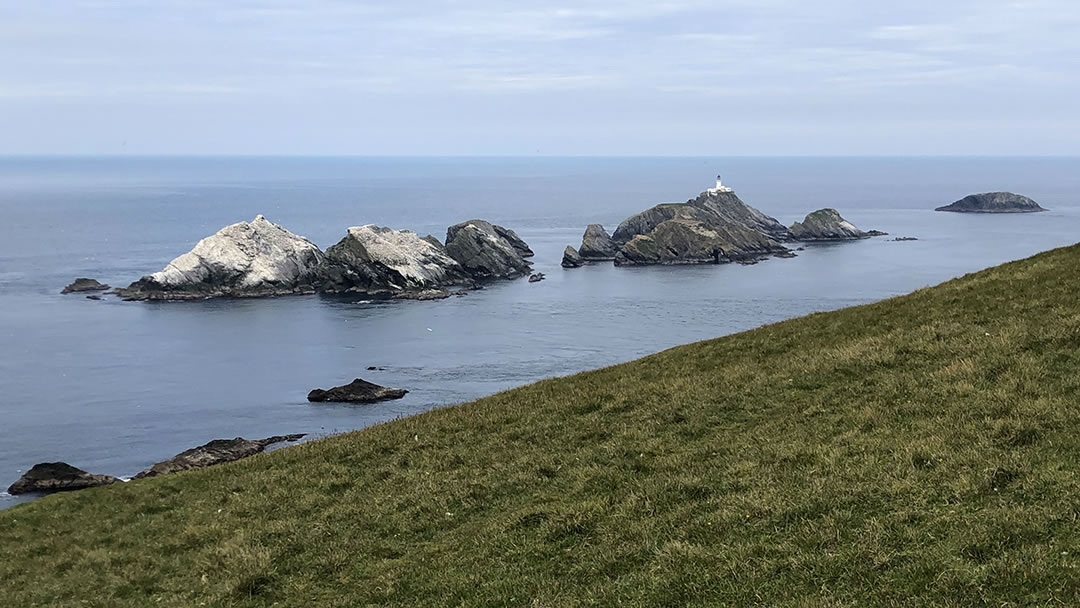 1. Hike to Hermaness and gaze at the most northerly part of the UK at Muckle Flugga lighthouse
For those who love stunning landscapes, walking and getting close to nature, Hermaness should be top of your Unst list. Hermaness National Nature Reserve is a walk that will take you over vast, open moorland to the coastal fringes of Britain's most northerly frontier, where you can view impressive gannet and puffin colonies. With views stretching across the North Atlantic, this walk will take your breath away.
Muckle Flugga lighthouse is the final destination on the walk, precariously perched on a small rocky island. The lighthouse, built by Thomas Stevenson, is carefully woven into the barren rock and has stood up to 150 years of assault from the unrelenting North Atlantic. Until 1995 it was the most northerly inhabited island – home to a lighthouse keeper throughout the year until the light became automated and the keeper moved out. Hermaness is a superb walk, and you should definitely remember to bring a picnic and a sturdy pair of walking shoes or boots.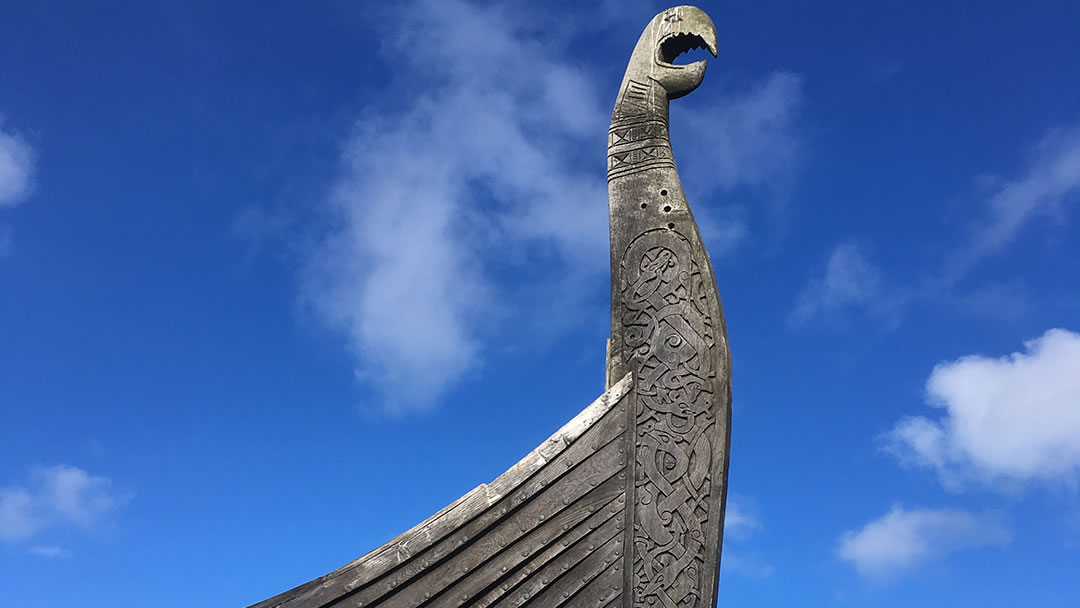 2. Discover Viking Unst
Unst is thought to be the first landfall for the Vikings who arrived in Shetland from about 850 AD, subsequently settling, and with at least 60 known Viking longhouse sites, Unst is a must-see for anyone interested in exploring Shetland's Viking roots.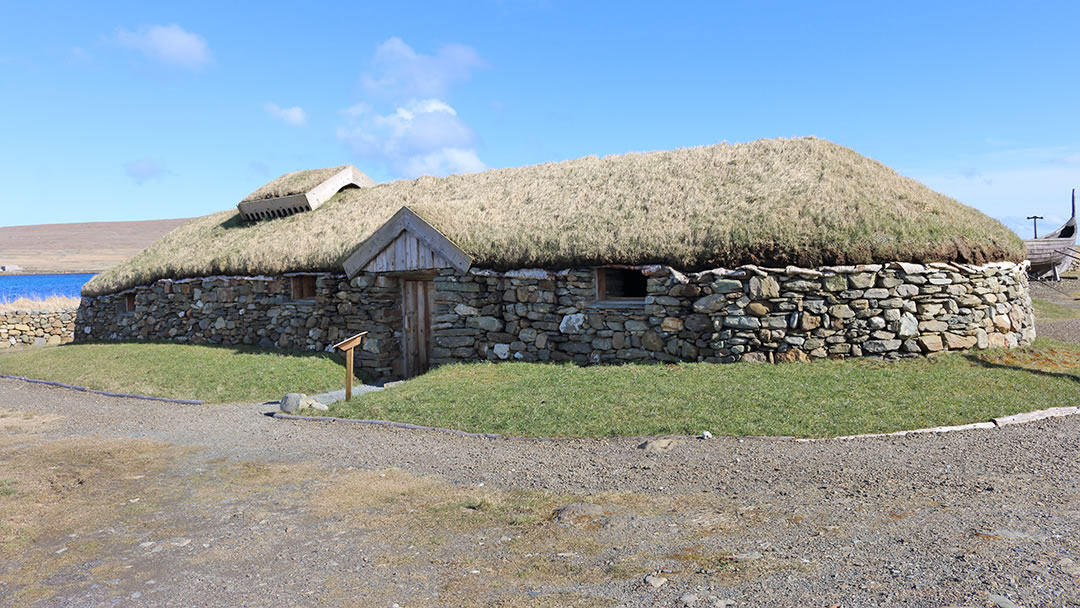 Visit the replica Viking longship, Skidbladner, and reconstructed Viking longhouse at Haroldswick and take a stroll down to the sands at the Eastings beach (Sandwick) to see the excavated remains of a Viking longhouse.
If you feel like walking a little further, follow the coast to the graveyard at Framgord, where distinctive rectangular slabs or hogback stones mark Viking graves.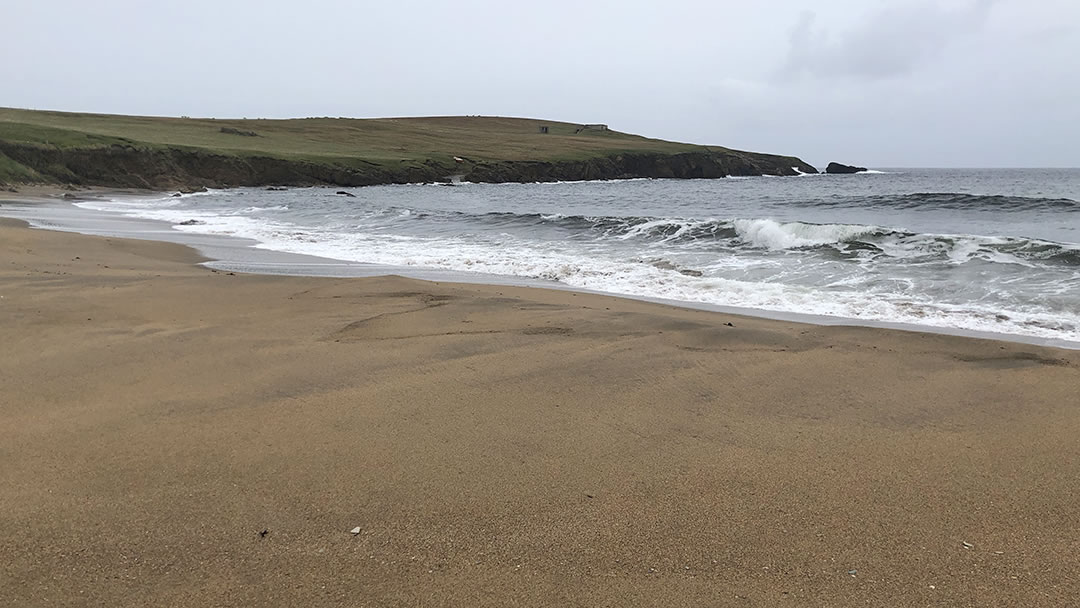 3. Go beach bagging
Unst has no shortage of pristine beaches, and there is any number to choose from, ranging from sweeping sands and shingly geos to boulder beaches and hidden coves. The most northerly beaches of Skaw and Norwick are particularly beautiful, and both are close to the road, so they don't involve a long walk. You'll notice as you spend time on Unst's beaches that the sand and rock on each beach is unique and varied thanks to the diverse geological makeup of the isle.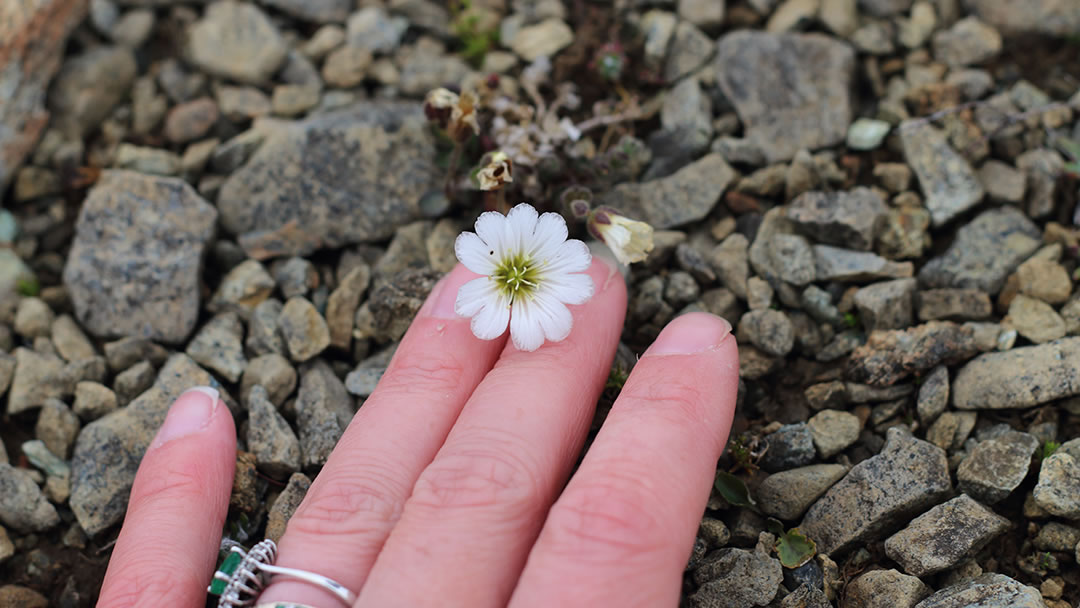 4. Search for Edmondston's chickweed at the Keen of Hamar
Shetland is such an excellent place to see wildflowers, as well as the fact that intensive agriculture doesn't happen here, allowing habitats to thrive; much of the reason for this profusion of wildflowers literally lies in the rocks beneath our feet. Shetland's unique makeup means that the geological landscape varies hugely from place to place, with each area hosting a unique environment for plants to grow. Sites such as the Keen of Hamar (Unst) and Ronas Hill (Northmavine) boast plants so rare that they can only be found in a few places across the globe.
In Unst, search for the endemic Shetland mouse-ear (Edmondston's chickweed) on the Keen of Hamar. This beautiful and delicate white flower flourishes on the bare serpentine rock on this northern hillside.
5. Visit Bobby's Bus Shelter
Bobby's Bus Shelter in Unst has become a Shetland treasure in recent years. The Bus Shelter, which has now become a focal point for locals and visitors alike, sporting a different and imaginative theme every year, was created by local boy Bobby McCauley when he was at school on the island.
Bobby, who lived nearby, growing tired of the often long, cold and wet waits in the morning, took matters into his own hands and wrote a letter to the local newspaper requesting a new shelter for him to wait in. The shelter was duly built and, soon after, a sofa appeared … and a table … a microwave oven … and a carpet. Before long, the humble bus shelter was a warm and welcoming place with its very own visitors' book for those seeking refuge and a place to rest.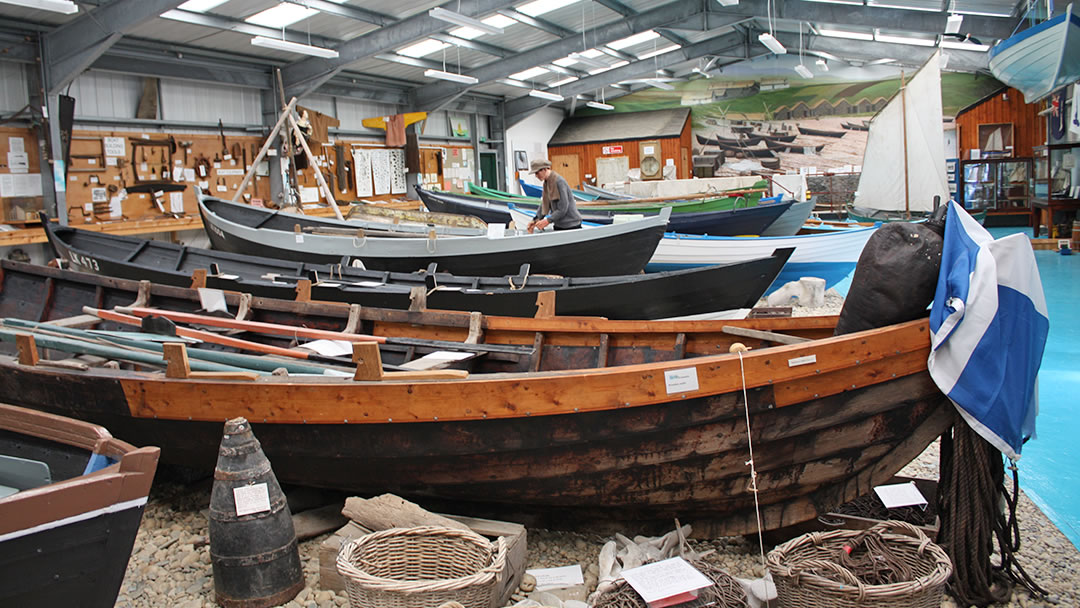 6. Visit Unst Heritage Centre and Boat Haven
Visit Unst Heritage Centre and Unst Boat Haven to dive deeper into Shetland's lace knitting and fishing heritage.
These are just two of a network of fantastic community museums run by a team of volunteers throughout the summer.
Unst, and Shetland as a whole, has a long tradition of knitting and going to sea, and the exhibitions in the Heritage Centre and Boat Haven tell the story well. You'll also find out more about the community of Unst, its crofting past and its rich and diverse geology that is arguably the best in Shetland.
7. Sample some of Unst's fantastic gin
You can't go to Unst without sampling some of the incredible Shetland Reel Gin. The Saxa Vord Distillery, the most northerly in the UK, was started by four people sharing a passion for producing top quality products in local communities. Their gin offers a real taste of Shetland as they are all inspired by the surroundings in Unst and made using local botanicals to create a gin that is unique and embodies the place where it originates.
Guided distillery tours are available, and you can find out more on their website.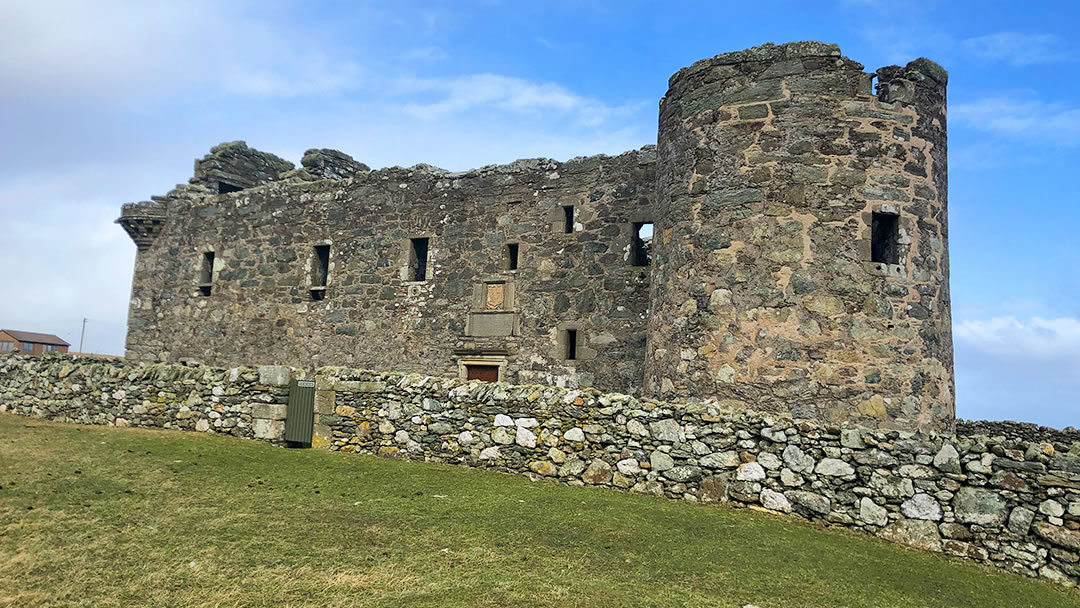 8. Visit Muness Castle
Unsurprisingly, Muness is Britain's most northerly castle. Built-in 1598 by Laurence Bruce of Cultmalindie (Perthshire), an uncle to the infamous villain, Earl Patrick Stewart, who built the Scalloway Castle at around the same time. Muness is arguably far grander or more comfortable than Scalloway, although Laurence never got to see it completed before his death in 1617. Despite Laurence wishing that the castle would represent his great legacy, it was attacked and razed by privateers in 1627, a mere 29 years after it was built.
Muness now stands as a roofless ruin, representing a period of oppressive and cruel rule in Shetland at the hands of Scottish landowning families. It is little wonder that there was no real effort to save the castle from ruin. For those who had endured the suffering under the Stewart Earls, this was a time to be forgotten.
9. Marvel at Lund standing stone
The Lund standing stone, which sits alone in the landscape, dates to the Neolithic or Bronze Age and is Shetland's largest and most impressive standing stone. This giant monolith stands at 12 foot high, dominating the gently undulating surrounding landscape.
Equally remarkable, commanding big views out to sea and across to Fetlar, is the Clivocast standing stone. This stone is said to mark where Viking Harald Harfager was killed in 900 AD.
Perhaps one of the most incredible things when considering these standing stones and other prehistoric remains is that, other than the question 'why are they here', is the fact that they demonstrate that people have been living in Unst for at least 4-5,000 years, farming the land and carving out lives in this harsh and unforgiving landscape.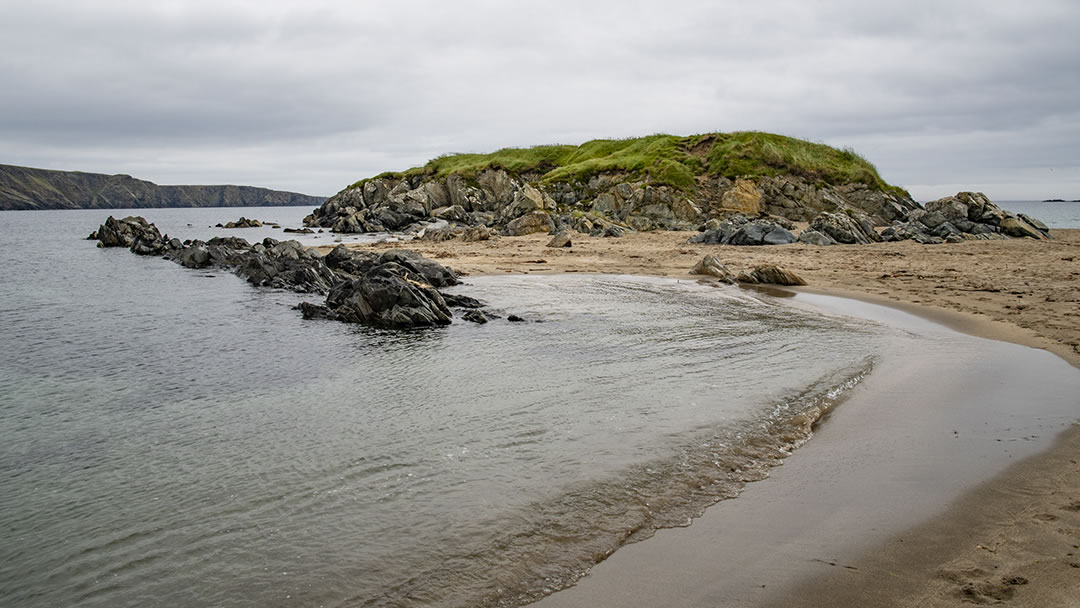 10. Discover the geology of Unst
Geologically speaking, Unst is incredible. It's sometimes difficult to get people enthused about the rocks beneath our feet. Still, when you consider that parts of Unst once lay at the bottom of the ocean and formed part of the Earth's mantle before being forced to the surface by the collision of two continents – it's pretty impressive!
Shetland's geology has determined how people have lived and worked in Shetland for millennia, and it continues to dictate how productive our soils are, which wildflowers will flourish, and what the landscape looks like.
Without such a rich and diverse geological makeup, Shetland's landscape would lack the variety, drama and beauty that draw people to the isles time and time again.
In 2009 Shetland's remarkable geological makeup was recognised as the islands' were awarded Unesco Geopark status for its outstanding geology, which is unrivalled anywhere else in the UK.
Pin it!