A trip to see the Gannets of Noss
I've always been keen to visit Noss National Nature Reserve in Shetland. To get there you must take the ferry from Lerwick to Bressay, and travel three miles across the island to meet a small inflatable motorboat which takes you across the narrow gap of water to the island of Noss. At the peak of the breeding season, the mile-long seabird cliffs at Noss are home to 150,000 birds and chicks. The Gannets of Noss especially are an amazing sight to see!
Gannets strike the water at 100 kilometres per hour (62 mph)! To help with this, Gannets have no external nostrils; these are located inside the mouth instead!
The problem with this however is that I have two children, aged 6 and 9, and though the walk is not beyond their abilities – the idea of children near a cliff edge is too much for a nervous nelly like me! However, during a recent trip to Shetland I found the perfect solution!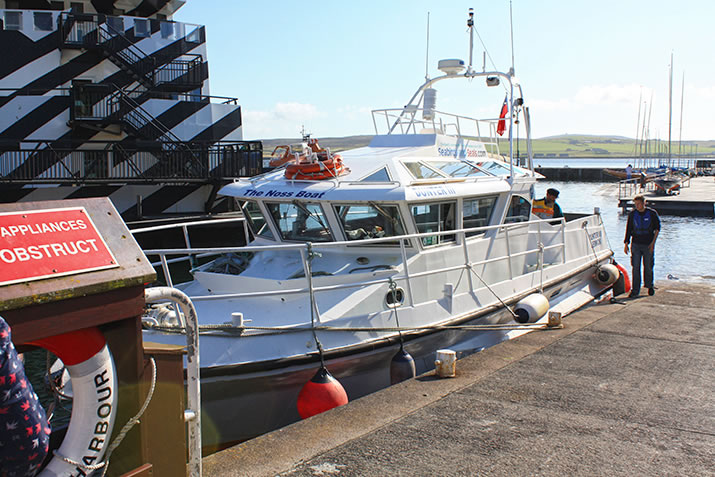 On a sunny Sunday in August we took the Seabirds and Seals boat tour run by Dr Jonathan Wills, one of several boat tour operators. The boat, Dunter III, took us from Victoria Pier Slipway in Lerwick, past Bressay, on to seabird cliffs on Noss. We took the morning tour but there's also an afternoon sailing. Both tours last three hours and run seven days a week, subject to weather.
Dunter III is a super little vessel which can take up to 12 passengers (so it's best to book ahead – we booked the last seats on the boat when we phoned three days in advance.) There's space inside and outside (ideal for photography). There's also a small seating area high up that you can climb to – ideal for two – and guaranteed to give the best views!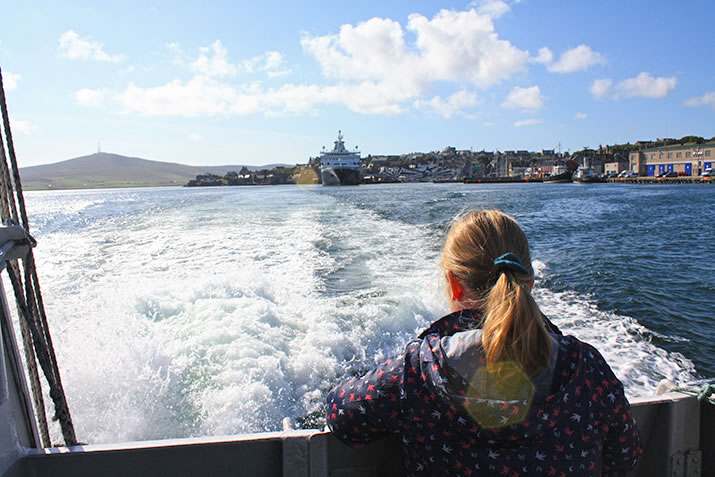 You get a super view of Lerwick harbour from Dunter III and the boat is jet propelled – when the ship is travelling at full speed, it can be quite thrilling!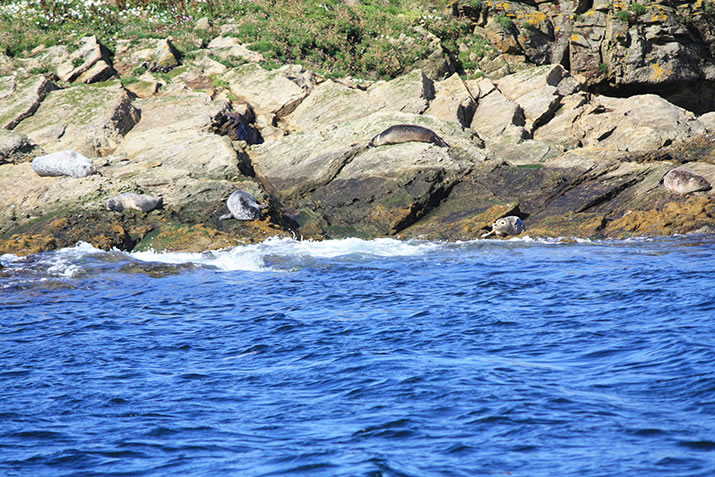 We came very close to secluded basking spots for seals. Dr Wills is an expert at measuring the seals' 'flight distance' – i.e. how close you can take the boat before the seals get nervous and swim away! We enjoyed watching the seals splashing and playing!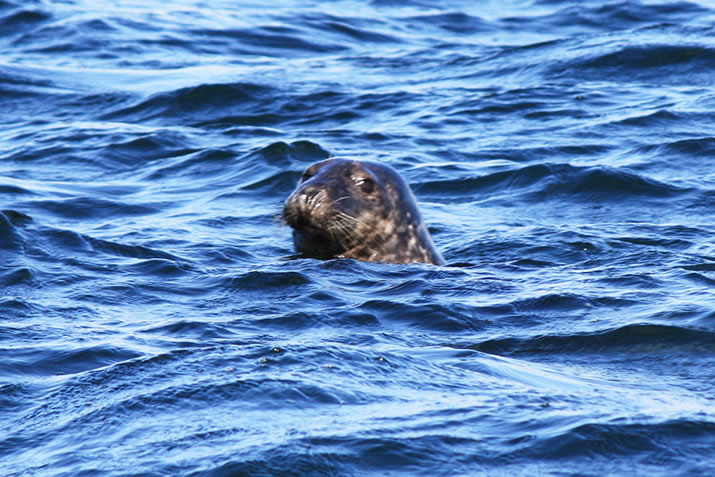 On the journey to Noss we caught plankton and looked at it using a microscope, viewed the kelp forests (very important to Shetland's marine ecosystem) with an underwater camera, met Sea anemones and fish up close with an ROV and looked out for puffins! Dr Wills gives a fascinating commentary about the ecology, the birds, the seabeds and the geology and history of Shetland.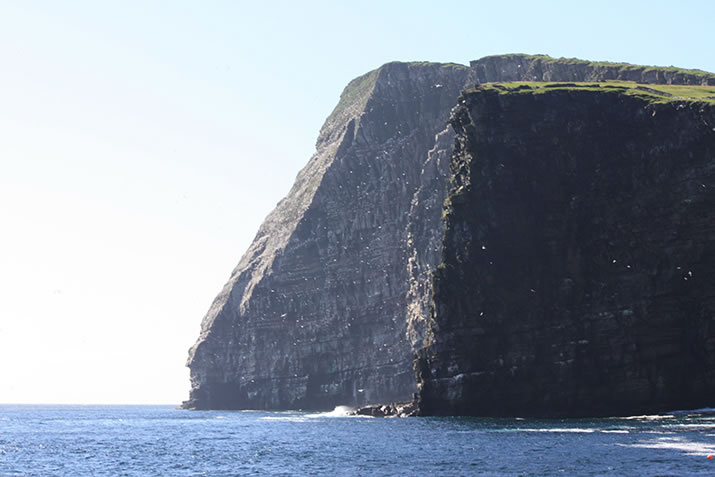 The cliffs at Noss were awe-inspiring. This massive slab of rock at Da Noup was covered from the top to the base with seabirds! It was painted white with guano! If you forget to bring your own binoculars, Dunter III has a supply from which you are free to borrow!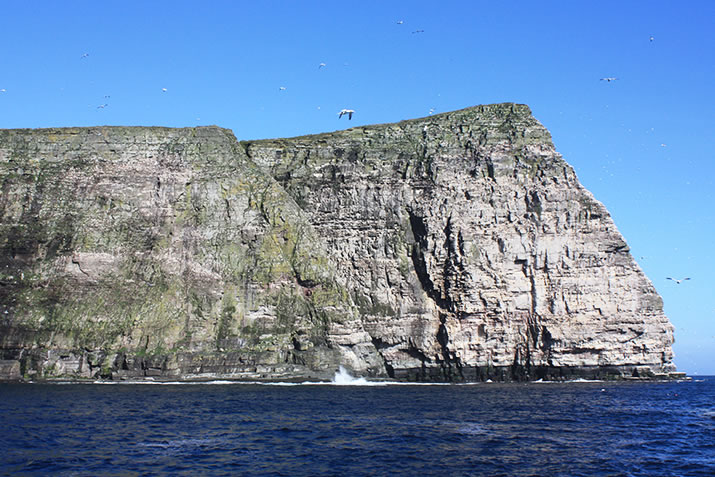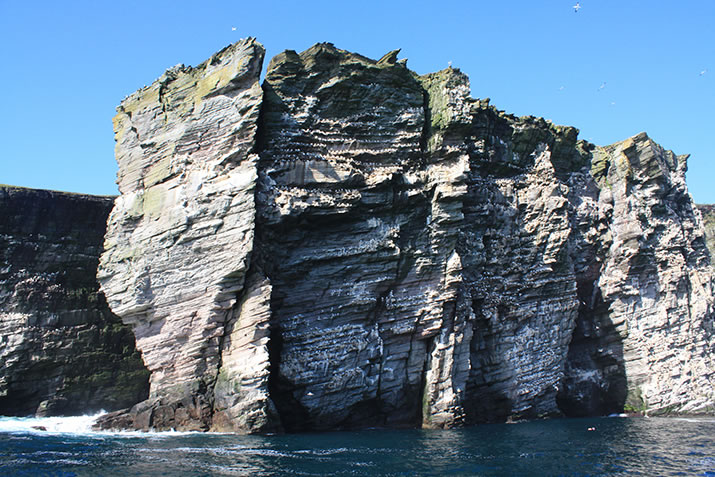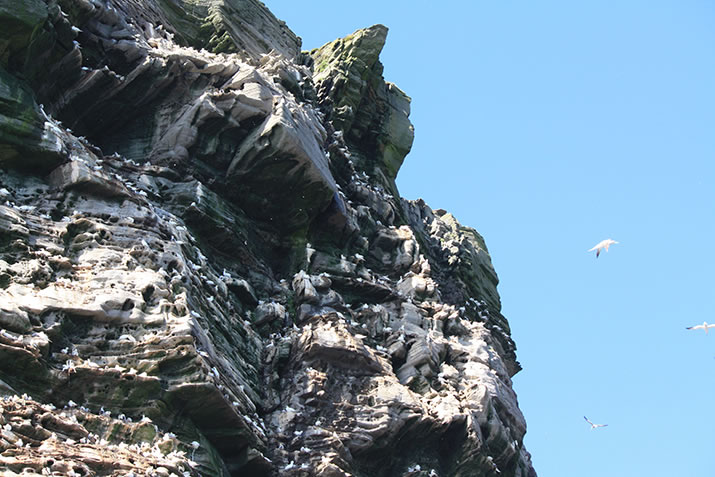 The cliffs are 181m high, and have been sculpted and honeycombed by millions of years of wind and ice into thousands of ledges and balconies which make perfect nest sites for the seabirds. The Dunter III took us close to get some brilliant photos of the nesting gannets and their chicks, but no photo can capture the smell and sound of so many seabirds in one place!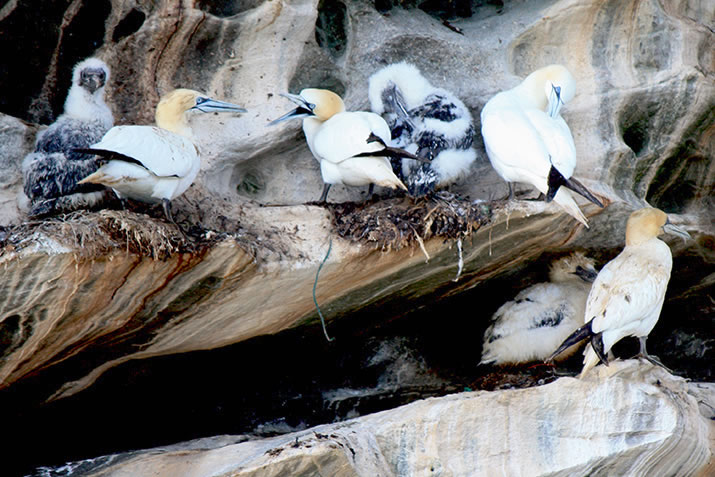 At Noss National Nature Reserve there are 22,000 gannets, thousands of guillemots and hundreds of kittiwakes, puffins, razorbills, black guillemots, shags and skuas. Gannets are beautiful birds with yellowish heads, black tipped wings and long bills. Their chicks are not so pretty!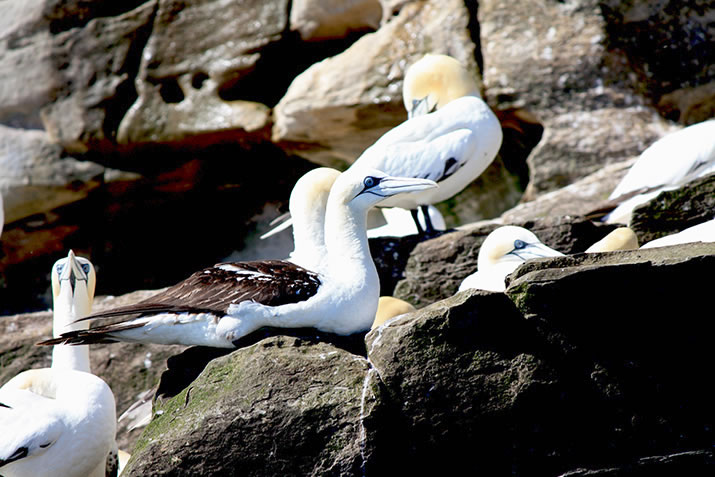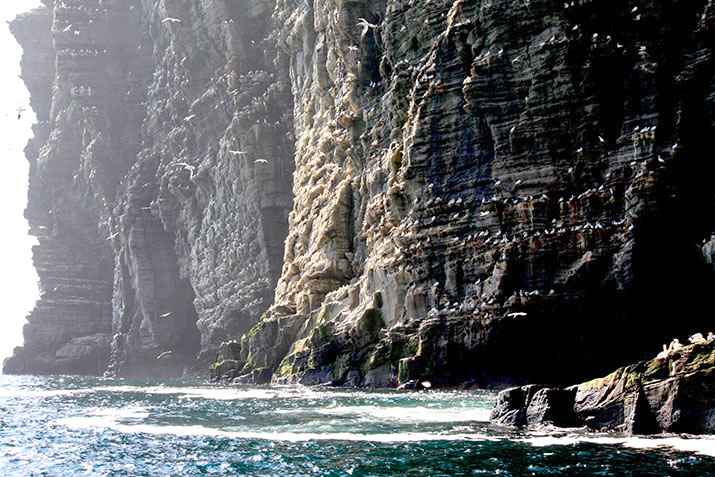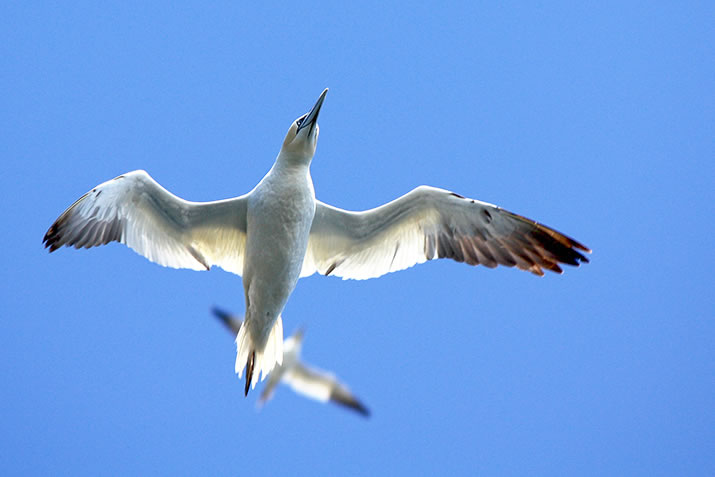 Gannets hunt fish by diving into the sea and pursuing their prey underwater. We were advised to track a flying gannet – eventually it would dive into the water like an arrow and catch a fish! Gannets strike the water at 100 kilometres per hour (62 mph)! To help with this, Gannets have no external nostrils; these are located inside the mouth instead! They also have air sacs in their face and chest which act like bubble wrapping, cushioning the impact with the water!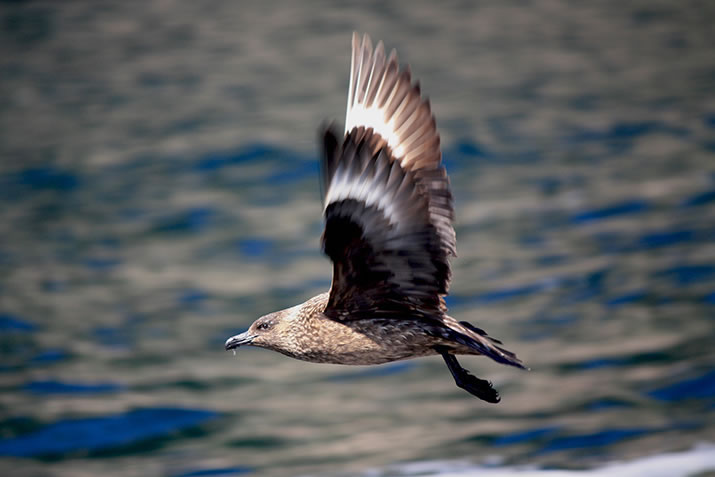 Great Skuas (Bonxies) flew close to the colony, hoping to steel food or eat a dead gannet chick.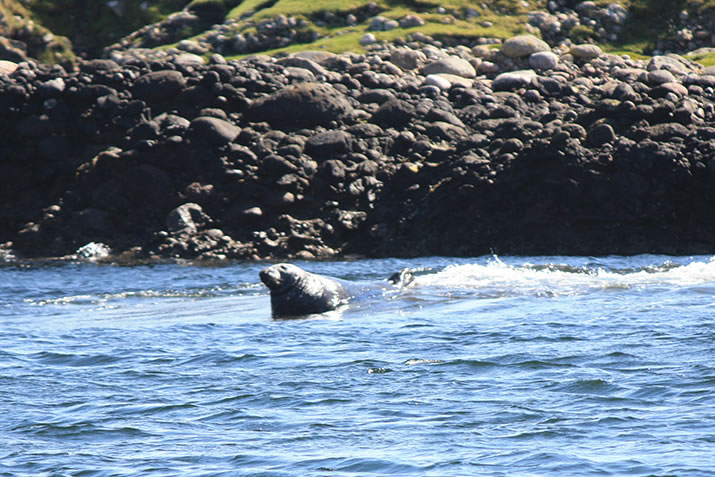 As Dunter III returned to Lerwick we enjoyed a super cup of coffee and a biscuit. Along the way, we spotted a bull seal. He was quite a size! It was reported that later, on the afternoon tour, otters were spotted!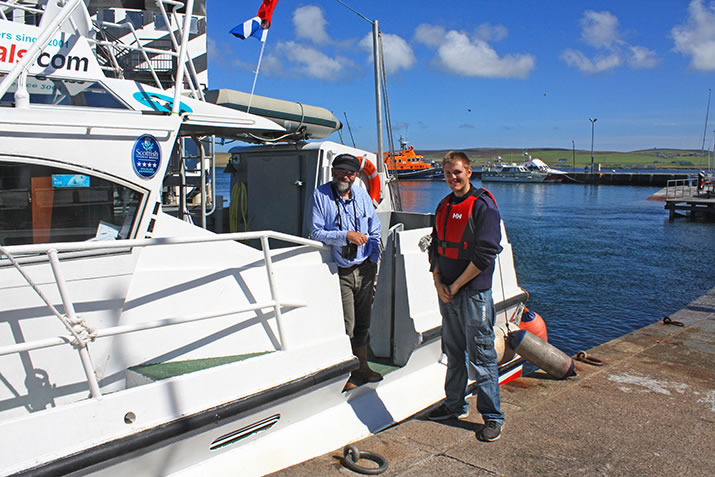 All in all we had a brilliant time on the Seabirds and Seals tour. We chose a beautiful day for it and Dr Jonathan Wills was a very knowledgeable and friendly tour guide! His deckhand Iain couldn't have been more helpful too. We'd heartily recommend the tour to anyone wanting to see a wilder side of Shetland!
Please note – since the publication of this article, Dr Jonathan Wills has retired. However Seabirds and Seals remains in business, run by Brian Leask and Marie Fullerton and operating from a new boat, Seabird.
There are also other boat tour operators available to see the gannets of Noss. Please visit the Lerwick Tourist Office for more information.

By
Magnus Dixon
Orkney and Shetland enthusiast, family man, loves walks, likes animals, terrible at sports, dire taste in music, adores audiobooks and films, eats a little too much for his own good.
Pin it!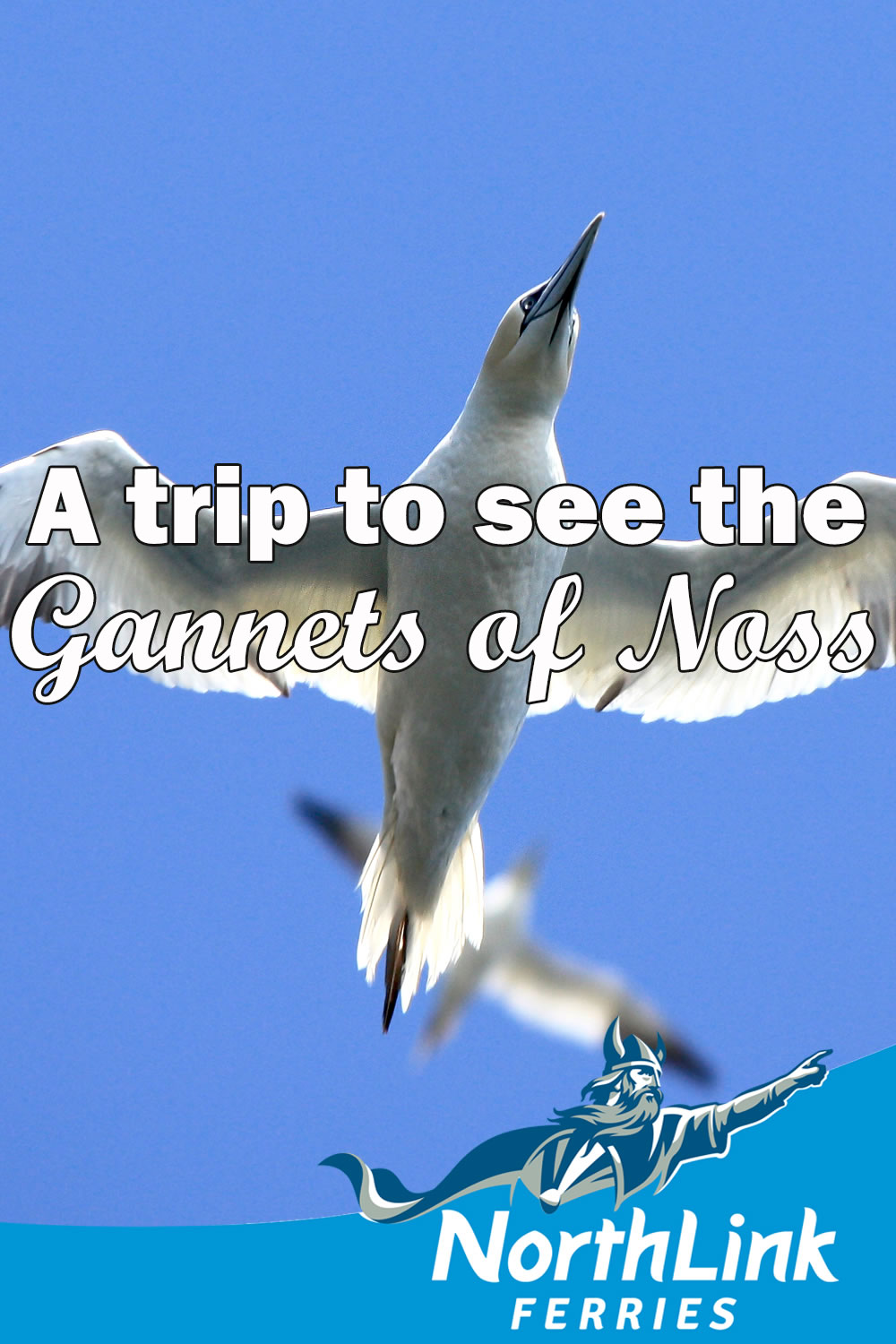 Header image: Gannet and chick photo © Copyright Victoria Dixon