Ten fascinating facts about Hillswick in Shetland
Hillswick is located in the north of Shetland, on the road to the volcanic coastline at Eshaness. The Ness of Hillswick is a diamond-shaped lobe of land dangling from the south of Northmavine and Hillswick village lies on the shore of St Magnus Bay. Hillswick contains a wealth of history and wildlife and some of the most spectacular coastal scenery in Shetland.
The village of Hillswick became a very popular tourist resort in 1900. Visitors would sail from Edinburgh's port of Leith. The coastal scenery of Hillswick was the main attraction, as were the loch and sea fishing trips on offer.
We have compiled ten fascinating facts about Hillswick that you may not know!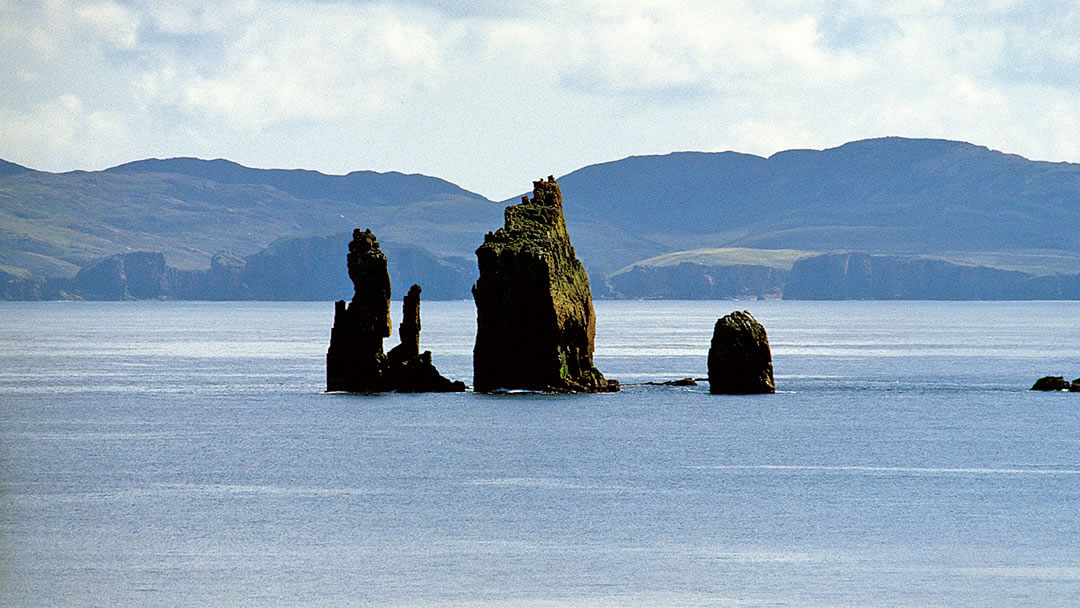 1. Amazing sea stacks can be seen from the Ness of Hillswick
Take some time to walk the 4-mile coast of the Ness of Hillswick to see caves, cliffs, voes, and remarkable exposed rock shapes jutting from the sea. These include the Isle of Westerhouse, Holey Stack, Crow Stack and Da Drongs (rocks that resemble a ship's sails). In the distance Fitful Head, Foula, and the Ve Skerries can be seen. The Ness of Hillswick is both a photographer and geologist's dream come true.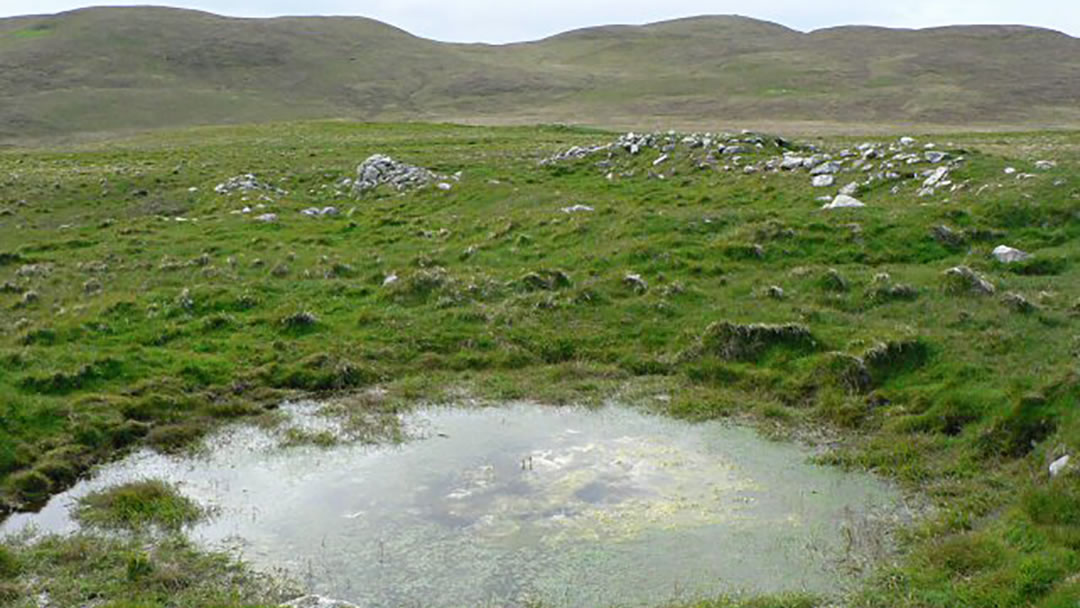 2. People previously eked out a living on the Ness of Hillswick.
There are remains of many houses on the Ness of Hillswick. These include a Norse house at Tur Ness, Neolithic houses at Niddister and a ruined township at Oris Field (pictured above). There are other archaeological treasures hiding under the peat and heather. Try to imagine what it must have been like to have lived in such a wild place.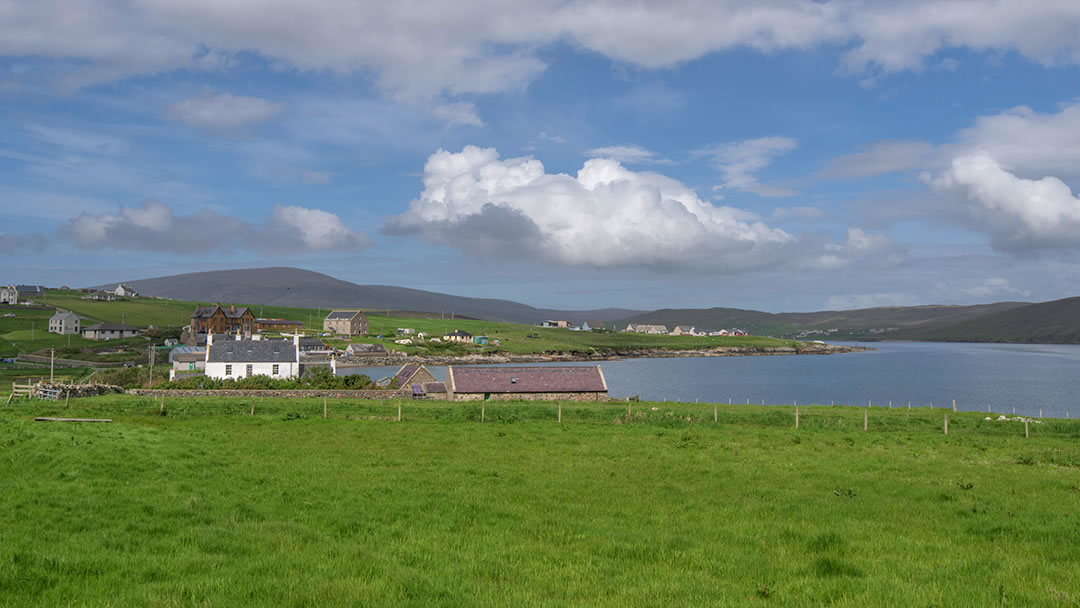 3. The water of St Magnus Bay is up to 165 metres deep!
The name Hillswick comes from the Old Norse 'Hidlisvik' which means 'Hildi's Bay'. The bay here is now called St Magnus Bay, named after the ancient Chapel of St. Magnus (the Viking saint). This chapel in the village was replaced by the Church of Hillswick in 1869. The shape of St Magnus Bay led some experts to suppose it may have been created by a meteor strike 30 million years ago, but there is no conclusive evidence to support that.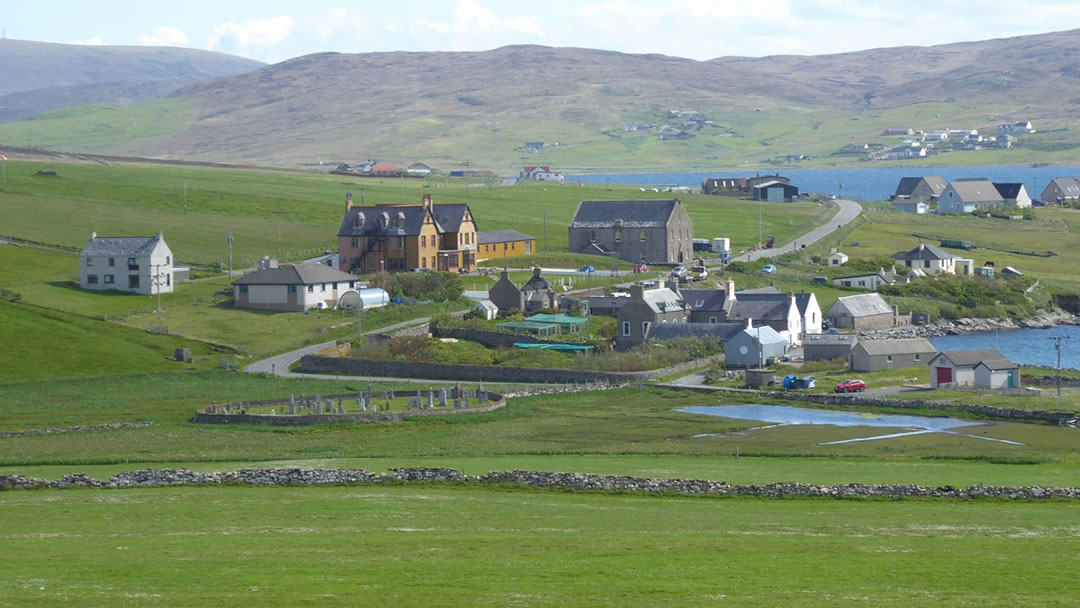 4. The village of Hillswick has a fascinating history
The village of Hillswick built up around this sheltered bay. Fishing vessels and sailing ships anchored here. From the 15th century Hanseatic merchants set up trading booths here, and the village was initially a haaf fishing station and later a herring station (from around 1880 to 1914).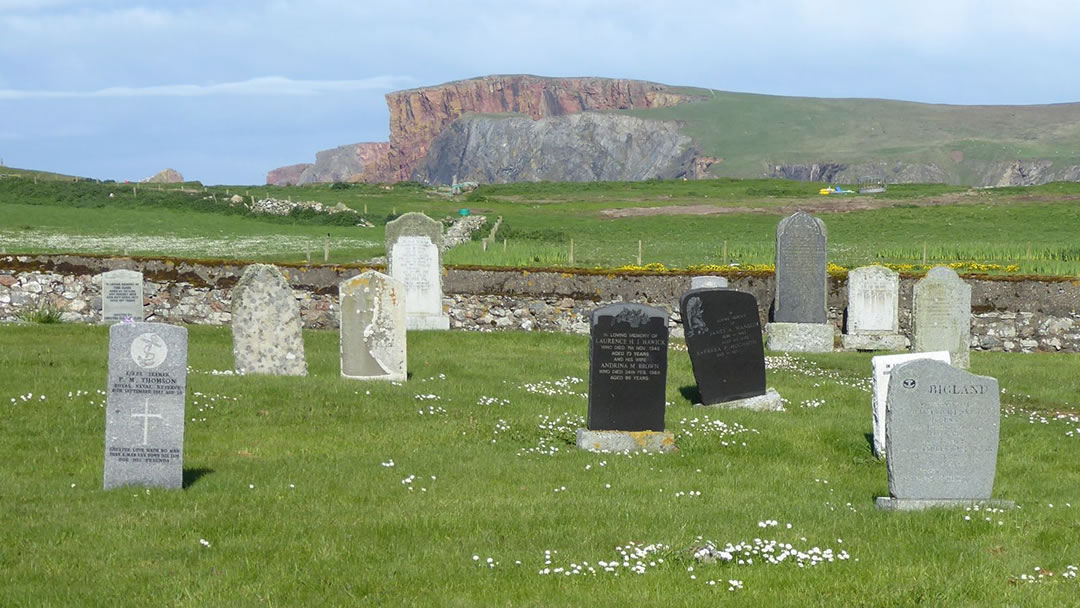 The pebble beach here was used to lay out fish for drying. The beach is artificial and contains rocks not native to Shetland, such as flint. This is because ships dumped their ballast here to take on fish for export.
Hillswick stopped being used as a herring station when steam drifters began to be used in Shetland. These could reach Lerwick, Scalloway and Baltasound with fresh fish more quickly.
5. Hillswick also supplied textiles to Bond Street in London
From 1922 to 1975 The Weaving Shed, known locally as 'Da Store' was a wool-broking, weaving and knitting business. The building, like others in Hillswick, had begun life as a Hanseatic trading booth. Weaving looms were installed, and local folk began weaving tweed which was supplied to Bond Street in London to make clothes. Now, The Weaving Shed is an art gallery (pictured above).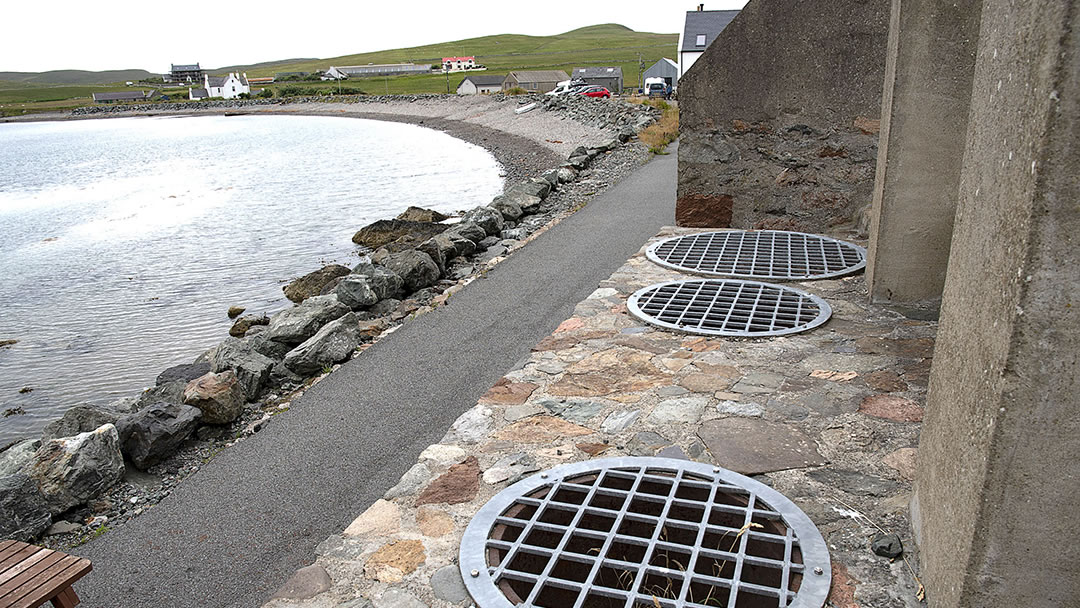 6. There are other interesting places to see in the village
The Hillswick Wildlife Sanctuary is run out of a former Hanseatic trading booth (Shetland's oldest trading place which dates back to 1668) on the shore. They have cared for sick, injured and abandoned seals, otters and cetaceans since 1987.
When walking through the village keep an eye out for a set of restored cutch kettles (pronounced cootch and pictured above). These were cast iron and used for boiling the bark of Acacia Catechu tree (from India and Burma) in water. This brown dye was then used from 1840 to the 1960s to soak and preserve fishing nets and sails. Cutch is still used as a dye for khaki.
Continue on to the sandy West Ayre beach just outside the village (pictured below). This is a great spot for seeing seals.
Hillswick also has a community run shop in the village in case you need refreshments or gifts. The St Magnus Bay Hotel offers accommodation, food and drink and a family of otters lives below the hotel.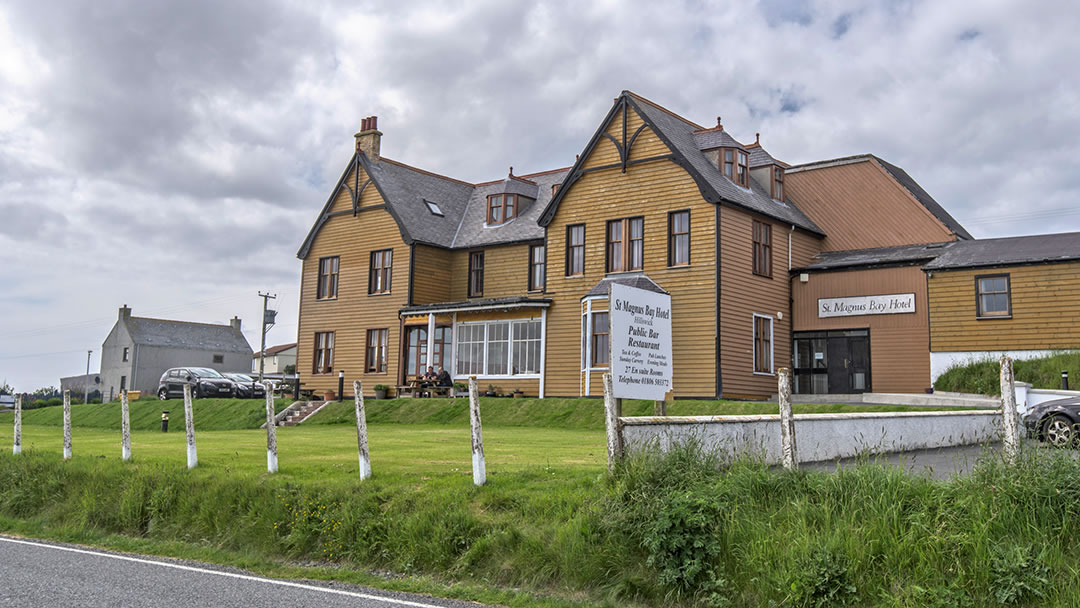 7. St Magnus Bay Hotel was designed to be easily spotted by cruise passengers
A striking large wood clad building, St Magnus Bay Hotel was built in Norway and displayed at Glasgow's Great Exhibition in 1899. It was then re-built at Hillswick in 1900 as a desirable resort destination owned by the North of Scotland Orkney & Shetland Steam Navigation Company. The wooden building really stands out when the surrounding countryside of Shetland has so few trees!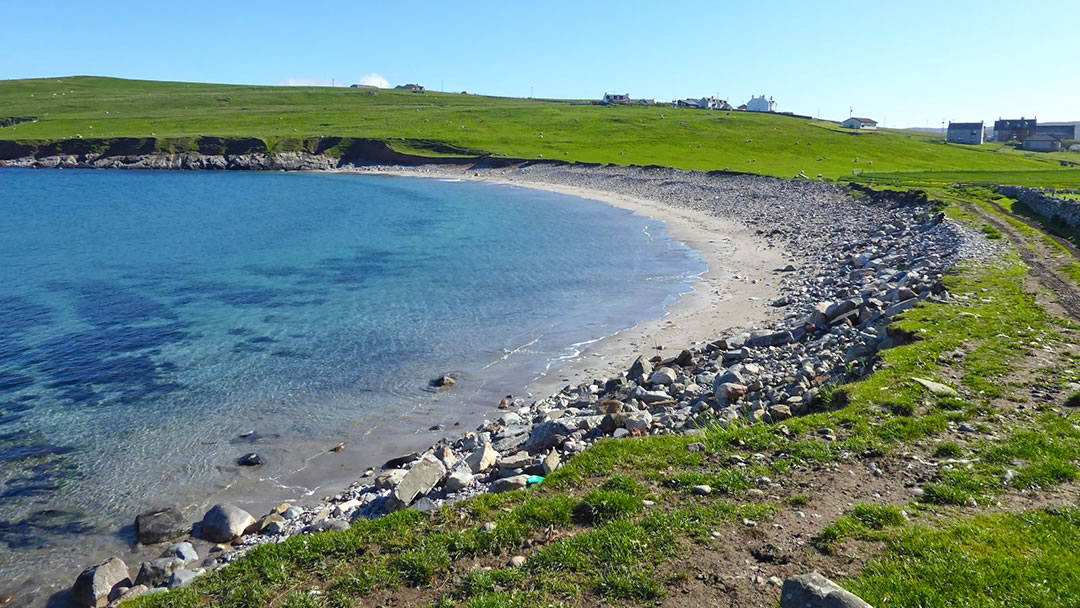 8. A trip to Hillswick was an early package holiday to Shetland.
The North of Scotland Orkney & Shetland Steam Navigation Company operated the ferry which sailed from Edinburgh's port of Leith to Hillswick via Aberdeen and Orkney in the early 20th century. A flit boat would ferry passengers from the steamer to a wooden pier which was erected each summer. An all-inclusive cruise on the steam ship, combined with a week's stay, with full board, in the St Magnus Hotel, Hillswick during the summer of 1908 cost £3.3s0d. With inflation this would be around £400 today.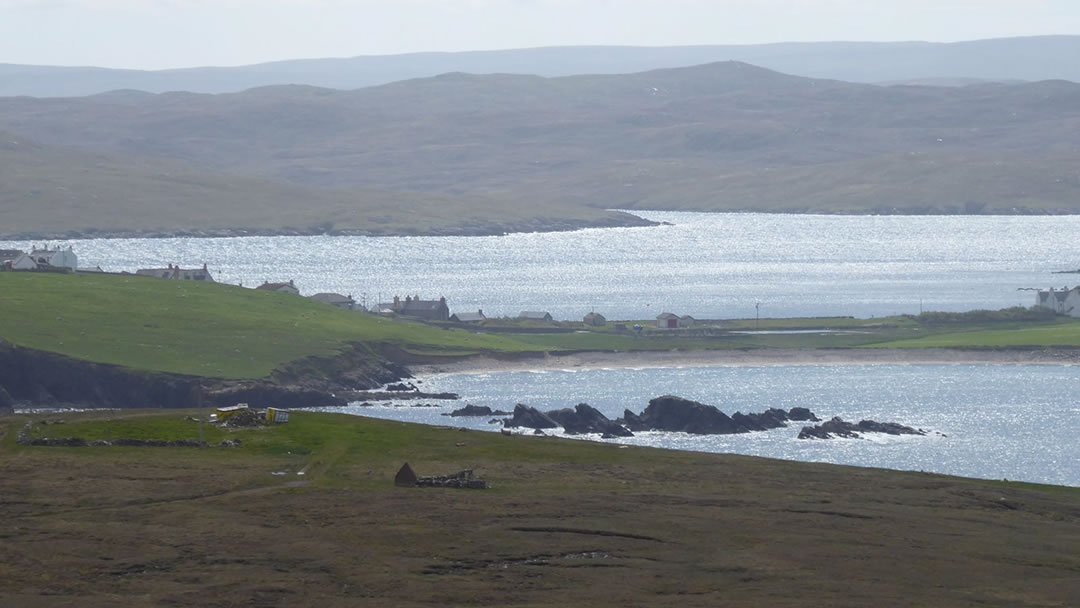 9. The village of Hillswick became a very popular tourist resort.
The coastal scenery of Hillswick was the main attraction, as were the loch and sea fishing trips on offer. The cruises to Hillswick ended in 1971 and the North of Scotland Orkney & Shetland Steam Navigation Company sold the hotel, but under new owners, the doors of St Magnus Bay Hotel are still open to visitors.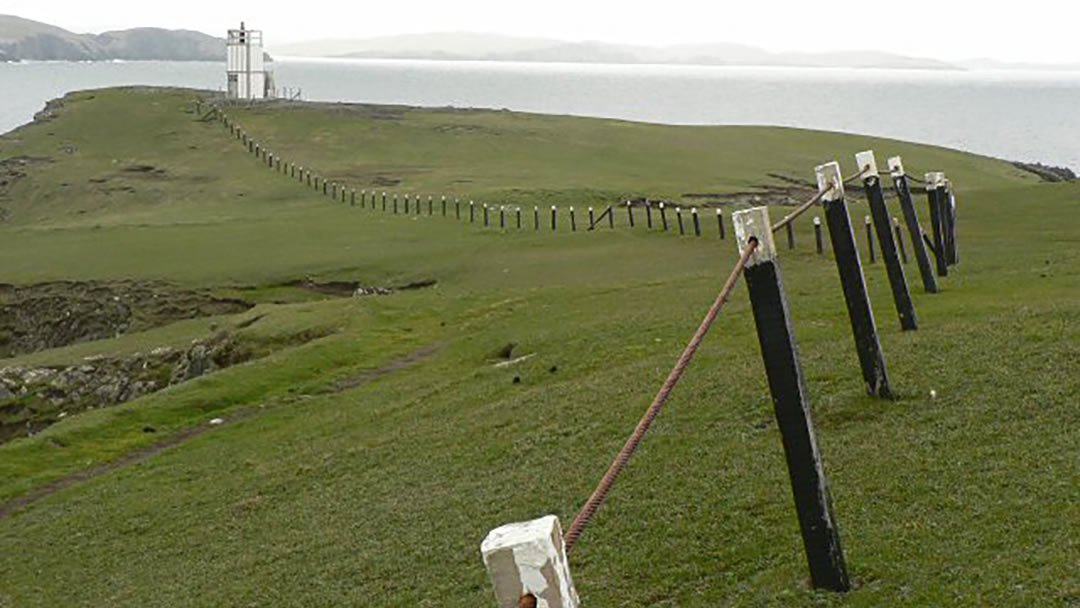 10. The Lighthouse on Baa Taing was built to aid the steamers arriving in Hillswick
As the south tip of the Ness of Hillswick there is a square skeletal tower, a lighthouse only 7m tall. There is a line of wooden posts and rope leading to the lighthouse. These posts are fastened solidly into the ground and designed to help the lighthouse men reach Baa Taing safely in bad weather. It is hard to imagine weather conditions so horrendous!
Remains of township and Baa Taing light photo © Copyright Rob Burke, Looking across the stone walled pastures to Hillswick , Hillswick Cemetery, West Ayre and Hillswick on the isthmus to Ness of Hillswick photo © Russel Wills and licensed for reuse under this Creative Commons Licence.

By
Magnus Dixon
Orkney and Shetland enthusiast, family man, loves walks, likes animals, terrible at sports, dire taste in music, enjoys films and audiobooks, eats a little too much for his own good.
Pin it!