Shetland craft experiences
Shetland is an island that continues to inspire creativity, and it's little wonder why. With its compelling landscape, stunning seascapes and a light that shifts through the northern skies with clarity and grace, Shetland offers a haven to creatives of every medium from paint to clay, woodwork to yarn, the possibilities are endless.
For more information about Shetland's arts and crafts, and to discover more great craft businesses, please visit the Shetland Craft Trail website.
The following is a selection of Shetland businesses where you too can be inspired, have a go, or simply take an exquisite piece of artwork home with you.
Glansin Glass
Unst-based Glansin Glass is a fused glass studio creating and selling decorative and unique glassware including jewellery, tableware and art pieces, all inspired by Shetland. The new shop and studio, which opened in 2021, also offer workshops where visitors can get creative, creating coasters or wall hangings. Classes are held several times a week and take two hours.
https://www.glansinglass.co.uk
Paparwark
Creating finely crafted furniture, gifts, homeware and their famous knitwear collection featuring jumper boards, hap stretchers and yarn bowls. Paparwark, based in Bigton in Shetland's South Mainland, also offers the opportunity to whittle wood, making spoons, brooches or pins to take away with you.
https://www.paparwark.co.uk
Red Houss Shetland
Renowned artist, jeweller and sculptor, Mike Finnie, has a delightful studio in Burra's East Isle selling original artworks, prints, cards and jewellery, inspired by Shetland. For those with a creative flare, Mike also runs jewellery-making workshops and watercolour classes. Why not take that special piece of beach glass along and turn it into a memento from your stay?
https://www.redhouss.co.uk
Island Ceramics
Ceramicist and photographer Ellie Duncan creates sea-inspired tableware and prints inspired by the ebb and flow of the waves from her island home. Her beautiful glazes, created to mimic the sea and shorelines of Shetland sell out fast and are available in several shops throughout Shetland, including Ninian and The Shetland Gallery. Those looking for a creative outlet can sign up for a glazing workshop and find out more about the process of pottery glazing, and create a sea-inspired keepsake.
https://www.facebook.com/IslandCeramics/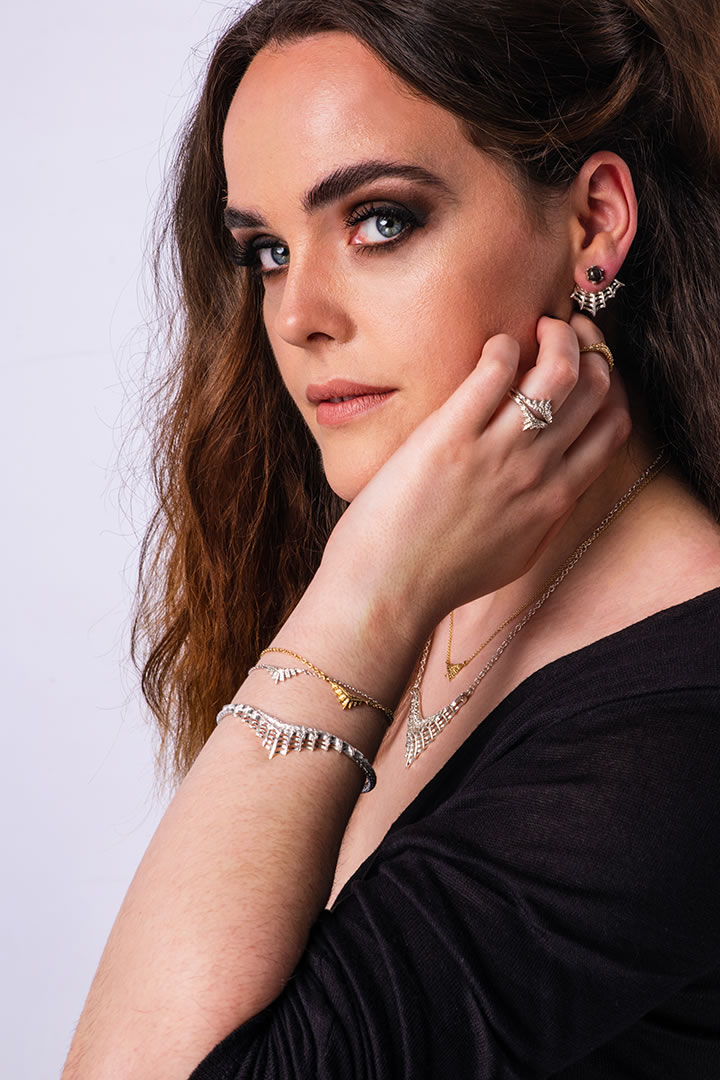 Karlin Anderson
Karlin is a Shetland-based jewellery designer creating stunning collections with inspiring stories. Karlin creates bespoke designs and ready-to-wear pieces in platinum, gold and silver set with precious stones. Karlin spent many years training and working in London before moving back to her island home and establishing a studio in the beautiful village of Hoswick where her workshop overlooks the stunning bay beyond. For anyone looking for a special commission, Karlin offers a bespoke service creating individual pieces to suit all tastes.
https://www.karlinanderson.com
Aa Fired Up
The perfect family day out, Aa Fired Up, on Lerwick's Commercial Street has a large selection of unglazed pottery for visitors to choose from and paint in their busy shop. With a huge range to choose from, there's something to suit every taste – young and old. Tea, coffee and snacks re available while you paint and group bookings and 'walk-ins' are welcome. Aa Fired Up is the perfect place to get that newborn handprint glazed for the future, and is ideal for creating a personalised gift for a loved one.
https://www.facebook.com/AaFiredup/
Shetland Jewellery
Long standing island jewellers, Shetland Jewellery, have been creating designs inspired by Scandinavian mythology, Fair Isle knitwear, local wildlife, the northern lights and from traditional Celtic patterns since 1953. Visitors can pop into their Commercial Street shop in Lerwick or visit the studio and shop in Weisdale where a team of skilled designers work. Shetland Jewellery have also begun running classes where visitors can make their own set of stacking rings, or for those who are feeling a bit more creative, they offer a workshop where guests can design and make their own bespoke creation. These classes can be offered as a private group booking, just get in touch with [email protected] or keep an eye on their social media pages for upcoming workshop dates.
https://www.shetlandjewellery.co.uk
The Shetland Gallery
The UK's most northerly art gallery on the island of Yell showcases a range of local artists who are inspired by Shetland, the sea and the landscapes of the north. Featuring paintings, ceramics, jewellery and woodwork, there's something for everyone in this light and bright gallery.
https://www.shetlandgallery.com
Lisa's Leatherwork
Lisa Sumner, working from a studio on the island of Fetlar creates handmade leather belts, bags, traditional shetland knitting belts, bridles, browbands, dog collars and leads.
https://www.lisasleatherworks.co.uk
---
For more information about Shetland's arts and crafts, and to discover more great craft businesses, please visit the Shetland Craft Trail website.
Pin it!